Axios Vitals
August 17, 2017
Good morning ... So many big decisions ahead. Democrats have to figure out what they're going to do next on health care. And any health care CEOs who haven't already run away from President Trump have to decide if now's the time.
On the bright side, the Trump administration is going to give insurers their cost-sharing reduction payments for another month. Then we get to go through the whole thing again next month!
What's next for Democrats on health care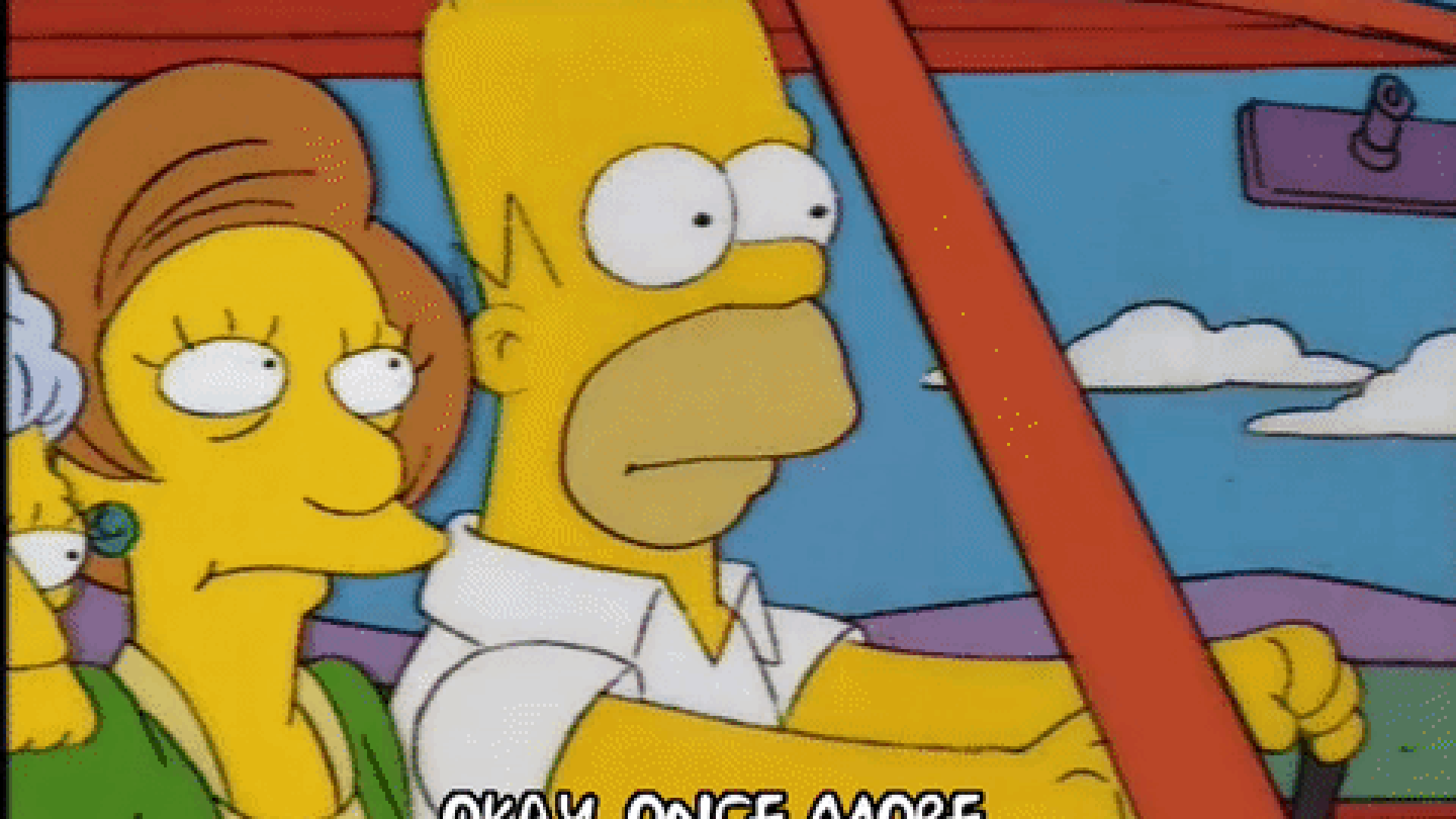 Caitlin Owens has a smart look this morning at what's ahead for the Democrats now that the Republican health care efforts have fallen apart. They could just sign on to an Affordable Care Act stabilization bill, Caitlin writes, but they've got bigger decisions to make about what comes after that, especially in 2020.
What to watch: Yes, there's a growing movement to embrace single payer, but it's not a sure thing — and some Democrats say they would be smarter to focus on how to make health care more affordable, which is the voters' big concern.
Why this matters: Democrats have a unique opportunity to emerge as the adults in the room after the GOP's repeal and replace debacle. But they could squander it if they blindly defend the ACA without addressing its shortcomings, or if they jump into political arguments over single payer. Voters have been clear about what they want, and so far neither party has offered a real solution.
Trump's business council meltdown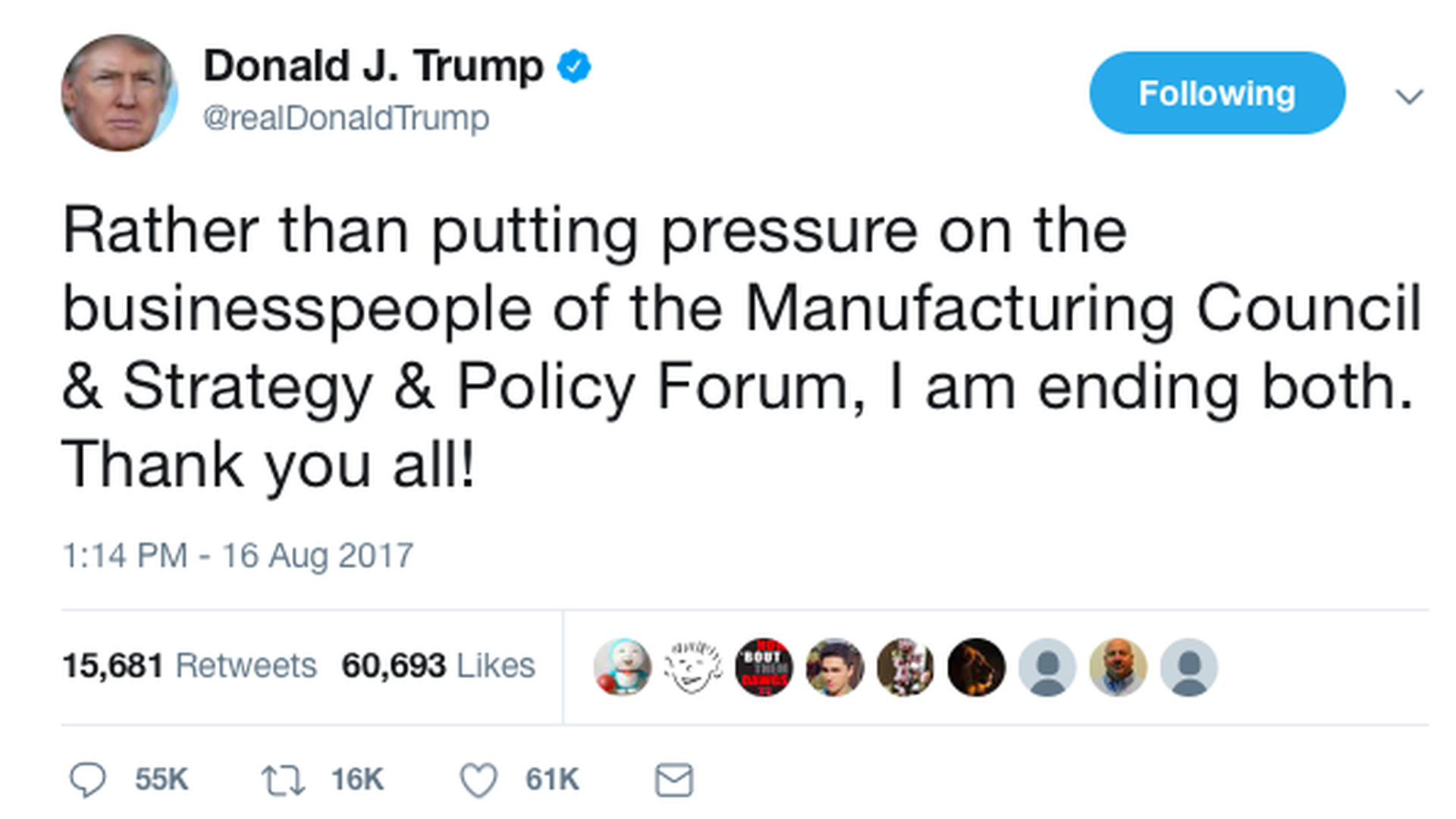 Here's how quickly everything fell apart: It only took two days from the time Merck CEO Kenneth Frazier stepped down from Trump's manufacturing council to Trump's tweet yesterday announcing he was ending both of his business advisory councils. (He did that after the other CEO group told Trump they were disbanding, per the Wall Street Journal.)
The result: The quick decision by the CEOs spared the Cleveland Clinic's Toby Cosgrove, a member of the Strategic & Policy Forum, from having to make his own statement about Trump's disastrous "blame on both sides" remarks on Charlottesville. But he signed onto the group's statement yesterday, which declared that the CEOs' debate over whether to keep participating in the forum had become "a distraction."
Distance from Trump: Other health care CEOs are running away at full speed from Trump's statements equating the actions of white supremacist and neo-Nazi protesters with anti-racism demonstrators.
Johnson & Johnson CEO Alex Gorsky, a member of the manufacturing council, put out his own statement calling Trump's latest Charlottesville remarks "unacceptable," according to Meg Tirrell's tweet and other reports.
And CNBC reported that Aetna CEO Mark Bertolini, in an internal memo, said he was "ashamed of our President's behavior and comments."
The bundled payment fallout
The proposal by Tom Price's Medicare agency to retreat significantly from bundled payments would have made more waves during a normal news cycle. Here's Bob Herman read on how the policy shift could affect different parts of the health care system:
Hospitals and doctors: It's mixed. Hospitals weren't thrilled about the programs where they were required to take a tight fixed amount for a joint or heart procedure, and high-earning surgeons knew a lump sum meant potentially less money to go around. But the American Hospital Association said the cancelled programs "may be disruptive to providers who have expended valuable resources to put these programs in place."Home health and rehab facilities: Bundled payments not only cover the procedure in the hospital, but also any follow-up care. Home health and rehab companies will still feel pressure to make sure patients don't return to the hospital needlessly, but more bundled payments would have intensified the pressure.Medical device companies: Bundled payments force doctors and hospitals to ditch high-cost devices and implants if they want to make a profit. "These changes should have a very modest positive impact on the orthopedic sector and med tech more broadly," Michael Weinstein wrote in a note for JPMorgan.Health insurers: Some insurers are still charging ahead with their own bundled payment strategies, even if Medicare pumps the brakes.Food for thought: Robert Berenson, an Urban Institute fellow and former Medicare official, told Bob last year it's unclear if bundled payments would reduce unnecessary or harmful care, and it's possible instead that people would "get a more efficient, unnecessary episode of care."
A followup on the Human Diagnosis Project
We like to think of Vitals as an running conversation, and judging from the reaction to my piece yesterday on the Human Diagnosis Project, there's going to be a lot more to say about the use of artificial intelligence in medicine — because it's a subject that will affect all of us in deeply personal ways.
We heard from Jay Komarneni, the founder and chair of the project (also called Human Dx), and wanted to give you a better sense of how he thinks about the project. We're also going to gather more viewpoints in the future from those who are deeply skeptical of AI in medicine.
Here are the highlights of Komarneni's response:
How do you know it works: "For over a year, we have been able to see that the collective intelligence of physicians solving cases together using Human Dx significantly outperforms the vast majority of individual physicians solving cases alone on the system." The research has been validated by Harvard's David Bates.
Can it really duplicate the doctor-patient relationship? "Human Dx definitely cannot duplicate the doctor-patient relationship, and that is the exact opposite of its intended goal...Our goal is to help empower and strengthen that relationship with better knowledge, which can lead to better care, and thus an even closer doctor-patient relationship over time."
Is it scientific? "Human Dx isn't a business idea, it's an open knowledge project...[It] is already being used as a training and teaching tool at many of the country's top academic medical institutions."
The bottom line: "This is one of the first applications of a larger idea that will take decades to play out, not dissimilar from other open efforts that have transformed society — like Wikipedia, Linux, or the Internet itself — and will hopefully one day help all of humankind."
Whatever happened to Zika?
This was easy to miss, but the Zika virus has become almost a non-issue in the United States this summer after all of the time and energy we all spent on it last summer. Science magazine has a timely look at what happened — and why there was only one case of locally transmitted Zika in the continental United States this year, as opposed to hundreds last year:
There are a lot fewer Zika cases in Latin America and the Caribbean now, and there's a lot more immunity among the population than there used to be.
That means there are fewer infected people traveling to the United States.
Therefore, mosquitoes are less likely to spread the virus here.
The bottom line: The public health crisis was always real, but it turns out that infectious disease experts always expected that people would develop immunity after the initial outbreak. They just didn't think it would happen so soon.
The new Hospice Compare site
We don't usually make a big deal of it when a government agency announces a new health care website, because it's kind of a "so what." But it's worth knowing that the Centers for Medicare and Medicaid Services runs a collection of websites to let people compare the quality ratings of hospitals, nursing homes, and other facilities — and, as of yesterday, hospice agencies.
What it does: The Hospice Compare website lets people look up services to help keep dying patients as comfortable as possible, and compare them to the national average on measures like how thoroughly their patients were checked for pain and shortness of breath.
Why it matters: Like the other websites, such as Hospital Compare and Nursing Home Compare, it won't tell you everything you need, but it'll give you a pretty good idea of what you're likely to get.
And, speaking from personal experience: When you're trying to help a dying family member, like a parent, the last thing you want to do is take the chance that they'll get terrible care.
What we're watching in September: Senate HELP Committee hearings on bipartisan ACA stabilization bill, week of Sept. 4; Senate Finance Committee hearing on CHIP reauthorization, same week; Healthcare Security Forum, sponsored by the Healthcare Information and Management Systems Society, Sept. 11-13.
What else are you watching on the health care front? Let me know: [email protected]