Axios Vitals
December 09, 2021
Good morning ... I'm filling in for Tina today, and I have prepared for you a newsletter that's 820 words long, or a 3-minute read. Enjoy.
Situational awareness: The FDA has given emergency use authorization to AstraZeneca's COVID-19 antibody drug for people with compromised immune systems.
1 big thing: The holiday surge is here
COVID-19 cases and deaths are rising all across the U.S. even before the Omicron variant takes hold.
Where it stands: The U.S. is now averaging roughly 120,000 new COVID cases per day, a 26% increase over the past two weeks.
Average cases briefly dipped below 100,000 as the summer's Delta wave receded, but the virus has rebounded quickly. New infections were climbing even before Thanksgiving, and holiday travel likely is accelerating the virus' spread even further.
Deaths are also on the rise, after tapering off in the fall.
The virus is now killing about 1,300 Americans per day, on average. That's a 14% increase over the past two weeks.
At this rate, the U.S. will pass 800,000 total deaths — roughly equivalent to the population of the Charleston, South Carolina, metro area — before Christmas.
2. Glimmers of hope on Omicron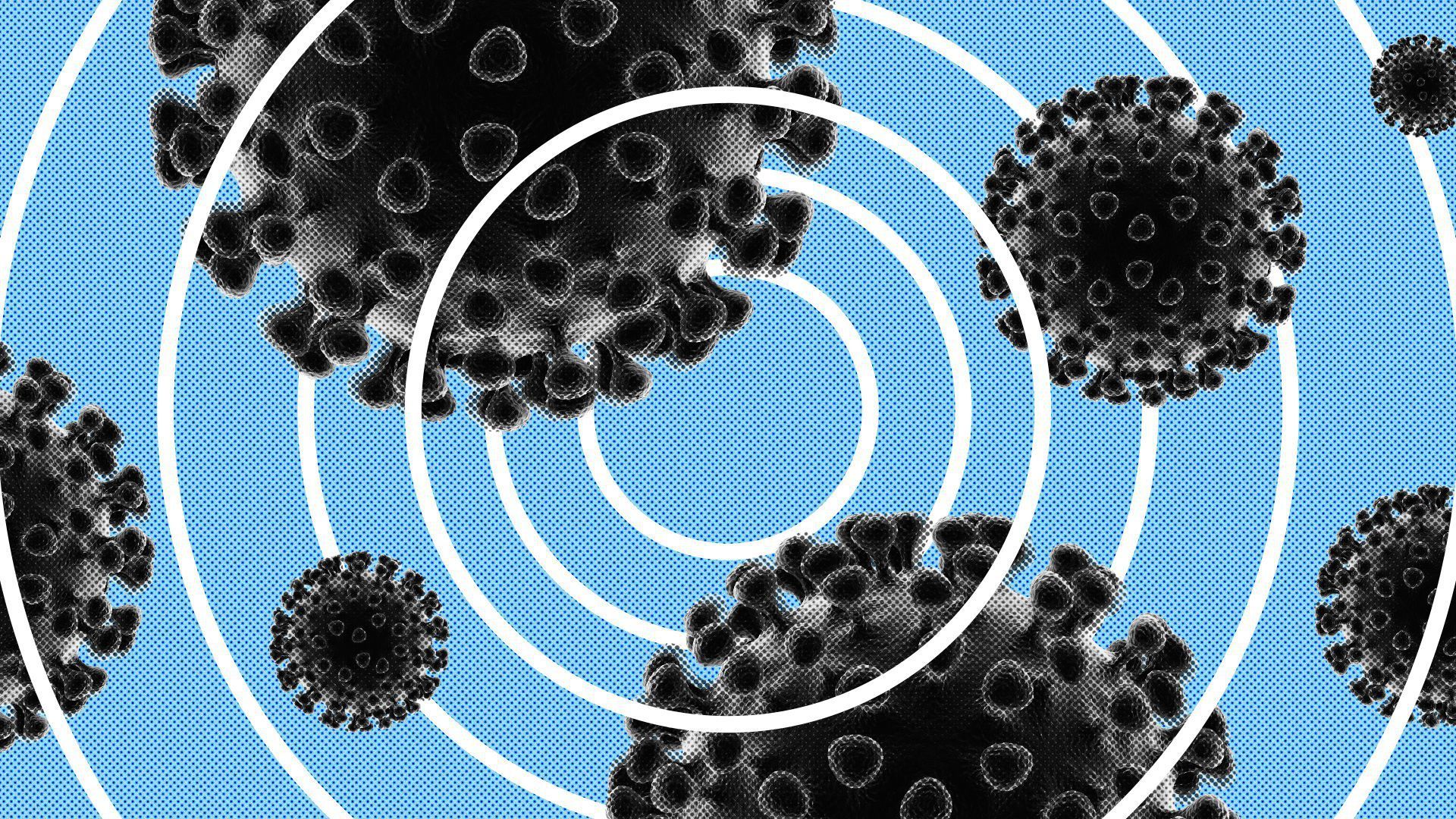 Preliminary studies suggest that two doses of existing coronavirus vaccines are significantly less effective against the Omicron variant, but booster shots confer much stronger immunity, Axios' Caitlin Owens writes.
Early South African hospitalization data also indicates that Omicron may cause milder disease than previous variants.
If both of those signals continue to hold, an Omicron wave may not be as bad as feared.
Driving the news: Pfizer and BioNTech said yesterday that three doses of their vaccine effectively neutralizes the Omicron variant, at levels comparable to what two doses offered against earlier variants.
If that is an indicator of real-world clinical outcomes, that's good news — it would mean the vaccines work incredibly well, especially against severe disease.
South African researchers have said that coronavirus patients showing up to the hospital are not as sick as the ones they've treated before, per the NYT, but this data is still extremely preliminary, too.
What we're watching: It's too early to take either of these encouraging signs to the bank. There's still plenty of time for South African hospitalization data to take a dark turn, and researchers are still studying how well the vaccines work against the variant in the real world.
But for now, there's at least hope that we've avoided the worst-case scenarios.
3. CDC's vaccine totals may not be accurate
The CDC's vaccine tracker says 99.9% of American seniors have gotten at least one dose of a COVID vaccine. But independent experts and some states say that number is too high, Kaiser Health News reports.
What they're saying: The CDC told KHN that it can't always tell whether a particular dose was someone's first, second or third shot, if that patient has gotten multiple doses from multiple providers or in multiple states.
So the CDC may be misclassifying some people's second shots, or their booster doses, as first shots.
KFF said its estimates for the number of seniors with at least one shot were tracking closely with the CDC's until boosters became available — then the CDC's tally for the number of first doses started rising much faster.
States' data may have the same problem, though. They could be missing some fully vaccinated people who got a second shot in a different state, as well as people who got vaccinated in federal facilities like prisons or VA hospitals.
My thought bubble: Whether people are fully vaccinated, and boosted, is becoming a lot more important as our focus shifts to new variants.
If the U.S. has more unvaccinated seniors than we think, but also more boosted seniors than we think — which seems likely, based on KHN's reporting — that would change the country's overall risk assessment pretty significantly.
4. 1 good tweet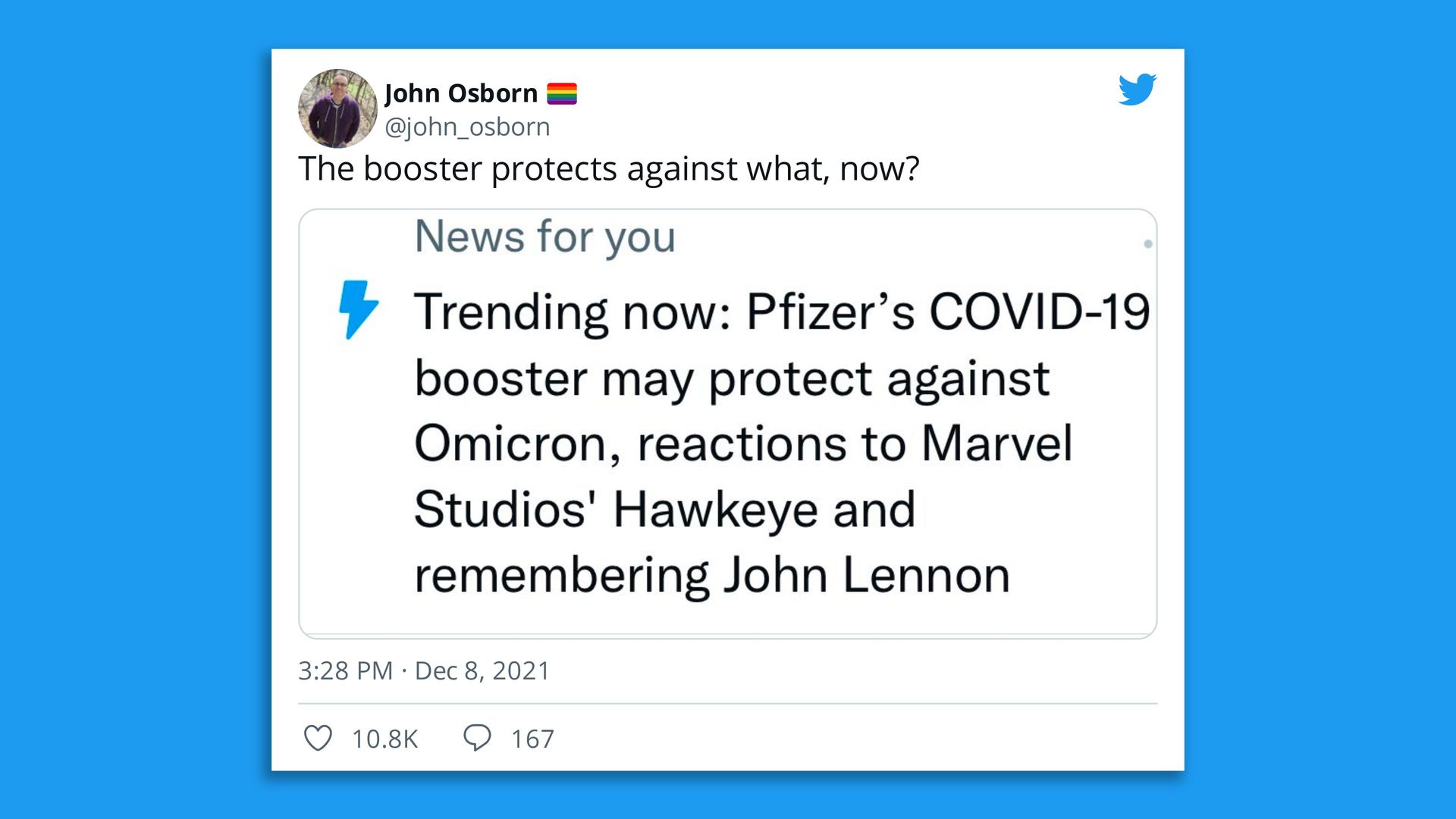 5. The parents who are still on the fence
Parents are still feeling a little shaky about getting young children vaccinated, according to KFF's vaccine monitoring survey.
Between the lines: Pediatric vaccinations haven't been entirely subsumed into the culture war. This survey reveals plenty of real trepidation, and real trepidation can be allayed if health leaders and policymakers take it seriously.
What to watch: The best chance to improve children's vaccination rates may come from the vaccinated parents of kids ages 5–11 — the youngest group eligible for a shot.
A plurality of those parents (39%) said they're going to "wait and see" before getting their kids a shot. Among vaccinated parents with teenage kids, by contrast, 75% said their children were already vaccinated.
Overall, only 43% of parents said they're confident the vaccines are safe for kids aged 5–11, compared to nearly two-thirds who said they're confident the jabs are safe for adults.
Majorities said they don't think they have enough information about the vaccines' effectiveness, safety or potential side effects in kids. Even a majority of vaccinated parents said they don't know enough about safety and side effects.
The other side: We're talking about vaccines here, so of course there's still some dug-in ideological divide. Overwhelming majorities of parents who are themselves unvaccinated said they will "definitely not" get their kids vaccinated.
Over 70% of unvaccinated parents, and more than 60% of Republicans, said they thought the vaccines would be more dangerous to their kids than getting COVID.