Good morning ... We're in that anything-can-happen phase where Senate Republicans are frustrated, looking to try just about anything to revive their health care effort, and unable to move on because the White House won't let them. On the bright side, Senate Majority Leader Mitch McConnell is looking way less stressed than we would have expected. It's almost as if he saw it all coming.
https://www.axios.com/newsletters/axios-vitals-8b552240-4c31-4912-84d3-b83e037f76a4.html?chunk=0#story0
Death stalks the Senate's health care bill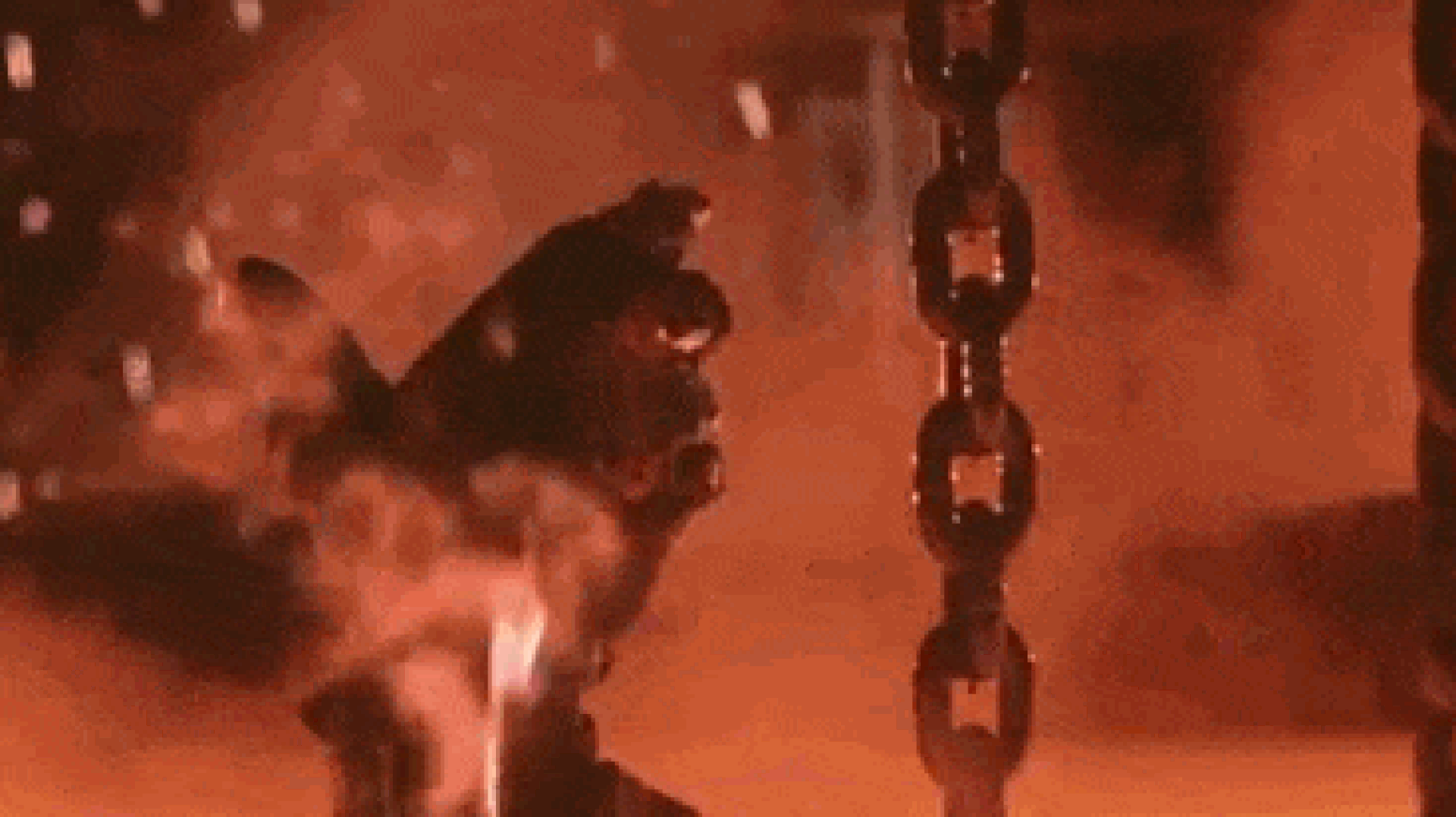 It ain't over until it's over, and there's still some chatter bouncing around Capitol Hill about last-minute shenanigans or a Hail Mary on the Senate floor. And President Trump is sure to put some serious pressure on the moderates this afternoon when all of the Republican senators lunch with him at the White House.
But unless something dramatic changes, Washington appears to be about done with the repeal-and-replace phase of the debate over the Affordable Care Act. The next phase, though, could be just as hard.
The Trump administration — including the president himself as well as the IRS and the Department of Health and Human Services — has some tough decisions to make about whether to torpedo the ACA (and, in the process, people's health care), or suck it up and try to make the law work.
Trump clearly prefers the former, but the career staff at HHS and the IRS have been doing this work for years now. It's not realistic to expect everything to grind to a halt.
Congress, too, will turn to a smaller-scale but still critically important debate over piecemeal efforts to stabilize states' insurance markets.
A handful of GOP senators sincerely want to offer some help — including Sen. Lamar Alexander, the chairman of the HELP Committee, who said yesterday he'll begin holding hearings on the health of the individual market, no matter how the Senate vote shakes out.
In the meantime:
The Senate will vote early next week on a procedural motion to begin debate on the health care bill, Majority Leader Mitch McConnell said yesterday.
At least three Republicans — Shelley Moore Capito, Susan Collins, and Lisa Murkowski — have said they'd oppose the latest vehicle, a 2015 bill that would repeal most of the law but delay the effects of repeal for two years.
That means the vote — either on a procedural motion or the proposal itself — would fail even with Sen. John McCain in town.
It didn't take long for moderates to back away from the 2015 bill. Even though they voted for it before, it's now pretty clear that the Senate would have a hard time coming up with a replacement plan, even with another two years to think about it.
Flashback: Right after the election, Axios' Caitlin Owens talked to one senior GOP Senate aide, who said re: the 2015 repeal bill: "We're not going to use that package. We're not dumb."
Twitter remembered this quote better than we did, but we followed up on Tuesday to ask the same aide about Senate Republicans deciding to, in fact, vote on the 2015 repeal bill: "Repeal and 2015 are pathologically stupid and it's criminal for Trump and conservatives to put us in that position."
https://www.axios.com/newsletters/axios-vitals-8b552240-4c31-4912-84d3-b83e037f76a4.html?chunk=1#story1
How did Democrats become insurers' best friends?
If you could time-travel back to 2009 and tell Democrats they'd be health insurers' strongest allies in 2017, you'd get some confused looks. They spent much of the ACA debate bashing health insurance companies for denying care for sick people — so why would they get along with insurers now?
Now, though, insurers want the cost-sharing reduction payments they were promised under the ACA, and Democrats are the ones who are trying to get the money for them. It's the Republicans who are calling the payments "bailouts."
Keep in mind: The ACA requires insurers to provide those subsidies to low-income customers whether they're reimbursed or not.
Republicans were willing to fund the payments for two years in the GOP health care bill, but now that that's collapsed, GOP leaders have no interest in working with Democrats on a standalone package to authorize the money — even though that's one of the main things insurers say will stabilize the markets.
Key quote: From Senate Majority Whip John Cornyn yesterday, after Democratic Sen. Jeanne Shaheen proposed funding the payments: "I personally will not be part of any bailout of insurance companies without reform."
What's next: The cost-sharing payments are supposed to go out to the health insurers sometime late this week. So far, the Trump administration has been reluctantly making them on a month-to-month basis, while the fate of the health care bill was being decided. Watch to see whether they're made this week.
https://www.axios.com/newsletters/axios-vitals-8b552240-4c31-4912-84d3-b83e037f76a4.html?chunk=2#story2
The base might not punish Republicans for failure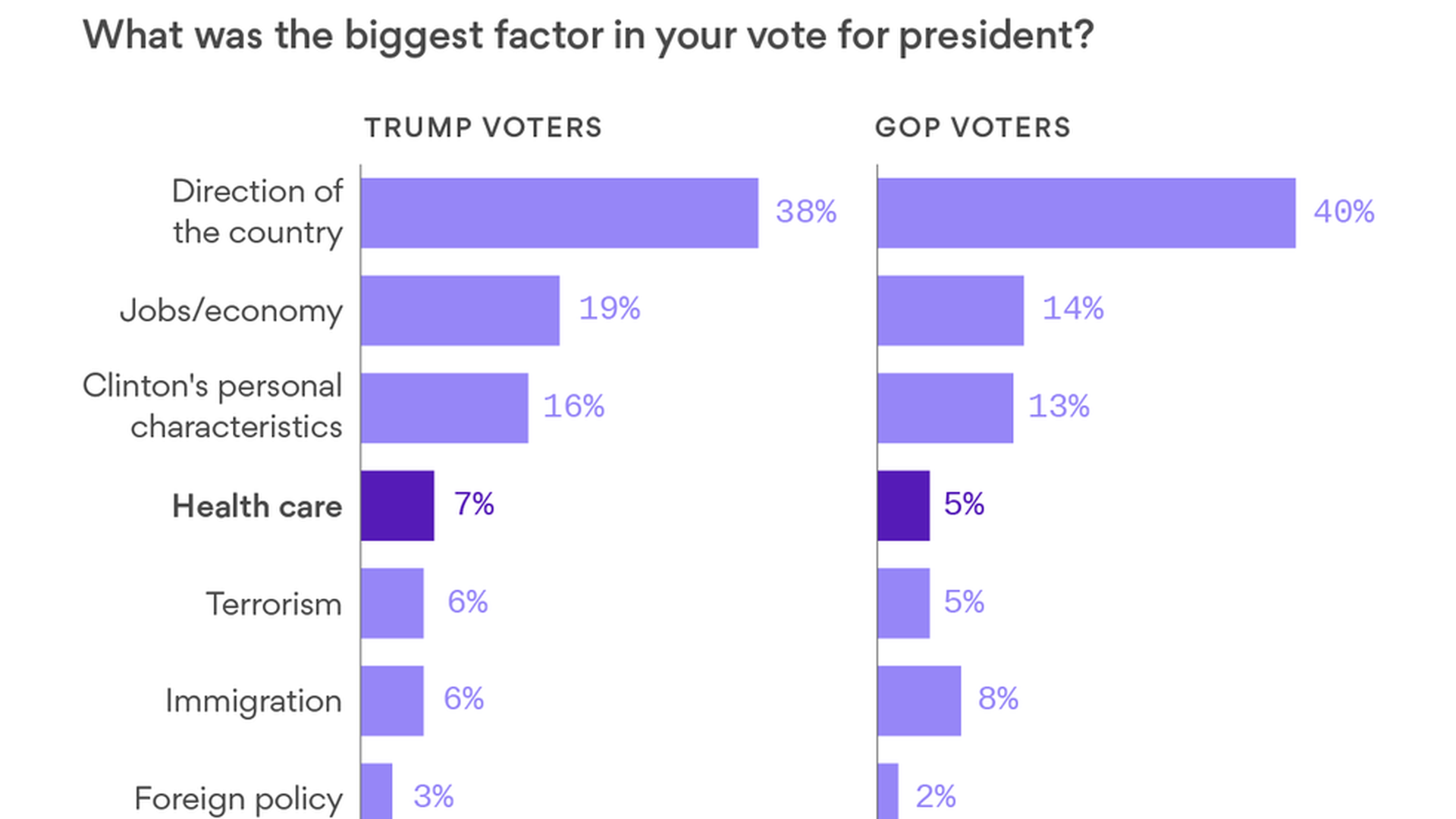 That's the counterintuitive read from the Kaiser Family Foundation's Drew Altman in today's column, which takes a timely look at the polling on Republican voters' top priorities. He finds that health care wasn't actually that high on the list for GOP voters in the 2016 election, or for people who voted for Trump.
And they don't feel that strongly about the ACA replacement plans, either — their favorable views of the GOP plans are far lower than Democrats' favorable views of the ACA. A little more than half of Republicans support repealing the ACA and replacing it later — but that's "hardly an overwhelming mandate," Altman writes, especially since only a quarter of the public likes the idea.
Yes, but: That doesn't mean there won't be any consequences to Republican senators. They could still face primary challenges fueled by conservative groups, as the Senate Conservatives Fund threatened yesterday. But no one should mistake that for a popular uprising.
https://www.axios.com/newsletters/axios-vitals-8b552240-4c31-4912-84d3-b83e037f76a4.html?chunk=3#story3
The one thing Trump doesn't want to own
"Let Obamacare fail, it will be a lot easier," Trump said yesterday. "And I think we're probably in that position where we'll just let Obamacare fail. We're not going to own it. I'm not going to own it. I can tell you the Republicans are not going to own it. We'll let Obamacare fail and then the Democrats are going to come to us."
A few things to note:
It's not failing. It's not smooth sailing, either, but it's not failing. There are parts of the country in which no insurance plans are available. That is, obviously, bad news for the ACA, and for consumers. But those isolated problems are not dragging down the whole system. On balance, it's working.
Trump could make it fail. His administration could stop paying insurers' cost-sharing subsidies, stop enforcing the individual mandates, stop promoting enrollment, etc. It could cause a lot of new problems. And, sure, Trump could try to blame all those problems on "Obamacare."
But there's a good chance Republicans will own it. In Kaiser's April tracking poll, 75% of respondents said Trump and his administration should do what they can to make the law work, and 61% said they'd blame Trump and congressional Republicans for future ACA problems. That figure dropped in Kaiser's June poll, in which voters said they'd blame Republicans and Democrats about equally, but insurance companies even more.
https://www.axios.com/newsletters/axios-vitals-8b552240-4c31-4912-84d3-b83e037f76a4.html?chunk=4#story4
Venture capitalist aims for type 1 diabetes
Our colleague Dan Primack has a piece up this morning about the backstory behind a $50 million venture philanthropy fund that's supposed to steer more money toward type 1 diabetes research. It started with JDRF, the country's largest non-profit focused on type 1 diabetes, reaching out to a Bain Capital executive to come up with a business plan to fund research startups. The executive — whose son has type 1 diabetes — and a colleague drew up the plan and launched the fund.
Why it matters: As Dan points out, venture capitalists haven't spent that much money on type 1 diabetes. They've spent more on type 2, which is better understood.
https://www.axios.com/newsletters/axios-vitals-8b552240-4c31-4912-84d3-b83e037f76a4.html?chunk=5#story5
The ripple effect of declining births
Federal data recently detailed how there is a historically low amount of babies being born in the United States. The birth rate doesn't appear to be picking up, which actually is raising red flags for at least one health care stock. (That's right — infants and Wall Street.)
Stock brokerage Robert W. Baird & Co. crunched some numbers this week in a report obtained by Bob Herman, and it showed births in Florida, Texas, and North Carolina declined by 3.7% year over year in June.
Impact on health care providers: Many hospitals have shuttered maternity wards over the past several years, unable to pay doctors and staff with so few incoming babies, as Reuters recently reported. It also hinders companies like Mednax, a publicly traded firm that staffs pediatric specialists and neonatologists at hospitals.
Key quote: "This doesn't feel good." — Baird analysts about Mednax's stock ahead of its July 28 earnings report