Good morning ... The zombie health care bill is alive, and it's heading to the Senate, where serious, slow-moving senators get to spend weeks figuring out if they really want to get rid of the Affordable Care Act. The politics won't get any better, but don't kid yourself: If the House can pass a bill, Senate Republicans won't want to be the ones who couldn't finish the job.
https://www.axios.com/newsletters/axios-vitals-8a14e1ee-9850-4478-96b8-516cd0ef8696.html?chunk=0#story0
It's health care time in the Senate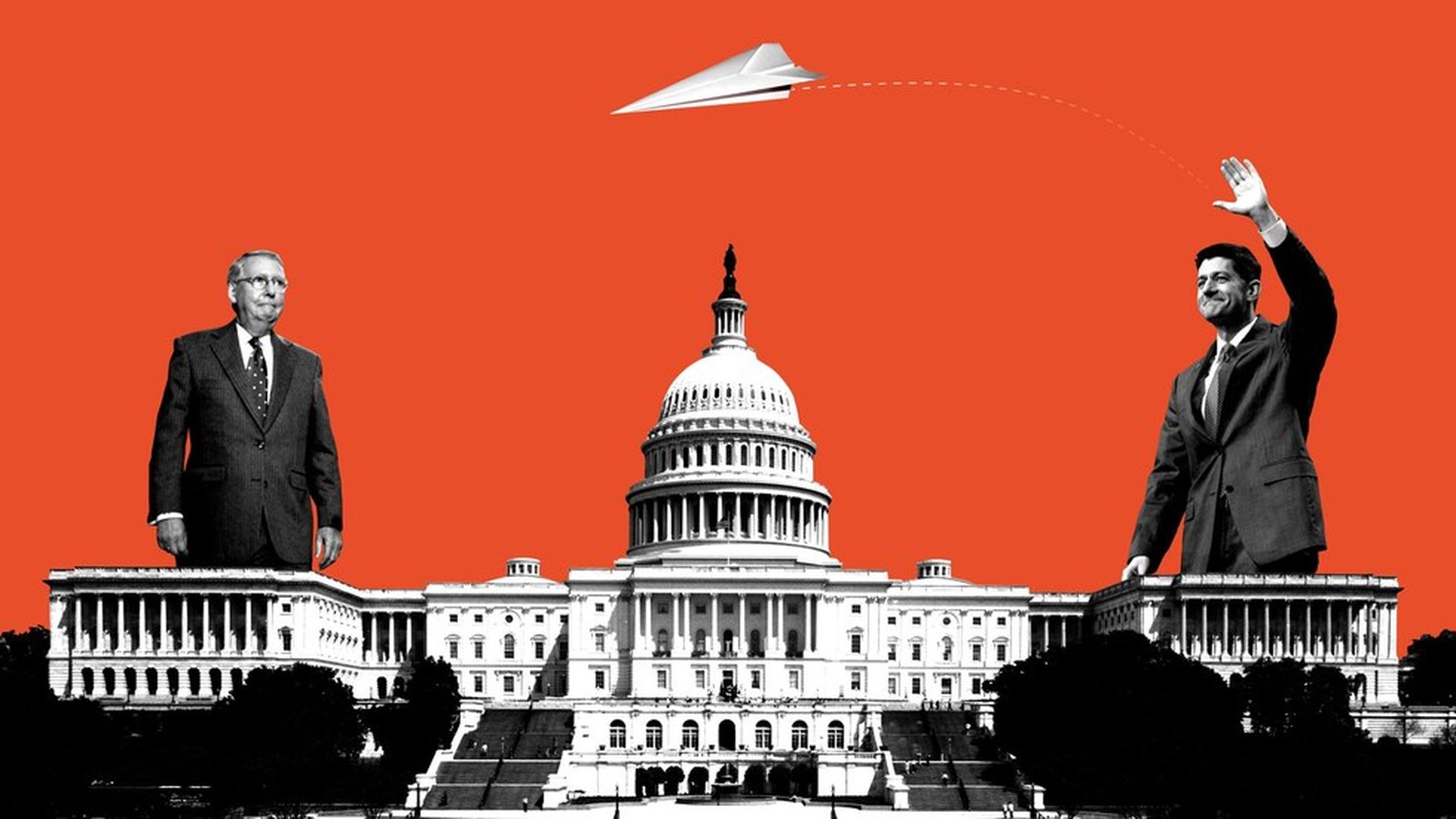 So now it's the Senate's turn. It's not going to look like the sputtering, start-and-stop process in the House (if they're lucky), and Senate Republicans are likely to be more careful on the policies in replacing the Affordable Care Act. But they'll have to mediate the same tensions between conservatives and moderates as the House did, and it could take them weeks to put their version together.
What we know about what comes next, via Caitlin Owens:
Majority Leader Mitch McConnell has assembled a working group of GOP members representing different factions of the caucus to discuss how to move forward. They met shortly before the House vote on Thursday, the second meeting the group has had. The bill is unlikely to go through committee, although the committee chairmen will still have an important role in the process.There will be a Congressional Budget Office score before senators take a vote. This is necessary to make sure the bill complies with Senate rules. As far as timing, it'll take "several weeks," one senior aide said. A second told Caitlin that "the Senate isn't going to put a deadline on handling repeal and replace. Getting it right will set the date, and once the Senate Republican conference is ready to go, then it will move." HELP Committee chairman Lamar Alexander says he'll have four priorities: help people who won't have any insurance options next year, lower premiums, give states more flexibility on Medicaid without "pulling the rug out from under people," and protecting people with pre-existing conditions.Alexander on how the process will work: "We'll be informed by what the House did, and I'm sure if they worked the issues out, we'll borrow their ideas wherever we can. But we'll write a Senate bill, it'll get a [CBO] score so we'll know what the cost is, and then we'll vote."Finance Committee chairman Orrin Hatch: "We must manage expectations and remain focused on the art of the doable."Sen. Rob Portman: "I continue to have concerns that this bill does not do enough to protect Medicaid's expansion population."
https://www.axios.com/newsletters/axios-vitals-8a14e1ee-9850-4478-96b8-516cd0ef8696.html?chunk=1#story1
Who to watch in the Senate
There are a lot of Republicans who will have a hand in what happens next, and not just McConnell and Majority Whip John Cornyn, although they're definitely important. Caitlin Owens has been watching this for a while, and here's her list.
The chairmen: Lamar Alexander, Health, Education, Labor and Pensions Committee; Orrin Hatch, Finance Committee; Mike Enzi, Budget Committee.
Why: They're the experts — and Enzi will be especially important since everything they do has to comply with budget "reconciliation" rules.
The Medicaid caucus: Rob Portman, Pat Toomey, Cory Gardner, Shelley Moore Capito, Lisa Murkowski, Tom Cotton and Bill Cassidy.
Why: These members are from states that expanded Medicaid under the Affordable Care Act, and many of them spoke out against proposed cuts in an early version of the House bill. Portman is looking into an amendment that would create a more gradual phaseout of the expansion.
The conservatives: Ted Cruz, Mike Lee and Rand Paul.
Why: These members — particularly Cruz and Lee — are going to be big about states' rights. And Senate Republicans can't lose more than two votes, or the bill dies.
The 2018ers: Dean Heller and Jeff Flake.
Why: Both are from states that expanded Medicaid and are up for reelection next year.
Leadership: Senate Republican Conference chairman John Thune and Senate Republican Policy Committee chairman John Barrasso.
Why: They're both heavily involved in the effort. Thune has been working on an amendment to the House bill tax credit for weeks. Barrasso, a doctor, has led the caucus's anti-Affordable Care Act messaging for years.
https://www.axios.com/newsletters/axios-vitals-8a14e1ee-9850-4478-96b8-516cd0ef8696.html?chunk=2#story2
The Senate does have one real deadline
Members of the Senate are being clear that they've learned from the House's mistakes in one aspect: They're going to set "no artificial deadlines" for themselves on health care, as Alexander put it. But a very real deadline is approaching, as plans have to decide whether they'll participate in the federal Affordable Care Act exchange by June 21 and even sooner for some state exchanges. And currently, things look bad in both Tennessee and Iowa.
The problem: ACA premium subsidies — which are crucial to low-income customers on the individual market — can only be used to buy exchange coverage, although plans can also offer coverage outside of exchanges. But there are 16 counties in Tennessee currently at risk of having no insurer offer exchange plans, and Iowa could easily follow suit.
The solution: Alexander has a bill with Sen. Bob Corker addressing this problem by allowing ACA subsidies to be used outside of exchanges in 2018 and 2019 in places where no insurers are participating. A version of the bill was included in the House health care bill that passed Thursday, but if the Senate can't get it together before the June deadline, Alexander said it might have to pass a smaller bill to fix the problem.
"If we succeed with our overall bill, that would take care of it. If we don't succeed, I'll try with a smaller bill," he told Caitlin Owens.
https://www.axios.com/newsletters/axios-vitals-8a14e1ee-9850-4478-96b8-516cd0ef8696.html?chunk=3#story3
Best scenes from the House debate
Here's what you would have seen if you'd been in the House chamber:
House Speaker Paul Ryan having a long talk before the vote with Freedom Caucus chairman Mark Meadows, one of the conservative holdouts who eventually endorsed the bill. Ryan didn't look stressed — it just looked like a friendly chat.
Ryan talking and laughing with other Republicans as House Minority Leader Nancy Pelosi delivered her fiery speech against the bill.
House Majority Leader Kevin McCarthy and Majority Whip Steve Scalise, standing around and chatting during the vote. They weren't twisting arms, and they looked like they didn't have a care in the world — because they had the votes.
The cheerful look on Democrats' faces as they mocked Republicans after the vote: "Na na na na, hey hey, goodbye."
https://www.axios.com/newsletters/axios-vitals-8a14e1ee-9850-4478-96b8-516cd0ef8696.html?chunk=4#story4
Best reads on the House bill
And one headline no member of Congress wants to see:
"Congressman admits he didn't read full health care bill before voting," per CNN.
https://www.axios.com/newsletters/axios-vitals-8a14e1ee-9850-4478-96b8-516cd0ef8696.html?chunk=5#story5
What's on the line for the industry
Here's how the Republican health care bill might affect different health care industries and companies if a final bill resembles what the House passed, courtesy of Bob Herman:
Large health insurers: The bill is quite beneficial for Aetna, Anthem, Cigna, Humana and UnitedHealth Group. They didn't mind the days when they could charge older and sicker people more for coverage. The bill also doesn't fiddle with their commercial or Medicare revenues, it permanently repeals the ACA's health insurance tax, and it could pave the way for large-scale corporate tax reform.Smaller health insurers: Not as beneficial. Centene, Molina Healthcare and many not-for-profit plans rely heavily on Medicaid dollars, which would get slashed.Hospitals and doctors: The bill doesn't bode well for them, considering that roughly 24 million people would lose their coverage, driving up the number of people who may not be able to pay their medical bills. Hospitals in states that didn't expand Medicaid would not be hurt as much as hospitals that have reaped the extra funding in expansion states, Gupte said.Pharmaceuticals and medical devices: The bill doesn't touch drug prices or the supply chain, and the medical device tax would be scrapped, so the beer is flowing.
https://www.axios.com/newsletters/axios-vitals-8a14e1ee-9850-4478-96b8-516cd0ef8696.html?chunk=6#story6
How insurers are helping the repeal effort
The normally cautious health insurance industry is speaking up about its concerns now. Marilyn Tavenner, president and CEO of America's Health Insurance Plans, warning yesterday that the House health care bill "needs important improvements to better protect low- and moderate-income families who rely on Medicaid or buy their own coverage."
But two of their decisions this week helped the House repeal effort by helping Republicans depict a state of crisis with the Affordable Care Act. These are the decisions Republicans mentioned repeatedly during the floor debate yesterday:
Medica, the last major insurer in Iowa, announced it may pull out of the state ACA exchanges "without swift action by the state or Congress to provide stability."
Aetna announced it won't sell ACA plans in Virginia next year.
House Majority Leader Kevin McCarthy, during the floor debate: "You know what doesn't cover pre-existing conditions? A health care system that doesn't have coverage. No options means no coverage."
https://www.axios.com/newsletters/axios-vitals-8a14e1ee-9850-4478-96b8-516cd0ef8696.html?chunk=7#story7
To Trump, insurer payments are "ransom money"
Yes, that's how President Trump described the payments insurers are still trying to get for the ACA's cost-sharing reduction subsidies. The Affordable Care Act is "essentially dead," Trump said at his victory gathering with House Republicans yesterday at the White House: "If we don't pay lots of ransom money over to the insurance companies, it would die immediately."