Good morning — Sen. Bill Cassidy survived his town hall on Obamacare, and the Trump administration is dismissing all of the protests, but you should see some of the videos. Also, Republicans have a huge headache on their hands if they're really going to limit the tax break for employer health coverage. And the Obamacare rule has already gotten a ton of comments, with more to come.
https://www.axios.com/newsletters/axios-vitals-89b60110-9438-46e8-8ce8-f3ace4cd428d.html?chunk=0#story0
Cassidy wishes the protesters would read his plan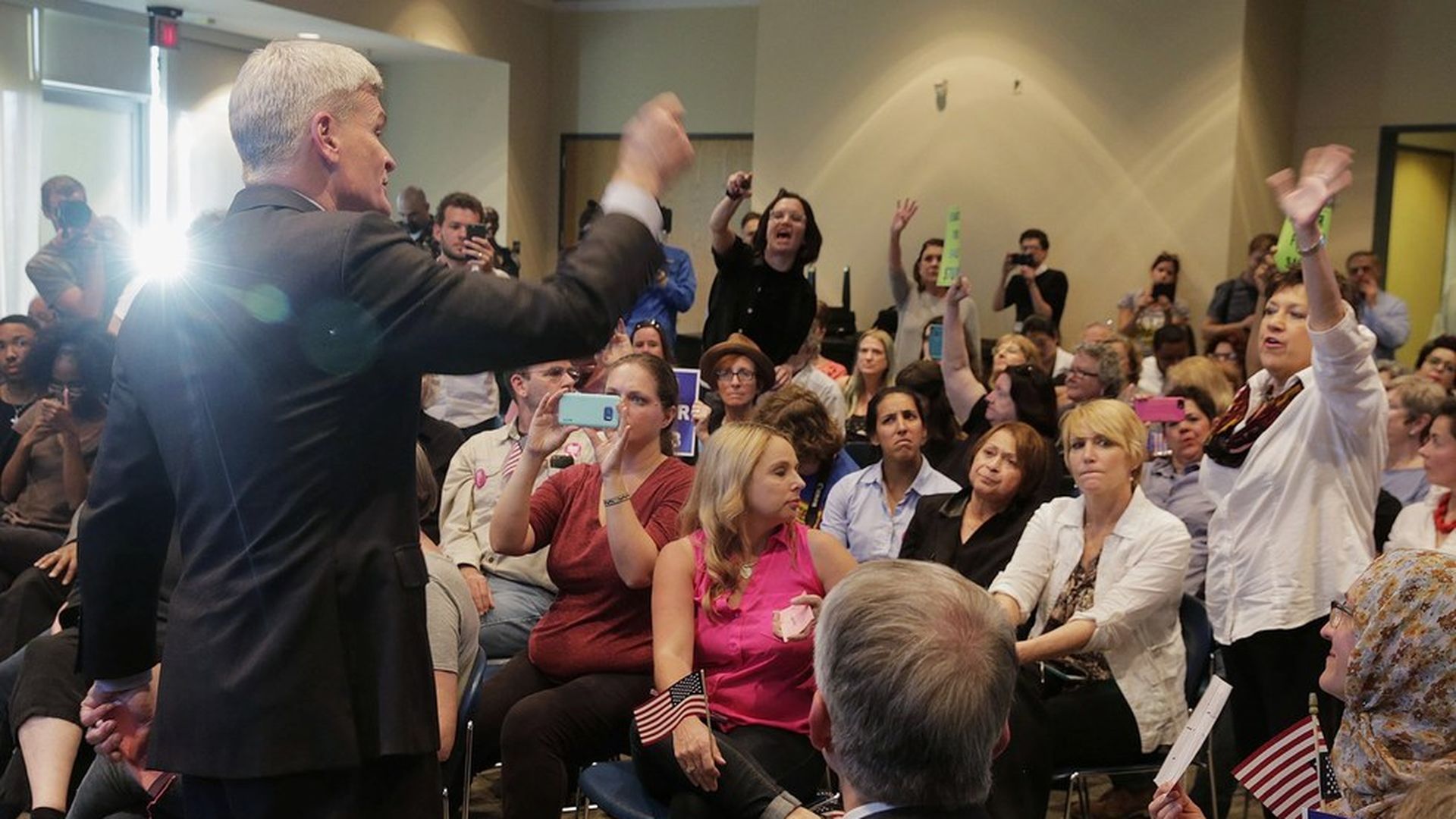 Sen. Bill Cassidy got yelled at a lot, and had protesters turn their backs on him, at his town hall meeting on Obamacare in Louisiana yesterday. But Caitlin Owens, who was there, found that Cassidy wasn't really upset or frustrated afterwards. He was trying to seem unfazed and upbeat. He just wished that people would read the replacement plan he and Sen. Susan Collins have introduced, because he thinks it would satisfy their needs.
That includes the woman who shouted at him that her child would be "uninsurable" without Obamacare. "These are Americans who are passionate about their country, they don't quite yet understand, and they want good things," Cassidy told reporters after the meeting. He said it was their right to speak out, and insisted he wasn't rattled: "At some point, you just started to have fun." If you didn't see Caitlin's story yesterday, read it and watch her amazing videos here.
The other big town hall moment: Check out this CNN video from Sen. Tom Cotton's town hall in Arkansas, and listen to the anger in this woman's voice: "My husband with dementia, Alzheimer's, plus multiple, multiple other things, and you want to stand there with him at home [and] expect us to be calm, cool and collected. Well, what kind of insurance do you have?"
https://www.axios.com/newsletters/axios-vitals-89b60110-9438-46e8-8ce8-f3ace4cd428d.html?chunk=1#story1
Why the Trump administration isn't worried
They've decided to take President Trump's cue and treat the town hall protests as a colorful show from liberal activists, rather than a warning sign of real anger from constituents. Here's what Vice President Mike Pence said in Fenton, Missouri yesterday: "Despite the best efforts of liberal activists at town halls around the country, Obamacare has failed and it has got to go."
And here's White House press secretary Sean Spicer at yesterday's press briefing: "I think there's a hybrid there. I think some people are clearly upset, but there is a bit of professional protester manufactured base in there ... Just because they're loud doesn't necessarily mean that there are many."
Why we're going to hear about this again: Republicans are taking a risk by betting that they can ride out the protests. They may be right, but Democrats thought they could ride out the anger over health care reform at the 2009 town halls, too — until they lost the House in 2010.
https://www.axios.com/newsletters/axios-vitals-89b60110-9438-46e8-8ce8-f3ace4cd428d.html?chunk=2#story2
The GOP's big employer tax exclusion headache
It's no wonder House Republicans are stuck on whether to limit the tax break for employer health coverage, as they've been discussing for their Obamacare replacement. The big problem: It's going to be hard for them to fight charges that it's a tax increase.
Republicans haven't filled in the details yet, at least publicly, but here's what happens when you try. The Congressional Budget Office did in December, and this is what it found for the most extreme scenario:
Deficit reduction by 2026: $426 billion.
People who would lose employer health coverage: 4 million.
Average tax break for individuals in 2026: $1,420.
Decrease in tax break from current law: $3,860.
You see where this is headed: Don't Tax My Health Care, a business-led lobbying coalition, is already calling that a $3,860 tax increase. There are other, more moderate options that would have smaller impacts, but it's not hard to see why the whole idea has become a political headache.
How they'll fight back: Republicans say their plan isn't going to look like the CBO scenario. They say they'd only target a small portion of the tax exclusion, which has the value of a $3.6 trillion subsidy over the next decade, and it would only affect a small group of people. And Ways and Means Committee chairman Kevin Brady has said he doesn't see it as a tax increase, because most people don't even know they get the tax break.
https://www.axios.com/newsletters/axios-vitals-89b60110-9438-46e8-8ce8-f3ace4cd428d.html?chunk=3#story3
The Obamacare rule comments are rolling in
The Trump administration's Obamacare "marketplace stabilization" rule has been out for less than a week, but it already has received more than 420 public comments, Bob Herman reports. That number is only going to balloon since the comment deadline is March 7.
Nearly all of the input so far has come from citizens, including many health insurance agents. Many people have used the regulatory comment site as a virtual Obamacare town hall, but they also took the chance to air their perspectives on how the proposed rule will affect them.
Susan McWright, a health insurance broker in Kentucky, criticized the proposal to cut the Obamacare open enrollment window in half: "It is an unreasonable expectation to think we can service our client base in a period of 6 weeks."
Wesley Sanders, a health plan employee in Georgia, supports restricting special enrollments, where he says some sick people have gamed the system: "These outlier cases distort the risk pool and make it difficult for issuers to price accurately." However, he wants the verification process for people to be "seamless."
Bruce Telkamp, CEO of the consumer research site HealthPocket, "strongly supports" the proposed rule. But his company has a horse in the race. HealthPocket is owned by Health Insurance Innovations, which sells short-term health plans. It could benefit by signing up healthy people who get locked out of or give up on the special enrollment process.
What to look for:
When America's Health Insurance Plans, the Blue Cross and Blue Shield Association and other industry groups weigh in.
https://www.axios.com/newsletters/axios-vitals-89b60110-9438-46e8-8ce8-f3ace4cd428d.html?chunk=4#story4
Medicaid expansion ... in Kansas?
Don't get too excited yet, but it's still not the kind of thing you expect to see in this deep-red state: the Kansas House voted 85-40 yesterday to expand Medicaid, the Lawrence Journal-World reports. It's a huge poke in the eye to Republican Gov. Sam Brownback, but it still has to pass the state Senate. (Not to mention the fact that Congress is about to end the whole Medicaid expansion thing anyway, if they can ever figure out how to do it.)
https://www.axios.com/newsletters/axios-vitals-89b60110-9438-46e8-8ce8-f3ace4cd428d.html?chunk=5#story5
Merger watch: Catholic Health Initiatives and Dignity Health
Bob Herman reports that Nick Barto, a senior vice president at Catholic Health Initiatives, told bondholders Wednesday that CHI and Dignity Health will make up their minds on their pending merger "early" in the 2017 calendar year. Barto didn't disclose details beyond that, but it's a reminder that there will be a verdict soon for one of the largest pending health care deals. If CHI and Dignity Health combined, the hospital system would have a bigger revenue base than companies like McDonald's or Macy's.