Happy Groundhog Day. It looks like Tom Price is on his way to HHS (jinx!), and we're going to hear a lot today about the pros and cons of "continuous coverage." And we know more about what health insurers want in an Obamacare replacement plan, thanks to yesterday's Senate HELP Committee hearing. Know what we don't have yet? A replacement plan that's ready for a vote.
https://www.axios.com/newsletters/axios-vitals-847aa5b1-749f-43f0-810f-513d54a31ac7.html?chunk=0#story0
The moment when Tom Price probably won his HHS job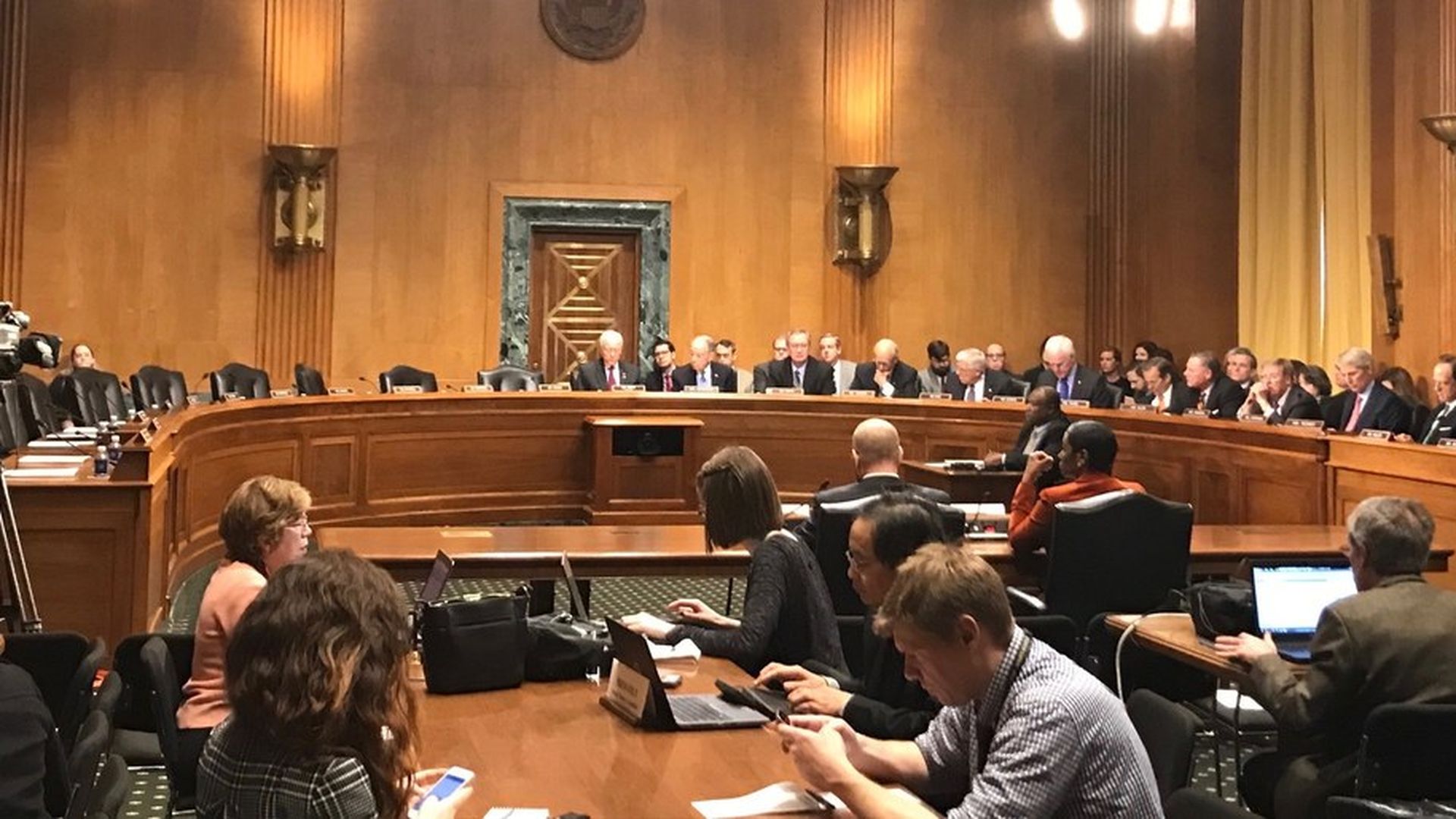 It looked like this: a half-empty Senate Finance Committee hearing room, with all Republicans and no Democrats. That's when Finance Committee Republicans suspended the committee rules and approved Price's nomination for Health and Human Services secretary shortly after 9:30 a.m. yesterday, at a meeting that was called only about 20 minutes in advance. Caitlin Owens rushed over, and you can read her story here.
That's what the Republicans decided they had to do, since the Democrats were still boycotting to try to block the vote. Barring some major surprise — and as we learned this week, you never know for sure — that vote probably handed the HHS secretary job to Price. When he gets to the Senate floor, he'll only need 51 votes to be confirmed, thanks to a rules change that Senate Democrats engineered when they were in power. (Read this Atlantic piece about how that change is now a huge help to President Trump.)
Why this will be remembered: Usually, the bickering over a nominee is forgotten pretty quickly once they're in the job. But Price generated an awful lot of stories questioning the ethics of his stock trades, and the Democrats are pretty sure he misled them in his testimony. Republicans want to get him into the job quickly so HHS doesn't spend a long time without a leader, but if there's even a hint of scandal in Price's HHS tenure, all of this will come back to haunt him.
https://www.axios.com/newsletters/axios-vitals-847aa5b1-749f-43f0-810f-513d54a31ac7.html?chunk=1#story1
Here's what might actually happen on drug prices
Trump may be dialing down the hot rhetoric a bit, but it's clear he still wants to act on drug prices — and it's definitely on the radar in Congress. Caitlin Owens has a good rundown of what actually has a chance and what you can ignore. The short answer: anything that increases market competition is a good bet (even Trump said this week that that's the key to lower prices). If it involves government action, it's probably not happening, Read Caitlin's story here.
Speaking of which: There's been a lot of discussion and tweetage about whether Trump actually backed off of his calls to let Medicare negotiate drug prices. Vox said he did, other health care reporters (including me) didn't read it that way, and White House press secretary Sean Spicer later made it sound like the plan was still on.
My best read, after talking with drug industry sources: He may not have dropped the idea completely, but he has definitely shifted his emphasis to other things — and his language has always been so mangled ("bidding wars") that even drug execs aren't sure what he means anymore. At the very least, that's not a recipe for getting it done.
https://www.axios.com/newsletters/axios-vitals-847aa5b1-749f-43f0-810f-513d54a31ac7.html?chunk=2#story2
What you'll hear today about continuous coverage
There's going to be a lot of talk about how the idea might actually work, and whether it can be more effective than Obamacare's individual mandate, at a House Energy and Commerce health subcommittee hearing this morning. The idea is to cover people with pre-existing conditions only if they keep themselves insured. Based on advance statements and testimony, this is what you're likely to hear:
Douglas Holtz-Eakin of the American Action Forum: It's probably going to be more effective than the mandate, since a lot of young adults decided to just pay the fine rather than get coverage.
J. Leonard Lichtenfeld of the American Cancer Society: it would be too broad and would unfairly penalize people who lost coverage for reasons beyond their control.
Ranking Democrat Frank Pallone: It means insurance companies could go back to charging people more for pre-existing conditions.
So far, the actual language of the continuous coverage proposal hasn't been released.
https://www.axios.com/newsletters/axios-vitals-847aa5b1-749f-43f0-810f-513d54a31ac7.html?chunk=3#story3
Anthem on Obamacare: We don't know if we'll stick around
Anthem CEO Joe Swedish wasn't exactly bursting with confidence in Obamacare on the company's earnings call yesterday — or ready to commit to another year in the marketplaces, Bob Herman reports. "The individual market under ACA has not been working well," Swedish said. Anthem is one of the biggest publicly traded health insurers still in the Obamacare marketplaces — so if it pulls out next year, it's hard to see how the marketplaces avoid a meltdown.
The key quote: "We still need certainty about short-term fixes in order to determine the extent of our participation in the individual market in 2018. And we will be watching developments closely in the first half of 2017 as we evaluate our longer-term strategy for the health insurance exchanges." For more on the kinds of fixes the insurer wants, read Bob's story here.
https://www.axios.com/newsletters/axios-vitals-847aa5b1-749f-43f0-810f-513d54a31ac7.html?chunk=4#story4
Two senators who aren't shouting at each other
Senate HELP Committee chairman Lamar Alexander is making a point of encouraging Sen. Tim Kaine, Hillary Clinton's former running mate, in his talk of bipartisan cooperation on health care reform. Kaine and 12 other Democrats wrote to top Republicans a while back and called for a "constructive bipartisan conversation" about health care reform, saying it would "require time for the two sides to work together."
So Alexander wrote back to Kaine this week saying they should "work to find agreement where possible." And at Wednesday's HELP Committee hearing, he continued the overtures, saying that if there's one area where they should work together, it's on the problems of individual insurance market.
It may lead to nothing, since these kinds of words are exchanged all the time in Congress. But sometimes they do lead to quiet conversations when moderates want to solve a crisis — so if you hear down the road that Alexander and Kaine are talking about pragmatic fixes, don't be totally surprised.
https://www.axios.com/newsletters/axios-vitals-847aa5b1-749f-43f0-810f-513d54a31ac7.html?chunk=5#story5
Guys, it's a value assessment framework!
Here's something that may not have been on your light-reading list: the Institute for Clinical and Economic Review, a small Boston non-profit that tries to measure the value of drugs, has put out a new value assessment framework that grapples with the tricky issue of how, exactly, you should measure their value. This is what the truly devoted health care wonks were reading yesterday.
The new framework tries formally to include hard-to-measure factors like how a treatment affects a patient's quality of life or the burden on caregivers. It also tries to improve the ways it calculates the impact that the cost of the medical treatments could have on society. If you're wondering what kind of influence ICER actually has, my former STAT colleague Ed Silverman answers the question here: insurers are citing their work when they negotiate prices with the drug companies.