Good morning ... Today's the day — We can't wait to read the Senate health care bill. In the meantime, if you're visiting the Capitol, and you see hordes of reporters coming at you as we interview some senator, find somewhere to hide. Apologies in advance.
And we have one more newsletter joining the Axios family! It's Media Trends, by our colleague Sara Fischer, and it's about the changes in different kinds of media that affect our lives — from cord-cutting to consolidation to fake news. It starts next week. Sign up here.
https://www.axios.com/newsletters/axios-vitals-834c001f-dafa-4825-a269-9f50835d48ae.html?chunk=0#story0
Senate Republicans are about to find out what's in their bill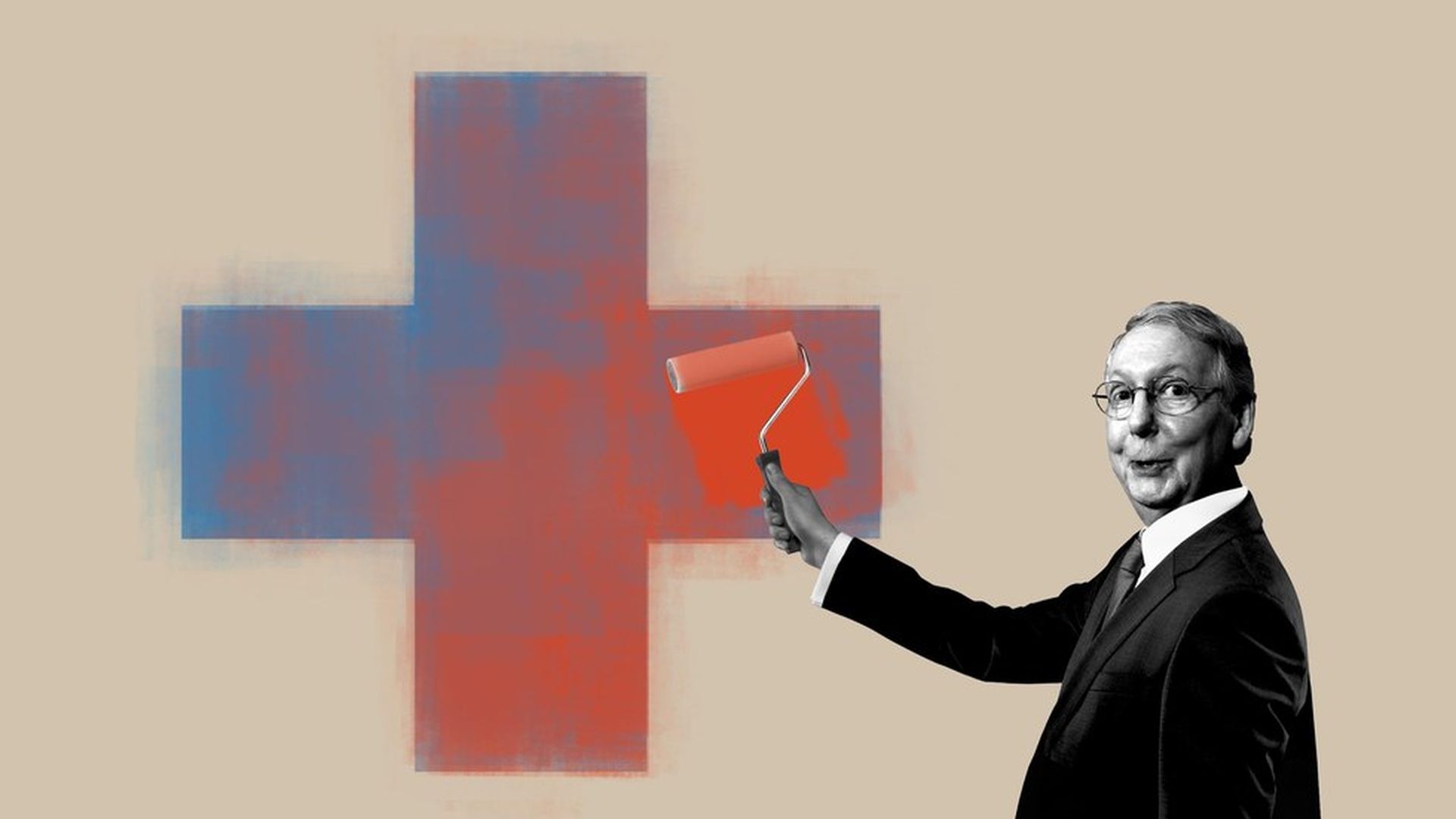 It's not just the rest of us who are in suspense. When Senate GOP leaders post the draft bill online this morning, it will be the first look at the details for a lot of rank and file Senate Republicans, too — aside from the leaks, of course.
"How can I discuss it when I don't know what it is?" —Sen. John McCain
"Believe me, I'm even more eager than you are to see the bill." — Sen. Susan Collins
Reality check: It's not a total mystery — Caitlin Owens has as good a read as anyone, and we're getting new details this morning from sources who have been briefed. And the bottom line is, it's not going to be radically different than what the House passed. It still gets rid of as many Affordable Care Act insurance rules as it can, rewrites the subsidies, and puts a tight squeeze on Medicaid spending.
The highlights of what we're likely to see:
Subsidies would still be available to help people buy health insurance, but only up to 350% of the federal poverty level starting in 2020, not the ACA's 400%.
It will have a four-year reinsurance program to help state insurance markets — though it might have to be passed separately, in the reauthorization of CHIP.
The ACA's cost-sharing reduction subsidies — one of the main things insurers say they need — would be funded through 2019. That may get challenged on the Senate floor, though.
States would get to waive some of the ACA's insurance regulations, through a beefed-up version of the law's "Section 1332" waivers.
Medicaid expansion will be phased out more slowly than in the House bill, ending the expansion in 2024.
But Medicaid will still have per-capita caps — and with tighter spending limits than the House bill starting in 2025.
Looking ahead: Democrats (and Republicans) will have a "virtually unlimited opportunity to amend it during the budget process on the floor" next week, per Senate HELP Committee chairman Lamar Alexander. So at least you can look forward to that.
https://www.axios.com/newsletters/axios-vitals-834c001f-dafa-4825-a269-9f50835d48ae.html?chunk=1#story1
What to look for in the Senate bill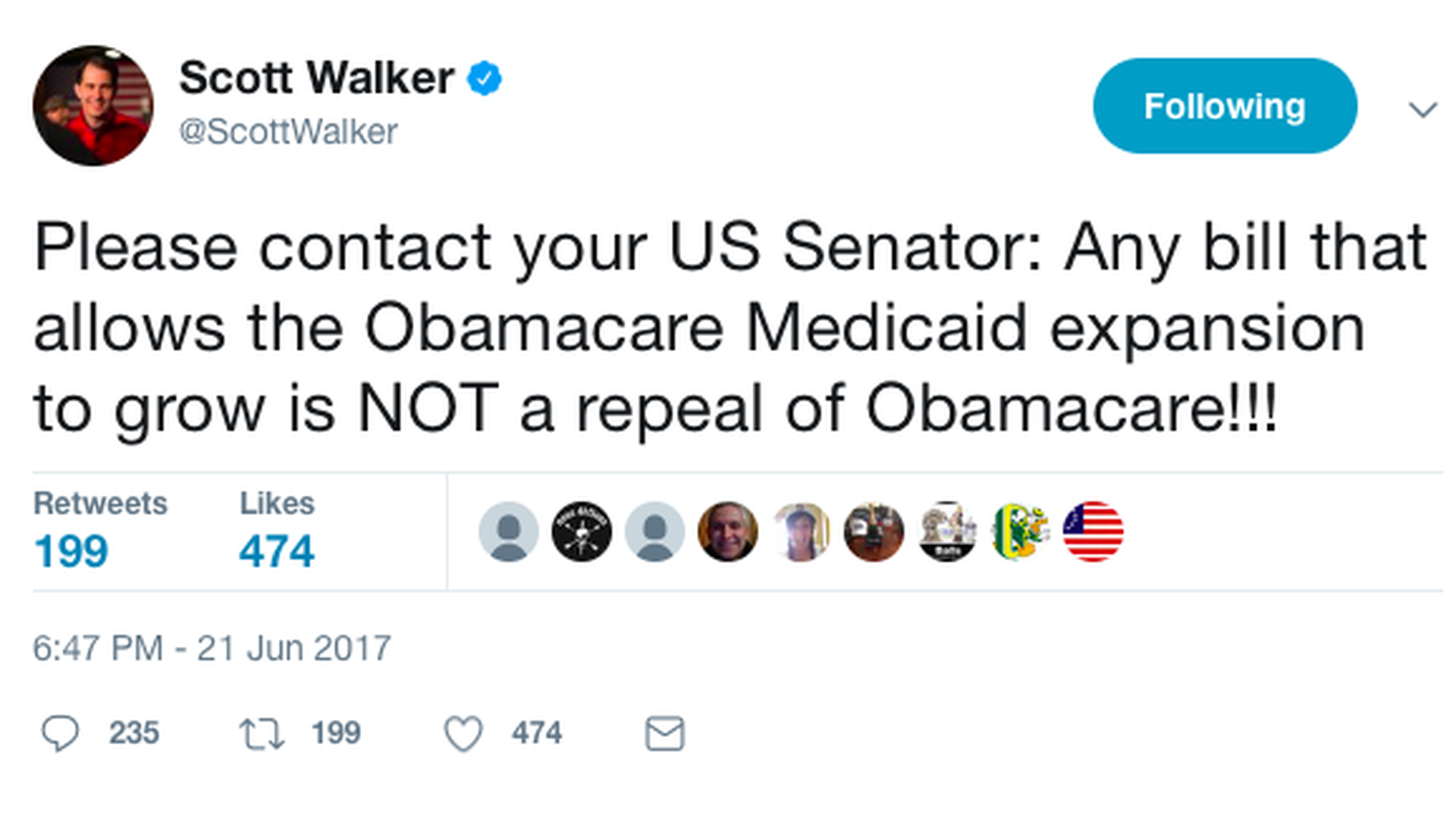 We're getting a better idea of what's in the bill, but a huge number of policy details still have the potential to significantly alter the way it would affect real-world insurance markets — which means there are also a lot of political landmines for GOP leaders to avoid.
Here are a few big things we'll be looking for once the actual bill drops:
Subsidy specifics: We know the bill will tie its premium subsidies to income more closely than the House did — a strong indication that Senate leaders are looking for something less "mean," in the president's words, than the House bill. But everything in health care has winners and losers: The exact structure of the bill's subsidies will determine who the losers here would be.
The Medicaid balance: We're expecting moderates to get their way on a more gradual phaseout of the Medicaid expansion, but conservatives to get their way on the funding levels for new capped Medicaid payments. Will more moderate GOP senators accept that compromise?
Broadly, how much work is left to do? McConnell is calling this a "discussion draft," but the vote is still supposed to happen next week. Does the bill already include, for example, a dedicated fund to combat the opioid crisis, or some sort of accommodation for Alaska's unique insurance market? Are all its funding levels filled in — and final? On an already compressed timeline, how much negotiating will happen at the 11th hour?
https://www.axios.com/newsletters/axios-vitals-834c001f-dafa-4825-a269-9f50835d48ae.html?chunk=2#story2
The meltdown didn't happen — now keep your eyes on September
There was no nightmare scenario yesterday — no ACA marketplace meltdown. Health insurers across the country submitted preliminary rate filings yesterday to sell ACA plans on HealthCare.gov, and many companies stayed in their existing markets, as Bob Herman reported.
There were some notable defections — like Anthem's exit from Indiana (its home state) and Wisconsin. Those two states lost two smaller ACA carriers as well.
What's next: Waiting for the premium increases to be made public, either by states or through the federal rate review website. And now, there are new important dates to watch:
August 16: Deadline for companies to make any changes to their ACA plans.
September 27: Deadline for states to give notice of final insurer participation.
The bottom line: David Anderson, a health policy researcher at Duke University who used to work at a health insurance company, put the process to Bob this way: "[Yesterday] the plans and states swiped right for each other. August is dinner with the parents. And September is down on a knee."
https://www.axios.com/newsletters/axios-vitals-834c001f-dafa-4825-a269-9f50835d48ae.html?chunk=3#story3
Medicare's next chapter takes shape
Bob waded through a 1,000-page proposed rule tied to the Medicare and CHIP Reauthorization Act — which is the next iteration of Medicare paying doctors for quality care — so you don't have to. You can read the entire tome here, if you want to.
In the meantime, a couple highlights:
More doctors will be exempt from participation in the baseline incentive program (read page 721 of the document). HHS secretary Tom Price heeded the calls of his fellow doctors who either don't like regulations or want to move slowly into the payment system.
Doctors won't be penalized for having older electronic health records. Another win for doctors, but a small downer for big health tech companies like Cerner, Epic, and Athenahealth, which wanted a mandate for their medical record and billing systems.
https://www.axios.com/newsletters/axios-vitals-834c001f-dafa-4825-a269-9f50835d48ae.html?chunk=4#story4
How FDA hopes to clear a path for generic drugs
OK, FDA fans, mark your calendars for July 18. That's when the agency is holding a public hearing to get suggestions on how to promote more competition from generic drugs — one of FDA commissioner Scott Gottlieb's main solutions to rising drug prices. In a blog post yesterday, Gottlieb said the goal is to find out if the agency's rules "are being used in ways that may create obstacles to generic access, instead of ensuring the vigorous competition Congress intended."
Between the lines: His post suggests he's especially interested in finding ways to keep the makers of brand-name drugs from blocking generic drug companies from getting samples of their products — an issue Collins raised with him at a Senate subcommittee hearing earlier this week. The key quote: "We are actively looking at ways our rules are being used and, in some cases, misused."