Axios Vitals
March 14, 2017
Good morning ... Now we wait for the fallout from those Congressional Budget Office estimates. Will wavering Republicans be as "encouraged" as House Speaker Paul Ryan was? Oh, and congrats to the Centers for Medicare and Medicaid Services on getting a new chief while we were all looking somewhere else.
Can Trumpcare survive the CBO freakout?
The next few days will tell us whether Republican leaders prepared adequately for the disastrous Congressional Budget Office estimates of the House Obamacare replacement bill. It's one thing to say, "we're not going to compete with a law that forces everyone to buy coverage." It's another thing to fight headlines about 24 million Americans losing coverage.
Quick recap:
Coverage losses: 14 million people in 2018, 24 million over 10 years
Savings: $337 billion over 10 years
Medicaid cuts: $880 billion over 10 years
Premiums: 15 to 20 percent higher in 2018-19, 10 percent lower in 10 years
Top Republican responses:
House Speaker Paul Ryan told reporters he was "encouraged" by the report — because of the savings and long-term lower premiums — and it "exceeded my expectations."
Health and Human Services secretary Tom Price said CBO didn't look at everything Republicans are planning: "It didn't look at the regulatory reforms that we're going to put into place. It didn't look at the state innovation grants. It didn't look at the flexibility that we're going to allow the states."
Office of Management and Budget director Mick Mulvaney, on Medicaid coverage losses: "The CBO is saying it happens on day one, which is just absurd."
But here are the Republicans to watch:
Top conservative critics of the bill — including House Freedom Caucus chairman Mark Meadows, Freedom Caucus member Jim Jordan, and Sens. Rand Paul and Ted Cruz — were laying low.
But Caitlin Owens reports that Sen. Mike Lee — another conservative critic — said his concerns about the bill "have not been eliminated by the CBO report."
Sen. Susan Collins, one of the GOP moderates who's skeptical about the bill: "The topline numbers are alarming on the loss of coverage."
Sen. Lindsey Graham: "Let's say the CBO is half right—that should be cause for concern," per the Wall Street Journal.
The bottom line: It's summed up in this tweet from former Senate Republican aide Rodney Whitlock: "Critical, soul searching moment for GOP. Ignore #CBOscore and plow ahead or admit that some ideas might just be problematic."
FWIW: Politico reports that the White House's internal projections were even worse: 26 million would lose coverage over the next 10 years.
What you may have missed in the CBO report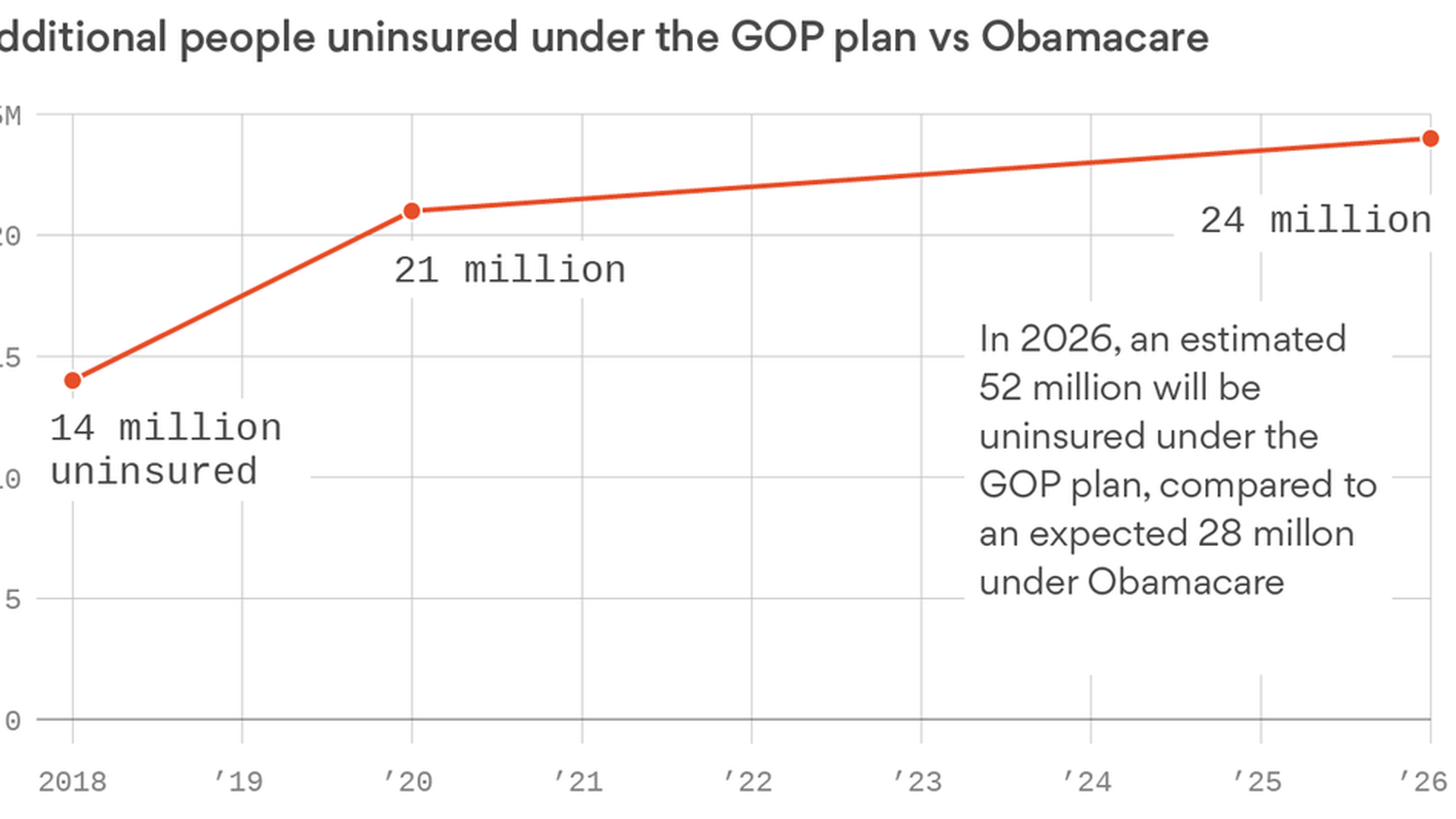 A few things that stand out:
The "continuous coverage" provision — which would penalize anyone who didn't keep themselves insured — would increase coverage by 1 million people in 2018, but then it would decrease by 2 million.
Note to GOP: "The people deterred from purchasing coverage would tend to be healthier than those who would not be deterred and would be willing to pay the surcharge."
The actuarial value of the health plans would drop — so while average premiums could be lower over time, it would be because "people would buy skimpier coverage," per Cynthia Cox of the Kaiser Family Foundation.
And look at what happens to the net premiums people would pay, after tax credits, based on their age (h/t Yvette Fontenot, former Senate Democratic aide and member of the Axios board of experts):
Single person earning $26,500 a year (175 percent of the federal poverty line):
Age 21: $1,700 (Obamacare); $1,450 (GOP bill)
Age 40: $1,700 (Obamacare); $2,400 (GOP bill)
Age 64: $1,700 (Obamacare); $14,600 (GOP bill)
Meanwhile, Seema Verma got confirmed
It kind of got lost in the news of the day, but the Centers for Medicare and Medicaid Services is finally going to have a permanent chief. The Senate confirmed her 55-43. That's it. Moving on ...
Centene's CEO made $32 million — and that was a pay cut
'Tis the season for compensation disclosures, and Bob Herman is all over them. Humana was the first insurance company to shed light on how much top executives made (its CEO made $17 million despite some Obamacare troubles). Using actual realized stock gains, not fair value of stock, here's the skinny on two other insurers that just filed documents with the Securities and Exchange Commission:
Michael Neidorff, CEO, Centene: $32.2 million (27% decrease from $44 million in 2015)
Joseph Swedish, CEO, Anthem: $17.1 million (9% increase from $15.7 million 2015)
Context:
Neidorff's compensation last year would have been enough to cover 6,500 people in the average Obamacare plan or almost 1,800 average family employer plans.
Tom Price to states: Want an Obamacare waiver?
Here's one of the ways the Trump administration is going to promote flexibility in Obamacare: by granting lots of waivers. In a letter to governors yesterday, Price invited them to apply for "Section 1332" waivers — which let the states opt out of some of the law's requirements if they can achieve the same goals in different ways. It's not a well-known provision, and it only kicked in this year.
Why it matters: It's one of the ways Price and his HHS team can relax some of the requirements in Obamacare without changing the law. (Only Congress can do that.) The letter also shows one of Price's top priorities: encouraging states to bring back high-risk pools and reinsurance programs. That's what Alaska wants to do if HHS approves its waiver.
Yuval Levin on GOP bill: "Dangerous incoherence"
We're late to this, but Yuval Levin, a "reform conservative" writer and a sometime adviser to Ryan, had a smart critique in National Review about why the House Obamacare replacement bill doesn't really match up to past GOP replacement proposals. His answer: It's distorted by the fact that it tries to fit within Senate budget rules, including leaving Obamacare's insurance regulations in place, "which means it can't really achieve most of the key aims of the conservative reforms it is modeled on."
Example: The bill's continuous coverage rule, which would apply a 30 percent premium penalty to anyone who doesn't stay insured, doesn't work the way it would have in most other GOP proposals, Levin writes. That's because as long as you keep Obamacare's other rules in place, a sick person would be willing to pay the penalty to get back into the health insurance pool — but a healthy person wouldn't. (That's what CBO said, too.)
The bottom line: "A bill pursued now could do more than the House bill now sets out to do, or it could do less. Presenting a partial step as a full one and pre-negotiating particular insurance-rule changes based on expectations about the Senate parliamentarian just doesn't make for a coherent product."
What we're watching today: Snow. Also, Trump speaks with Anthem CEO Joseph Swedish, 3 pm Eastern; Seema Verma swearing-in, 3:30 pm Eastern.
What we're watching this week: CNN town hall with Tom Price, Wednesday; House Budget Committee marks up the budget "reconciliation" package tying together the repeal bills, Thursday (rescheduled from Wednesday).
What we're watching next week: House vote on the Obamacare replacement package. Also, Senate HELP Committee hearing on reauthorizing the Food and Drug Administration's user fee agreements, March 21.
Thanks for reading, and let me know what else is happening or what else we should cover: [email protected]