Good morning … Get pumped: President Trump is expected to unveil his big executive order on health care today, after weeks of speculation and anticipation.
Trump's (overlooked) plans for employer coverage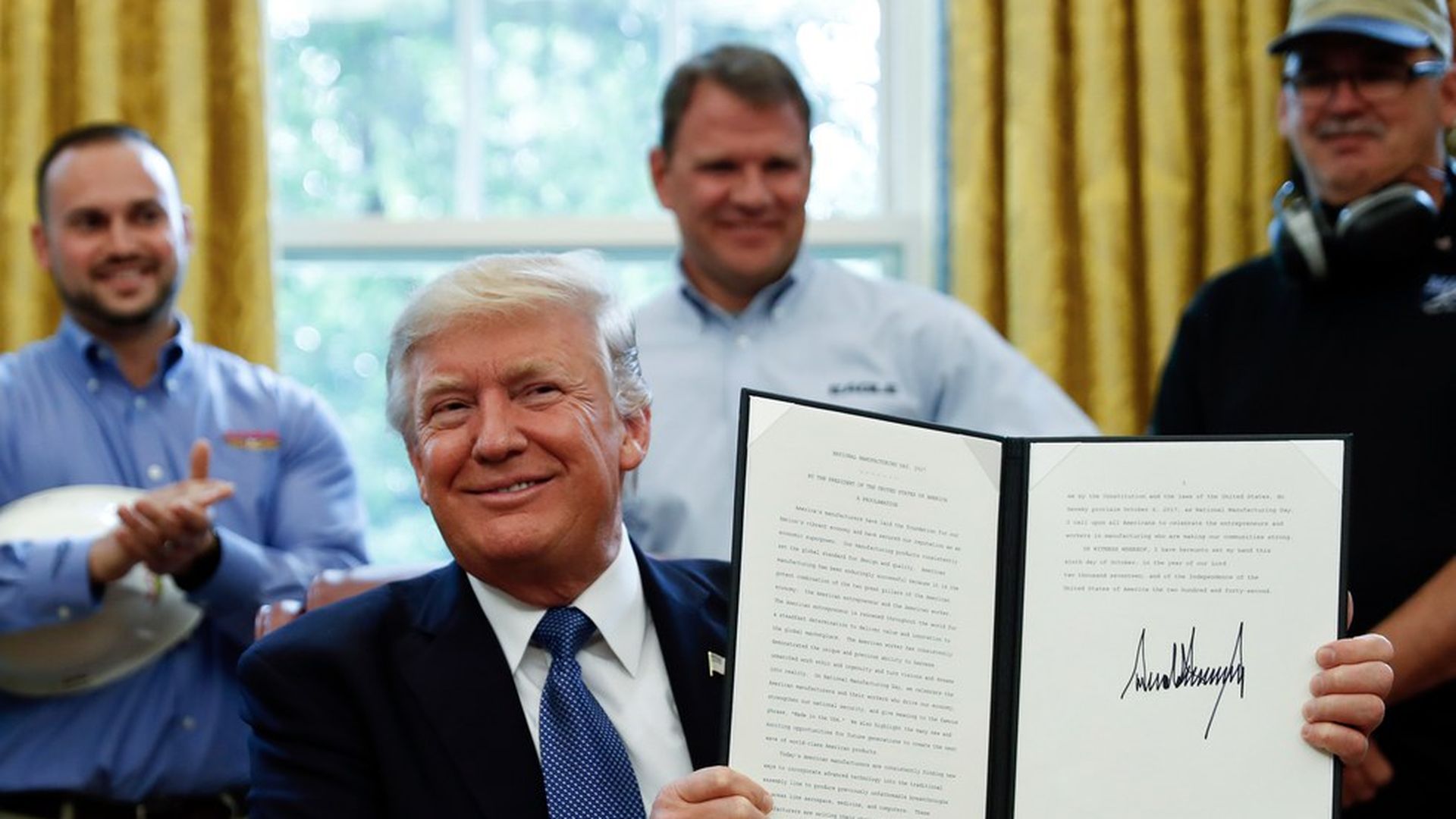 Trump's executive order will likely include a provision making it easier for employers to set aside some money, tax-free, to help their workers pay insurance premiums. This one hasn't gotten as much attention yet as some of the other policies Trump is expected to pursue, but it's a big deal — one insurers fear could push more people into a shaky market.
The details: Employers already can set aside some pre-tax dollars to help cover employees' health care costs. Trump's executive order will likely expand those programs so that they can be used to help employees cover the premiums for an individual insurance policy, an insurance industry official told me.
The reactions:
Insurers are afraid this will give employers an incentive to stop offering traditional health benefits: Why go to all the trouble of finding and offering a health care plan if you can just offer your workers some money to go buy their own?
"That would be survivable, I think," if the individual market were more stable, the official said. But because that market is shaky, insurers are nervous.
Another fear: Employers might be able to offer coverage to their younger employees, while using these new funds to shift older workers, who tend to have higher health care costs, into the individual market.
The unknowns: Dumping workers into the individual market, even with help paying their premiums, would likely trigger penalties under the Affordable Care Act's employer mandate, the insurance official said. That might be a disincentive to use these new options — if the Trump administration were planning tough enforcement of the employer mandate.
The bottom line: Other sections of Trump's executive order will likely pull healthy people out of the individual market; this one could push unhealthy people into it. Insurers are uneasy about both sides of that equation, and say they haven't had a chance to offer the policy feedback previous administrations would have sought out.
What else to expect from Trump's executive order
Here's a quick rundown of what else to expect from today's executive order:
The order itself probably won't fill in the details of how its policy changes would work. Look for broad outlines, with the nitty-gritty coming separately — probably in the form of a proposed rule from the Labor Department.
Although the public will technically have an opportunity to comment on that proposed rule, the insurance industry official told me the final version is largely already written.
The policy:
Association health plans: Trump will likely make it easier for individuals (for example, a group of freelancers) to band together and buy insurance like a large employer would.
New associations will likely need some form of approval before they can start buying insurance, but insurers don't expect that process to be much more than a rubber stamp.
Short-term plans: Trump is expected to let people hang onto short-term, stopgap policies for a full year; they're currently limited to three months. Those plans don't cover much and don't have to comply with many of the ACA's consumer protections.
Total impact: Insurers and independent policy experts fear that both of those measures would weaken the individual market by pulling healthy people out of it and into skimpier, cheaper coverage.
​Breaking down the growth in health care spending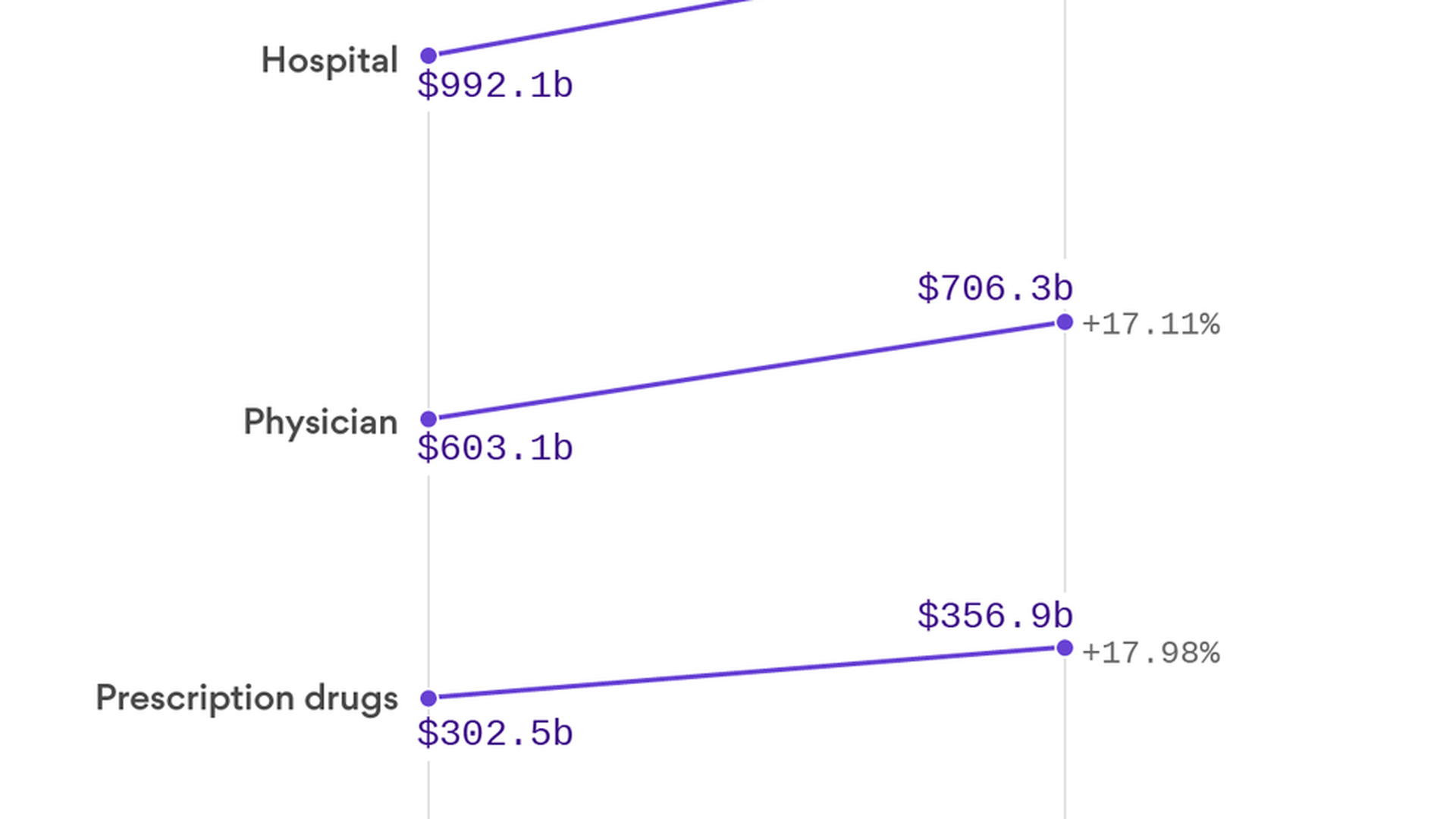 Health care spending is growing at its slowest rate in years, though it's still growing faster than the rest of the economy, according to the latest data from Altarum's Center for Sustainable Health Spending.
The ACA's expansion of insurance, along with the continued rise of deductibles, has pushed more patients (and dollars) into outpatient settings and to doctors' offices instead of hospitals.
Two more trends: Prescription drug spending also is slowing down, but people are still feeling the sting at the pharmacy counter. The area where spending has grown the fastest in the past year, other than health insurance administration: home health with a 6.5% rise.
​California isn't betting on help from Washington
California was among the handful of states that asked insurers to file two sets of rate increases for next year — one set that assumed the Trump administration would keep paying the ACA's cost-sharing subsidies, and one that assumed those payments would stop. The state decided yesterday to build in bigger premium hikes for certain plans, calling it a "surcharge" for the uncertainty around those cost-sharing payments.
Why it matters: Neither insurance companies nor state regulators want premiums to go up any more than they have to. They often disagree about how much of an increase is really necessary. But the lack of answers from Washington has put regulators and insurers nationwide in the same boat: The responsible move is to assume the worst.
​HHS' new mission statement
National Review's "The Corner" blog flagged a big change in HHS' mission statement: A new draft of that statement says HHS' role includes "serving and protecting Americans at every stage of life, beginning at conception."
The "beginning at conception" language is new, and it's consistent with the Trump administration's politics (including, broadly speaking, HHS' recent changes to the ACA's contraception mandate).
The big question: HHS didn't answer queries about how this revision to the department's mission would translate in practice. A spokesman would only note that the document is still a draft and open for public comment.
​Envision Healthcare asks McCaskill for more time
Yesterday was the deadline for Envision Healthcare, the troubled ER outsourcing firm, to give answers to Sen. Claire McCaskill about its hospital contracts, out-of-network billing charges and physician bonuses. Envision executives requested additional time, and McCaskill's office agreed, a Senate staff member told Axios' Bob Herman.
Why it matters: Investors, health policy researchers and patients have been keeping their eyes on how Envision responds to McCaskill's letter, which she sent last month. The out-of-network billing strategy has been broadly criticized, although ER doctors argue insurance companies put them in difficult negotiating positions.
What we're watching today: Trump's executive order. U.S. Chamber of Commerce event on the opioid crisis.
I'm trying to be an "inbox 0" person. Help me remember how futile this is. Send your tips, questions, comments, unfocused ramblings and press releases to baker@axios.com.