Axios Vitals
March 13, 2017
Happy Monday ... We're bringing you a look at how an Obamacare marketplace meltdown might actually look, and we'll help you keep track of all of the political risks Republicans are taking with Trumpcare. Meantime, get ready for Seema Verma's confirmation vote tonight — and maybe the Congressional Budget Office estimates for Trumpcare, which could set off a new political firestorm and some really boring Twitter fights.
We've got a brand-new newsletter launching today! It's Login, the cool bicoastal tech newsletter by Ina Fried in San Francisco and Kim Hart and David McCabe in D.C. Hope you're checking it out. While you're at it, don't forget to subscribe to Jonathan Swan's Sneak Peek and Ben Geman's Generate. And if you know anyone who's not reading Mike Allen and Dan Primack, ask them what's wrong with them. You can sign up for all of our newsletters and alerts here.
What an Obamacare insurance meltdown would look like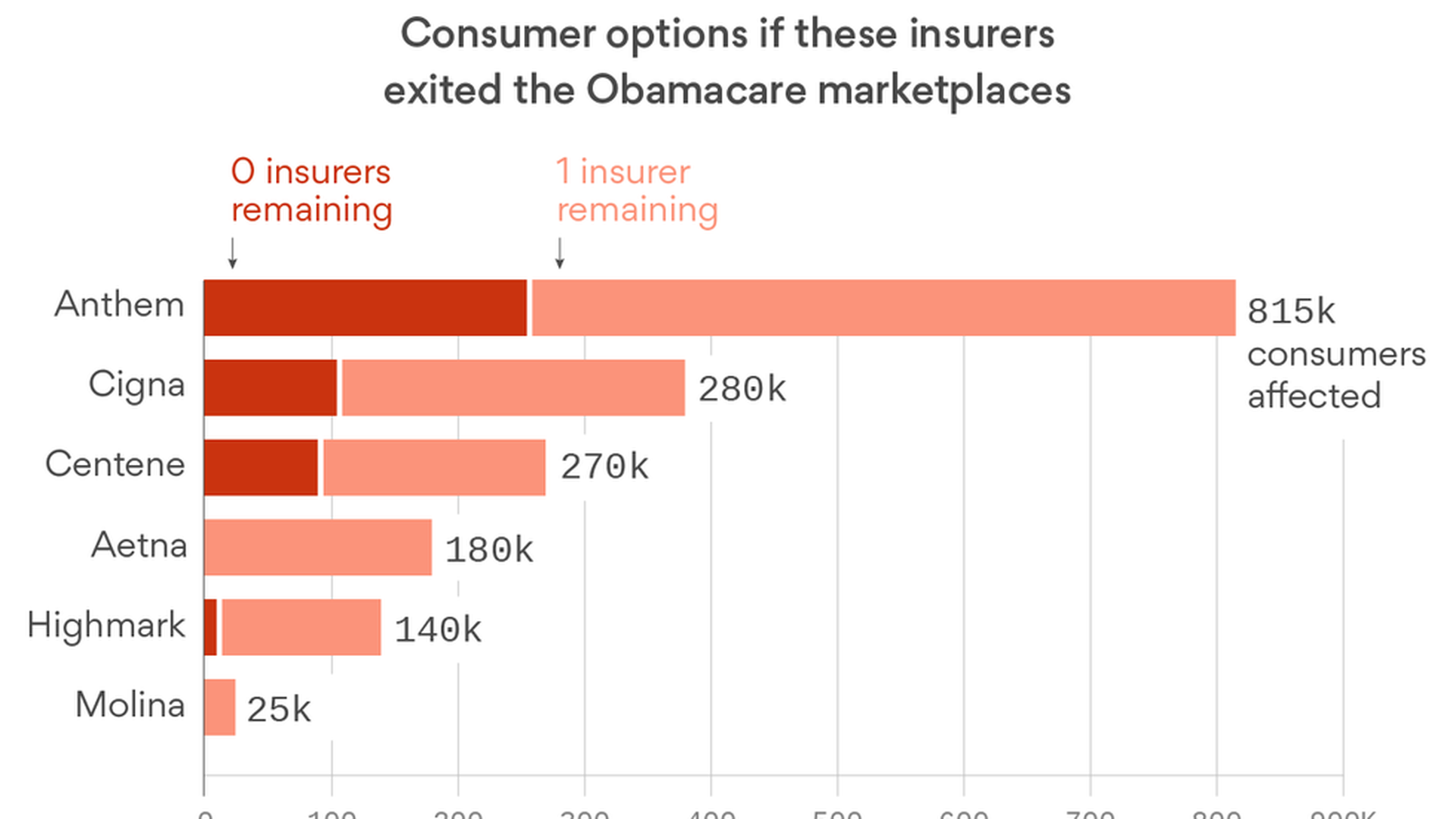 We've all heard a lot of talk about the worst-case scenario: more and more health insurers pull out of the Obamacare marketplaces, just like Humana did, and eventually the individual insurance market collapses. It could be a vote of no confidence in the Republican repeal and replacement plan, or it could happen because they already don't like the way things were headed. Either way, if it happens, it doesn't matter how many times Republicans promise that Obamacare customers won't lose coverage — it will just happen.
Today, Bob Herman takes a detailed look at what that scenario might look like. He got the Robert Wood Johnson Foundation's help in mapping out what would happen if other insurers that have been on the fence decide to pull out. The biggest disruption would happen if Anthem leaves, although that may have become less likely now that the insurer has praised parts of the GOP bill. But other states would be devastated if insurers like Centene and Highmark bail out. Read his story here.
The risks Republicans are taking with Trumpcare
It was never a secret that Republicans would take a risk by repealing Obamacare, as unpopular as it was, and taking ownership of what happens next. But it's striking just how many political dangers they're putting themselves in — and how they're ignoring pretty much all of them. Democratic operatives are already testing which ones resonate the most in swing districts, I'm told.
Here are the one to watch:
Coverage losses. They've already dismissed the idea that they should worry about it, because they won't be requiring people to buy coverage anymore. "There's no way we can compete" with a government mandate, House Speaker Paul Ryan said on CBS's "Face the Nation" yesterday. But if the Congressional Budget Office estimates that people will lose coverage, that's going to be the headline for days, because ...
"We're going to have insurance for everybody." That's what President Trump told the Washington Post in January. He's since fallen in line with the mainstream Republican position that they should guarantee access, not coverage. But that quote is not going to disappear.
Pre-existing conditions. Republicans insist they're going to keep covering them, but Democrats are going to keep stoking fears that they'll either lose coverage or have to pay more — especially with the 30 percent penalty for people who don't keep themselves insured.
The "age tax." AARP is going to be hammering them for allowing insurers to charge older customers five times as much as young adults, compared to three times as much under Obamacare. Republicans can try to dismiss AARP, but they do have a lot of power.
"Nobody will be worse off financially." That's what Health and Human Services secretary Tom Price said on NBC's "Meet the Press" yesterday. His point was that people will be able to buy cheaper health plans if they have more choices than the standard Obamacare ones — but it won't be hard for Democrats to find people who are worse off.
Medicaid. Ryan insists that the switch to per-person funding limits would be a major entitlement reform that conservatives have wanted for decades — but the reality is that millions of people have gained coverage through Obamacare's Medicaid expansion, which is why Republicans are divided over when it should end.
The "giveaways to millionaires." Democrats are already hitting the decision to get rid of a tax deductibility limit in the law — giving a tax break to insurance executives making more than $500,000 a year. That could be a hard one to explain to populist Trump supporters.
Deductibles. The sky-high deductibles under many Obamacare plans has been a standard GOP criticism of the law — but wait until people find out that the health savings accounts they're promoting are tied to health plans that have the same thing.
OTOH: Ryan said he agrees with Trump that there will be a "bloodbath" in 2018 if Republicans don't follow through on their repeal promises.
The political realities of the Congressional Budget Office
The next big event for the GOP health care bill is the release of the Congressional Budget Office cost and coverage estimates — which could be devastating. (The Brookings Institution predicted that CBO will estimate that 15 million people would lose coverage.) They're probably coming either today or tomorrow, so while we wait, here are the political realities:
If the estimates are good, or even just not terrible, the repeal effort moves ahead.
If the coverage estimates are bad, it will be a political nightmare for Republicans, but they may be willing to tough it out (see above). They've already been preparing for that in different ways: by pre-emptively discrediting CBO (noting that its estimates have been off in the past), and by insisting they're not trying to achieve the same coverage numbers as Democrats.
If the cost estimates are bad, it could be over. Conservatives won't vote for a bill they consider too expensive.
It's also worth a review of how CBO actually works. In his book "America's Bitter Pill," Steven Brill describes how much the budget office frustrated Democrats during the writing of the Affordable Care Act. Its process was "more a game to be played than it was a precise measuring device to be read like a thermometer," Brill writes, and its estimates were "unpredictable and often maddening." Its estimates were always cautious, and if it was wrong, it wanted to guess that an initiative would cost more than it really did, or a tax change would bring in less revenue than it actually did.
The bottom line: "In short, CBO was an only-in-Washington institution—an independent body whose only virtue was its independence. Which meant not only freedom from political influence but also freedom from having to do its job the way people in the real world did."
Pence is playing a big role in conservative outreach
We already knew that Vice President Mike Pence was playing a big role in selling the Obamacare repeal and replacement plan — but mostly it's been a public role, making speeches where he has a tendency to repeat his best lines in every speech. Now, though, we're getting a better picture of his behind-the-scenes role in building support among conservatives — and it's a big one.
On Friday, he held a "listening session" with just about every major conservative group. One of their main messages was that Republicans have to go after Obamacare's insurance regulations, not just the other pieces — even if they have to push harder to convince the Senate parliamentarian to let them do it. Chris Jacobs, a health care analyst who was in the meeting, said his message was that those regulations are driving up costs — everything from guaranteed coverage to restrictions on the rates insurers can charge, required benefits, and rules about the value of the coverage.
On the bright side: "The White House and Administration are listening to conservatives — and that's a good thing."
While you were weekending ...
Sen. Tom Cotton on ABC's "This Week": "I'm afraid that if they vote for this bill, they're going to put the House majority at risk next year."
Office of Management and Budget director Mick Mulvaney, also on This Week, on conservatives' fears that the GOP bill would increase premiums: "I think they're discounting the value of competition."
Cotton disagrees: "This bill leaves most of the Obamacare insurance regulations in place ... I just don't see that competition occurring as it needs to."
Price on NBC's "Meet the Press": "Success ... means more people covered than are covered right now, and at an average cost that is less."
Ryan on "Face the Nation," on why he doesn't want to end Medicaid expansion sooner than 2020: "The concern about ... changing Medicaid too soon is there will be a gap in coverage before the tax credits kick in."
Nevada Sen. Dean Heller, the most vulnerable Republican senator in next year's elections, criticized the bill and said he wants Medicaid expansion to last longer, Politico reports.
Heritage Action's Michael Needham, on Fox News Sunday: "If Republicans leave the architecture of ObamaCare in place and if we have death spirals and premiums going up under Ryancare, what do you think the 2020 election is going to look like?"
A Los Angeles Times analysis shows that Trump voters — lower-income, older voters in conservative rural areas — stand to lose the most federal aid.
Oh yeah, and Gottlieb's going to be the FDA commissioner
Trump finally ended the suspense on Friday and nominated Scott Gottlieb to be the next Food and Drug Administration commissioner. You could save yourself some time and read my "what you need to know" from Friday, but the bottom line is that he has a ton of experience and Republicans and Democrats all seem to like him.
His American Enterprise Institute colleague Joe Antos, a member of the Axios board of independent experts, says the most important thing to know about him is his depth of experience, including past jobs at FDA and the Centers for Medicare and Medicaid Services. "The combination of medical, scientific, administrative ... and market expertise that Scott brings to the job is unique — and that's not hype," Antos said.
It's not that he's free of potential conflicts of interest — the Washington Post noted his "deep ties to the pharmaceutical industry." But that's probably not going to be enough to trip up his nomination, given all of the bipartisan gushing about him. It's one of the rare cases where Trump nominated the least provocative candidate in the mix.
They said they'd be flexible, right?
"Right now, the date that's in the bill is what the president supports." — White House press secretary Sean Spicer, Friday, on moving up the end date for Medicaid expansion.
"Those are great ideas that would improve the bill. If the House sees fit to make the bill better, they'd certainly have the support of the White House." — Office of Management and Budget director Mick Mulvaney, Sunday, on moving up the Medicaid expansion end date and adding work requirements.
What we're watching this week: CBO score for the Obamacare replacement bill, today or Tuesday. Also: Senate confirmation vote for Seema Verma, today, 5:30 pm Eastern; House Budget Committee marks up the budget "reconciliation" package tying together the repeal bills, Wednesday.
What we'll watch this week as long as we can mute Wolf Blitzer: CNN town hall with Tom Price, Wednesday.
What we're watching next week: House vote on the Obamacare replacement package.
Thanks for reading, and don't be shy, especially if you're Wolf Blitzer: [email protected]