Good morning. Make time to read this crazy and sad story by Bloomberg about a serial bank robber who was driven by his worsening opioid addiction.
Today's word count is 788, or ~3 minutes.
1 big thing: Hospitals as medical debt litigators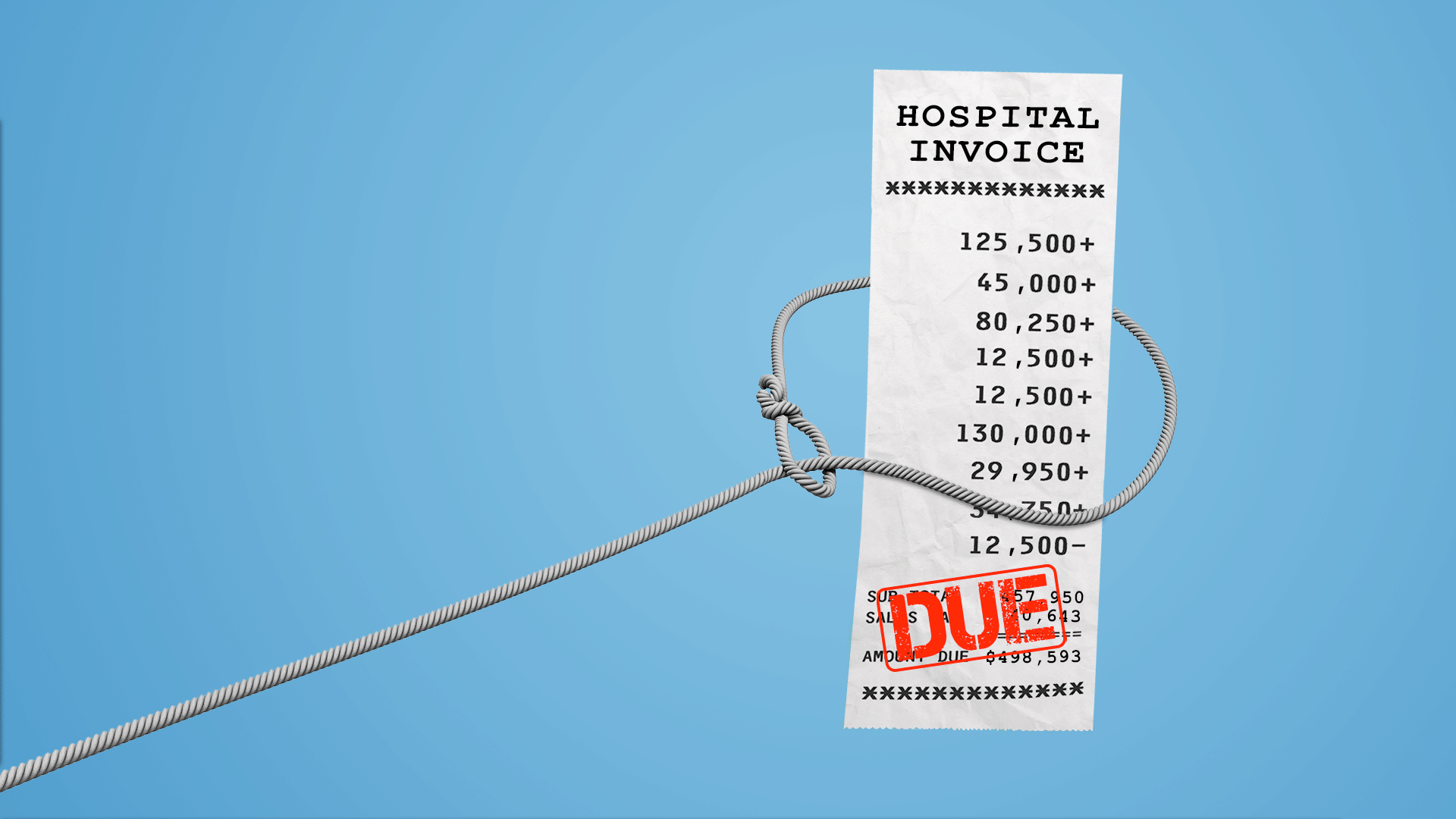 Tax-exempt hospitals are again raising eyebrows over how they harass patients, often the poorest, in court by trying to recoup medical debts, my colleague Bob Herman writes.
Driving the news: ProPublica and MLK50 published a deep dive yesterday on Methodist Le Bonheur Healthcare, a $2 billion not-for-profit and faith-based hospital system in Tennessee that has filed more than 8,300 lawsuits against patients over the past 5 years.
One of the patients featured in the story made less than $14,000 last year, and Methodist is suing her for more than $33,000. The hospital operates in the second-poorest large metropolitan area in the nation.
Methodist obtained wage garnishment orders in almost half of the cases it filed between 2014 and 2018, meaning that the debtor's employer was required to send the court a portion of the worker's after-tax income.
Between the lines: As we wrote this week, hospitals taking patients to court is both common and longstanding.
The bottom line: Not-for-profit hospitals market themselves as charities, but they act more like for-profit peers — renewing questions of whether those organizations' tax exemptions are justified.
Coincidentally, the American Hospital Association released a paper Thursday touting hospitals' community benefits, but the paper has some of the same flaws as prior analyses.
What we're watching: These practices have drawn the ire of Sen. Chuck Grassley, who is now chairman of the powerful Finance Committee.
"Such hospitals seem to forget that tax exemption is a privilege, not a right. In addition to withholding financial assistance to low-income patients, they give top executives salaries on par with their for-profit counterparts," Grassley wrote in a 2017 op-ed.
2. Democrats' leftward march
Four of the 20 Democratic presidential candidates that participated in this week's debates — Sen. Elizabeth Warren, New York Mayor Bill de Blasio, Sen. Bernie Sanders and Sen. Kamala Harris — said that they support abolishing private insurance.
That may be a big shift compared to where the party was 4 years ago, but it's still a minority of the candidates.
Yes, but: 3 of the 4 are polling at the top of the pack.
On the other hand, all 10 candidates on the stage last night said that they support providing health care for undocumented immigrants.
This is a major shift from 10 years ago, when the Affordable Care Act was passed.
What they're saying:
South Bend, Ind., Mayor Pete Buttigieg: "This is not about a handout. This is an insurance program. We do ourselves no favors by having 11 million undocumented people in our country be unable to access health care."
Former Vice President Joe Biden: "You cannot let, as the mayor said, people who are sick, no matter where they come from and whatever their status, go uncovered. It's the humane thing to do."
3. FDA warns about insulin pump cybersecurity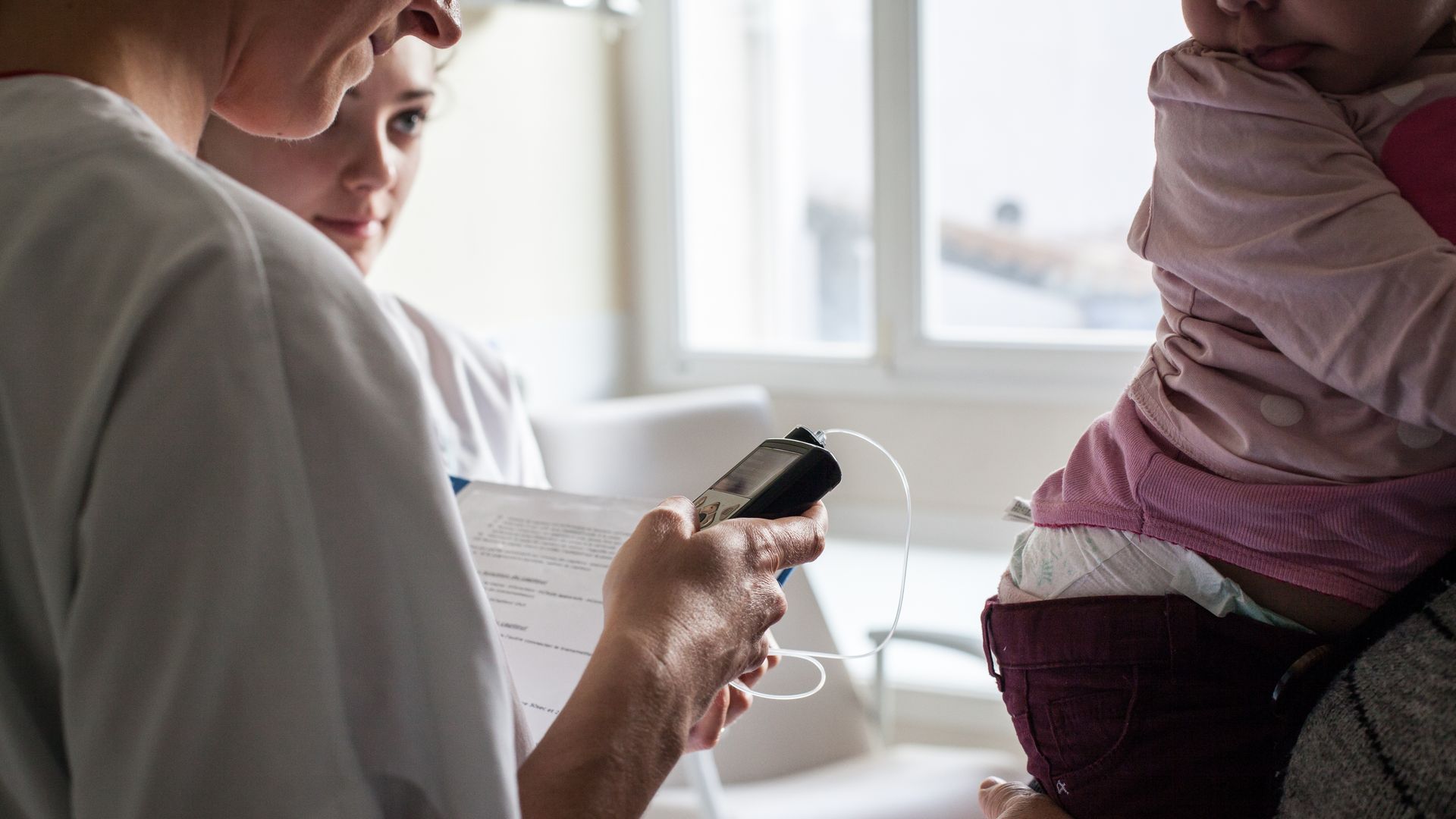 Something new for diabetes patients to worry about: Someone nearby could potentially connect wirelessly to your Medtronic MiniMed insulin pump, the FDA warned yesterday.
They could then change the pump's settings, causing it to deliver too much or too little insulin to the patient.
The agency said that patients using certain models of the pump should switch to less vulnerable ones.
My thought bubble: While the agency said that, as far as it knows, no one has actually hacked into someone else's insulin pump and harmed them, this is the future of health care cyber risk.
Related: Kaiser Health News outlines 5 trends it found in the FDA's once-hidden database of medical device malfunctions and injuries.
Blood glucose meters for diabetes patients had the most unique incident reports in the database: 2.4 million reports over 20 years.
The database was only made public after KHN published an investigation into it.
4. Health care's new richest CEO
Last month, we released an analysis showing how much the CEOs of 177 health care companies made in 2018. Regeneron Pharmaceuticals' Leonard Schleifer topped the list at $118 million.
We have a new leader, Bob reports: Michael Minogue, the head of heart device company Abiomed, who made $123 million in his company's most recent fiscal year based on actual realized gains of stock options and awards. 
Minogue made $12.2 million in his company's fiscal 2018, which was in our analysis. The $123 million pay package covers the 12-month period that ended March 31, according to Abiomed's newest filing.
5. PTSD researchers still seeking treatments
Post-traumatic stress disorder is proving to be an elusive condition to treat, but researchers are increasingly chipping away at new and better treatments, my colleague Eileen Drage O'Reilly reports.
Why it matters: PTSD is estimated to affect 7 or 8 people out of every 100, and the World Health Organization reported recently that more than 1 out of every 5 people who have been in conflict settings face mental disorders, including PTSD — a greater number than originally expected.