Good morning ... Hope y'all are enjoying the pace of all this, because there's no end in sight. Incidentally, if you have any suggestions for what to do after becoming immune to coffee, I'm all ears.
https://www.axios.com/newsletters/axios-vitals-6ededed2-61db-4ab6-9116-4ba446319821.html?chunk=0#story0
Don't rush to judgment on Alexander-Murray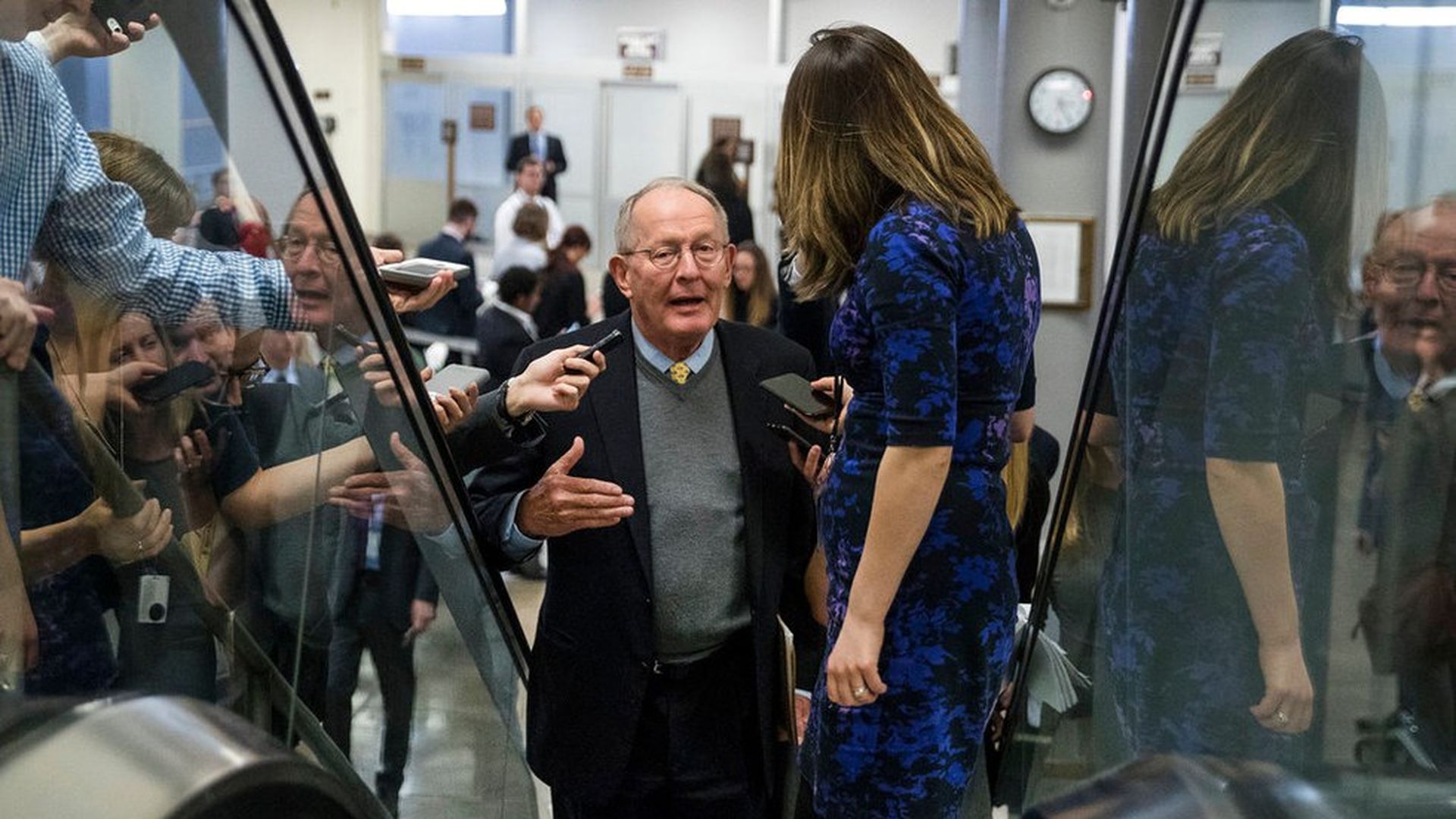 Yes, the Senate's bipartisan Affordable Care Act stabilization bill ran into some political roadblocks yesterday. The White House said President Trump, who had taken several positions over the course of the day, is against it. House Speaker Paul Ryan is also against it. And conservatives are against it.
Why it doesn't matter: The story of the Alexander-Murray bill likely won't be over until December, when Congress has to take care of several must-pass bills, in negotiations where Democrats have a lot of leverage.
The December agenda already includes funding the government and raising the debt ceiling — must-pass items that can only pass with a lot of Democratic votes, just like Alexander-Murray.
If Alexander-Murray doesn't pass before then, it's pretty easy to see Democratic leaders insisting on some form of ACA stabilization as part of the end-of-year package. And this bill, or something close to it, is likely the best Republicans are going to get.
As one senior GOP aide told to my colleague Caitlin Owens: "At some point [Senate Majority Leader Mitch] McConnell and Ryan will need this."
The catch: The Alexander-Murray bill would guarantee funding for the ACA's cost-sharing reduction (CSR) subsidies, but it doesn't provide for retroactive payments. So if the bill did pass in December, insurers wouldn't get any help with the financial hit they'll take between now and then. And those losses alone could total $1 billion.
In the meantime: Look for Alexander and Murray to roll out a new, bipartisan roster of cosponsors soon, along with the official introduction of their bill.
https://www.axios.com/newsletters/axios-vitals-6ededed2-61db-4ab6-9116-4ba446319821.html?chunk=1#story1
Lawsuit aims to keep payments coming
Attorneys general from 18 states and D.C. want a federal court to issue a ruling today that would keep the CSR payments flowing, at least temporarily. They're asking a federal court in California to issue a short-term order, similar to the early rulings against Trump's first travel ban, that would force him to keep making the payments while the states' broader legal challenge works its way through the courts.
The odds: They're not great, according to legal experts I contacted.
The states argue that Congress has, in fact, appropriated the money to make these payments.
But a federal judge in Washington came to the opposite conclusion last year.
There's nothing to stop two district courts from disagreeing — it happens all the time — but it could be a bit of a reach for one court to insist that the president keep doing something another court has found unconstitutional.
What's next: The states have asked for a decision by the end of the day today, because the next round of CSR payments had been scheduled to go out on Friday.
https://www.axios.com/newsletters/axios-vitals-6ededed2-61db-4ab6-9116-4ba446319821.html?chunk=2#story2
​Competitors look to gain from weak ACA enrollment
Open enrollment for ACA coverage begins in two weeks, and the smart money says we'll see a drop this year in the number of people with coverage. The only question is how big it'll be.
Why enrollment is likely to drop:
Big: the large premium increases, a near-total lack of advertising, promotion or other outreach from the federal government, and a shorter enrollment window with fewer deadlines.
It's hard to quantify, but insurers are also worried that attacks from Washington will sow confusion, or just bring a sense that even going through HealthCare.gov isn't worth it.
Trump keeps saying the ACA is "dead." Some people are probably confused about whether it's been repealed, or assume it will be soon enough. And the headlines about big premium increases could scare away consumers who might not actually have to pay more.
"It's all of those things together," Chet Burrell, CEO of CareFirst BlueCross BlueShield, told the Wall Street Journal. He said he's expecting a "decline that will be quite substantial."
The other side: A drop-off in ACA enrollment could be good news for private portals that compete, to some extent, with HealthCare.gov. The WSJ reports that eHealth, for example, is hoping to pick up new business for the cheaper, less comprehensive plans it offers, especially from the wealthier consumers who would only get a small subsidy — or no subsidy at all — to help cover the rising premiums for ACA plans.
https://www.axios.com/newsletters/axios-vitals-6ededed2-61db-4ab6-9116-4ba446319821.html?chunk=3#story3
Anthem gets into the pharmacy business
Insurance giant Anthem will start its own pharmacy benefit manager in 2020, the company said yesterday, partnering with CVS in an effort to squeeze both savings and new revenues out of the rising costs of prescription drugs.
Why it matters: PBMs, which act as middlemen between pharmaceutical companies and insurance plans, are under fire from all sides in the national fight over drug costs. UnitedHealth Group, the country's largest health insurer, already runs its own pharmacy management arm, and Anthem's move will put even more pressure on PBMs — especially Express Scripts, which is losing its largest customer.
Flashback, courtesy of my colleague Bob Herman: Anthem used to have its own PBM, but sold it to Express Scripts in 2009 for $4.7 billion. What's old is new again.
https://www.axios.com/newsletters/axios-vitals-6ededed2-61db-4ab6-9116-4ba446319821.html?chunk=4#story4
Opioids will strain the health care system for years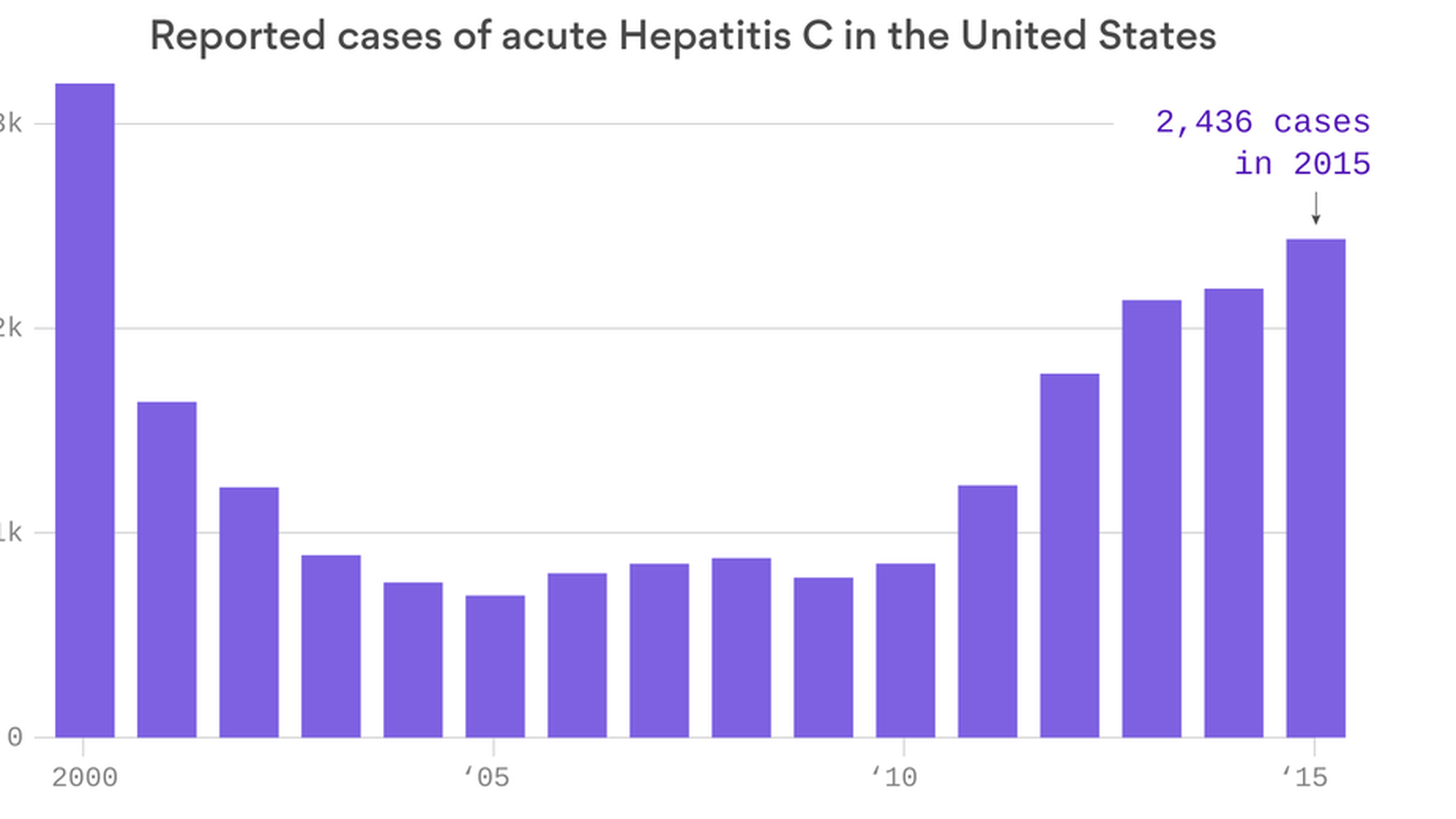 Cases of Hepatitis C have almost tripled in the past few years, according to the Centers for Disease Control and Prevention — an effect of the opioid crisis and the unsanitary use of needles by drug users. There were 2,436 reported cases of the liver disease in 2015, up from 853 cases in 2010.
Why it matters: As my colleague Stef Knight reports this morning, Americans will be paying for the opioid crisis for years. Hepatitis C treatments are wildly expensive. New breakthrough drugs that can cure the disease cost tens of thousands of dollars. Many patients won't be able to get those drugs: Managing the disease over the course of a lifetime, including the end-stage liver failure it causes, also isn't cheap.