Here's some outrage to start your week off: One of a South Carolina prison inmate's twins drowned in a toilet in 2012 after guards refused to help her during childbirth, The State reports.
Lawsuits allege that the S.C. Department of Corrections is failing to meet inmates' basic health care needs.
1 big thing: How "Medicare for All" could impact employers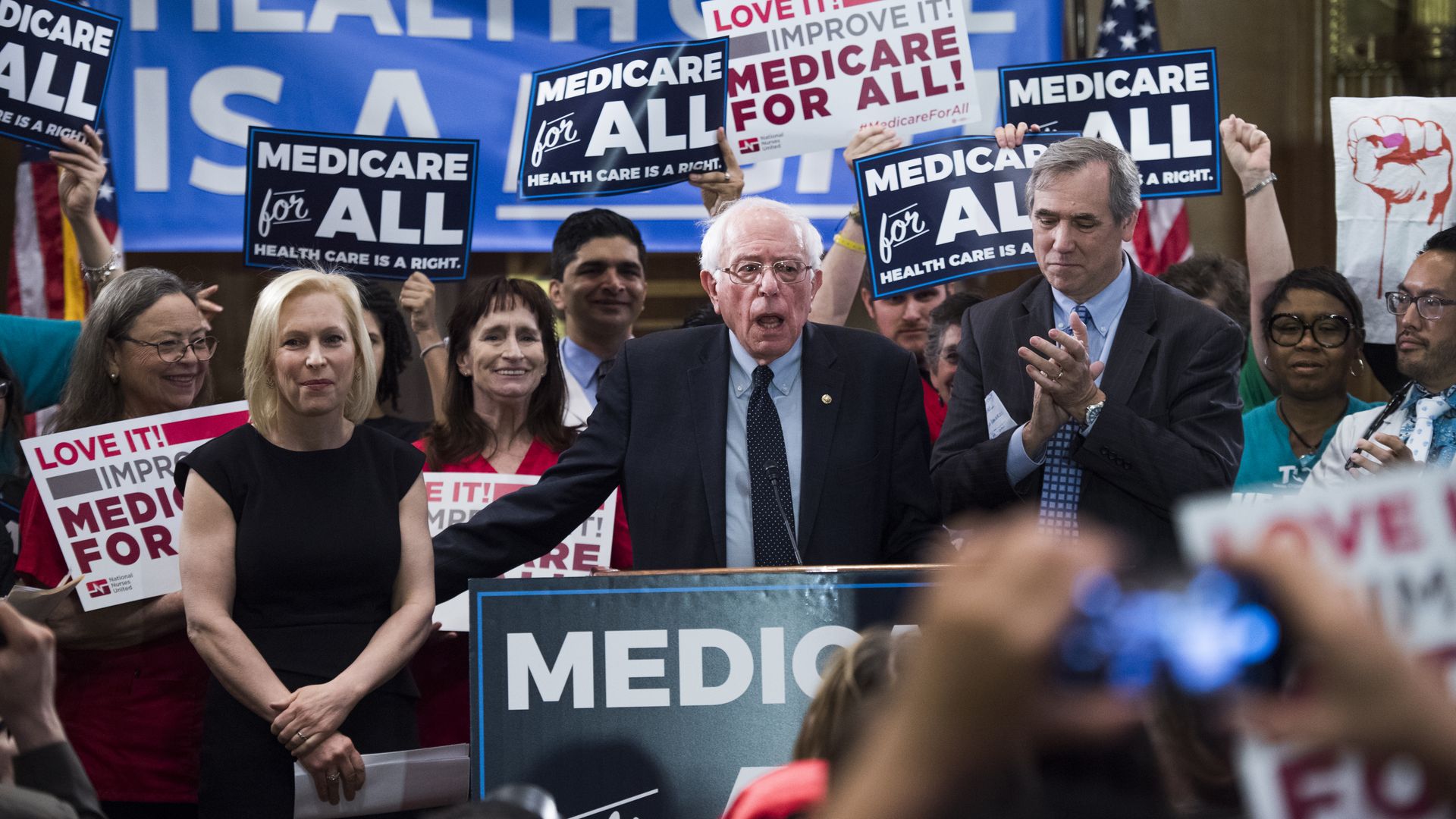 "Medicare for All" could end up costing employers less than the current employer-sponsored health insurance system does, depending on how it's structured.
But that certainly doesn't mean employers are on board, partially because other concerns — like access to health care and the competitive advantage that generous benefits can create — may outweigh cost and convenience.
What they're saying: Employers provide health insurance "because it's a benefit that attracts employees. It's a benefit they like to provide, even if it's expensive," said Neil Bradley of the U.S. Chamber of Commerce.
Bradley said that things like choice and access to medical care — which he said would be hindered under Medicare for All — are more important to employers.
The other side: "I've talked to a Fortune 500 CEO who says he would love [Medicare for All] and who told me he knows plenty of others who feel that way," said House Budget Committee chairman John Yarmuth (D-Ky.).
By the numbers: Health benefits made up 8.3% of employee compensation in 2019, according to the Bureau of Labor Statistics. This translates into 12% of payroll, or of wages and salaries.
Sen. Bernie Sanders' Medicare for All financing "options" that he released last week included a 7.5% "income-based premium" paid by employers, with the first $2 million in payroll exempted.
But most economists assume that workers end up shouldering the cost of their employer insurance today through reduced wages and that would continue if premiums were replaced with a tax to fund Medicare for All.
The bottom line: How employers feel about Medicare for All — or more specifically, Medicare payment rates for everyone — could change over time, as the cost of private employer-sponsored insurance skyrockets, said former Trump administration health official John Bardis.
2. The case against biosimilars
Biosimilars aren't creating competition that's effective enough to meaningfully bring down the cost of biologics, a group of researchers write in Health Affairs in a two-part blog.
That's partially because biologics — which are more complicated than small-molecule drugs — are natural monopolies. "The hindrances to competitive entry are a structural feature of biologics themselves," the authors write.
Instead, biologics' prices should be regulated once their market exclusivity period ends, they argue.
If this approach had been implemented in 2018, it could have saved $250–$300 billion over 5 years.
The Affordable Care Act created a pathway for biosimilars to come to market under the presumption that they'd work like generics to create competition against biologics. But that hasn't been the case.
As of March, there have only been 29 biosimilar applications submitted to the FDA. Only 18 have been approved, and 10 remain unmarketed.
"In those cases where biosimilars have been introduced, competition has been thin and price reductions modest," the authors write.
Over the long term, the outlook isn't much better.
Why it matters: Biologics are some of the most expensive drugs on the market today. If competition isn't going to bring those prices down, something else will eventually have to be done.
3. Clouds hanging over Q1 earnings
Johnson & Johnson and UnitedHealth Group are lighting the Q1 earnings torch this week, per usual, Axios' Bob Herman reports. But Wall Street investors are uneasy about the industry's forecast even though companies are still immensely profitable right now.
Driving the news: "Medicare for All" legislation, the Trump administration's drug rebate regulation and another legal battle over the Affordable Care Act have created volatility with health care stocks, which have traded below the broader market.
Those overhangs have especially affected the biggest health insurance companies even though they have reliably beaten Wall Street's profit expectations almost every quarter for the past 3 years.
Barclays is holding a health care investor call today with Tim Gronniger, a former Obama administration health official, to talk through Medicare for All, among other topics.
By the numbers: We track more than 110 publicly traded health care companies, and together, they posted $168 billion of profit in 2018.
Just the profit haul of this basket of companies, which doesn't include the hundreds of large U.S. not-for-profit hospital systems, is bigger than Utah's entire economy.
Go deeper: Our health care earnings tracker is updated. Come follow along so Bob isn't so lonely.
4. The real cost problem is with employer coverage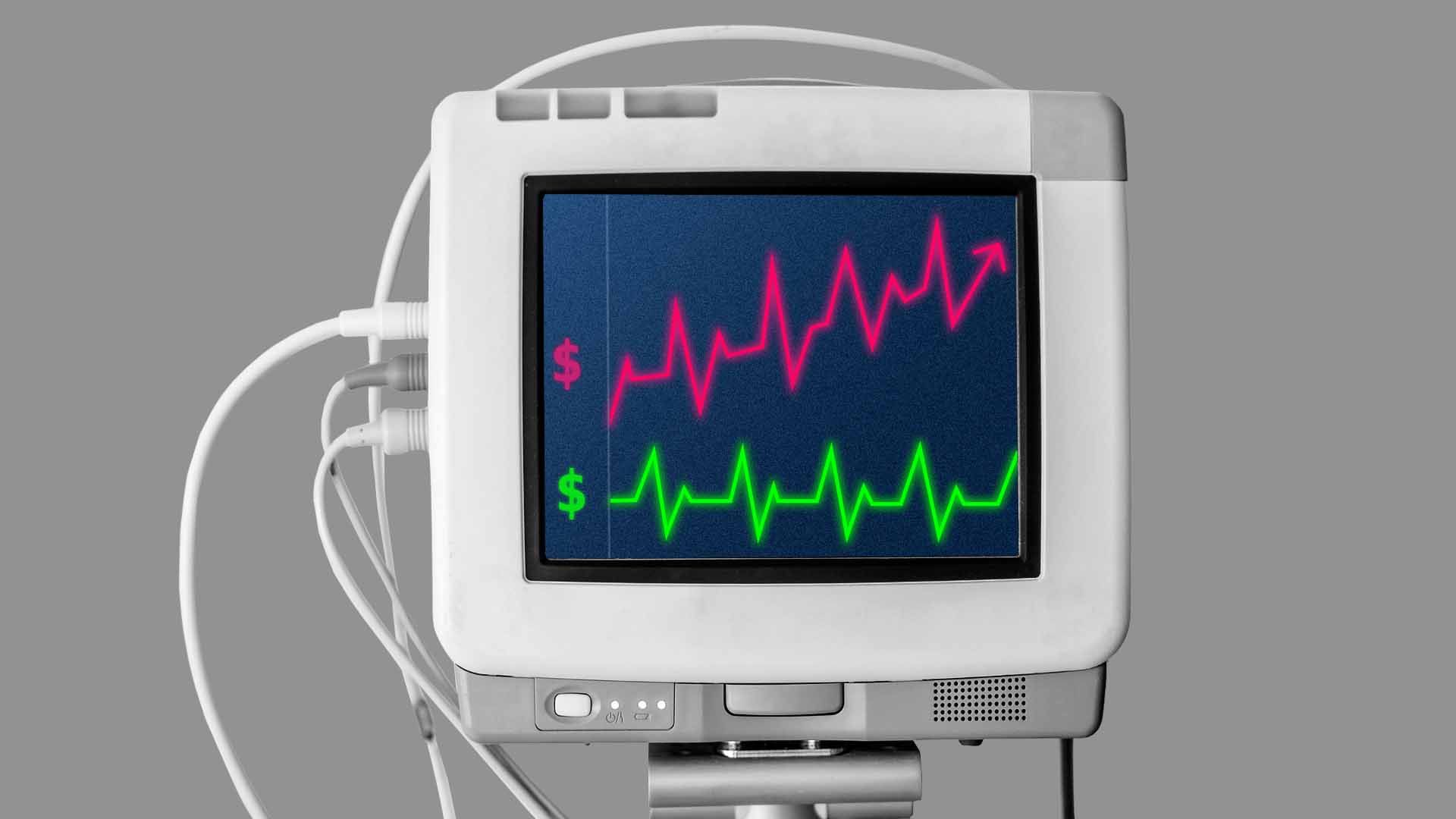 We hear all the time that Affordable Care Act plans are unaffordable for low-income people — but they actually take a bigger hit from employer coverage, the Kaiser Family Foundation's Drew Altman writes in today's column
Details: A low-income family with a marketplace plan pays 8.4% of their income on premiums and out-of-pocket costs, compared to 14% for a lower-wage family with employer coverage (those with incomes below twice the poverty level).
That's based on Current Population Survey data on what people at that income level paid for employer coverage, plus exchange premium data collected from Healthcare.gov and state-based ACA marketplaces.
Keep in mind that employer coverage doesn't have the same kind of income-based subsidies that ACA plans have.
The bottom line: It's another example of how the constant focus on the ACA leads us to lose sight of real issues with employer coverage, where far more people get their health insurance.
5. While you were weekending
Business Insider reports on a mysterious illness associated with marijuana use and what it means for the drug's safety as its legalization spreads.
The Daily Beast and Kaiser Health News dig into the rise of syphilis in rural America.
An American researcher is being investigated by Stanford for his communication with the Chinese scientist responsible for the birth of gene-altered twins last year, the NYT reports.
Thanks for reading, and have a great week!