Axios Vitals
August 16, 2019
Good morning. Today's word count is 912 words, or ~3.5 minutes.
1 big thing: The growing employer health care crisis
The past decade has seen enormous growth in health care costs paid by both employees and employers, creating the context for some of today's biggest political debates as well as teeing up more problems for the future.
Yes, but: There are some signs that employers have maxed out their ability to shift costs to employees.
The big picture: Health spending by families who get their insurance from large employers has grown 2 times faster than wages over the last decade, driven partially by the rise in deductibles, according to a new brief by the Kaiser Family Foundation.
Employers' costs have also substantially risen.
Why it matters: People are paying higher premiums for insurance that leaves them on the hook for more of their bills.
Rising deductibles "has worsened inequality, fueling anger and resentment and adding to the country's unsettled politics," the LA Times' Noam Levey recently reported in a series on high deductibles.
It's also fueled the debate over prescription drugs, which have become more expensive as patients become more exposed to their cost.
The realization that the Affordable Care Act's coverage gains did little to make a dent in the cost of care for many Americans is part of the rationale behind Democrats' leftward march.
What we're watching: There are signs that the system is nearing a breaking point.
Another analysis of employer-sponsored health insurance by the State Health Access Data Assistance Center found that deductibles remained stable, on average nationally, between 2017 and 2018 — a big change from the steady increase of previous years.
There have also been predictions that 2020 will be the year that employers start fighting back against high prices.
The bottom line: The current trajectory isn't sustainable.
Go deeper:
2. The dire state of rural mental health care
There is one psychiatrist in eastern Montana — the state with the highest suicide rate in the country, Bloomberg Businessweek reports in a deep dive worthy of your time.
That's reflective of the availability of mental health care throughout the country, especially in rural areas. There's plenty of need, but not enough providers; in fact, the number of mental health providers has been falling for decades.
More psychiatrists are quitting than starting, and about 60% are older than 55.
Between the lines: Psychiatrists are often paid less than other doctors, they struggle with insurance reimbursement, and the job can be incredibly stressful.
As the contrast between rural and urban places becomes more stark, it's also hard to convince doctors to live in increasingly strained, isolated communities.
Why it matters: Suicide rates are spiking, especially in rural areas, which have a seen a 52% increase in suicides since 1999 compared to urban areas' 15% increase. And rural life isn't getting any easier.
Go deeper: The rural America death spiral
3. FDA releases new warning labels for cigarettes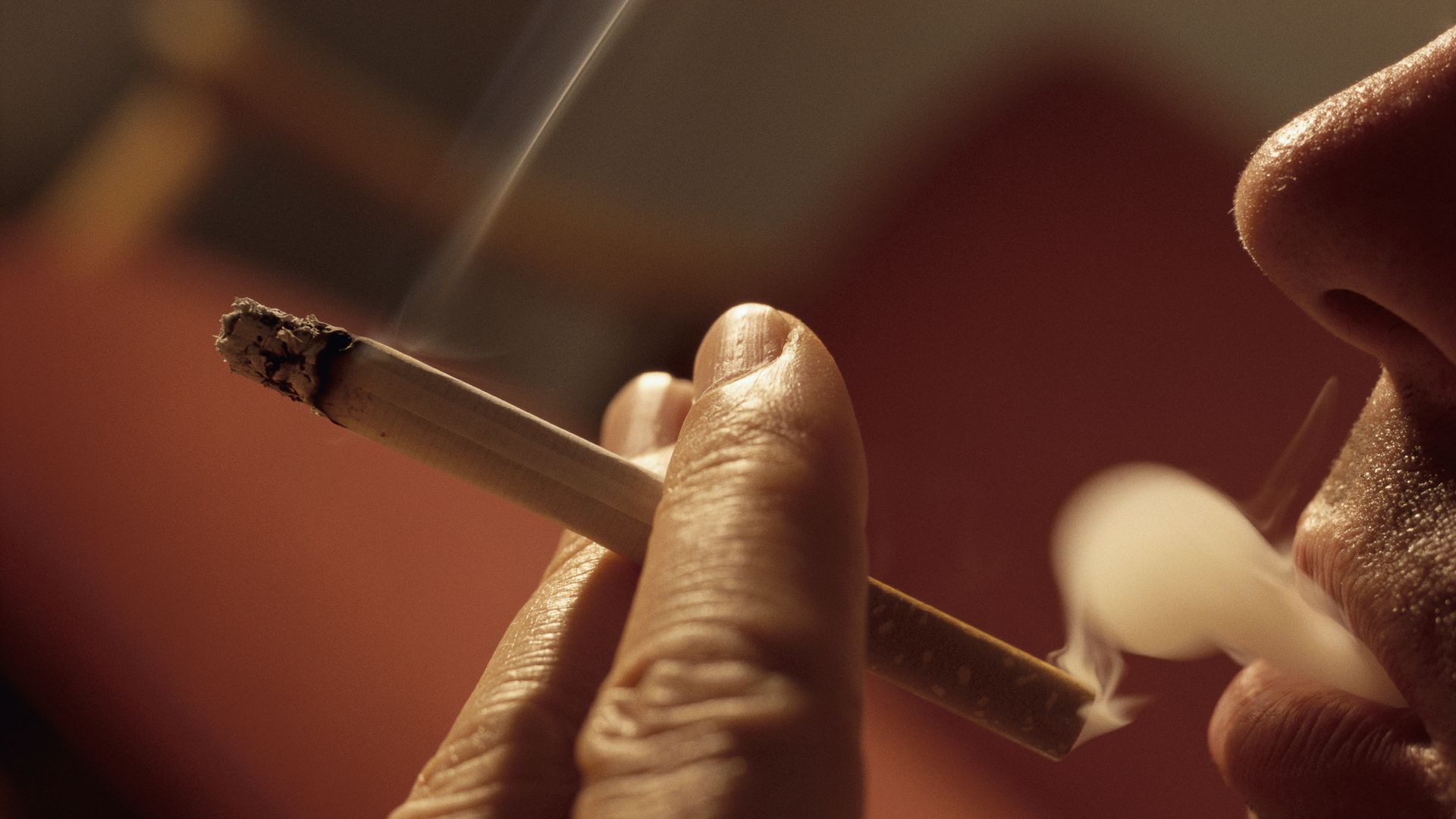 The FDA is trying again to add graphic warnings to cigarette packages to discourage smoking, including images of neck tumors, diseased lungs and feet with amputated toes, AP reports.
The labels would also be included in tobacco advertisements. While small text warnings are currently included on cigarette packages, they haven't been updated since 1984 and "go unnoticed," the FDA said.
Situational awareness: The agency has made a similar effort before, but it was defeated in court in 2012 after tobacco companies argued that it violated their free speech rights.
The agency said that the new warning effort is supported by research showing that it will educate the public about the less commonly known risks of smoking, and that it believes that it would survive legal challenges.
4. ACA plans will get quality ratings
The federal government will soon begin assigning quality ratings to insurance plans sold through the Affordable Care Act's exchanges, my colleague Sam Baker reports. They'll be graded using the same 1-to-5-star ranking used for Medicare Advantage plans.
Details: Plans will be graded on medical care, member experience and plan administration, the Centers for Medicare & Medicaid Services said, beginning in the next enrollment period.
Sam's thought bubble: MA's star ratings have given plans clear metrics to chase, and critics say insurers can game the system, at least at the margins. 
At the same time, though, neither high nor low costs are necessarily a great indicator of quality, and especially for patients who will need to use their insurance, even an imperfect quality measurement could still have real value.
5. Unnecessary care can send a doctor to court
In a world where getting a second doctor's opinion is perfectly normal, it can be extremely difficult to find the line between differences in professional opinions and intentional misdiagnosing, as the Atlantic's Olga Khazan points out.
On one side of the spectrum, doctors obviously make mistakes just like the rest of us. On the other side are cases like the one Khazan wrote about, in which a pediatric neurologist has been accused of intentionally misdiagnosing patients with epilepsy to increase his pay.
Somewhere in between are practices like "upcoding" — in which a doctor bills a cheaper procedure as a more expensive one — and the theoretical nudge toward expensive or excessive care created by our fee-for-service payment system.
The bottom line: The pediatric neurologist's case "shines a light on the grim world of health-care fraud—specifically, the growing number of doctors who are accused of performing unnecessary procedures, sometimes for their own personal gain," Khazan writes.
6. AMA leaves anti-Medicare for All group
The American Medical Association has left the Partnership for America's Health Care Future, a coalition of health industry groups that are leading the fight against Democrats' plans to expand Medicare.
What they're saying: Politico reports that the AMA left because the coalition had expanded its opposition beyond single-payer Medicare for All to include more incremental reforms, like a public option.
My thought bubble: It makes sense that a public option would be divisive among health industry groups. On one hand, it decreases the number of uninsured, which is good for providers and for public health.
But on the other hand, it represents a significant government intrusion into today's commercial market — which is much more lucrative for providers than Medicare or Medicaid.