Happy Friday! While we're waiting for the next Obamacare replacement draft to show up, I've got some great news for you: there are other things going on besides Obamacare. Like, Congress is talking about how to get more generic drugs to market — and those Food and Drug Administration user fees they have to reauthorize. But first, a big-name health care CEO dumps on the biggest electronic health record companies.
Jonathan Bush on the "dinosaurs" of electronic health records
It doesn't take much to get Jonathan Bush, the CEO of Athenahealth, to tell you how he really feels. Bob Herman has a great interview up this morning with Bush — and yes, he's from that Bush family (cousin of George W. and Jeb). His company sells cloud-based electronic health records, so Bob naturally wanted to know what he thought of Epic and Cerner, the two largest electronic health record companies. Bush's answer: "Among the dinosaurs, they are the safe choice."
And in case you're wondering what he thinks of President Trump, Bush isn't any more of a fan than the rest of his family. The best thing he can say about Trump's address to Congress this week? "I was glad to see that he could read a speech." Read the interview here.
Sorry, Tom Price, you're overselling the premium hikes
Health and Human Services secretary Tom Price put out a video last night making the Trump administration's case for replacing Obamacare — but if you watch it and say, "I didn't know my premiums went up that much," that's because they didn't.
Price says the average health insurance premium — "the price that you have to pay to buy a health insurance policy" — went up by an average of 25 percent last year. That's true of the Obamacare marketplaces, which had all the scary rate hikes in the last enrollment season. But it's not true for the health insurance premiums most of us pay. Most of us are in employer health plans, where premiums rose by 3 percent last year — a "significant slowdown over the past 15 years," according to the Kaiser Family Foundation.
Why it matters: It's all about what Price's audience hears in that video. If the public believes their own health insurance premiums are rising as fast as Obamacare's, they'll get a distorted picture of what's actually happening in the broader health care marketplace, rather than the "honest and open discussion" Price promised. We've reached out to give Price's office a chance to comment, and we'll let you know if they do.
How the hunt for the latest Obamacare bill got started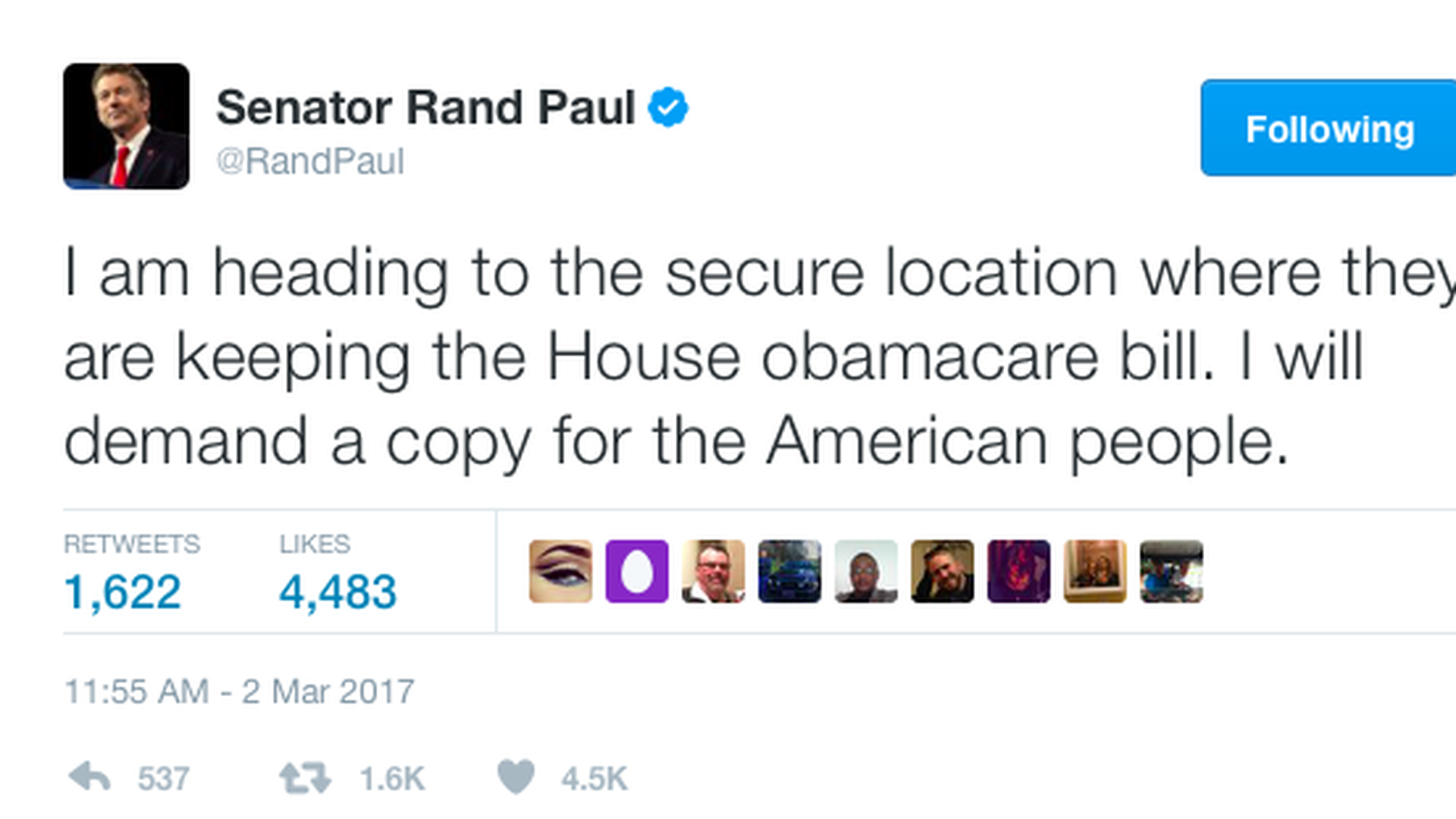 The biggest show of the day yesterday — and I do mean "show" — was when Sen. Rand Paul and several Democrats staged several "hunts" for the latest draft of the House Obamacare replacement bill, which was being kept in a secret reading room. Paul, one of the conservative Republicans who's demanding a full repeal, set up his own chase with a mini-tweetstorm demanding transparency, ending with the tweet above.
With Democratic Rep. Frank Pallone, I watched it unfold. It started at a hearing on an unrelated topic — generic drug user fees. He blurted out the location in the Capitol building where the new Obamacare bill supposedly was being kept. "The lobbyists know where it is. They know what's in it. Maybe the Russian ambassador knows what's in it," Pallone said, getting a few laughs. "But they won't let me in."
He asked the subcommittee chairman, Michael Burgess, if he was allowed to go look at it. "The chair does not have that information available, but I will find out for you," Burgess said, a bit uncomfortably.
And with that, Pallone was off to join several Democrats on their own chase. (The bill wasn't in the room where Pallone thought it was.) Check out Caitlin Owens and Shane Savitsky's story and videos here.
Today's clickbait: A generic drug user fees hearing!
This fall, Congress will have to reauthorize the generic drug and biosimilar user fees that fund the Food and Drug Administration. That's the routine part. It's also trying to nudge FDA to approve more generic drugs to bring prices down — not so routine.
Here's how they fit together at yesterday's hearing (the one where Pallone started his hunt for the Obamacare bill):
The House Energy and Commerce health subcommittee gave every indication that when it renews those user fees, it's going to push the FDA to review those new generic drugs a lot faster. The old goal was 10 months, but the new goal will be eight months for "priority" drugs.
They're also going to take up the bipartisan bill by Reps. Gus Bilirakis and Kurt Schrader to speed that up even more: They'd make the FDA act within six months on new generic drugs when there's a market need.
It's going to be hard to get more generic drugs to market without more money, though. When the FDA's Janet Woodcock was asked what it would take to speed up the approvals, she said she needed more funding — because the reviews are "labor-intensive activities." She also said the agency has to take time to inspect the drug companies' facilities, sometimes in different countries.
Yes, but: The unfinished inspections are one of the biggest holdups, the agency's critics say, along with multiple review cycles that makes it hard to know when a drug is really going to be approved.
Why drug prices are definitely on the radar
Here's an exchange from the hearing that should eliminate any doubt that Republicans in Congress, not just Democrats, want to act on drug prices. Rep. Buddy Carter, who owns a Georgia pharmacy, told Woodcock that a generic alternative to Daraprim — the drug that former Turing Pharmaceuticals CEO Martin Shkreli raised to $750 per pill — could have prevented the whole situation. "What the people coming into my office are telling me is that they had an alternative to Daraprim, but they couldn't get approval through you to get it marketed," Carter said.
He said he's "under tremendous pressure" to explain to his constituents why drug prices are rising so much. The kicker: "I don't like the federal government being involved in anything, but we need to step in there, because that's wrong."
The fundraising race is on for early cancer tests
Yesterday we told you about Freenome raising $65 million for its liquid biopsy projects. Now, there's another very big deal, via Xconomy: Grail, a startup with lots of big-name backers, has raised more than $900 million in a Series B round of funding to develop its own blood test for early-stage cancer. The biggest backers: Johnson & Johnson Innovation, followed by Bristol-Myers Squibb, Celgene, Merck, and Amazon. The fundraising was led by Arch Venture Partners.
The hazards of covering Pence in a loud room
This one's just for fun. Here's what my former Bloomberg BNA colleague Cheryl Bolen, who was covering Vice President Mike Pence in Cincinnati yesterday, wrote for the pool report about his remarks to the Frame USA manufacturing facility on Obamacare repeal:
"Unfortunately, Pence spoke relatively softly and there was loud jazz music playing in the adjacent room, where a crowd has gathered for his speech later this afternoon. Meaning pool has few if any quotes."
"Still, pool did not hear any departure from previous remarks on health care made in the past few days."
Eventually, Pence made a public speech that everyone could hear. He said what he always says: "The Obamacare nightmare is about to end."
What we're watching today: Pence, Price and House Speaker Paul Ryan visit Janesville, Wisconsin to talk Obamacare repeal; Pence speech scheduled for 12:45 pm Eastern. Also, MedPAC discusses Medicare premium support, 8:30 a.m. Eastern.
What we're watching next week: Maybe an Obamacare replacement markup? Also, House Appropriations Labor/HHS subcommittee hearing, Wednesday.
Have a great weekend, and let us know what other dinosaurs we should write about: david@axios.com.