Axios Vitals
January 15, 2020
Good morning.
Today's word count is 708 words, or a 3-minute read.
1 big thing: ER doctors' pay raises outpace other specialists
Emergency doctors — which are at the center of the surprise billing debate — saw their compensation go up more than any other physician specialty between 2013 and 2017.
Why it matters: This translates into higher health care costs, which we all pay for through our taxes, premiums and out-of-pocket spending.
By the numbers: Overall, doctors saw a 16.1% pay raise in this period — with a handful of specialties leading the way.
The big picture: Surprise medical bills obviously hit their recipients hardest, but economists argue that they also improve doctors' leverage over insurers.
A recent study in Health Affairs found that four specialties that are often out-of-network — anesthesiologists, pathologists, radiologists and assistant surgeons — raise employer insurance spending by 3.4%.
Yes, but: Other specialties that don't frequently surprise bill are also seeing higher compensation, meaning there are plenty of other factors involved.
The bottom line: "Obviously we all want clinicians to be well-compensated, for what is a challenging job requiring a great deal of training and skill, but if physician income constantly rises relative to the [average] patient, physician services become unaffordable," said Dan O'Neill, a fellow at the National Academy of Medicine.
Go deeper: Surprise medical bills inflate everyone's health insurance premiums
2. Day 2 at #JPM20
Axios' Bob Herman has more fresh content from the JPMorgan Healthcare Conference.
Why doctors are choosing private equity
A majority of doctors are now employees of hospitals or other medical groups, but many remaining independent doctors have been selling stakes of their practices to private equity firms as a way to get needed money for tech and other investments without giving up their independence.
The assumption is "private equity will be less hands-on," said Josh Kaye, an attorney at DLA Piper who routinely receives inbound calls from physicians. But with hospital employment, "there's a sense you've lost all control."
Tie-ups between private equity and physician groups, however, also have resulted in some rent-seeking behaviors.
A reality check on changing drug benefits
Tim Wentworth, the former CEO of Express Scripts that is now part of Cigna, told an audience that employers almost always renew their drug benefits contracts with the company because they see value in the deals. Employers "are very sophisticated buyers," he said.
Reality check: Employers rarely switch medical and drug benefits because they don't want to make their workers mad, and they usually outsource the vetting of plans to consultants, who nudge employers to the big players like Express Scripts.
Crickets on the opioid lawsuits
You'd think the opioid litigation hanging over drug distributors' heads would warrant more disclosure and Wall Street interest, given tens of billions of dollars are being floated in any settlement. But McKesson executives weren't asked a single question about it, and it only got a passing reference with AmerisourceBergen.
As analysts with Robert W. Baird & Co. said in December: "Wall Street underestimates the magnitude and depth of the opioid situation."
3. New effort to cut hospital costs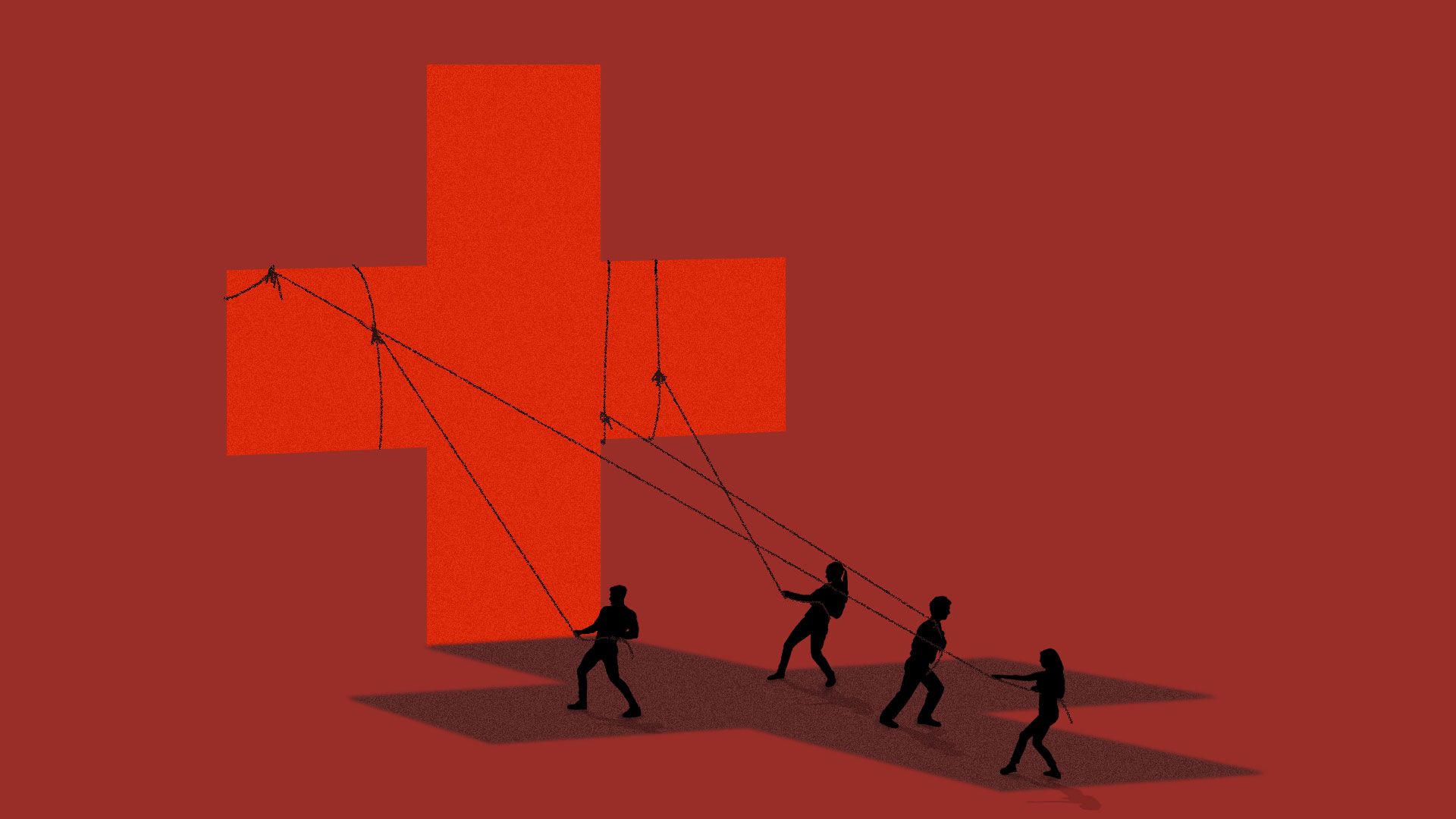 A billionaire with an interest in health care, state legislatures and a well-respected policy shop are all aligning in 2020 to take on hospital costs, Axios' Sam Baker writes.
Driving the news: Modern Healthcare reports that the National Association for State Health Policy will be coming up with model legislation in 2020 to help states rein in hospital spending, in addition to work on drug costs.
This cost-cutting initiative is funded by billionaire John Arnold, who has already put up millions to fight the drug industry. Arnold's foundation is expected to give NASHP more than $2 million this year, per Modern Healthcare.
Why it matters: Arnold is just one man, and NASHP writing some model bills is no guarantee that any or many states will adopt those ideas.
4. Clinical trials skirt mandatory disclosures
Federal officials are doing little or nothing to enforce a 2017 law that requires drugmakers and researchers to log their clinical trials into a federal database, according to an investigation published in Science.
The law was designed to give the public, along with outside researchers, more access to information about drugs' safety and efficacy, Axios' Marisa Fernandez writes.
The findings: Researchers failed to comply with these disclosure mandate about 55% of the time, leaving the results of 4,700 trials unpublished.
"Missing or late results offer potentially vital information for the most desperate patients," Science's Charles Piller writes.
Go deeper: Drugmakers opt to mine medical data in lieu of lengthy clinical trials