Good morning ... If you're in the Los Angeles area, don't forget to join us on Wednesday for our Axios event on the human brain. Our Science editor Alison Snyder will host one-on-one conversations with leading experts on artificial intelligence, brain-machine interfaces, biopharmaceuticals, and virtual reality. RSVP here.
Why the FBI is investigating an Oregon health care startup
Bob Herman has a big exclusive this morning about Zoom, an Oregon startup that was supposed to be one of the health care industry's newest disruptors. It's under FBI investigation for allegedly falsifying medical claims to avoid paying into the Affordable Care Act's risk adjustment program. Bob's sources, including former employees of the company, tell him the company manipulated the numbers so it wouldn't have to pay to help insurers with sicker customers. Zoom declined to comment.
Why it matters: If the company was doing what those sources say it was doing, it's going to raise a lot more questions about whether the risk adjustment program is vulnerable to fraud, and how many other companies might be doing the same thing. The program is there to help insurers with sicker patients, but it only works if companies with healthier patients pay what they're supposed to.
Election fallout from health care votes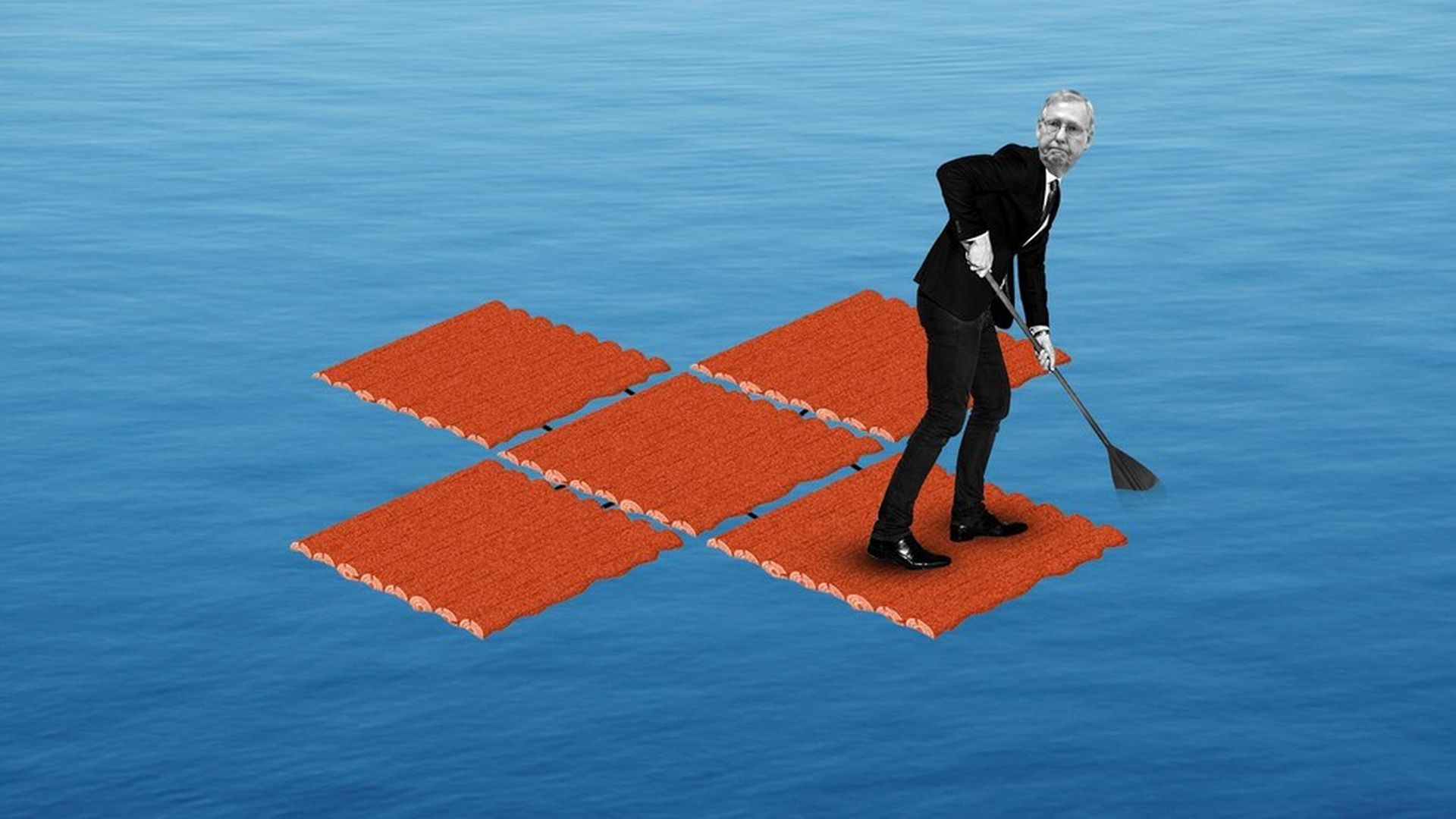 The electoral consequences of passing a health care reform bill won't end with the 2018 midterms. The ACA debate taught us that the politics of big health care legislation can be toxic for several cycles. And major provisions of the GOP's bill, including its Medicaid cuts and tax credit changes, would begin to take effect in 2020 — a year when the presidency will also be on the line and Senate Republicans will face a much tougher map than the one they're up against in 2018.
Caitlin Owens breaks down the potential longer-term thinking, all of which encapsulates the GOP's central political quandary: Are they more afraid of their base punishing them for failing to pass a health care bill, or of their constituents being angry in two, four, or six years as the bill's biggest cuts begin to take effect?
Why this matters: This is part of the reason we're seeing a push in the Senate to phase out the Medicaid expansion over a longer period of time. "The American public has a short-term memory...[Republicans] recognize there's a perfect storm in 2020," Chris Condeluci, a former Republican Finance Committee aide, told Caitlin.
Take notes on those GOP health care promises
Now that President Trump and his team are dialing up their sales pitch for the repeal and replacement of the ACA, it's a good idea to start keeping track of the promises they're making about the replacement. David wrote this weekend about the high bar Vice President Mike Pence set for the bill at a speech in Milwaukee, and how the Senate's going to have to change a lot in the House bill if it wants to meet that bar.
One promise: "We're going to make sure that every person with pre-existing conditions has access to the coverage and the care that they need, no exceptions."
The fine print: Even if the Senate abandons the House plan to allow states to opt out of the ACA's pricing rules — and let insurers charge higher premiums to sick people — Caitlin Owens reports that it's still planning to let states relax the ACA's benefit rules. Senate Republicans will have to hope that doesn't allow insurers to steer sick people away by choosing not to cover certain things.
Why it matters: President Obama and congressional Democrats got hammered for promises they made about the ACA that weren't kept — especially that people would be able to keep their health plans and their doctors. Trump and Pence have been reminding their audiences of those failures every chance they get.
So they'd better believe there will be payback if they over-promise on the GOP bill — and so far, they're not paying attention to the warnings from the Congressional Budget Office and some think tanks about what the bill would actually do.
The House returns to health care
The House's health care bill is not yet law, and might never be, but lawmakers plan to pass a few touch-ups all the same, while they wait for the Senate to figure out its next moves. Majority Leader Kevin McCarthy said the House will vote this week on four health care bills, including two that are contingent on the American Health Care Act becoming law.
The bills up for floor votes this week would:
Don't forget: Medicaid limits would hit long-term care, too
We've spent a lot of time talking about what the Medicaid spending limits in the GOP health care bill would do to people who just gained coverage. But we've also gotten questions about what the per-capita caps would do to another critical side of Medicaid: the part that pays for many seniors' nursing home care. That's not a small thing. Medicaid pays for more than half of all long-term care spending in the United States, according to the Kaiser Family Foundation.
The answer is, it might not have a direct impact on nursing home care — that's one of the mandatory benefits that Medicaid has to cover. But home and community-based care, which states want to encourage (and which many seniors prefer), is an optional benefit. So if states have to cut spending to live within the tighter limits, home and community-based care could be one of the first places they'll look for cuts, according to Kaiser's Diane Rowland, a Medicaid expert.
What to watch: The House health care bill would set the limits based on fiscal 2016 spending, Rowland points out — so if states haven't expanded their home and community-based care programs by now, it would be harder for them to do it in the future. We'll see what the Senate comes up with.
Now who's going to write the Senate health care bill?
Eric Ueland, the Senate Budget Committee's Republican staff director, has been one of the leaders of the staff work in writing the Senate health care bill. On Friday night, Trump nominated him to be the Under Secretary of State for Management. The job requires Senate confirmation, so it could take a while before he's in the job. But it does mean the veteran Senate staffer (who was former Senate Majority Leader Bill Frist's chief of staff) will have some non-health care issues competing for his attention.
Q: So who's going to write the health care bill?
A: Other people.
While you were weekending ...
Sen. Susan Collins — one of the most-watched Republican votes on health care — said on CNN's State of the Union that "a bill that results in 23 million people losing coverage is not a bill that I can support. So, we will see what the Senate comes up with."
Sen. Lindsey Graham said on CBS's Face the Nation that the Senate is divided over Medicaid and the proper role of government — and that one way or another, "We need to bring this to an end" by July 4.
If Republicans can't repeal the ACA, Graham said, they should offer Democrats a deal: Take the sickest 10 percent of patients and "put them in a federal managed care system, so they will get better outcomes, and save the private sector market."
Trump headlined a fundraiser for Rep. Tom MacArthur at his New Jersey golf club, where the congressman who revived the GOP health care bill raised more than $800,000, per CNN. (It was closed to the press.)
The opioid crisis is adding to some Republicans' concerns over ending the Medicaid expansion, since that could affect addiction treatment for newly insured people, per the Wall Street Journal.
Trump's nomination of Norman "Ned" Sharpless to head the National Cancer Institute has been widely praised by cancer researchers, the Washington Post reports.
The Trump administration is asking for public input on how to reduce the regulatory burdens of the ACA, per Money magazine.
What we're watching this week: Senate HELP Committee holds hearing on how the prescription drug delivery system affects drug prices, Tuesday. Senate Committee on Indian Affairs hearing on legislation to help employee recruitment and retention at the Indian Health Service, Tuesday. House Energy and Commerce health subcommittee hearing on reauthorizing CHIP, Wednesday.
Also: American Medical Association House of Delegates meeting in Chicago, Monday through Wednesday. Manhattan Institute-U.S. Chamber of Commerce panel on "Solving the Drug-Pricing Challenge," Wednesday (David is moderating a panel discussion). Goldman Sachs Global Healthcare Conference, Tuesday through Thursday.
We want to know what else you're interested in, so let us know: david@axios.com and baker@axios.com.