Happy Friday! The pressure is on Paul Ryan to make his years of health care wonkery pay off — but there are more calls from the right to slow down. And a House Democrat who talked with President Trump about drug prices gives his take on why Trump seems to change his mind a lot.
The Axios newsletter family is about to get even bigger! On Monday, we're being joined by Login, a tech newsletter by Ina Fried in San Francisco and Kim Hart and David McCabe in D.C. They'll join our other latest newsletter siblings, Jonathan Swan's Sneak Peek and Ben Geman's Generate. Happy to be one of the grizzled old men of Axios newsletters. You can sign up for all of our newsletters and alerts here.
Big moment for Paul Ryan — and the pressure is showing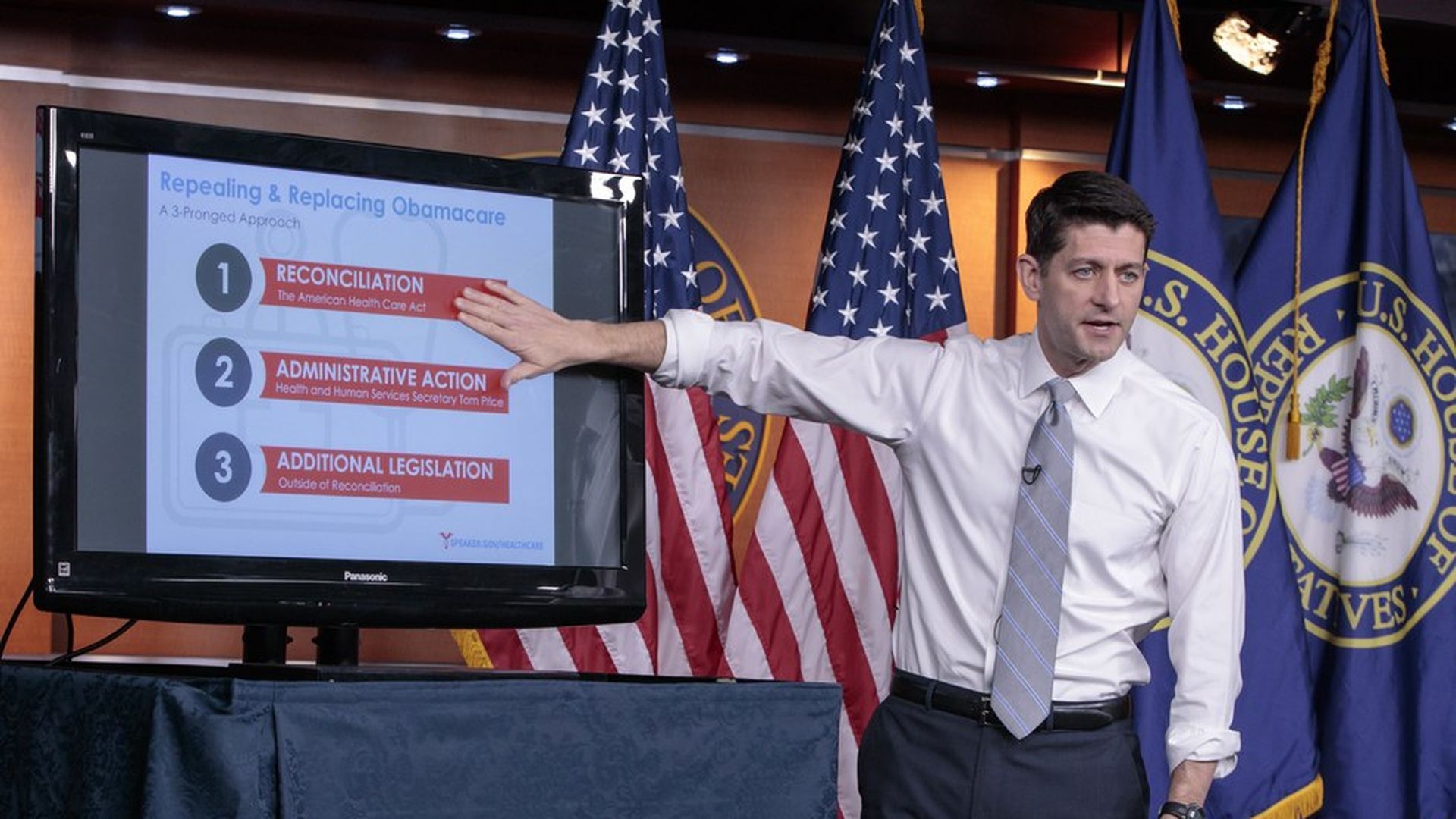 If you've been watching House Speaker Paul Ryan over the years, you understand why he has more riding on the success or failure of the Obamacare replacement bill than just about any other Republican: because it's his baby.
He's the one who pulled together the "Better Way" plan on which it was based — along with his former House colleague, Health and Human Services secretary Tom Price — and he's been working on Republican health care ideas since the days of the Obamacare debate in 2009.
All of that helps explain why he pulled out the PowerPoint at yesterday's weekly press conference and spent half an hour lecturing reporters on health care terms ("what is a death spiral?") and how the bill is supposed to work.
It also explains why he spent so much time insisting he's not about to get outflanked on the right on health care reform. "These are long-standing conservative principles that those of us who've been working in health care for about 20 years have been fighting for," Ryan said. (He even threw in a Reagan reference, about how the conservative icon wanted to give states more control over Medicaid.)
And it explains why he was so adamant that conservatives shouldn't miss the moment: "This is something that we, as conservatives, have been dreaming about for decades. This is the chance, and the best and only chance we're going to get."
What he thinks the problem is: Ryan thinks the conservatives are objecting to the bill mainly because they don't understand the limits of the budget "reconciliation" process, which prevent them from doing some of the things they want to do, like letting health insurers sell plans across state lines. He's taking care of that by assuring them those bills will move separately.
Why it matters: Anyone who has this much pride of authorship could have a harder time dealing with other conservatives who disagree on some of the basic solutions, like refundable tax credits or how to end Medicaid expansion. In the meantime, Trump met with Freedom Caucus members on Thursday and signaled he's open to changes.
And Ryan is about to face weeks of negotiations with Republicans who disagree with him. A gentle reminder from Senate Finance Committee chairman Orrin Hatch in a floor speech yesterday: "We have two chambers in Congress for a reason."
Key quote: "What we hear from the White House is, this is a work in progress," said Freedom Caucus member Mark Sanford, per the Washington Post. "Then we hear from leadership, take it or leave it."
More pressure from the right to pump the brakes
Sen. Tom Cotton got a lot of attention yesterday when he tweeted that the House should "start over" and "get it right, don't get it fast." Now, two of the most respected conservative health care experts are joining him. Joe Antos, a member of the Axios board of independent experts, and James Capretta — both of the American Enterprise Institute — write in a Health Affairs blog post today that Republicans should slow down and make needed changes, like more financial help for low-income people and broader Medicaid changes to eventually equalize the funding between expansion and non-expansion states.
Key quote: "Republicans would be well advised to take the time necessary to ensure that their plan will provide adequate insurance for these populations while remaining consistent with an overall framework of less federal control and regulation and more reliance on market incentives."
How one Democrat reads Trump's mixed signals on drug prices
It's getting harder than ever to read President Trump's statements on drug costs. First, he campaigned on negotiating lower prices. Then, at a meeting with drug company executives, he seemed to backtrack and emphasized competition instead. Then, on Wednesday, he met with two House Democrats who want the government to negotiate prices — and they reported that he was back to agreeing with them.
So which is it? I caught one of the Democrats, Rep. Peter Welch, during a break in the 27-hour Obamacare markup yesterday and asked him for his read on Trump's back-and-forth statements. "I think he is back and forth," Welch acknowledged. "That's because there is a lot of resistance to this in the Republican Party." But he's still convinced that Trump not only supported the specific idea Welch and Rep. Elijah Cummings brought to the meeting — letting Medicare negotiate drug prices — but was willing to take the heat from other Republicans over it.
"Who knows" whether Trump will follow through and push for it, Welch said — but he said Trump "gets the politics" of the issue, and "he knows that the people who voted for him think they're getting ripped off."
So who's ready for another Obamacare markup?
The House Energy and Commerce Committee worked on its Obamacare bill for 27 hours before it finished yesterday, and Ways and Means went until 4:30 am the night before — but you say you want more? Good news! The House Budget Committee markup is happening on Wednesday next week.
That's probably less important than the first two markups, because the Budget Committee will mostly just merge the two bills together and make any technical corrections. It's just a step Republicans have to take, since they're using budget "reconciliation" to pass the Obamacare repeal and replacement measures with just 51 votes in the Senate. We may still see Democratic amendments — but there's a chance there won't be 27 hours' worth.
QOTD: "OH YEAH! GREAT!" — A bleary-eyed and punchy House Energy and Commerce Committee chairman Greg Walden, on whether he was doing OK after the 27-hour markup. (Spoken in a cheerful voice, and a bit too loudly.) For more about how the all-nighter ended, read my story here.
What conservatives might get, and what they won't get
Republican leaders know they still have to make some changes to win conservative support for the Obamacare replacement bill. Here's where it stands:
What the conservatives might get: A faster end to Obamacare's Medicaid expansion. Just before the House Energy and Commerce Committee approved its part of the bill yesterday, Rep. Joe Barton offered, and then withdrew, an amendment to end Medicaid expansion in 2018 — two years earlier than the GOP bill would end it. Conservative groups like the idea because they don't want to give more states a chance to join what they see as an increasingly expensive entitlement.
Trump reportedly hinted to conservative leaders that he'd consider it, and Barton said he has gotten "a considerable amount of positive feedback" in private conversations with the White House, so don't be surprised if the idea returns down the road. Walden, however, didn't sound enthusiastic about it. "He [Trump] understands the balance we have to achieve here. Half the Republicans are in states that expanded, half the Republicans are in states that didn't," Walden told reporters.
What they won't get: They're not going to convince Republican leaders to get rid of the refundable tax credit — because Ways and Means Committee chairman Kevin Brady says that's not on the table. "Having a tax credit that's immediately useable is critical" to help small businesses and low-income working people, Brady told reporters yesterday.
The conservative group that's willing to compromise
There was a time when the Republican Study Committee was considered the most conservative House Republicans, but now that label belongs to the Freedom Caucus. These days, the RSC is the conservative group that's more willing to compromise on Obamacare replacement — the one that's "trying to head toward a yes," as Chairman Mark Walker told reporters this week.
What they want: Caitlin Owens reports that the group is asking for enrollment in Medicaid expansion at the enhanced federal match to stop at the end of 2017 — and it wants work requirements for able-bodied, childless adults in the program. These changes could be made by either the Budget or Rules Committee, Walker told reporters yesterday.
The problem: Moderates, especially from expansion states, probably won't like this, which Walker acknowledges. "Every time that there's a move towards a conservative position, some of the more moderate members, there's an equal reaction on that particular side," he said.
What they're not asking for: More changes to the refundable tax credit. "We're not OK with it, but we also understand that we can't get every single ask," Walker said.
Health care merger watch, Midwest version
Don't let Obamacare repeal absorb all of your eyeball time. There's some interesting health care developments coming out of the Midwest. One day after two Chicago-area hospital systems, Advocate Health Care and NorthShore University HealthSystem, canceled their merger, a separate one was born in Minnesota, Bob Herman reports. Fairview Health Services and HealthEast want to combine, creating a not-for-profit system with 11 hospitals and $5 billion in annual revenue.
Why this matters: Fairview and HealthEast want to seal the deal quickly — as soon as this spring — and it would immediately increase the system's negotiating power in the Minneapolis-St. Paul metro area. The organization justified the deal as all hospitals do these days: "to meet the challenges of a rapidly evolving health care market." But health economists and policymakers have made it clear that hospital mergers lead to more concentrated markets, which lead to higher prices.
Worth noting: The GOP Obamacare bill does not touch anything related to cost control, provider mergers or price transparency.
What we're watching today: Trump and Vice President Mike Pence meet with the chairmen of the health care and budget committees, 11:30 am Eastern; Pence holds listening session with conservative leaders on health care, 1 pm Eastern.
What we're watching Sunday: Health and Human Services secretary Tom Price on NBC's "Meet the Press."
What we're watching next week: Senate confirmation vote for Seema Verma, Monday; House Budget Committee marks up the budget "reconciliation" package tying together the repeal bills, Wednesday. Also: Congressional Budget Office score for the Obamacare replacement bill?
What we're watching in two weeks: House vote on the Obamacare replacement package.
Have a great weekend, and keep the tips and feedback coming: david@axios.com.