Axios Vitals
July 24, 2019
Good morning from Chicago, home to America's best skyline and worst pizza.
Today's Vitals is 984 words, or a 4-minute read.
1 big thing: Pharma under fire this fall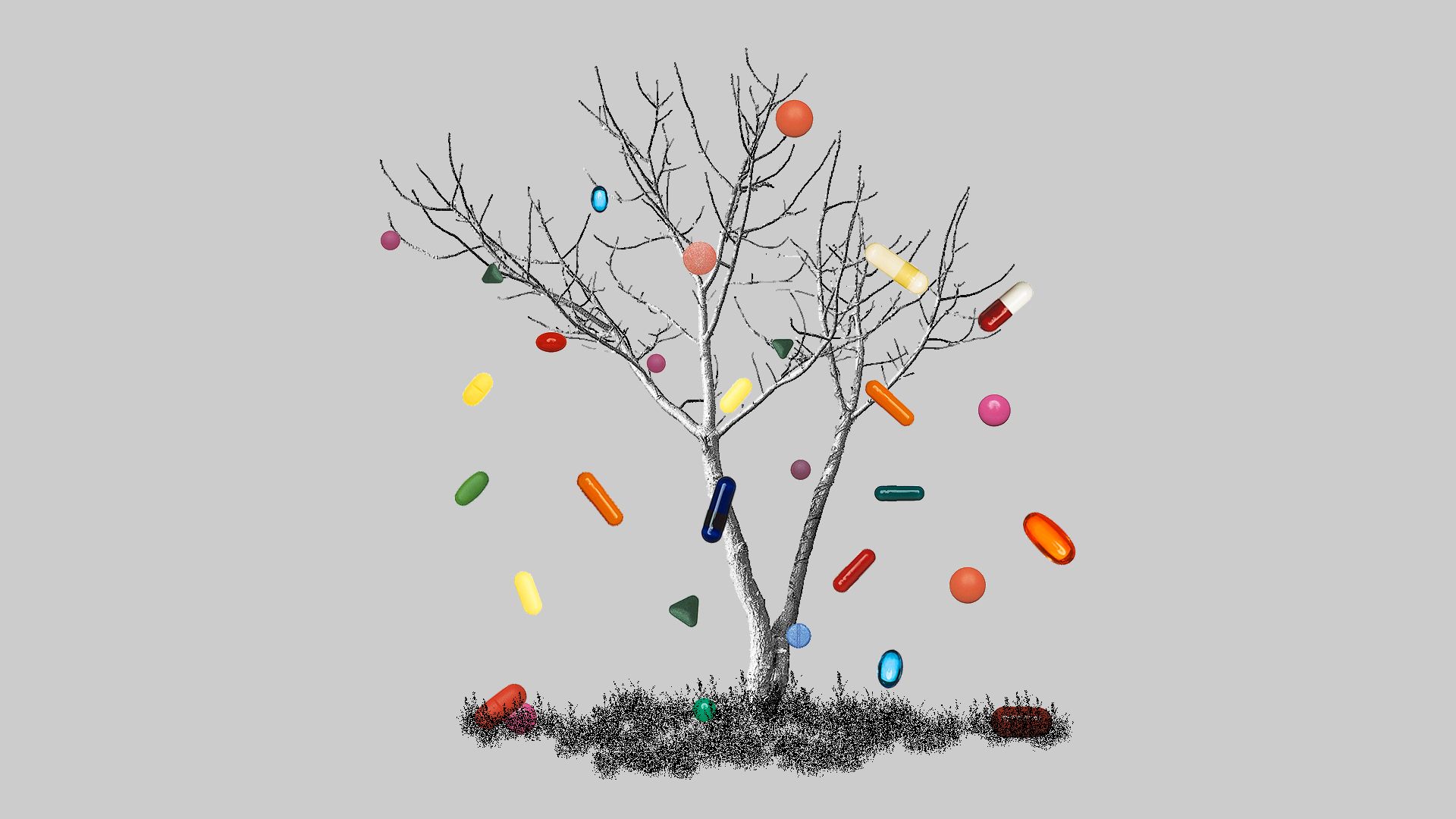 The pharmaceutical industry's lobbyists will really have to work for those millions once Congress comes back from its August recess.
Driving the news: Drug pricing will likely dominate the fall agenda in Congress.
The bipartisan leadership of the Senate Finance Committee — Sens. Chuck Grassley (R-Iowa) and Ron Wyden (D-Ore.) — released their long-awaited drug pricing bill yesterday. Finance is slated to mark it up tomorrow.
House Democrats, meanwhile, are planning to roll out their own bill after the recess — meaning both chambers could have their bills on the floor in September.
On the substance, the bipartisan Senate bill is pretty far-reaching, in the sense that it reaches into many parts of the system. The House bill may end up being more aggressive on its big-ticket items, though.
The Senate measure would cap price increases in Medicare Part D and Part B, put a cap on seniors' out-of-pocket costs, and reshape Part D more broadly to deal with some of the program's backwards incentives.
What they're saying: PhRMA, the industry's leading trade organization, said yesterday that the bill "fails to meet the fundamental test of providing meaningful relief at the pharmacy counter for the vast majority of seniors," while the White House signaled its support.
My thought bubble: Everyone's written a million stories about congressional Republicans being pulled between President Trump and some traditionally conservative idea or interest group.
But none of those traditional allies have brought as much campaign cash to the table as pharma. That tension could be real this time.
Even so, with a bipartisan framework to start and Trump's blessing on top of it, the industry will face a daunting challenge trying to stop the Senate from passing anything serious.
And if House Speaker Nancy Pelosi can get the progressives in her caucus on board, then we'd be back to the dynamic I mentioned yesterday: testing the bounds of Pelosi's and Trump's ability and willingness to make a deal.
2. Another lobbying avalanche
Pharma isn't the only one breaking the bank on lobbying, Axios' Bob Herman reports.
By the numbers: Most of the industry's big players swelled their lobbying budgets by at least 10% in the second quarter of this year, compared with the same period in 2018.
PhRMA: $6.22 million (⬆️ 12.3%)
American Hospital Association: $4.87 million (⬆️ 13.5%)
American Medical Association: $4.74 million (⬆️ 10.2%)
Biotechnology Innovation Organization: $3.01 million (⬆️ 19.4%)
America's Health Insurance Plans: $2.21 million (⬆️ 56.7%)
Blue Cross Blue Shield Association: $1.89 million (⬆️ 0.5%)
That's not all: Those are just the major trade groups. 
A handful of the largest health care companies, including Cigna and Eli Lilly, spent more than $2 million on their own lobbying in Q2.
Pharmaceutical companies, in particular, continue to wield some of the largest lobbying budgets.
Advocate Aurora Health, a tax-exempt hospital system in Illinois and Wisconsin, spent more than $1 million on lobbying last quarter — 5 times more than in any previous quarter.
What's next: These numbers will probably keep going up.
3. More bad signs for Medicaid work rules
Medicaid work requirements were back in federal court yesterday, and once again they seemed to be on thin ice, Roll Call reports.
This time it was New Hampshire's turn to defend its work requirements — in front of the same federal judge, James Boasberg, who previously ruled against similar requirements in Kentucky and Arkansas.
Boasberg's questioning yesterday stuck to some of the same themes that led him to freeze other states' work requirements. He asked several questions about people losing coverage under the new rules and how that squares with Medicaid's goals as a source of health coverage, per Roll Call.
4. Good news for a public option
Democrats who want to expand government-provided health insurance while stopping short of "Medicare for All" got 2 pieces of good news yesterday:
1) An optional public program is more popular than a pure single-payer one, according to a new Marist poll.
70% of those polled said they support a public option, compared with 41% who said Medicare for All is a good idea.
The optional version is also more popular with Democrats — which is probably the most relevant number right now, given that this fight is playing out in a Democratic primary.
90% of Democrats said they support "Medicare for All who want it," compared with 64% for a national plan.
2) An analysis by the Avalere consulting firm says the liberal Center for American Progress' health care plan would achieve universal coverage at a much lower cost than Medicare for All.
CAP's plan would lower total national health expenditures while increasing federal health care spending by roughly $3 trillion–$5 trillion over 10 years, Avalere said.
Various estimates put the federal price tag for Sen. Bernie Sanders' bill at roughly $32 trillion over 10 years.
Between the lines: Both plans would be at least slightly less expensive for the country as a whole than the status quo, according to economists' estimates.
CAP's plan would cost the government less, in part, because it wouldn't eliminate premiums or cost-sharing, which Sanders' bill would.
It also retains a role for employer-based insurance as well as privately run plans similar to Medicare Advantage.
5. Mystery of Cuban "health attacks" grows
Remember the news about a potential "health attack" against American diplomats stationed in Cuba in 2016? Well, something seems to have happened to those diplomats' brains — it's just not clear what, exactly.
Flashback: In 2017, dozens of American diplomats who had been working in Havana began reporting unusual symptoms such as persistent headaches, hearing loss and blurred vision.
The initial fear was that they had been victims of a "sonic attack," perhaps using some kind of microwave technology.
But other scientists subsequently cast doubt on that possibility, suggesting instead that it might have been a case of mass hysteria.
Whatever happened, it probably isn't simply psychosomatic, according to a new clinical evaluation of 40 of the affected diplomats. The findings were published in the Journal of the American Medical Association.
MRIs of the diplomats' brains showed differences between the diplomats' brains and a control group's brains, but the study doesn't reach any conclusions about how those differences came to be.
"All you can say is something happened, which caused their brain to change," Ragini Verma, a professor of radiology at the University of Pennsylvania and one of the study's authors, told NPR.