Good morning ... The D.C. health care scene is slowing down, but a new group is trying to pry loose all of the secret Obamacare and Trumpcare emails. And the interest groups are using the congressional recess to crank up the ads — including hitting moderate Republicans from both sides.
The watchdogs keeping an eye on HHS and Obamacare
As long as Obamacare repeal is stalled, the Department of Health and Human Services has said it will uphold the law — but a new watchdog group is trying to find out what officials at HHS and other agencies are saying about it in private. American Oversight, a group of lawyers that launched last month, says it's going to use the Freedom of Information Act to dig up a lot of emails and other documents about how the Trump administration is making its decisions about Obamacare.
It's mostly trying to promote transparency, executive director Austin Evers told me yesterday, and it's ready to file lawsuits to get faster FOIA responses. But it will also be looking for evidence of "sabotage," he said, and it's ready to call in outside lawyers to take the administration to court if that happens.
The topics they're focusing on:
The decision to cut back Obamacare advertising in the last week of enrollment
Whether HHS will advertise in the next enrollment season
What it will do about the law's "essential health benefits"
What it will do about the cost-sharing subsidies
Any changes it might make to the Obamacare marketplaces
What insurers have told the Trump administration about whether they'll participate next year
Why it matters: It's going to take a while, but if the group does unearth anything interesting, it will be widely shared with members of Congress, journalists and advocacy groups — so it could become a headache for the Trump administration. Evers is pretty sure his group will find something. His theory is that while Trumpcare was being written, "the administration and Congress could not have been engaging in great email hygiene."
Why it's no fun to be a moderate Republican
As Caitlin Owens notes, GOP moderates "are about to have a rough recess." That's because they're being hit from both sides over the break. Save My Care, a liberal group, is pummeling them with ads accusing them of breaking their promise to protect people's health care. But the conservative Club for Growth is also running an ad in some of their districts egging them on to support Trumpcare — complete with video of Trump saying, "This is our chance to end Obamacare."
Between the lines: This is exactly what the moderates were worried about: They'd be blamed for the collapse of the talks, when in reality, the latest talks focused on changes that could have stripped out Obamacare's guarantee that insurers would cover pre-existing conditions. (Club for Growth president David McIntosh accused the moderates yesterday of tripping up efforts to "improve" the bill.)
Freedom Caucus member wants to go bipartisan
File this under "did not see this coming": Rep. Justin Amash, who has called Trumpcare "Obamacare 2.0," told a town hall meeting last night that the best fix for the health care system would be bipartisan. Here's what he told the audience in Cedar Springs, Michigan, per MLive:
"Let's start over in a bipartisan way ... We should have worked with Democrats from the very beginning. At the end of the day, you cannot pass legislation ... that affects so many people and not have it be bipartisan."
AARP has more confidence in the GOP than the GOP does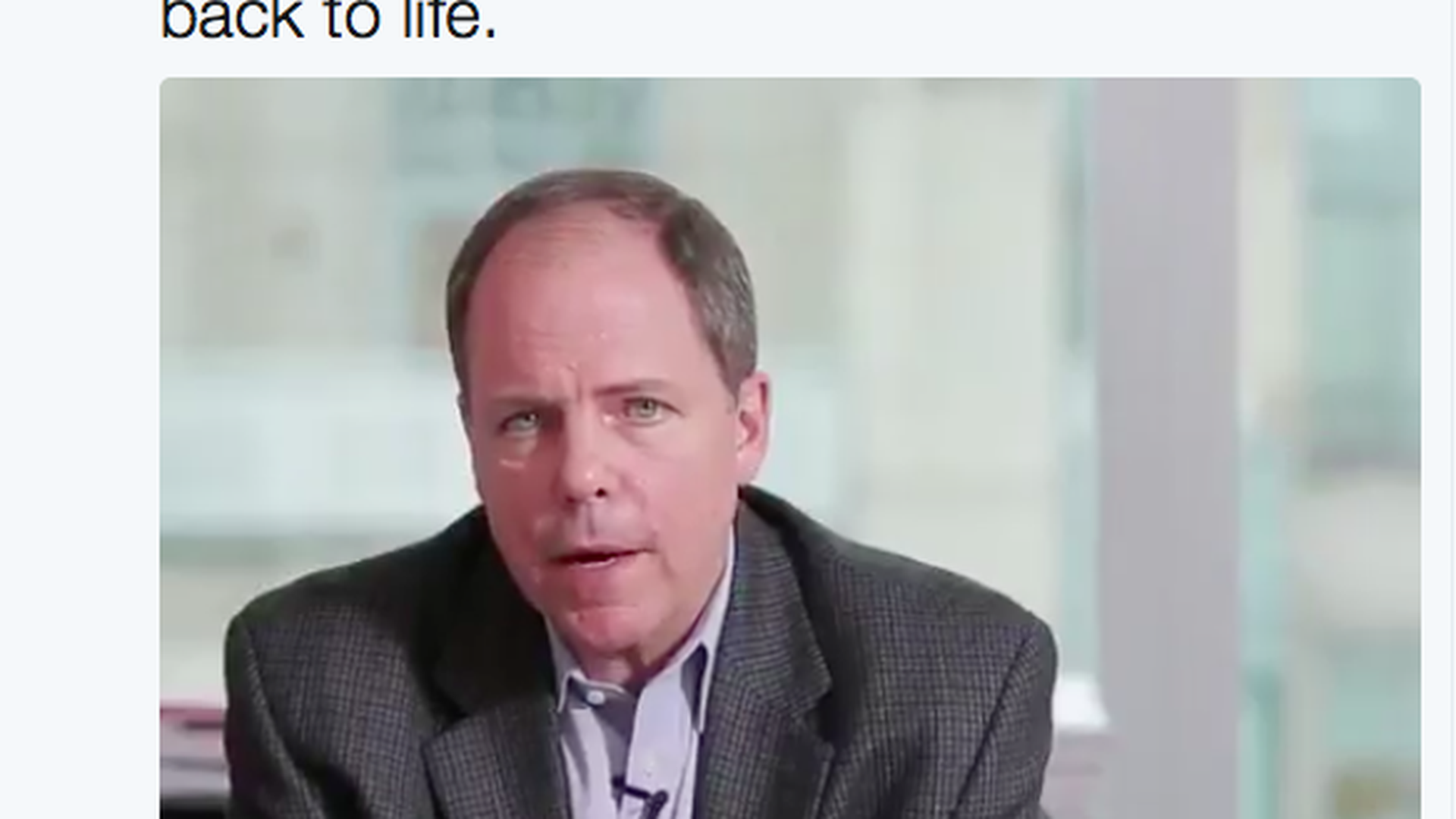 The Trumpcare revival talks may have flamed out last week, but AARP isn't taking any chances. John Hishta, the group's senior vice president for campaigns, tweeted a video message yesterday — retweeted by Obamacare supporters — that warned of a "backroom deal" to write a bill that would be "even worse" than the original one. (He says the new bill "eliminates protections for anyone with a pre-existing condition," which is actually undecided and one of the biggest things Republicans are fighting about.)
Buckle up, 2018 Medicare rates are on their way
The federal government is expected to release a smorgasbord of proposed Medicare payment policies over the next several weeks, marking the first go-round of this annual feast under the Trump administration, Bob Herman reports. The White House is finalizing proposed rules that alter 2018 Medicare rates in these areas:
Inpatient and long-term-care hospitals
Inpatient rehab facilities
Skilled nursing facilities
Hospices
Home health agencies
Physician quality programs
Durable medical equipment
Dialysis facilities
And that's not all! The Trump administration is also expected to unveil its final "market stabilization" rule soon. Hope you enjoy reading thousand-page PDFs.
Maryland drug prices bill on its way to governor's desk
The Maryland legislature gave final approval yesterday to a groundbreaking bill that would let the state attorney general crack down on "unconscionable" price increases for generic drugs, the Baltimore Business Journal reports. Still no word on whether Republican Gov. Larry Hogan will sign it. It's supported by MedChi, Maryland's medical society, but the Association for Accessible Medicines — which represents the generic drug industry — says it would backfire.
Why provider competition could be good for Medicaid
A couple of smart health care experts — Lanhee Chen, a member of the Axios board of experts, and Micah Weinberg — tried to lay out a practical roadmap for Medicaid reform that's less fighty than the usual stuff. Here's one statistic that jumped out at me: the average premium in northern California is 30 percent higher than in southern California. Same state, same set of regulations.
So what explains the difference? In their view, it's the fact that there's a lot more competition in southern California: 80 hospitals in the Los Angeles area, compared to just a few in northern California. So the way to bring costs down, they say, is to make sure there's more competition — which probably means stronger anti-trust enforcement.
That's not going to please hospital executives like Cleveland Clinic CEO Toby Cosgrove, who told me when Axios launched that it's more efficient to bring hospitals together to work as systems. One day, we'll get them all on a panel and let them fight it out.
What we're watching: Final HHS market stabilization rule for Obamacare, coming soon-ish.
Thanks for reading, and if you're still working this week, let me know what we should be watching: david@axios.com.