Good morning ... We're probably going to hear a lot more about the National Institutes of Health paying too much for overhead costs. And the Trump administration is trying to make it easier for people to sign up directly for Affordable Care Act coverage — but there's always a catch.
Today's the premiere of Axios Science, our brand-new weekly newsletter from science editor Alison Snyder. Happy to have another newsletter in the Axios family! If you didn't sign up yet, now's your chance.
https://www.axios.com/newsletters/axios-vitals-45627623-f99f-4c38-93d2-871090faab73.html?chunk=0#story0
The next round of NIH funding fights is coming
Here's what the next battleground may be: overhead costs. The Atlantic's Ed Yong reported yesterday that President Donald Trump's complete budget for fiscal 2018, due to be released next week, may propose limiting the amount of National Institutes of Health grants that can go to "indirect" costs, like administration, equipment, and IT. (Science Insider ran a similar report in March.)
Why that's not a surprise: The Trump administration has been talking about this for a while — Health and Human Services secretary Tom Price said in March that NIH needs to get "a bigger bang for our buck." And some congressional Republicans want to crack down on those costs too.
At a House subcommittee hearing yesterday, Rep. Andy Harris grilled NIH director Francis Collins about the $6 billion the NIH spent on indirect costs in fiscal 2016. "Why is this reasonable?" Harris asked. "If we freed up this $6 billion...we could fund thousands of more grants."
Collins' answer: Universities that conduct medical research can accept smaller private foundation grants with less overhead built in because of the NIH support — but if NIH cut back too, "many of them would not be able to continue the effort. They would need to drop out."
Why the cuts may not happen: Rep. Tom Cole, the chairman of the House subcommittee that funds NIH, said at yesterday's hearing that he wants to keep building on the NIH funding increases of the last two years because medical research is "important for American global leadership." But take note, NIH: He said it needs to be done "while achieving efficiencies and being a responsible steward of taxpayer dollars."
https://www.axios.com/newsletters/axios-vitals-45627623-f99f-4c38-93d2-871090faab73.html?chunk=1#story1
Today's Senate update is pretty quick
You only need to know a few things about the Senate Republican health care talks:
Yes, they did manage to talk about health care at a Senate GOP luncheon yesterday, even though the only questions they're getting from most reporters are about Trump and ousted FBI director James Comey.
The topic was how to lower premiums in the individual market, according to Senate Republican Policy Committee chairman John Barrasso.
They're still debating whether they need a short-term package to stabilize the markets or whether they can do it all in one package. Caitlin Owens has more here.
Senate Finance Committee chairman Orrin Hatch caused a bit of a stir when he suggested he'd be open to keeping the individual mandate. So far, we haven't heard a lot of other Republicans say that. Barrasso's response when asked about it: "Ask Senator Hatch."
https://www.axios.com/newsletters/axios-vitals-45627623-f99f-4c38-93d2-871090faab73.html?chunk=2#story2
Why not everyone is thrilled about direct ACA enrollment
The Centers for Medicare and Medicaid Services announced yesterday it's going to let people enroll directly in Affordable Care Act coverage for 2018 using third-party websites — to "make it as simple and easy as possible," CMS administrator Seema Verma said. Great news, right? Who would complain about that?
The catch: Some critics are worried about what happens to all of the sensitive information people have to provide to companies like web brokers and insurers. That can include income information, citizenship status, and Social Security numbers, according to Sarah Lueck of the liberal Center on Budget and Policy Priorities — so they're worried that companies could use it for marketing purposes.
The tradeoff: Direct enrollment also means consumers wouldn't get to compare all of the available plans if they're just going straight to one insurer to sign up, according to Larry Levitt of the Kaiser Family Foundation. But it definitely gives people more ways to sign up, Levitt said — and that could increase total enrollment.
Insurers are happy: The trade group America's Health Insurance Plans called the announcement "a positive step for consumers."
https://www.axios.com/newsletters/axios-vitals-45627623-f99f-4c38-93d2-871090faab73.html?chunk=3#story3
The Medicare Advantage power players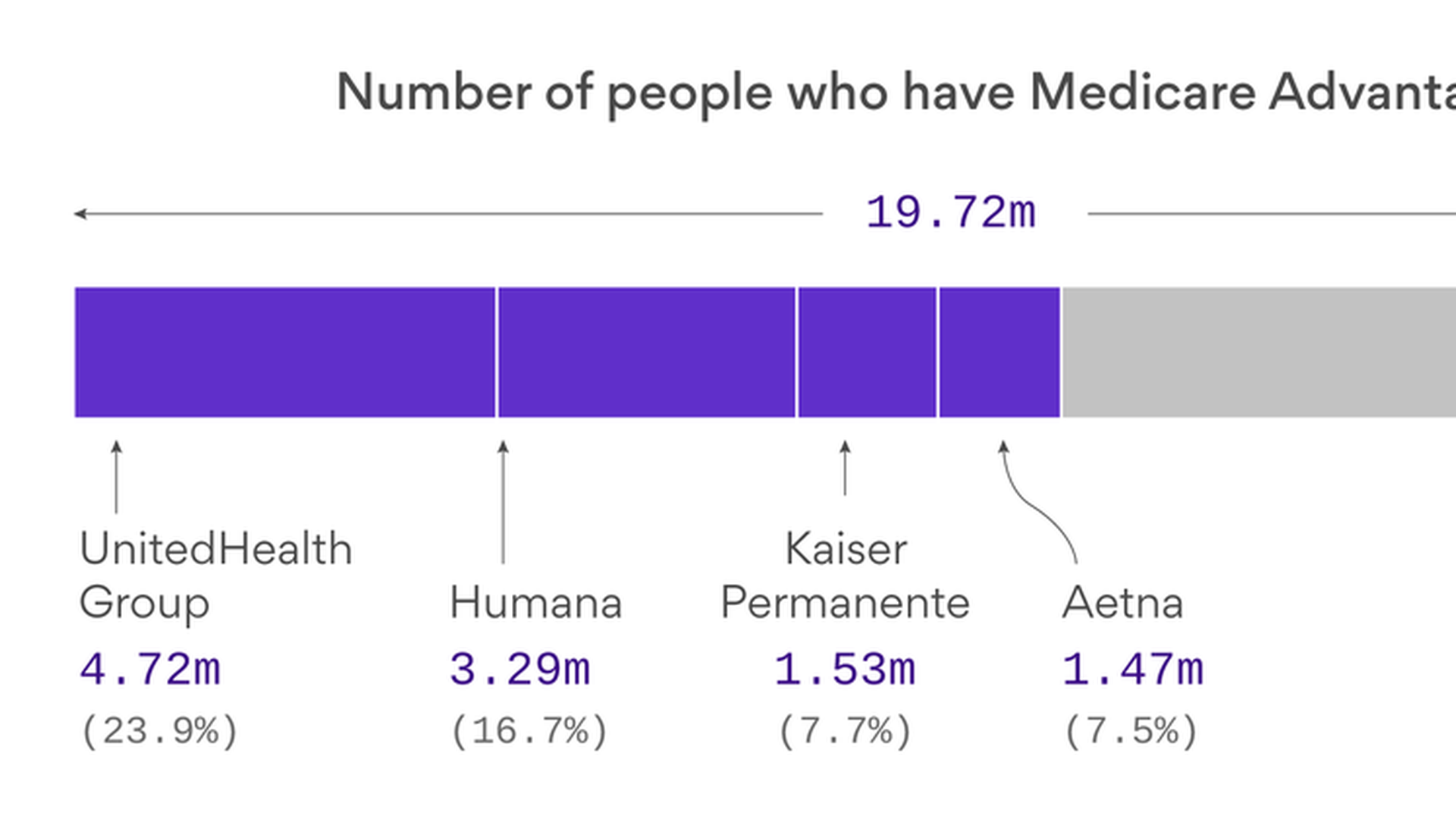 The Department of Justice is digging in its heels against UnitedHealth Group, alleging in a second lawsuit that the health insurance giant has knowingly scammed the government by inflating the medical codes of its Medicare Advantage members.
But UnitedHealth is not the only Medicare Advantage insurer under the federal microscope — it's just the largest, covering about one-fourth of all people in the program, Bob Herman reports. The DOJ also is investigating Humana, Centene, and other insurers for their coding practices.
Medicare Advantage is the private version of Medicare that has more limited networks of doctors and hospitals but cheaper premiums, and it is heavily consolidated. The four biggest companies — Aetna, Humana, Kaiser Permanente and UnitedHealth Group — control 56% of the market. Any scrutiny or changes in payment policies will affect those insurers most.
https://www.axios.com/newsletters/axios-vitals-45627623-f99f-4c38-93d2-871090faab73.html?chunk=4#story4
Guess who's about to extend an ACA program?
The Senate Finance Committee is set to approve one of those rare creatures today — a bipartisan health care bill. It's focused on chronic care, but there's one piece of the bill that caught my eye. It's where they extend something called the Independence at Home demonstration program — a program created by the very same Affordable Care Act that Congress is trying to kill.
The back story: The idea pre-dates the ACA, so it's not like it owes its entire existence to the law. And in fairness, there are a lot of random things in the law that nobody really hates. In this case, it's a program that lets chronically ill Medicare beneficiaries get primary care services at home. But yes, you will see a bipartisan vote to keep something that was technically created by the ACA.
Yes, but: Relax, Republicans. It does a lot of other things too, like expanding the use of telehealth.
https://www.axios.com/newsletters/axios-vitals-45627623-f99f-4c38-93d2-871090faab73.html?chunk=5#story5
An "operating system for the brain"
Axios technology editor Kim Hart has a fascinating story this morning about a virtual reality platform, newly approved by the Food and Drug Administration, that might be able to help patients recover from strokes. It's a "neurorehabilitation" platform from a Swiss company called MindMaze, and it uses 3D motion tracking cameras to map the movements of a patient's arms or fingers. Then it analyzes that data to help design the patient's therapy.
The bottom line: Virtual reality is getting more widespread use in health care — and now U.S. patients with brain injuries can try out this new tool.