Axios Vitals
November 17, 2017
Good morning .... That was a long week, but Congress is now out for its Thanksgiving recess, so we can take a little bit of a breather.
Voters will blame the other guy if ACA enrollment falls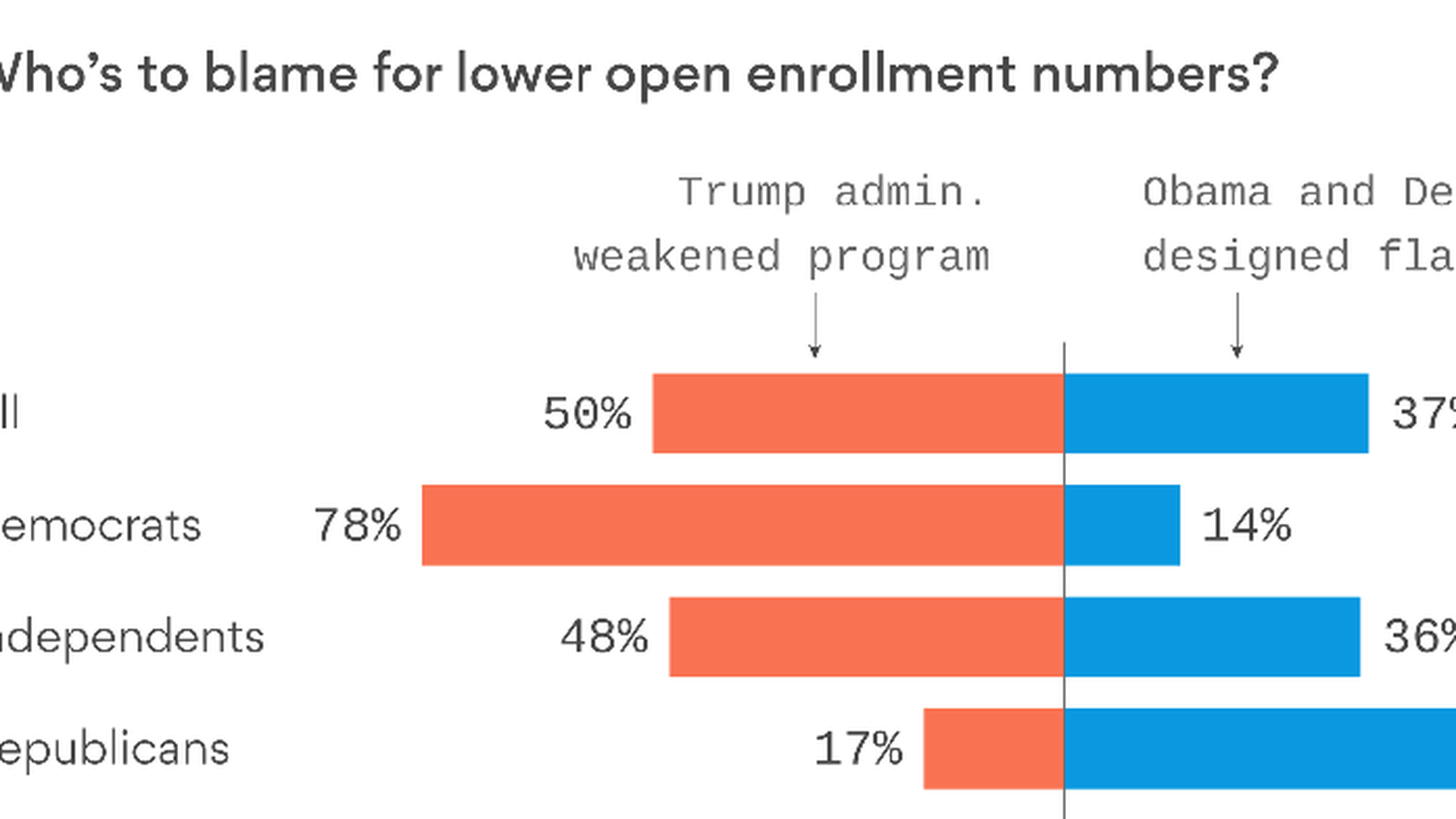 Who would you blame if enrollment in Affordable Care Act coverage drops this year? Probably whoever you blame for everything else.
The latest tracking poll from the Kaiser Family Foundation finds that answers to that question, like everything in health care/politics/life, comes down to partisanship. The overwhelming majority of Democrats would blame President Trump for weakening the ACA; the overwhelming majority of Republicans would blame Democrats for writing a flawed law.
Reality check: Enrollment and competition began to decline last year, before Trump was even elected. But the steps Trump has taken since then have made those problems substantially worse.
Why repealing the individual mandate looks like a tax hike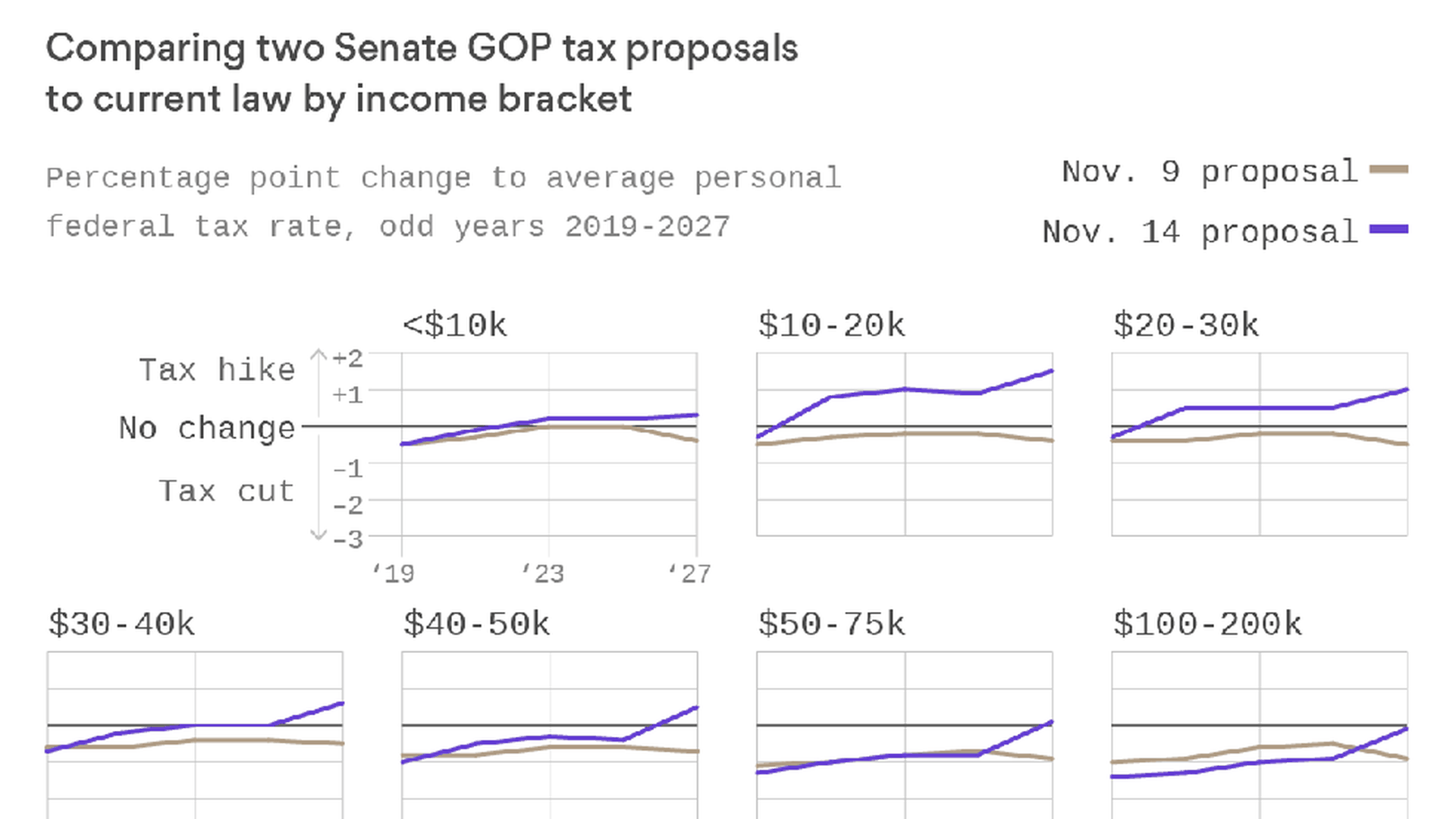 Repealing the ACA's individual mandate might be making the GOP tax bill look like it raises taxes on poor people more than it actually would, my colleague Caitlin Owens reports this morning.
The details: The ACA's premium subsidies are administered as tax credits. So, if repealing the individual mandate causes fewer people to get insurance, and therefore fewer people collect those subsidies, they are, technically, no longer receiving a tax credit they receive now.
The assumption that fewer people will receive premium subsidies is reflected in official estimates of the GOP tax bill, and shows up as a greater tax burden on the poor. But conservative economist Douglas Holtz-Eakin argues that's a little misleading. People who get premium subsidies today could still get them even after the mandate was repealed.
"This is all negative taxes disappearing. It's not like they have to write a check to the government in any way," he told Caitlin.
New math: S&P Global Ratings says it believes repealing the individual mandate would only save the federal government about $60 billion over the next decade, and would leave 3 to 5 million more Americans uninsured.
That's a far cry from the Congressional Budget Office's estimates of $340 billion in savings and 13 million newly uninsured, though CBO itself has said those numbers are likely too high.
S&P didn't say how much it expects repealing the mandate would cause premiums to rise. CBO has projected about a 10% increase, borne most heavily by people who don't receive subsidies. Insurers could also leave the market altogether.
​CMS makes changes to Medicare Advantage and Part D
CMS unveiled a new proposal late Thursday that would make some rather large changes to Medicare Advantage and the Part D drug program in 2019. My colleague Bob Herman started sifting through it and found two nuggets worth highlighting:
Part D: Health insurers and pharmacy benefit managers "rarely" pass along to consumers the discounts they extract from drugmakers, CMS said. Now, the agency is asking for help to design a policy that would require Medicare drug plans to pass some of those savings onto consumers when they are actually buying their medicine.
Why it matters: This would potentially lower what people pay at the pharmacy counter, but it wouldn't change how drugs are priced in the first place.
Medicare Advantage: By law, Medicare Advantage insurers have to spend at least 85% of premiums on health care. Money they spend trying to combat fraud is not counted toward that 85%. CMS' proposal would change that.
Why it matters: It's a big win for insurers. They've wanted this for a long time, and it could boost their profits because an administrative expense could be lumped into what they have to spend on health care services.
​Azar nomination gets rolling
Alex Azar, President Trump's nominee to lead the Health and Human Services Department, was on Capitol Hill yesterday meeting with senators, and the HELP Committee announced it will hold a hearing on his nomination on Nov. 29.
What's next: The Finance Committee will formally approve his nomination, but HELP traditionally gets to hold a hearing, as well, because the two panels share health care jurisdiction. Finance hasn't set a hearing date yet. They're a little busy rewriting the tax code right now.
​Paul Singer targets another health care company
The stock of the physician staffing firm Mednax soared by roughly 12% Thursday after billionaire hedge fund manager Paul Singer disclosed he bought a hostile stake in it, Bob reports. Singer's fund, Elliott Management, said it will "engage in a constructive dialogue" with Mednax executives about "strategic options."
Translation: Mednax could go up for sale and/or make large cuts. Bob reports that it's possible Elliott could push Mednax to turn to a private-equity buyout — nearly every large physician outsourcing company (including TeamHealth and Envision Healthcare) is or used to be owned by private equity.
The big picture: Mednax, which staffs hospitals and clinics with pediatric doctors and anesthesiologists, is now the second health care company in Singer's crosshairs following Athenahealth.
What do both companies have in common? Underwhelming finances and founder CEOs who have been around a long time. But it's not clear Mednax's business will improve in the short term, given the low national birth rate and declining patient admissions at hospitals.
​"Gold" plans surge in California
More people are signing up for more generous "gold" plans this year through California's state-run Affordable Care Act exchange. In the first two weeks of enrollment, 12% of new customers have picked "gold" plans — up from 4% in 2016. The number of people buying more middle-of-the-road "silver" plans, meanwhile, has dropped from 56% to 45%.
Why it matters: An earlier snapshot of enrollment through HealthCare.gov showed a similar trend — slightly away from silver plans and slightly toward more generous gold plans. The more generous coverage is now more heavily subsidized, for many consumers, than it has been before.
The shifts in coverage levels this year indicate that some — but not a ton — of consumers are taking advantage of those surprising deals.
Say hello: I'd love to know what health care stories you're following (or wish you were following): [email protected].