Axios Vitals
August 21, 2019
Good morning. Today's word count is 776, or a 3-minute read.
1 big thing: The plight of rural health care
Rural America is stuck in a cycle of increasingly vulnerable patients with declining access to health care.
Why it matters: Rural patients often can't afford care, are being hounded by hospitals and collection agencies over their unpaid bills, and are facing the reality of life in communities where the last hospital has closed.
Rural Americans tend to be older, sicker and lower-income than urban Americans. They suffer from higher rates of obesity, mental health issues, diabetes, cancer and opioid addiction, as my colleagues Stef Kight and Juliet Bartz reported.
They're also more likely to be uninsured or covered by Medicare or Medicaid, which pay doctors and hospitals less than private insurance does.
A small and shrinking population, mostly covered by insurance plans that don't pay very much, many of whom need a lot of care, puts more financial pressure on providers, especially hospitals. Physician shortages are common.
What they're saying: "Rural hospitals have long been right there on the edge on average, and we're seeing more and more of them flip over to red," said Mark Holmes, a professor at UNC-Chapel Hill and director of the Cecil G. Sheps Center for Health Services Research.
And hospital closures often exacerbate the problems communities were already facing.
Hospitals are often the largest or second-largest employer in a rural community.
113 rural hospitals have closed since 2010, according to the Sheps Center.
These are disproportionately located in the South — the region with the nation's worst health outcomes, and where most states haven't expanded Medicaid — leaving hospitals with more uninsured patients.
A 2018 study in Health Affairs found that Medicaid expansion is "associated with improved hospital financial performance and substantially lower likelihoods of closure, especially in rural markets."
2. Juul competitors on the rise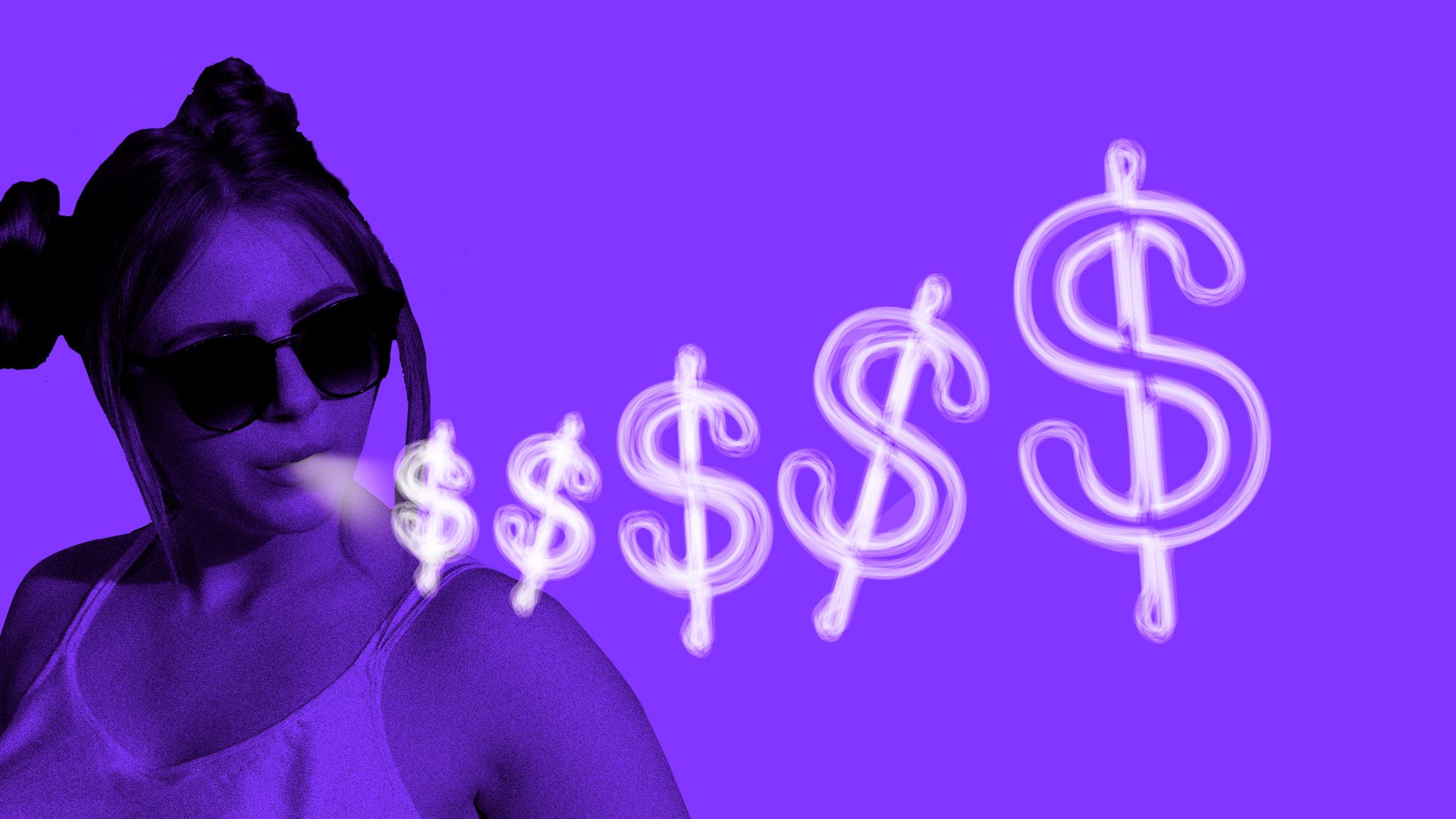 Juul's competitors are attracting customers with cheaper products and fruity flavors that Juul no longer sells in retail stories, CNBC reports.
While Juul still dominates the e-cigarette market, its sales have fallen slightly.
The big picture: When Juul decided to self-regulate in response to mounting FDA concerns, its rivals pounced on the opportunity to boost their own sales.
NJOY began selling its Ace e-cigarettes for $0.99 last year in stores, compared to Juul's $34.99 online device. It also sells fruity flavors, like watermelon twist and blueberry, which critics say attract teens.
My thought bubble: If we're going to get a grasp on the teen vaping epidemic, relying on Juul to self-regulate isn't going to work. The market is obviously too lucrative.
3. Health agencies' rule after mass shootings
Government health experts were told not to post anything related to mental health, violence or mass shootings without prior approval following this month's El Paso and Dayton shootings, the Washington Post reports.
That happened as President Trump was making claims about the link between mental illness and mass shootings that contradicted research on the subject.
While Trump said, "Mental illness and hatred pull the trigger. Not the gun," researchers have found that most mass shooters haven't been diagnosed with a mental illness.
An HHS employee told the Post that "no doubt this was meant to prevent anybody from making any statements that might contradict the president."
Context: The Obama administration didn't make similar stipulations regarding health agencies' communication following mass shootings, per WashPost.
The other side: "It's the department's long-standing practice to not get ahead of the president's remarks," HHS spokeswoman Caitlin Oakley told the Post. "Any suggestions that this was a formal policy put in place related to social media, or meant to stymie work on this issue, are factually inaccurate."
Go deeper: America's mental health problem isn't mass shootings
4. How diabetics reduce their drug costs
More than 1 in 10 American adults had diagnosed diabetes in 2018, and of those, 13.2% didn't take their medication as prescribed in order to reduce their prescription drug costs, according to a new CDC brief.
24.4% asked their doctor for a cheaper drug.
Details: Adults younger than 65 — so ineligible for Medicare — were more likely to not take their diabetes medicine as prescribed than adults older than 65.
Unsurprisingly, the rate is highest for uninsured adults.
Why it matters: We've all heard how insulin is increasingly unaffordable. Here are the statistical consequences, which translate into very real health consequences for patients who aren't taking their medicine.
5. PhRMA, Trump officials to discuss drug proposal
The drug industry's lobbying group will sit down with Trump administration officials on Aug. 26 to discuss the federal proposal that would import lower prices used by European countries for certain drugs in Medicare, according to federal meeting records.
Between the lines: A PhRMA spokesperson would not say who would be there or what topics would be discussed, but the group loathes the concept, Axios' Bob Herman reports.
PhRMA CEO Stephen Ubl told Bob earlier this year that the proposal was the "fruit of the poisonous tree of government price-setting" — even though pharmaceutical companies still profit from drugs sold in Europe.
The big picture: The Trump administration has done almost nothing to reduce drug prices, nor has the industry meaningfully changed its practices.
The administration is now going head-to-head with Big Pharma on a proposal that would lower the prices of drugs to overseas rates — a significant measure — but it's worth reminding this would only apply to drugs administered in doctors' offices, only in Medicare, and likely no sooner than 2021.