Good morning ... The Senate sure isn't looking any closer to a health care deal. Kind of the opposite, in fact. Meantime, President Trump isn't exactly making the case that he's engaged with the details.
BREAKING: The Senate doesn't have a deal yet
Senate Republicans spent a whole lot of time talking about the health care bill yesterday, but not a whole lot of time reaching any deals. That makes it harder to see how they could get an agreement by Friday on a revised bill.
It didn't help when Sen. Ted Cruz said he wants to let insurers sell plans that don't have any protections for pre-existing conditions — as long as they also sell plans with that offer those protections and follow the Affordable Care Act's other insurance rules.
Reaction to Cruz's comment:
One Senate GOP aide told Caitlin Owens that many of the Republican senators were "surprised and pissed" because most Republican senators had already agreed not to touch the ACA's pre-existing condition protections.
Another aide summed up: "No matter how narrowly-proposed, wading into pre-ex is not just a 'No,' it's a 'Hell No' for the vast majority of the Senate GOP."
No one came out of yesterday's Senate GOP meeting sounding hopeful.
Sen. Susan Collins: "It's very difficult...I'm concerned about a number of aspects, such as coverage, Medicaid cuts, impact on premiums."
Sen. Shelley Moore Capito: "I'd like to see a [Medicaid] growth rate that matches the projected growth, or at least is close to projected growth." She also wants $45 billion in opioid treatment money over 10 years.
Sen. Rob Portman: "I'd rather see us stick to the [Medicaid] growth rates that were worked out by the House."
Sen. Rand Paul: Any tradeoff that gives more money to moderates and more deregulation to conservatives "sounds to me like a Washington deal...I'm not going to go for that."
Most of the optimism is coming from the White House.
Here's how an administration source summed up the mood to Jonathan Swan last night: "I think we're going to pass this. I really think they'll bribe off the moderates with Opioid money and then actually move policy to shore up Mike Lee and Ted Cruz."
This is how it's going: Even Sen. John McCain, who hasn't been one of the most vocal holdouts, says he's not ready to vote for the bill. Since he's from Arizona, which expanded Medicaid, he wants to offer three Medicaid amendments that he's worked out with Gov. Doug Ducey.
"That has a lot to do with whether I support the bill or not," McCain told reporters as he stepped into an elevator. When asked what the amendments were, he motioned to the elevator operator to hit the button: "Basement!"
"I know the subject well"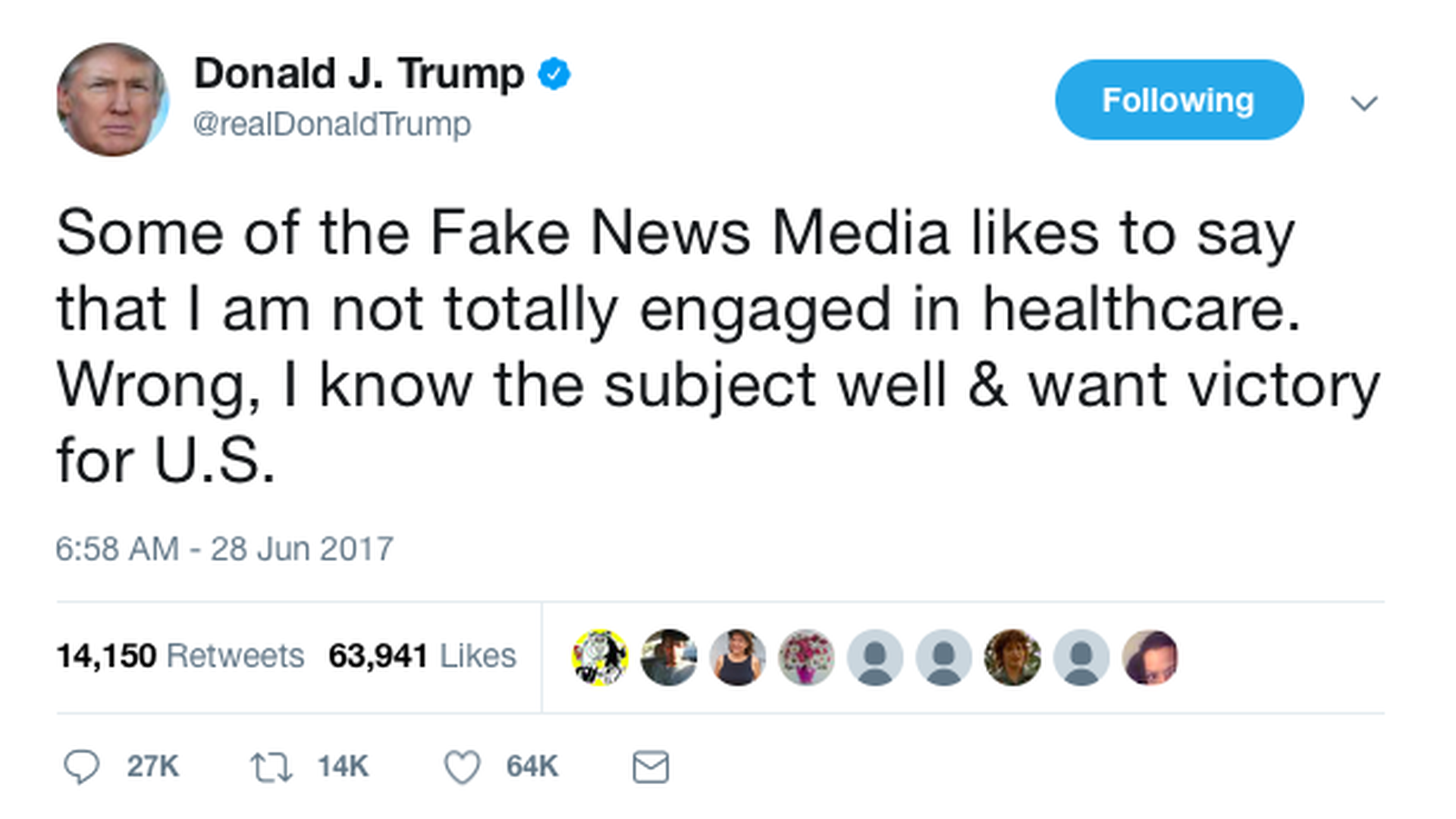 It's pretty clear — despite his Twitter protestations — that President Trump is not especially engaged with the substance of congressional Republicans' health care plans.
The New York Times reported that one supportive GOP senator walked away from Monday's White House meeting believing Trump "did not have a grasp of some basic elements of the Senate plan," including its significant tax cuts.
Asked about its Medicaid cuts yesterday, Trump said only, "This will be great for everybody."
And the White House is picking some odd spots to criticize the ACA. Press secretary Sean Spicer hit the ACA yesterday for leaving 28 million people uninsured. (The GOP bill would make that number much bigger.) They've also criticized the ACA's high deductibles. (The GOP bill would make them higher.)
Medicaid spin: Trump also tweeted a graph yesterday that showed Medicaid spending increasing under the Senate bill. That's in line with the White House argument that the $772 billion in savings are just reductions in Medicaid's growth, not cuts. But the graph doesn't acknowledge that there are any savings at all, which of course is the whole point of the proposed changes.
The back story: Per Jonathan Swan, that happened after Marc Short, the White House Legislative Affairs director, showed Trump a piece of paper with the graph of Medicaid spending pointing up and Trump decided to tweet it. White House officials have decided to get more aggressive in trying to change the media narrative, which they think is more important to some Senate Republicans than the substance of the cuts.
Why it matters: The White House strategy on so many parts of this bill — ignoring every criticism and pivoting to the ACA's flaws — can only take it so far. Nothing in health care is ever "great for everybody." Every plan makes conscious, intentional trade-offs.
It's awfully hard to turn around public opinion on an unpopular bill without making some sort of affirmative case for that bill. And it's awfully hard to make an affirmative case for a bill without addressing its contents.
The Medicaid squeeze, by group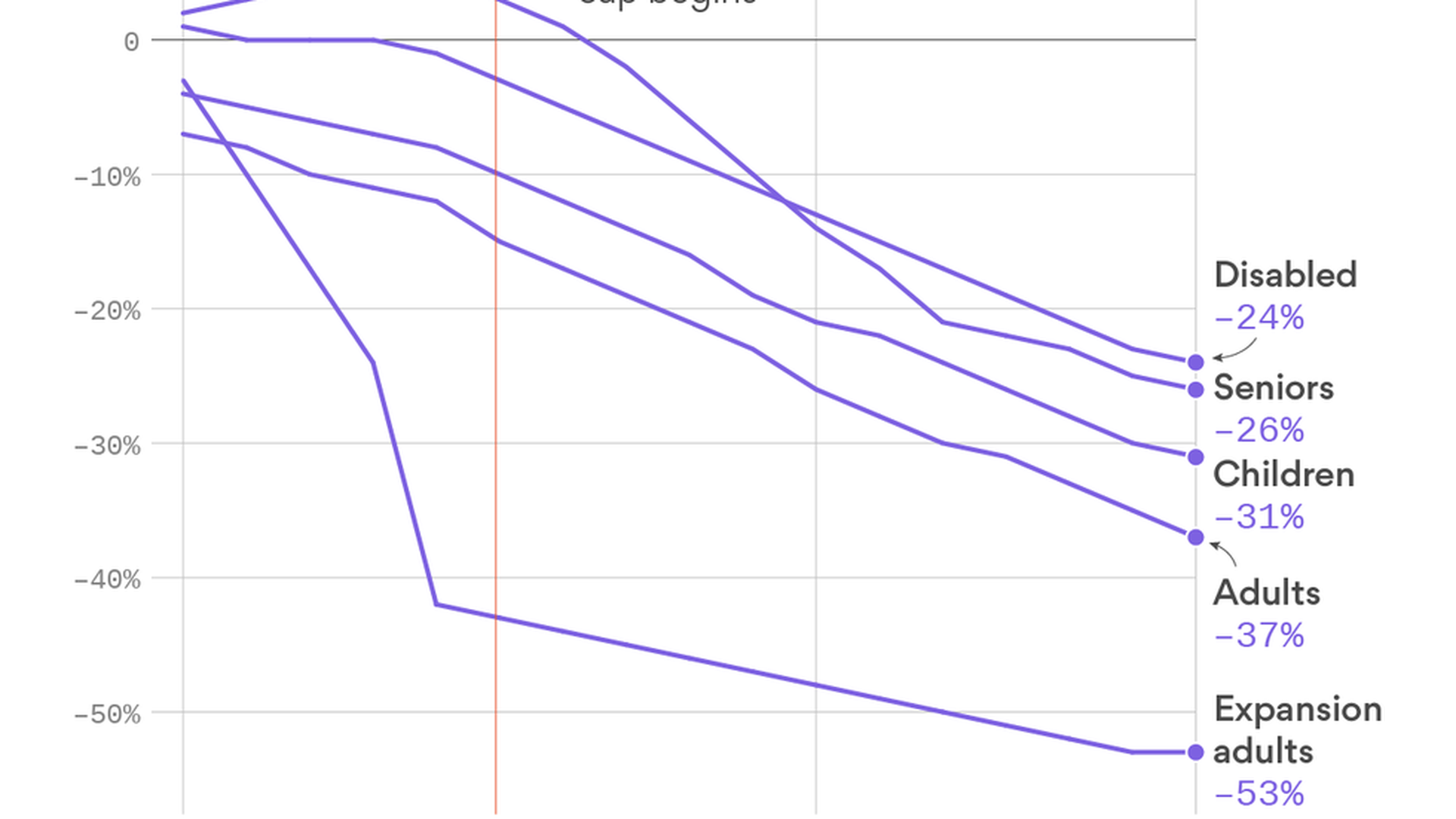 This graphic, based on an analysis by the consulting firm Avalere, shows what happens to the funding for the different Medicaid populations under the Senate health care bill, called the Better Care Reconciliation Act. Note the steep drop after 2025, when the growth rate tightens from medical inflation to regular inflation, which is slower.
Why this matters: The funding cuts could encourage states to cut benefits for enrollees, payments to providers, or eligibility for the program. It also saves the federal government $772 billion over 10 years, and likely much more over 20 years.
More bare counties — in Dean Heller's home state
Anthem's decision to stop selling insurance in 14 Nevada counties could leave those areas without any insurance plans to choose from — making a total of 61 counties nationwide that might have zero insurers selling ACA coverage. That could increase pressure on Sen. Dean Heller, one of the Republican holdouts against the health care bill.
Yes, but: The counties Anthem is exiting are sparsely populated. As Bob Herman notes, the insurer will offer plans in Nevada's most populated areas that cover 90% of people in the individual market.
The Republican base is getting less excited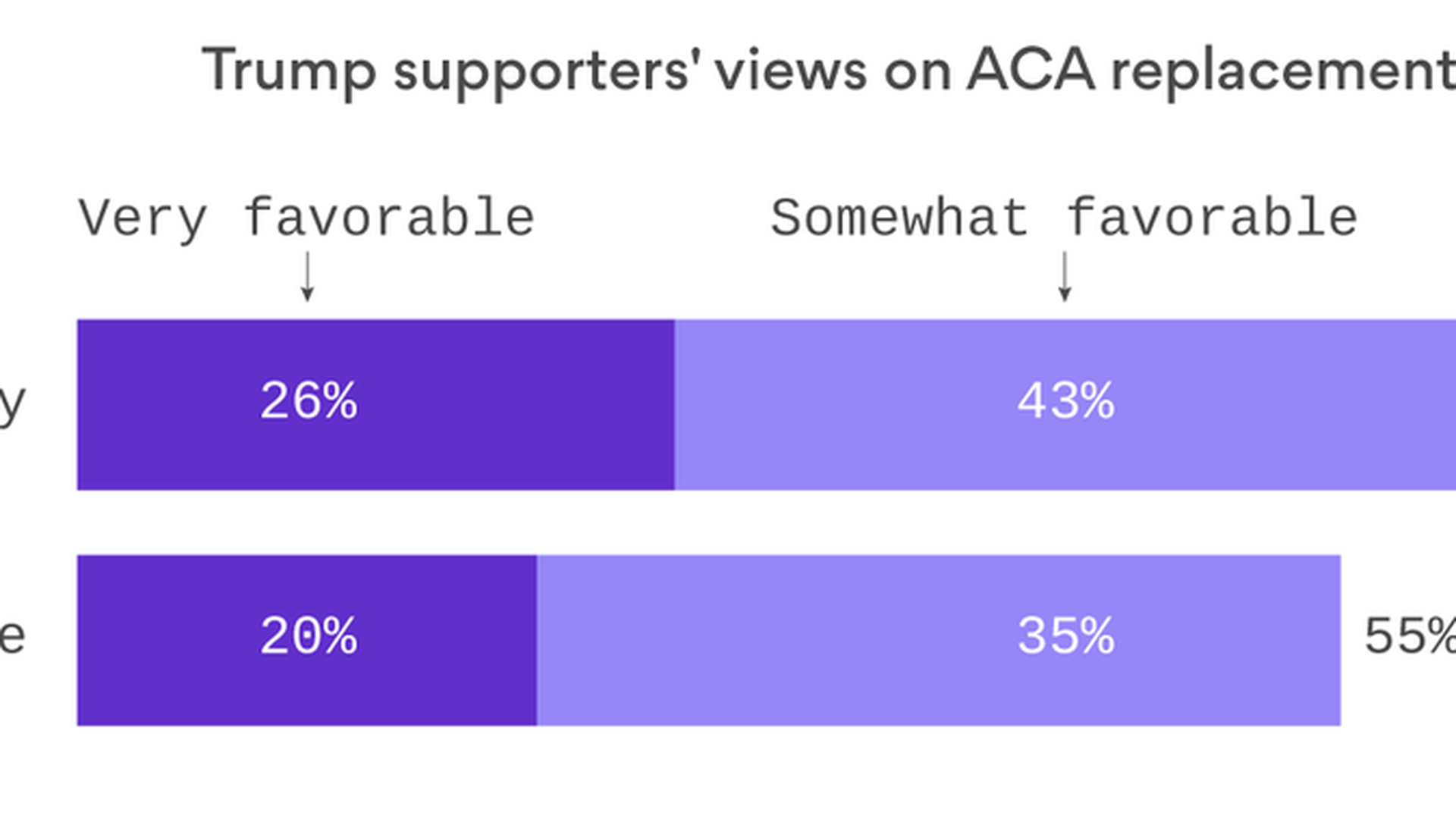 We know, we know — Senate Republicans can't drop the repeal effort because they made a promise to the GOP base. But the Kaiser Family Foundation's Drew Altman points out in today's column that Trump supporters may not be as enthused about the repeal bill as they used to be. They still want it, but the support has already softened just in the last month.
And they may not be punished: Fewer than half of Trump supporters — 44% — say they'd be less likely to support a member of Congress who votes against the bill.
The latest in health care lobbying
Bob Herman was flipping through some lobbying disclosure documents and found these new health care registrations from the past month:
The Pharmaceutical Research and Manufacturers of America, the drug industry's primary lobbying group, hired lobbyist Sara Love Rawlings to push for drug industry goodies in the upcoming budget battle. PhRMA also hired Jeff Miller and lobbyists at Baker & Hostetler, all of whom have ties to Republicans, to manage other policy items like Medicare drug spending. Don't forget: PhRMA spends more than any other health care group on lobbying.The National Restaurant Association tapped Invariant (Heather Podesta's lobbying shop) and two lobbyists in Ernst & Young's Washington office to go after menu labeling and employer health care reporting requirements. The restaurant group has been a fierce critic of the ACA's employer mandate, which requires companies with at least 50 full-time employees to offer health coverage.The hearing aid industry doesn't like Elizabeth Warren's bipartisan bill that would allow some hearing aids to be sold over the counter. Starkey Hearing Technologies, a large hearing aid company, hired CGCN Group to lobby against the bill.
What we're watching today: Senators ducking in and out of Mitch McConnell's office.
What we're watching on Friday: There will either be a health care bill that can get 50 votes, or there will not.
Keep letting us know what we missed or what we can cover better: david@axios.com, baker@axios.com.