Happy Thursday, everybody. This is Bob Herman, and David Nather has given me the keys to Vitals today while he rests his continuously typing fingers in an ice bath, so I'm going to do my best not to crash this bus into the nearest ditch. Let's get to it!
https://www.axios.com/newsletters/axios-vitals-1e7d48f9-e262-455b-a633-21a12fb02110.html?chunk=0#story0
Why the Blues are Obamacare's 'last man standing'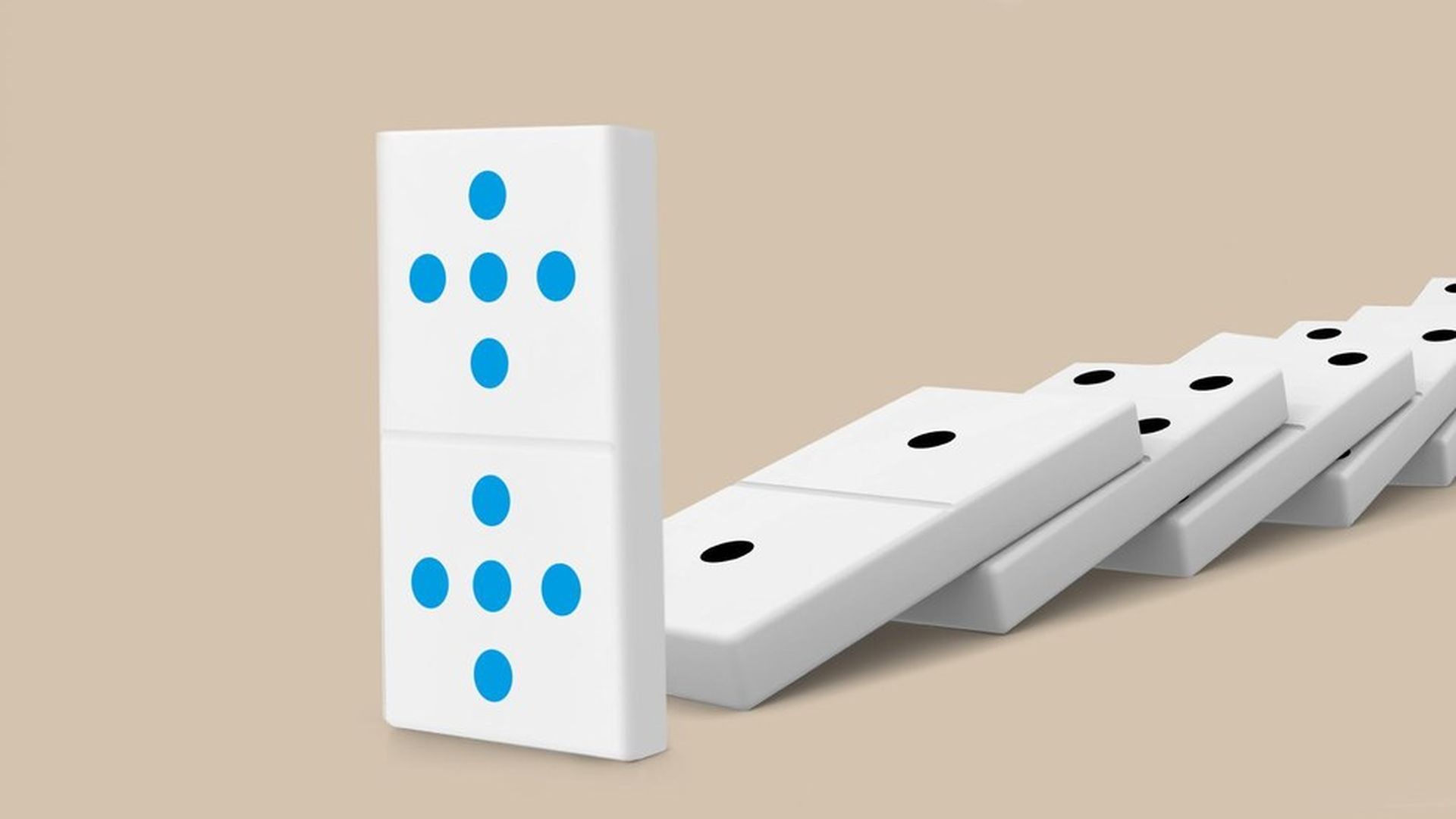 The recent report from Standard & Poor's detailing why Obamacare is not in a death spiral has made a lot of waves, especially in liberal circles. Don't overlook the linchpin of the S&P analysis — the financial reports of the not-for-profit and mutual Blue Cross Blue Shield insurers.
Why focus on the Blues? Simply put, they hold a lot of market power, and the exchanges would struggle to function without them. "Traditionally the Blues have been the main players in the individual market," Dan Polsky, executive director of the University of Pennsylvania's Leonard Davis Institute of Health Economics, told me. "They are kind of the default, the last man standing."
Here's the evidence of the Blues' importance:
Five states (Alabama, Alaska, Oklahoma, South Carolina, and Wyoming) had only one insurer for 2017. In each of those instances, the lone insurer is a Blue Cross Blue Shield affiliate.
Many other states (Arizona, Delaware, New Jersey, North Carolina, Vermont, and West Virginia) had only two insurers for 2017. In each of those instances, the Blues are a dominant player.
Blues are major competitors in California, Florida, and other big-state exchanges.
It's not all rosy for the Blues: The Obamacare markets vary widely from state to state and depend heavily on other factors, such as Medicaid expansion, whether pre-Obamacare plans are still around, and the state's risk pool.
Many Blue Cross Blue Shield plans still offer broader networks of hospitals and doctors. But the Blues in Illinois, Minnesota and Texas scrapped those plans in favor of narrow networks.
The Blues affiliates in Mississippi and Nebraska only sell plans off the exchange, and Wellmark just decided to abandon its half-hearted attempt on the Iowa exchange.
What we're watching: the largest of all the Blue Cross Blue Shield companies — Anthem. The for-profit Anthem has a massive Obamacare business that has hovered around break-even and slight profitability, and its decision to stay or exit in 2018 will be a bellwether for the marketplaces.
https://www.axios.com/newsletters/axios-vitals-1e7d48f9-e262-455b-a633-21a12fb02110.html?chunk=1#story1
Trump aims gun at subsidies, but it might be a Nerf gun
President Trump to the Wall Street Journal yesterday: He may be willing to eliminate Obamacare's cost-sharing subsidies for low-income people as a way to get top Democrats to cut a deal with him on repeal and replace. "The Democrats will start calling me and negotiating."
Trump, in that same interview: "I may go the other way" on the insurance payments because "the longer I'm behind this desk and you have Obamacare, the more I would own it."
Between the lines: It's clear Trump is aware how powerful these subsidies are. Without them, premiums will go up, and insurers may exit. But Trump's waffling also shows how this is a risky gambit, and Democrats aren't buying it. Chuck Schumer and Nancy Pelosi both released statements that hammered Trump's threats and said they would only build on Obamacare. The clear loser from this: insurers, who are already sick of the uncertainty.
https://www.axios.com/newsletters/axios-vitals-1e7d48f9-e262-455b-a633-21a12fb02110.html?chunk=2#story2
Top health insurance lobbyist to meet with Verma
Next up in the battle for the Obamacare subsidies: Marilyn Tavenner, CEO of America's Health Insurance Plans, is meeting with Centers for Medicare and Medicaid Services chief Seema Verma on Tuesday, David Nather reports. There will be a lot on the agenda — AHIP spokeswoman Kristine Grow says it will cover Medicare, Medicaid and the individual market. But it's widely expected that Tavenner will press for a yes-or-no answer on whether insurers will keep getting paid for Obamacare's cost-sharing subsidies.
It's no accident that insurers are pressing for clarity now. The Trump administration muddied the waters this week about whether it will still pay the insurers, especially after Trump's WSJ interview. AHIP and several other health care and business groups told Trump and Congress yesterday that they need a clear answer ASAP.
https://www.axios.com/newsletters/axios-vitals-1e7d48f9-e262-455b-a633-21a12fb02110.html?chunk=3#story3
What the latest Trumpcare idea says about the talks
You could almost hear the health care wonks smacking their heads after David Nather and Jonathan Swan reported yesterday on a new twist in the Trumpcare talks. White House officials and Hill Republicans have floated an idea to let non-Obamacare plans — the ones that don't meet all of the law's standards — compete with the Obamacare-compliant plans. It sounded like the idea hadn't gotten very far, but it was definitely being discussed.
The catch: It's Health Care 101 — if you throw a bunch of expensive, generous plans and a bunch of skimpy ones into the same market, the healthy people will always pick the cheaper ones, so the only customers left in the generous plans are the sick people. "Do Republicans seriously not understand how insurance markets work?" one insurance official emailed David after the story posted.
What it means: Even if the idea gets shelved — which it might — it suggests that the White House and Republicans are tossing around just about any idea to end the stalemate.
https://www.axios.com/newsletters/axios-vitals-1e7d48f9-e262-455b-a633-21a12fb02110.html?chunk=4#story4
It's not fun to be a moderate Republican these days
Caitlin Owens was out in Colorado yesterday for Republican Rep. Mike Coffman's town hall. Coffman is a moderate in a purple state who supported Trumpcare, and now he's facing immense pressure from ticked-off constituents and angry liberals to explain himself. You can almost taste the beads of sweat. Read Caitlin's full dispatch here.
https://www.axios.com/newsletters/axios-vitals-1e7d48f9-e262-455b-a633-21a12fb02110.html?chunk=5#story5
Health care has a competition problem
The health care industry's cost and quality issues need to be fixed through stricter antitrust enforcement and overhauling policies that restrict competition, according to a new paper published this morning by Martin Gaynor of Carnegie Mellon University, Paul Ginsburg of the Brookings Institution and Farzad Mostashari of Aledade.
Among their recommendations:
Make Medicare payments to physician offices and hospital-owned outpatient departments the same.
Make it easier for people to know health care prices and quality measures by restricting data blocking and eliminating gag clauses between hospitals and insurers.
Encourage state and federal regulatory agencies to crack down on health system mergers, hospital-doctor acquisitions and insurance mergers.
Remove "barriers to entry," like state-based certificate-of-need laws that justify new medical equipment or facility expansions.
Our thought bubble: This paper has a lot to chew on, but it hits the important point that health care reform has to go beyond bickering about health insurance coverage. The researchers noted they were offering "nonpartisan policies that elicit support from across the political spectrum," but industry groups have historically opposed many of their recommendations.