Morning, all. We're waiting for smoke signals from the GOP retreat in Philadelphia, so health care world has been a bit less frantic. But don't worry! We'll all be back to chasing Obamacare repeal and decoding vague executive orders in no time.
Thanks for reading, and don't forget to check out the Axios health care news stream. And one other thing: Please start signing up for our health care alerts. You can get politics, business and tech news alerts, too. No, we're not going to spam you all day — this will be for breaking news stories, or anything else that's really urgent and worth your time.
https://www.axios.com/newsletters/axios-vitals-19200a82-6374-413a-8cc4-d5841a3a420d.html?chunk=0#story0
Trump: Goal is for "no one" to be hurt by repeal
President Trump told ABC News last night that he wants to make sure "no one" loses coverage in the repeal and replacement of Obamacare — but he acknowledged he couldn't guarantee it. "Knowing ABC, you'll have this one person on television saying how they were hurt, OK?" Trump said in the interview. "We want no one. We want the answer to be no one."
"Here's what I can assure you: We are going to have a better plan, much better health care, much better service treatment, a plan where you can have access to the doctor that you want and the plan that you want," Trump said. "We're going to have a much better health care plan at much less money."
Remember the canceled plans? Trump brought them up to remind this audience that even Obamacare caused disruption — though he seemed to think the people whose old, pre-Obamacare plans were canceled in 2013 never got insurance again. "You have millions of people that now aren't insured anymore," Trump said. In reality, many of them got extensions of their old plans and others switched to new ones — and the uninsured rate is now down to a record low of 8.6 percent.
https://www.axios.com/newsletters/axios-vitals-19200a82-6374-413a-8cc4-d5841a3a420d.html?chunk=1#story1
GOP retreat, Day One: Where's that repeal plan?
Republicans gathered in Philadelphia yesterday to talk about Obamacare repeal and other legislative goals — and they got a rough timeline for when the House will pass its bill, but not a ton of detail on what would be in it. Caitlin Owens reports that House Budget Committee chairwoman Diane Black said House committees would start working on the repeal bill in the next two weeks, with a House vote in late February or early March.
But Sen. Bill Cassidy described the rest of the meeting as kind of a catch-up session for Republicans who hadn't been paying much attention to repeal developments. The Washington Post reports that some Republicans were frustrated that they didn't get more details, since that's why they came to Philadelphia in the first place. "We're going to own this stuff, and we better be able to explain it," said Rep. Pete Sessions.
https://www.axios.com/newsletters/axios-vitals-19200a82-6374-413a-8cc4-d5841a3a420d.html?chunk=2#story2
First in Vitals: New anti-repeal ad campaign
In the meantime, Obamacare supporters are striking back, this time with an ad campaign that will hit Republicans in a vulnerable place — charging them with repealing the law without a replacement plan. The new ad, by a coalition called the Alliance for Healthcare Security, features physicians and nurses warning of dire consequences: "Repealing health care with no plan to replace it is going to hurt all of us."
It's part of a seven-figure TV and digital ad buy that goes up starting today in D.C., Alaska, Arizona, Maine, Nevada, Tennessee, and West Virginia. (Not mentioned: the name of the law — either "Obamacare" or the actual name, the Affordable Care Act,)
https://www.axios.com/newsletters/axios-vitals-19200a82-6374-413a-8cc4-d5841a3a420d.html?chunk=3#story3
Cosgrove: Washington sent mixed messages on hospitals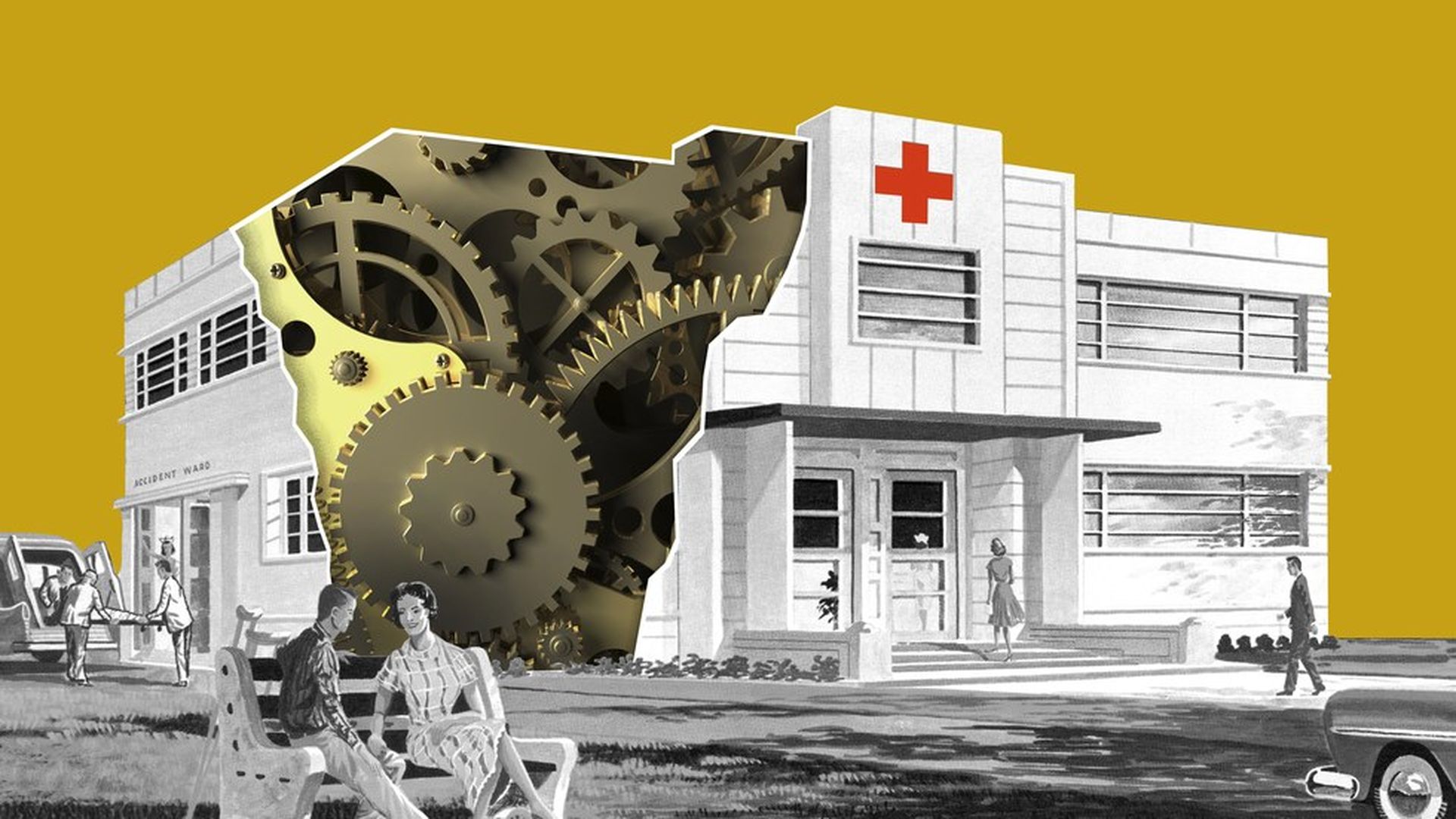 This morning, we're running out my full interview with Toby Cosgrove, the president and chief executive officer of the Cleveland Clinic, which we teased in the very first issue of Vitals. Cosgrove is big on the need for hospitals to become more efficient, and he told me that was hard when Obamacare was sending one set of signals and the Obama administration's Justice Department was sending another.
"On one side of Washington, you have the Affordable Care Act saying you've got to be more efficient. On the other side of Washington, you've got the Federal Trade Commission and the Justice Department saying, well, you know, you can't bring too many hospitals into the same system," Cosgrove said. Read more of the interview here.
https://www.axios.com/newsletters/axios-vitals-19200a82-6374-413a-8cc4-d5841a3a420d.html?chunk=4#story4
New FDA candidate: Agency can help lower drug prices
This caught my eye in a recent interview with Dr. Joseph Gulfo, the newest candidate to emerge to run the Food and Drug Administration under Trump: He thinks the FDA actually can help lower drug prices. Not everyone thinks the FDA has that kind of authority, but hear him out. In this interview with Regulatory Focus, which was making the rounds among health care wonks, Gulfo said the FDA can affect prices in these ways:
If it approved drugs more quickly, companies wouldn't need to raise prices.
More approvals = more competitors.
Companies wouldn't have to raise prices to meet their quarterly earnings targets.
And who is Joseph Gulfo again? He runs a health care innovation research center at Fairleigh Dickinson University, he used to run a medical device company, and he's written a book about the FDA called "Innovation Breakdown." Read this piece by my former STAT colleague Sheila Kaplan, and if you want to know what kind of experiences he's had with the FDA, here's a review of his book by the Wall Street Journal.
https://www.axios.com/newsletters/axios-vitals-19200a82-6374-413a-8cc4-d5841a3a420d.html?chunk=5#story5
The Obamacare enrollment machinery still works
Here's what HealthCare.gov is spitting out to would-be Obamacare customers, even after the handoff to the Trump administration. Open enrollment is still happening through Tuesday next week, and even if Trump himself is charging toward Obamacare repeal, the outreach efforts are continuing right through the end.
Best line: "Enroll by January 31 for coverage starting March 1 -- or you may have to wait until 2018 for coverage." Oh, HealthCare.gov. Don't you read the news?
https://www.axios.com/newsletters/axios-vitals-19200a82-6374-413a-8cc4-d5841a3a420d.html?chunk=6#story6
Portfolio managers are betting against repeal
But don't give up on Obamacare just yet. Our contributor Steve Brill flags this Reuters piece with an important twist on the repeal debate: Fund managers don't think it's going to happen. Not that nothing will change, of course, but portfolio managers at large firms like Fidelity, Gamco, and Thornburg predict the broad outlines will stay the same. It won't be anything like the sweeping repeal Republicans have promised.
What they're doing about it: They're buying up shares of hospitals, insurers and biotech companies — because why not buy now, before everyone else figures it out?