Axios Vitals
April 23, 2019
Situational awareness: A lawyer representing four members of the Sackler family — which controls Purdue Pharma, maker of OxyContin — told Reuters that the family wants to settle. Purdue currently faces more than 2,000 lawsuits related to its role in the opioid epidemic.
"The objective is and remains to try to achieve a global resolution," said the lawyer, Mary Jo White.
1 big thing: New primary care payment models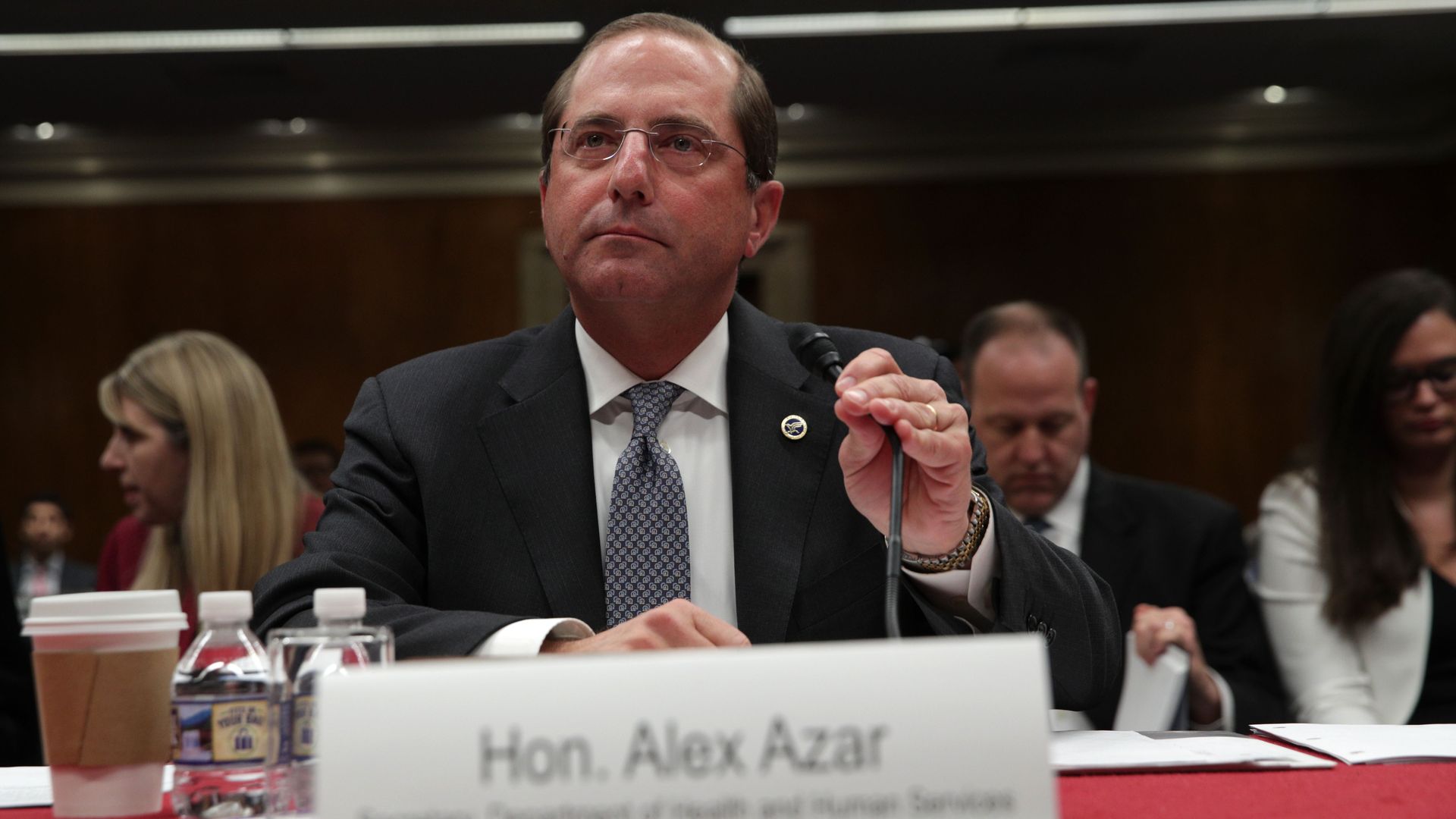 The Trump administration announced a new set of primary-care payment models yesterday, an attempt to incentivize doctors to produce better health outcomes.
This builds on initiatives by both the Obama and Trump administrations to transition away from a fee-for-service payment system.
Health and Human Services Secretary Alex Azar predicted that the models will enroll 25% of traditional Medicare beneficiaries and providers. Implementation of the models — which providers must apply for — begins in 2020.
Between the lines: There are very few subjects in health care that are simultaneously bipartisan, boring and important, but value-based payment reform is one of them.
And if you can get through all of the wonky acronyms, it's actually not boring, because it gets at the U.S.' unique problem of having very expensive health care that is relatively poor quality.
By targeting primary care and using performance measures like hospital admissions, the new models lean into the theory that if doctors catch and treat conditions before they worsen, it keeps patients healthier and saves a lot of money down the road.
How it works: Yesterday's announcement includes 2 types of models: one aimed at smaller primary-care practices, and another aimed at larger practices and health systems.
Both tie doctors' payments to performance to varying degrees, rewarding them for good outcomes and penalizing them for poor ones.
But the announcement left some key questions unanswered that will be crucial to provider participation, said Evolent Health's Chris Dawe.
The bottom line: This is clearly the direction that Azar wants to head — and not just in Medicare. "This initiative is specifically designed to encourage state Medicaid programs and commercial payers to adopt similar approaches," he said in a speech.
Go deeper: Stat News has more details on the models.
2. Reality check on value-based care
There was a telling exchange in this month's meeting of the Medicare Payment Advisory Commission that pours some cold water on the fervor to move toward a system that pays hospitals and doctors for how well they take care of patients, instead of how many tests and services they order, Axios's Bob Herman writes.
The buzz: MedPAC was weighing a proposal that would force all doctors to participate in a Medicare accountable care organization. A transcript of the meeting, flagged by the Health Care Blog, revealed that health economist and MedPAC vice chairman Jon Christianson was worried about that idea.
"There is not strong evidence that [Medicare Advantage plans and ACOs] have or can reduce costs for the Medicare program or improve quality … But somehow we are assuming that whatever we do going forward, that will change," he said.
The bottom line: We are still in a nascent stage of new health care payment models, but it's not a slam dunk they will meaningfully lower costs or improve quality.
3. Prescription drug R&D is thriving
In 2018, a record 59 new drugs were launched — a portfolio that makes it clear that development is increasingly geared toward specialty drugs, according to a new IQVIA report.
Almost half launched with orphan drug status for the use that was being approved, meaning they were designed to serve small patient populations.
Oncology was the therapy with the most new launches — 16 — followed by infectious disease, which saw 12 launches.
One-third were identified as first-in-class, and 39 were specialty drugs.
A little less than half were approved based on trials with less than 500 people.
Small biopharmaceutical companies are playing an increasing role in the R&D ecosystem.
Emerging drug companies held the initial patents on 64% of the drugs launched in 2018, but about half of last year's drugs ultimately came to market via a larger pharma company.
Big Pharma is spending a huge amount on R&D. The top 15 largest companies spent more than $100 billion on R&D for the first time last year.
4. Drug distributors' opioids-related charges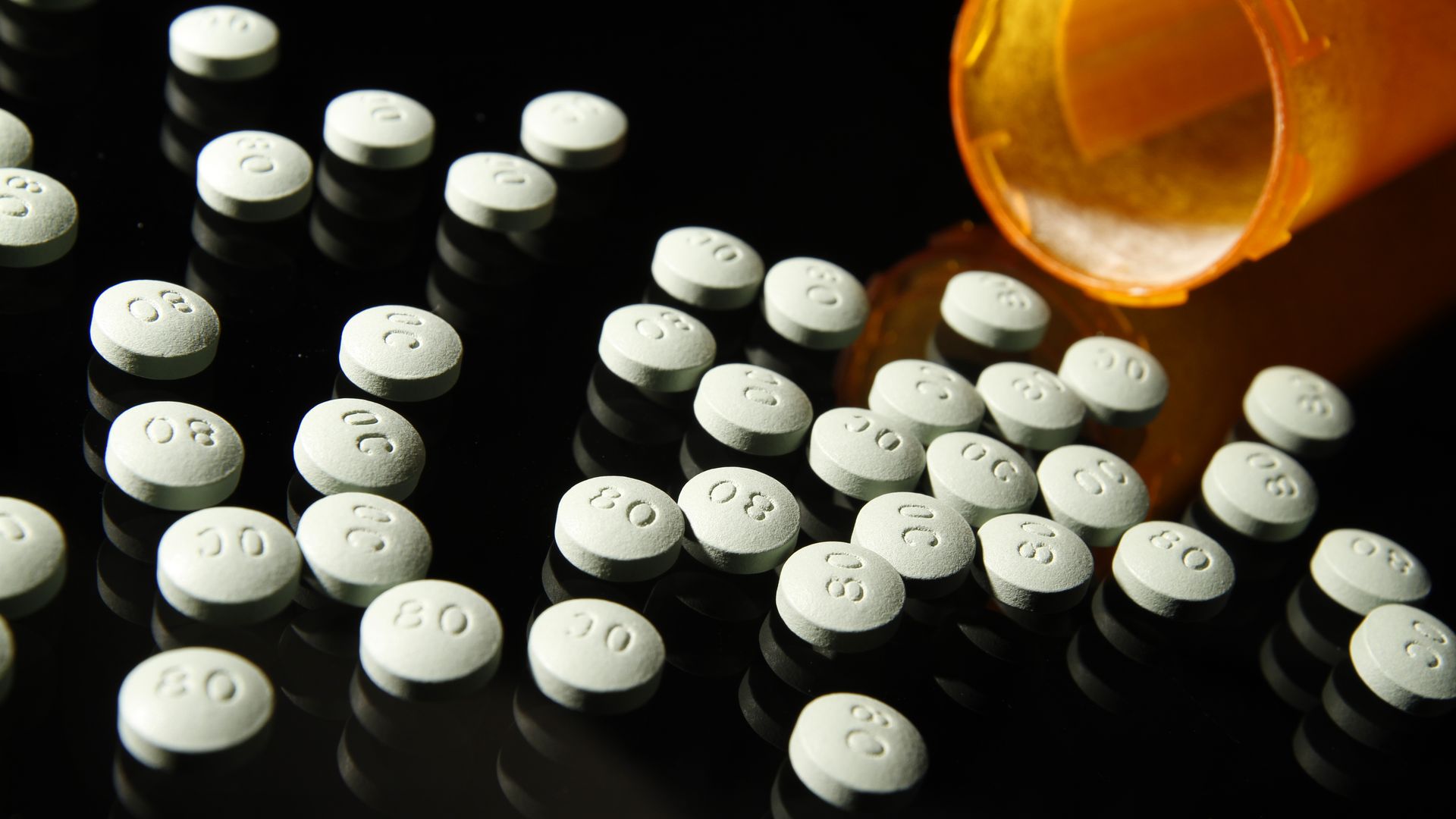 Rochester Drug Cooperative may become the major drug distributor to face criminal charges over the opioid epidemic, the New York Times reports.
The Southern District of New York and the Drug Enforcement Agency are wrapping up an investigation that began with an examination of potential crimes that included fraud and drug violations.
However, it's unclear what charges would be brought against Rochester.
Other major distributors are involved in other civil lawsuits across the country.
They allege that distributors created systems to evade regulators as they continued to shuttle around massive amounts of opioids.
The three largest distributors failed to adequately monitor suspicious opioid orders at the onset of the epidemic, and have since failed to build systems that prevent abuse, NYT writes.
These distributors — Cardinal Health, McKesson and AmerisourceBergen — sold 1.6 billion oxycodone pills in New York between 2010 and 2018.
Go deeper:
5. How to build a health care AI
The whole point of artificial-intelligence systems is that they can learn — but they still have to start somewhere. And the nascent field of health care AI is still focused on those early building blocks, Axios' Sam Baker writes.
Google has a leg up on some of its competitors, because of the data it already collects through search and Gmail, NPR reports.
"As companies like Google and other traditional consumer-oriented companies start moving into this space, it is certainly clear that they bring the capability of taking much of the information they have about us and be able to apply it," said Reed Tuckson, a member of the advisory board for Verily, Alphabet's health care arm.
On top of that, Google is working with researchers at Duke and Stanford to recruit volunteers — the goal is to get 10,000 of them — who contribute far more data.
Participants fill out regular health surveys, use a tool that tracks their sleep, and wear a watch that monitors their heart rate and steps (although the watch seems to not work perfectly).
"It's sort of a way of donating your body while it's still alive," one participant told NPR.
Go deeper: A blind spot for medical AI
Have a nice Tuesday. Send me any and all tweets worthy of being featured in tomorrow's newsletter.