Axios Vitals
July 26, 2017
Good morning ... RIP, revised Better Care Reconciliation Act. We hardly knew ye.
Get used to this confusion and onslaught of new amendments. They're only going to speed up as the week rolls on.
We're in it now
We still don't know — no one knows — how the Senate's health care process is likely to end. But it's now well under way.
The Senate last night voted down a modified version of Republicans' larger repeal-and-replace bill, the BCRA, 43-57. But BCRA is not necessarily dead. Last night's version included provisions that haven't been scored or reviewed by the parliamentarian.
Another, simpler version — like the most recent one scored by the Congressional Budget Office — could still come up later in the process, a senior GOP aide told us.
Technically, last night's vote was procedural, but it's extremely reasonable to take that vote as a proxy for the policy itself.
The next vote, scheduled for early this afternoon, will be on the updated version of the 2015 repeal-only bill. That, too, is expected to fail.
All signs point to a vote-a-rama Thursday night, perhaps into Friday morning.
The hot new thing: "Skinny repeal." If neither BCRA nor straight repeal looks to be gaining any traction, the next option in the rotation appears to be a bill that would repeal small parts of the ACA — like the individual mandate and a tax or two.
The goal here wouldn't necessarily be to settle for that outcome, but to pass something that would trigger a conference committee with the House. Normally designed as a way to hammer out specific differences in House and Senate bills, a conference here would function more like another opportunity to write another bill — albeit under many of the same restrictions.
House Republicans aren't sure yet how they feel about this option. They're waiting to see what — if anything — the Senate actually sends them. But anything that keeps the process alive would be a good thing, a senior House GOP aide told Axios' Caitlin Owens.
The political realities of repeal
Passing the motion to proceed was a big win for Majority Leader Mitch McConnell. His pitch to moderates in his caucus has been, just let us have the debate. And they did. Getting a bill across the finish line remains a daunting task, but every step closer is significant.
But, McConnell has no room for error. Here are some of the political forces happening in the debate:
With Sens. Susan Collins and Lisa Murkowski voting against the motion to proceed, it's hard to see either of them coming around on any of the underlying bills. Any one defection would kill any given amendment. And, of course, different people could sink different proposals.
Conservatives have bought in pretty seriously here. Sens. Ted Cruz, Rand Paul, and Mike Lee all agreed to vote to proceed to the bill as long as they were guaranteed votes on certain proposals. Cruz's consumer-choice proposal got its vote last night; straight repeal is coming today. It's a lot harder to say you won't settle for half a loaf when your full loaf has already been rejected.
Sen. John McCain was hard to read yesterday. On the one hand, he excoriated the Senate's process, calling instead for a return to bipartisanship and regular order — and in that part of his speech, he didn't sound like a guy too inclined to support a bill in the end. But he gave that speech just a few minutes after voting to go ahead with the process he was criticizing, so don't put him in the "firm no" column.
McCain also voted for the modified version of BCRA that failed last night; even as nine of his GOP colleagues voted no. So, again, the everlasting mantra of this process remains true: Who knows?
You can't always fix it in conference
"We'll work out these issues with our health care bill when we conference with the House" is not a risk-free strategy. Just ask the Democrats who passed the ACA. Many of the ACA's implementation problems — including the lack of direct funding to set up the federal exchanges, the "family glitch," and the circular language that put the law's subsidies at risk before the Supreme Court — were things Democrats could have ironed out in a conference between their House and Senate bills. But they never got the chance.
Be smart: A conference agreement still has to pass both chambers just like any other bill — meaning GOP leaders still wouldn't have any votes to spare even if they come up with a deal. And, per George Washington University professor Sarah Binder, an expert in Senate procedure, a conference agreement would still be subject to the Senate's "Byrd rule," so it would need to pass the parliamentarian's muster before passing.
Inside the Senate chamber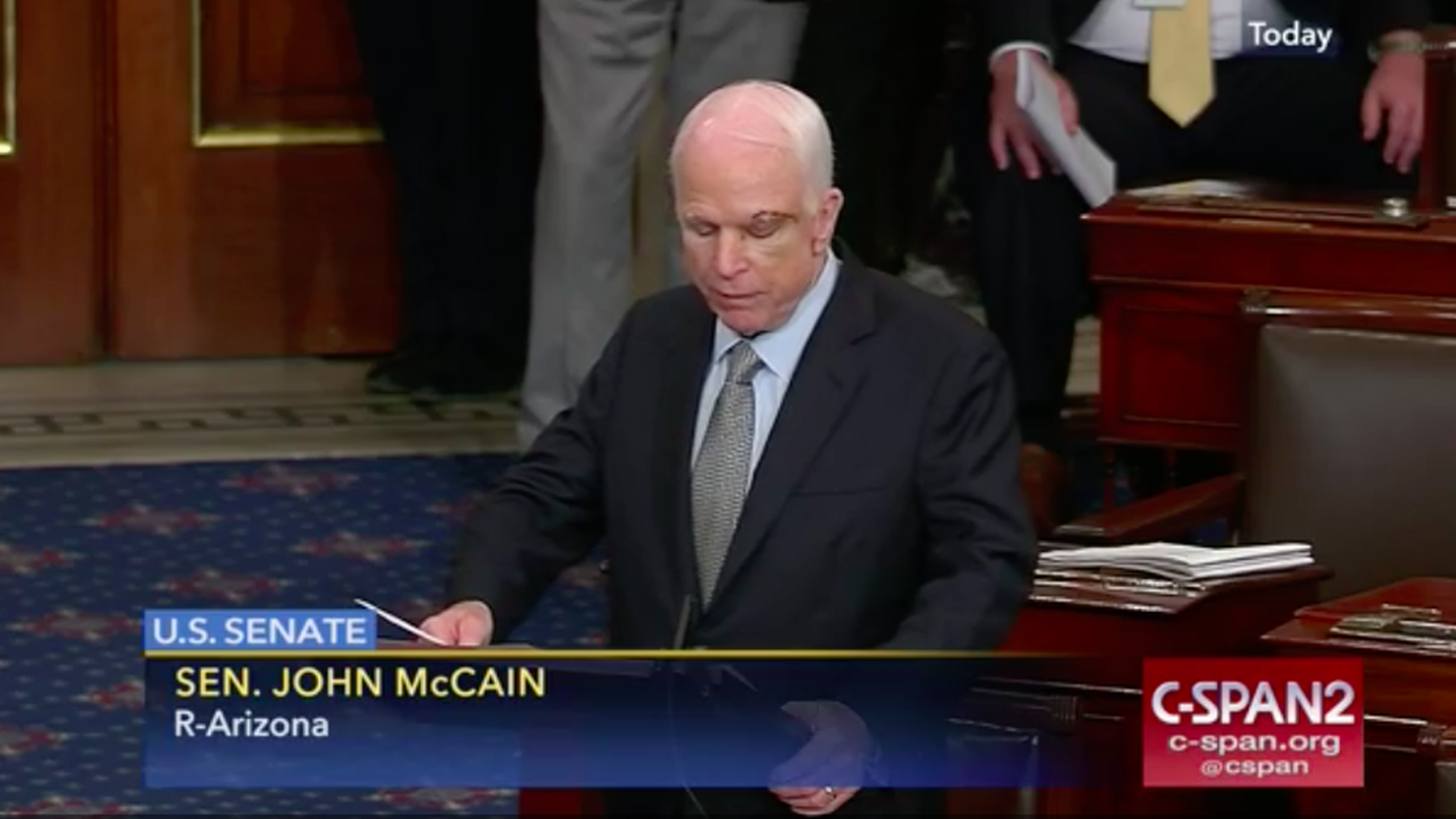 Here's what you would have seen if you'd been there:
It was like the ACA vote in reverse: The senators all sat in their chairs, and stood to announce their vote — like they did during the Senate vote on the ACA in December 2009. (Usually, they're all standing around talking.)
The signal: Collins and Murkowski sat together with tense looks on their faces — a signal that they were both going to vote no.
The center of attention: For a while, it was Sen. Ron Johnson, who spent several minutes talking to McConnell (who was starting to look agitated). That all changed the minute McCain walked into the chamber — and the standing ovation stopped everything.
The guest: Health and Human Services secretary Tom Price stood at the back of the chamber, talking with Pat Toomey and other GOP senators during the vote.
The protest: When a large group of demonstrators in the visitor galleries started shouting, "Kill the bill, don't kill us," it took several minutes for Capitol police officers to remove them. They could still be heard during the vote, long after they'd left.
Liberal groups planning protests this weekend
The big protest action from the left is happening on Saturday, when Our Lives on the Line — a coalition of health care advocates and liberal groups — is organizing 125 rallies in 36 states to protest the ACA repeal plans. House Minority Leader Nancy Pelosi, who did a lot of the heavy lifting to win final passage of the ACA, will speak at the main event in Washington.
There's also going to be a Planned Parenthood rally on Capitol Hill today. Meantime, Senate Democrats are using more Senate-like protest tactics, like making the clerks read every GOP health care bill and amendment out loud, word for word.
ACA implementation hasn't stopped
Meanwhile, as Tim Jost flagged yesterday in the Health Affairs blog, the IRS is still implementing the ACA. The tax agency has finalized some regulations about how the law's premium subsidies will be administered in certain complex cases — for example, how victims of domestic violence can avoid the requirement to file taxes jointly with their spouses.
Why it matters: The rules themselves aren't especially sweeping or politically charged. But the slow, steady work of the executive branch is a reminder that the ACA isn't an alternative bill, it's the status quo. Unwinding it wouldn't be easy. Setting up a new system and resolving all the unforeseen questions about its implementation, like the IRS is doing here, also would not be easy.
Health industry lightning round
Yesterday was a really busy day for the health care industry, too. Bob Herman digested about a half-dozen earnings reports for the second quarter and pulled together this quick roundup for you:
Centene: The Medicaid-based health insurer had higher-than-expected profit margins in its ACA policies — justifying the company's plans to expand and indicating that the ACA marketplaces are far from dead for insurers.HCA: The hospital chain missed Wall Street's expectations (but was still rather profitable) due to a "soft" amount of admissions, emergency room visits, and outpatient surgeries. One take from Sumesh Sood, financial analyst at Veda Partners: "This is the new normal as higher deductibles and greater cost-sharing continue to tamper down usage of health care services."Eli Lilly: Profit and revenue were higher at the drug company, but the stock market wasn't thrilled Lilly's potential arthritis drug, baricitinib, is now facing a long FDA delay.Express Scripts: The pharmacy benefit manager provided more proof that its business will suffer heavily when Anthem likely severs its contract.Biogen: CEO Michel Vounatsos to investors after an extremely profitable second quarter, especially for the pricey neuromuscular drug Spinraza: "We will explore deals of all sizes."Hospital personnel move: Dennis Laraway is leaving his role as chief financial officer at Memorial Hermann Health System in Houston for the same role at Banner Health in Phoenix. Memorial Hermann has been on some shaky financial ground.
What we're watching today: Eleventh-hour dealmaking in the Senate. And more votes, including on straight ACA repeal.
Also, Senate Aging Committee hearing on progress toward a cure for Type 1 diabetes, 9:30 a.m. Eastern. House Energy and Commerce health subcommittee hearing on Medicare Advantage Special Needs Plans, 10:15 a.m. Eastern. Livestream here.
Anthem earnings call before markets open, Gilead Sciences after markets close.
What we're watching this week: The "vote-a-rama," probably Thursday. Also, Zimmer Biomet earnings call, Thursday before markets open.
Has McConnell promised you a vote on your favorite piece of health policy, too? Tell us about it: [email protected] / [email protected]