Good morning ... We're looking forward to the next meeting of the Senate Republican health care working group on Tuesday, so we can finally move on to the next chapter of the Affordable Care Act repeal drama. But first, let's look at the fallout for the House.
https://www.axios.com/newsletters/axios-vitals-0e53d1e9-528d-40db-b094-921926c63b14.html?chunk=0#story0
The riskiest things voted on by House Republicans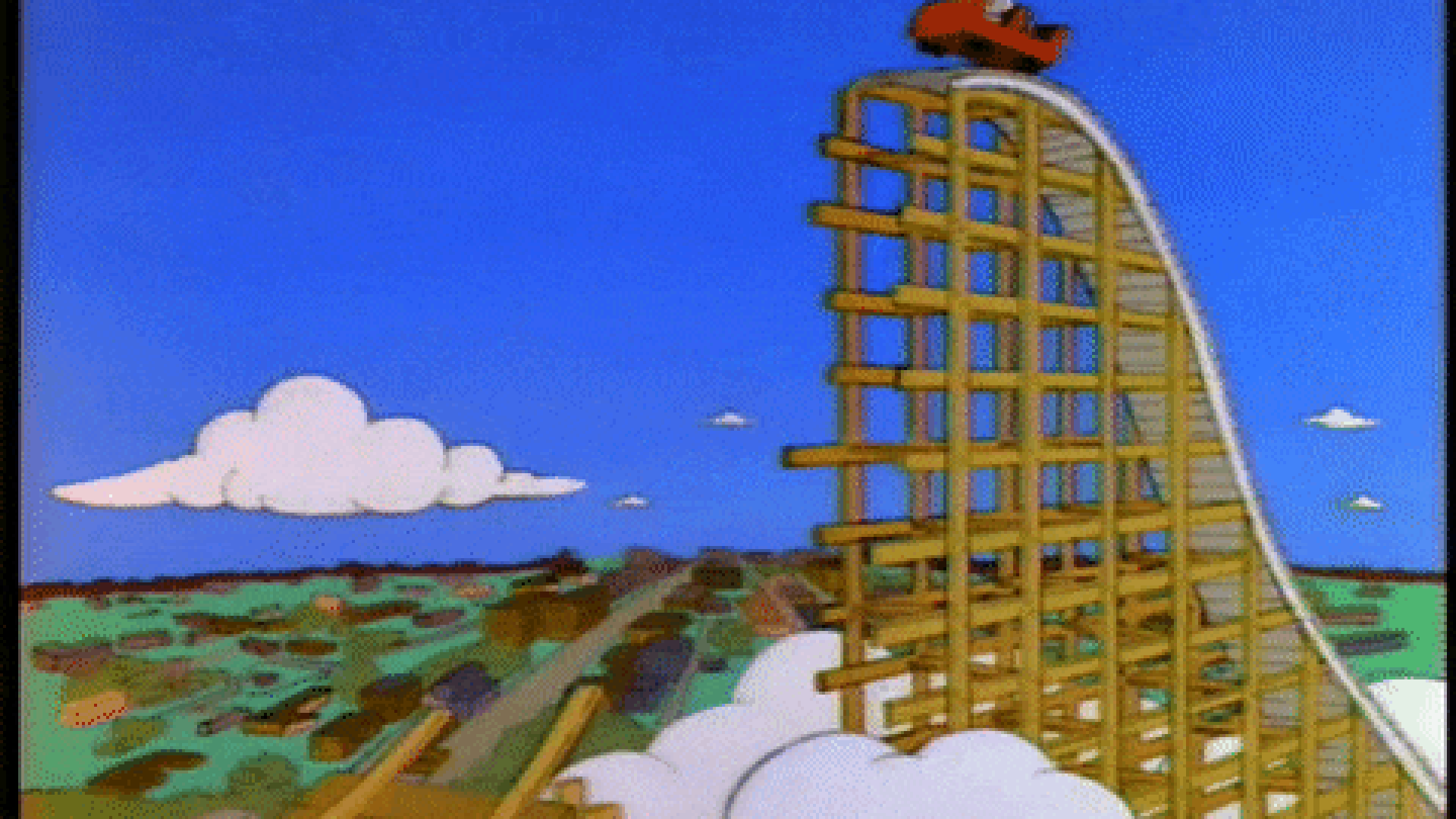 They had the vote and the White House victory rally. Now they have to go out and make the case for their replacement for the Affordable Care Act — and not just to the faithful who wanted repeal all along. The bill was loaded up with politically dangerous changes all along, and judging from all the damaging headlines about what might count as a pre-existing condition again, now it has even more.
Here's what could make them the most vulnerable, at town halls and in next year's mid-term elections.
Pre-existing condition waivers. They're spending so much time explaining the waivers that states could get under Rep. Tom MacArthur's amendment, and the specific circumstances in which they might apply, that all of their work to limit the damage isn't doing them much good. It didn't help when Wisconsin Gov. Scott Walker immediately suggested he might apply for one.
Essential health benefit waivers. They're going to spend a lot of time explaining which benefits might be cut and arguing about which ones aren't important. (Maternity coverage seems to be a big one.)
Medicaid cuts. As Health and Human Services secretary Tom Price found this weekend, when the bill cuts $880 billion over 10 years, it's hard to convince people that no one will be hurt by that — especially when the Congressional Budget Office says 14 million people will lose coverage.
Age rating. AARP is already firing away at the "age tax" — the provision that would let insurers charge older customers as much as five times more than young adults, compared to the 3:1 ratio under the ACA.
Replacing the tax credits. The bill replaces the ACA's tax credits, which adjust for income and geography, with flat credits based on age. But by reinventing the ACA tax credit, they're finding all kinds of problems that have to be fixed — like CBO's warning that they'd leave the low-income elderly vulnerable to massive premium increases. (Sen. Susan Collins said on ABC's This Week that the GOP tax credits should adjust for — wait for it — income and geography.)
Net investment tax repeal. The bill gets rid of the ACA's taxes, but by repealing the 3.8 percent tax on high-income people's net investment income, they're getting hammered with charges that the bill is a tax cut for the rich.
Congressional exemption. The House scrambled to pass a separate bill to get rid of the exemption that shields members of Congress and their staffs from the effects of the state waivers. But judging from the way that exemption has taken off in social media, the damage is already done.
https://www.axios.com/newsletters/axios-vitals-0e53d1e9-528d-40db-b094-921926c63b14.html?chunk=1#story1
Republicans who could be hurt the most in 2018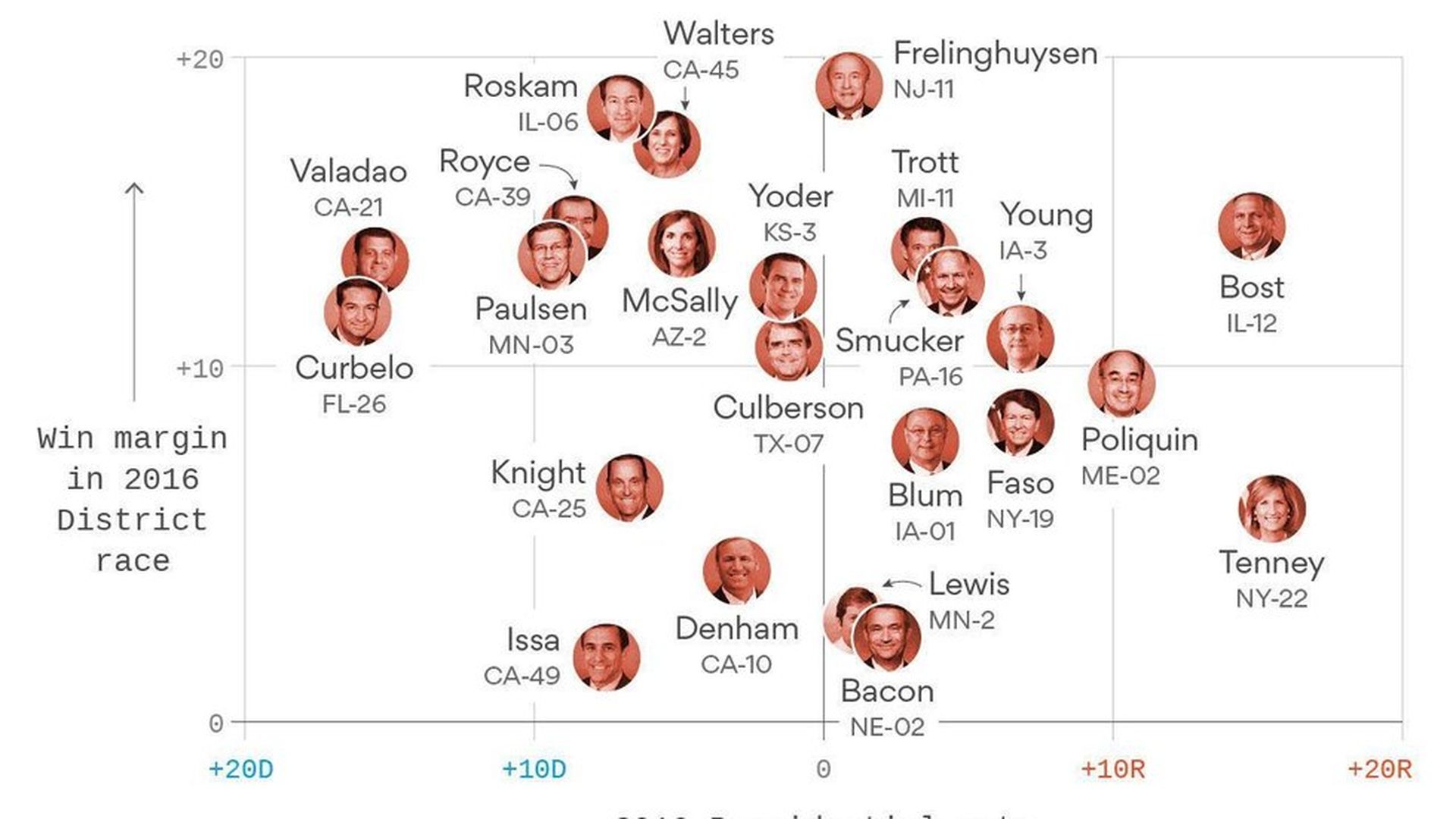 Shannon Vavra and Andrew Witherspoon had a smart look over the weekend at the House Republicans who will be most vulnerable next year because of their votes for the health care bill — the ones in Democratic leaning districts. (Note that one of them is the new House Appropriations Committee chairman, Rodney Frelinghuysen. Another is Darrell Issa, who brushed off reporters before the vote by telling them it was "none of your business" how he intended to vote.)
https://www.axios.com/newsletters/axios-vitals-0e53d1e9-528d-40db-b094-921926c63b14.html?chunk=2#story2
What the repeal revival means for insurer payments
Sorry, health insurers, but you're going to have to wait a while. Now that the Senate is going to be working on its own version of an Affordable Care Act repeal and replacement — and probably taking weeks to do it — President Donald Trump isn't going to be in any rush to decide whether to fund the cost-sharing reduction subsidies over the long term. He told the Washington Examiner two weeks ago that "I want to see what happens with our bill first."
https://www.axios.com/newsletters/axios-vitals-0e53d1e9-528d-40db-b094-921926c63b14.html?chunk=3#story3
What to watch: ads, town halls and photobombs
To give you an idea of the hostility the Republicans are in for:
Ads: The pro-Affordable Care Act group Save My Care is spending more than half a million dollars on a new TV and digital ad campaign against 24 House Republicans who voted for the bill (including MacArthur, the author of the compromise amendment that created the state waivers).
This one, against Rep. Martha McSally, quotes the American Medical Association's warning that the state waivers "could effectively make coverage completely unaffordable to people with preexisting conditions." The kicker: "How could you do this to us?"
Don't be surprised if you start seeing that White House victory rally in future Democratic ads.
Republicans will be getting some air cover, though: The American Action Network has launched a $2 million TV ad campaign thanking 21 members of Congress for keeping their promises and "fighting for the health care we deserve."
Town halls: Republicans are already getting an earful over the bill, and one misstep can easily create a viral moment — as Rep. Raul Labrador did this weekend when the crowd erupted after he declared, "Nobody dies because they don't have access to health care." Keep your eye on other House Republican town halls this week — especially MacArthur's town hall in Willingboro, NJ, on Wednesday.
Photobombs: Be careful who you get your pictures taken with, Republicans — or you could end up like House Speaker Paul Ryan, who ended up in a photo with this guy with the T-shirt reading: "Repeal and go f--- yourself."
https://www.axios.com/newsletters/axios-vitals-0e53d1e9-528d-40db-b094-921926c63b14.html?chunk=4#story4
While you were weekending ...
Former President Barack Obama urged Congress to find the "political courage" not to repeal the Affordable Care Act, per Politico.
White House officials believe insurers will make the case for the health care bill easier in the coming weeks as they're likely to pull out of some state markets, the Wall Street Journal reports.
Ryan said on ABC's This Week that it would have been a disaster if House Republicans didn't vote to repeal the Affordable Care Act, given that it was one of Republicans' biggest campaign promises.
Also on This Week, Collins said it was "unlikely" that the House bill would protect people with pre-existing conditions as well as the ACA because "so much discretion is given to the states without any guardrails."
Ohio Gov. John Kasich, on CNN's State of the Union: "You cannot give people a $3,000 or $4,000 health insurance policy. You know where they're going to be? They are going to be living in the emergency rooms again."
Kasich on Medicaid and drug costs: "The Democrats gave me a law that says I have to cover everything, every drug, whether I can afford it or not ... So, I said, 'let me exclude these high-priced drugs. Give me leverage, and I will be in a position to drive that cost down.' That is not in this bill."
https://www.axios.com/newsletters/axios-vitals-0e53d1e9-528d-40db-b094-921926c63b14.html?chunk=5#story5
The defensive new House Republican website
They're up with a new set of FAQs about the health care bill, and as the health care Twitters noted, it no longer says people will never be charged more for pre-existing conditions (as the old version did). But what's also striking is how defensive the new version is. Some of the questions they try to answer:
"Will the AHCA as amended allow those with pre-existing conditions to be priced out of the market- effectively rendering those protections useless?"
"Does the AHCA do away with critical Essential Health Benefits, such as coverage for maternity care?"
"The CBO says AHCA increases the number of uninsured by 24 million people. Is this true?"
"Do Republicans want to kick millions of people off of Medicaid?"
And check out how long the answer to the pre-existing pricing question is. It takes five paragraphs to walk through all the compromises and add-ons Republicans had to come up with. (Yes, they could charge higher premiums, but only for a year, and only for someone who didn't keep themselves insured, and only in states that have high-risk pools).
Between the lines: It's a reflection of how brutal the criticisms have been. Democrats had to prepare a lot of defensive answers to opponents' charges when they were writing the Affordable Care Act too — why it's not rationing, why death panels aren't real, etc. But as they found, it's not a good sign when you have to start on that note.
https://www.axios.com/newsletters/axios-vitals-0e53d1e9-528d-40db-b094-921926c63b14.html?chunk=6#story6
One House Republican leader shares her story
House Republican Conference chairwoman Cathy McMorris Rodgers told a deeply personal story in the Washington Post on Friday about her son Cole, who has Down syndrome. It was her way of pushing back against critics of the House health care bill, and answering Jimmy Kimmel's emotional monologue about his son's heart defect.
Key quote: "Republicans rejected the notion that to help 2 million people with preexisting conditions get access to care, we needed a 2,000-page bill that transformed one-sixth of the economy."
Our thought bubble: The piece is actually a good illustration of the challenge all House Republicans have had: They're explaining why their approach to pre-existing conditions (regular insurance for most people and high-risk pools for the rest) might work, but they don't really explain why it's better than the Affordable Care Act, which already covers everyone with pre-existing conditions. The only thing they can say is that it might be less disruptive to other people.