Axios Vitals
April 18, 2017
Good morning ... Who's ready for another Axios event? Today's the day of our Future Shapers event in Chicago on mental health care. It's hosted by Mike Allen, and it's going to look at the latest in technology and biopharmaceuticals, with important context from advocates. Details here.
And quick reminder that Vitals is on special spring break schedule this week, so we'll be back on Thursday. Now, let's get to it....
The Freedom Caucus wins the Obamacare town halls
Caitlin Owens hit the road to two House Republican events over the recess — a town hall by a moderate Republican in Colorado last week, and a constituent event by a Freedom Caucus member in Florida last night. The takeaway, she writes this morning, was pretty clear: the Freedom Caucus has had a way easier recess than the moderates.
Rep. Mike Coffman, the moderate Republican, got scolded by liberals for supporting Trumpcare, while some Republicans thought the bill would just make Obamacare's problems worse.
Rep. Ron DeSantis, the Freedom Caucus member, breezed through his event, which was designed to minimize conflict. And some of his constituents figured that by opposing Trumpcare, he saved them from a bad bill.
The bottom line: The town halls show that moderates have the most to lose, and nervous members may become even more reluctant to vote for Trumpcare — but the Freedom Caucus is probably going to get even bolder in challenging GOP leadership.
More trouble ahead for Obamacare insurer payments
If DeSantis is any indication, it may not be easy to get the Freedom Caucus members to sign off on a government funding bill that includes payments to insurers for those Obamacare cost-sharing subsidies — even if Republicans agree to fund them.
Here's what he told Caitlin last night, referring to the ongoing House GOP lawsuit against the payments: "After going to court against it, you're going to then turn around and appropriate it? I just couldn't imagine that the leadership would do that. I mean, absent major concessions from the Democrats."
The consequences: Insurers are trying to get some clarity from Trump administration officials in a meeting today, because they say they can't even price their Obamacare health plans for next year without knowing what's going to happen. Tom Policelli of Minuteman Health, a nonprofit insurer, tells the Wall Street Journal that the signals from Washington are "swerving day by day ... we can't change our pricing model day by day."
Trumpcare isn't helping the GOP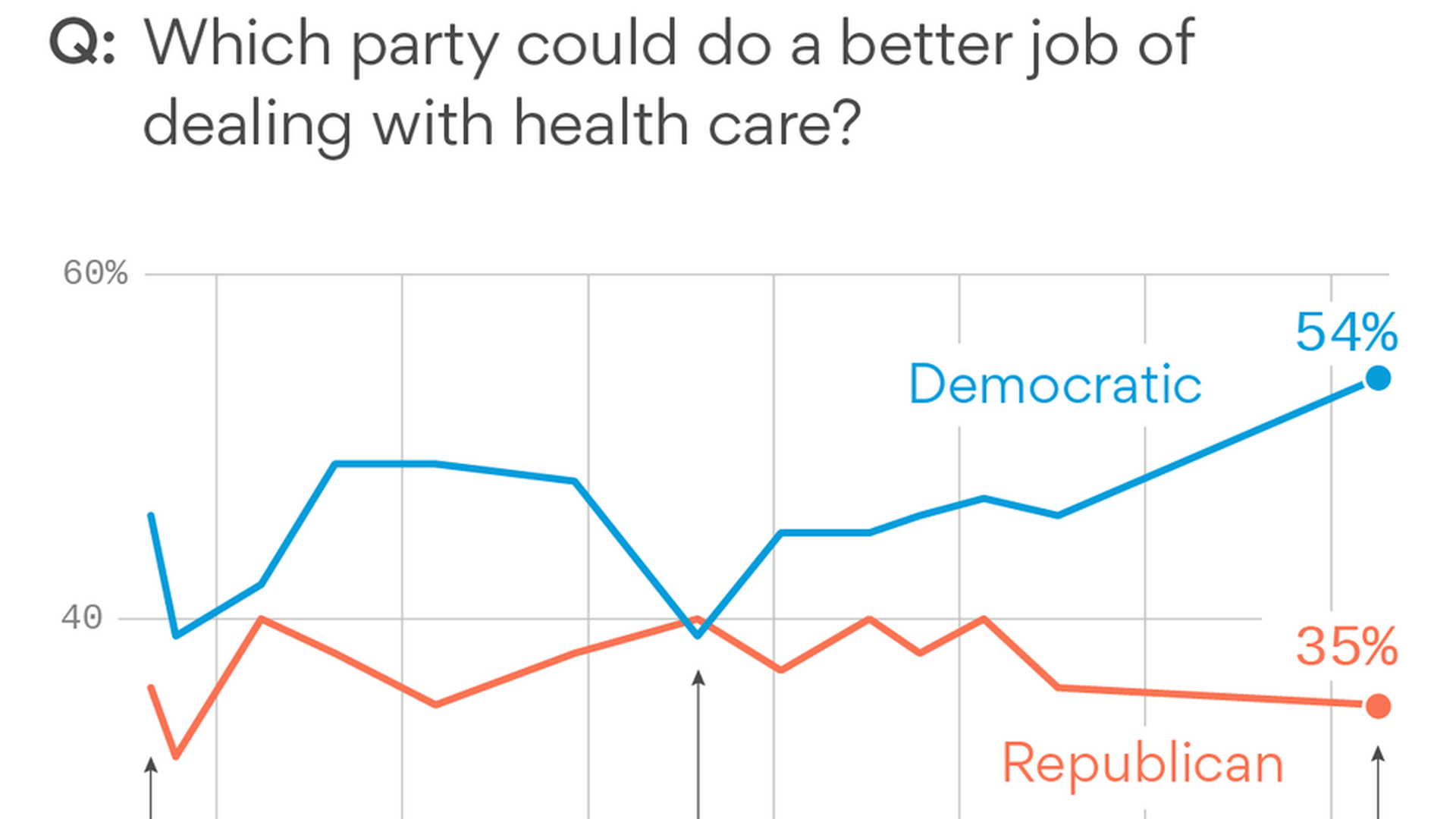 This is from the Pew Research Center poll that came out yesterday: Democrats now have a 19-point advantage over Republicans on who does the best job on health care. They've always had a bit of an advantage, except for the rockiest period right before the full implementation of Obamacare. But this is easily the biggest gap since Obamacare was passed.
Why it matters: Republicans are feeling a lot of pressure to reach an agreement so they can repeal Obamacare — mostly to fulfill their campaign promises — but it's not going to get any easier for them if the polling doesn't get better.
One big thing to watch: hospitals' pay-first policies
This Reuters article from last week caught the eye of Axios contributor Steven Brill — he says it's more important than the next 10 stories you'll read about Trumpcare. It's about something that's real and happening now: Hospitals, facing increasing amounts of unpaid patent debt because deductibles are now so high, are getting more aggressive about getting paid by patients in advance.
Why it matters: Patient debt is not really about Obamacare or its possible replacement. It's about how insurance policies covering tens of millions of Americans now require so much in the way of out of pocket expenses that hospitals (and doctors and labs, too) are increasingly asking patients to pay their shares up front, or to take out bank loans arranged by the hospital to cover the charges.
The good news: At least it forces hospitals to tell patients beforehand how high their bills are going to be. And it is encouraging the most community-minded among them to work with patients in advance to apply for financial aid under the hospitals' charity care policies.
The bad news: The upfront sticker shock is causing lots of patients to defer care, which is no surprise in light of a recent Kaiser Family Foundation poll reporting that 45 percent of Americans would have trouble paying a sudden $500 medical bill.
Why the Chamber cares about those Obamacare payments
You expect to see health insurers pushing President Trump and Congress to pay for those Obamacare cost-sharing subsidies — but the U.S. Chamber of Commerce has been beating that drum too, in a big way. It co-signed the insurers' letter to Trump and congressional leaders last week, and it reinforced the message in a blog post under the headline: "Don't Let the Individual Health Insurance Market Implode."
So what is the Chamber's stake in the fight? Stability, according to spokeswoman Blair Latoff Holmes. That's "critical" to Chamber members, she says — and besides, the payments are "legitimately expected by the insurers."
Artificial Intelligence is really good at predicting heart attacks
Better than the guidelines doctors use, in fact. That's the conclusion of a new study written up in Science magazine. Here's how they tested it: A UK epidemiologist and his colleagues tested four machine-learning algorithms against the doctors' guidelines, to see how well they could predict which patients would have heart troubles based on 2005 medical records. Sure enough, the artificial intelligence programs did a better job of predicting who actually had heart attacks and other problems within the next 10 years.
What it means: If computers can teach themselves, they may be able to account for a lot of random factors with people's health, more than doctors can keep track of themselves. If these programs had actually been used, the study's authors said, 355 people's lives could have been saved.
Yes, but: Given how much trouble doctors have had with electronic medical records, are they really going to be enthusiastic about adding even more technology to their practices?
A quiet victory for the ankle industry
That's right, the ankle industry. Don't thank me — thank Bob Herman. He found a big policy change buried on page 155 of Friday's Medicare payment rule — one that benefits providers and medical device companies that are involved with ankle replacement surgeries.
What Big Ankle wins: A lot more Medicare money. The federal government proposed moving all ankle replacements from a broad, lower-paying joint category into a higher-paying Medicare code (MS-DRG 469 for all you wonks out there) based on comments from unnamed "requestors." That would bump up average baseline Medicare payments for ankle replacements by more than 60 percent, to almost $20,000, based on this 2015 document from Wright Medical Group, a medical device manufacturer.
The winners: Stryker, Wright Medical Group, Zimmer Biomet and other companies that make the screws, implants and other components of ankle replacement surgeries. The doctors who perform the procedures also would get more money.
What we're watching today: Our mental health event, of course. It starts at 3 p.m. Central. Livestream here. Also, Centers for Medicare and Medicaid Services chief Seema Verma meets with insurance executives. And UnitedHealth Group and Johnson & Johnson report their first-quarter earnings before the market opens.
What we're watching this week: More GOP town halls.
Thanks, and if you see any other weird industry victories hidden in that Medicare rule, let me know: [email protected].