Axios Vitals
June 15, 2017
Good morning ... The Senate is still plugging away, as Republican leaders seem to be tightening the reins on the effort even further. They're starting to sound a lot less bullish about the timing and a lot more circumspect about the policy, even as the July 4 recess draws closer and closer.
And since it's not right to pretend everything is normal: Our thoughts are with House Majority Whip Steve Scalise and everyone else who's recovering from yesterday's shooting tragedy.
Why the Senate is still in limbo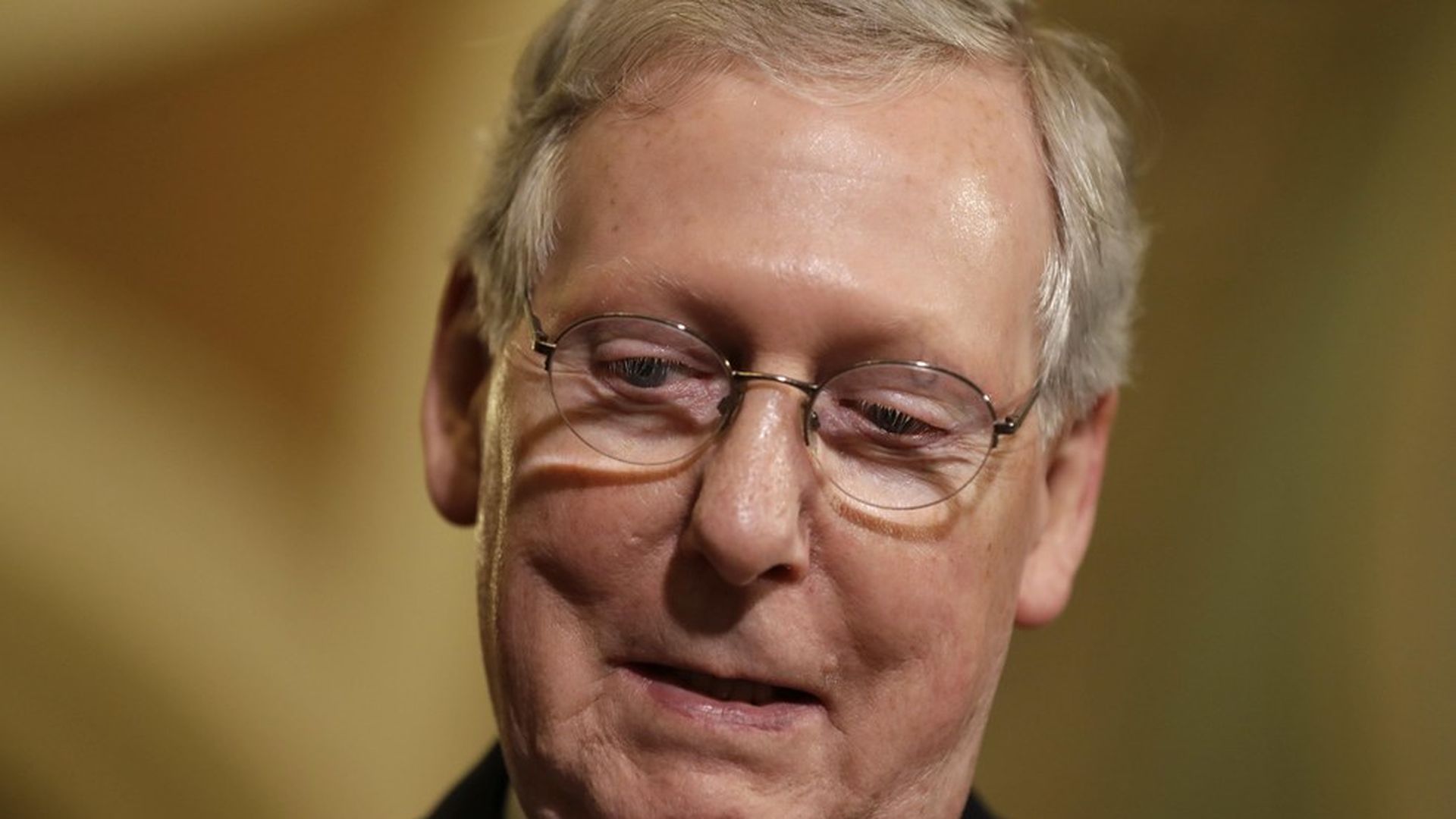 Senate Republicans say they still have a ways to go before they're ready to vote on a health care bill, despite their (very recent) predictions that the whole thing would be wrapped up before July 4. Republicans aren't there yet, in part, because they're still bouncing proposals off the Congressional Budget Office — and the results of those conversations will affect what's in the final bill.
The latest: Even though Republicans had raised expectations that they were finishing a draft bill, it turns out that GOP leaders actually submitted multiple policy options to the budget office — partly explaining why senators won't say much about their bill, let alone release a draft of it.
Both the bill and its CBO score will be public eventually, and there's nothing inherently scandalous about trying to run the traps on a piece of legislation before bringing it to the floor.
The problem: What happens next? How long will the bill be publicly available before a vote? Will policy experts have time to digest it, and will voters have time to process that analysis? Will there be a real, good-faith opportunity for senators to offer amendments? GOP leaders have already short-circuited an awful lot of the process by not holding hearings or committee markups.
Working with CBO now will likely help Senate Republicans avoid the kind of bad-news bombshells the House experienced — but it's making that July 4 timetable look less and less realistic.
Who could lose from state health benefit limits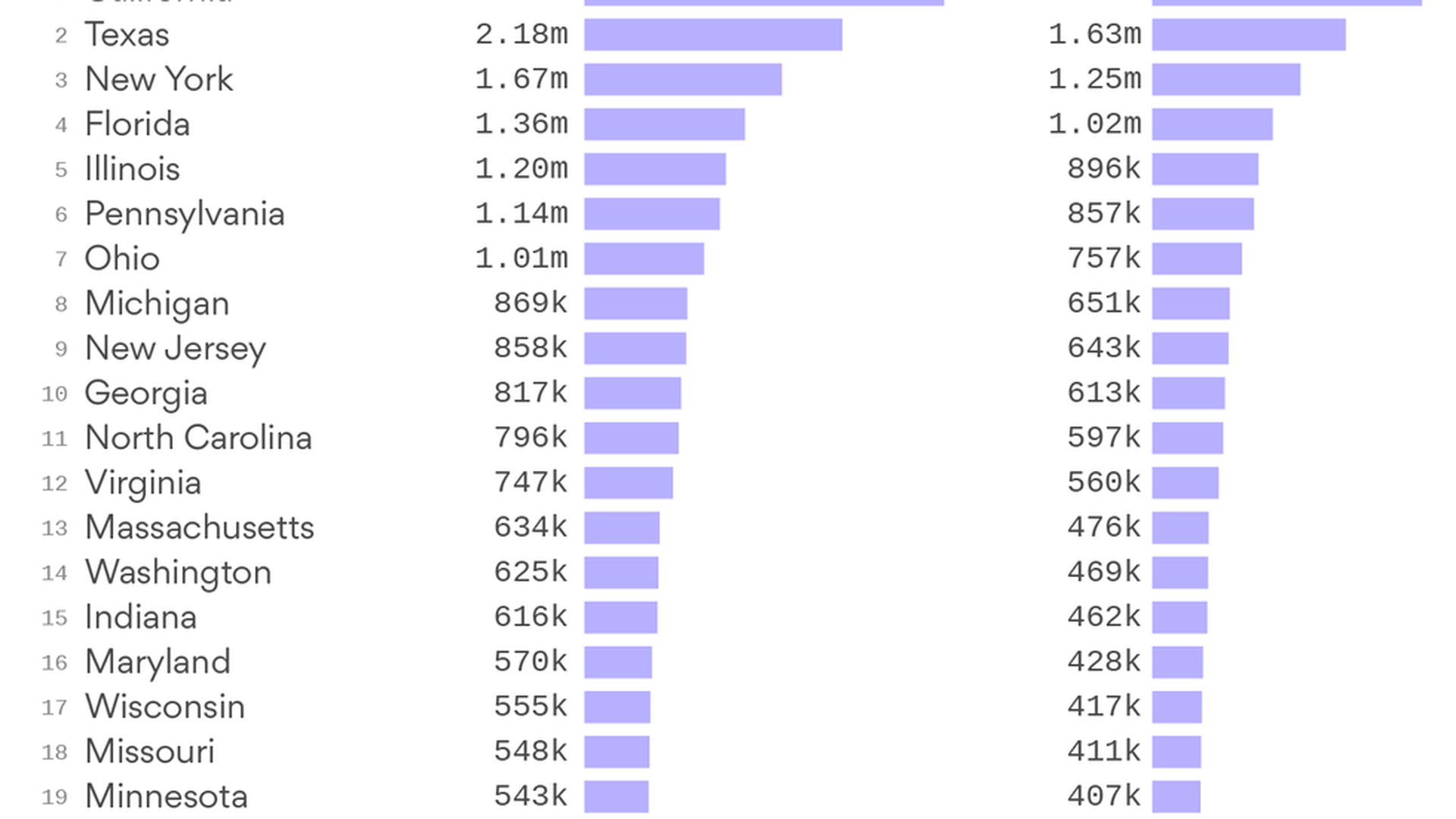 The Senate health care bill is expected to allow states to relax the Affordable Care Act rules only on benefits, not on pricing as the House bill does. But that change could impact people far beyond those states, according to a new analysis by the liberal Center for American Progress — because it could lead to a return of annual and lifetime benefit limits, and not just in the states with the waivers.
The bottom line: As many as 27 million Americans could face annual limits on their coverage, and 20 million could be hit with lifetime limits, according to the analysis. That's because employers that operate in multiple states could use which state's benefit rules they want to use — and there's a good chance they would pick the states that loosened the rules. More here.
Cassidy's cost calculations
Sen. Bill Cassidy went to the GOP lunch on Wednesday with a handout breaking down the factors that have contributed to the higher cost of ACA coverage. Caitlin Owens talked to Cassidy afterwards and got a look at the handout. The analysis — put together by Oliver Wyman — found the biggest contributor to increased per-member-per-month costs is a sicker marketplace.
Here's the breakdown:
The pre-ACA cost of coverage was $279 per enrollee, per month.
The health and demographics of the ACA marketplace added $98, largely from protecting pre-existing conditions.
The ACA's increased actuarial value — or percentage of health costs covered — of plans added another $28.
The ACA's essential health benefits added $17.
Increased expenses, taxes, and fees added $15.
Total addition: Up to $436 per member per month under the ACA in 2015.
Why this matters: It helps explain which levels policymakers can pull to influence premiums. While waiving the essential health benefits might help some, the biggest reason costs have risen under the ACA is because sick people can now get coverage, and that costs money.
What we're watching: Cassidy talked about adding $15 billion to the marketplace to help cover the cost of expensive enrollees in 2018 and 2019, a plan that has serious traction. One senior GOP aide said around 30 members have asked for something like this, to help stabilize marketplaces in the short term, while the ACA structure is still in place.
My oh Mylan
Circle June 22 on your calendar. That's when Mylan holds its annual shareholder meeting, and the controversial drug company that was raked over the coals last year for hiking the price of its EpiPens is getting defensive, Bob Herman reports.
What's happening: The investor advising firm Institutional Shareholder Services recommended that shareholders displace Mylan's existing board (including Heather Bresch, Mylan's CEO and the daughter of Sen. Joe Manchin) and vote against the company's "egregious" executive pay. You can read about the nine-figure pay package for chairman Robert Coury in the Wall Street Journal.
Mylan's response: Board members, led by Bresch and Coury, sent a letter to shareholders this week that explained why they should ignore the recommendations and called themselves "engaged, refreshed and responsive." They spent the first couple paragraphs of the letter bragging about Mylan's market cap and stock price.
Repurposing drugs and other pricing solutions
The Manhattan Institute and the U.S. Chamber of Commerce had a panel discussion on drug prices yesterday, and guess what? Thanks to David's skillful moderating, drug prices are coming down already!
A few of the ideas that came up, which you actually should keep on your radar screen:
Benjamin Roin of the MIT Sloan School of Management talked about the potential of "repurposing" — finding new uses for drugs that are already on the market. Here's a paper he wrote on the issue.
The Manhattan Institute's Paul Howard, who testified at Tuesday's Senate HELP Committee hearing on drug prices, said it's time to tighten the rules on the "340B" program, which offers discounted drugs to hospitals serving low-income patients. Too often, he said, hospitals turn around and charge full price for those drugs.
Ernst Berndt, also of the MIT Sloan School of Management, said the key is to keep the generic drug industry healthy so it can offer low-cost medications.
What we're watching this week: Goldman Sachs Global Healthcare Conference wraps up today.
What we're watching next week: Biotechnology Innovation Organization annual convention in San Diego, June 19-22. Mylan annual shareholder meeting, June 22.
What's on your radar? Let us know: [email protected] and [email protected]