Axios from Tel Aviv
November 09, 2022
Welcome back to Axios from Tel Aviv.
I am sending today's newsletter from Abu Dhabi, where I'm attending a conference on the results of the Israeli elections organized by the Emirates Center for Strategic Studies and Research.
This week's edition (2,000 words, 7½ minutes) starts with U.S. concerns after last week's Israeli election.
It also examines a Palestinian push for a UN court to issue a legal opinion on the Israeli occupation. And it dives into how the U.S. plans to deal with Iraq's new government.
Sign up to receive this newsletter.
1 big thing: U.S. concerned about possible Netanyahu defense chief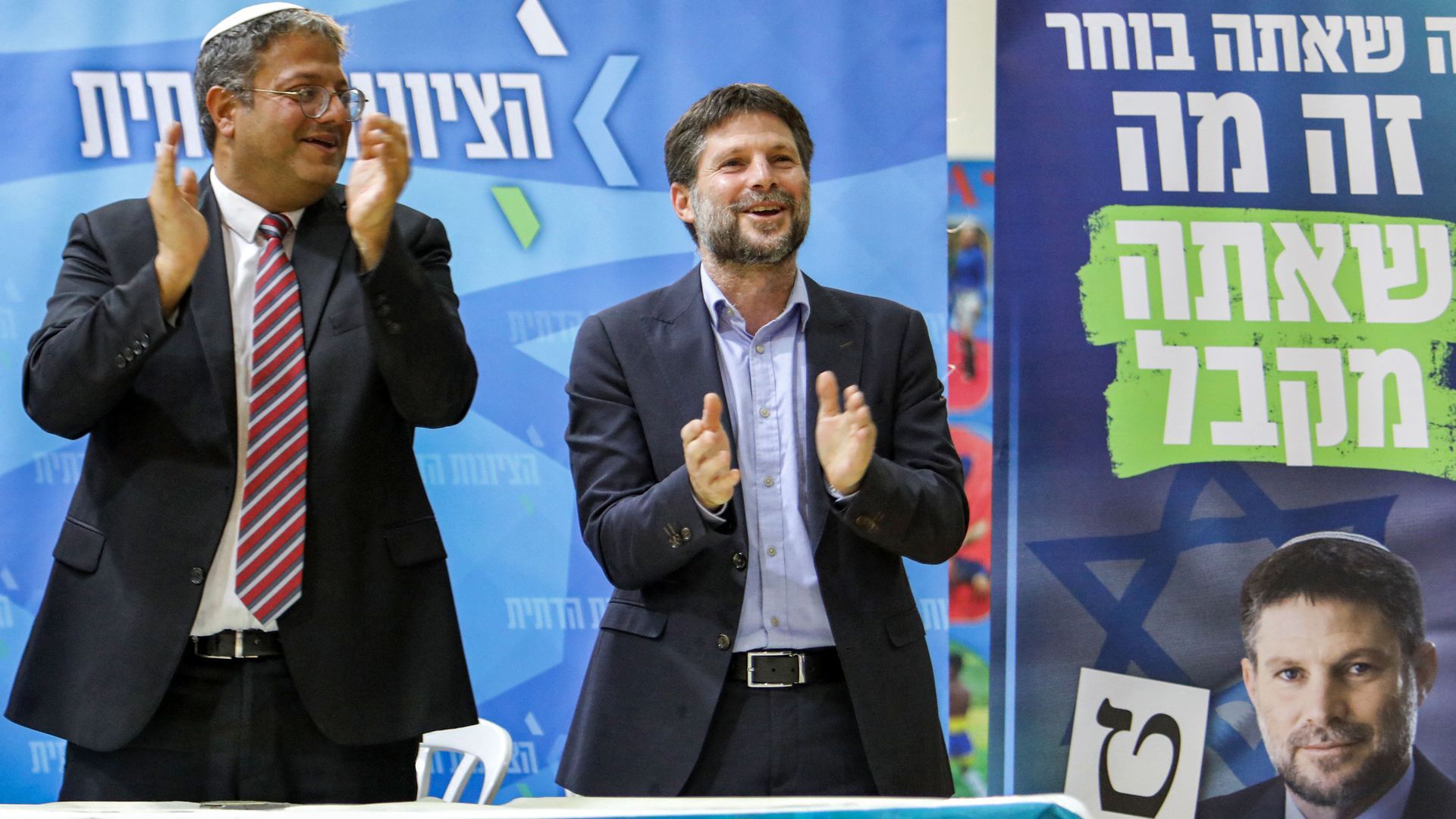 The Biden administration is closely watching to see who incoming Prime Minister Benjamin Netanyahu names as Israel's defense minister, with some U.S. officials telling me they are concerned a politician from a Jewish supremacist party will be appointed to the post.
Why it matters: The minister of defense is the most powerful position in the Israeli government after the prime minister and manages the security relationship with the United States.
The defense minister has the authority over the Israeli military, Israeli arms sales and a huge budget, which includes $4 billion in U.S. military aid every year.
The minister is also in charge of Israeli civilian and military policy in the occupied West Bank, including handling security ties with the Palestinian Authority, approving buildings in the Israeli settlements, and responding to settler violence against Palestinians in the West Bank.
"The identity of the person who holds this job in the next Israeli government will have a huge influence on the bilateral relationship with the U.S. and not only when it comes to security," a senior U.S. official told me.
State of play: Bezalel Smotrich, the leader of the Jewish supremacist Religious Zionism list that is part of Netanyahu's bloc, is expected to demand he be appointed defense or finance minister, according to several press reports.
Smotrich supports building settlements and annexing the West Bank, refuses to call settlers who attack Palestinians "terrorists," and has called for more forceful action by the Israeli military in the West Bank.
Sources in Smotrich's party told me he will demand that the coalition agreement include a plan to shut down the Ministry of Defense civilian administration in the West Bank, which is in charge of the Israeli government's civilian services in the territory.
He wants to transfer the administration's authorities to other Israeli government ministries, which are in charge of providing services inside the pre-1967 lines. The step could be considered a de facto annexation.
Other possible candidates for the defense minister post include retired Maj. Gen. Yoav Galant, who has held senior IDF positions, and Avi Dichter, a former director of the Shin Bet intelligence service. Both are from Netanyahu's Likud party.
Netanyahu could also appoint himself to the position — something several prime ministers have done in the past.
What they're saying: "We respect the Americans and avoid interfering in their domestic democratic and political procedures. We are sure they will act the same way," a Smotrich spokesperson told Axios.
A White House National Security Council spokesperson said it is too early to speculate on the exact composition of the next governing coalition.
"We will continue to closely monitor the government formation process. As the president told Netanyahu, ... we look forward to continuing to work with the Israeli government based on a bedrock of shared democratic values and mutual interests," the spokesperson added.
2. Israel has the capability to strike Iran, Gantz says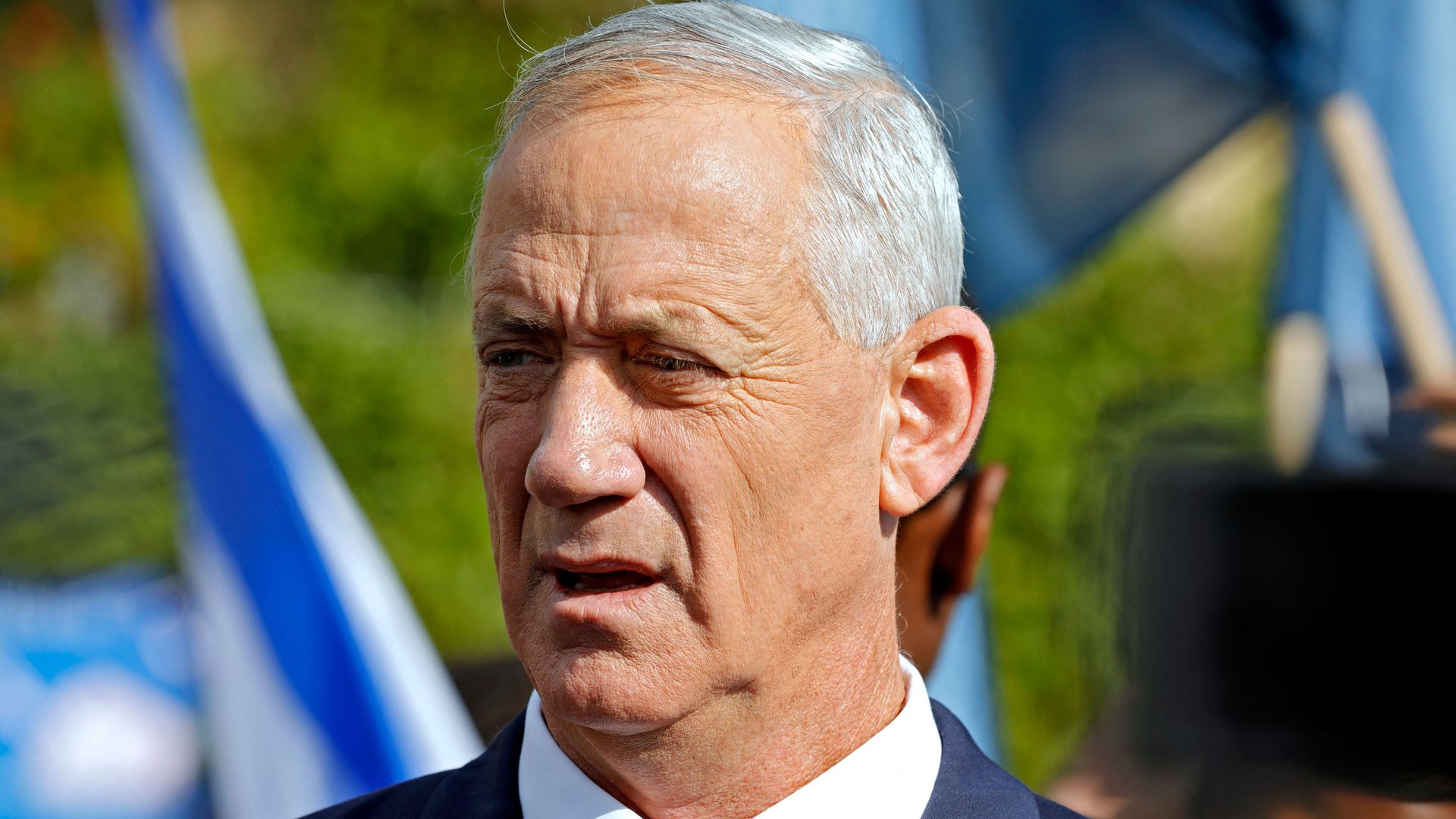 Israel's outgoing Defense Minister Benny Gantz said in a briefing with reporters today that Israel has the capability to conduct a military operation against Iran's nuclear facilities.
Why it matters: Former Prime Minister Naftali Bennett, who replaced Netanyahu after more than 12 years in power, said that after he assumed office, he discovered "total neglect" when it came to preparing an Israeli military option against Iran.
Bennett, Gantz and outgoing Prime Minister Yair Lapid all said Netanyahu's belief that former President Trump would order a U.S. strike against Iran's nuclear facilities and the fact that Netanyahu didn't pass a budget out of his own political considerations led to a gap in the Israeli military's preparedness.
In interviews with U.S. media outlets during the campaign, Netanyahu said Israel and the U.S. need to put a credible military option against Iran on the table.
Driving the news: One of the main issues the outgoing government focused on in its 18 months in power was re-establishing the Israeli military capability to conduct airstrikes in Iran.
The government allocated billions of dollars for the training and acquisition of munitions and directed the IDF to redraw strike plans.
What they're saying: "Israel has the capability to operate in Iran and we must continue strengthening it," Gantz told reporters.
"We achieved preparedness, we have (more) capabilities we are developing and we have long-term processes I don't want to elaborate on," he added.
"We need to prepare this option and it will have to be considered very carefully before any decision is made."
3. Palestinians push for ICJ opinion, despite U.S. objection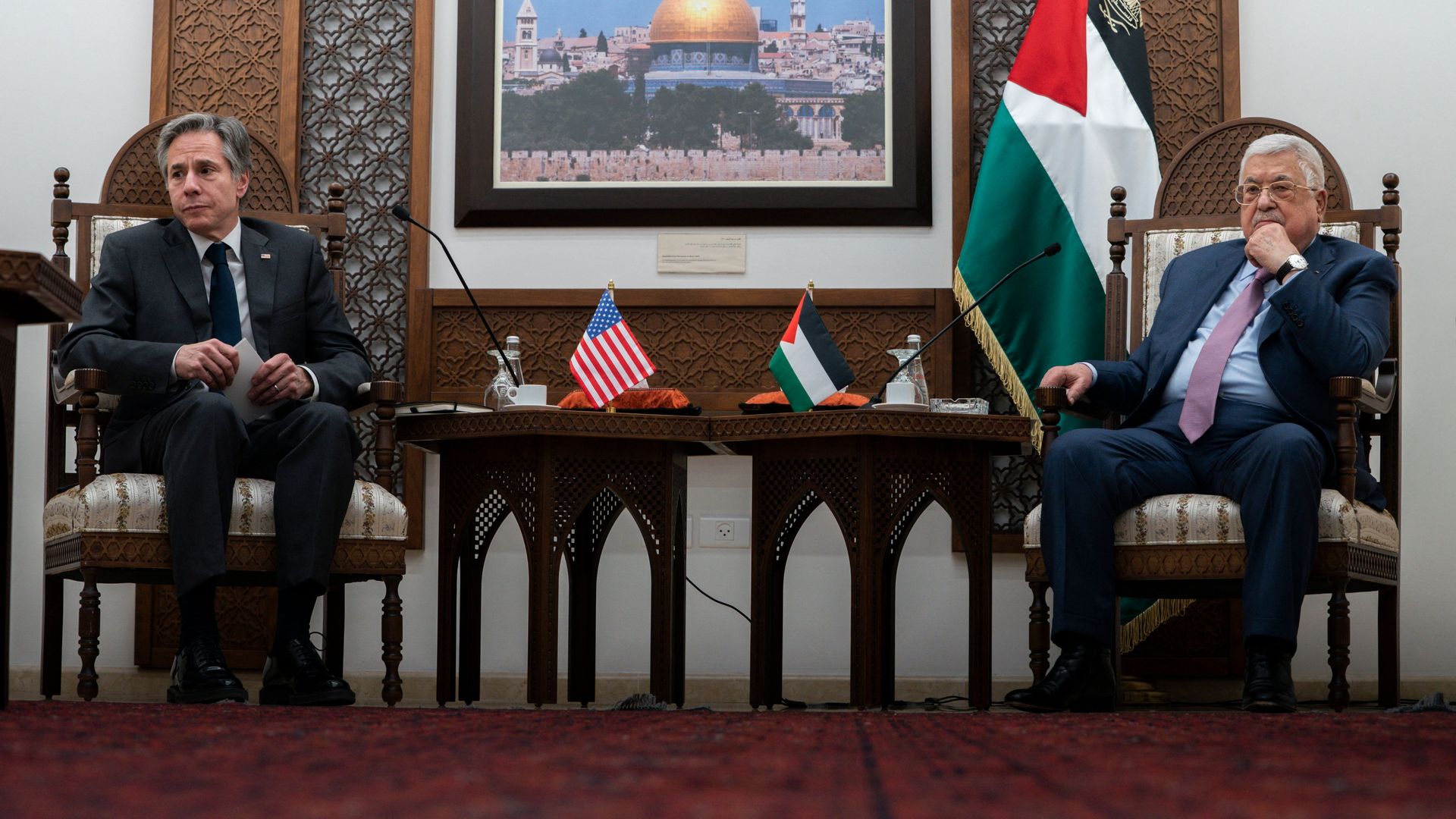 Palestinian President Mahmoud Abbas rejected a U.S. request to reconsider pushing for a UN resolution that asks the International Court of Justice to issue a legal opinion on whether the Israeli occupation of the West Bank constitutes a de facto annexation, U.S. and Israeli officials told me.
Why it matters: The move at the UN won't have any immediate practical ramifications, but as a new hardline, right-wing Israeli government prepares to take office, it is likely to escalate tensions between Israel and the Palestinian Authority.
The big picture: The process of getting an ICJ legal opinion usually takes at least a year. The ICJ in 2004 issued a legal opinion that concluded Israel's separation wall and settlements in the occupied West Bank were illegal.
Israeli officials told me they believe the ICJ, if asked, will endorse the Palestinian position that the occupation constitutes an annexation — an opinion that would give backwind to initiatives by governments, private sector companies, and civil society groups to boycott, divest and sanction Israel.
Behind the scenes: Last week, the Israeli government started a full-court press in an attempt to stop the Palestinians from moving ahead with the resolution.
Israeli officials said outgoing Prime Minister Yair Lapid spoke to U.S. Secretary of State Tony Blinken last Thursday and asked that the Biden administration press the Palestinians to not go through with the resolution.
A day later, Blinken called Abbas and urged him to reconsider, claiming such a move would only increase tensions, Israeli and U.S. officials said.
Abbas refused, and several hours later, the Palestinians moved forward and circulated the draft resolution to the UN General Assembly members in New York. The text was formally submitted by Nicaragua because the Palestinians only have observer status at the UN.
What they're saying: "We believe it is critical for Israel and the Palestinian Authority to refrain from unilateral steps that exacerbate tensions and undercut efforts to advance a negotiated two-state solution," a State Department spokesperson said.
What's next: On Friday, a UN committee is expected to vote on bringing the resolution before the General Assembly. If it's approved by the committee, which is expected, a General Assembly vote will likely take place in mid-December.
4. Jordan braces for Netanyahu and his right-wing government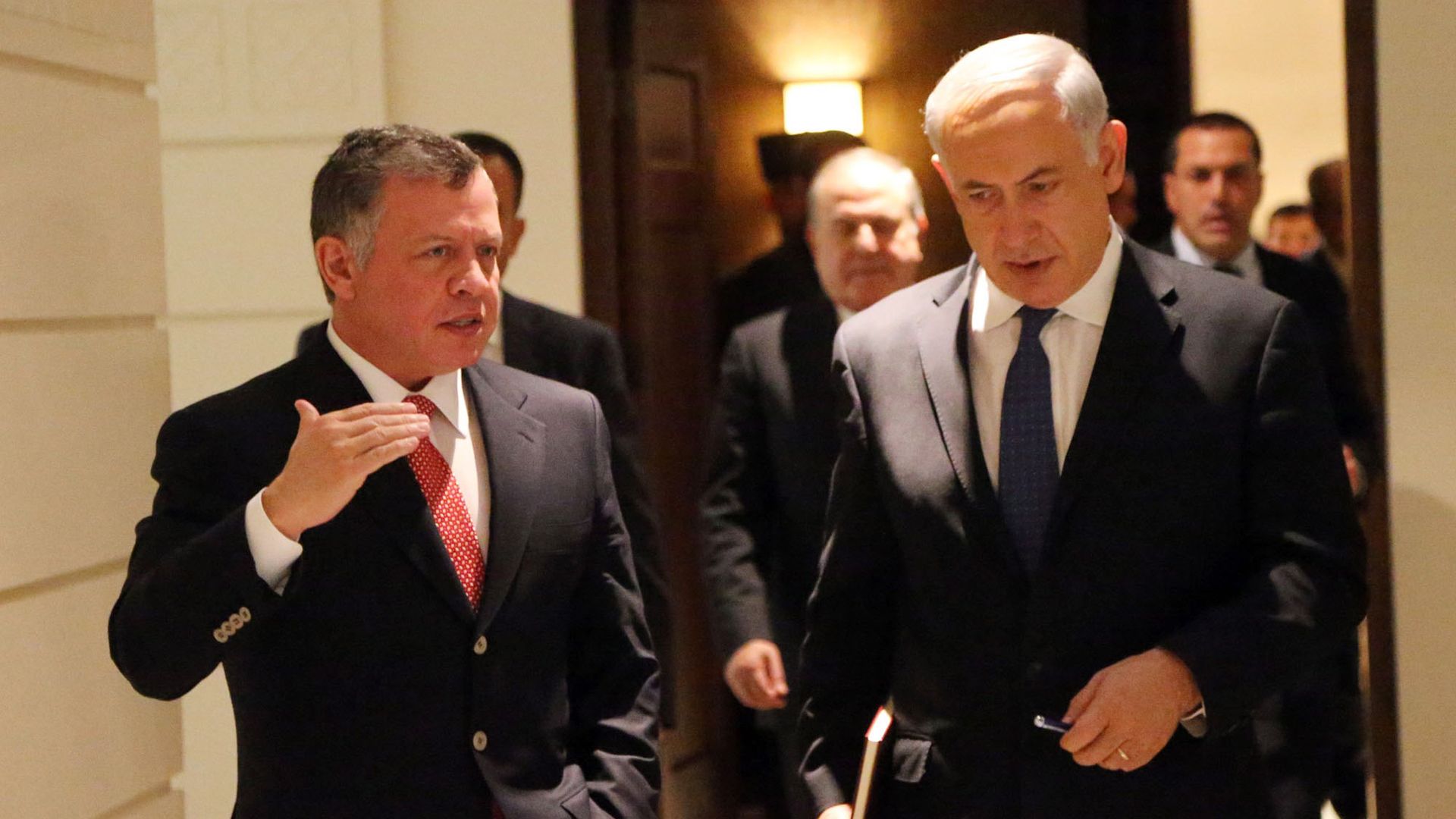 Jordan is bracing for some tough times ahead as it prepares to deal with a new Israeli right-wing government led by Netanyahu, Daoud Kuttab writes for Axios from Amman.
Why it matters: Jordan will have to balance its existing strategic water, gas and energy deals with Israel against possible scenarios in which the next Israeli government takes steps against the Palestinians in the occupied West Bank and against Jerusalem's holy sites.
Jordan is the custodian of the Muslim holy site in Jerusalem.
Flashback: Relations between Jordan and Israel during Netanyahu's previous terms as prime minister were an ongoing crisis. King Abdullah didn't trust Netanyahu and saw his policy as one that undermines Jordan.
What they're saying: Osama Al Sharif, chief editor of the English language daily Jordan News, told Axios the results of the Israeli elections were Jordan's worst nightmare.
"King Abdullah believes that Netanyahu is willing to carry out his threats regarding terminating the status quo understandings at the Al-Aqsa and annexing major chunks of the West Bank including the Jordan Valley, even risking the peace treaty with Jordan," he said.
Driving the news: Jordanian officials are concerned that appointing ultranationalist politicians like Itamar Ben-Gvir as the minister for internal security could lead to an escalation in Jerusalem and mainly in the Al-Aqsa mosque.
The minister of internal security is in charge of the Israeli police and policies around Jerusalem's holy sites, including the Al-Aqsa Mosque compound.
Jordan's former Air Force Gen. Maamoun Abu Nuwar told Axios that King Abdullah must defend the interests of Jordan and his family's special role in protecting holy sites in Jerusalem.
State of play: Abu Nuwar says the king is unlikely to cooperate with the new Netanyahu government, insisting that "Netanyahu's DNA is well known to the king, and it will only change for the worse now not the better."
Nidal Qaqish, a Jordanian engineer and former member of As-Salt City Council, told Axios that Jordan's cooperation with Israel on water and borders will become much more complicated.
Mofid Deek, a retired U.S. diplomat living in Jordan, argues that every time there is a right-wing government in Israel, the Arab states that have normalized relations with Israel go through a soul-searching, painful period.
"The raison d'etre for establishing normal relationships with Israel could diminish significantly. That puts these governments in a terrible bind with their own public," he said.
What's next: Senior Islamist leader Atef Al-Jolani told Axios the hegemony of the radical right-wing in Israel on the religious and the national front makes Jordanians worry.
"Jordanians expect that next phase of Netanyahu's rule to reflect even further enmity to Jordan and its interests, leaving Jordan to have to make some tough choices in dealing with a government that will include the radical religious Zionists," he said.
5. U.S. giving Iran-aligned Iraqi prime minister a chance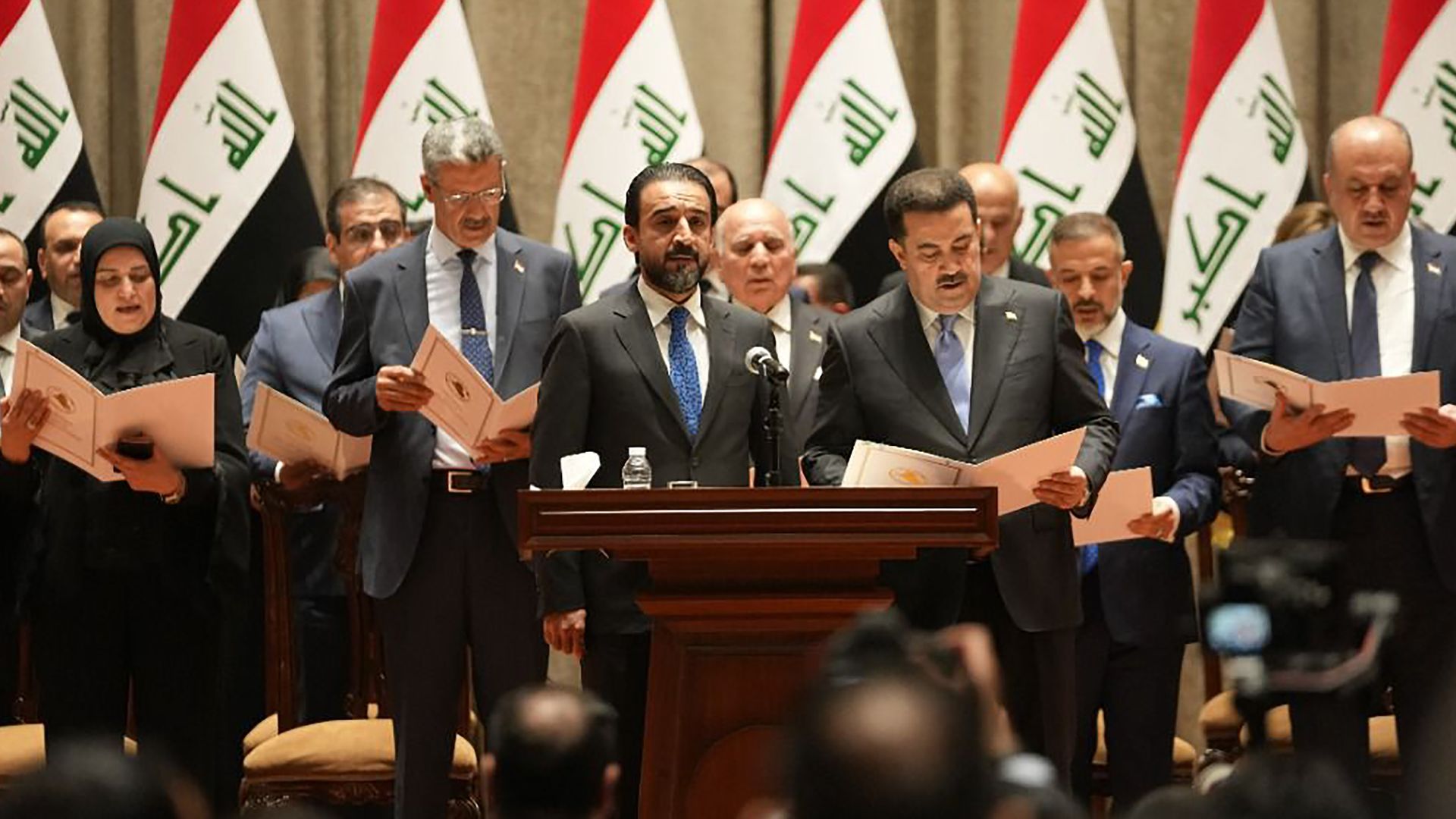 The Biden administration plans to work with and give the new Iraqi government and Prime Minister Mohammed Shia al-Sudani, who is supported by pro-Iranian political factions, a chance, two U.S. sources with direct knowledge of the White House thinking told me.
Why it matters: Iraq is still a key partner for the Biden administration in the region, with many U.S. security and economic interests that need to be preserved. Iraq is also seen by many as a central "battleground" for regional influence between the U.S. and Iran.
Catch up quick: The new Iraqi government was formed two weeks ago after more than a year of political deadlock following the parliamentary elections.
The Iraqi parliament elected Abdul Latif Rashid as the new president to succeed Barham Salih.
These developments happened mainly because of a significant change in the balance of power inside the parliament after more than 70 members from anti-Iranian Shiite cleric Muqtada al-Sadr's bloc resigned, giving way for pro-Iranian factions, known as the Coordination Framework, to become the biggest bloc and endorse al-Sudani for prime minister.
State of play: The Biden administration has very low expectations from al-Sudani's government and isn't enthusiastic about him personally, but decided to give it a chance, the two sources with direct knowledge of the decision told me.
That's because U.S. interests in Iraq are too important, the sources said.
The White House decided the amount of cooperation with the new ministers and new security officials will be based on the situation and circumstances on the ground and on a case-by-case examination, the sources said.
The Biden administration has been pleased with the working relations with the new Iraqi prime minister and the level of cooperation with the new government thus far, including on security issues, the sources said.
What to watch: The key question is what stance al-Sudani's government will take on the continuation of a U.S. military presence in Iraq. Many of al-Sudani's pro-Iranian supporters want to see U.S. forces leave the country.
U.S. Secretary of State Tony Blinken discussed the issue in a recent phone call with al-Sudani and stressed his commitment to the U.S.-Iraq Strategic Framework Agreement and shared interest in preserving Iraq's security, stability and sovereignty, the State Department said.
What they're saying: A State Department official said the U.S. congratulated al-Sudani on forming a government and reiterated our desire to work with him and his government on shared interests.