Axios from Tel Aviv
August 25, 2021
Welcome back to Axios from Tel Aviv.
This week's edition (1,918 words, 7 minutes) comes to you from Washington and is focused on Prime Minister Naftali Bennett's visit. I flew in on his plane last night to cover tomorrow's meeting with Joe Biden.
Subscribe here, and spread the word.
1 big thing: What Bennett wants from the Biden meeting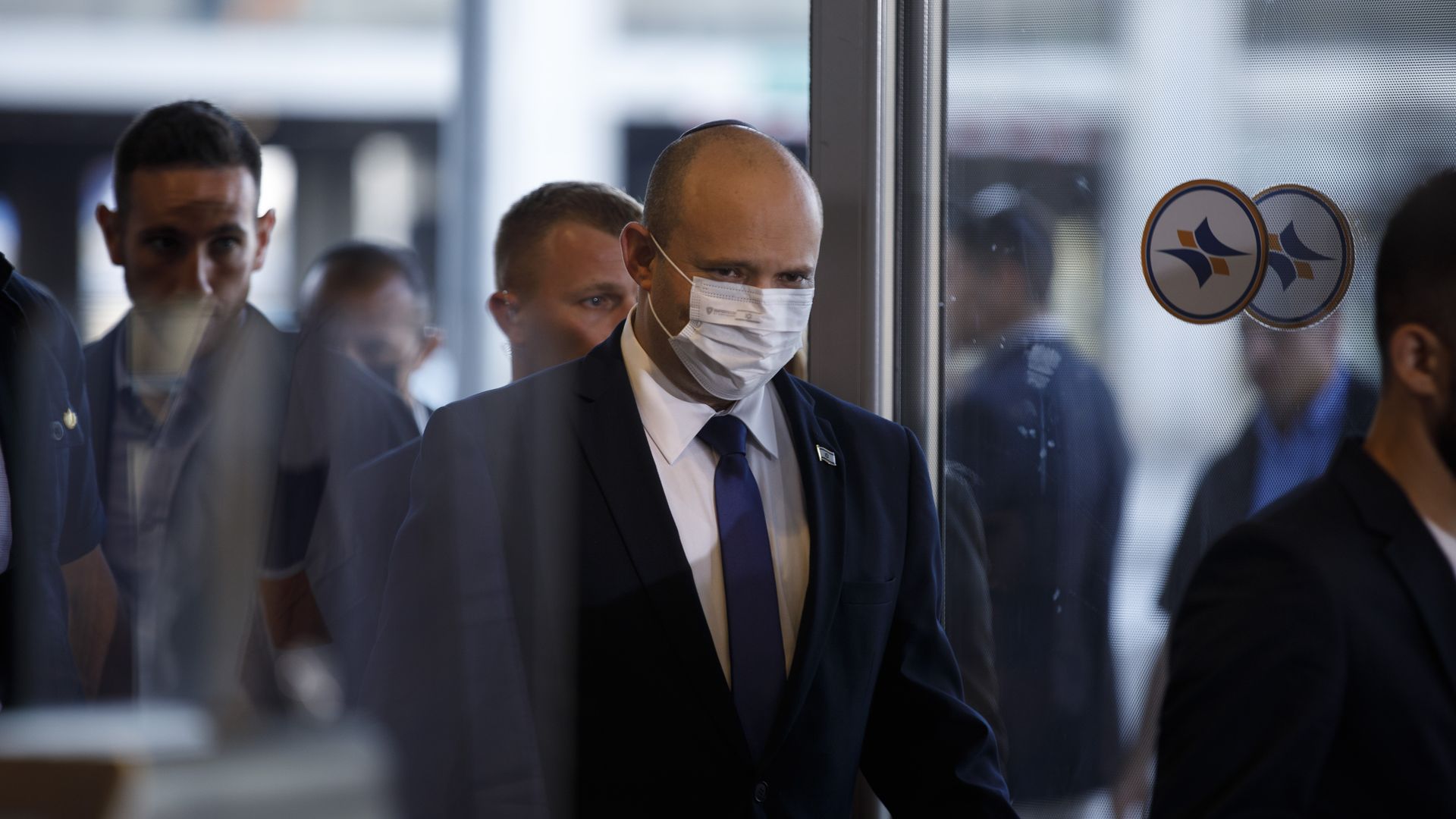 President Biden and Israeli Prime Minister Naftali Bennett want to use their meeting on Thursday to project that the U.S.-Israeli relationship is off to a fresh start, Israeli and U.S. officials involved in the visit tell me.
Why it matters: The leaders will discuss Iran, military aid to Israel, the Israeli-Palestinian issue, China and more. Both need a successful meeting for their own domestic political reasons and want to build a personal relationship.
For the past 12 years, it was Benjamin Netanyahu making these trips to Washington, and Netanyahu's tenure is in many ways the impetus that's driving Bennett and Biden together.
Bennett wants to move on from Netanyahu's frequent bickering with Barack Obama and Biden and believes policy differences can be better managed through a less confrontational approach, one of his aides tells me.
"Joe Biden is a true friend of Israel. There is a new government in Israel and a new administration in the U.S., and I am bringing with me a new spirit of cooperation," Bennett said before departing from Tel Aviv.
The Biden administration is also intent on helping to stabilize Bennett's eclectic "anti-Netanyahu" coalition, which includes fellow right-wingers as well as parties from the center and left.
Driving the news: Bennett arrived in Washington on Tuesday night. On Wednesday, he has meetings with Secretary of State Tony Blinken, Secretary of Defense Lloyd Austin and national security adviser Jake Sullivan.
He will arrive at the White House on Thursday at around 11:30am.
This will be Bennett's first trip to the White House, and he enters it with very little experience meeting other world leaders.
Behind the scenes: Speaking with his advisers on the flight to Washington, Bennett reflected on the road that has led him to this point and admitted he was excited about the upcoming meeting.
Bennett's main priority for his meeting with Biden is Iran. He plans to tell Biden that, unlike Netanyahu, he wants to cooperate with the U.S. on that issue, an Israeli official said.
But Bennett will also stress the urgent need for a "Plan B" as an Iranian return to the 2015 nuclear deal seems increasingly unlikely. That plan should also address Iran's regional activity, the official said.
In his meetings with Biden and Austin, Bennett is expected to ask for more U.S. military aid — both to replenish the Iron Dome missile defense system but also to build up Israeli military capabilities against Iran and its proxies.
Bennett will also propose that Biden use the burgeoning regional alignment under the Abraham Accords as part of a strategy to counter Iran, Israeli officials say.
On the Israeli-Palestinian issue, Biden and Bennett are far apart. Biden is committed to the two-state solution, which Bennett rejects.
But they agree that conditions aren't ripe for direct peace talks and that they should instead focus on improving the situation on the ground in the West Bank and Gaza and preventing escalation.
Bennett's aides think that this creates a wide range of issues on which Israel and the U.S. can work together.
Bennett also expects to discuss three issues that are higher priorities for Biden than the Middle East: climate change, COVID-19 and China.
Bennett will present a new policy that will treat relations with China as a national security issue and pay greater heed to U.S. concerns, an Israeli official said.
Chinese investments in Israel were a rare point of tension between Netanyahu and Donald Trump.
2. U.S. Jewish leaders have high hopes for Bennett era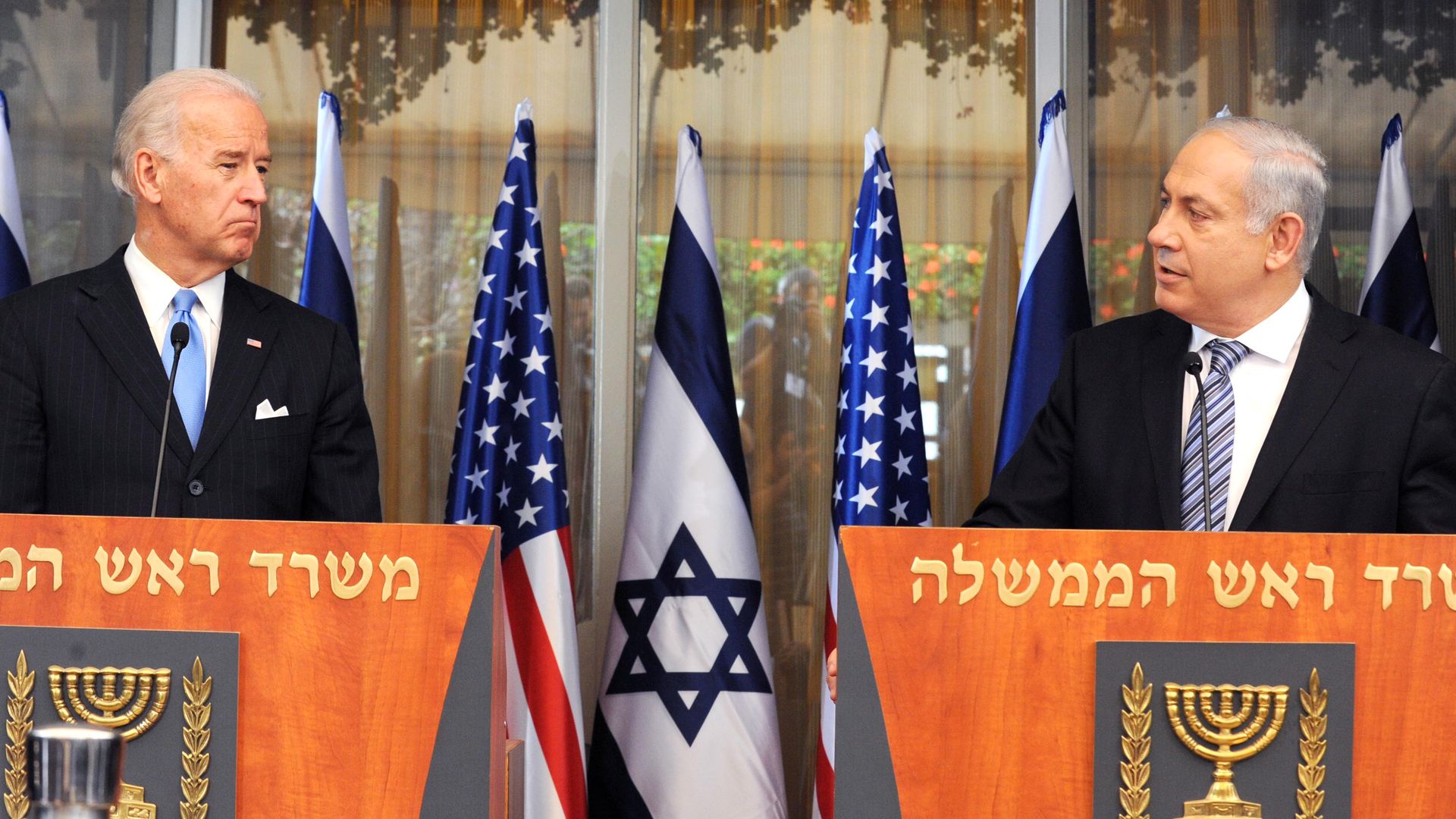 American Jewish leaders are expressing great optimism that Bennett's visit to Washington will usher in a new era of positive U.S.-Israel relations, Jacob Kornbluh, senior political reporter for the Forward, writes for Axios.
Why it matters: A recent Gallup poll showed that while most Americans hold a positive view of Israel, there's a growing partisan divide and Democrats want to see more movement on the Israeli-Palestinian issue. 
Over the past decade, frequent tension between American and Israeli leaders, public disputes over policy, the close alliance between Donald Trump and Benjamin Netanyahu, and a lack of outreach to Democratic leaders led to growing distrust and skepticism about the U.S.-Israeli alliance. 
What they're saying: "I would say the most important element I would like to feel comfortable about, is that they develop a level of trust in each other," said Abe Foxman, former longtime national director of the Anti-Defamation League, about Bennett's meeting with Biden. "I think if they have that, difficult problems can be resolved." 
Rabbi Rick Jacobs, who leads the largest Reform Jewish movement in North America, suggested that since the leaders start with very well-known policy differences on core issues, "the sign of a great, successful first face-to-face meeting will be if when they're done they have enough rapport that they can navigate the bumps that are sure to follow." 
Halie Soifer, CEO of the Jewish Democratic Council of America and who was a foreign policy adviser to Vice President Kamala Harris in the Senate, said the mere fact that it's Biden and not Trump sitting across from the Israeli prime minister "will go a long way in reassuring Democrats, and also Americans, that this bilateral relationship is in our national security interest."
Between the lines: Foxman, who has witnessed Israeli prime ministers' trips to D.C. going back to Menachem Begin in the early 1980s, said that every meeting is "an anxious moment" because things could go wrong, but the current bodes well for both leaders.
"Biden, who comes with a history of understanding and affection for Israel, needs international success, amid backlash over the Afghanistan withdrawal, and Bennett comes with a desire to be treated seriously and recognized as a global leader," he explained. 
What's next: "We are now on a different path," said Jacobs. "There's a big shift in the personalities and the leadership style of both leaders. I think Joe Biden knows that it's important to get off on the right foot, and it's pretty clear that the Biden administration is encouraged by some of the initial directions that are coming from the new Israeli government." 
3. Bennett tries to leave struggles at home behind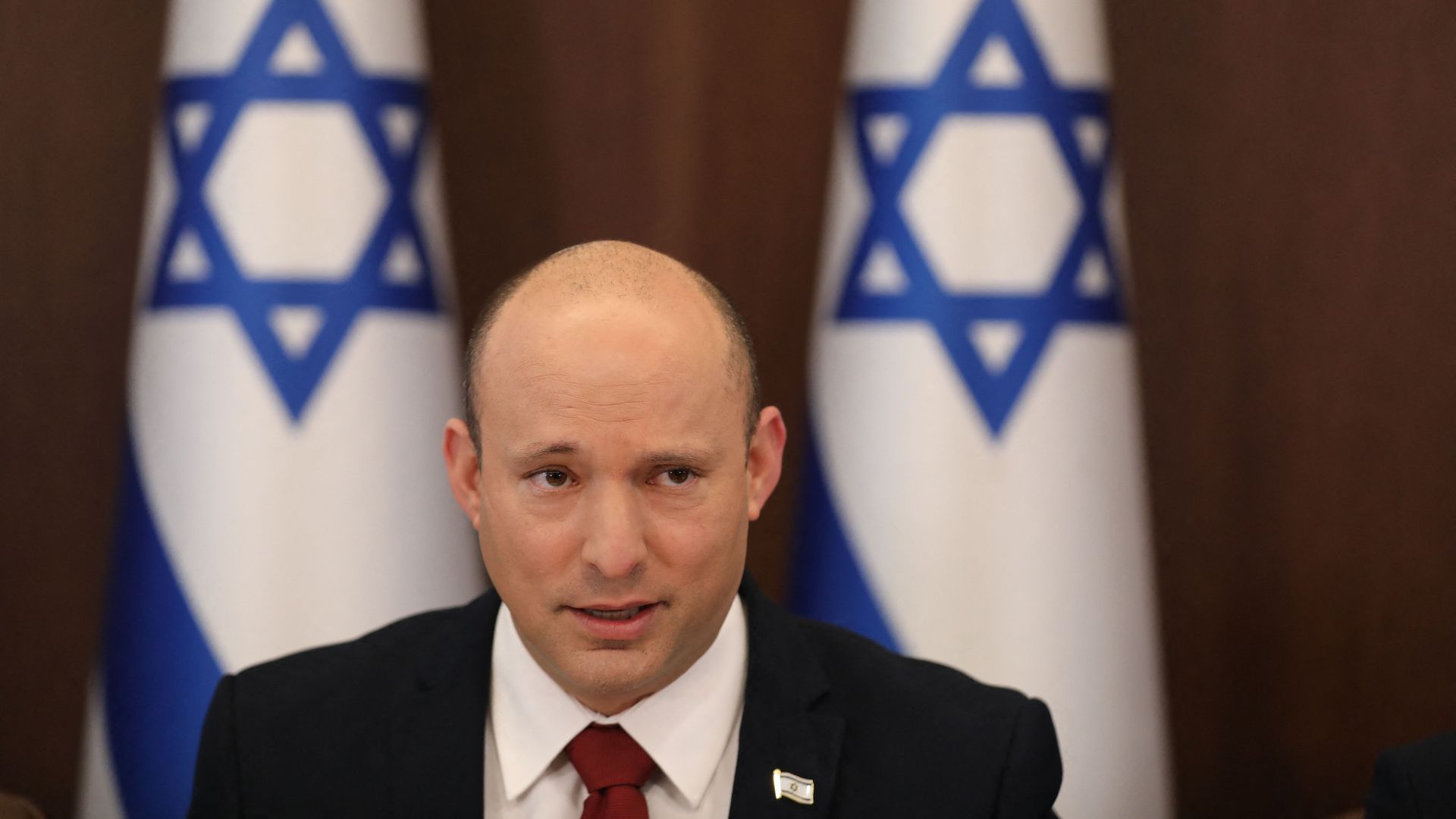 Bennett can expect a warm reception in Washington, but he is struggling to win public support for his leadership back home.
Why it matters: Bennett faced immediate questions about his legitimacy and authority over his coalition partners after being sworn in as prime minister despite heading a party with only six seats in the Knesset. Now he's contending with a fourth wave of COVID-19 that has seen cases hit a record high.
Bennett decided to push ahead with a strategy of avoiding any further lockdowns and offering a booster shot to everyone over the age of 30.
That seems to have curbed the increase in critical cases but not stopped the overall rise.
A poll published last Friday by Channel 12 shows that 59% of Israelis think Bennett's government is mishandling COVID-19.
Bennett is also facing criticism after referring to a soldier who was critically wounded in Gaza by the wrong name in a call with his father.
The parents of the soldier recorded the call and gave the recording to a Netanyahu supporter, who published it. On the call, Bennett sounds tired and unfocused.
The soldier's mother then went on the radio and said Netanyahu had called her afterward, knew all the details about her son and even cried when he spoke to her on the phone.
The state of play: Bennett's approval rating stands at 40%. Meanwhile, 46% of Israelis say they'd prefer a government led by Netanyahu, versus 33% who prefer a Bennett-led government.
But the poll also suggests a new election would again be inconclusive, with the current government winning 60 seats (one fewer than it has today) and Netanyahu's bloc still just short of a majority.
What's next: Bennett hopes a good meeting with Biden will help him boost his standing and legitimacy as prime minister within the government and with the general public.
4. After 12 years of White House visits, Netanyahu watches from afar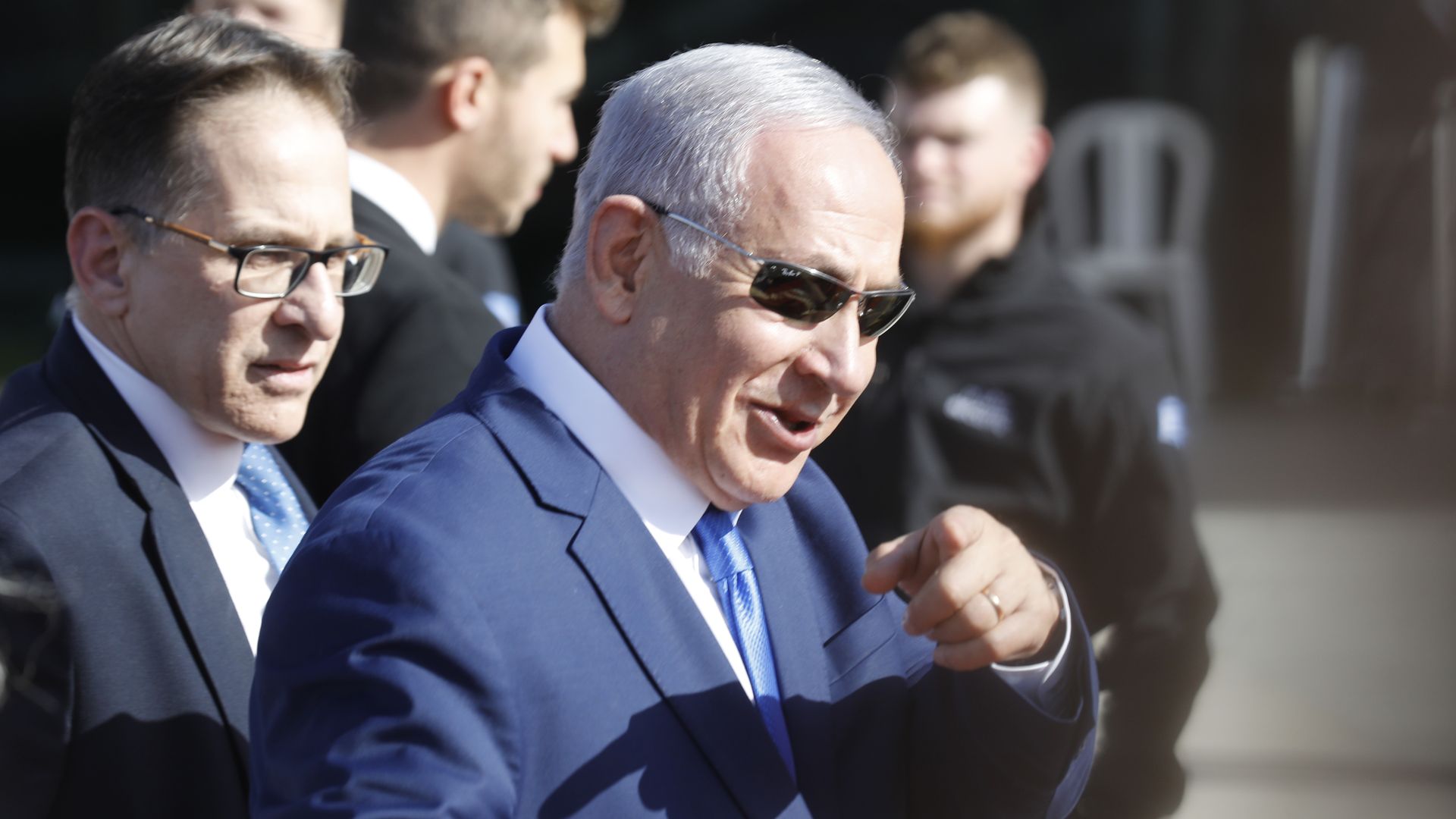 Netanyahu, now the leader of the opposition, will be following the Biden-Bennett meeting from a resort on the island of Lanai in Hawaii.
Why it matters: Netanyahu was a key player in U.S.-Israeli relations for 40 years — a household name in America with a direct line to senators, members of Congress, and many prominent reporters and media personalities.
In many ways, he was part and parcel of U.S. domestic politics.
By comparison, Bennett is almost anonymous in America, even inside the Washington bubble.
Flashback: Netanyahu ruffled more feathers on past visits to D.C. than Bennett is likely to today.
In 1996, after their first meeting, Bill Clinton told his aides he was amazed by Netanyahu's chutzpah. "Who is the f**king superpower here," Clinton said.
Under the previous administration, Netanyahu — then deputy foreign minister — had been banned from the State Department by Secretary of State James Baker.
Obama was furious when Netanyahu used a May 2011 meeting to lecture him in front of the cameras about the Israeli-Palestinian conflict, and again when Netanyahu went behind his back to orchestrate a 2015 speech to Congress opposing the Iran deal.
Biden waited a month after assuming office to call Netanyahu, who had completely aligned himself with his opponent, Donald Trump. Biden didn't invite Netanyahu to the White House, though they only overlapped for a few months.
Netanyahu will likely watch the meeting very closely. His party and several of his advisers have been attacking Bennett ahead of the visit.
Bennett, meanwhile, blamed Netanyahu for leaving him a "difficult inheritance," with Iran closer than ever to a nuclear weapon despite Netanyahu's hardline rhetoric.
After the meeting, Netanyahu will likely resume his accusations that Bennett is unwilling to stand up to Biden over Iran.
Worth noting: The island of Lanai is mostly owned by billionaire Larry Elisson, who is friends with Netanyahu but also a witness for the prosecution in his corruption trial.
5. During D.C. visit, Bennett has one eye on Gaza protests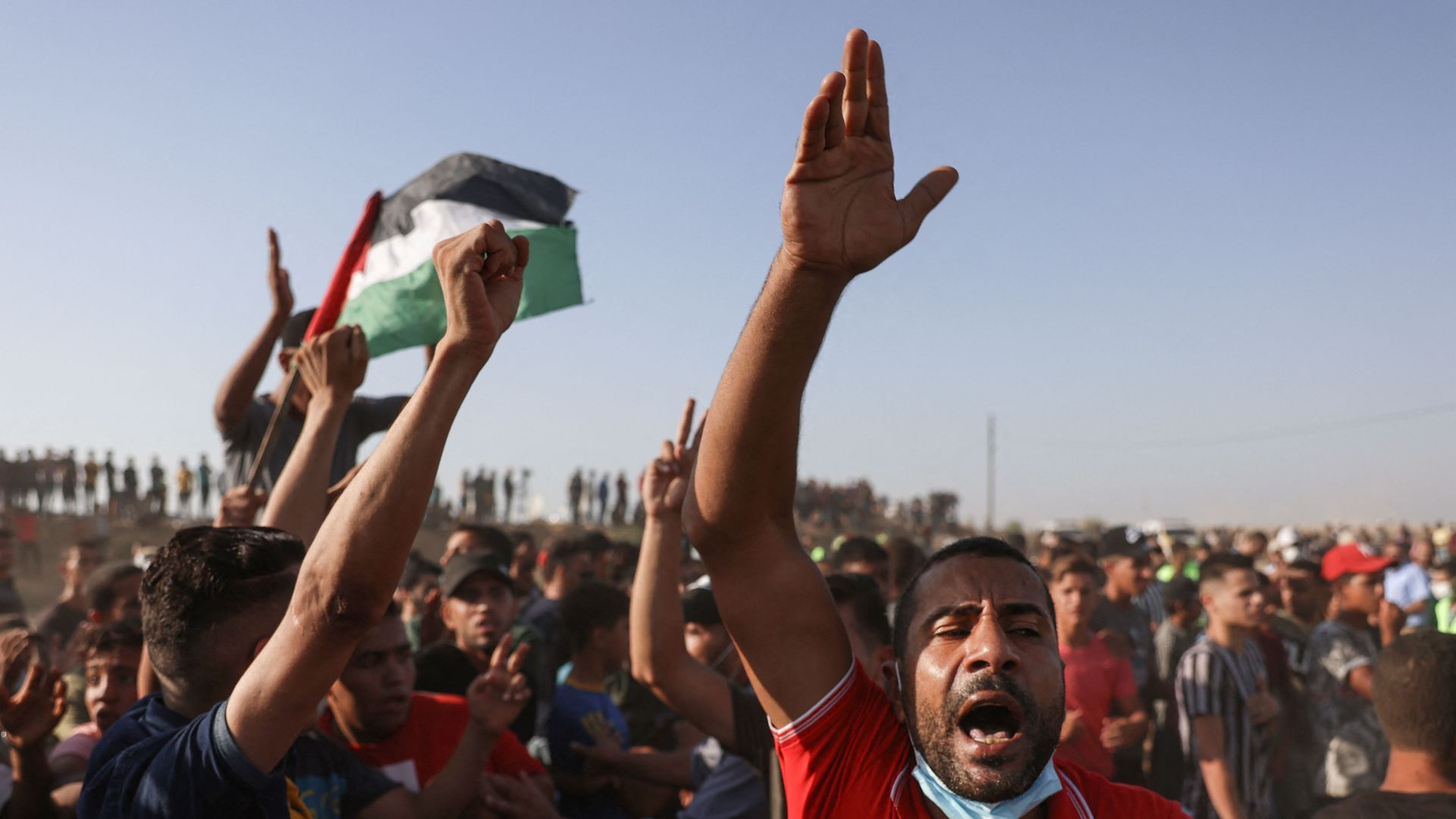 While preparing for his meeting with Biden, Bennett is monitoring the tense situation in the Gaza Strip, with mass demonstrations taking place on the border today.
What to watch: If the protests escalate, they could overshadow the meeting between Biden and Bennett.
The Gaza war in May was the first big Israeli-Palestinian crisis Biden faced as president, and the U.S. hopes to avoid a new conflict.
Driving the news: The demonstrations started Saturday and were mobilized by Hamas to pressure Israel and call attention to the Gaza blockade.
41 Palestinians were wounded and one died after being shot by Israeli soldiers. One Israeli soldier was critically wounded.
The Egyptian government closed the Rafah Border Crossing with Gaza to signal its anger with Hamas, while Israel bombed Hamas targets.
But Hamas announced that it would organize more mass demonstrations on Wednesday. The Israel Defense Forces sent reinforcements to ensure the demonstrators couldn't cross the border into Israel.
Worth noting: Saturday's demonstrations came two days after Israel, Qatar and the UN reached a deal — intended in part to lower tensions — to transfer Qatari money to 100,000 poor families in Gaza.
On Wednesday morning, from their hotel in Washington, Bennett and his aides held phone calls with security officials back home about the situation in Gaza. Bennett's aides also spoke to the White House about the possible flare-up ahead of the meeting.
Egyptian intelligence officials, who have been mediating between Israel and Hamas, have been trying to press Hamas to keep the demonstrations restrained.
The Egyptians also coordinated with Israel ahead of the meeting between Bennett and Biden and even announced that President Abdel Fattah al-Sisi had invited Bennett to visit Egypt.
Between the lines: The Egyptians want Bennett to lobby in their favor with Biden on the one hand, and to show the White House they can deliver on Gaza on the other.