Axios from Tel Aviv
March 17, 2021
Welcome back to Axios from Tel Aviv.
Each week we bring you my best scoops, reporting from a contributor in the region, and our Bibi Barometer on the latest in Israeli politics. This edition is 2,040 words, a 7-minute read.
This week's edition comes to you from Vienna. I'm here covering a European trip by Israeli President Reuven Rivlin. By the time I send next week's edition, Israel will have held its fourth election in two years.
Subscribe here if you haven't yet.
1 big thing: Inside the U.S.-Israel talks on Iran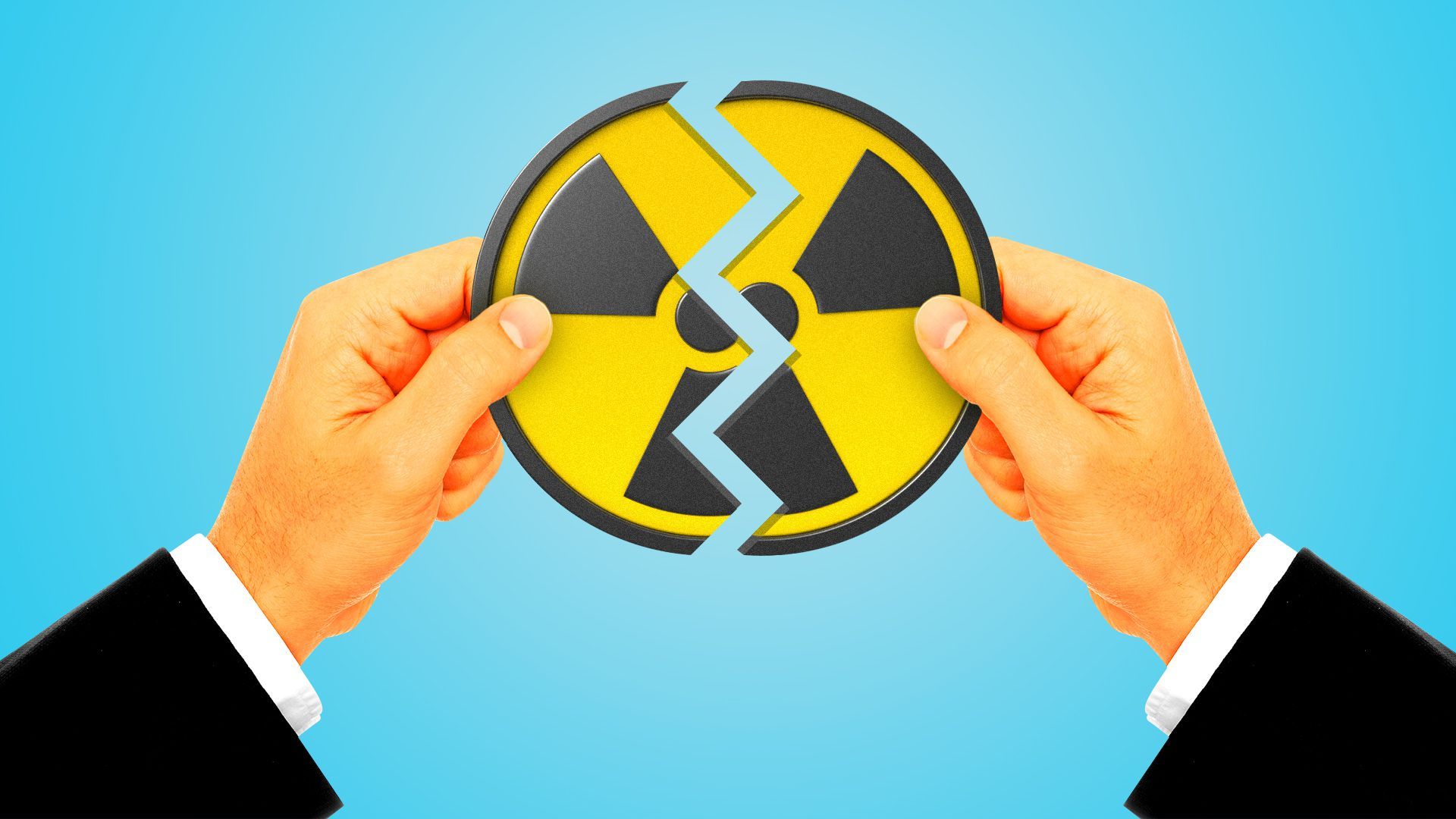 In the first round of U.S.-Israel strategic talks on Iran last week, senior national security and foreign policy officials laid down all they know about Iran's nuclear program, three senior Israeli officials familiar with the talks tell me.
Why it matters: Amid President Biden's push for diplomatic reengagement with Iran, the U.S.-Israel strategic dialogue is intended to hash out differences in approach and coordinate on the path forward.
Israel's first objective in the March 11 meeting was to arrive at a common baseline with the U.S. when it comes to intelligence on Iran.
As it happens, the intelligence pictures both sides presented about recent developments in Iran's nuclear program were almost identical.
"We are on the same page on the intelligence. There are small nuances but overall, they see data the same way. It was very positive, but it is only the beginning of a process. It will be a rollercoaster," a senior Israeli official told me.
The meeting was led by White House national security adviser Jake Sullivan and his Israeli counterpart, Meir Ben-Shabbat. The meeting was held over a secure videoconferencing system.
The meeting included senior officials from the CIA, Pentagon, National Security Council, State Department and other agencies on the U.S. side; and the Mossad intelligence agency, military intelligence, Atomic Energy Committee, Foreign Ministry and Ministry of Defense on the Israeli side.
The forum began during the Obama presidency, when its existence was top secret, and continued under Trump, when the focus was on coordinating "maximum pressure" on Iran.
Sullivan proposed that the forum be resumed under Biden, who has promised to coordinate closely with Israel while pursuing the revival of the 2015 nuclear deal — which is completely at odds with Israeli Prime Minister Benjamin Netanyahu's position.
Behind the scenes: Israeli officials tell me they were satisfied by the discussions and noted that Sullivan and his team stressed the importance of preventing Iran from acquiring a nuclear weapon in the long term.
Sullivan promised that the U.S. would be transparent with Israel about its decisions on Iran, but expects the same level of transparency in return, the Israeli officials say.
Sullivan and his team were candid about the dilemmas they face in seeking diplomacy with Iran and the difficulties of engaging with the Iranians, the Israeli officials say.
Between the lines: Israeli officials say they are playing for time, hoping the Iranians will continue to reject U.S. proposals for engagement.
They hope that every day that passes with U.S. sanctions in place will make it more likely that the Iranians blink first and agree to make concessions before the U.S. lifts sanctions.
What's next: One of the decisions that came from the meeting was to establish a special joint team that will focus on sharing intelligence on Iran's nuclear program.
The Israeli officials said a second meeting of the strategic forum will take place in the coming weeks and will focus on Iran's malign activities in the Middle East and its missile program.
Worth noting: The White House declined to comment beyond the official readout.
2. Bibi Barometer: Expect the unexpected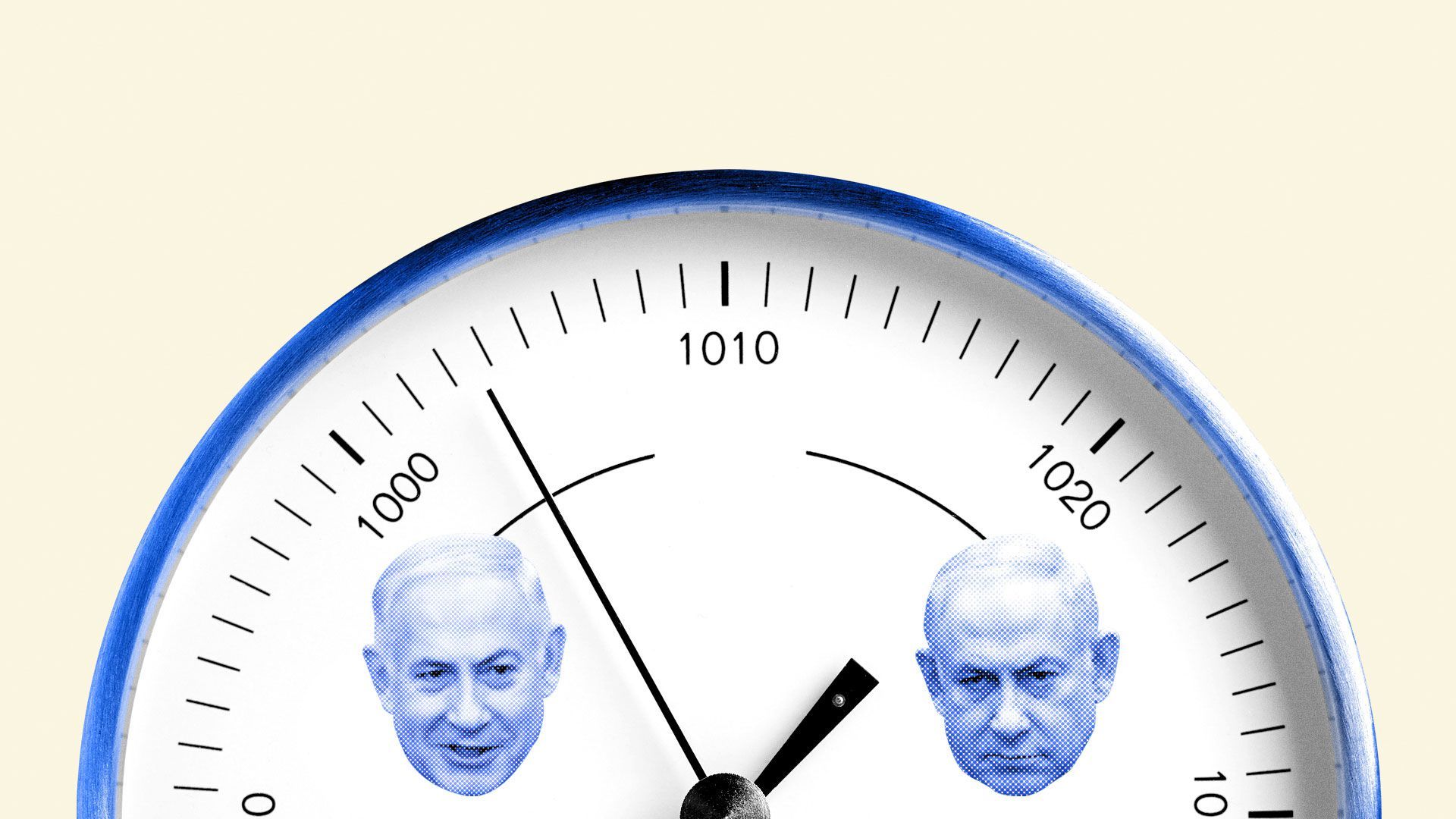 Israelis will go to the polls next Tuesday for the fourth time in two years, with Netanyahu running an aggressive campaign against a splintered opposition.
Why it matters: Netanyahu's narrow path to a 61-seat majority would require him to form an ultra-right-wing government, dependent on the votes of Jewish supremacists and anti-LGBT and pro-annexation members of Knesset.
With a majority, Netanyahu could pass a law or take other steps to delay or end his corruption trial. He denies that's his aim, but prospective members of his coalition have announced they would support it.
The state of play: Current polls show Netanyahu's bloc at 58 seats, but things could easily shift in his direction on election day.
Israel's 3.25% electoral threshold means several small parties will either win around four seats or be left out entirely.
Voter fatigue, particularly on the left, also makes turnout unpredictable.
The different scenarios:
If one or more of the three small anti-Netanyahu parties falls short, that could shift the whole balance of power and get Netanyahu to the magic number of 61. That's a very likely scenario.
If turnout dips among Netanyahu supporters, and the radical right-wing Religious Zionist Party fails to pass the threshold, there could be a window for a center-right government comprised of Netanyahu's opponents. That's an unlikely scenario.
If the current polls prove accurate and neither side can form a coalition, Israel will head for a fifth election in the summer. That's very possible.
The bottom line: These elections will not be determined by the big parties at the top but by the small parties at the bottom. Every vote will count, and the best bet is to expect the unexpected.
3. If not Bibi, then who?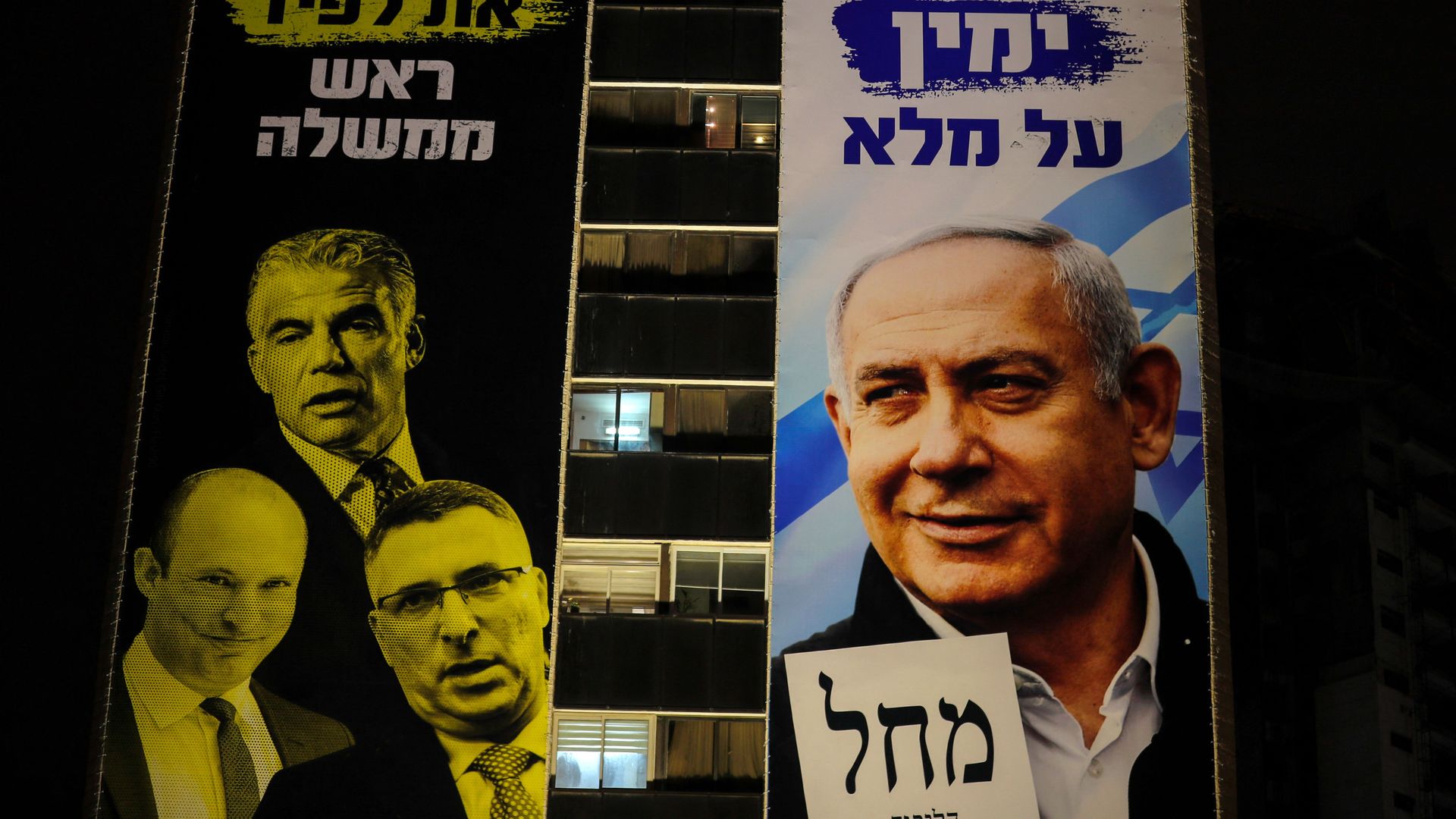 The splintering of the opposition has actually made life more difficult for Netanyahu in one sense: Unlike in the past three cycles, he doesn't have a clear rival on the left to rally his supporters against.
Why it matters: Rather than a head-to-head race where Netanyahu can reprise the argument that "it's us or them," he has three opponents all heading medium-sized parties.
1. Yair Lapid and the centrist Yesh Atid (There is a Future) party. A former journalist, Lapid is the current opposition leader in the Knesset.
What to watch: Lapid hasn't even declared that he wants to be prime minister, and he says he's willing to let someone else have the job in order to get rid of Netanyahu. Netanyahu has focused his campaign on Lapid, but he's largely failed to position it as a head-to-head contest.
By the numbers: Yesh Atid gets around 20 seats in the polls, a distant second to Netanyahu's Likud, which has around 30.
2. Naftali Bennett and the right-wing Yamina (To the Right) party. A former tech entrepreneur, Bennett focused his campaign on COVID-19 and the economy.
What to watch: While Bennett has stressed the need to replace Netanyahu, he hasn't ruled out joining a Netanyahu-led government. That could make him a kingmaker if the election results aren't definitive.
By the numbers: Yamina only polls at around 12 seats, but it could be impossible to form a coalition that excludes Netanyahu without handing Bennett the prime minister's job.
3. Gideon Sa'ar and the right-wing New Hope party. Sa'ar, a former education and interior minister, left Likud in an attempt to position himself as a more old school and less populist right-wing alternative to Netanyahu.
By the numbers: Sa'ar's party has been sliding in the polls, from around 18 seats to nine in the latest polls.
The bottom line: Only a power-sharing deal between Lapid, Bennett and Sa'ar could produce a new Israeli government without Netanyahu. Such cooperation between the three of them will be very hard to get.
4. The view from Ramallah: Electoral pacts coming together and falling apart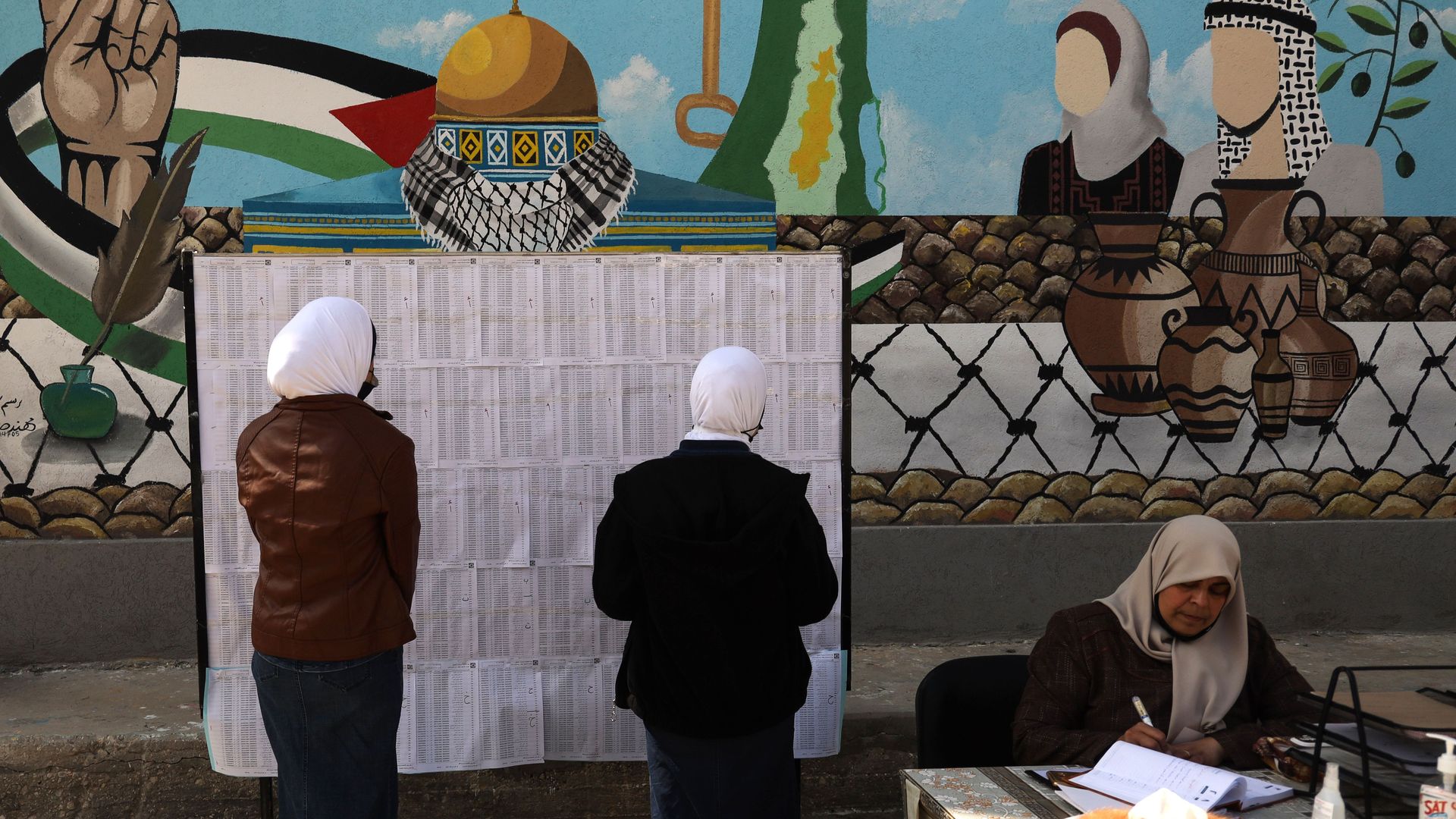 The next two weeks will be critical in determining the course of the Palestinian parliamentary elections, Abd Elraouf Arnaout, political correspondent at Al-Ayyam newspaper, writes for Axios.
Why it matters: Barring a last-minute surprise, the first Palestinian legislative elections in 15 years will go ahead on May 22. But there could be many surprises in store before the March 31 deadline to register candidates.
Driving the news: Representatives of the various Palestinian factions are currently meeting in Cairo to decide on the final details of the election process.
Palestinian officials tell me the door is still open for President Mahmoud Abbas' Fatah party to run on a joint list with Hamas — though many leaders in the two parties are far from enthusiastic about the idea.
Hamas says it is studying several options, but its first choice is a national list including Fatah and independent candidates.
That would be an unprecedented union between two rival groups that have completely opposing views.
For Abbas, the focus has been on keeping Fatah unified and avoiding the 2006 election mistake, when divided Fatah votes helped Hamas win a majority.
Flashback: On Jan. 25, 2006, many political and diplomatic officials went to sleep expecting a Fatah victory only to wake up to a massive Hamas triumph.
Abbas has succeeded in convincing activists close to popular Fatah leader Marwan Barghouti, who is in an Israeli jail, not to form an independent electoral list.
A Barghouti associate, Hatem Abdel Qader, said the imprisoned leader supports a unified Fatah list in the legislative elections, but he reserves the right to run in the presidential elections, which are set to take place on July 31.
But Abbas did not succeed in dissuading Nasser al-Qudwa, a nephew of the late Palestinian President Yasser Arafat, from heading a list of independents in the elections. Qudwa was dismissed from Fatah's central committee as a result.
Other Fatah activists hinted at the possibility of running on independent lists if excluded from the official Fatah list.
Meanwhile, a spokesperson for Mohammed Dahlan said the exiled politician would be forming his own list, and former independent Palestinian Prime Minister Salam Fayyad, who has been in the United States for several years, also plans to form a list, which could take votes from Fatah.
The other side: In a secret election, the Hamas leader in Gaza, Yahya Sinwar, barely managed to defeat Nizar Awadallah to win a second four-year term.
Observers say that this is a sign of competition for control of Hamas between the current and former heads of the political bureau, Ismail Haniyeh and Khaled Meshal.
Worth noting: Despite the election fever, no opinion polls have been published to demonstrate the strength of the various lists in the Palestinian street.
5. Israel-Jordan crisis: Canceled trips and rising tensions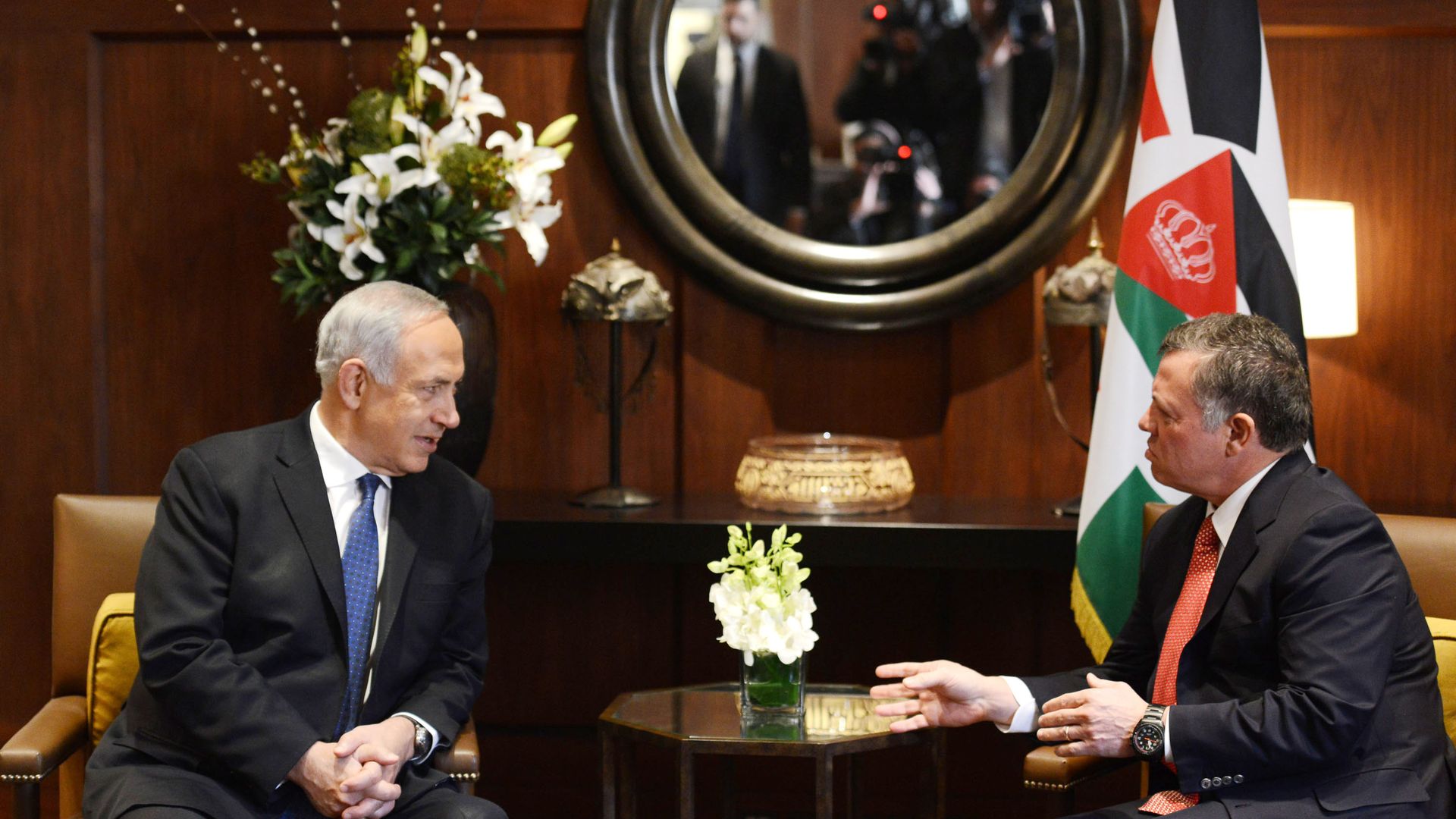 Israeli-Jordanian relations deteriorated into a crisis this week with Netanyahu's election campaign bringing tensions to the brink of an explosion.
Driving the news: The crisis erupted on March 10 ahead of a visit by the Jordanian crown prince to the Temple Mount in Jerusalem. The unusual visit was intended to highlight Jordanian custodianship over the Muslim holy sites in Jerusalem.
Because of bad coordination between Israel and Jordan, several members of the crown prince's security detail were not allowed to enter Israel. The Jordanians saw that as a violation of the understandings between the parties and canceled the visit.
A day later, Netanyahu intended to travel to Jordan to board a flight from Amman to Abu Dhabi for a historic first official visit to the UAE.
But the Jordanians didn't give the Emirati plane a departure permit, thus delaying a trip that was to be a cornerstone of Netanyahu's election campaign.
Netanyahu retaliated by giving the Israeli civil aviation authority an unprecedented order to close Israeli airspace to flights to and from Jordan. Netanyahu made the decision unilaterally without consulting his Security Cabinet or defense and foreign ministers.
Civil aviation authority officials were stunned by the order and tried to convince the prime minister's office to cancel it. They stressed that such a step would be a violation of Israel's peace treaty with Jordan and could have grave consequences.
Civil aviation officials played for time, holding off on notifying the Jordanians and hoping Netanyahu would cool down. Two hours after the order was given, it was overturned.
Senior Israeli officials tell me that if the decision had been communicated to the Jordanians, it would have dramatically escalated the crisis.
What they're saying:
Jordanian Foreign Minister Ayman Safadi said on CNN: "You renege on an agreement with Jordan, you disrupt a religious visit and then you expect to come to Jordan and fly out of Jordan? Let's be serious, is this something that can be expected?"
Netanyahu indirectly confirmed the incident in a series of interviews and used it to boost his campaign. He also downplayed the importance of the relationship with Jordan, saying, "I will be diplomatic and say that Jordan needs the peace agreement with Israel no less than Israel needs it."
The big picture: The Israel-Jordan peace treaty was signed in 1994 under the auspices of then-President Bill Clinton. Every administration since has been deeply involved in cooling down tensions between the parties.
The Biden administration has not intervened so far in the current crisis. Israeli officials say the lack of attention from the Biden administration to the region and to this issue in particular has contributed to the latest escalation.
The backstory: Relations between Netanyahu and King Abdullah, already bad, became even worse during the Trump presidency.
Things were slowly improving over the last six months after Netanyahu backed away from his West Bank annexation plans.
Minister of Defense Benny Gantz and Foreign Minister Gabi Ashkenazi have also worked to improve relations and foster dialogue.
Both Gantz and Ashkenazi are former Israel Defense Forces chiefs of staff and see Jordanian stability as a strategic pillar in Israel's national security.
What's next: Senior Israeli officials are concerned that Jordan will take more retaliatory measures in its bilateral relationship with Israel and say urgent efforts are needed to cool down the situation.