April 14, 2022
Happy Thursday, friends.
🌞 Party sunny, with a slight chance of afternoon thunderstorms. 87/70.
Sounds like: "Girl," The Internet.
Today's newsletter is 864 words, a 3.5-minute read.
1 big thing: United to defend the wild
An astonishing array of disparate parties have come together in support of the Florida Wildlife Corridor, a relatively new conservation movement that has quickly become an international example of land stewardship.
Driving the news: That wide variety — Republicans and Democrats, ranchers and hippies, road builders and tree huggers — has been on display at an ongoing summit in Orlando to plan the corridor's future.
The grand unifier: It benefits everyone to protect and connect a network of wild green spaces running the length of Florida like the veins in a human arm.
Context: Just a few years ago, a meeting to try to shield more than 40% of the state's green spaces from roads and development wouldn't have drawn a diverse crowd.
Yes, but: Now there's a sense of urgency, and it's not just due to climate change.
Nine hundred people move to Florida every day. That rapid population growth alongside poor environmental stewardship has jeopardized the fresh water supply and entire species of wildlife.
Wilderness is bought and clearcut for housing developments and new roads daily, and experts have said the damage could be irreparable in 10 years.
What they're saying: "This cuts across party lines," Florida House Speaker-designate Paul Renner (R-Palm Coast), a lawyer and retired U.S. Navy commander, said in opening remarks at the summit. "The leadership is going to make [completing the corridor] a reality."
Flashback: Last year, Gov. Ron DeSantis signed a law that created a blueprint for connecting the state's parks and preserves by buying available land and establishing conservation easements on working lands such as farms and ranches.
The idea, in planning for years, is to piece together safe corridors along which migrating wild animals can roam. The state has already approved acquiring 36,445 additional acres.
Our thought bubble: A few things have helped the Florida Wildlife Corridor find quick success.
Leadership. He'll humbly push the attention away, but National Geographic photographer Carlton Ward Jr., who founded the Florida Wildlife Corridor project in 2010, brings together people from all walks with passion and earnest dealing.
Narrative. Ward's jaw-dropping Florida images certainly help, but the creative team behind the corridor is sharp at spreading the word — from taking reporters on corridor excursions to hosting screenings of corridor documentaries across the state.
What's next: 900,000 acres of important connecting greenbelts across the state are at risk of development by 2030, so leaders are looking for ways to protect some 10,000 acres from development every month.
2. Elevating our bar scene
Cerealholic Cafe in Ybor has upped its game, turning into The Loft Elevated Bar + Food.
What's happening: The bar in the historic old church at 1909 N. 15th St. has abandoned its rainbow-splattered, sugary theme to become a more sophisticated, savory spot serving dishes like ​​chicken and waffles, crispy grilled cheese dips and BBQ pork nachos.
Driving the news: The eatery's makeover is going to be the focus of an upcoming episode of "Bar Rescue" on Paramount. We don't know the air date yet.
To celebrate, the Loft is holding a ribbon cutting with the Ybor City Chamber of Commerce today at 4:30pm.
3. The Pulp: We don't seed no thought control
🇺🇦 Mayors Jane Castor of Tampa, Ken Welch of St. Petersburg and Buddy Dyer of Orlando sent a letter to President Biden saying their cities are ready to help resettle Ukrainians fleeing Russia's invasion. (Tampa Bay Times)
🏰 Buccaneers co-owner Darcie Glazer Kassewitz sold her Tampa mansion, which is modeled after a 17th century royal palace, for $8.3 million. (Tampa Bay Business Journal)
👶 Gov. DeSantis signed a bill Tuesday that will increase payments to caregivers of foster children and provide foster parents with money for child care programs. (News Service of Florida)
⚾️ Rays outfielder Brett Phillips hit a home run Tuesday wearing a lucky bracelet from an 8-year-old girl battling cancer. (WFLA)
4. Sarasota County cuts off Rumble
Sarasota County is no longer ready to Rumble.
What's happening: Rumble, a mostly conservative media platform based in Canada, was awarded an $825,000 incentive grant last year to set up its headquarters in Longboat Key.
But the Sarasota County Commission voted Tuesday to stop awarding economic development incentive grants to businesses, meaning the site will not be receiving any taxpayer money for the move, per WUSF.
Why it matters: Rumble is one of the only places running broadcasts from Russian outlet RT without any disclaimers or restrictions.
DirectTV, YouTube, Twitter, TikTok and Facebook have all either banned RT or labeled it as "Russian state-controlled media."
Details: The decision to roll back incentive grants came after community backlash over Rumble's continued broadcasting of Russian media once Russia invaded Ukraine.
The commission approved Rumble's grant last fall but never finalized a contract.
By the numbers: Rumble reported a record monthly average of 41 million users in the first quarter of 2022, including 44.3 million in March.
Now hiring: New job openings
5. Where in Tampa Bay?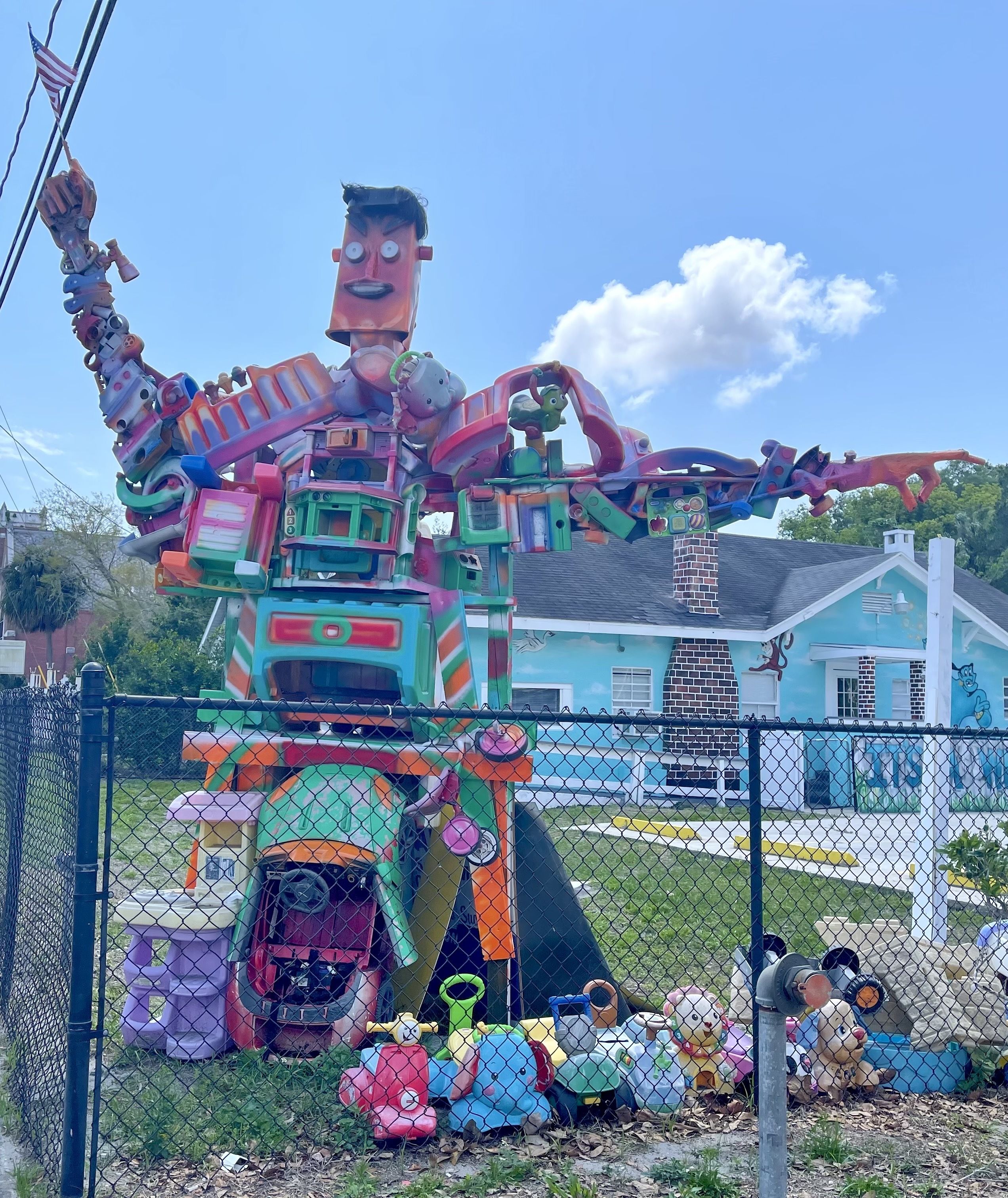 Know where this colorful (and kind of terrifying) car guy is?
Hit reply and you'll be entered into a drawing to win some sweet Axios swag.