January 19, 2022
Hey hey, Wednesday.
😎 It's warming back up! 74/51 and sunny with some light winds.
Sounds like: "Brando," by Lucy Dacus
Situational Awareness: The Lightning beat the Kings 6-4 in Los Angeles last night. Victor Hedman had two goals and an assist.
Today's newsletter is 830 words, a 3-minute read.
1 big thing: "Godmother of the Metaverse" to headline Synapse Summit
Synapse Summit is back, live and in-person.
State of play: After last year's hybrid virtual event, Synapse Florida leaders are looking forward to the tech summit's return to Amalie Arena on Feb. 17.
Why it matters: Synapse believed in the area's tech potential with its first conference five years ago, before Tampa got hyped by Forbes.
What's new: This year's big keynote speaker is metaverse expert and author Cathy Hackl.
Dubbed the "Godmother of the Metaverse," Hackl is the CEO and Chief Metaverse Officer of the Futures Intelligence Group, a consultancy that helps big brands into virtual worlds.
Hackl has worked with companies like Amazon Web Services, Vive and Magic Leap.
Also at the summit: Felicia Hatcher, the Miami-based CEO of Pharrell William's Black Ambition Opportunity Fund, will speak on diverse tech access.
Manny Medina, a tech-focused investor and founder of the eMerge Americas summit in Miami, is speaking on bridging tech opportunities in Latin America and Florida.
Augmented reality dodgeball from Hado will be offered.
What he's saying: Brian Kornfeld, CEO and co-founder of the Tampa-based nonprofit that runs the summit, said an in-person event was vital this year despite the focus on the metaverse.
"The purpose of the summit is not to just host an event. It's to help get everybody under one roof for a short period of time and create this big bang of energy and connectivity and community to help people really thrive through the year."
"You can't replicate the person to person energy virtually. "
But you can also attend virtually, for a reduced price.
2. Kid vaccinations behind national rate
Florida is doing slightly better than most other Southern states when it comes to vaccinating young kids against COVID-19.
By the numbers: Nearly 12% of Florida kids between 5 and 11 years old are fully vaccinated, while fewer than 10% have gotten shots in nine other Southern states.
The data comes as pediatricians warn that the slow pace and geographic disparities of vaccinations in younger kids are alarming, especially against the backdrop of a record numbers of cases and pediatric hospitalizations.
The big picture: Two months after the FDA authorized Pfizer's COVID vaccine for children ages 5 to 11, 27% nationwide have received at least one shot, according to Jan. 12 CDC data.
Just 18%, or five million kids, have both doses.
3. The Pulp: Late night in the middle of juice
🚧 A century-old West Tampa building will be restored and turned into co-working space, with an upgrade to the attached Bar-B-Que King. (Tampa Bay Times)
🌆 Sarasota's waterfront district is getting an 18-story luxury condo tower. (Tampa Bay Business Journal)
A 31-year-old Bradenton woman died after she and a 25-year-old man were hit crossing U.S. 41 on foot in Palmetto. (Bradenton Herald)
Quote du jour:
"I said: 'Mr. President, I'm a prosecutor, I examine the facts. 'There are no facts to support what you're saying.' And he said, 'I didn't lose.' And I said, 'You know how I know you lost? … Joe Biden's sleeping in your bed.' "
— Chris Christie, speaking in Sarasota at the Ringling College Library Association Town Hall lecture series,
per the Sarasota Herald-Tribune
.
Fresh job openings around town
4. Trump and DeSantis feud
Tensions are rising between Gov. Ron DeSantis and former President Donald Trump.
What's happening: DeSantis has been courting conservative influencers who recently moved to Florida and is pushing back against Trump's criticism to add more fuel to the 2024 fire, per Politico.
DeSantis hosted nine social media stars in Tallahassee on Jan. 6 for stops at his office, dinner at the governor's mansion and drinks at a rooftop bar near the statehouse.
What they're saying: Conservative TV host and California transplant Dave Rubin and right-leaning journalist Jordan Schachtel both tweeted after they attended DeSantis' gathering: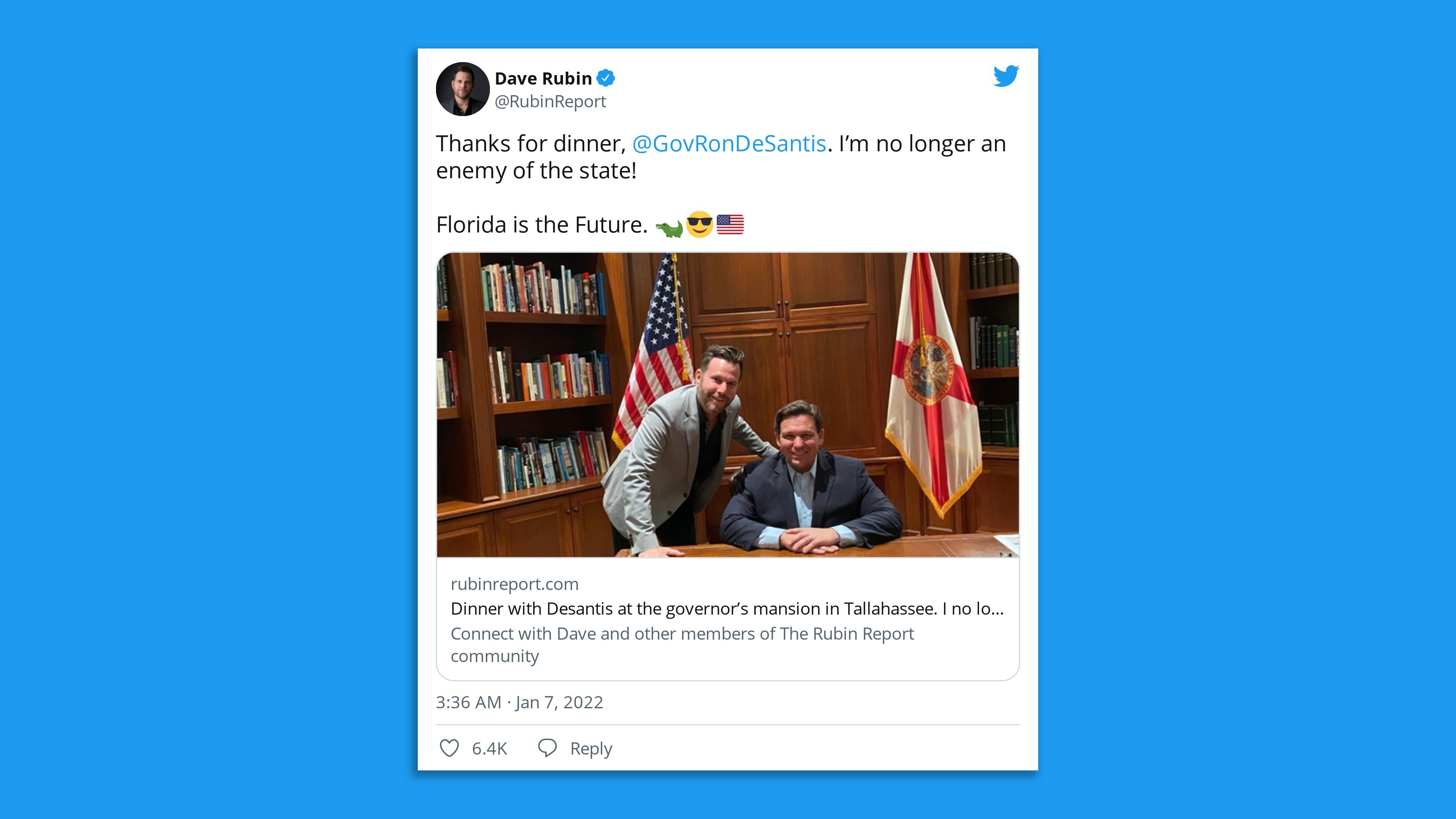 The other side: Trump, who has asserted he would beat DeSantis in a GOP primary, has taken recent shots at the governor.
Privately, he's been calling DeSantis an ingrate with a "dull personality," per Axios' Jonathan Swan.
Last week, he publicly called politicians who won't say if they got the COVID booster shot "gutless." DeSantis hasn't said if he is boosted.
5. The Art of the Tampa Cuban
"The perfect Tampa Cuban sandwich starts in the palmetto fields in rural Central Florida."
So begins a wonderful Garden & Gun story by Tampa native Jamie Allen on the communal construction of the Tampa Cuban.
"What sandwich would taste good in this blazing sun, or in the blackness of an afternoon thunderstorm? What dish would one serve to downtown bankers and lawyers that would also mingle with chicken and yellow rice, garbanzo bean soup, plantains, or papa rellenas? What goes well with both Gulf saltwater and Central Florida swampland, spring's sweet orange blossoms, and Ybor's cigar-smoke bouquet?"
6. Where in Tampa Bay?
Welcome to another fantastic edition of Where in Tampa Bay!
📸 Hit reply to tell us where this photo was taken and we'll enter you to win some very cool Axios swag.
7. 1 happy pup to go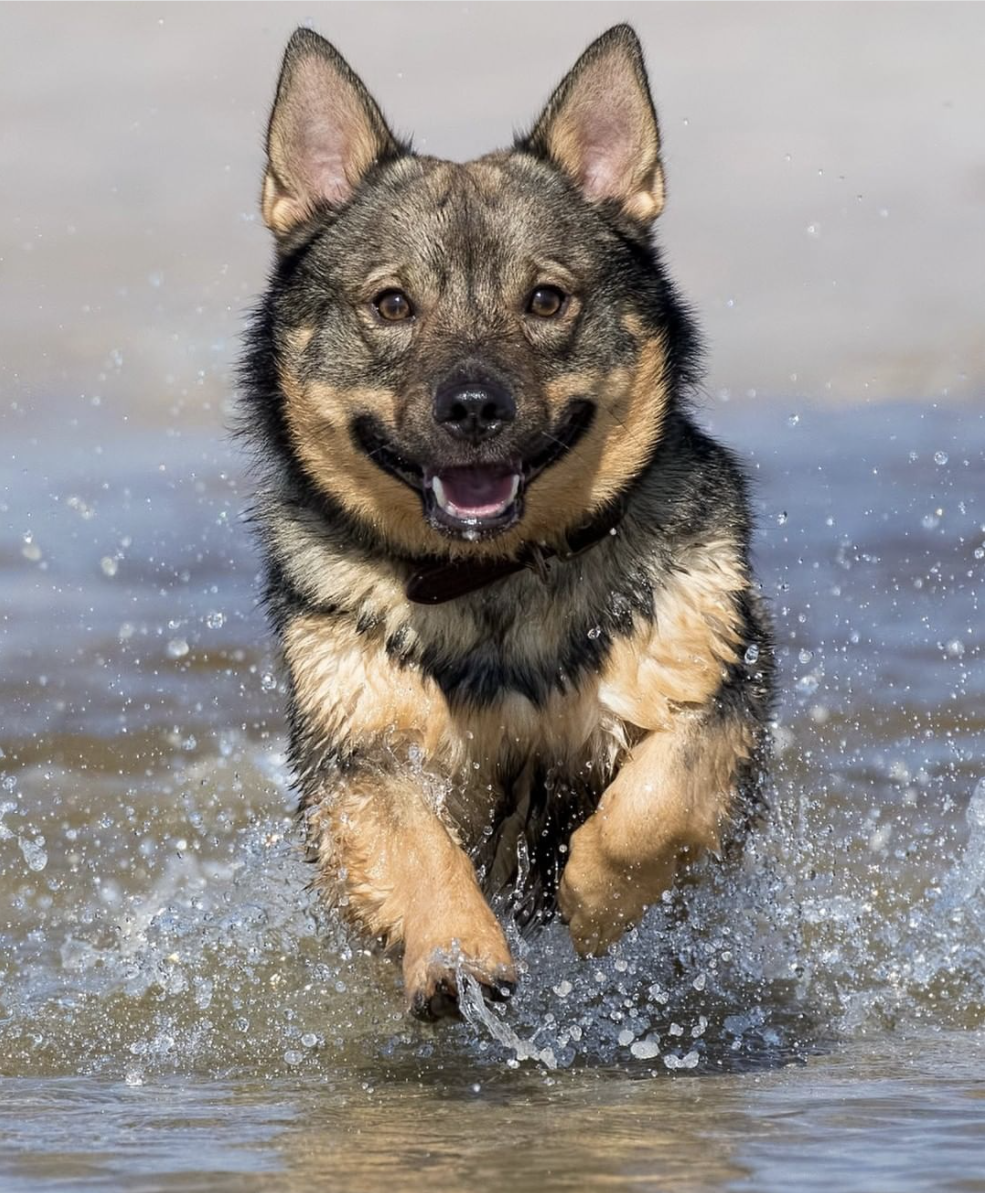 Photographer Andrea Picoestrada shared this shot of her dog, Bjorn, romping through Honeymoon Island State Park.
Follow Andrea on Instagram.
Take a running leap through the rest of this week.