👋 Good morning! Ready to learn about tickets? Welcome to Day 1 of our 2-day look at the ticket industry. Let's dive in...
Today's word count: 1,695 words (6 minutes)
1 big thing: 🎟 The death of the paper ticket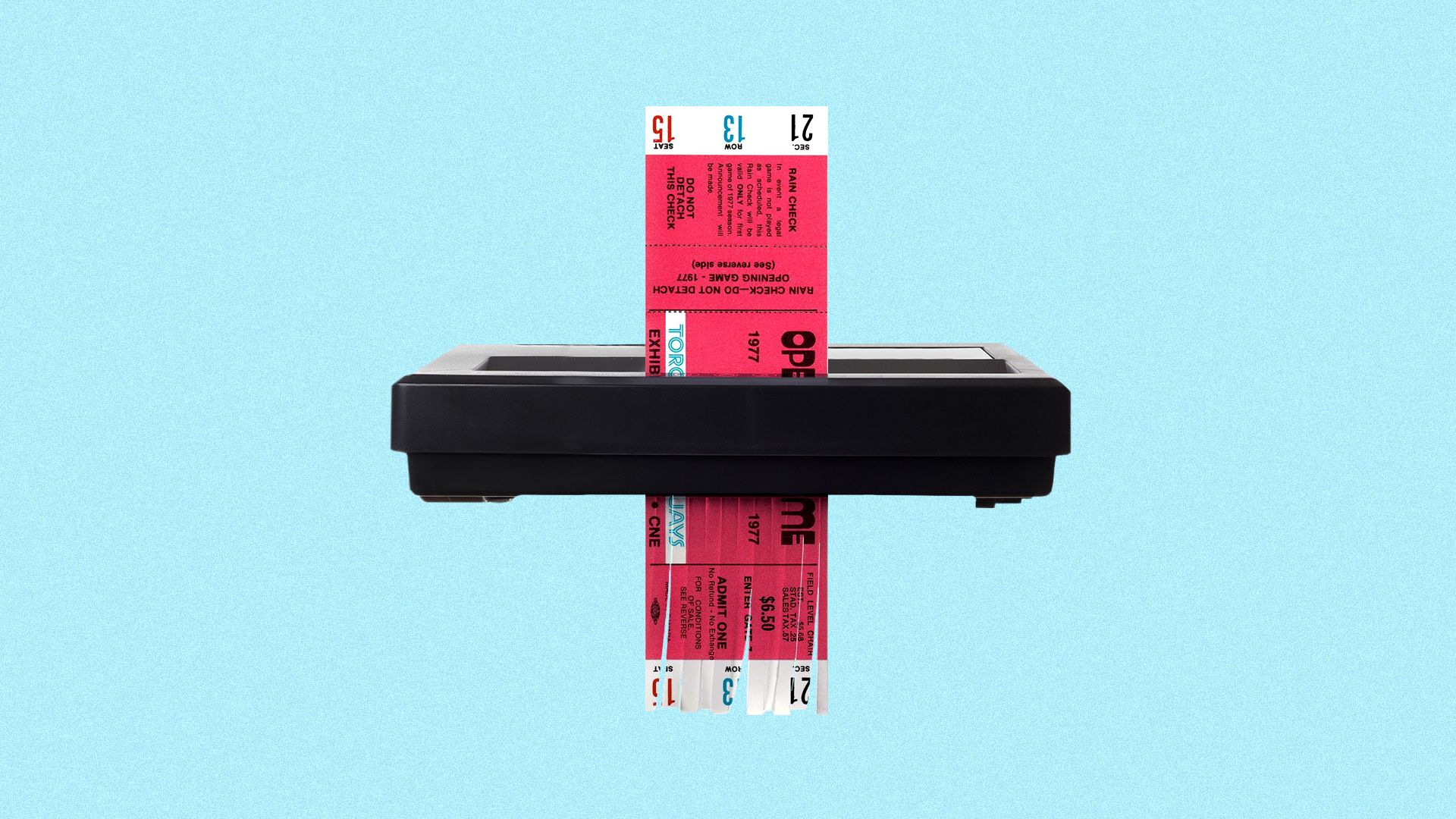 Over the last decade, tickets have transitioned out of the physical realm and, like so many other aspects of our lives, gone digital. Most are now purchased on and delivered to a mobile device, then scanned at the stadium.
By the numbers: The percentage of transactions on mobile vs. desktop on ticket marketplace SeatGeek since 2012, per the company:
2012: 7% mobile, 93% desktop
2013: 27% mobile, 73% desktop
2014: 43% mobile, 57% desktop
2015: 52% mobile, 42% desktop
2016: 58% mobile, 42% desktop
2017: 62% mobile, 38% desktop
2018: 65% mobile, 35% desktop
2019: 68% mobile, 32% desktop
The impact: Mobile tickets are far more secure than paper tickets, since fraudsters could easily make copies of the same paper tickets and sell them. They are also more convenient.
"There is no more Guy in Charge of the Tickets, stuffing envelopes in his dining room, because fans now share tickets with one another on their phones rather than rendezvous at the giant bat outside old Yankee Stadium."
—
Steve Rushin
, Sports Illustrated
The players: Ticketmaster, which runs the NFL Ticket Exchange, has long been the market leader in the initial sale of tickets. Meanwhile, Stubhub, SeatGeek, Vivid Seats, Gametime, Tickpick and others operate in the secondary market, where they connect sellers and buyers (some offer primary tickets, too).
To gain customer loyalty, some of those companies have focused on having the most inventory, while others have prioritized things like customer service, pricing transparency, mobile app design and partnerships with teams to become exclusive distributors.
The big picture: Now that fans don't have to print their tickets or get them in the mail, buying behavior has changed, leading to more week-of or even day-of purchases. In fact, Gametime built its whole business around this "last-minute fan."
Meanwhile, subscription ticketing is on the rise, as teams try to appeal to younger fans who yearn for flexibility. This Netflix-like approach has proven most successful for baseball, with more than two-thirds of MLB's 30 teams offering it.
What's next: With so many professional and college sports teams going fully digital, the in-stadium experience could eventually revolve around the digital ticket.
Armed with seat numbers and real-time data like digital wallet transactions and geolocation, teams are already creating personalized experiences and promotions for individual fans.
The bottom line: Tickets were once mementos, collected like photographs and saved in scrapbooks. They are now barcodes on our phones — convenient as heck and impossible to lose yet, sadly, often forgotten about the moment they're scanned.
Coming tomorrow: Our coverage of the ticket industry continues with an inside look at Stubhub's recent $4 billion sale to Viagogo, featuring an interview with Viagogo CEO, and Stubhub co-founder, Eric Baker.
2. ⚡️ Catch up quick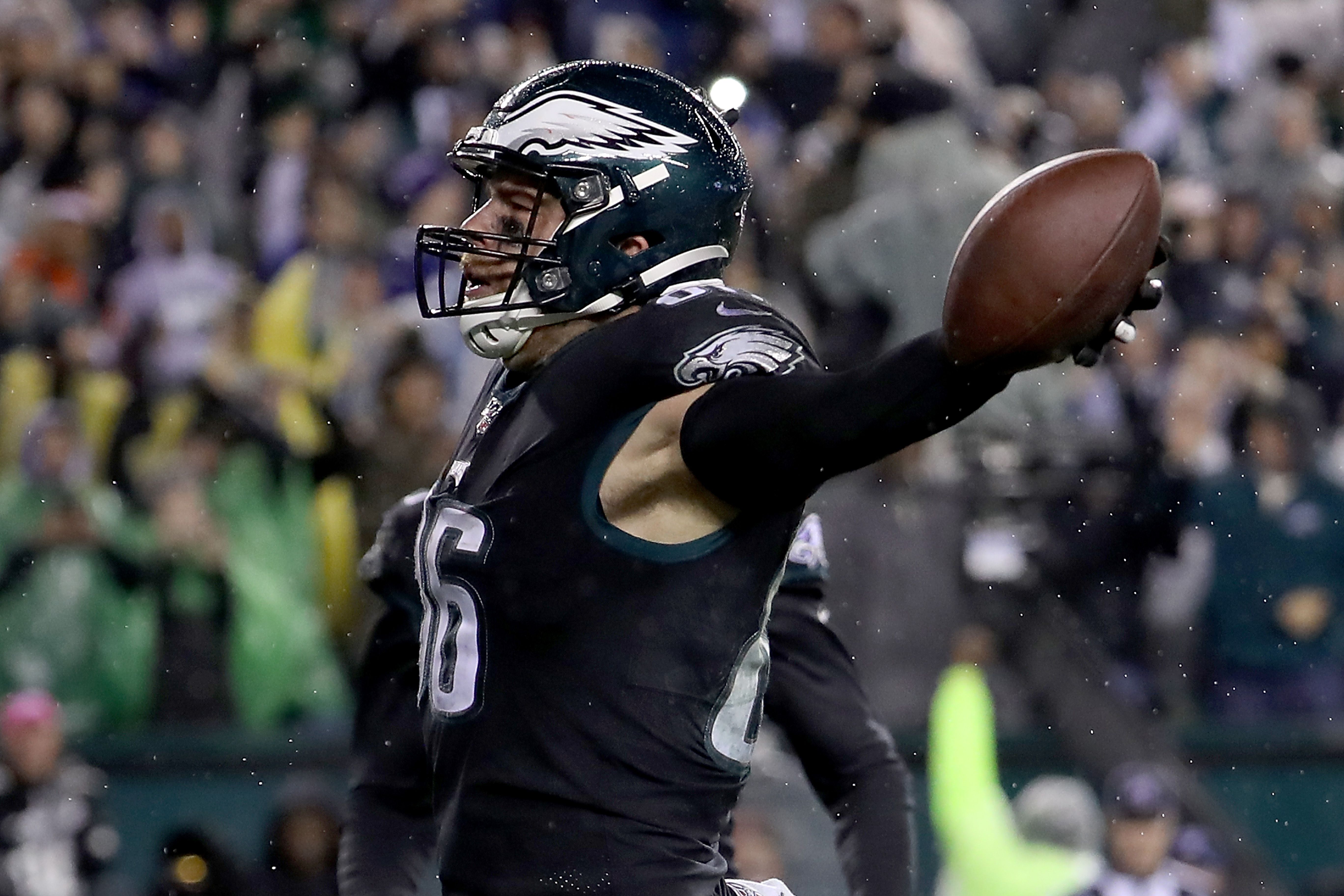 Zach Ertz (9 rec, 91 yds, 2 TD) after catching the game-winning TD in overtime. Photo: Al Bello/Getty Images
3. 🏀 Men's poll: Louisville, Kansas stay on top
After weeks of volatility atop the Top 25, Louisville and Kansas finally provided some consistency, remaining at No. 1 and No. 2.
Quick notes:
Scoring leaders (Power 6): 1. Markus Howard, Marquette (25.1 ppg), 2. Myles Powell, Seton Hall (22.9 ppg), 3. Aaron Nesmith, Vanderbilt (22.8 ppg), 4. Luka Garza, Iowa (22.5 ppg), 5. Jordan Nwora, Louisville (21.6 ppg)
NBA mock draft, per ESPN: 1. LaMelo Ball (Australia), 2. Anthony Edwards (Georgia), 3. James Wiseman (Memphis), 4. Cole Anthony (UNC), 5. R.J. Hampton (Australia), 6. Deni Avdija (Israel), 7. Nico Mannion (Arizona), 8. Tyrese Maxey (Kentucky), 9. Jaden McDaniels (Washington), 10. Tyrese Haliburton (Iowa State)
Coming up: Many schools have a light week because of final exams, but some big games are on the docket, beginning tonight with undefeated Butler visiting last week's biggest riser, Baylor.
Tonight: No. 18 Butler at No. 11 Baylor (9pm ET, ESPN2)
Saturday: No. 10 Oregon at No. 5 Michigan (12pm ET, CBS); No. 13 Memphis at No. 19 Tennessee (3pm ET, ESPN); No. 6 Gonzaga at No. 15 Arizona (10pm ET, ESPN2)
4. 🏀 Women's poll: UConn joins Pac-12 trio at top
Stanford stayed on top of the latest women's top 25, while UConn jumped up two spots to No. 2 after routing rival Notre Dame to stay undefeated.
Quick notes:
Scoring leaders (Power 6): 1. Chennedy Carter, Texas A&M (22.4 ppg), 2. Chelsea Dungee, Arkansas (22.2 ppg), 3. Megan Walker, UConn (22.1 ppg), 4. Ashley Joens, Iowa State (21.9 ppg), 5. Rhyne Howard, Kentucky (20.4 ppg)
Big 12 rising: The Big 12 won its challenge over the SEC with eight victories over a five-day span, including three unranked Big 12 teams beating ranked opponents (Oklahoma routed then-No. 25 LSU, Texas knocked off then-No. 17 Tennessee and West Virginia topped then-No. 10 Mississippi State to move into the Top 25, themselves).
Coming up: The week's only ranked-on-ranked action isn't until Sunday, but it should be worth the wait, as No. 7 Louisville hosts in-state rival No. 14 Kentucky.
5. ⚽️ Rapinoe named SI's Sportsperson of the Year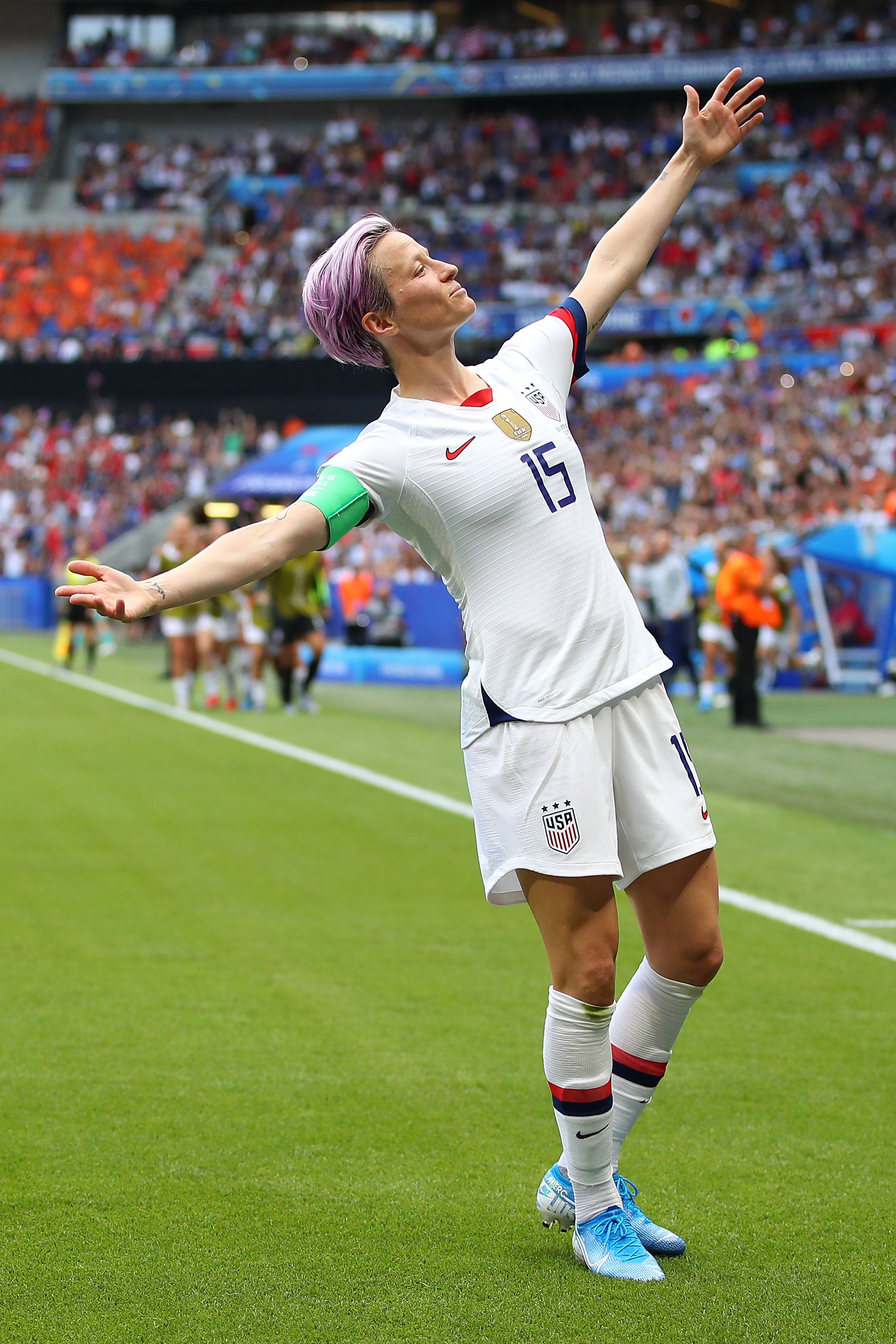 Photo: Richard Heathcote/Getty Images
Soccer star Megan Rapinoe has been named Sports Illustrated's 2019 Sportsperson of the Year for her part in the USWNT's World Cup win and for "being a vocal activist for equality." Rapinoe, 34, is just the fourth woman in the award's 66-year history to win unaccompanied.
"Rapinoe challenged perceptions of her, of female athletes, of all women. She led her teammates, three months before their tentpole tournament, to sue the U.S. Soccer Federation for equal pay; to declare in advance that they would not visit the White House when they won the Cup; to score 13 goals in a group-stage match against Thailand, without apology."
— Jenny Vrentas, Sports Illustrated
6. 🇷🇺 What the Russia ban means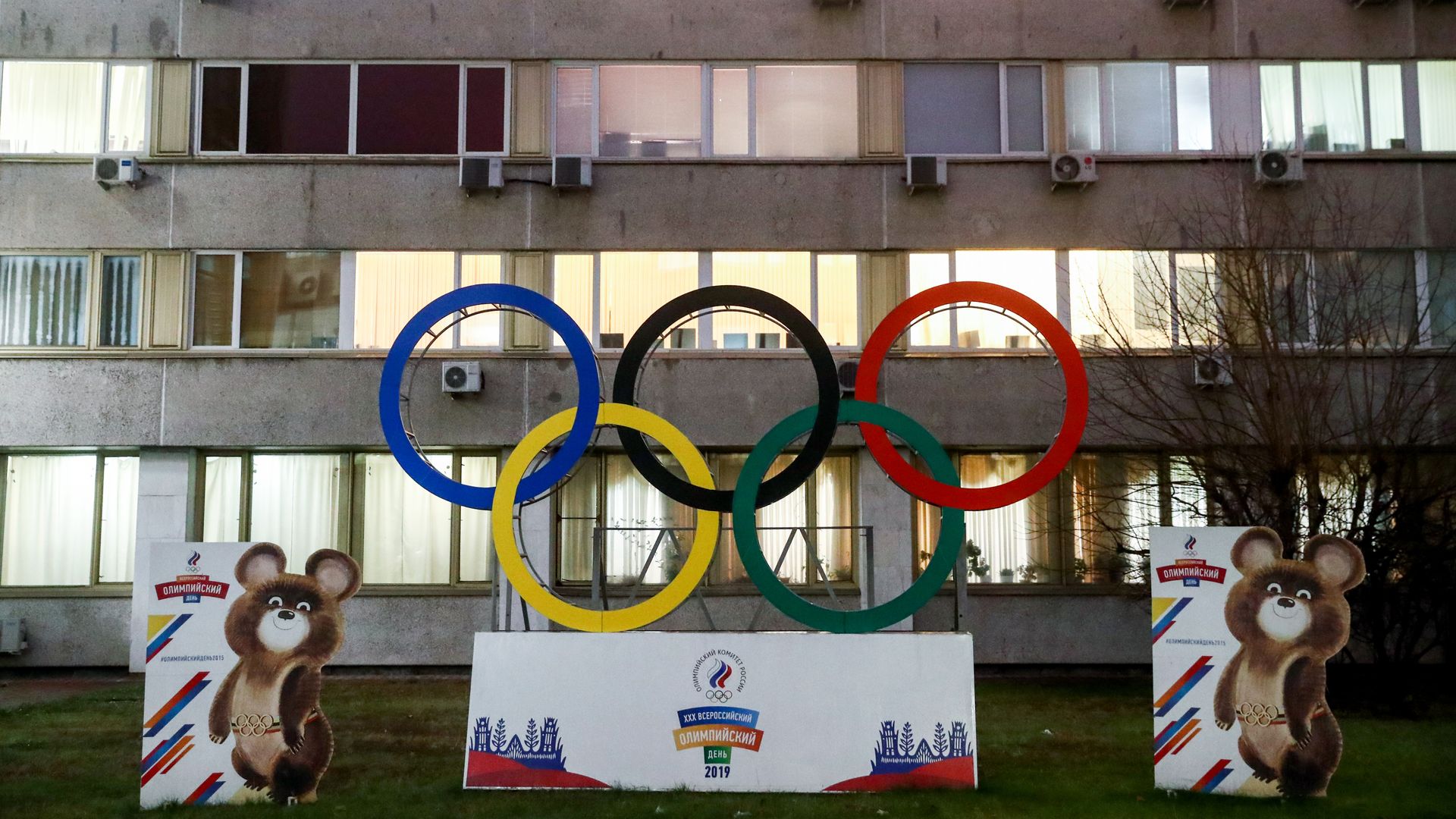 The World Anti-Doping Agency on Monday banished Russia from international competition for four years, "the latest and most severe punishment yet connected to a yearslong cheating scheme that has tarnished sports, rendered Russia a sports pariah and exacerbated tension between Moscow and the West," writes NYT's Tariq Panja.
What this means: Russia's name, flag and national anthem will not be allowed at the 2020 Tokyo Olympics or the 2022 Qatar World Cup, as well as other international events.
What this doesn't mean: Russia, the country, is banned, but its athletes who aren't implicated in doping can still compete under a neutral flag like they did at the 2018 Pyongchang Winter Games, where the country's men's hockey team won gold as the "Olympic Athletes From Russia," or OAR.
What they're saying: Many international athletic officials believe Russia got off too easy. "To allow Russia to escape a complete ban is yet another devastating blow to clean athletes, the integrity of sport and the rule of law," said Travis T. Tygart, CEO of the U.S. Anti-Doping Agency.
Meanwhile, Russia's prime minister, Dmitry Medvedev, said the penalties were a "continuation of anti-Russian hysteria" as his country prepares to compete in a third consecutive Olympics under a cloud of doping accusations.
Go deeper: Banning Russia's flag and anthem is perfect for WADA, whose only concern is optics (WashPost)
7. Dec. 10, 1995: 🏀 Vancouver vs. Toronto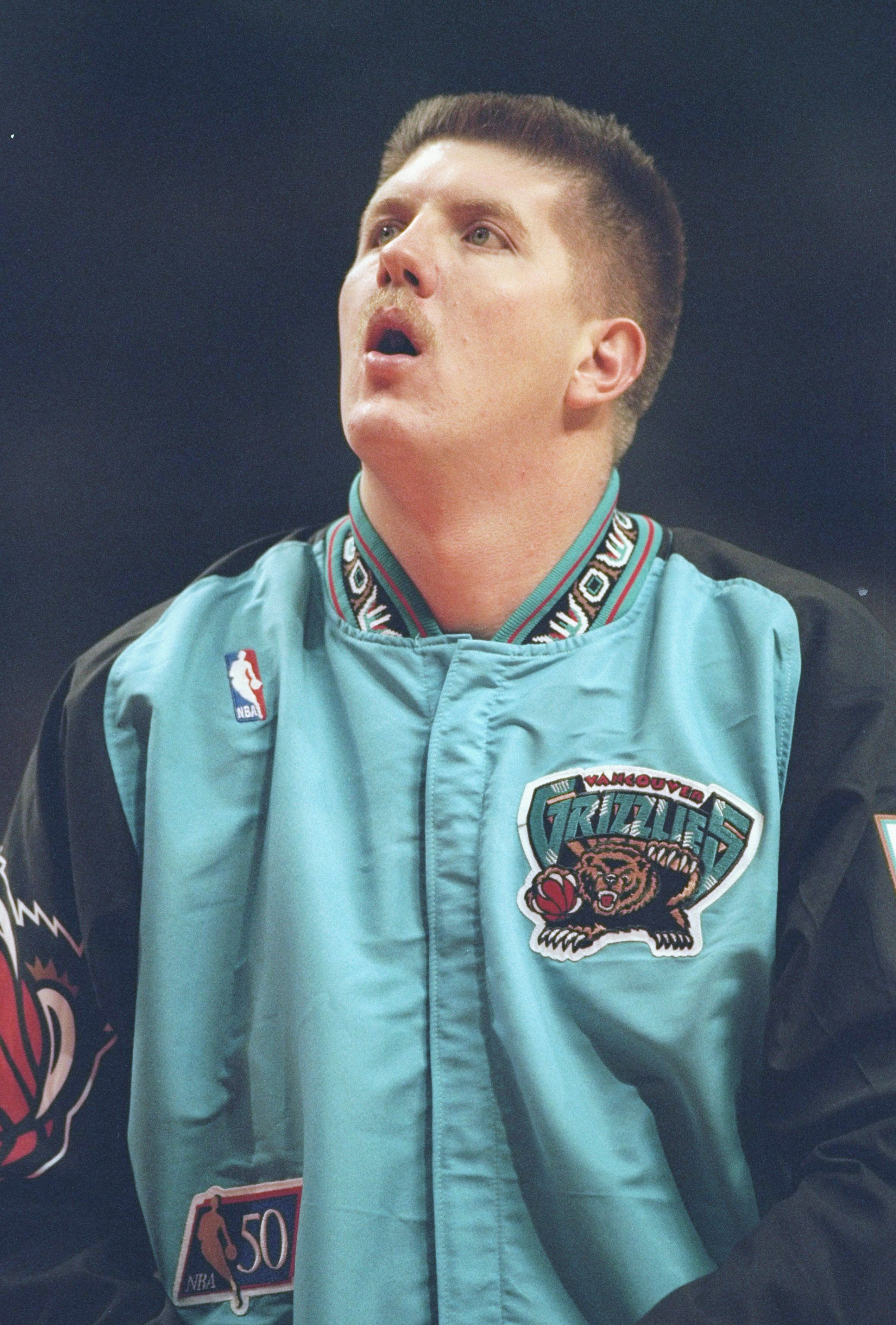 Bryant Reeves rocking the 'stache. Photo: Jonathan Daniel/Getty Images
24 years ago today, the Toronto Raptors beat the Vancouver Grizzlies, 93-81, in the first meeting of the NBA's Canadian expansion teams.
Box score: Damon Stoudamire (24-8-7) led the way for the Raptors, while Bryant "Big Country" Reeves (18 pts, 9 reb) paced the Grizzlies, who also got 10 points off the bench from future NBA coach Byron Scott.
What came next: The Raptors finished 21-61 in Year 1, while the Grizzlies went 15-67. That earned them the No. 2 and No. 3 picks, respectively, in the 1996 draft, where Toronto took Marcus Camby and Vancouver took Shareef Abdur-Rahim (Allen Iverson went No. 1 to Philadelphia).
In 2001, the Grizzlies relocated to Memphis, where they've made the playoffs in 10 of their 18 seasons. The Raptors stayed in Toronto and brought the city its first NBA title last year.
Go deeper: A diehard Grizzlies fan made a documentary called "Finding Big Country" about her hunt for her reclusive childhood hero, Bryant Reeves.
8. The Ocho: 👟 74.5 miles through the desert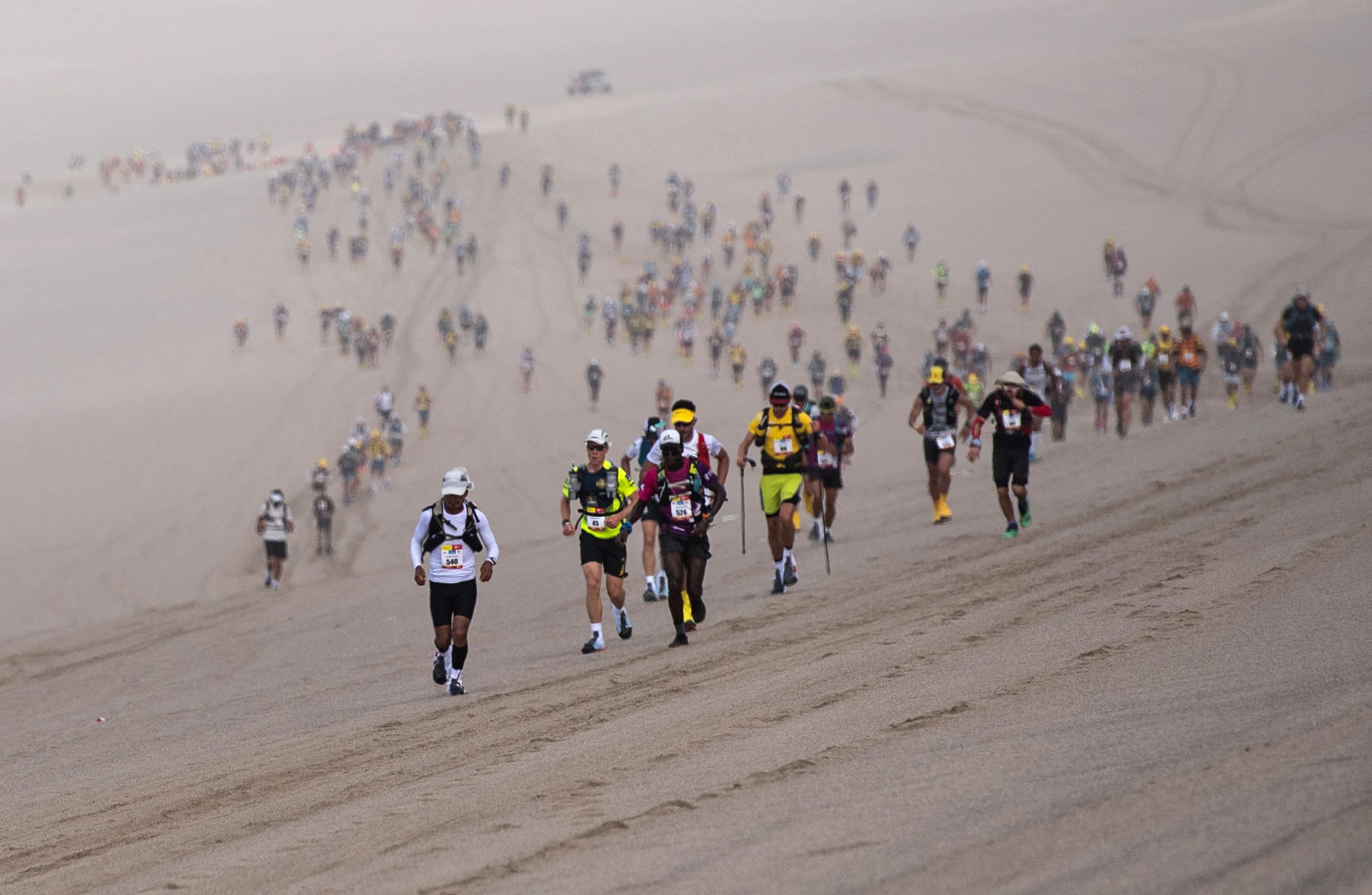 Photo: Mattin Bureau/AFP via Getty Images
The second edition of the Half Marathon Des Sables — a three-stage, 74.5 mile race over the sand dunes of Peru's Ica Desert — took place earlier this month and looked insane.
Speaking of crazy races ... At this ultramarathon, there's no finish line.
9. 🏈 NFL trivia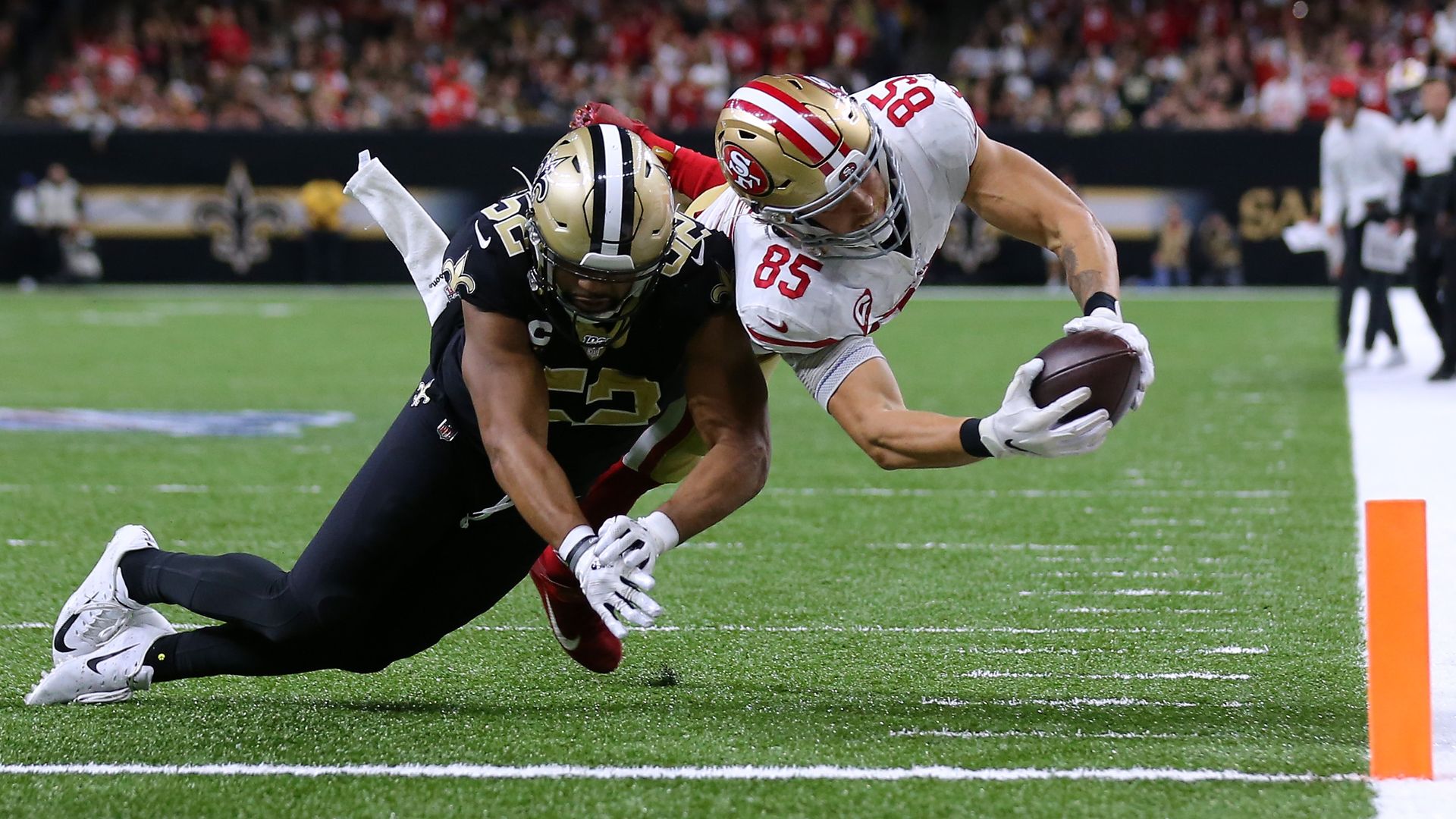 San Francisco's George Kittle has the fourth-most receiving yards through three seasons (2,646 and counting) of any tight end in NFL history.
Question: Who are the only three TEs with more receiving yards through their first three seasons?
Hint: Two last names start with "G," the other one starts with "D."
Answer at the bottom.
10. 🎬 Tonight on HBO: "Belichick & Saban"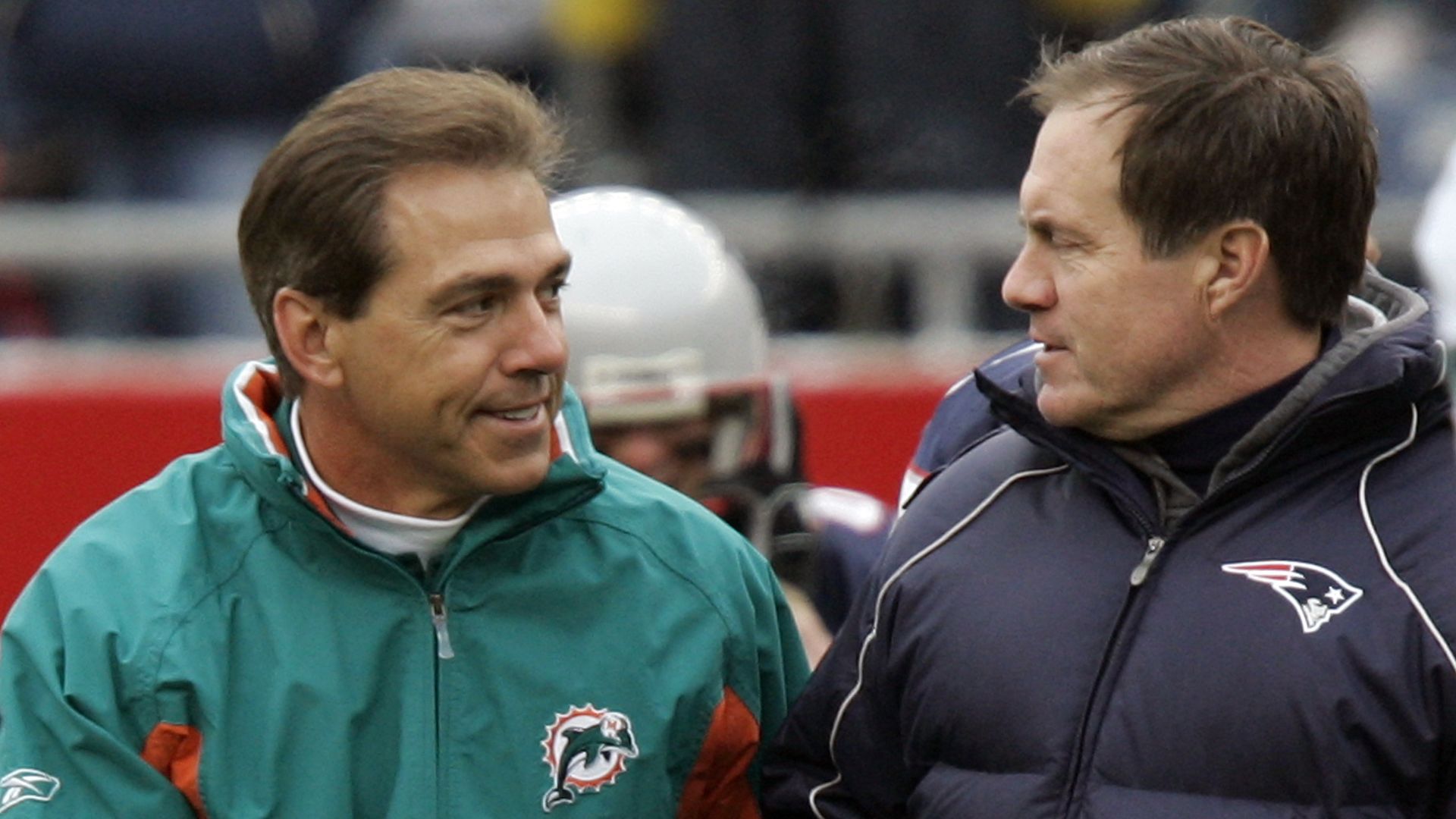 "Belichick & Saban: The Art of Coaching" debuts tonight at 9pm ET on HBO. The 73-minute film explores the long-standing friendship between two of the most famous football minds of their generation.
The two first met in 1982 in Annapolis, Md., where Saban served as an assistant coach alongside Bill's father, Steve, at the Naval Academy. When Belichick was named head coach of the Browns, he hired Saban as his defensive coordinator.
You know the rest: Six Super Bowls for Belichick in New England, six national championships for Saban at Alabama and LSU.
More to watch:
1pm ET (TNT): Liverpool face the "most important game of [their] lives" against FC Salzburg in the Champions League. A loss could eliminate the defending champs.
7:30pm ET (NBCSN): Jack Eichel (13-game points streak) and the Sabres host David Perron (10 points in his last 10 games) and the defending champion Blues.
8pm ET (TNT): Joel Embiid and the Sixers (17-7) will attempt to remain undefeated at home when they host Nikola Jokic and the Nuggets (14-7).
Talk tomorrow,
Kendall "Shoutout to all the former Guys in Charge of the Tickets" Baker
Trivia answer: Mike Ditka (2,774), Rob Gronkowski (2,663) and Jimmy Graham (2,648)