Happy Pi Day! Here's a list of all the places offering free/cheap pizza and pie today. If you don't get pepperoni and pecan, you're dead to me.
1 big thing: 💰 The college bribery scandal: A parent's account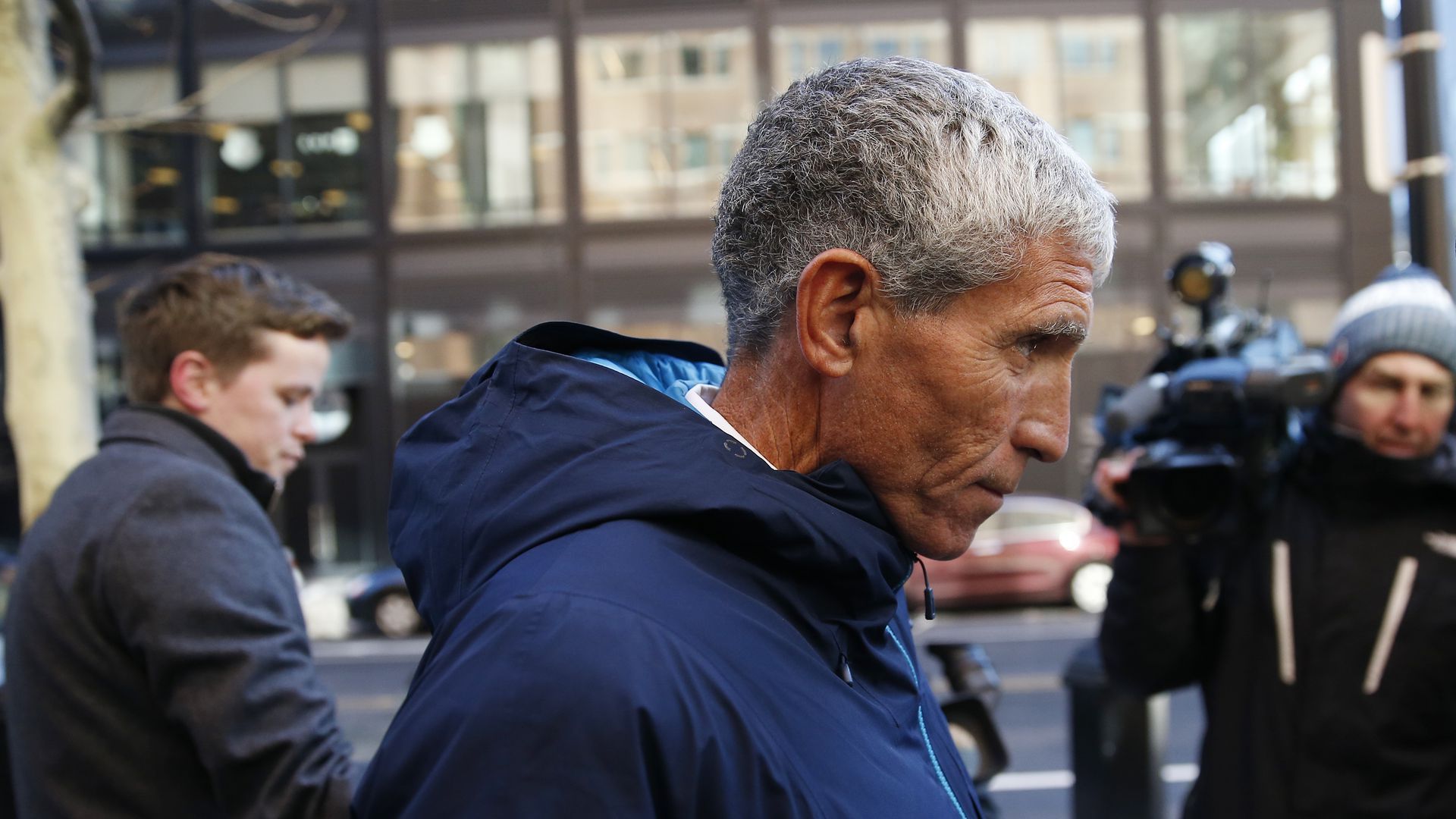 William "Rick" Singer, the mastermind behind the college admissions bribery scheme designed to help the kids of rich families get into elite universities, pleaded guilty to four federal charges on Tuesday.
Singer didn't detail how he recruited the parents, but Axios has spoken to a well-known Silicon Valley investor who says he hired Singer several years ago to help his son with standard college coaching services, but that he was eventually offered a "side door."
The investor agreed to tell Axios' Dan Primack his story, under the condition that his name not be publicly disclosed. He says he did nothing wrong, and that he has not been contacted by law enforcement.
An edited transcript of his story:
"When you have kids in their junior year of high school, all the parents start talking about college counselors and who they're using. Someone had mentioned Singer to me, so I called him up."
"He came to our house four, maybe five times. There'd also be another guy who'd show up every few weeks to do test prep stuff. And that's really what it was. Test prep. Getting all the applications in order. Things like that."
"But then it got weird. He sort of said: 'I think I can get your kid into USC, but he's going to be a football player.'"
"Now my kid only played freshman football and wasn't sure he wanted to go to USC, but Singer tells me there would be a spot and he doesn't actually have to play football. He makes it all sound so reasonable, except that he also says he'll need a picture and asks if I have one from freshman football."
"We keep having different communications going on, and at some point he brings up the USC thing again and maybe another school too. He uses the word 'side-door.' Something like, 'Your kid can't really get in here, but I've got a way to get him in the side-door.'"
"He kept pushing it, but I finally just said to give some other child the opportunity. No money was ever discussed outside of the regular monthly fee to do the standard stuff."
"My wife didn't ever like him. Her Spidey sense was great. It took dad a bit longer. I feel dirty, and I didn't even do anything wrong."
2. ⚽️ English football is back on top
The Champions League round of 16 is over, and for the first time in more than a decade, four of the eight quarterfinalists are from England.
Four English teams: Manchester City; Manchester United; Tottenham and Liverpool, who beat Bayern Munich 3-1 yesterday.
Four non-English teams: Juventus (Italy); Ajax (Netherlands); Porto (Portugal) and Barcelona (Spain), who beat Lyon 5-1 yesterday.
The big picture: You'd think the English Premier League — home to nine of the world's 20 richest clubs, according to Deloitte — would dominate like this every year. A decade ago, that was true. But this decade? Not so much.
2000s: From 2004 to 2009, six of the 10 Champions League finalists were English, and 2008 was the height of the Premier League's supremacy: Chelsea and Manchester United met in the final, Liverpool was a semifinalist and Arsenal was a quarterfinalist.
2010s: Only two finalists this decade have been Premier League squads: Chelsea in 2012 (beat Bayern Munich) and Liverpool last year (lost to Real Madrid).
The bottom line: After grossly underperforming on the sport's biggest stage for years, England has a chance to close out the decade on a much more positive note.
Not only do they have four quarterfinalists, but they also have the two favorites, according to FiveThirtyEight: Manchester City (28% chance to win) and Liverpool (22%).
What's next: The quarterfinal, semifinal and final draws will take place tomorrow (aka, an eight-team bracket will be randomly created).
3. ⛳️ The same island green, but harder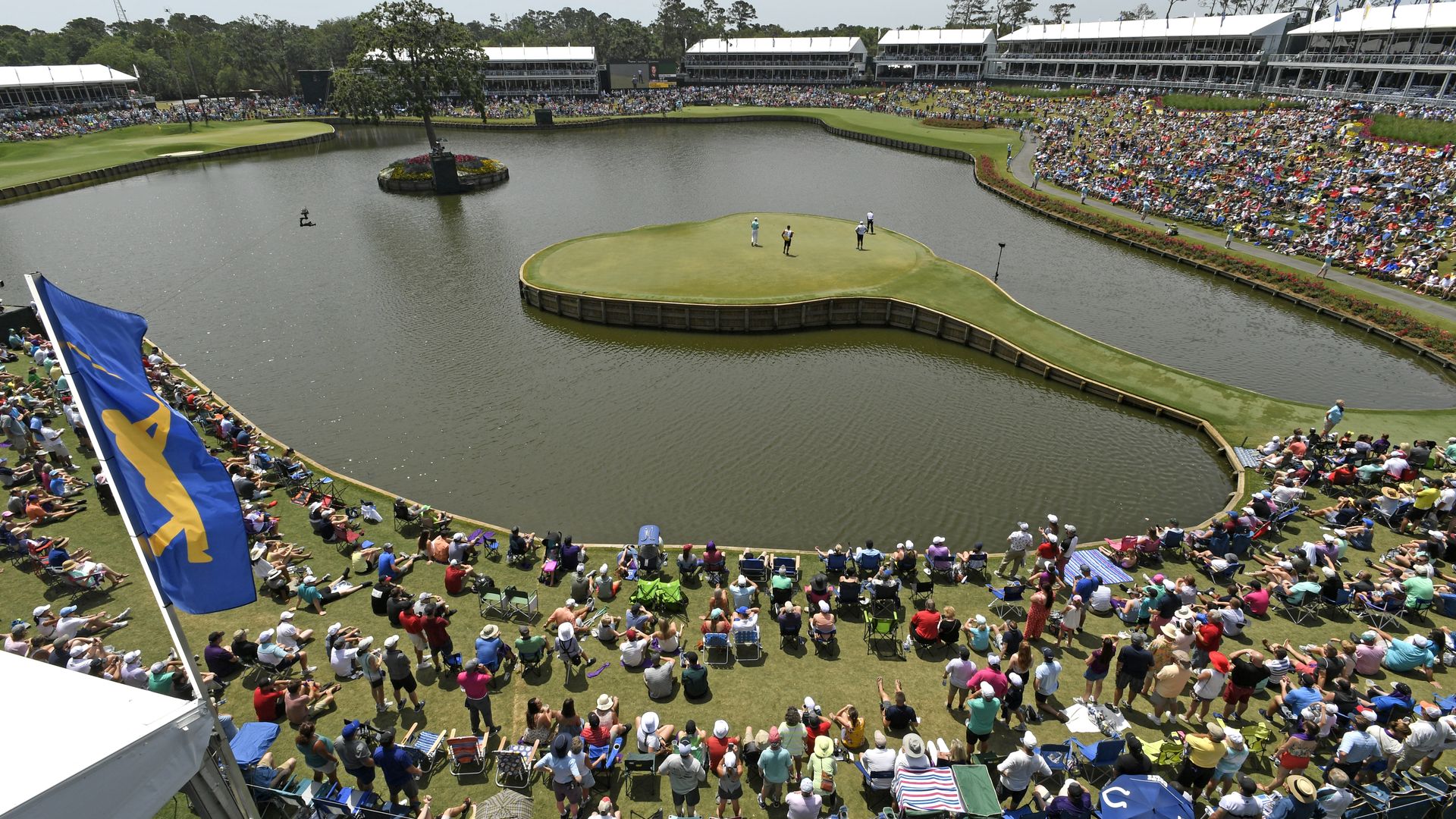 The 17th hole at TPC Sawgrass is the most famous par 3 in golf, but it's also fairly easy, with the scoring average hovering around par for the past decade. Expect that to change this weekend.
The intrigue: Since 2006, The Players Championship has taken place in May, but the PGA Tour moved it up to March this year with the ultimate goal of ending the season earlier (before football makes golf news irrelevant).
As a result, golfers will face much windier conditions than they're used to this weekend, which could lead to higher scores and more drama down the stretch.
What they're saying: "The 17th hole for the last few years has been pretty much a wedge, but … there's the opportunity to hit 8- and 7-irons at this time of year, which completely changes the complexion of that golf hole," said world No. 2 Justin Rose.
"In May, the wind direction tends to be downwind. You get out there in March and the wind is like the 12th at Augusta, bouncing around. ... It's really, really hard," said Phil Mickelson's former caddie and current NBC analyst, Jim "Bones" Mackay.
Watch: Two of the most iconic shots in the hole's history.
4. ⚾️ MLB's service-time manipulation is the worst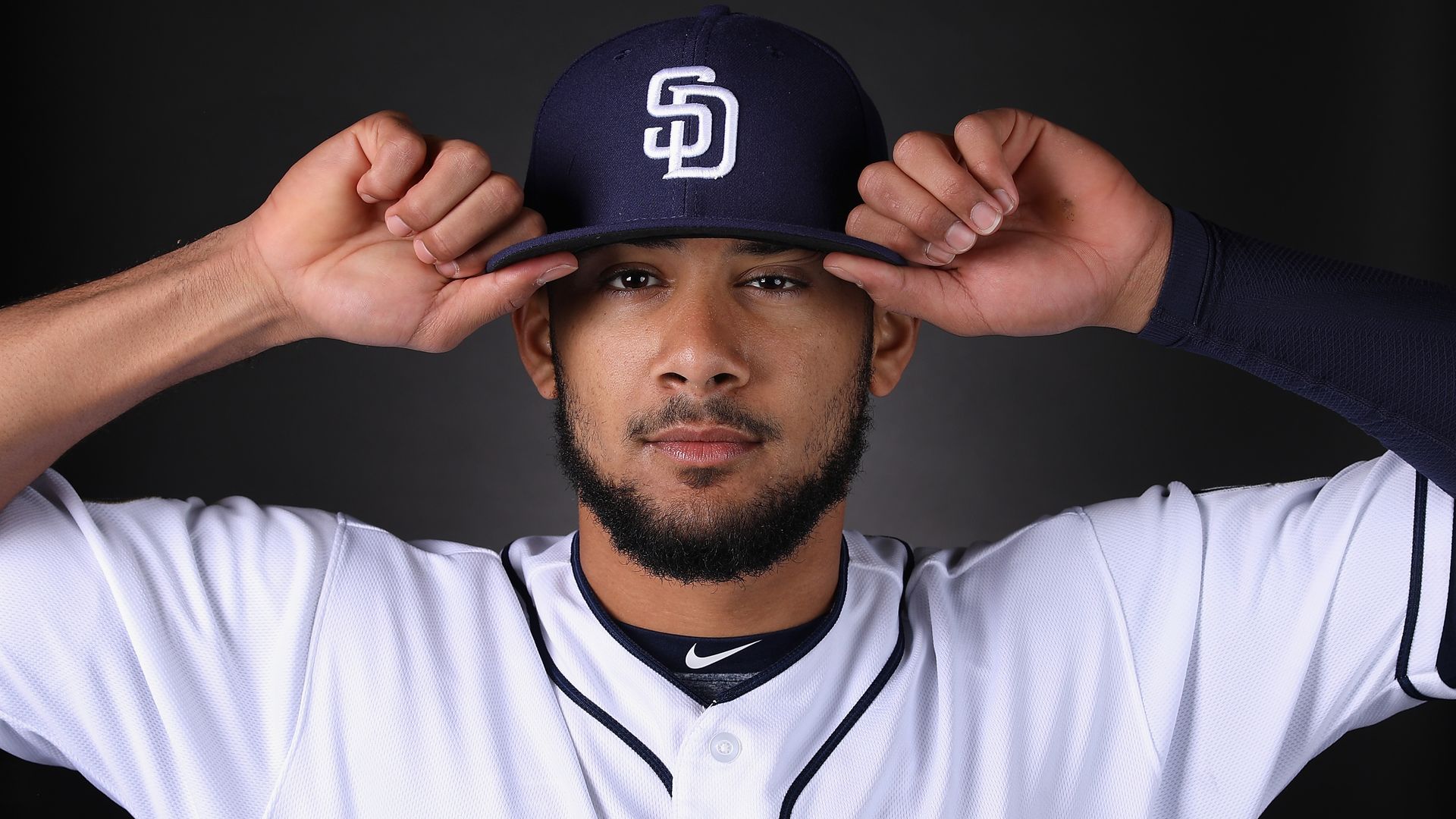 From Mike: Major League Baseball teams are manipulating the "service time" of young prospects to retain control over them for an additional year before they hit the open market.
How it works: A player needs to serve 172 days on an MLB roster to start the clock on free agency, so teams are holding their prospects in the minors until there are only 171 service days left (or close to it) and then calling them up, even if they earned a promotion much sooner.
For players, this means that their first big payday as a free agent gets pushed back an additional year, potentially eating into their prime. Not cool.
Unfortunately, general managers can always mask intentions by saying "he needs to work on his defense" or something of the sort, so there isn't much that can be done about this.
The big picture: Some of the game's brightest young stars have had their service times manipulated.
Bryce Harper: 2012 debut with 159 service days
Kris Bryant: 2015 debut with 171 service days
Ronald Acuña Jr.: 2018 debut with 159 service days
Who's next: The top three prospects in baseball — Vladimir Guerrero Jr. (Blue Jays), Fernando Tatis Jr. (Padres) and Eloy Jimenez (White Sox) — are prime candidates to become the latest victims of this farce.
5. 🏀 NBA: Good reads
Meet Pat Connaughton, the NBA's very own Kyler Murray (The Ringer)
"Connaughton is a member of the ultra-exclusive two-sport club, although to him the dual pursuit isn't about status. It's a calling. 'Some guys go play golf as a getaway,' he said. 'Some guys go watch a movie. Some guys go out and party. Everyone has their thing. For me, my whole life it's been finding another way to get myself better at the two sports that I love.'"
Isaiah Thomas was a comet at the exact wrong point in his career (RealGM)
"Athletes, in demonstrating the outer limits of what's physically possible, stimulate our imaginations … We want them to do well; we want them to get paid what they're owed because we want them to feel fulfilled. That only seems fair. [Sadly], that's not going to happen for Isaiah Thomas."
The NBA's age of anxiety (The New Yorker)
"Brands don't have teammates. They don't even really have friends. The identity of a brand is, quite literally, defined by how the public sees it. It must make for a peculiar kind of loneliness to feel obliged to see yourself this way, too."
6. ⛳️ March 14, 2017: Muirfield welcomes women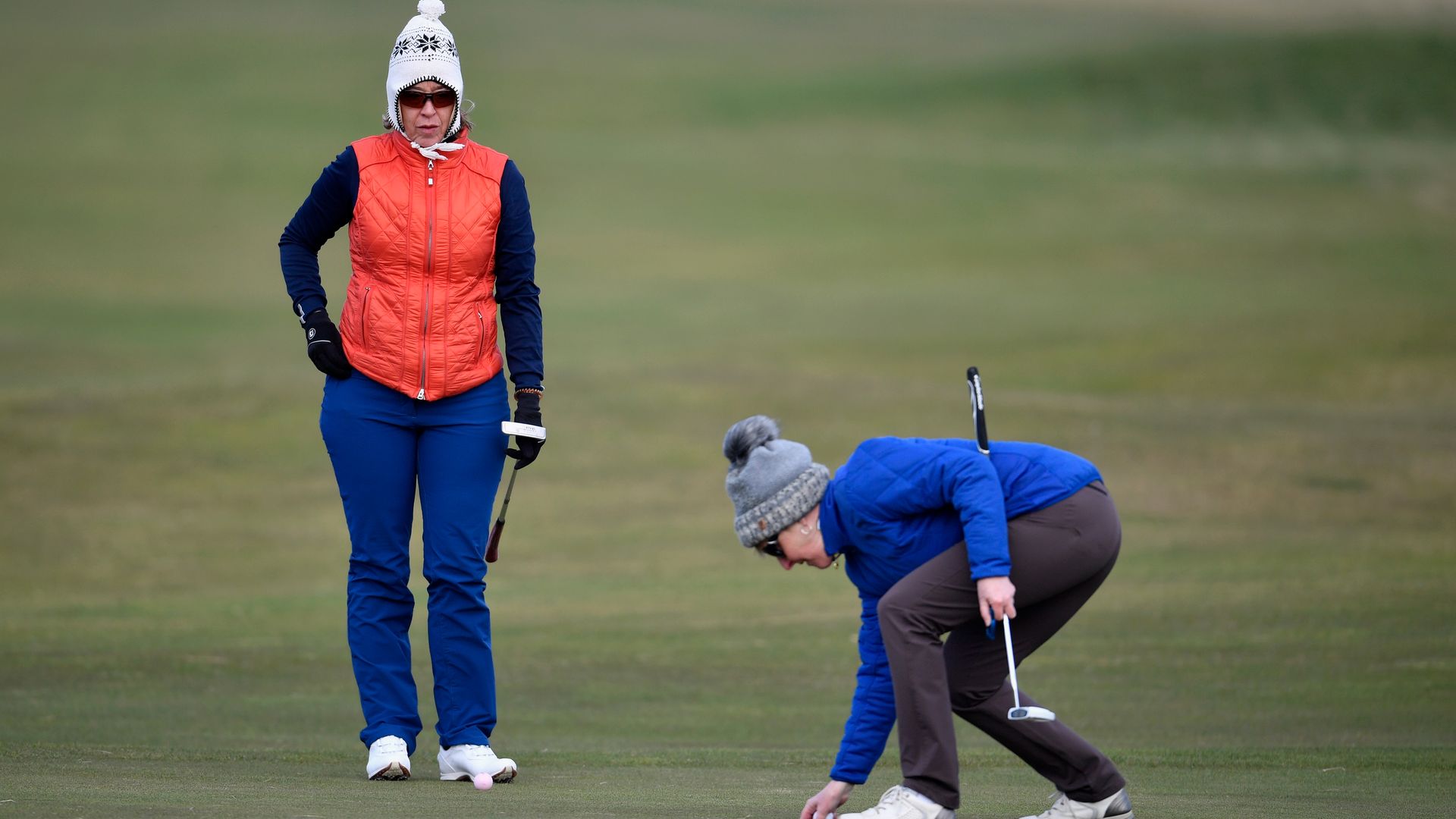 Two years ago today, Muirfield Golf Club in Scotland, the world's oldest golf club, voted to admit women members for the first time in its 273-year history.
"I do believe that if we are going to grow participation in the game, family golf is at the heart of that strategy. Getting more women as members of golf clubs, more women bringing children to play … that's what's important for the future generations."
— Martin Slumbers, chief executive of the R&A (the USGA's British counterpart)
Details: The club previously only allowed women to play on certain days as guests of certain members. It took some (deservedly) harsh criticism from the media and two votes to change that.
However, two years later, women are still waiting to join because of the club's long waiting list and complicated admissions process. Come on, man. Get with the times and speed this thing up.
7. 🏈 NFL trivia
52 years ago today, the 1967 NFL/AFL was conducted at the Gotham Hotel in New York City.
Question: Eight Hall of Famers were drafted that year, including four in the first round. Can you name all four?
Hint: Their initials: B.G., G.U., F.L. and A.P.
Answer at the bottom.
8. The Ocho: A new approach to MMA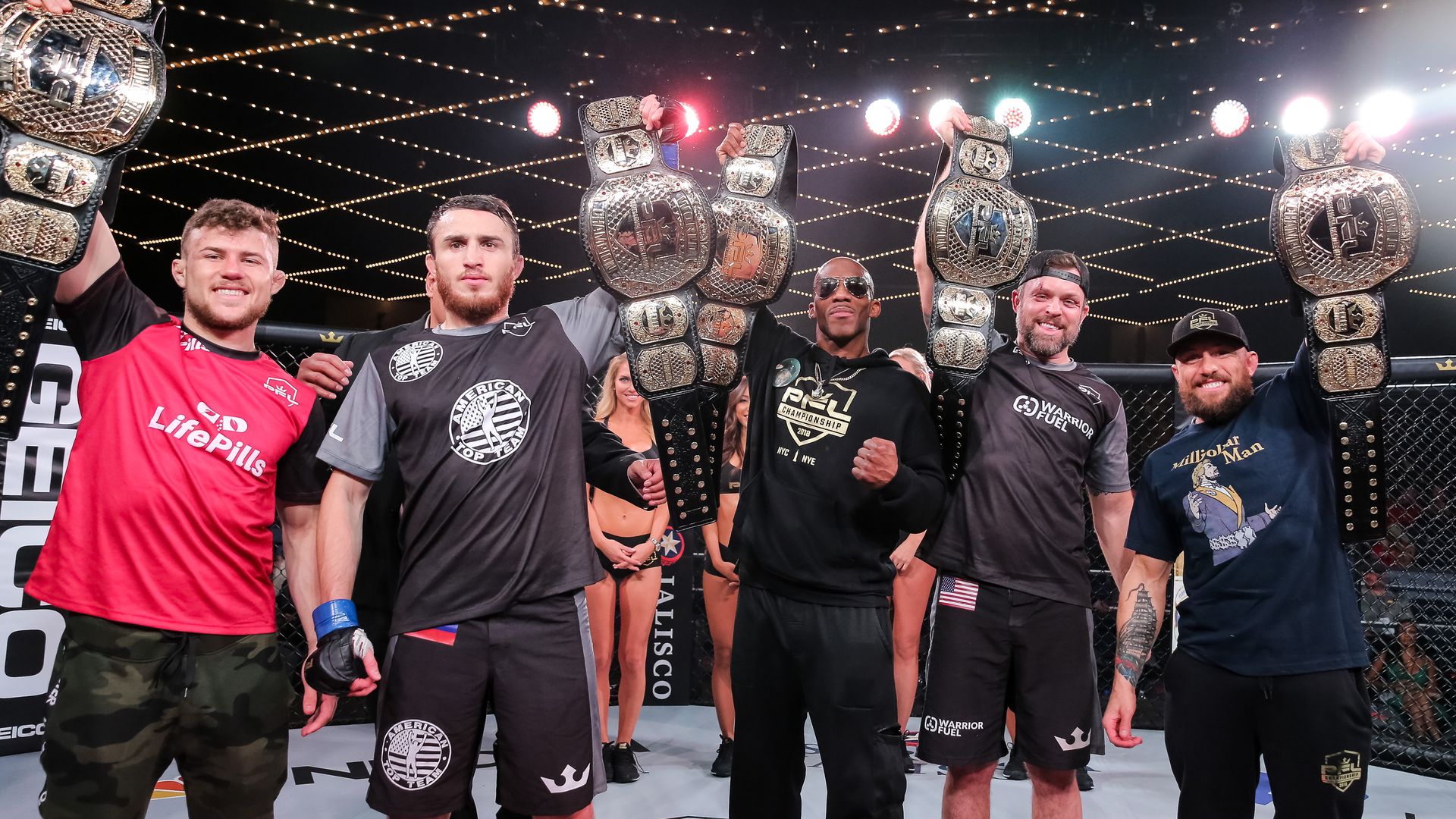 The Professional Fighter's League (PFL) is the first MMA league to utilize a regular season and playoff format. They're also bucking the pay-per-view trend and making their content highly accessible — and, in many cases, free.
Driving the news: The PFL recently inked a deal with ESPN to broadcast its regular season for the next two years, both on TV and the ESPN+ app.
"While others are going underground in terms of pay-per-view, PFL is going broad reach and broad distribution. Everything free on ESPN."
—
PFL co-founder Donn Davis
How it works: Each weight division competes in a regular season, with the top eight fighters from each division advancing to the playoffs.
Playoff events will feature those fighters attempting to win twice in the same night to advance to the PFL Championship — where each champion takes home $1 million.
Why it matters: In the past, this might not have worked. But thanks to an evolving media landscape and an emerging talent pool of fighters, the PFL could be launching at the perfect time.
Media landscape: In the past, the only way for a sport's league to survive was to appeal to a massive audience. Now, you can cater to a smaller, more loyal subset and not only survive but thrive.
Talent pool: The UFC is a competitor, Davis said, but they only employ about 500 of the 1,500 quality MMA athletes, so there's plenty of legit talent in need of a home.
Go deeper:
Thanks,
Kendall "Apple pie is also acceptable" Baker
Trivia answer: Bob Griese (QB), Gene Upshaw (G), Floyd Little (RB) and Alan Page (DE)