🚀Axios Sports has arrived! To all the Sports Internet readers who have been on this journey with me, how cool is this?! And to all the new faces in the crowd, welcome to your new sports page.
If you ever feel like replying, do it. I'll get right back to you. And if you know someone who should be subscribed, send them here. Lastly, have an awesome Monday, okay? I'll see you at the bottom of the newsletter.
1 big thing: NFL scouts will be busy tonight
Prepare yourself for points when Alabama and Clemson meet tonight in their 3rd National Championship in 4 years (they met in the semifinals the other year).
The big picture: In their last three meetings, the highest Alabama ranked in points per game nationally was No. 15 (2017-18), while the highest Clemson ranked was No. 14 (2016-17).
This season, Alabama ranked No. 2 (47.7 points per game) and Clemson ranked No. 4 (44.3 points per game), as both teams ascended to offensive juggernaut status.
It should be noted that they both allow very few points (Alabama ranked No. 5 in points allowed; Clemson ranked No. 1), but that was the case in all three of their previous playoff matchups, so the improved offenses are the key variable to watch.
More storylines:
NFL scouts will be busy: Tonight's game could feature 20 or more 2019 NFL draft picks. For comparison, the LSU-Alabama "Game of the Century" in 2011 featured 13.
Tua Tagovailoa vs. Trevor Lawrence: This might surprise you, but quarterback play matters quite a bit in football. Who knew?!
Dexter-less: Clemson will be without suspended star defensive tackle Dexter Williams for the second straight game. The Tigers excelled without him against Notre Dame, but Alabama's deep backfield presents a far more daunting challenge.
Empty seats: Due to location (Santa Clara is a trek for both fan bases) and a variety of other factors, ticket prices are historically low and the game might not even sell out — even with over 400 members(!) of Tua's extended family in attendance.
Details:
When: 8 pm ET, ESPN (with a variety of other ways to watch)
Lines: ALA -5.5 | O/U: 58.5 | Money: ALA -220; CLEM: +180 (via Westgate Superbook)
2. The double doink (and more from Wild Card weekend)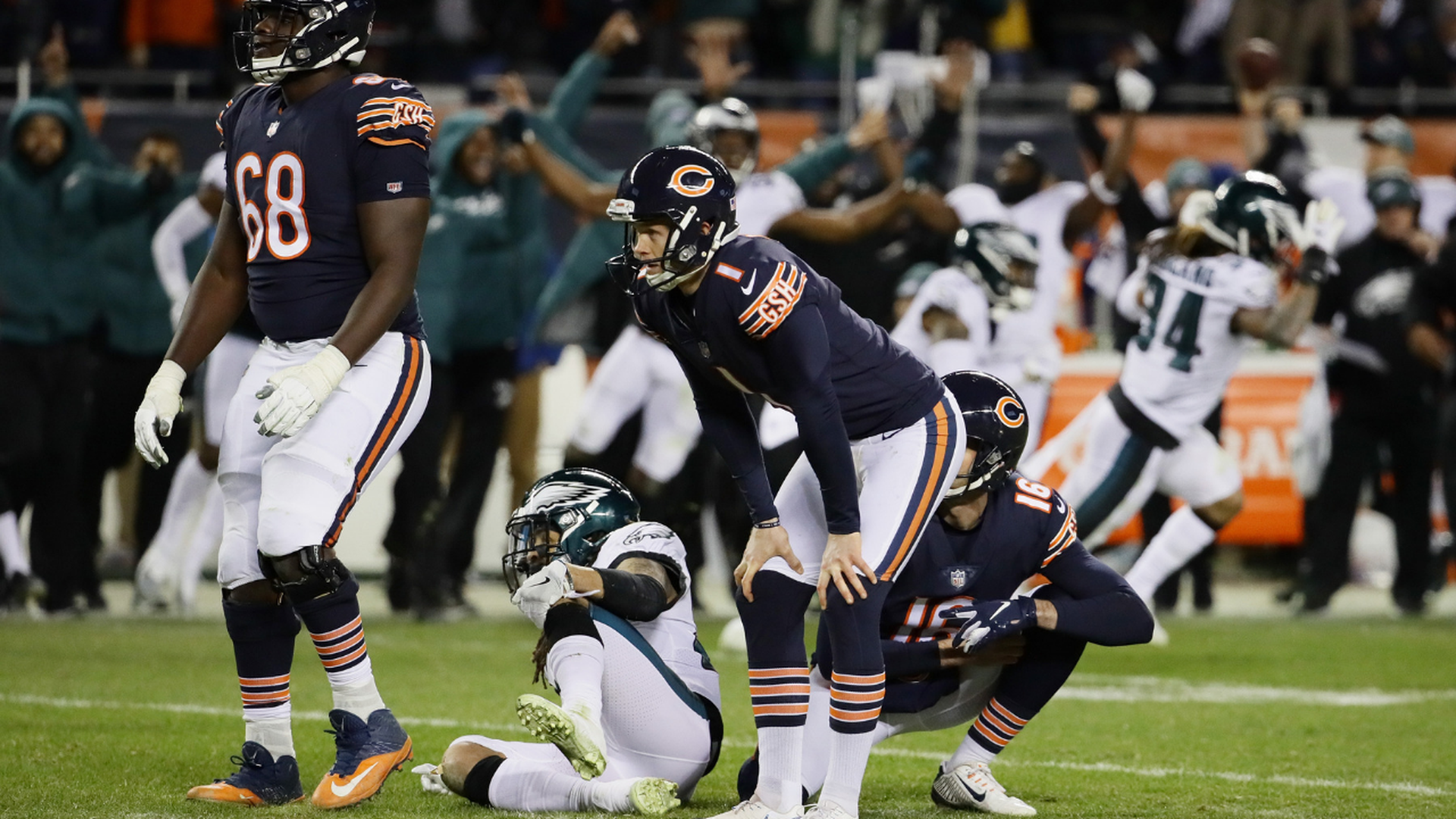 Eagles 16, Bears 15: Cody Parkey had a chance to win the game for Chicago, but his 43-yard field goal attempt hit the upright and the crossbar. (Upon further review, the kick appears to have been tipped).
ICYMI: Things got super weird right before halftime thanks to a bizarre play and confusing rule. If you watched the game, you know what I'm talking about. If you missed the game, click here to find out what you missed.
Chargers 23, Ravens 17: Philip Rivers is a national treasure and Michael Badgley is my favorite kicker in the league. That's my recap.
Bold strategy (that worked): In an attempt to stymie the Ravens' speedy spread-option offense, the Chargers trotted out seven defensive backs on 58 of 59 snaps. For comparison, no team had used seven DBs on more than 18 snaps in a game this season.
Cowboys 24, Seahawks 22: Dak Prescott (game-sealing run) and Ezekiel Elliott (137 rushing yards) helped Dallas snap Seattle's NFL-record nine-game winning streak in playoff openers.
Bad beat: The Cowboys closed as 2.5-point favorites, so the Seahawks' late two-point conversion to pull within two points — which they only attempted because their kicker was hurt — resulted in an epic bad beat (or backdoor cover).
Colts 21, Texans 7: Andrew Luck was sacked zero times on Saturday. That protection set the tone, as the Comeback Player of the Year favorite (and legit MVP candidate) spent much of the game leisurely picking apart the defense.
Texans exit interview: "[A]fter another one-and-done postseason, questions loom about head coach Bill O'Brien and his team's ability to protect Deshaun Watson." (The Ringer)
Next weekend:
Saturday: Colts at Chiefs, 4:35 ET; Cowboys at Rams, 8:15 ET
Sunday: Chargers at Patriots, 1:05 ET; Eagles at Saints, 4:40 ET
3 numbers: College basketball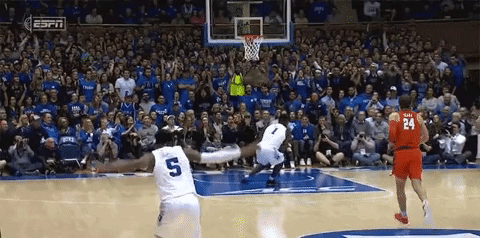 1 billion: How many times I've watched the above GIF of Zion Williamson's 360 dunk. We are all R.J. Barrett (No. 5).
44: The combined number of points #5 Kansas and #6 Nevada lost by this weekend. The Jayhawks fell to Iowa State 77-60, while the previously undefeated Wolfpack got smacked by New Mexico 85-58. Expect a shakeup in today's poll.
21: After trailing 21-0 to start the game, Old Dominion completed the largest comeback in school history to beat Western Kentucky 69-66 on Saturday night.
4. The NBA goes to India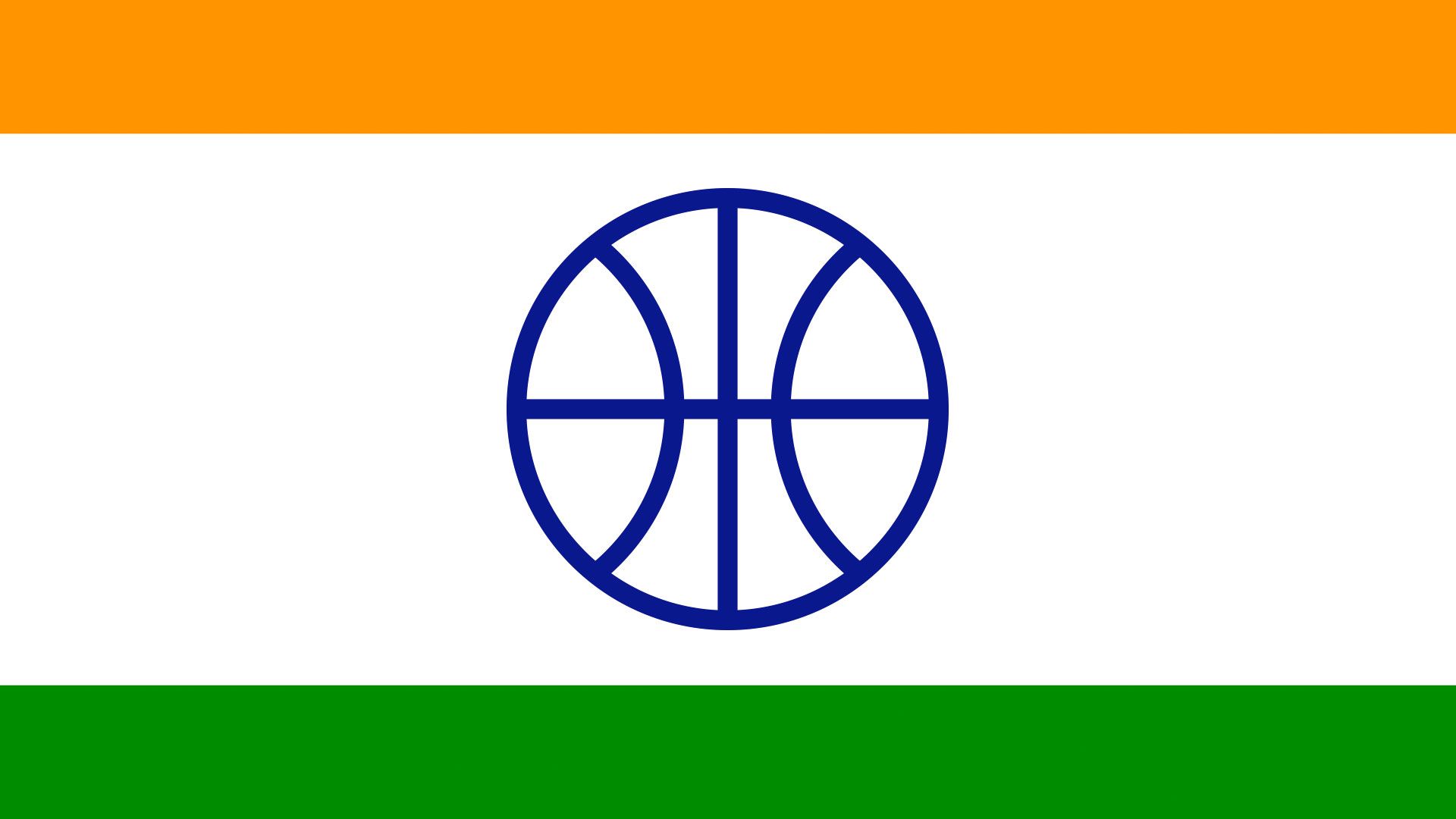 The NBA recently announced that the Sacramento Kings and Indiana Pacers will play two preseason games in Mumbai next October — the league's first-ever games in India.
In order to grasp the magnitude of this, I spoke with Kings owner Vivek Ranadivé, who was born and raised in India.
Kendall Baker: It's no secret that basketball is on the rise in India. Just how popular has the sport become?
Vivek Ranadivé: Thanks to the NBA's efforts over the last few years, basketball is now the second-fastest growing sport in India, behind soccer, among both boys and girls. There's a certain attitude involved that reminds me of Bollywood and cricket culture, and I think the sport's popularity will only grow in years to come. 
KB: In 2014, Sim Bhullar became the first player of Indian descent to play in the NBA. The following year, Indian-born Satnam Singh was drafted in the second round. How big of an impact did those milestones have?
VR: Both players helped break barriers and open doors for the next generation. This past November, Sanjana Ramesh, a graduate of the NBA Academy in India, became the second Indian player ever to receive a Division I women's basketball scholarship (Northern Arizona University).
KB: How did the idea for the NBA India Games come together?
VR: India is the next frontier for basketball. That's why the NBA opened its first office in Mumbai in 2011, and it's why players have been visiting the region since 2006. These games are the next logical step, and we're honored to be part of it.
P.S. The Kings hosted their sixth annual Bollywood Night on Saturday. Fans were treated to traditional Indian dance performances, free henna tattoos and an NBA-record 41 three-pointers (box score).
🚨In other NBA news: The Minnesota Timberwolves fired team president and coach Tom Thibodeau last night (minutes after a 22-point win).
5. Soccer 'round the globe
🇪🇸 La Liga: Real Madrid is having a horrific 2019. After barely securing a point against 17th-place Villareal on Thursday, Real suffered a shocking 2-0 loss to Real Sociedad on Sunday. They now sit in fifth place in La Liga, a full 10 points behind Barcelona.
🇺🇸 MLS: The 2019 MLS SuperDraft takes place on Friday in Chicago. Expansion franchise FC Cincinnati possess the first pick, and the latest mock draft has them taking VCU star Siad Haji (highlight reel).
🇬🇧 FA Cup: Liverpool will look to rebound from a deflating 2-1 defeat to Manchester City when they take on Wolves in the FA Cup third round today (2:45 ET, ESPN+). Fun fact: Wolves have won four of the previous six FA Cup meetings between the two clubs.
6. Let's talk about video game tattoos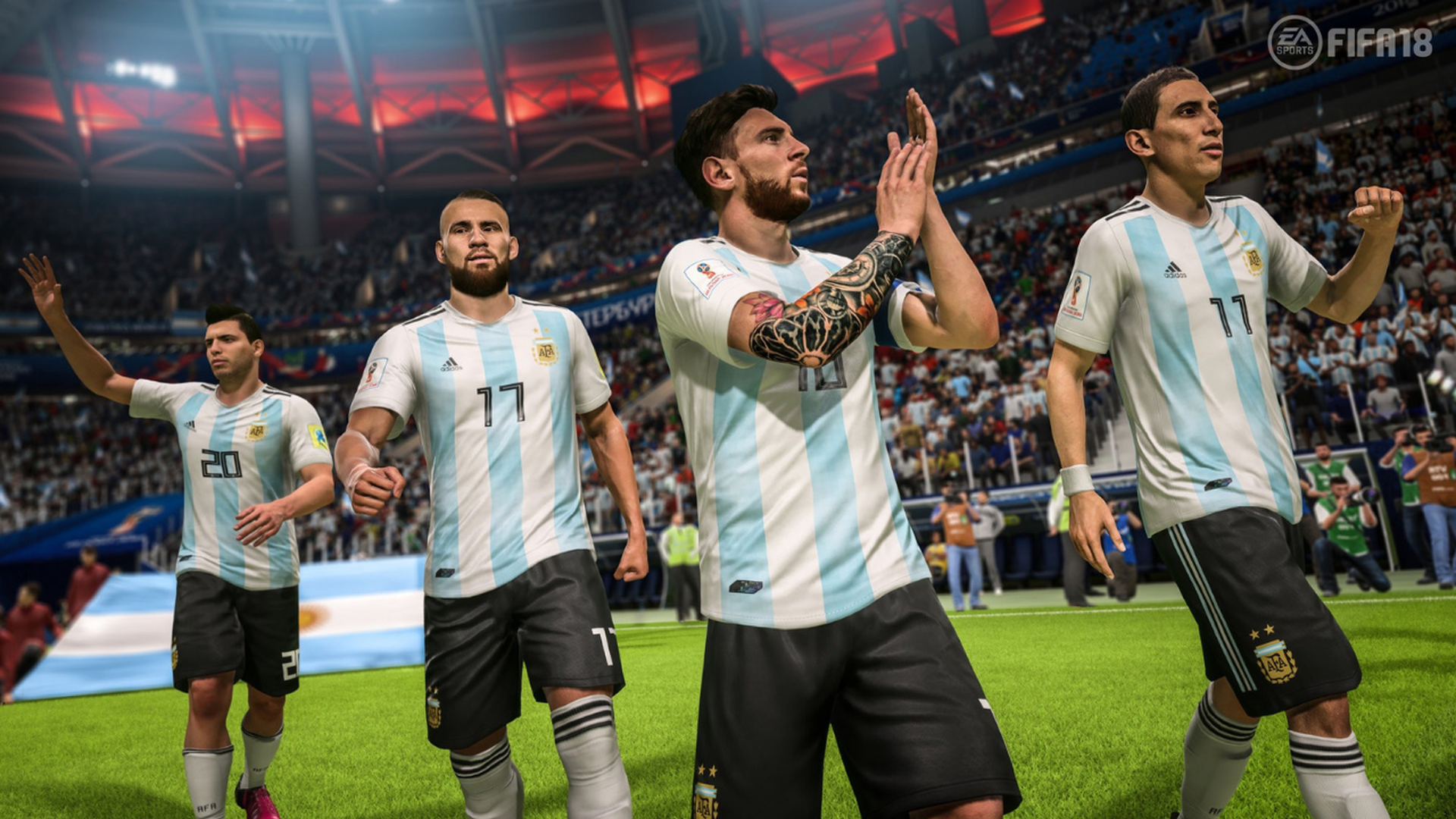 Popular sports video game franchises like NBA 2K, FIFA and Madden are stuck at a crossroads between creating a lifelike experience for users or saving potentially millions of dollars.
What's happening: Gaming companies are being sued by tattoo artists and sketch companies for copyright infringement over the tattoos depicted in their games, the New York Times reports.
Creative illustrations are protected under U.S. copyright as long as they are "fixed in a tangible medium of expression." Since that includes ink displayed on someone's skin, the copyright for a tattoo is inherently owned by the artist, not the athlete.
Between the lines: Most times, that isn't a problem. Some artists and companies don't care, and even encourage it, when their work is featured on a video game with massive reach.
But others like Solid Oak Sketches — which owns the rights to five tattoos on three NBA players, including two on LeBron James — are seeking direct compensation through the courts.
The bottom line: "A verdict for either side would set an important precedent on how the owner of a tattoo copyright can enforce it," Jason Bailey of the NYT writes.
7. Quick-hitters
🏈 FCS Championship game: Carson Wentz's alma mater, North Dakota State, beat Eastern Washington 38-24 on Saturday — the program's seventh FCS title in eight years.
🏒 Finland 3, U.S.A. 2: Kaapo Kakko scored with 1:26 left to help Finland win its fifth world junior title on Saturday.
⛳️ Xander Schauffele, who began the final round five shots behind, shot an 11-under 62 to win the Sentry Tournament of Champions on Sunday.
🎬 "Skate Jam": Tony Hawk: "In 2003, I was requested to meet with Warner Brothers about doing a film tentatively titled 'Skate Jam.' They were bringing back Looney Tunes with 'Back In Action' & then wanted to start on my project immediately. A week later 'Back In Action' bombed & 'Skate Jam' was shelved forever."
8. The Ocho: From curl routes to curling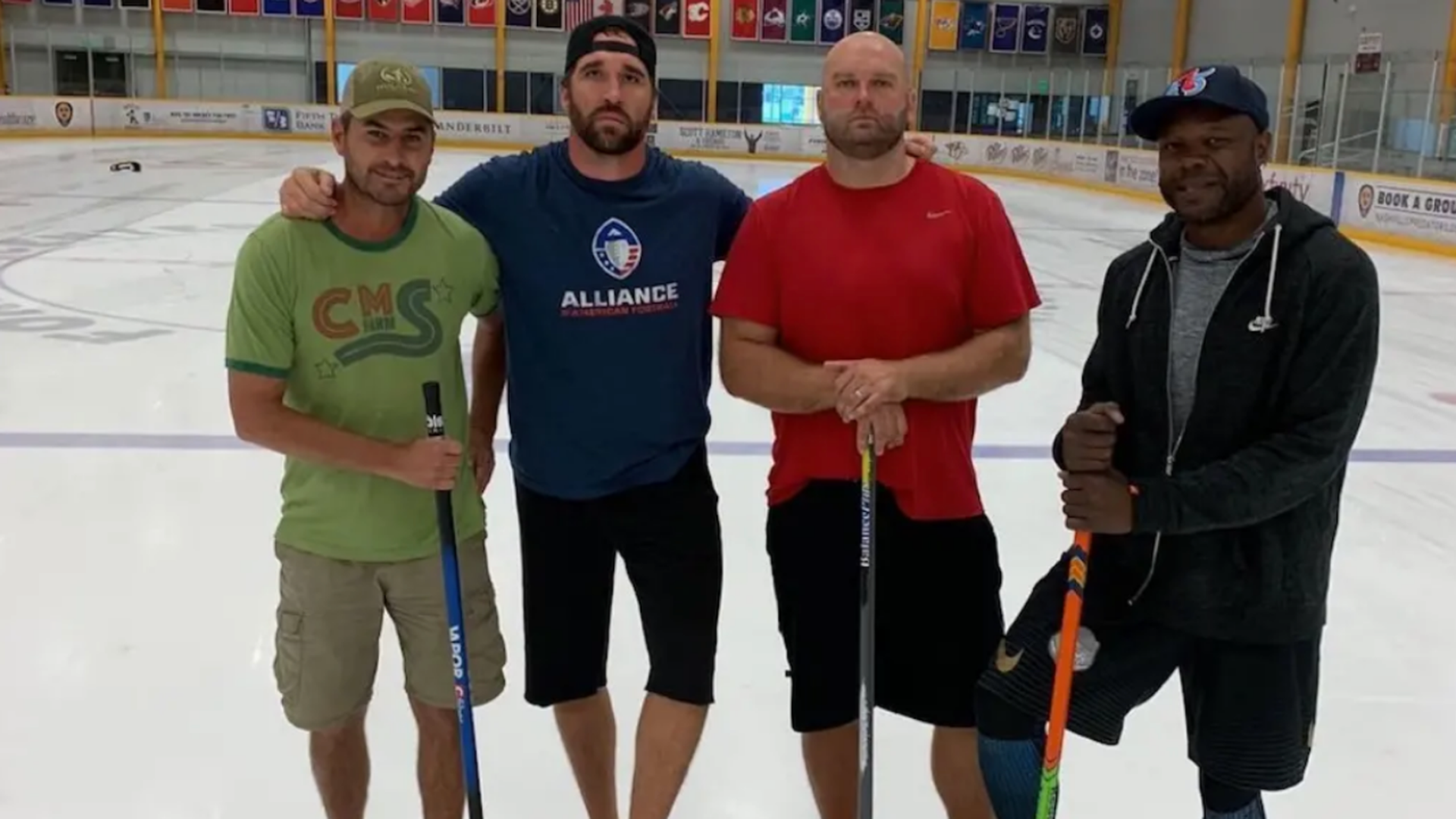 After retiring from the NFL in 2015, five-time Pro Bowler Jared Allen found himself missing the thrill of high-level competition. His solution? Train to become an Olympian.
Step 1. Choose a sport: After considering badminton, Allen settled on everybody's favorite life-sized drinking game, curling.
Step 2. Build a team: Allen recruited* three other former Pro Bowlers — QB Marc Bulger, LB Keith Bulluck and OT Michael Roos — to join him.
Step 3. Set a goal: The team is "dead serious" about wanting to represent the U.S. at the 2022 Beijing Games.
The big picture: In order to make the 2022 Olympics, Team Allen (or the "All Pro Curling Team") would need to earn a top-five ranking by the end of the 2020-21 season, then beat the other four teams at the U.S. Curling Olympic Trials.
On one hand, that seems impossible, as massive calves and the ability to identify the "Mike" linebacker are, unfortunately, not substitutes for actual curling experience.
On the other hand, world-class athletes should not be underestimated — especially when they have exponentially more time and resources than their day job-working peers.
*I use the word "recruited" lightly, as it sounds like Allen didn't have to try too hard. "There really wasn't much convincing," Bulluck told CNN. "He just called ... and was like, 'You want to be on my curling team?' and I was like, 'All right.'" Hahaha YES.
9. 🏆 Trivia
Since the inception of the College Football Playoff, all four national champions — Ohio State ('14-15), Alabama ('15-16), Clemson ('16-17), Alabama ('17-18) — have lost exactly one game.
Question: Can you name the team who beat each of them?
Hint: Two are in the ACC and two are in the SEC.
Answer at the bottom.
10. On this date: 1/7/2008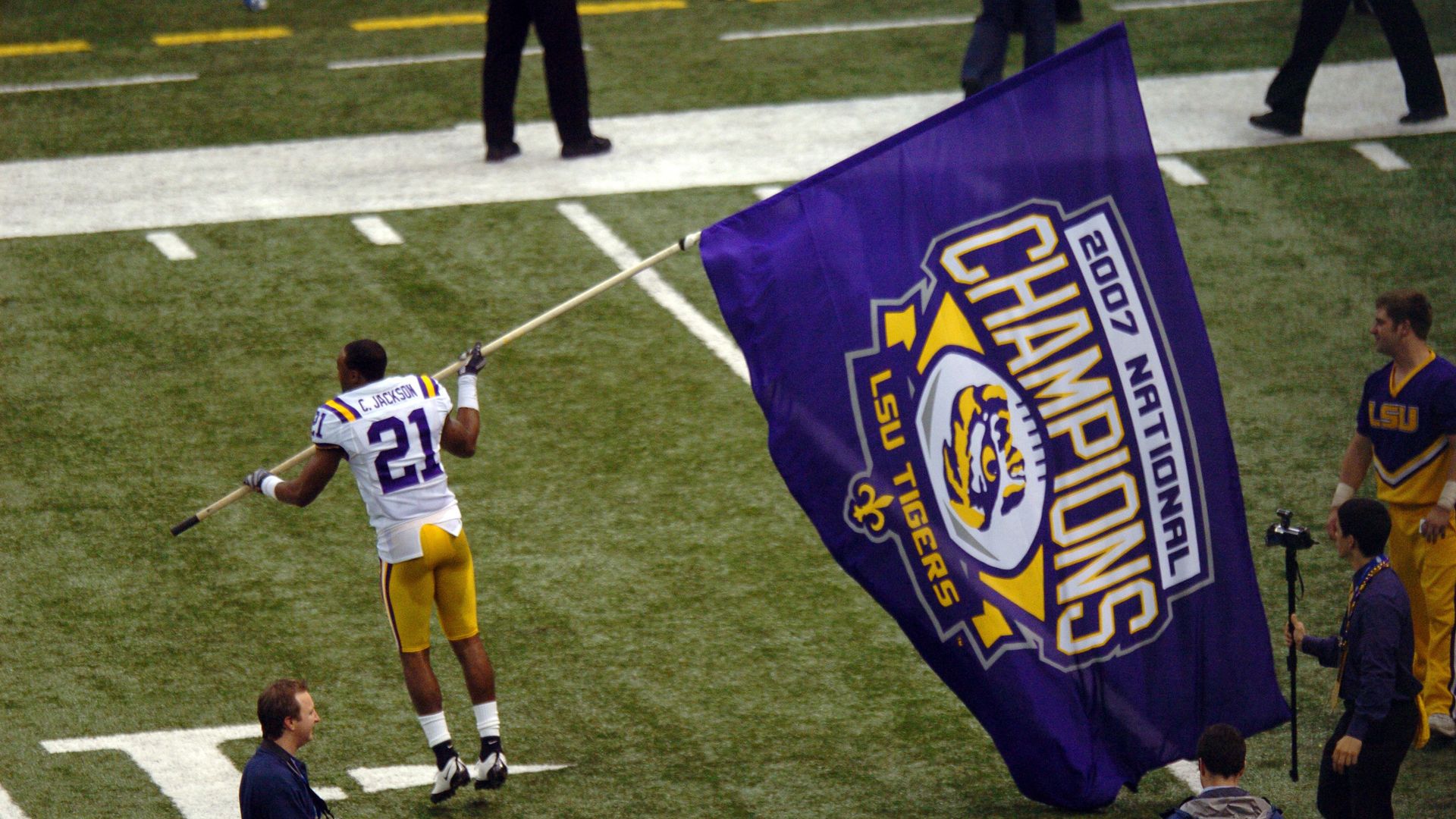 11 years ago today, Les Miles won his first and only national title when #2 LSU took down #1 Ohio State 38-24 (box score) in the 2007-08 BCS National Championship Game.
10-second recap: Ohio State running back Chris "Beanie" Wells broke off a 65-yard touchdown run to open the scoring, but LSU quarterback Matt Flynn (19/27, 175 yds, 4 TD) got the last laugh and was named game MVP.
Fun fact: The No. 1 song in the country at this time: "Low" by Flo Rida ft. T-Pain.
Thanks,
Kendall "I don't even know 400 people" Baker
Trivia answer: Ohio State lost to Virginia Tech; Alabama lost to Ole Miss; Clemson lost to Pitt; Alabama lost to Auburn