Axios Sports
November 01, 2019
👋 Happy Friday! Axios on HBO is back for episode 7 on Sunday (here's a clip). Let's sports.
Word count: 1,513 words (5 minutes)
1 big thing: ⏪ Decade in review
As the decade comes to a close, let's remember all the champions — and all the MVPs — of the last 10 years in the four major U.S. sports.
Multiple titles: Patriots (3), Warriors (3), Giants (3), Blackhawks (3), Heat (2), Red Sox (2), Penguins (2), Kings (2).
Multiple MVPs: LeBron James (3), Steph Curry (2), Tom Brady (2), Aaron Rodgers (2), Peyton Manning (2), Mike Trout (2), Miguel Cabrera (2).
Note: MLB will announce its MVPs later this month, with Trout expected to win the AL award and Christian Yelich and Cody Bellinger the favorites in the NL.
Fun facts:
First-timers: 2019 saw a whopping three first-time champions (Nationals, Raptors, Blues), and the decade as a whole saw 11 (Saints, Seahawks, Eagles, Mavericks, Cavaliers, Astros, Kings, Capitals).
City of Champions: Boston/New England saw one of its teams win a championship in six of the 10 years this decade (2011, 2013, 2015, 2017, 2018, 2019).
Road team revenge: Between 1980 and 2013, not a single road team won a World Series Game 7 (0-9). Since 2014, they've won all of them (Giants, Cubs, Astros, Nationals).
West > East: In both leagues that are split between West and East (NBA and NHL), the Western Conference won six titles while the Eastern Conference won four.
Still kickin': Of all the MVPs listed above, all but three — Peyton Manning, Josh Hamilton and Henrik Sedin — are still playing.
2. 💀 Deadspin is dead
The majority of Deadspin's staff — nearly 20 writers and editors — resigned this week after the site's interim editor-in-chief, Barry Petchesky, was fired for refusing to "stick to sports."
How we got here: Deadspin was founded as a sports blog in 2005 and was originally part of Gawker Media, which was sued out of existence thanks to a lawsuit brought by Hulk Hogan (and funded by Peter Thiel).
After bouncing between a few owners, Deadspin and its sibling sites like Gizmodo, Jezebel and The Onion were acquired by private equity firm Great Hill Partners earlier this year.
Since then, new ownership has tried to change the tone of the site on the fly, urging writers to avoid hot-button issues or polarized political topics.
Why it matters: In the last month alone, two prominent American sports publications have been gutted and look destined to become shells of their former selves.
A few weeks ago, Sports Illustrated's new owners laid off half the newsroom — the first step in their plan to turn it into a rickety old content mill staffed by contributors making as little as $25,000 a year.
The big picture: Slate's Ben Mathis-Lilley describes this growing class of "zombie" publications, which extends far beyond sports media:
"Trustworthy brand-name publications are being hollowed out and refilled with unpaid 'community' contributors or low-paid, less experienced professionals who don't have the stature to challenge editorial imperatives or productivity quotas."
What they're saying:
WSJ's Jason Gay: "'Stick to sports' has become a pernicious rallying cry over the past few years, the idea being that for a sports media company to discuss political events is to somehow risk alienating your audience. ... [T]he net consequence is usually a chilling effect, limiting discussion of anything political or even complicated."
The Ringer's Bryan Curtis: "In 2008, author Buzz Bissinger faced off with [Deadspin founder] Will Leitch on HBO. Bissinger freaked out that real, honest-to-god reporters like him were being undercut and replaced by snotty bloggers. ... Now we've lost the snotty bloggers."
My take: As someone whose job is to highlight the best sports content on the internet, this stinks. Deadspin has played a vital role in the media landscape for years and has published some of the best freelance writing anywhere online.
It also stood for something, and you saw that this week, as a bunch of people — many of whom probably can't afford to be unemployed — took down their own publication over perceived journalistic/moral differences with their bosses.
Update: Bernie is Team Deadspin.

3. 🏀 Nunndrafted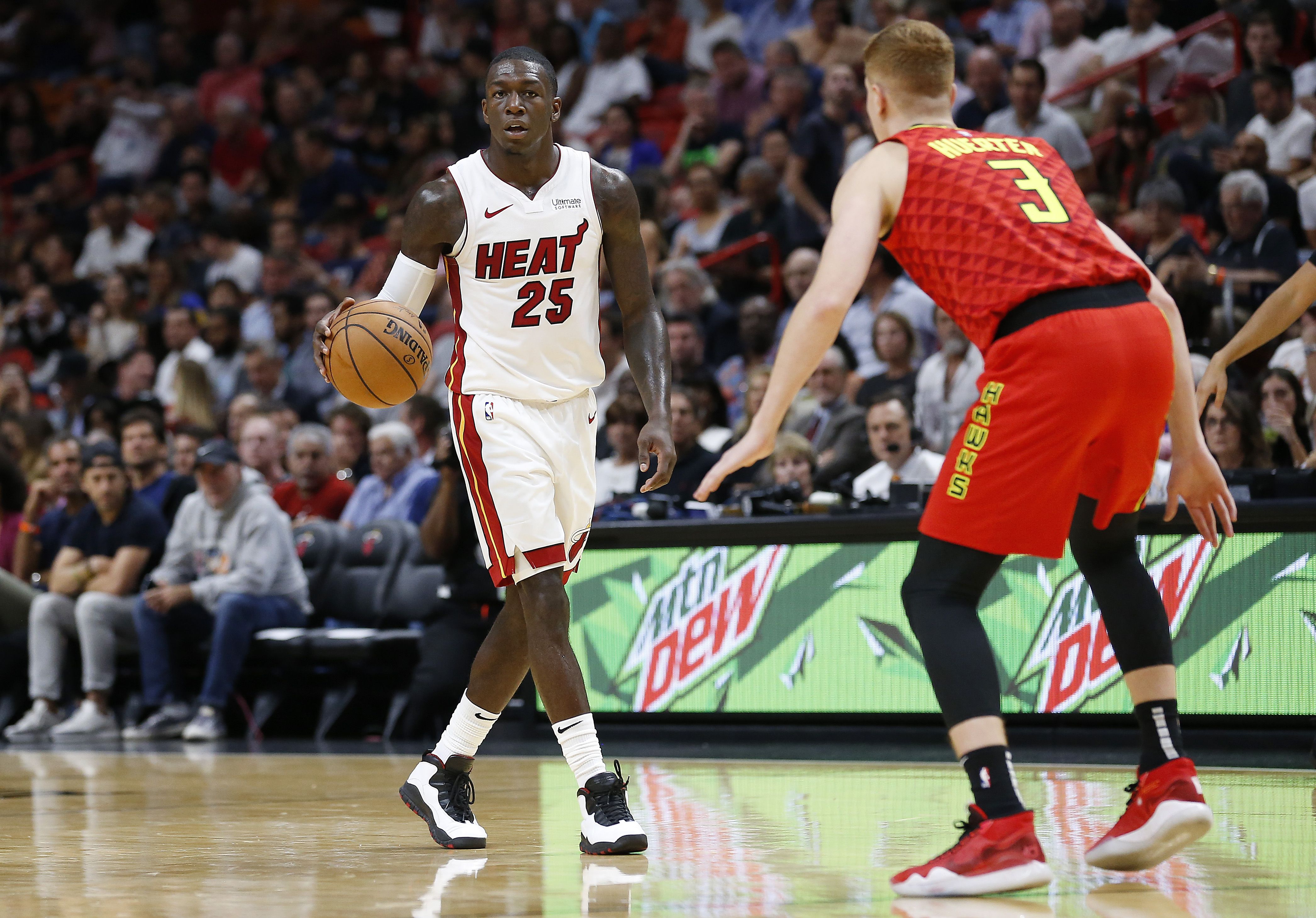 Kendrick Nunn, who went undrafted in 2018 and spent last season with the Warriors' G League team (Santa Cruz Warriors) before signing with the Heat this summer, is off to a historic start.
By the numbers: The 24-year-old rookie hung 28 on the Hawks last night and has now scored 112 points over his first five games (22.4 ppg).
Why it matters: Over the past 25 years, only Jerry Stackhouse (No. 3 pick in 1995) and Kevin Durant (No. 2 pick in 2007) have scored more points in their first five games. Again, Nunn wasn't even drafted!
Fun fact: During his senior season at Oakland University, Nunn was the nation's second-leading scorer (25.9 ppg), trailing only Oklahoma's Trae Young (27.4).
More NBA:
Pelicans 122, Nuggets 107: Three former Blue Devils — Jahlil Okafor (26 points), Brandon Ingram (25) and Frank Jackson (21) — led New Orleans to their first win. Meanwhile, something looks off in Denver.
Clippers 103, Spurs 97: Kawhi Leonard scored 38 points against his former team and Montrezl Harrell added 24 off the bench. With the Spurs' loss, the 76ers are now the only remaining undefeated team.
4. 🏈 A rough night for Mountaineers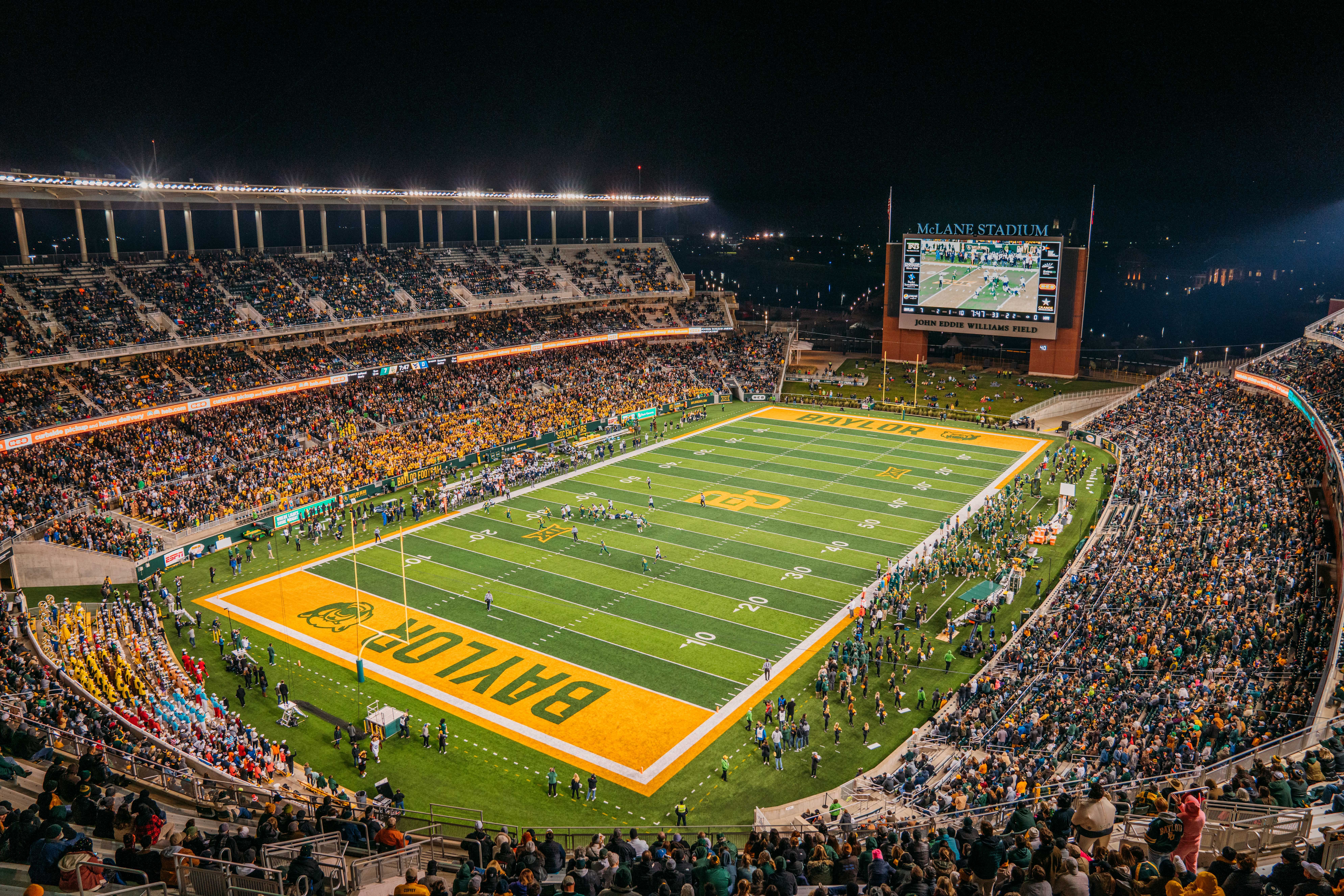 📉 Down goes App State: Georgia Southern upset No. 20 Appalachian State for the second straight season last night, 24-21, snapping the Mountaineers' 13-game winning streak.
Why it matters: App State came into the game as the highest-ranked Sun Belt team ever and had a shot at a New Year's Six berth, but now they won't even make their conference championship game if Georgia Southern wins out.
🐻 Baylor survives: The No. 12-ranked Baylor Bears squeaked past the West Virginia Mountaineers, 17-14, to remain undefeated.
The big picture: In the past week, Oklahoma, Iowa State and Texas all lost — and Baylor barely hung on. There's still plenty of football left, but the Big 12 isn't looking too hot right now.
Saturday's slate (all times ET):
3:30pm: No. 8 Georgia (-6.5) at No. 6 Florida
7:30pm: No. 15 SMU at No. 24 Memphis (-6)
8pm: No. 7 Oregon (-4.5) at USC
5. 🏎 F1 comes to Texas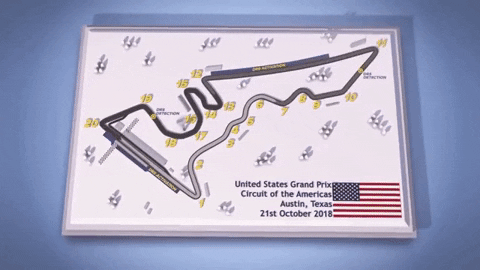 The 2019 Formula One World Championship travels to Austin, Texas this weekend for the United States Grand Prix, the third-to-last race of the season.
The intrigue: An eighth-place finish or better is all Lewis Hamilton needs to secure a sixth world title, which would put him one behind the great Michael Schumacher.
Watch: If you want to get a sense of the track they'll be racing on, here's a bird's eye view of the 2016 U.S. Grand Prix.
Current standings:
Lewis Hamilton, Mercedes (363 pts)
Valtteri Bottas, Mercedes (289 pts)
Charles Leclerc, Ferrari (236 pts)
Sebastian Vettel, Ferrari (230 pts)
Max Verstappen, Red Bull (220 pts)
P.S. ... Earlier this week, F1 unveiled its car of the future.
6. Nov. 1, 2017: ⚾️ Astros win first World Series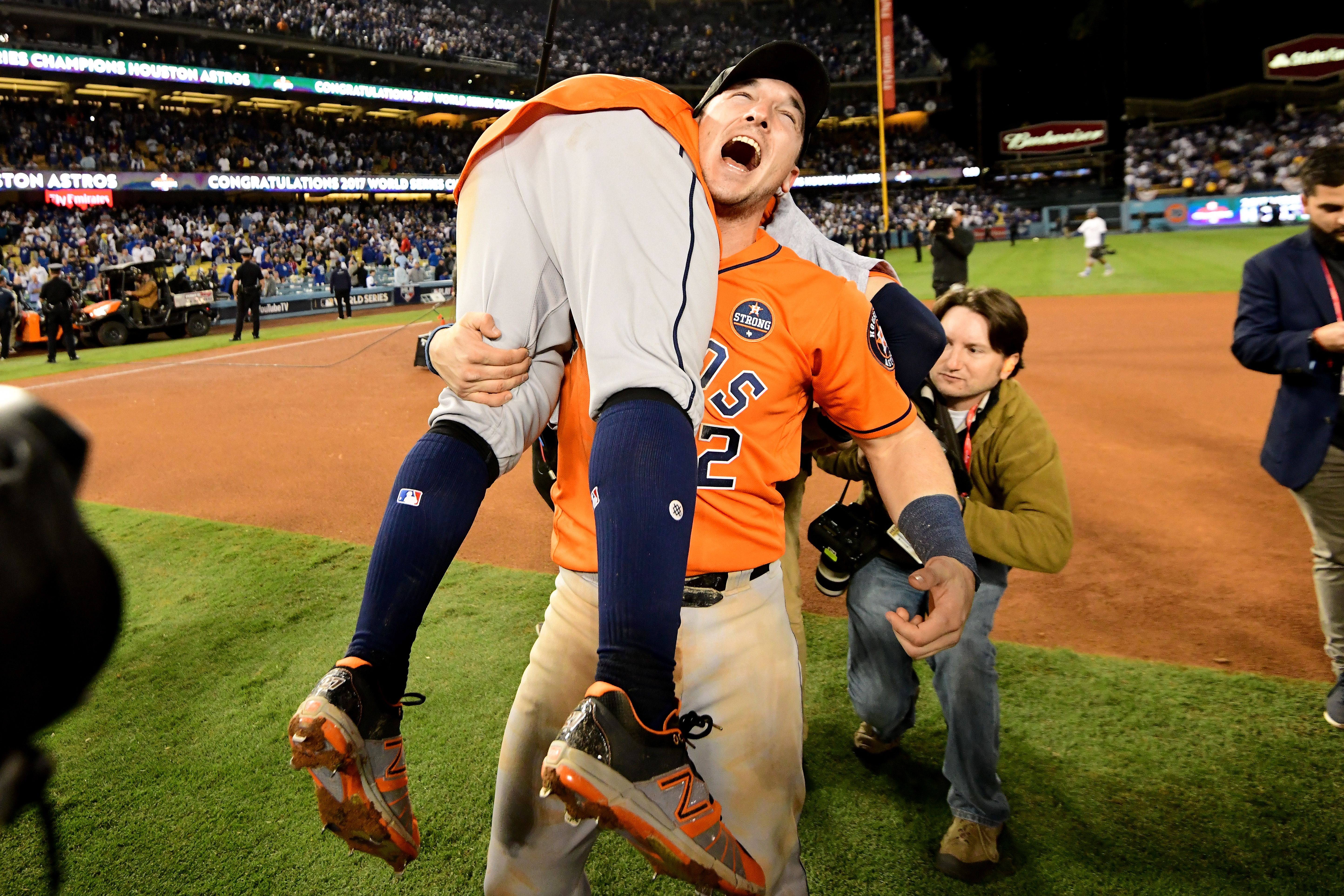 Two years ago today, the Astros beat the Dodgers, 5-1, in Game 7 to win the franchise's first World Series — a feat they came just short of repeating on Wednesday.
The backdrop: The victory came just two months after Hurricane Harvey devastated Houston. During their championship run, the Astros became a beacon of hope.
"Across Houston, people who nine weeks ago were united by chaos and water were brought back together by a ballgame. They listened on radios because Harvey destroyed their televisions. They watched in gutted rooms missing walls...." (NYT)
7. 🏈 NFL trivia
The 49ers beat the Cardinals last night, 28-25, to improve to 8-0 — the second-best start in the Super Bowl era by a team that won fewer than five games the previous season.
Question: Can you name the only such team that got off to a better start?
Hint: They started 9-0 in 2013 and their QB was a former 49er.
Answer at the bottom.
8. The Ocho: 💨 Cigar Smoking Championship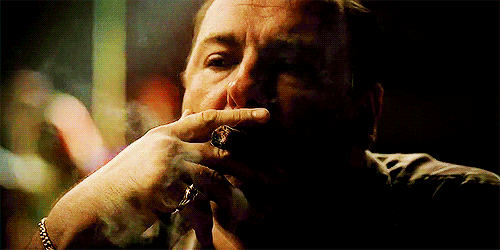 Cigar enthusiasts from all over the world recently descended upon Split, Croatia for the 10th edition of the Cigar Smoking World Championship.
How it works: The goal is to smoke a cigar in the longest possible time without relighting it. "One has to read the way a cigar burns [and] measure the weight on each puff," writes NYT's Andrew Keh.
The winner: Oleg Pedan, 29, a cigar lounge owner from St. Petersburg, Russia, outlasted the field, smoking for over 3 hours and 26 minutes.
9. 📚 Good reads
⚾️ Considering Bryce Harper's place in the "Ewing Theory" pantheon (Katie Baker, The Ringer)
"Harper is not only a new example of the decades-old Ewing Theory — [which suggests] teams can actually benefit from losing their top player — but perhaps even more of a manifestation of the idea than Patrick Ewing himself."
🏅 The Marathon star who wins with his arms (Rachel Bachman, WSJ)
"Meet wheelchair athlete Daniel Romanchuk, the defending champion in Sunday's New York City Marathon. He has a wingspan wider than Michael Phelps', a powerful work ethic and good timing: His surge coincides with an increase in attention and prize money for Paralympic athletes."
⚽️ For Palestinians in and out of refugee camps, Al Wihdat is more than a soccer team (Omar Almasri, Deadspin)
"Internationally, Al Wihdat is as obscure as any pro side could be. For the people that care about the team, though — a fan community that reaches from refugee camps across some of the most disputed borders in the world — it's not just a side to support."
10. 🥊 Saturday night fight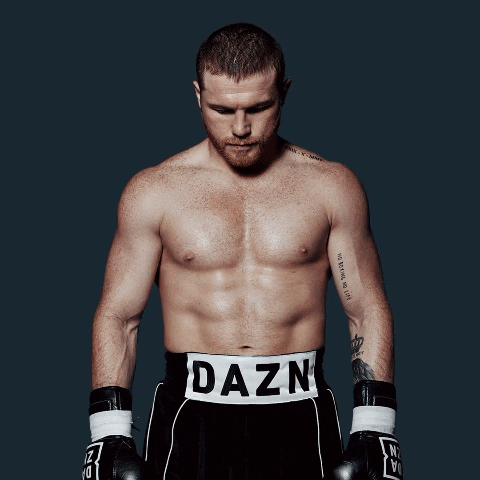 Canelo Alvarez (51-1-2, 34 KO) is moving up two weight classes (175 pounds) to challenge Sergey Kovalev (34-3-1, 28 KO) this weekend, as he looks to secure a world title in a fourth weight division.
Go deeper: Storylines to watch (CBS Sports)
Enjoy the weekend,
Kendall "Currently on repeat" Baker
Trivia answer: 2013 Chiefs (led by QB Alex Smith)
P.S. ... Yesterday's trivia question was missing the word "defensive." Only three *defensive* players have finished in the top 5 in Heisman voting this decade. Sorry!