Axios Sports
August 09, 2019
🎉 Happy Friday!
⚽️ Premier League kickoff: Liverpool vs. Norwich City, 3pm ET (NBCSN)
🏈 NFL preseason: Buccaneers vs. Steelers, 7:30pm ET; Vikings vs. Saints, 8pm ET
⛳️ Northern Trust: Troy Merritt tied the course record with a 9-under 62 yesterday for a one-shot lead over Dustin Johnson. Go deeper.
Today's word count: 1,643 ( ~ 6 mins).
1 big thing: 🎬 Damon Sheehy-Guiseppi's life is a movie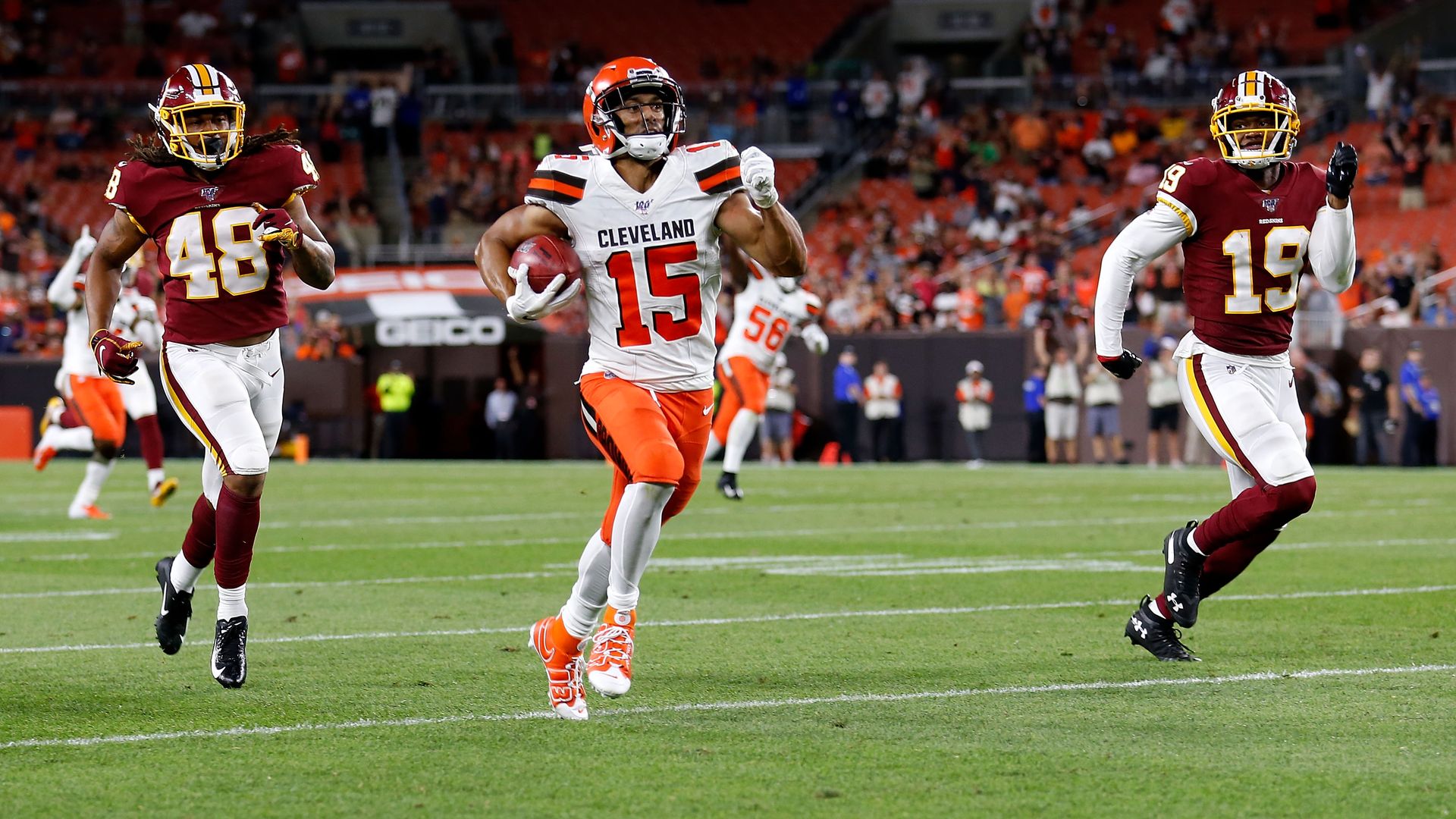 Four months ago, Damon Sheehy-Guiseppi was sleeping outside because he couldn't afford a hotel room. Last night, he returned a punt 86 yards for a touchdown in an NFL preseason game.
Watch: Click this link, watch his teammates mob him, and then come back here to read his story. I'll wait.
The backdrop: In 2016, Sheehy-Guiseppi was a junior college All-American kick returner for Phoenix College. But after failing to land a Division I offer that offseason, he went two years without playing organized football.
Eager to play professionally, Sheehy-Guiseppi tried walking on to an NFL team. No luck. He tried making an AFL team. No luck. He drove to Las Vegas for a CFL tryout and paid $100 to participate. No luck.
The breakthrough: All looked lost until a friend he had met in a flag football league told Sheehy-Guiseppi about an NFL workout in Miami.
Despite not having an invite, Sheehy-Guiseppe showed up and convinced the guy with the clipboard that he knew Browns' VP of player personnel Alonzo Highsmith, who was there as a scout (he did not).
Sheehy-Guiseppi crushed the workout, and his 4.38 40-yard dash — which would have ranked sixth among WRs at the NFL combine — earned him an invite to try out for the Browns in Cleveland.
One problem: He was stuck in Miami with no money and a week until the tryout. So he improvised, sleeping either outside or at a 24-hour fitness center and eating food at strangers' cookouts.
When he arrived in Cleveland, Sheehy-Guiseppi impressed once again and was officially signed by the team on April 5. Four months later, he's on top of the world.
The bottom line: If this isn't a future Disney movie, I don't know what is. Just an incredible story of perseverance, and a moment last night that genuinely made everyone who witnessed it happier — even if only for a moment. Damon!!!
More NFL:
2. ⚽️ Premier League is once again Man City and Liverpool's to lose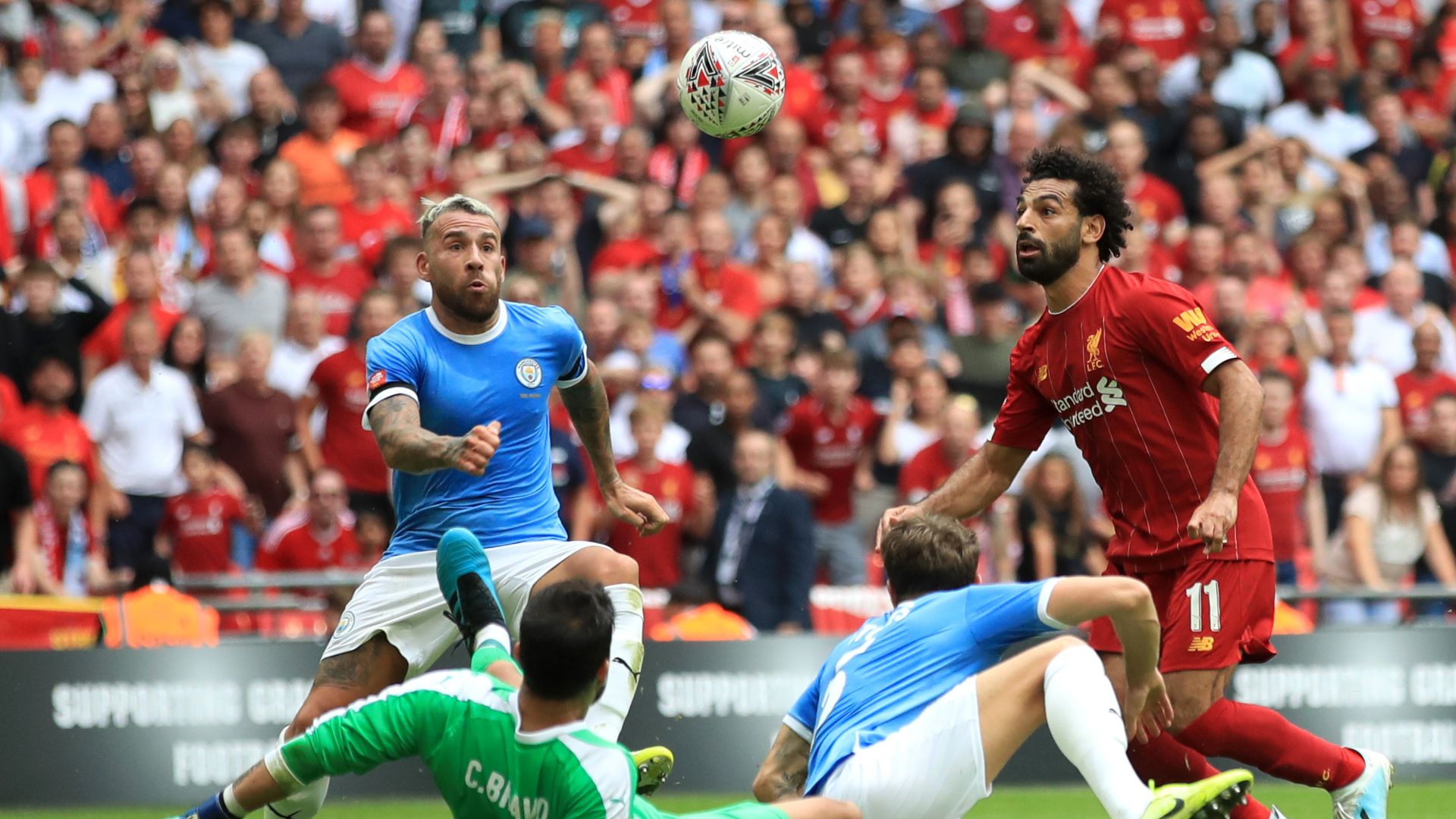 The Premier League season kicks off today, and for the second straight year, it's Manchester City and Liverpool's league to lose.
Flashback: The two rivals had the second and third best seasons in Premier League history last season, with Manchester City eventually winning its second straight title — and Liverpool later winning the Champions League.
The landscape:
The top two: Manchester City, Liverpool
The next four: Chelsea, Tottenham, Arsenal, Manchester United
The challengers: Everton, Wolverhampton, Leicester City
The non-challengers: Crystal Palace, Bournemouth, West Ham United, Newcastle, Southampton, Watford, Burnley, Brighton
The noobs (newly promoted teams): Aston Villa, Norwich City, Sheffield United
Driving the news:
Transfer window: Yesterday was the final day of the summer transfer window, and Chelsea shocked the soccer world by selling David Luiz to Arsenal for just $9.7 million. See all the deals.
The Pulisic effect: Several American players have excelled in the Premier League, but 20-year-old Christian Pulisic arrives at Chelsea with more fanfare and higher expectations than all of them. NBC Sports is banking on him to drive ratings.
P.S. … NBC Sports compared each Premier League club to an NFL franchise, so this should help you pick a team if you need one.
Manchester City = Patriots (modern dynasty, "mastermind" head coach, despised by opponents)
Liverpool = Packers (loyal fans, rich tradition, led by elite talents in Mo Salah and Aaron Rodgers)
Chelsea = Steelers (championship pedigree, lots of dysfunction recently)
Tottenham = Rams (up and coming team, exciting talent and coach)
Arsenal = Giants (championship pedigree, recent struggles, faces of the franchise are either gone in Arsène Wenger's case or on the way out in Eli Manning's case)
Manchester United = Cowboys (global brand, better in the past than they are now)
Newcastle United = Bills (tucked away in the far north of their respective countries, cold climate, passionate fans, starved for success)
West Ham United = Bears (flashy signings in big cities, struggle to get over the hump)
3. ⚾️ This might be Mike Trout's best season yet
Mike Trout, who turned 28 on Wednesday, is having perhaps his best season yet, which is saying a lot considering they've all been spectacular.
By the numbers: The two-time MVP is on pace to set career-highs in multiple categories including HR, RBI and slugging percentage. What else is even left for him to conquer?
Fun fact: Among center fielders, Trout's 71.7 WAR (wins above replacement) already ranks seventh all-time. If he keeps the same pace this year and has a similar season next year, he'll pass Joe DiMaggio and Ken Griffey Jr. to move into fifth all-time ... at age 30.
P.S. … Are you a data nerd? We partnered with Sports Reference on this story, and they have their own stats-centric newsletter. Check it out.
4. ❄️ Cryotherapy, explained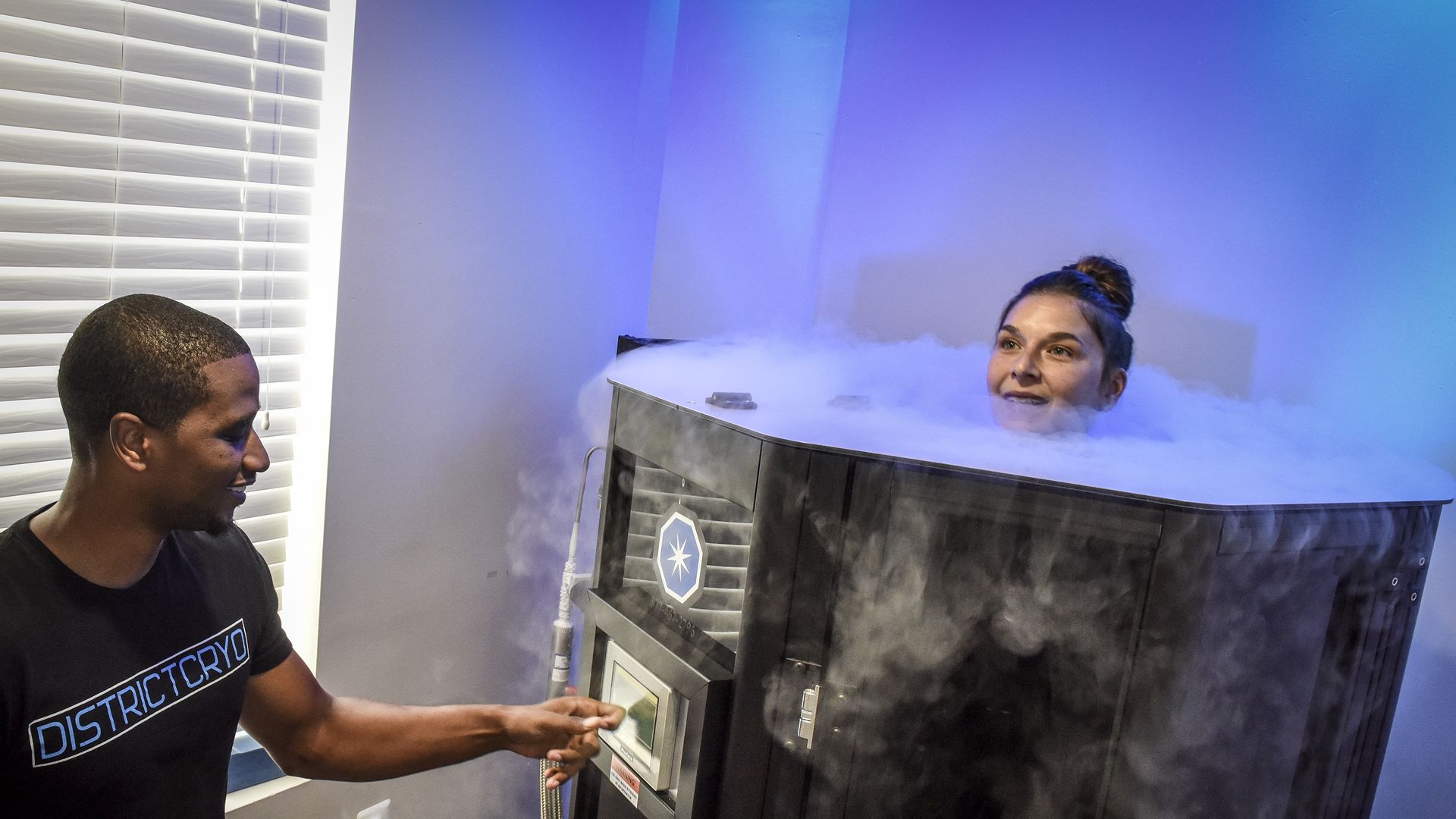 Cryotherapy is a form of treatment used to expedite the recovery process — kind of like ice baths on steroids. It's become popular among athletes in recent years, but a report out of Oakland this week could scare some away.
Driving the news: Raiders superstar Antonio Brown is currently sidelined after suffering "extreme frostbite" in a cryotherapy session gone wrong.
According to a source, Brown didn't put on the proper footwear protection, leaving his feet looking like this (warning: very gross).
How it works: You strip down (but cover extremities) and stand in an extremely cold liquid nitrogen chamber for up to three minutes. This "tricks" your body into thinking it's freezing to death, which triggers natural healing mechanisms and causes, among other things, increased circulation and decreased inflammation.
Where Brown went wrong: When your body thinks it's dying, the first thing it does is contract blood vessels in the extremities and send more blood toward the vital organs. That's why cryotherapy clinics have patients put two layers over their hands and feet — something Brown apparently failed to do.
The big picture: This has happened before. Olympic sprinter Justin Gatlin suffered the same fate in 2011 when he entered the chamber with sweaty socks. He said it sidelined him for months, meaning Brown's Raiders debut may have to wait.
"Every day I had to wake up and get my blisters popped by a therapist. It got really, really bad. ... Antonio Brown [is] amazing at what he does, but at the end of the day, the injuries I sustained from that, it took months of recovery to get back."
— Justin Gatlin,
per TMZ
BONUS: 👟 Map du jour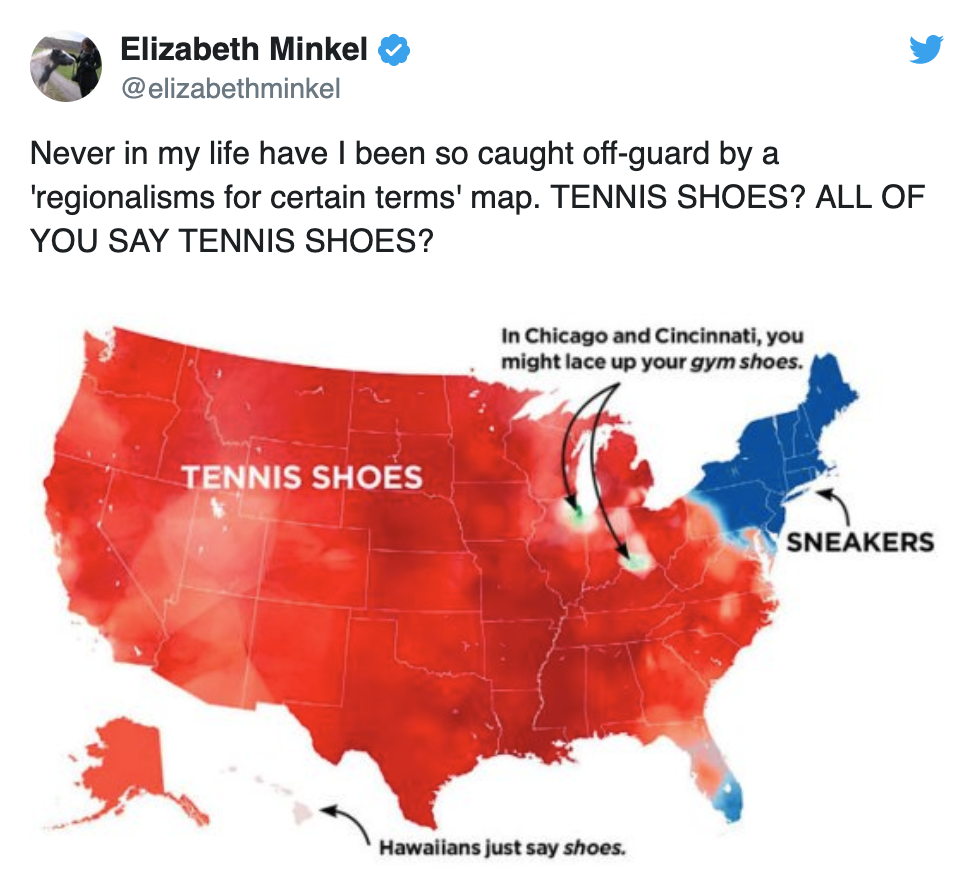 Wait, what?
5. By the numbers
9 doubles
⚾️ MLB: Blue Jays rookie Bo Bichette only needed 48 big league at-bats to become the first player in MLB history to hit a double in nine straight games. … Overall, he's batting .404 with four HR and has recorded a hit in every game he's played in. Is that good?
2 resignations
🏀 Pan American Games: The Argentina women's national basketball team had to forfeit a game at the Pan American Games because it showed up wearing the wrong color jerseys. Shortly thereafter, the team manager and director of basketball development submitted their resignations.
53,269 fans
⚽️ MLS: For the second straight season, Atlanta United leads Major League Soccer in average attendance ... by a lot. The top five: Atlanta United (53,269), Seattle Sounders (39,663), FC Cincinnati (27,691), Portland Timbers (25,218), Toronto FC (24,911).
6. Aug. 9, 1988: 🏒 "The Trade"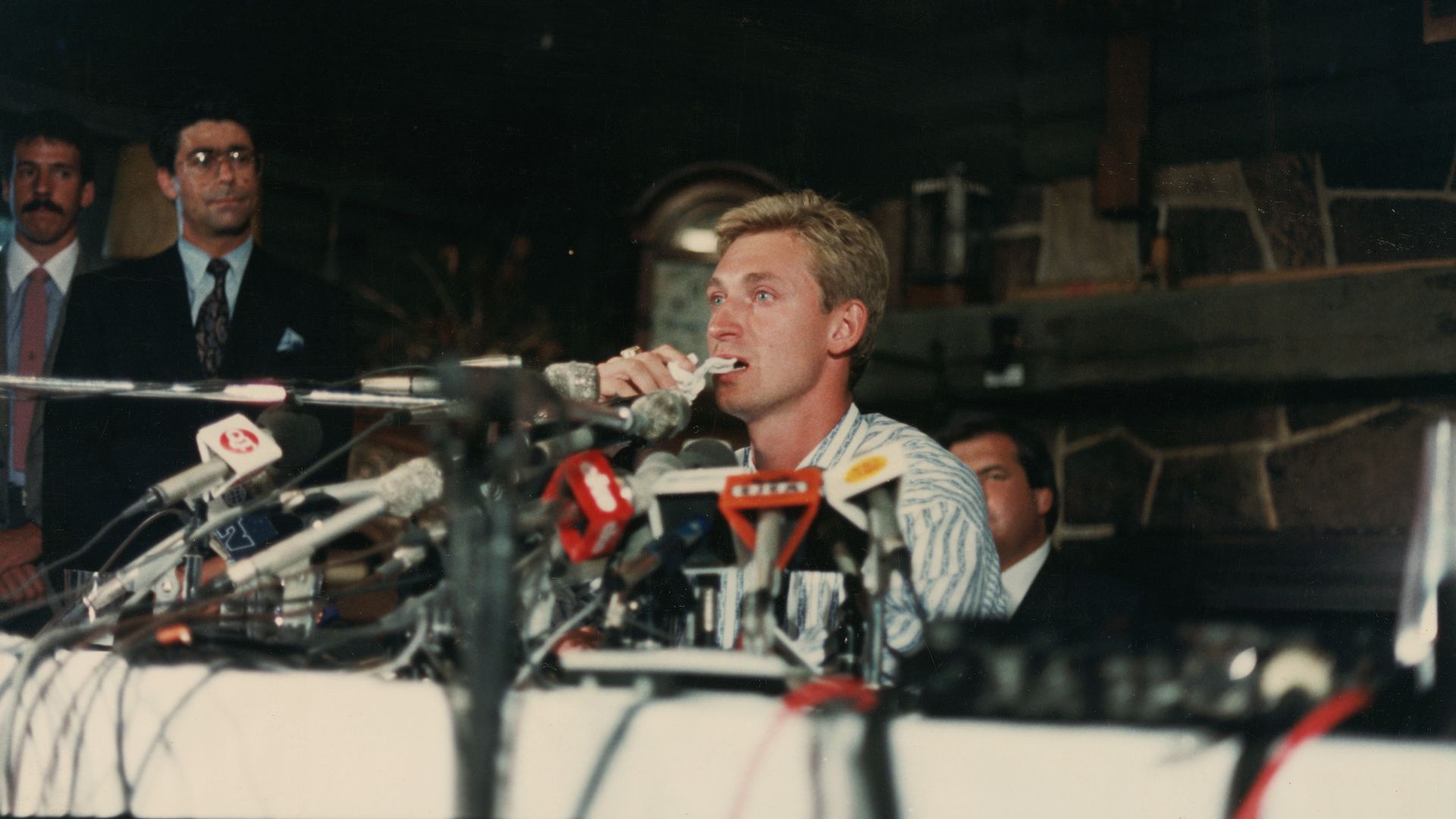 31 years ago today, the Edmonton Oilers traded 27-year-old Wayne Gretzky — the best hockey player on the planet and still in the prime of his career — to the L.A. Kings for a package of young players, draft picks and $15 million in cash.
The reaction: The blockbuster trade came on the heels of the Oilers' fourth championship in five years and caused such an uproar in Edmonton and across Canada that politicians tried to block it from happening.
"The Oilers without Gretzky is like apple pie without ice cream, like winter without snow, like Wheel of Fortune without Vanna White."
— New Democratic Party House Leader Nelson Riis,
per NHL.com
The fallout:
The Kings went to the postseason for five straight years with Gretzky, losing in the 1993 Stanley Cup Finals to the Canadiens.
The Oilers won another championship in 1990 thanks to an MVP season from Gretzky's former teammate, Mark Messier.
Watch: Gretzky's tearful goodbye to Edmonton (YouTube)
7. ⚾️ MLB trivia
Question: Who is the only player not named Pete Rose to lead a decade in hits and not be in the Baseball Hall of Fame?
Hint: He led the 1990s in hits while playing for a team in the NL Central.
Submitted by: Shawn Crull (New Palestine, Ind.)
Answer at the bottom.
8. The Ocho: 🥁 Drum Corps International World Championships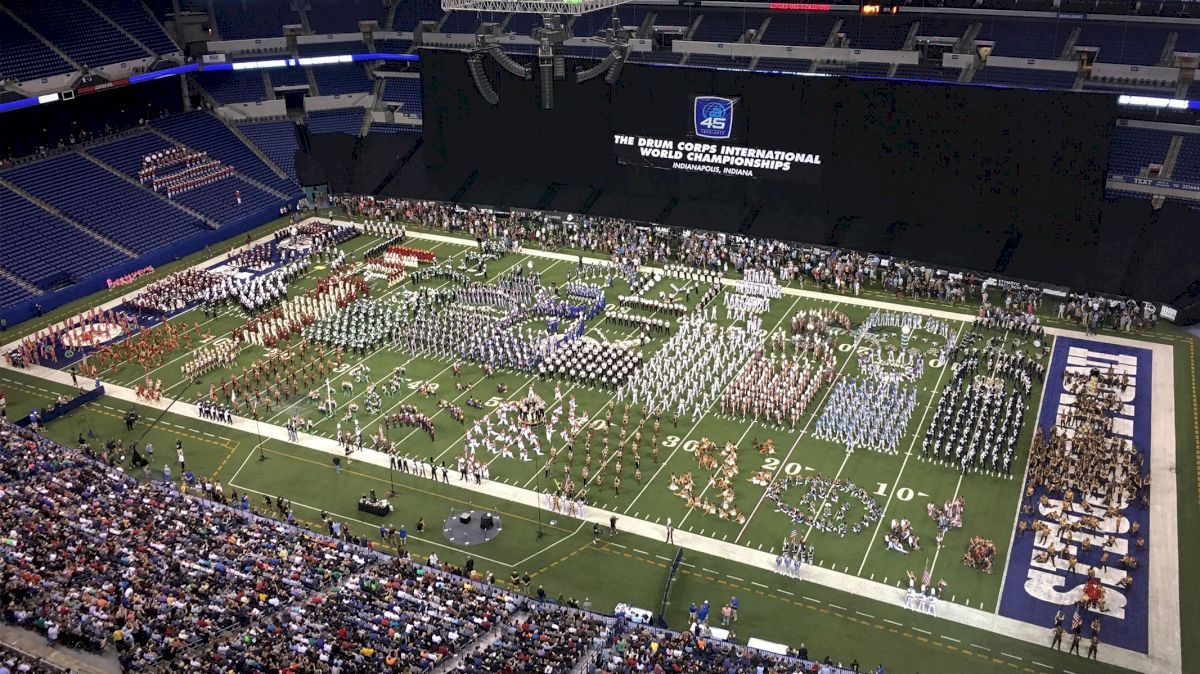 The 2019 Drum Corps International World Championships are currently underway at Lucas Oil Stadium in Indianapolis.
How it works: Each corp is split into three sections: brass, percussion and color guard …154 members per core … age limit is 21 … judges grade each performance across multiple categories.
Current standings: 1. Bluecoats (Canton, Ohio.); 2. Blue Devils (Concord, Calif.), 3. Santa Clara Vanguard (Santa Clara, Calif.); 4. Carolina Crown (Fort Mill, S.C.); 5. The Cavaliers (Rosemont, Ill.)
Go deeper: Check out FloMarching on Instagram. They're at Lucas Oil covering the event and the drumline videos are wild. Totally opened my eyes to a world I didn't even know existed.
9. 📚 Good reads
🏒 Joe Murphy, Red Wings' No. 1 Pick, Is Homeless Again — And Refusing Help (Detroit Free Press)
"Murphy is a fascinating case study at the crux of several issues — traumatic brain injuries, mental health issues and the ripple effect of concussion lawsuits on professional sports. How do you help somebody who doesn't want help? ... And what will happen to his life if he comes into a sudden influx of cash from a settlement?"
⚾️ The Hard, Historic Roads That Lead To Baseball's Magic Number: .400 (SI)
"It's a test of skill and endurance so stringent that no major league batter has passed it since World War II. The stories of two minor leaguers who have since hit baseball's magic number — one in the Jim Crow South, one in an independent hardball outpost — are monuments to the resolve it takes to succeed in the game."
🏈 Is Pats Lifer Matthew Slater The Last Great Gunner? (ESPN)
"There is a real case to be made that Slater is as good at his job — playing special teams — as anyone in football. ... But just as important, he might be the best marriage of selflessness and specialization of this NFL era."
10. 🎬 In keeping with today's movie theme...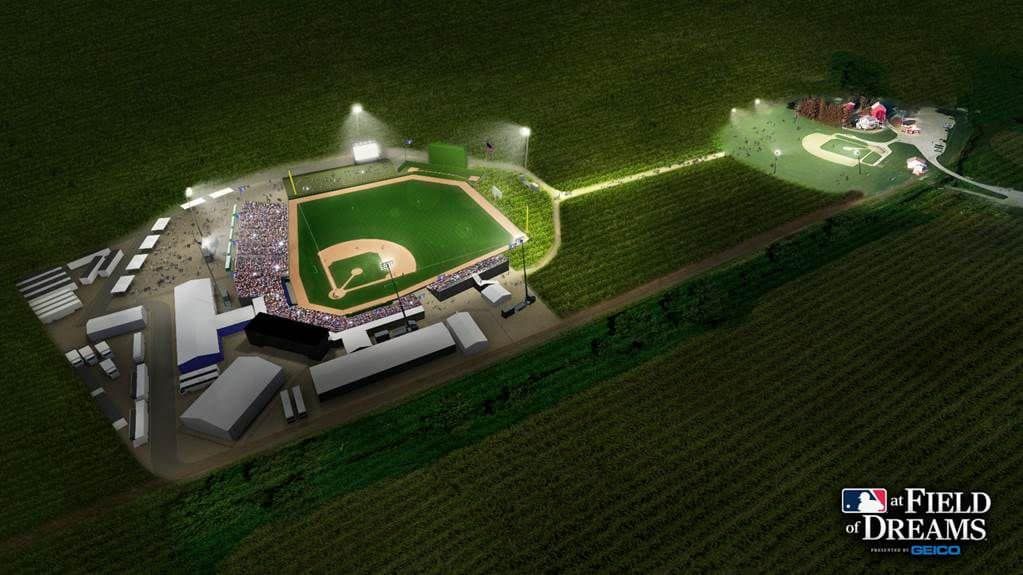 The "Field of Dreams" movie set in Dyersville, Iowa, will host the Yankees and White Sox for a regular season game next August, MLB announced yesterday.
Details: The game will be played in a temporary stadium designed to look like Chicago's Comiskey Park, home of the White Sox from 1910 to 1990. It will hold 8,000 fans and sit adjacent to the original field and movie set.
One question: When are we getting Dodgers vs. Giants at "The Sandlot"? Make it happen, Manfred.
Enjoy the weekend,
Kendall "Tennis sneakers" Baker
Trivia answer: Cubs 1B Mark Grace
Editor's note: The photo in story no. 4 was changed due to concerns over insensitive portrayals.