Axios Sports
March 09, 2021
👋 Good morning! Let's sports.
🏈 Situational awareness: Les Miles is out at Kansas following a report that accused him of sexually harassing female students when he was at LSU.
Today's word count: 1,569 words (6 minutes).
1 big thing: ⚽️ Paramount+ bets big on soccer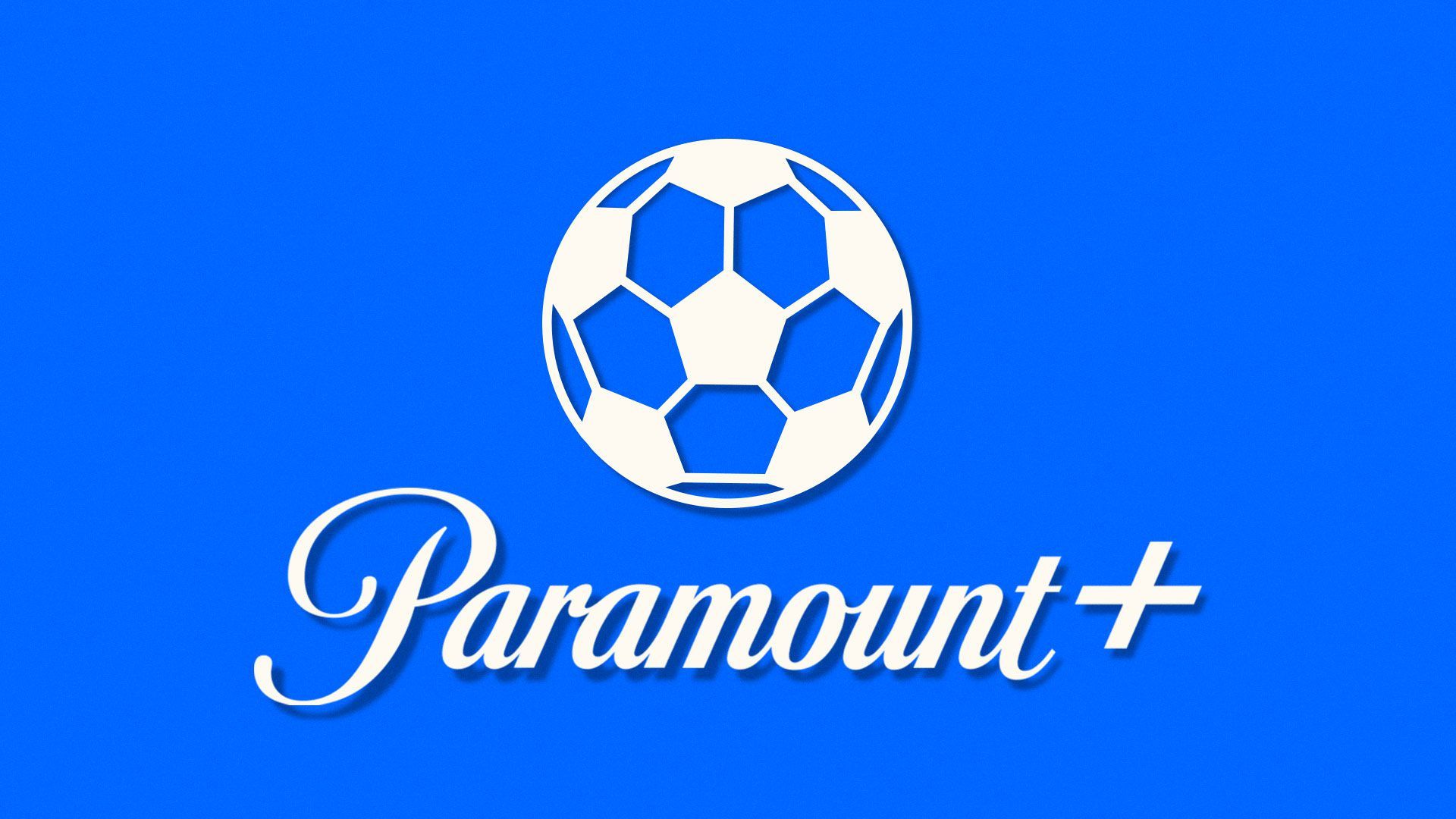 Paramount+ launched last Thursday, just in time for the second legs of the Round of 16 Champions League. All four games will stream live in the app at 3pm ET today and tomorrow:
Today: Juventus vs. Porto (up 2-1); Dortmund (up 3-2) vs. Sevilla
Tomorrow: Liverpool (up 2-0) vs. RB Leipzig; PSG (up 4-1) vs. Barcelona
The state of play: Like Peacock, Paramount+ is leaning hard into its exclusive sports rights as a way to acquire new customers — and keep them.
In addition to having every UEFA Champions League and Europa League match, Paramount+ will also be the home of the 2021 NWSL season, plus over 200 CONCACAF matches, including World Cup qualifiers for both the USMNT and USWNT.
In other words, Paramount+ is a must-buy for hardcore soccer fans. Many were likely subscribed before it rebranded from CBS All-Access, but the hype around the new service — plus the free monthly trial — should recruit even more to join.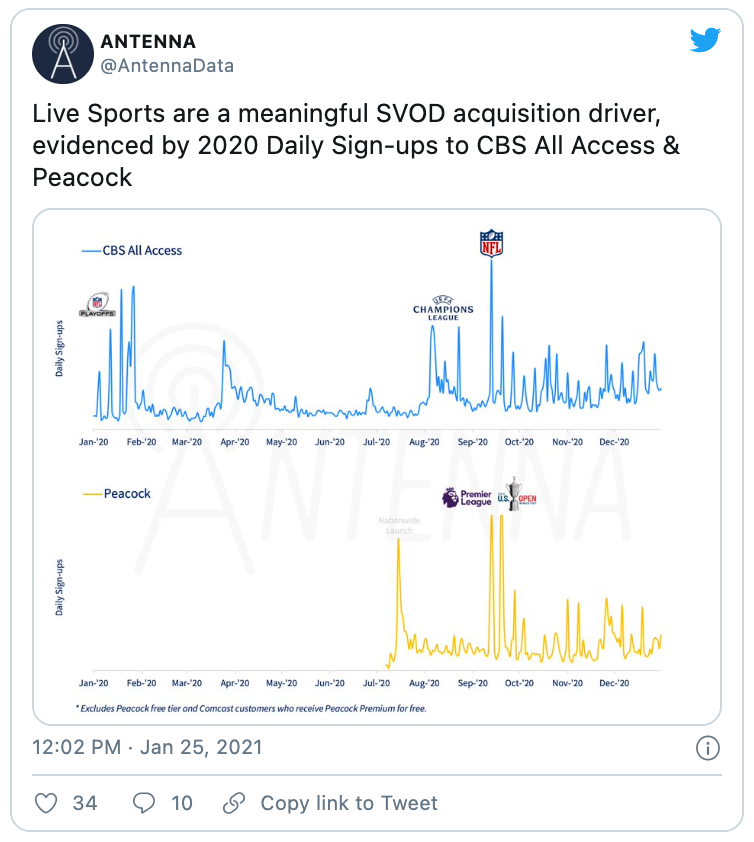 The big picture: Live sports remain a largely untapped growth lever for streamers. Of the 10 biggest sign-up events of 2020, four were sports-related, according to ANTENNA, a streaming measurement company.
The top 10:
"WW84" (HBO Max)
"Hamilton" (Disney+)
Black Friday promo (Hulu)
"Greyhound" (Apple TV+)
Premier League + U.S. Open (Peacock)
NFL Playoffs (CBS All-Access)
Premier League (Peacock)
"Soul" (Disney+)
"Frozen II" (Disney+)
NFL Regular Season (CBS All-Access)
The bottom line: For years, live sporting events have kept U.S. consumers tethered to cable. Now, as the world wades further into streaming, they've become a key tool for prying them away.
Pregame reading:
2. 🏈 Dak gets paid: Four years, $160 million
Dak Prescott and the Cowboys have agreed to a four-year, $160 million contract, including $126 million guaranteed, per ESPN.
Why it matters: Prescott, who hasn't played since fracturing and dislocating his right ankle in October, is now the NFL's second-highest-paid QB behind Patrick Mahomes.
By the numbers: Prescott's signing bonus is $66 million, the highest in NFL history, with a record $75 million due in Year 1.
In five seasons, Prescott has posted a 42-27 record to go along with 106 TD passes and 40 INT.
He has a team-record seven 400-yard passing games and 24 rushing TD, the most ever by a Cowboys QB.
Go deeper: Jerry Jones bet against Dak Prescott and lost (USA Today)
3. 🏀 Championship Week is here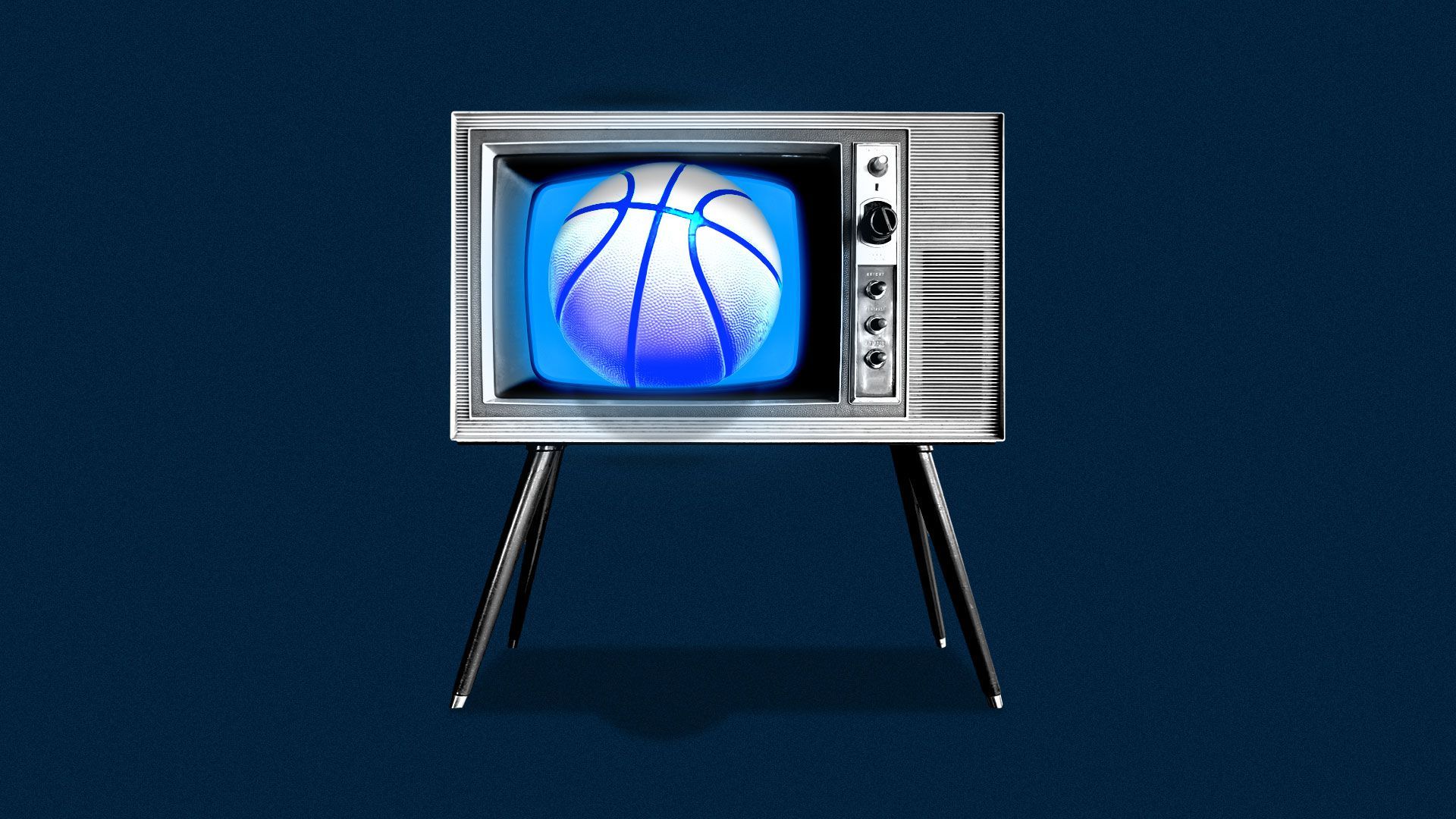 Championship Week is underway as teams make their final case ahead of Selection Sunday (men's) and Monday (women's), Axios' Jeff Tracy writes.
The state of play: 62 automatic bids are up for grabs (31 men's; 31 women's), and 13 of those tickets have already been punched.
Men's: Liberty (Atlantic Sun), Morehead State (Ohio Valley), Winthrop (Big South), Loyola-Chicago (Missouri Valley), Appalachian State (Sun Belt), UNC Greensboro (Southern)
Women's: Belmont (Ohio Valley), NC State (ACC), Mercer (Southern), South Carolina (SEC), Stanford (Pac-12), Troy (Sun Belt), UConn (Big East)
Coming up: The remaining 49 automatic bids will be settled before Sunday, with eight title games tonight: The Horizon, Summit and West Coast for men's and women's, plus the Northeast and Colonial for men's.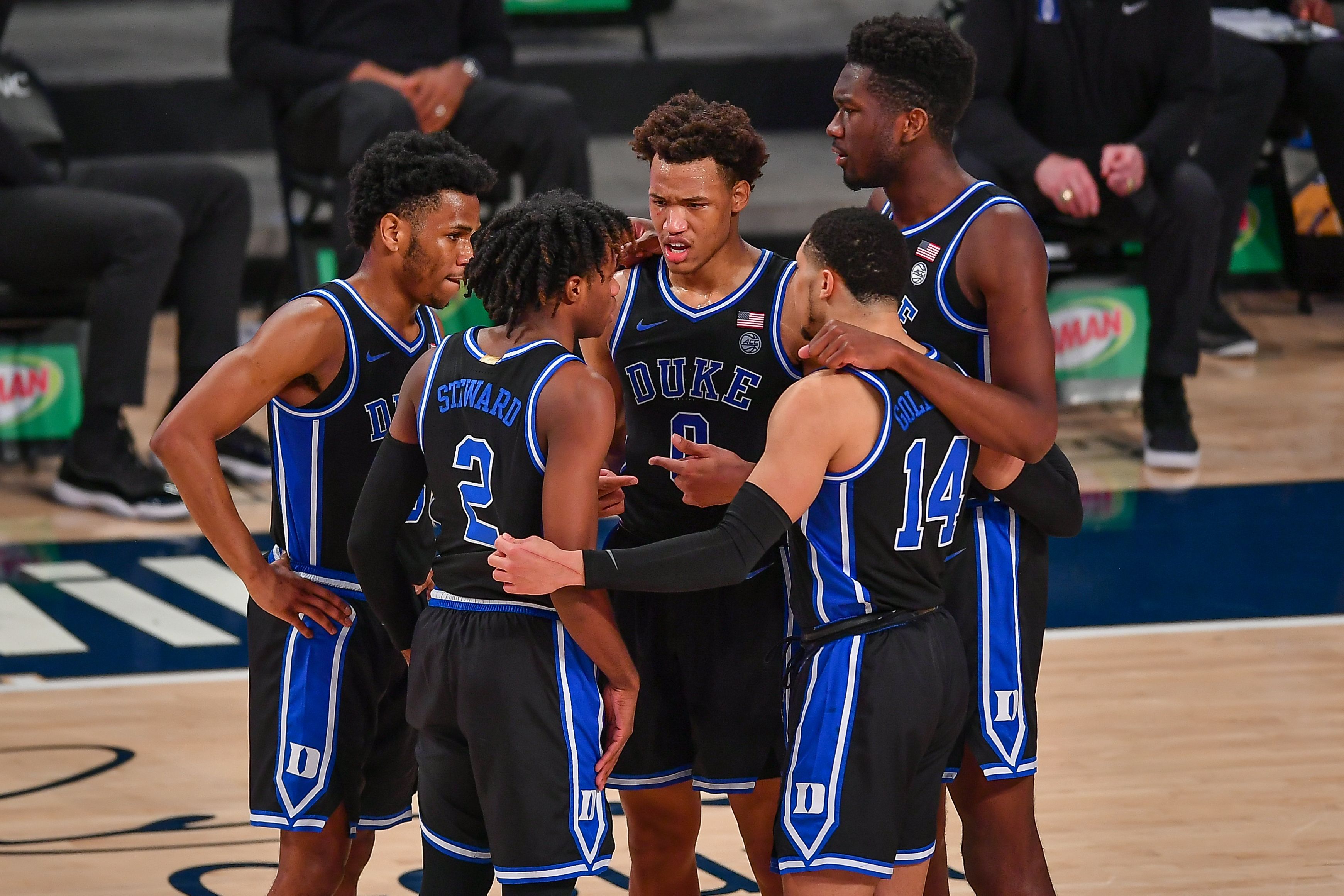 Men's outlook: The No. 1 seeds are likely set (Gonzaga, Baylor, Michigan, Illinois), though Iowa could crash the party if they win in Indy.
Blue bloods on the bubble: Michigan State should get in after closing the regular season on a 5-2 run, while Duke dropped three straight. The Blue Devils open against Boston College today and probably need to make the ACC tournament finals to have a prayer.
Power 5 tournaments: ACC (Greensboro, N.C.; March 9–13); Big 12 (Kansas City; March 10–13); Pac-12 (Las Vegas; March 10–13) Big Ten (Indianapolis; March 10–14); SEC (Nashville; March 10–14).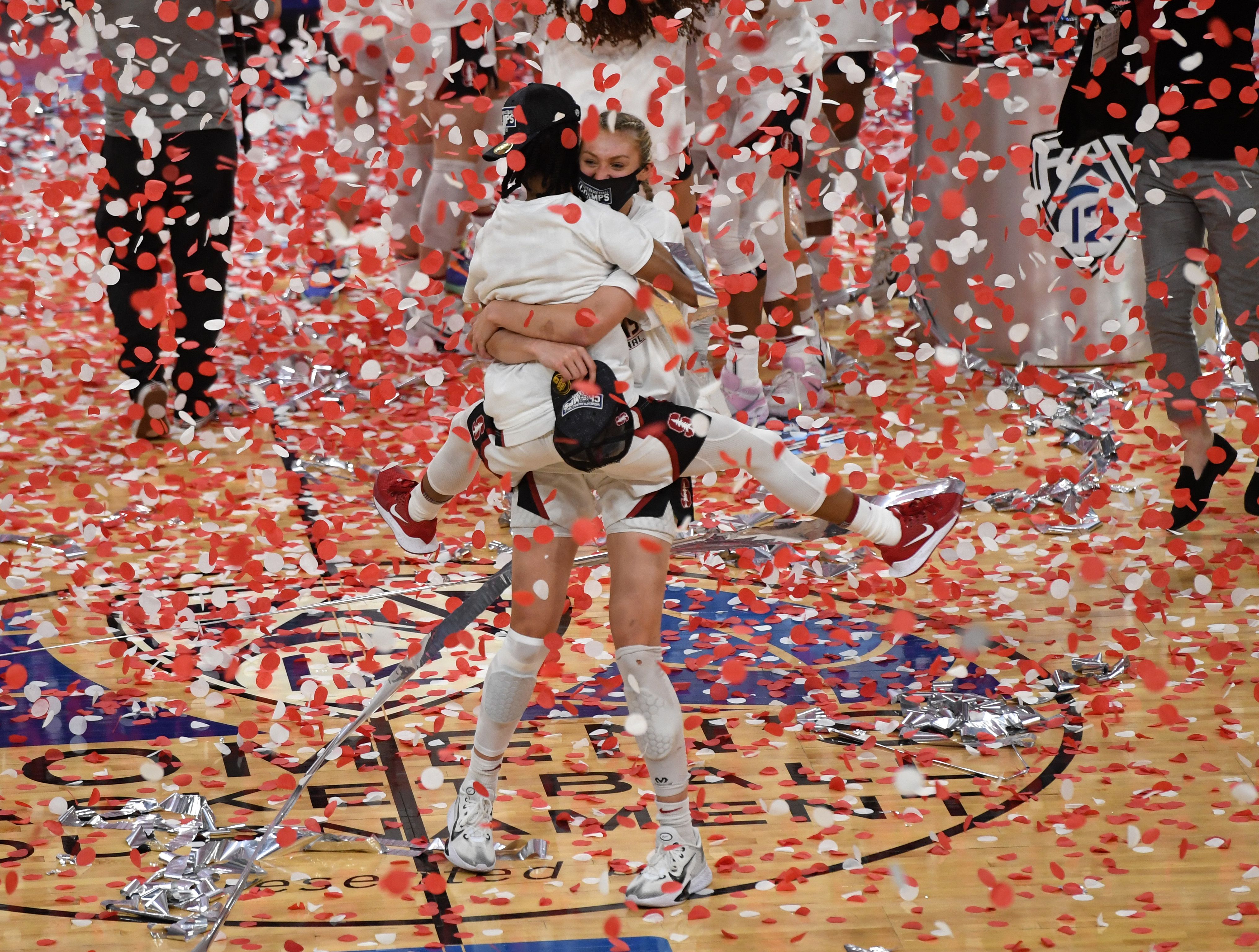 Women's outlook: The No. 1 seeds are likely set (Stanford, UConn, Texas A&M, South Carolina), though NC State could edge out South Carolina if the committee prefers the ACC champ.
On the bubble: Notre Dame and DePaul will be watching UCF and Houston in the American, as it is highly unlikely all four earn a spot.
Notable tournaments: American (Fort Worth, Texas; March 8–11); Big Ten (Indianapolis; March 9–13); Big 12 (Kansas City; March 11–14)
4. 🏂 Snowboarding's new wave
Competitive snowboarding took an evolutionary leap forward in February with the introduction of the Natural Selection tour, Jeff writes.
The state of play: Aside from pushing the envelope with daring new tricks, advancements in competitive snowboarding have stagnated since the sport debuted at the X Games (1997) and Olympics (1998).
The new wave: These days, halfpipes are disappearing from resorts, and young riders are "increasingly drawn to the authentic experience of riding free on natural terrain," writes NYT's Adam Skolnick.
How it works: Natural Selection, the brainchild of professional snowboarder Travis Rice, gives athletes the creative outlet they desire in the form of massive, backcountry courses.
The three-stop tour began February in Jackson Hole, continued last week in British Columbia and concludes at the end of March at the Tordrillos in Alaska.
Unlike pipe or slopestyle, where creativity is limited by the tricks you attempt, Natural Selection is more of a "choose your own adventure."
Competitors visualize the course ahead of time — both with a VR headset and a snowshoe tour — to familiarize themselves with the dozens of hidden features and plan how to attack it.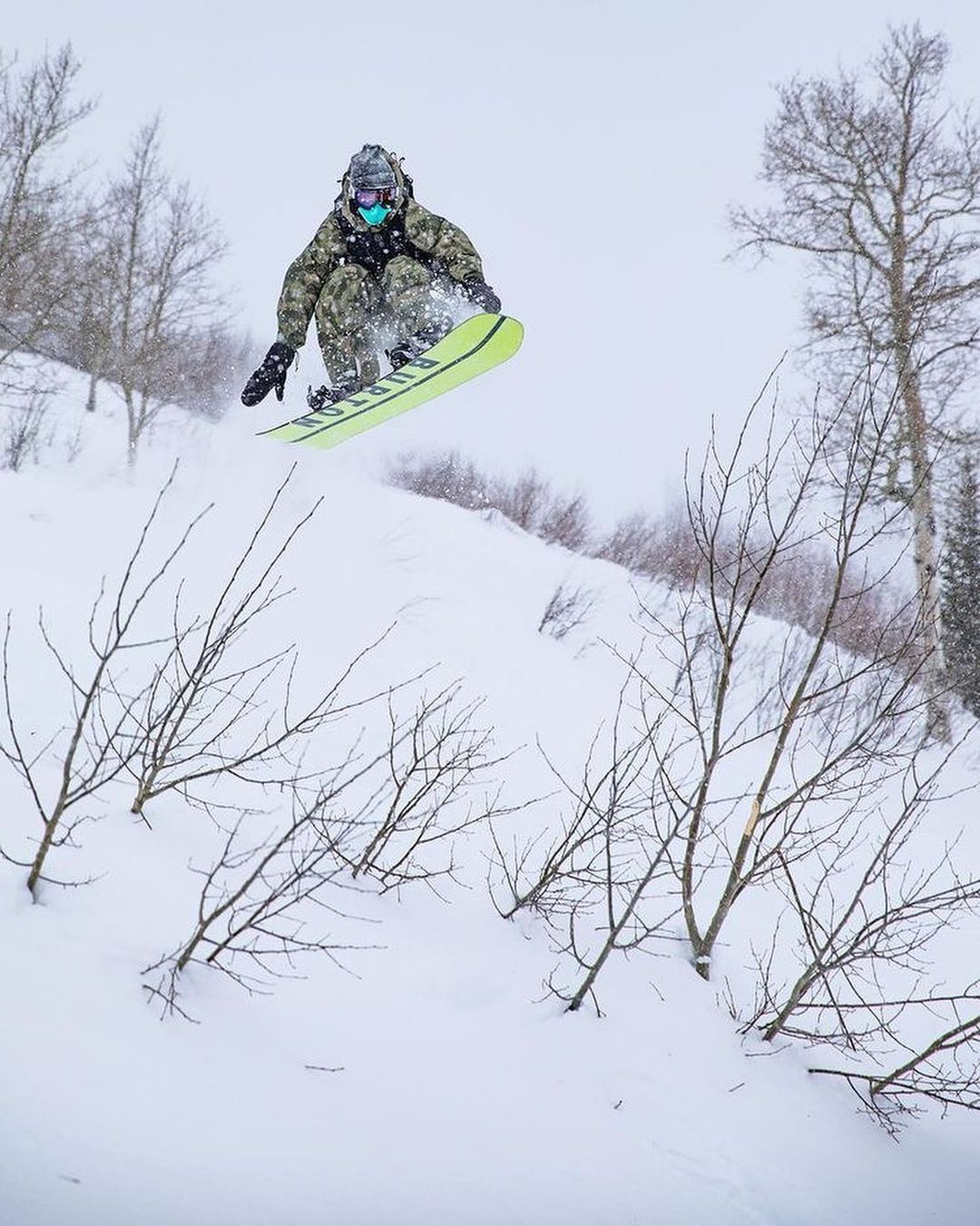 The intrigue: This kind of snowboarding — combining competition-level tricks with wide-open terrain — saw a surge in popularity following Rice's 2011 film, "The Art of Flight." So video has always been in its blood.
Content creation is a key component of the Natural Selection tour, even factoring into the scoring during last week's Canadian stop.
Riders were paired with videographers who followed along with drones, and judges scored not only the riders' route, creativity and control (70%), but also the footage captured (30%).
🎥 Watch: Highlights from Jackson Hole (Red Bull TV)
5. 📊 By the numbers
💉 68.6%: More than two-thirds of Americans 75 and older have received at least one dose of the coronavirus vaccine, Axios' Caitlin Owens writes.
🎾 311 weeks: Novak Djokovic is No. 1 in the ATP rankings for the 311th week in his career, breaking the record previously held by Roger Federer.
💵 $10 billion: Sportradar is going public via SPAC in a deal that values the sports data company at $10 billion, Sportico reports.
⚾️ 100 mph: The dream of Shohei Ohtani is alive. The Angels' two-way phenom is launching bombs and throwing gas (touching 100 mph) this spring, raising the hype to levels unseen since his 2018 debut.
6. 📚 New book: "So Many Ways to Lose"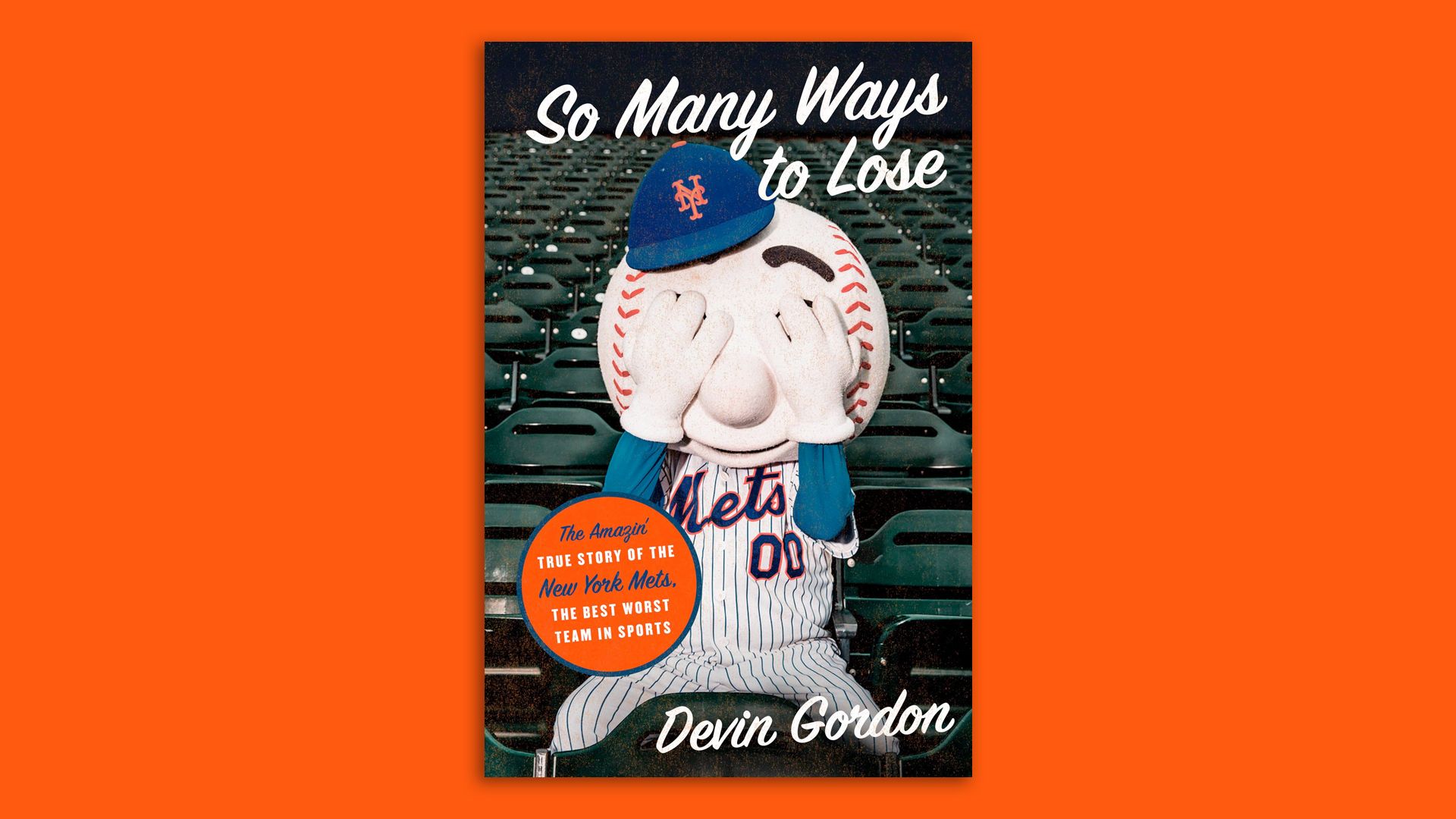 In "So Many Ways to Lose," author Devin Gordon examines the difference between being bad and being gifted at losing, and why this distinction holds the key to understanding his beloved Mets.
What he's saying: I asked Gordon what makes the Mets the "best worst team in sports." He said it comes down to four factors:
The size of the platform: "The Cincinnati Bengals, as bad as they are, could never be the Mets, because Cincinnati isn't New York."
The creativity of the losing: "The inventiveness, the majesty, the drama — that's where the Mets really shine. It's a special breed of losing."
Occasional success: "Losing only hurts if you fall off a cliff, so you actually do have to win every once in a while. There needs to be some glory at the bedrock of it ... some ups and downs in the middle."
Colorful characters: "The Mets always manage to have some really fun players. You have to be colorful in order to be this terrible."
On the Yankees' presence: "Sharing New York with the Yankees is such an important element of the narrative," says Gordon.
"The Yankees are a team made in the image of American capitalism, and that's the iconography that people associate with them. No name on the back of the jersey, no facial hair, do your job, win the game."
"The Mets were born to be the contrast of that. There was a conscious effort in the early days to market them as the goofier team and almost embrace that they were a joke. So they've always been forged in fun."
Pre-order the book (out March 16)
7. 📆 March 9, 1995: Two franchises are born
26 years ago today, MLB awarded expansion franchises to Tampa-St. Petersburg and Phoenix, making the Devil Rays (now the Rays) and the Diamondbacks the league's 29th and 30th teams.
Each team's all-time roster...
All-time record: 1726-1896 (.477)
World Series: 0
Hall of Famers: Wade Boggs' final two seasons were in Tampa (1998-99), but he's wearing a Red Sox hat in Cooperstown
All-time record: 1788-1836 (.493)
World Series: 1
Hall of Famers: Randy Johnson is the only player wearing a Diamondbacks cap in Cooperstown. Roberto Alomar (38 games) and Alan Trammell (three games as manager) are also in the Hall.
8. 🥌 The Ocho: KenPom takes on curling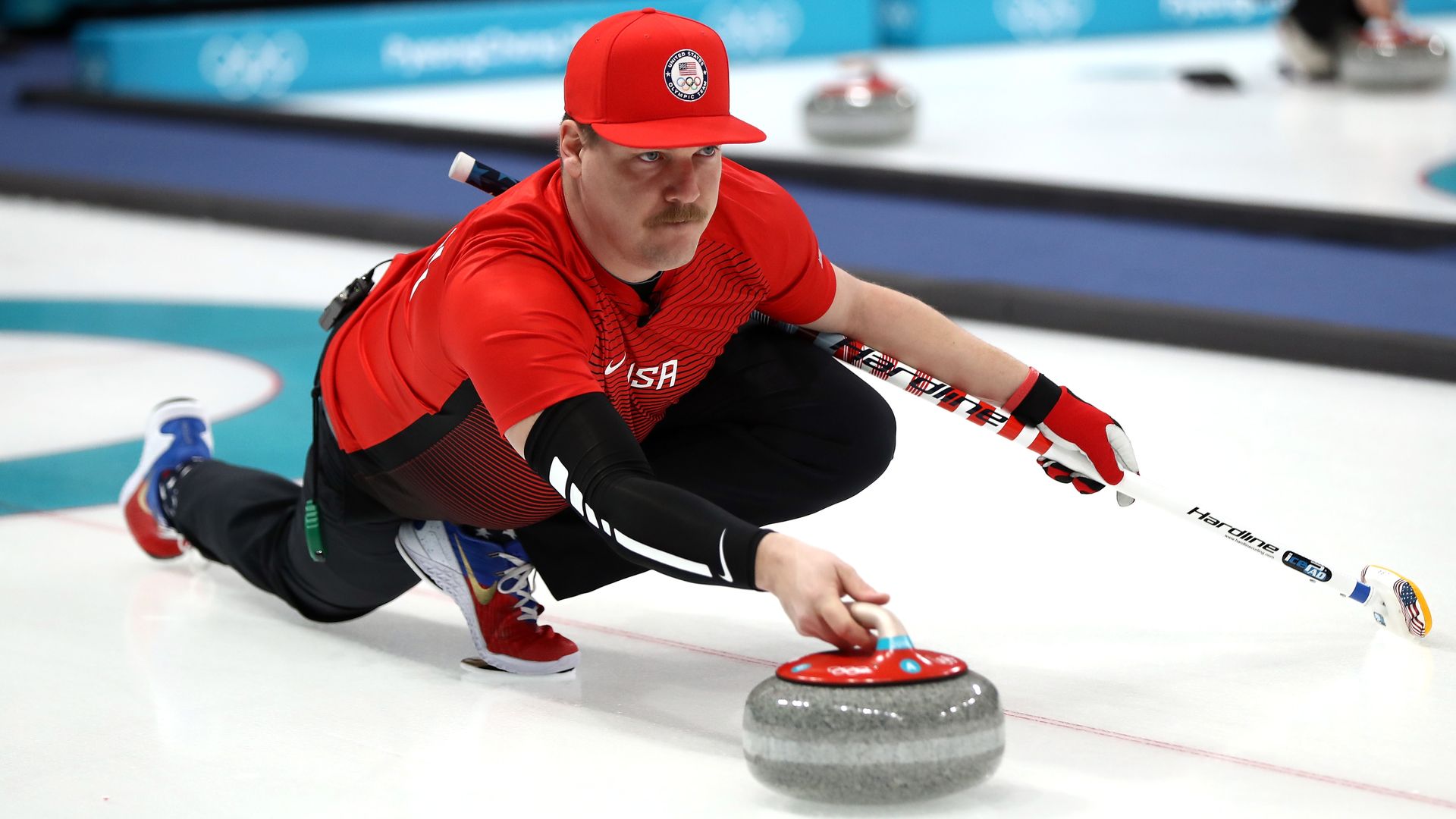 Ken Pomeroy changed the way college basketball is analyzed, and his website, KenPom.com, has become an invaluable resource for fans, sportswriters, coaches and oddsmakers alike.
What's next: Pomeroy has turned to curling, where he hopes to statistically analyze the niche sport the same way he does college hoops on his new website, DoubleTakeout.com.
"I was playing for a few years, and I guess I kind of figured out it was a good middle-aged person's sport, a nice outlet for those competitive juices."
"The goal every year is to hopefully make this a little better, a little more useful, have some features that will help people understand world curling better."
— Pomeroy,
via WashPost
9. 🏈 NFL trivia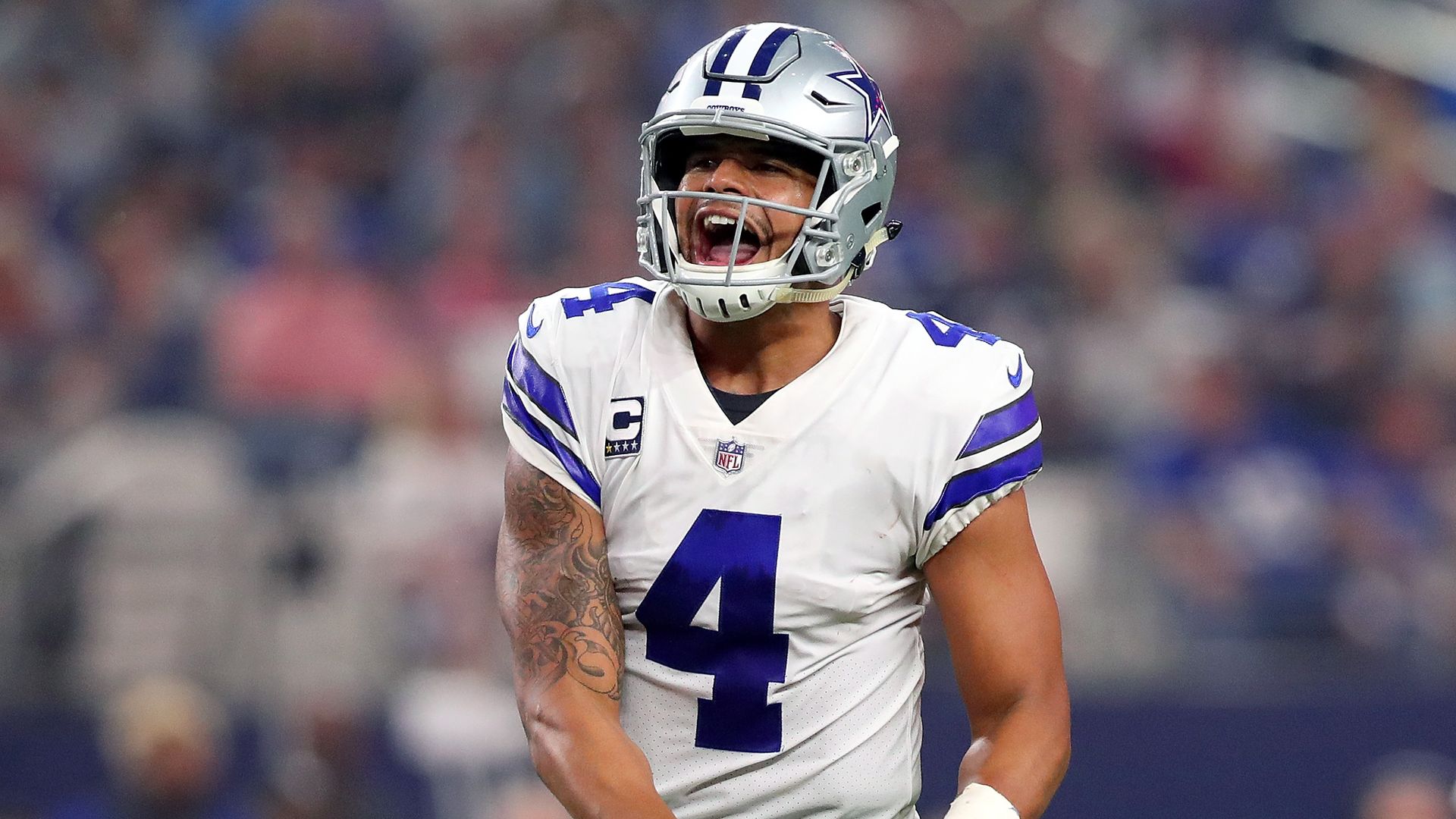 Prescott was the eighth QB taken in the 2016 NFL draft, falling to the Cowboys in the fourth round (pick No. 135).
Question: Can you name the seven QBs drafted ahead of him?
Hint: Two are currently NFL starters.
Answer at the bottom.
10. 💬 Quote du jour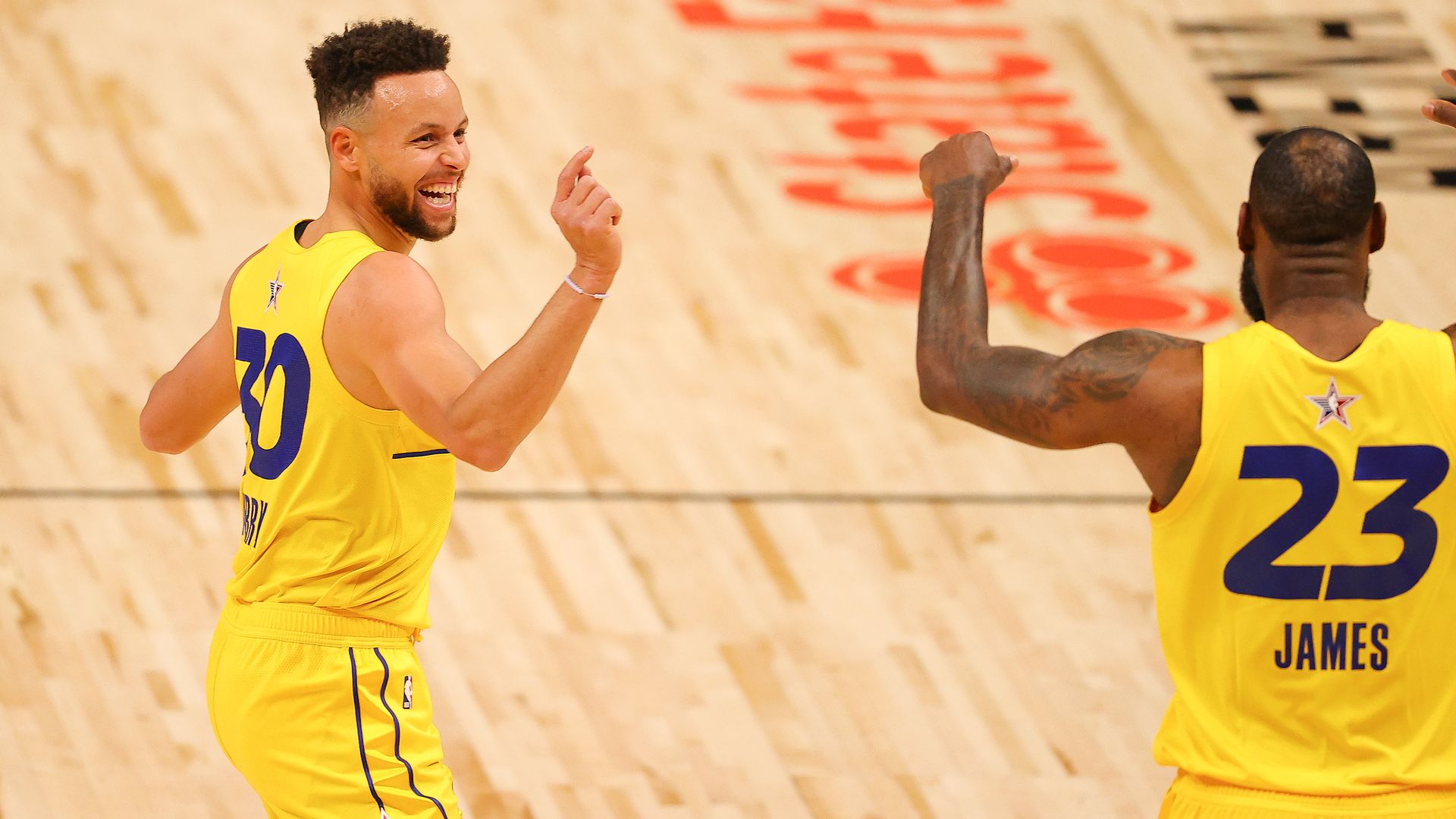 Steph Curry quietly dropped one of my new favorite quotes when talking about what motivates him.
"I have a lot to accomplish, but nothing to prove. There's a subtle difference there."
Talk tomorrow,
Kendall "KenBak" Baker
Trivia answer: Jared Goff (No. 1 pick), Carson Wentz (No. 2), Paxton Lynch (No. 26), Christian Hackenberg (No. 51), Jacoby Brissett (No. 91), Cody Kessler (No. 93), Connor Cook (No. 100)