👋 Good morning! Juan Soto!!! Playoff baseball is the greatest.
🏒 Special edition: Welcome to the only 2019-20 NHL season preview you'll ever need. Hope you enjoy it. Tonight's slate:
7pm ET: Senators at Maple Leafs
8pm ET: Capitals at Blues
10pm ET: Canucks at Oilers
10:30pm ET: Sharks at Golden Knights
Today's word count: 1,949 words (7 minutes)
1 big thing: Selling stars in a team-first sport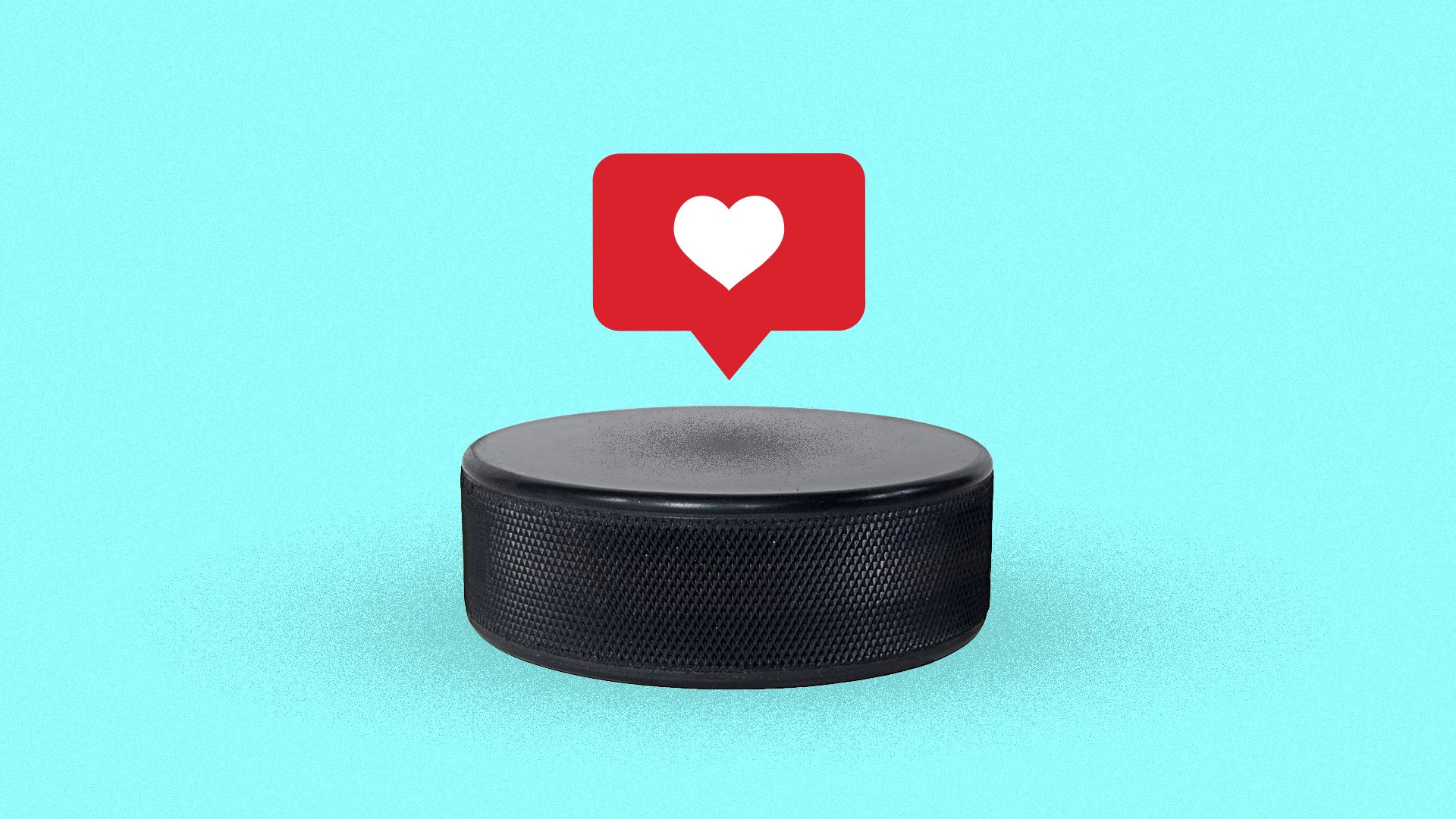 Hockey players are taught from an early age that the name on the front means more than the name on the back, and that mindset remains firmly entrenched at the sport's highest level.
Every team sport is like that to a certain extent — they all preach teamwork and selflessness and, truly, that's how you win. But very few sports, if any, frown upon individualism as much as hockey has for the last century-plus.
Yes, but: In 2016, a study showed that the average age of NHL fans had risen 16 years between 2000 and 2016 — the biggest increase of any sport and an obvious indicator of stagnation.
To reverse that trend and create more buzz among the younger generations, the NHL has begun marketing its stars — both on and off the ice — as the NBA and NFL have done with great success.
Why it matters: Selling individuals while not straying too far from hockey's team-first culture is easier said than done, but the NHL must rise to the challenge if it wants to attract the next generation of fans.
"You're starting to see guys be promoted a little more, and it's nice because then you get to see some individual personalities come out, and in a sport where you're so often wearing helmets ... people don't get to relate to you face-to-face."
— Senators RW Bobby Ryan,
per AP
Driving the news: Last week, the NHL announced a partnership with social media marketing platform Opendorse to help players build their personal brands and increase fan engagement.
How it works: All 31 teams can now quickly and easily send players specific photos, videos or GIFs, tailored to effectively engage their audiences. Players can then edit the message and publish the post with a single tap.
What they're saying: "As players, we create so many moments on the ice but rarely have access to it after the fact. With Opendorse, I get back to the dressing room after a win, and boom — there's a post ready to share with fans," said Penguins defenseman Kris Letang.
This isn't rocket science — it just makes it easier for players to post (good) content on the internet. But on a macro level, that can change how fans follow the sport.
The big picture: Like baseball, hockey is a regional sport at its core — and that comes with limitations.
While casual NFL fans will watch a Thursday night game even if their team isn't playing, that's not something most casual NHL fans are willing to do.
While ESPN can sell a Knicks fan on Giannis (Bucks) vs. LeBron (Lakers), NBC is going to have a much harder time selling a Capitals fan on Kucherov (Lightning) vs. McDavid (Oilers).
But, but, but: Will that always be the case? Perhaps not.
The bottom line: The team-first sport of hockey was not built for a world where sports fans are increasingly following superstars over teams, but that doesn't mean it can't adapt and thrive in it.
2. Offseason in review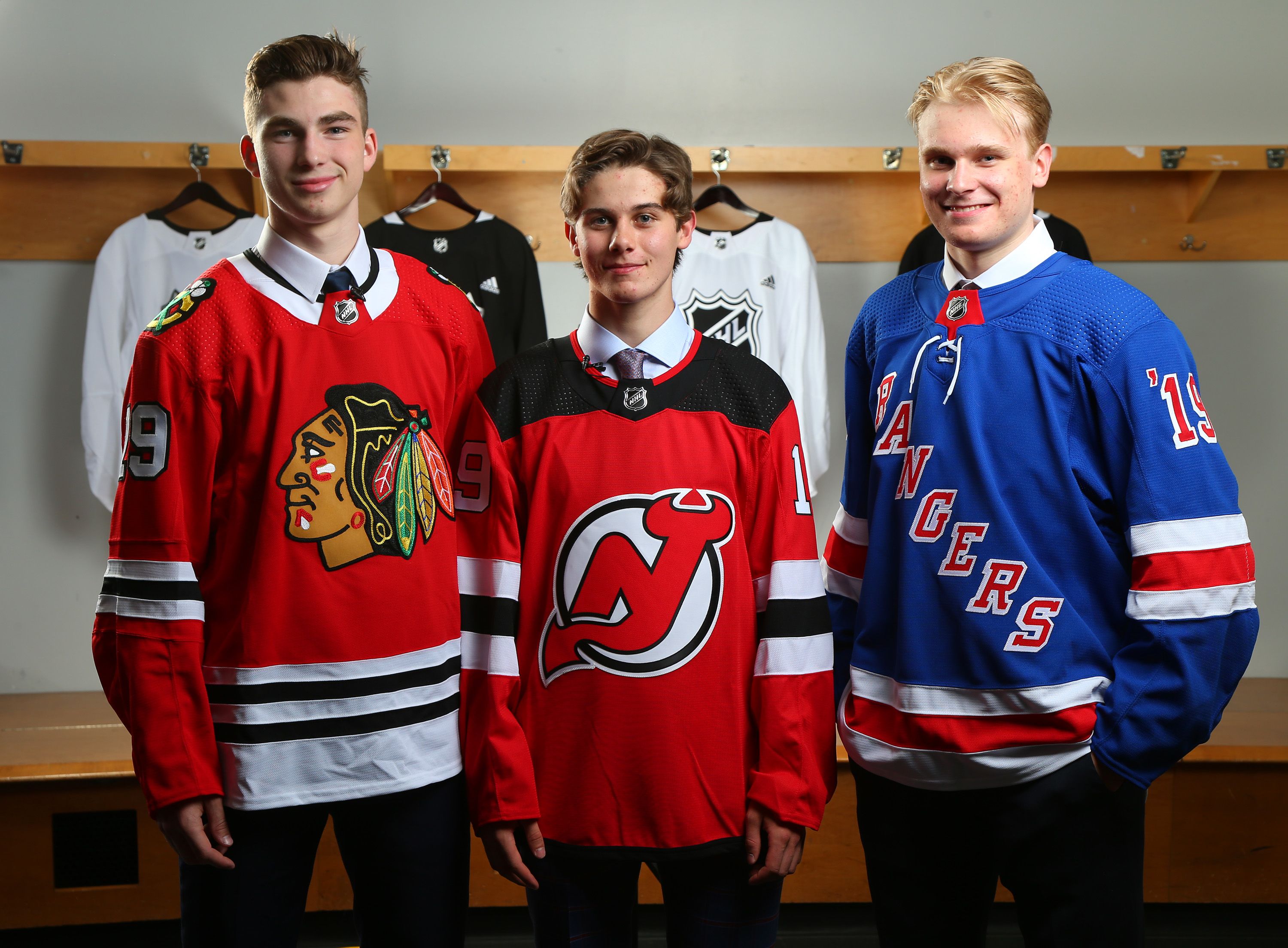 The top 3 picks in the 2019 NHL draft. L-R: Kirby Dach (3rd), Jack Hughes (1st), Kaapo Kakko (2nd). Photo: Andre Ringuette/NHLI via Getty Images
4 months ago, the St. Louis Blues raised the Stanley Cup for the first time in franchise history. Here's a quick recap of everything that's happened since.
Expanded video review: After several blown calls in the playoffs, the NHL has decided to expand its use of video review. Most notably, coaches can now challenge as many calls as they want, but if they're wrong once it's a minor penalty, and then it's double-minors each time they're wrong after that.
Devils dominate draft: One night after taking Jack Hughes with the No. 1 pick in the NHL draft, the Devils stunned the hockey world by acquiring superstar defenseman P.K. Subban from the Predators.
Rangers rev up rebuild: In addition to taking Finnish sensation Kaapo Kakko with the No. 2 pick, the Rangers also traded for Jets star defenseman Jacob Trouba and landed prized free agent Artemi Panarin.
Pavelski leaves San Jose: After signing Erik Karlsson to a massive extension, the Sharks were unable to retain captain Joe Pavelski, who had been with the team since they drafted him in 2006. Now, he's a Dallas Star.
Everyone leaves Columbus: The Blue Jackets were the toast of the NHL after sweeping the Lightning in Round 1 last April, but they look completely different following the departures of guys like Panarin, Matt Duchene (Predators) and stud goalie Sergei Bobrovsky (Panthers).
The Toronto soap opera: Mitch Marner's contract negotiation dominated the offseason, the Leafs made 3 high-profile trades and star center Auston Matthews is in legal trouble. Plenty of drama, but this is the year ... right?
So long, Luongo: Legendary goalie Roberto Luongo retired with the second-most games played (1,044) and third-most wins (489) in NHL history.
Labor peace (for now): With the CBA set to expire in September 2022, talks between the NHL and NHLPA have been cordial. There are still issues to sort out, "but this is the most optimism surrounding labor talks that the NHL has seen in decades," writes ESPN's Greg Wyshynski.
3. Preseason Power Rankings
One question for every team, per SI:
East
Atlantic Division
Tampa Bay Lightning (1): Did they find the missing pieces to finally pull it all together?
Boston Bruins (2): How do they overcome last year's heartbreak?
Toronto Maple Leafs (3): Can they finally make a Stanley Cup run?
Florida Panthers (15): Does Bobrovsky make them a playoff team?
Montreal Canadiens (19): Will they make the playoffs?
Buffalo Sabres (25): Will the playoff drought (2010-present) finally end?
Detroit Red Wings (30): What should we expect from the transition period helmed by Steve Yzerman?
Ottawa Senators (31): Is there anything to be excited about?
Metropolitan Division
Washington Capitals (5): Does this core have another shot at the Cup?
Carolina Hurricanes (12): Will goaltending be an issue?
Pittsburgh Penguins (14): Will Evgeni Malkin bounce back?
New York Islanders (16): Can they exceed expectations again?
New Jersey Devils (17): What needs to happen for Taylor Hall to sign that extension?
New York Rangers (18): Are their expectations too high after an accelerated rebuild?
Philadelphia Flyers (20): Is Carter Hart their true goaltending savior?
Columbus Blue Jackets (23): How bad will this post-all-in team be?
West
Central Division
St. Louis Blues (4): What comes next after they finally won it all?
Nashville Predators (8): Is Duchene enough to fix last year's abysmal power play?
Colorado Avalanche (10): Is this team the real deal?
Winnipeg Jets (11): Do they have enough depth on defense?
Dallas Stars (13): Will Corey Perry and Joe Pavelski be the fix on offense?
Chicago Blackhawks (21): Can they build off last season's strong finish? 
Minnesota Wild (24): Can they compete in a stacked Central Division?
Pacific Division
San Jose Sharks (6): Was last year an anomaly for goalie Martin Jones?
Vegas Golden Knights (7): Will they bounce back from that sophomore slump?
Calgary Flames (9): Have they figured out how to navigate the playoffs?
Arizona Coyotes (22): What will Phil Kessel's impact be? 
Vancouver Canucks (26): Will Quinn Hughes be their third straight Calder finalist?
Anaheim Ducks (27): Where will the offense come from?
Edmonton Oilers (28): Can Ken Holland steer them back to the playoffs?
Los Angeles Kings (30): Can the veterans bounce back?
4. The era of the 2-way forward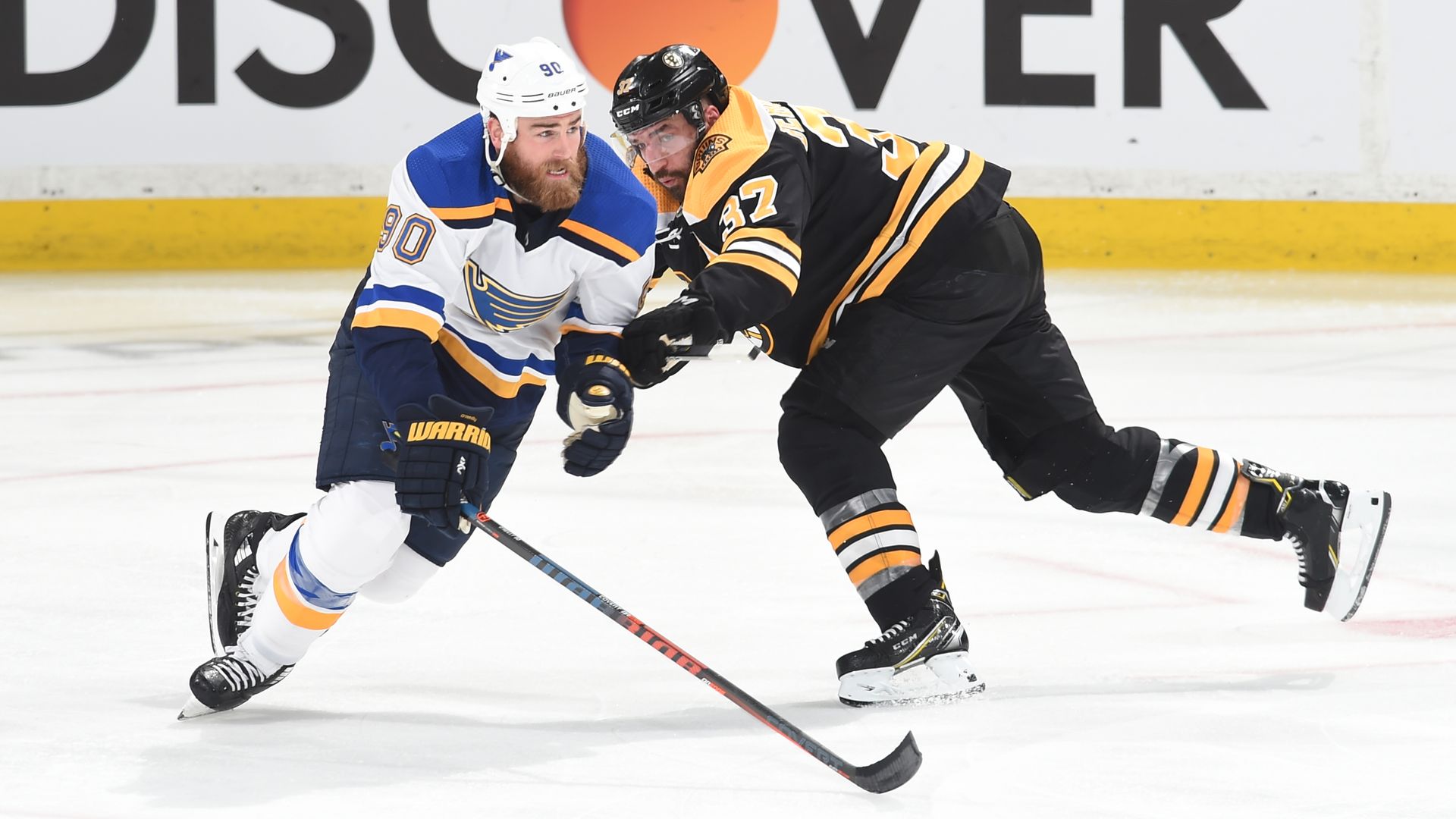 "Nine years ago, when EA Sports released the latest installment of its hockey video game, NHL 11, Jonathan Toews graced the cover of the North American edition," writes SI's Alex Hewitt.
"Featuring the captain of the newly crowned Stanley Cup champions made perfect sense, but it was also fitting for a subtler reason. Among the upgraded features — broken sticks, more realistic face-offs — the game had also unveiled a new player category: the two-way forward."
"Until then, forwards had simply been classified as snipers, playmakers or grinders. But upon noticing a gradual shift throughout the league, associate producer Andy Agostini and his colleagues adjusted accordingly."
"'It used to be your bottom forwards were about being there to agitate and be aggressive on the puck,' Agostini says. 'Now most of the league are two-way forwards who produce offensively and defensively.' Take his beloved Canucks, for instance; in NHL 20, nine roster players are labeled 'two-way forwards.'"
5. Fantasy studs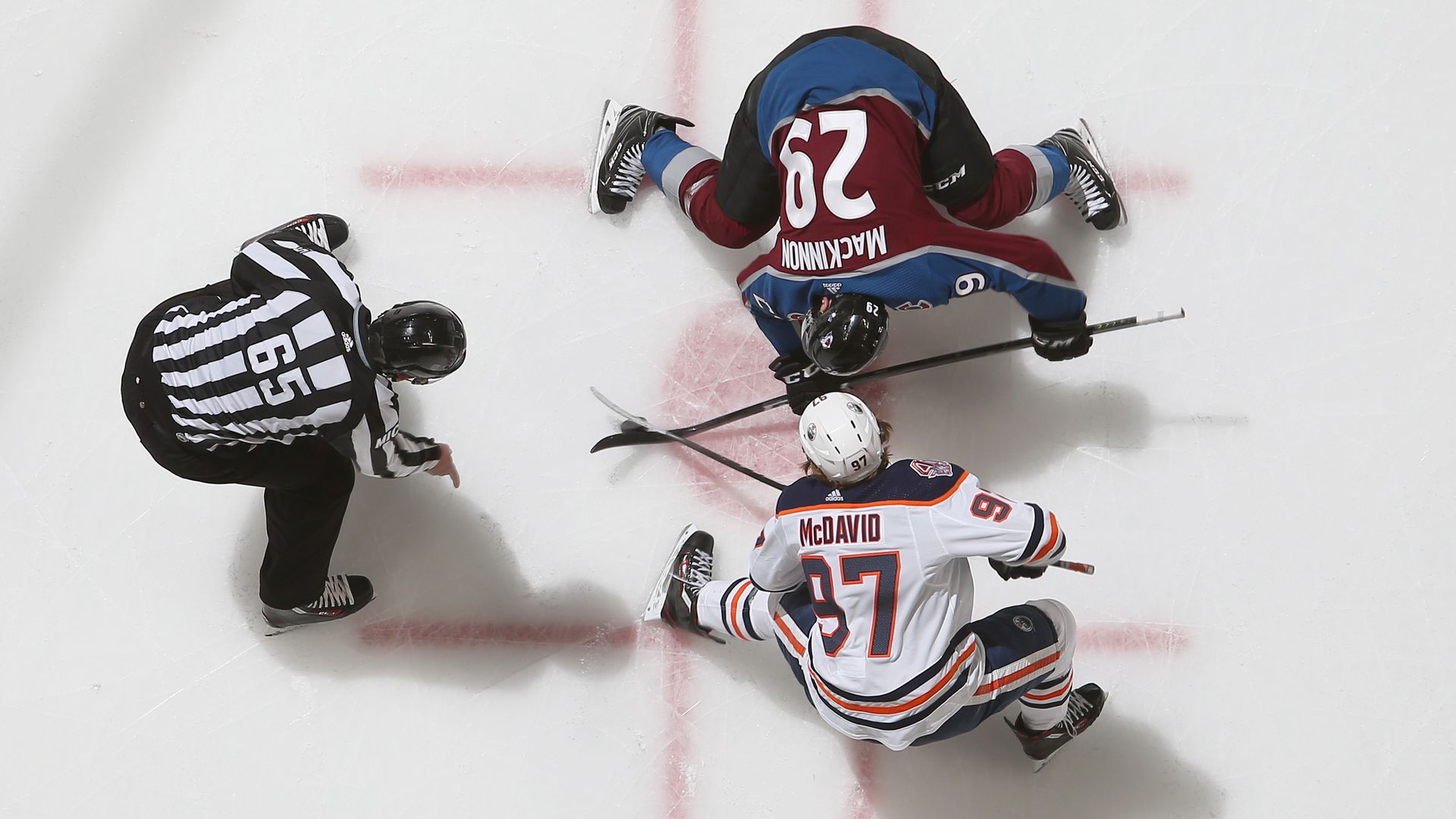 Rankings via FantasyPros:
Top 10 overall:
Nikita Kucherov, RW (TB)
Connor McDavid, C (EDM)
Nathan MacKinnon, C (COL)
Alex Ovechkin, LW (WSH)
Patrick Kane, RW (CHI)
Leon Draisaitl, C/LW (EDM)
Brad Marchand, LW (BOS)
Sidney Crosby, C (PIT)
Andrei Vasilevskiy, G (TB)
David Pastrnak, RW (BOS)
Top 10 by position:
Center: 1. McDavid (EDM), 2. MacKinnon (COL), 3. Crosby (PIT), 4. Auston Matthews (TOR), 5. Steven Stamkos (TB), 6. Aleksander Barkov (FLA), 7. John Tavares (TOR), 8. Tyler Seguin (DAL), 9. Jack Eichel (BUF), 10. Malkin (PIT)
Left Wing: 1. Ovechkin (WSH), 2. Marchand (BOS), 3. Taylor Hall (NJ), 4. Johnny Gaudreau (CGY), 5. Artemi Panarin (NYR), 6. Gabriel Landeskog (COL), 7. Matthew Tkachuk (CGY), 8. Jonathan Huberdeau (FLA), 9. Filip Forsberg (NSH), 10. Jamie Benn (DAL)
Right Wing: 1. Kucherov (TB), 2. Kane (CHI). 3. Pastrnak (BOS), 4. Mikko Rantanen (COL), 5. Blake Wheeler (WPG), 6. Vladimir Tarasenko (STL), 7. Mark Stone (VGK), 8. Alexander Radulov (DAL), 9. Alex DeBrincat (CHI), 10. Mitchell Marner (TOR)
Defense: 1. Brent Burns (SJ), 2. Karlsson (SJ), 3. Victor Hedman (TB), 4. John Carlson (WSH), 5. Roman Josi (NSH), 6. Kris Letang (PIT), 7. Mark Giordano (CGY), 8. John Klingberg (DAL), 9. Morgan Rielly (TOR), 10. Keith Yandle (FLA)
Goalie: 1. Vasilevskiy (TB), 2. Ben Bishop (DAL), 3. Bobrovsky (FLA), 4. Frederik Andersen (TOR), 5. Carey Price (MTL), 6. Tuukka Rask (BOS), 7. Pekka Rinne (NSH), 8. Braden Holtby (WSH), 9. Jordan Binnington (STL), 10. Marc-Andre Fleury (VGK)
6. Oct. 1, 1999: Atlanta Thrashers make debut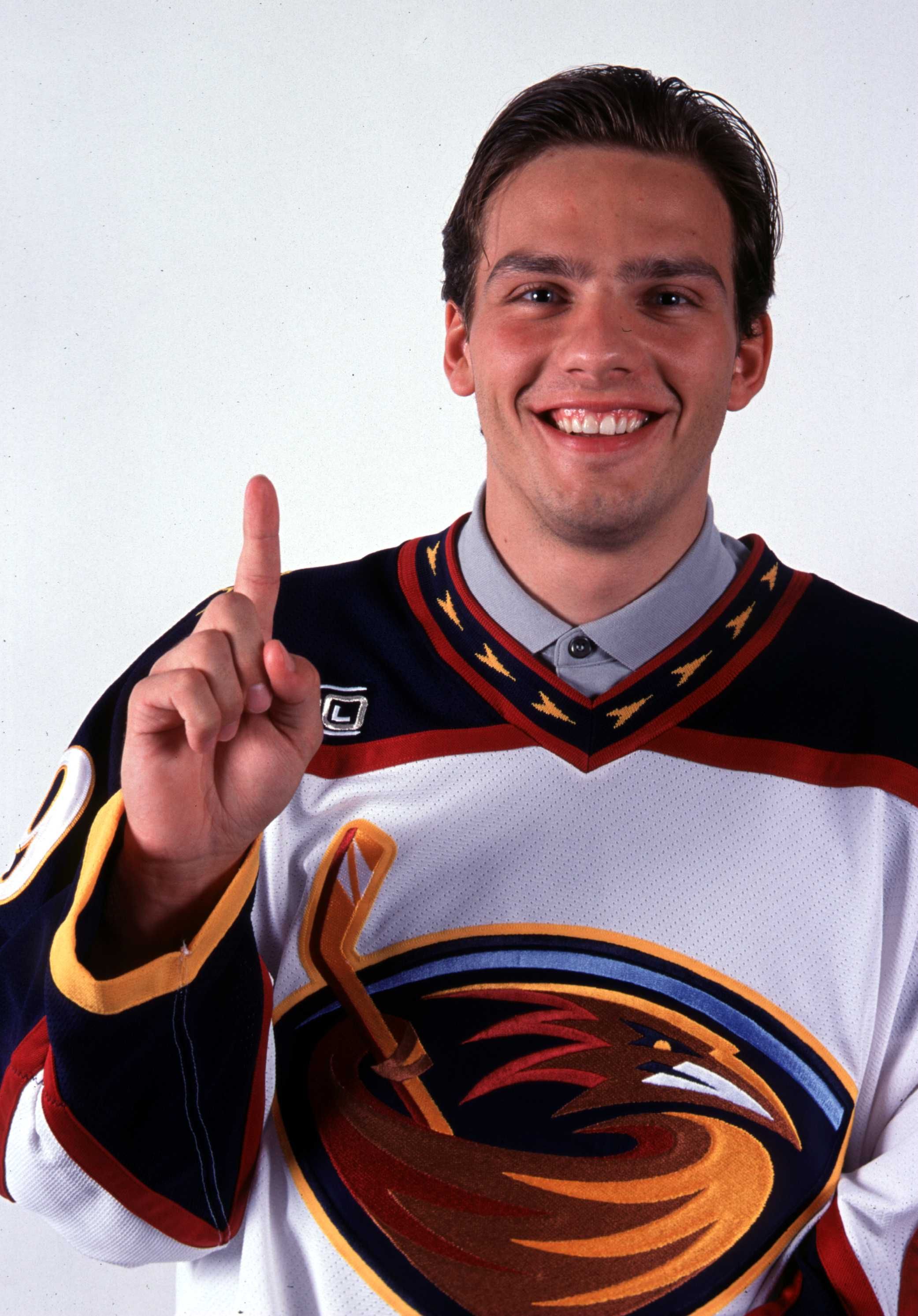 With their first-ever draft pick, the Atlanta Thrashers selected Patrik Stefan No. 1 overall in 1999. Photo: Bruce Bennett Studios via Getty Images
20 years ago today, the Atlanta Thrashers played their very first regular-season game, a 4-1 loss to the visiting Devils at Philips Arena (now State Farm Arena).
The big picture: The NHL added 2 more teams the following season — the Columbus Blue Jackets and the Minnesota Wild — and stayed at 30 teams for the next 17 seasons before adding the Vegas Golden Knights in 2017.
As for the Thrashers, they moved to Winnipeg in 2011 and became the 2nd version of the Winnipeg Jets — the name of the city's original NHL franchise that moved to Arizona in 1996 and became the Phoenix Coyotes (now called the Arizona Coyotes).
What's next: Not enough expansion and relocation for you? Good, because Seattle has been approved as the league's 32nd franchise and begins play in 2021. Here's the latest on that.
7. Trivia
Question: 6 different franchises have hoisted the Stanley Cup at least once this decade. Can you name all 6?
Hint: 3 play in the East, 3 play in the West.
Answer at the bottom.
8. New uniforms, new logos, new ice designs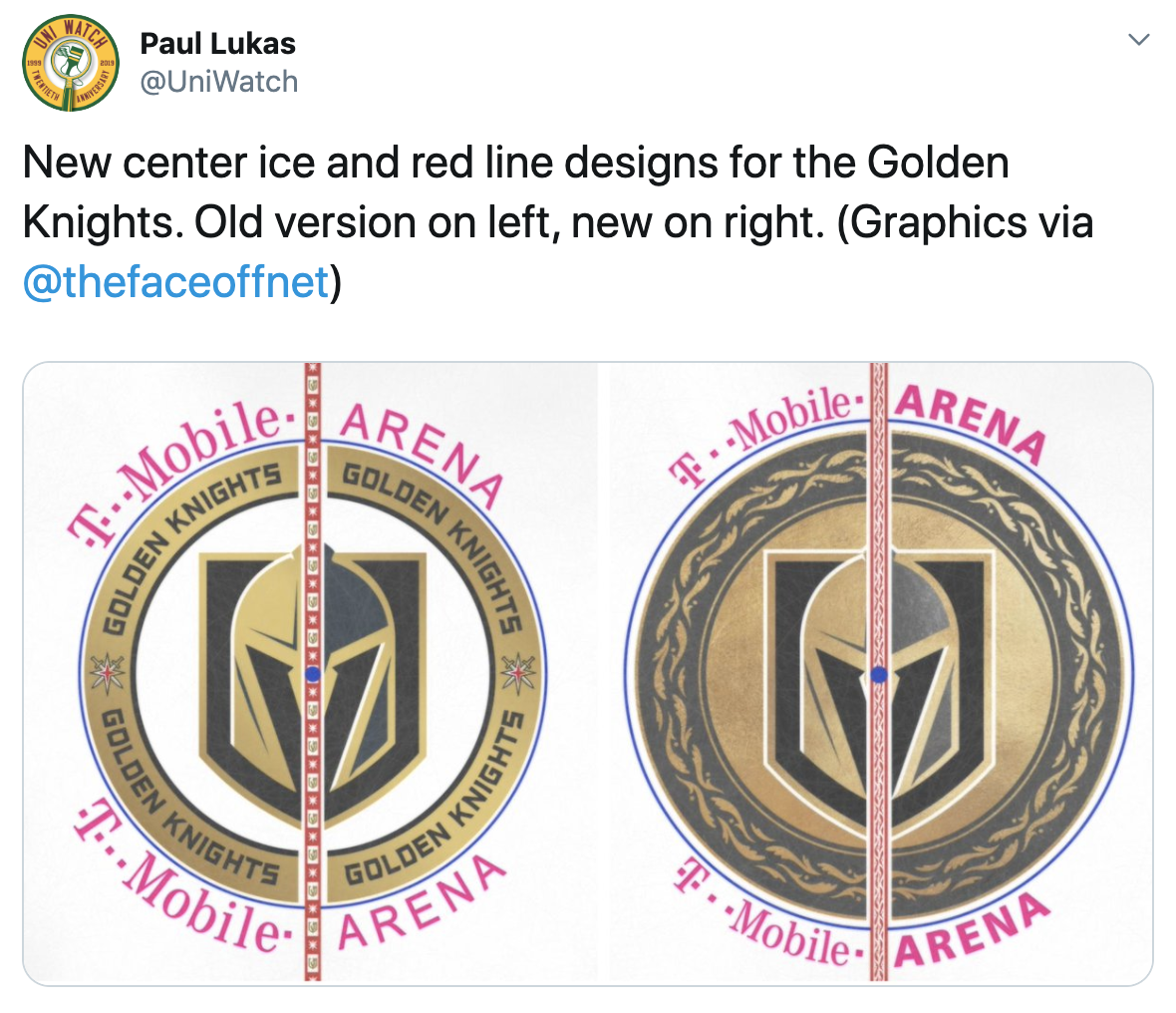 Screenshot: @UniWatch (Twitter)
9. Upcoming milestones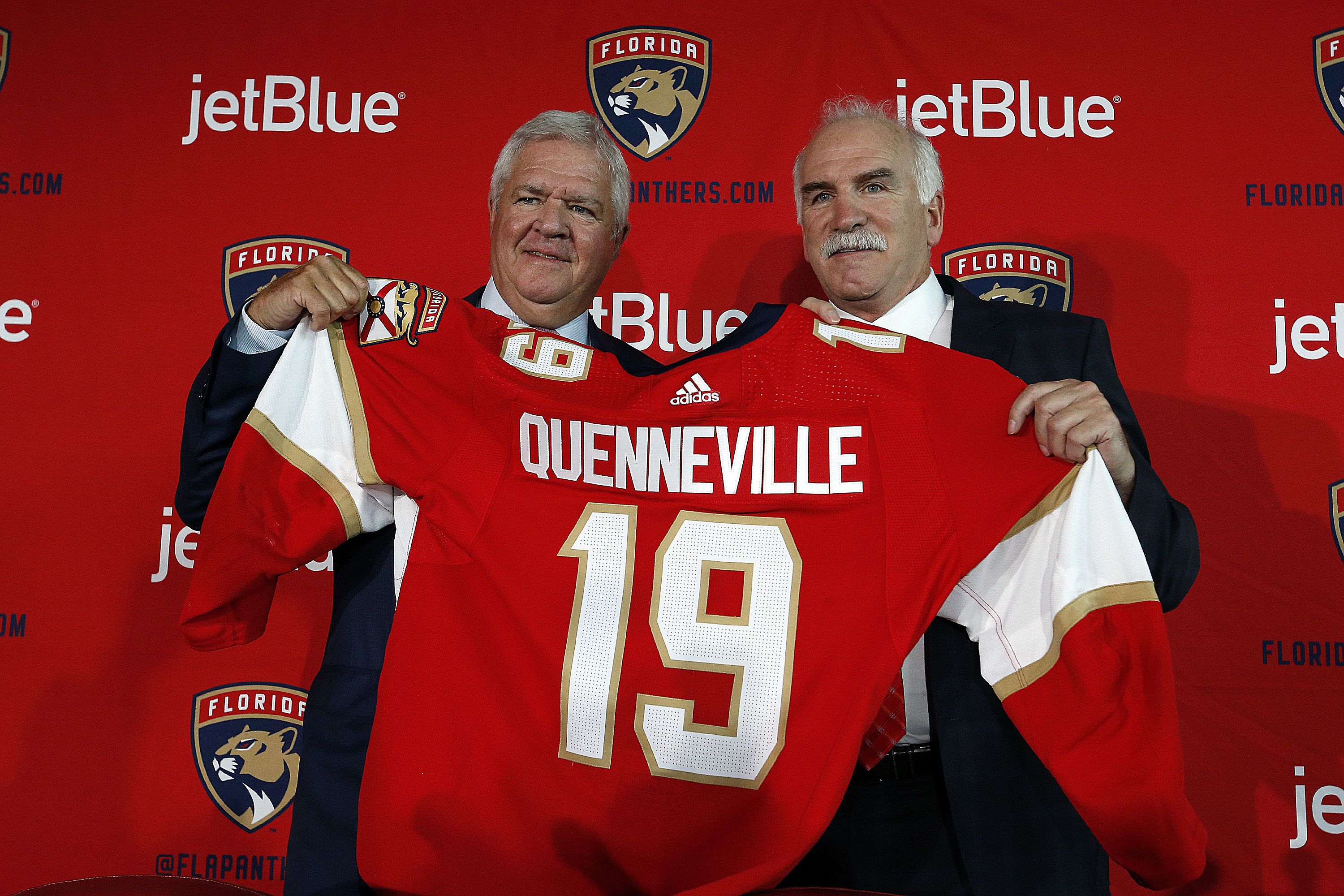 New Panthers coach Joel Quenneville. Photo: Eliot J. Schechter/NHLI via Getty Images
700 goals
Capitals superstar Alexander Ovechkin will become just the 8th player in NHL history to reach 700 goals if he scores 42 this year — something he has accomplished in 10 of his 13 full seasons.
1,500 points
Joe Thornton, back with the Sharks at age 40, needs 22 points to become the 14th player in NHL history to reach 1,500. For reference, he had 51 points last season (16 G, 35 A).
1,500 games played
Bruins defenseman Zdeno Chara, 42, is the NHL's oldest active player and its longest-tenured captain (2006-present). He's also just 15 games away from becoming the 21st player in history to play in 1,500 of them.
450 goalie wins
With 1 more victory, Rangers legend Henrik Lundqvist will become just the 6th goalie in NHL history to reach 450 wins, joining Curtis Joseph (454), Ed Belfour (484), Roberto Luongo (489), Patrick Roy (551) and Martin Brodeur (691).
900 coaching wins
Joel Quenneville went 890-532-137 (with 77 ties) with the Blues, Avalanche and Blackhawks. The 61-year-old is now with the Panthers and needs 10 more wins to join Scotty Bowman (1,244) as the only coaches in NHL history with at least 900.
10. Laila gets her ring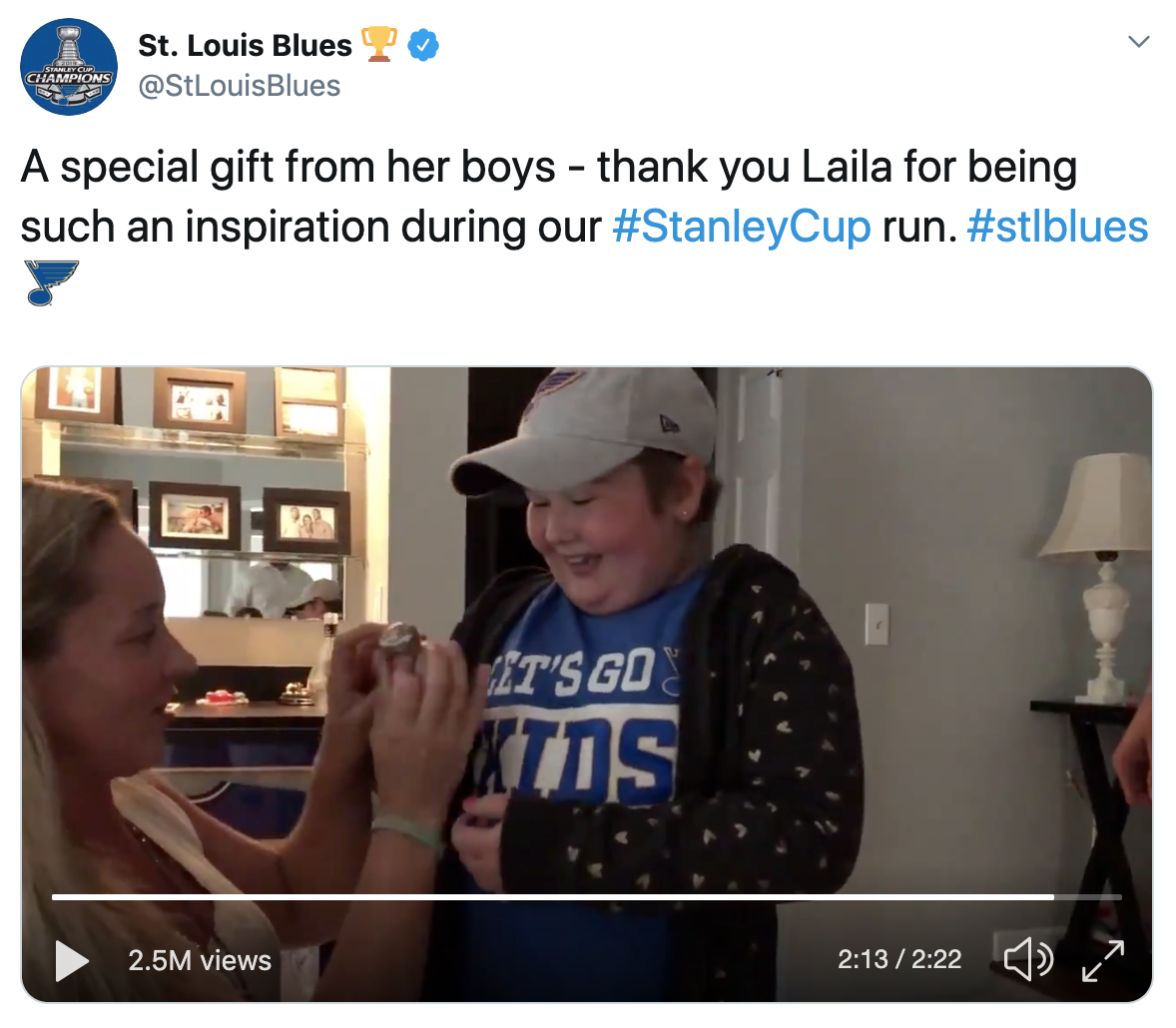 Screenshot: @StLouisBlues (Twitter)
Laila Anderson, the 11-year-old girl with a rare auto-immune disease who inspired the Blues during their Stanley Cup run, got her very own championship ring yesterday. Sports, man.
See you tomorrow,
Kendall "October's gonna be awesome" Baker
Trivia answer: Blues (2019), Capitals (2018), Penguins (2017, 2016), Blackhawks (2015, 2013, 2010), Kings (2014, 2012), Bruins (2011)