July 18, 2022
👋 Good morning! That'll do it for major golf season. Your 2022 champions: Scheffler, Fitzpatrick, Thomas and Smith.
Today's word count: 1,642 words (5 minutes).
Let's sports...
1 big thing: ⛳️ Smith surges at St. Andrews
Cameron Smith surged to victory at St. Andrews on Sunday, snatching The 150th Open Championship from home favorite Rory McIlroy.
By the numbers: Smith shot a brilliant, bogey-free closing round of 64 that included five straight birdies on the back nine to finish at 20-under, beating out rookie Cameron Young (-19) and McIlroy (-18).
Smith also shot a 64 on Friday, making him the first player in history with multiple rounds of eight-under in a single major championship.
What a year for the Aussie, who broke the 72-hole scoring record in January, won the Players Championship in March, and now this.
The other side: It was heartbreak for McIlroy, who couldn't get the putter going on Sunday (18 two-putts). He's now finished in the top 10 in 17 majors since 2015, more than anyone else on Tour. But he hasn't won any.
He's the first player in major championship history to enter a final round with the lead, hit every green in regulation and not win.
McIlroy, as expected, handled the loss with class: "I got beaten by the better player this week. To go out and shoot 64 to win an Open Championship at St. Andrews is a hell of a showing. Hats off to Cam."
The big picture: In sports, we typically talk about the winners, and Smith deserves all the praise. But sometimes, the story is the loser who came up just short. That's the case here with McIlroy, who gave the crowd someone to rally behind all weekend.
"Alas, this was not the week for Rory to end a major championship drought that will now stretch to its ninth year come 2023. But it was the week for a different kind of coronation."
"It is now obvious, if it wasn't already, that he is the closest thing golf has to a standard-bearer. ... In losing the Open Championship, he cemented himself as golf's new people's champion."
—
Alex Kirschner
, Slate
Go deeper:
2. ❤️ Mothers and daughters
Allyson Felix ran her final competitive race on Friday, winning bronze in the 4x400m mixed relay at the World Athletics Championships.
Why it matters: Felix, 36, retires as the most decorated sprinter in U.S. history. She won 19 medals at world championships and 11 at the Olympics, giving her a total of 30 medals at her sport's biggest events.
The big picture: "To be able to finish here tonight, with Cami in the stands, and to share that moment with her, it means a lot," said Felix after hanging her medal around her three-year-old daughter's neck.
The last word: "I felt joy running tonight," said Felix, unveiling an inner peace that all athletes seek at the end.
🎥 Watch: Felix's final race (YouTube)
3. ❤️ Fathers and sons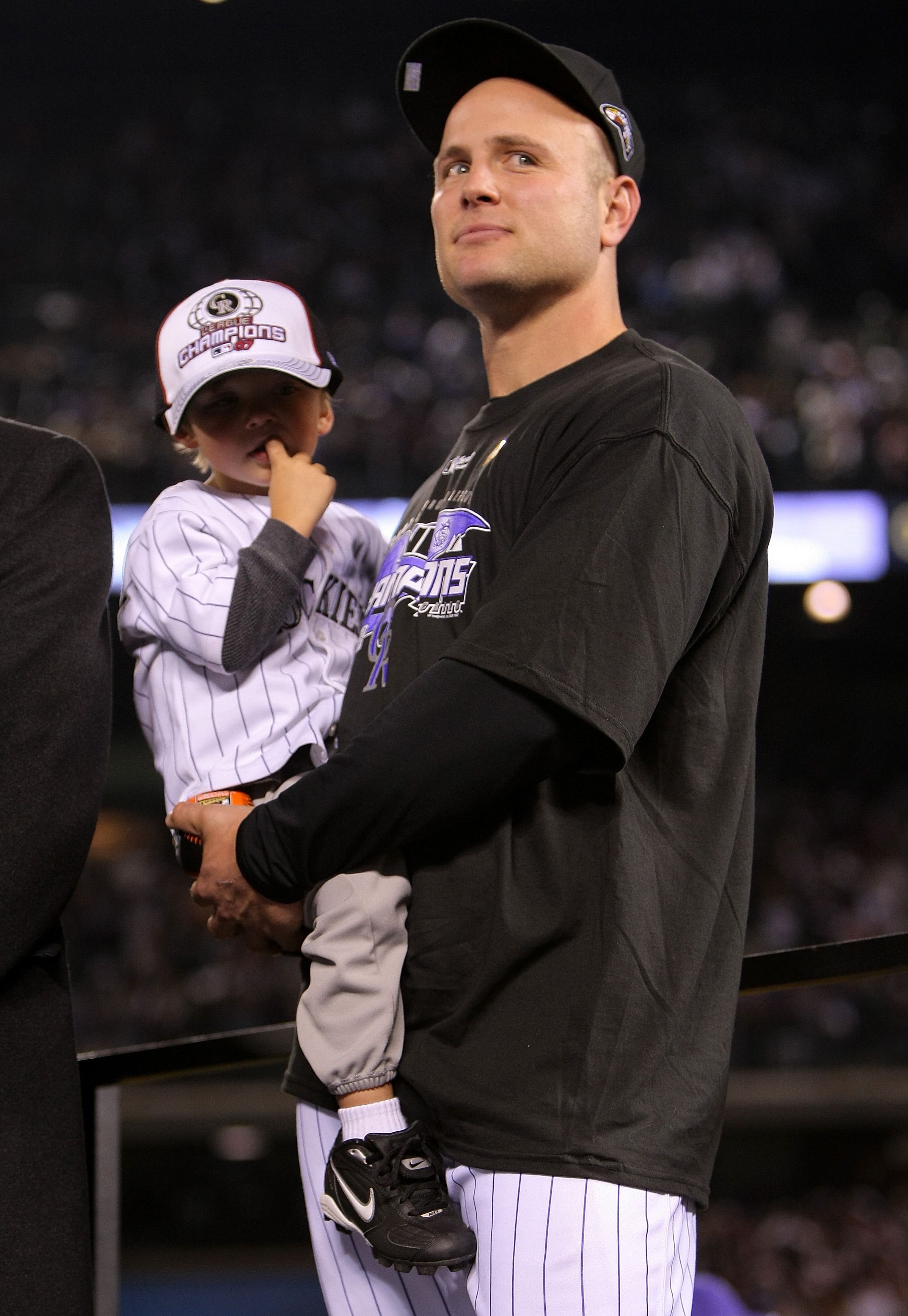 Sunday's MLB draft was a family affair. For the first time ever, four sons of former big leaguers went in the first round.
Jackson Holliday, son of Matt, went No. 1 to the Orioles, joining Ken Griffey Jr. (1987) as the only sons of former MLB players to go No. 1.
Druw Jones, son of Andruw, went No. 2 to the Diamondbacks; Justin Crawford, son of Carl, went No. 17 to the Phillies; Cam Collier, son of Lou, went No. 18 to the Reds.
Plus: Kumar Rocker (No. 3 pick) and Elijah Green (No. 5 pick) have dads who played in the NFL, and Brooks Lee (No. 8 pick) played for his father in college. Turns out, that whole "nature" thing doesn't hurt.
The big picture: My most purely nostalgic childhood memories are playing catch with my dad, and I know I'm not alone in that. So when Holliday and Jones went back-to-back, I immediately thought of those father-son relationships and smiled.
Go deeper: ESPN's Jeff Passan dove into Holliday's journey from the little kid who grew up at the ballpark to the teenager who rakes...
"At first, he was a mascot, and then he was a marvel, and now, more than a decade after he first toddled into a major league clubhouse, Jackson Holliday's transformation is complete. He talks like them. He looks like them. He plays like them. And on Sunday night, when his name was called first ... it codified his newest identity: one of them."
What's next: 80 picks were made Sunday night. The draft resumes today with Rounds 3-10, followed by Rounds 11-20 tomorrow.
Go deeper: First-round recap (CBS Sports)
4. ⚡️ Lightning round
⚾️ 14 straight: The Mariners' 14-game winning streak is the longest ever heading into the All-Star break. The only other teams to have a 10+ game winning streak (1935 Tigers, 1975 Reds) won the World Series.
🏀 Vegas champs: The Trail Blazers beat the Knicks, 85-77, on Sunday to win the NBA summer league title. Biggest summer league takeaways.
⏱ 0.001: Eagles WR Devon Allen, who was expected to contend in the men's 110 hurdle finals, was DQ'd for being .001 second too fast out of the blocks. Tough way for the former Oregon Duck's homecoming trip to end.
⚽️ Barça's new star: Despite still being over $1 billion in debt, Barcelona spent $50 million to sign goal-scoring machine Robert Lewandowski from Bayern Munich.
⚾️ Cruel game: Cubs reliever Mychal Givens took both losses in a doubleheader against the Mets on Saturday — without giving up an earned run. As you might imagine, that's never happened before.
5. 🎙 New pod: "Wesley"
Only one player in MLB history has ever been murdered during a season. His name? Lyman Bostock Jr.
Out now: "Wesley" is a new eight-part Fox Sports podcast series hosted by Tom Rinaldi that chronicles Lyman Wesley Bostock Jr.'s extraordinary life and senseless murder.
Bostock, an athlete-turned activist, was described by legends like Rod Carew as a potential Hall of Famer.
This is the first podcast for Rinaldi, who has 17 Sports Emmy awards. The first four episodes are now available.
ICYMI … "Luck," The Athletic's podcast series about Andrew Luck's rise and shocking retirement, debuted last week. I listened over the weekend and really enjoyed revisiting the early Luck years. I miss him.
6. 🇺🇸 Photos across America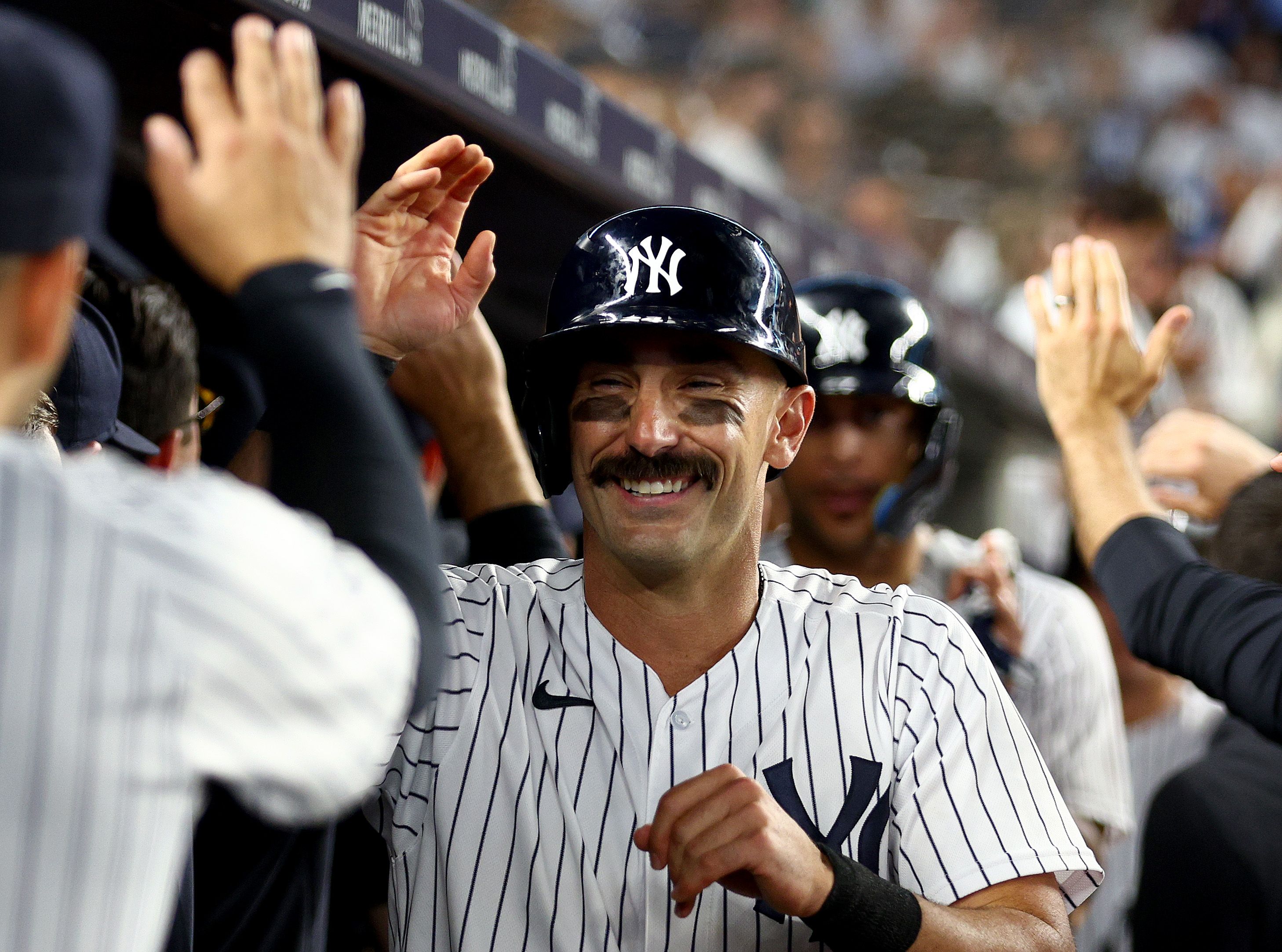 NEW YORK — Matt Carpenter won't stop hitting. Since joining the Yankees on May 26 after a stint in the minors, the 36-year-old looks like a league MVP, slashing .354/.469/.911 with 13 HR and 34 RBI in 31 games.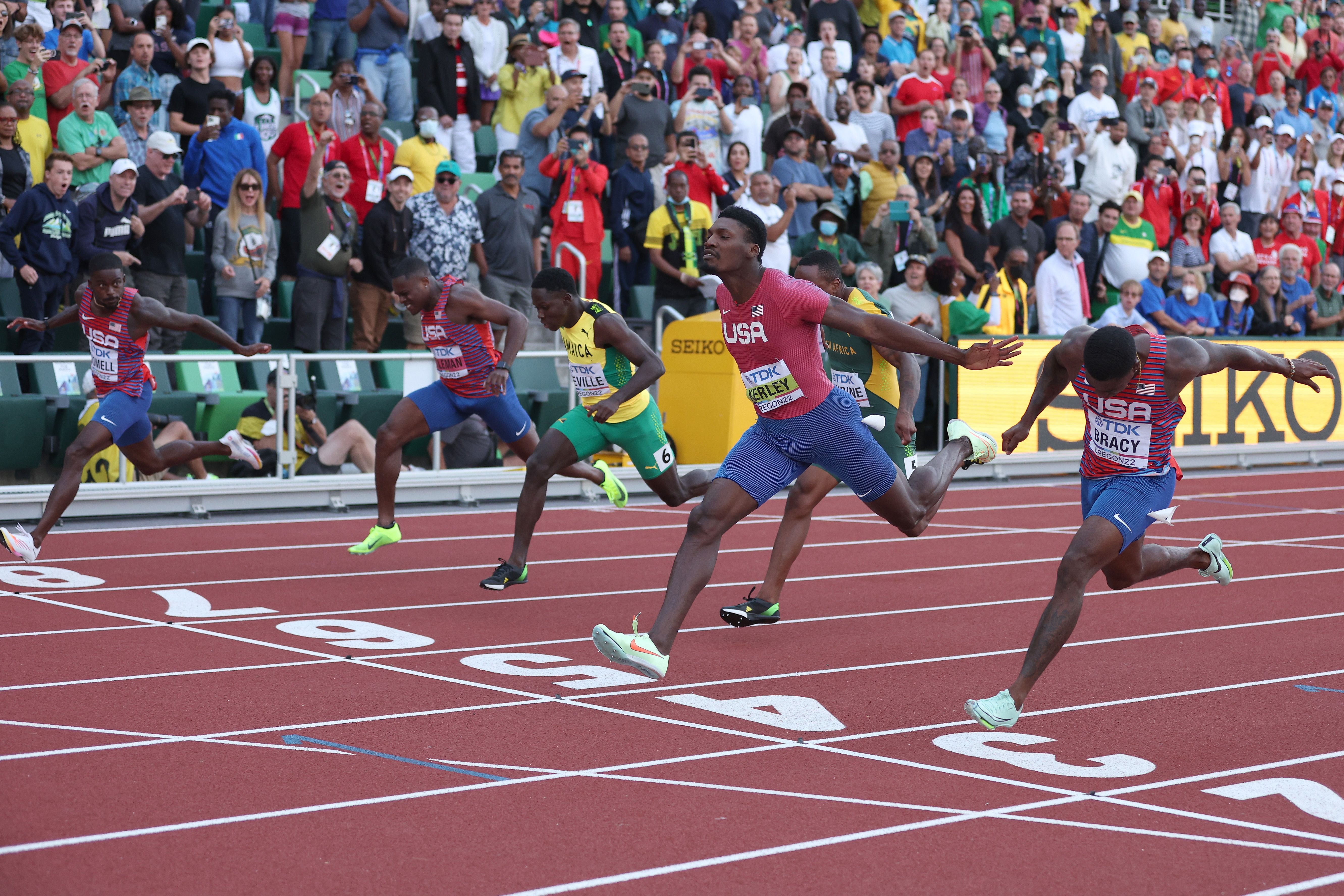 EUGENE, Ore. — Fred Kerley (9.86 seconds) led a U.S. clean sweep in the men's 100m at the World Championships, while Shelly-Ann Fraser-Pryce (10.67) led a Jamaican clean sweep in the women's event.
Where it stands: We're through three days of action, with seven remaining. Full schedule.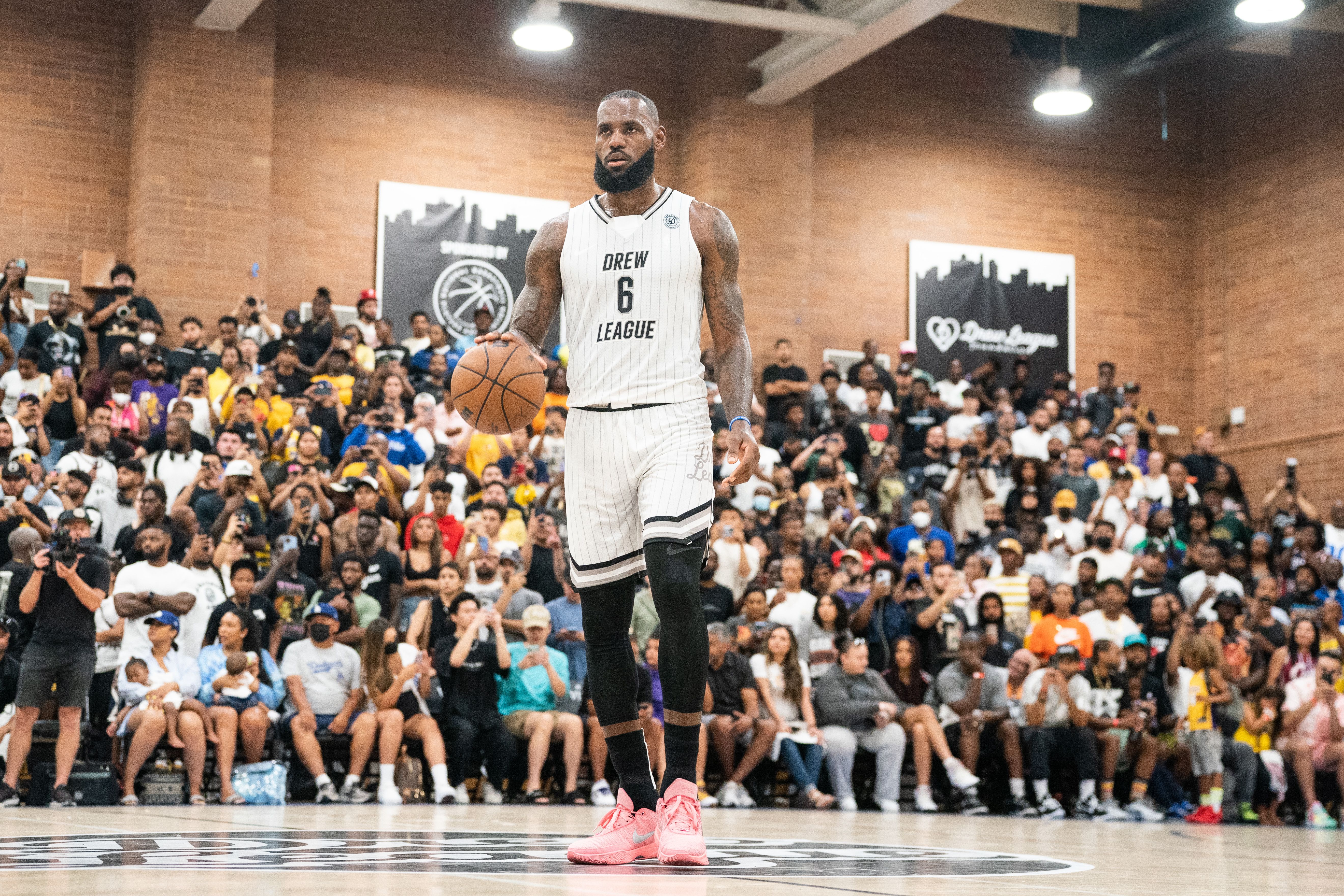 LOS ANGELES — LeBron James teamed up with DeMar DeRozan and scored 42 points in his long-awaited return to the famed Drew League. Kyrie Irving was expected to play but didn't show.
7. 🌎 Photos from around the world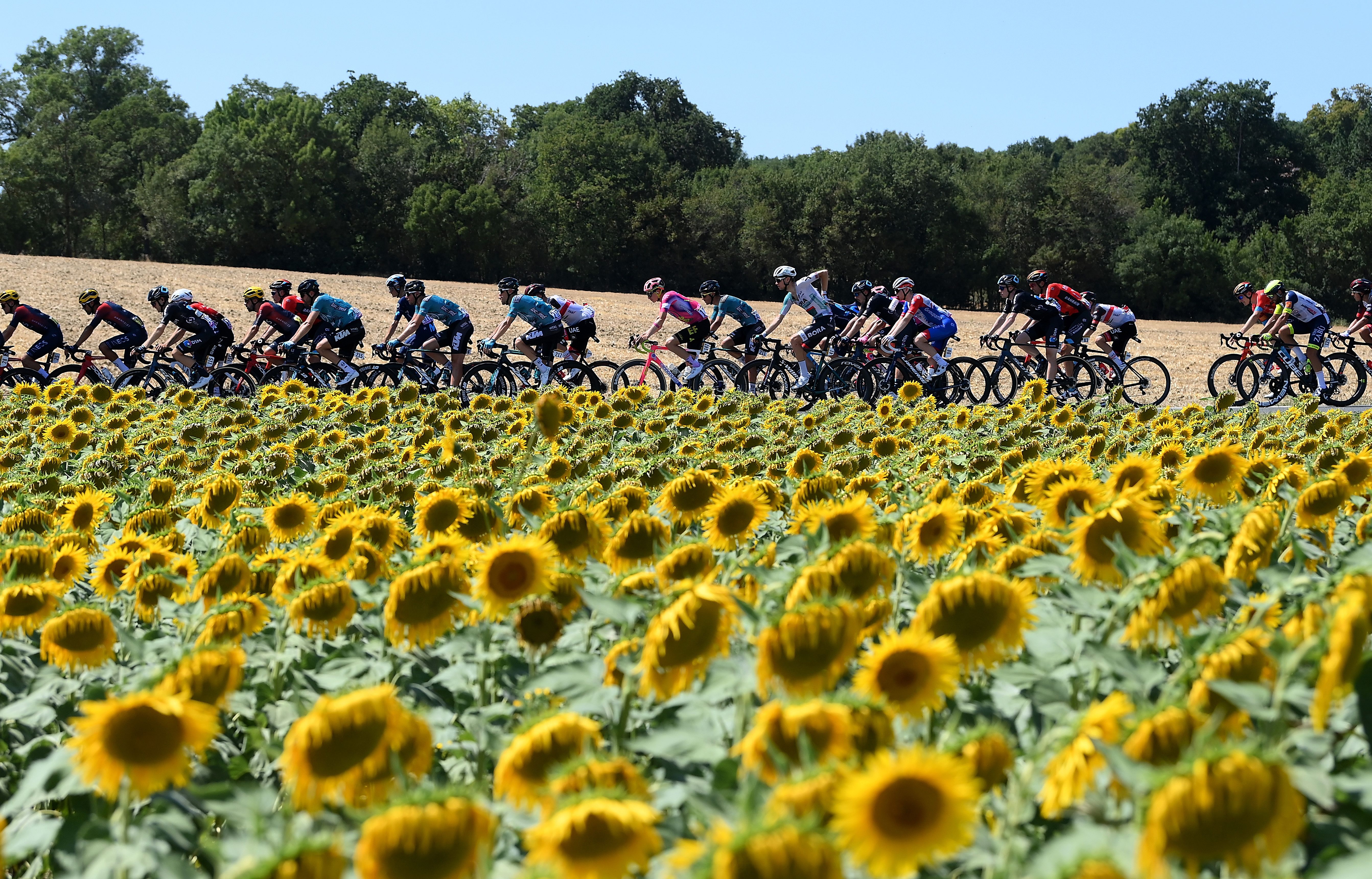 CARCASSONNE, France — Belgium's Jasper Philipsen braved a ridiculous heat wave to win the 15th stage of the Tour de France, which featured lots of sunflowers.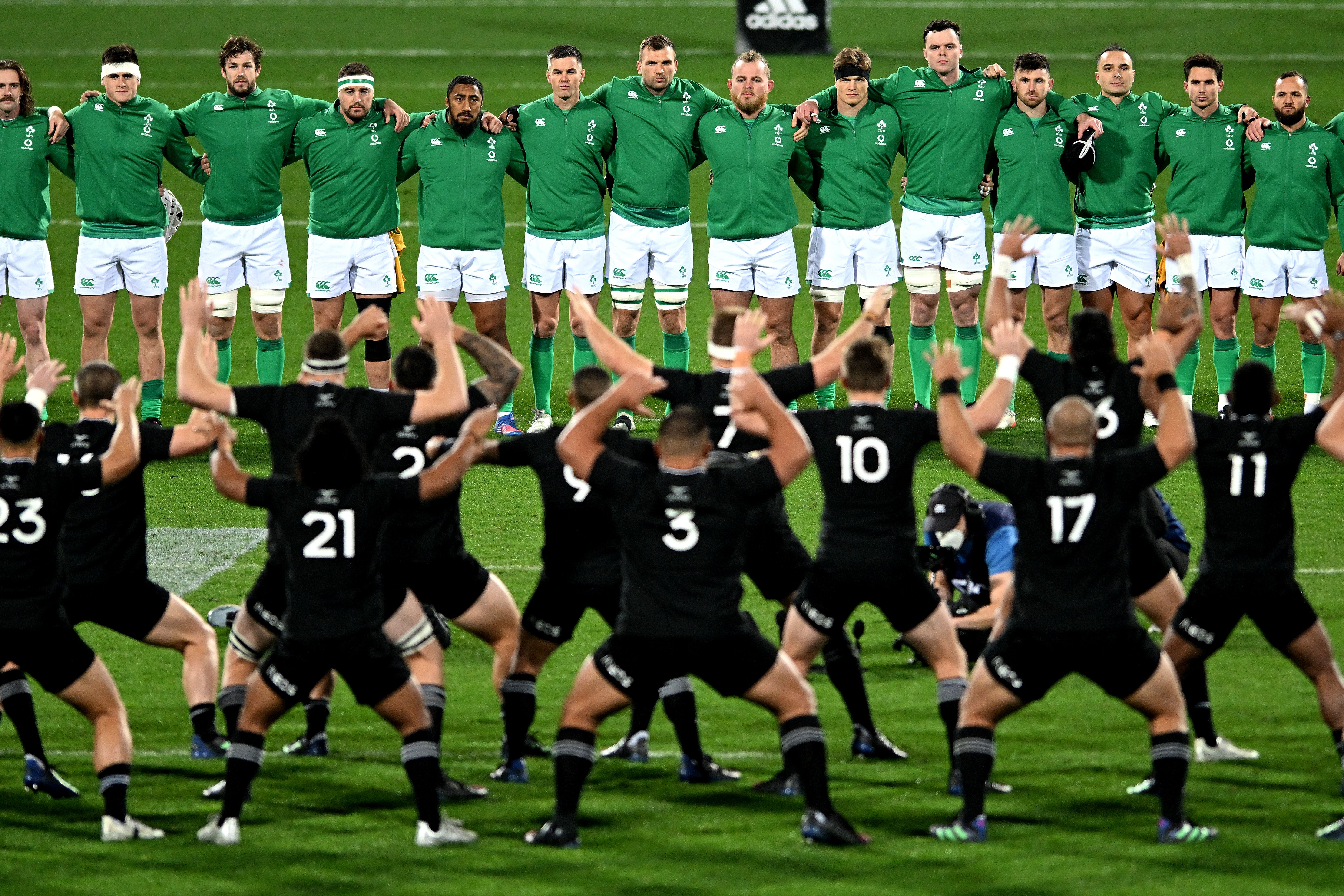 WELLINGTON, New Zealand — Ireland stared down the Haka and beat New Zealand, 32-22, to clinch its first-ever series win against the almighty All Blacks a year out from the Rugby World Cup.
The big picture: Ireland is the third team — and first in almost 40 years — to beat New Zealand in a three-test series at home.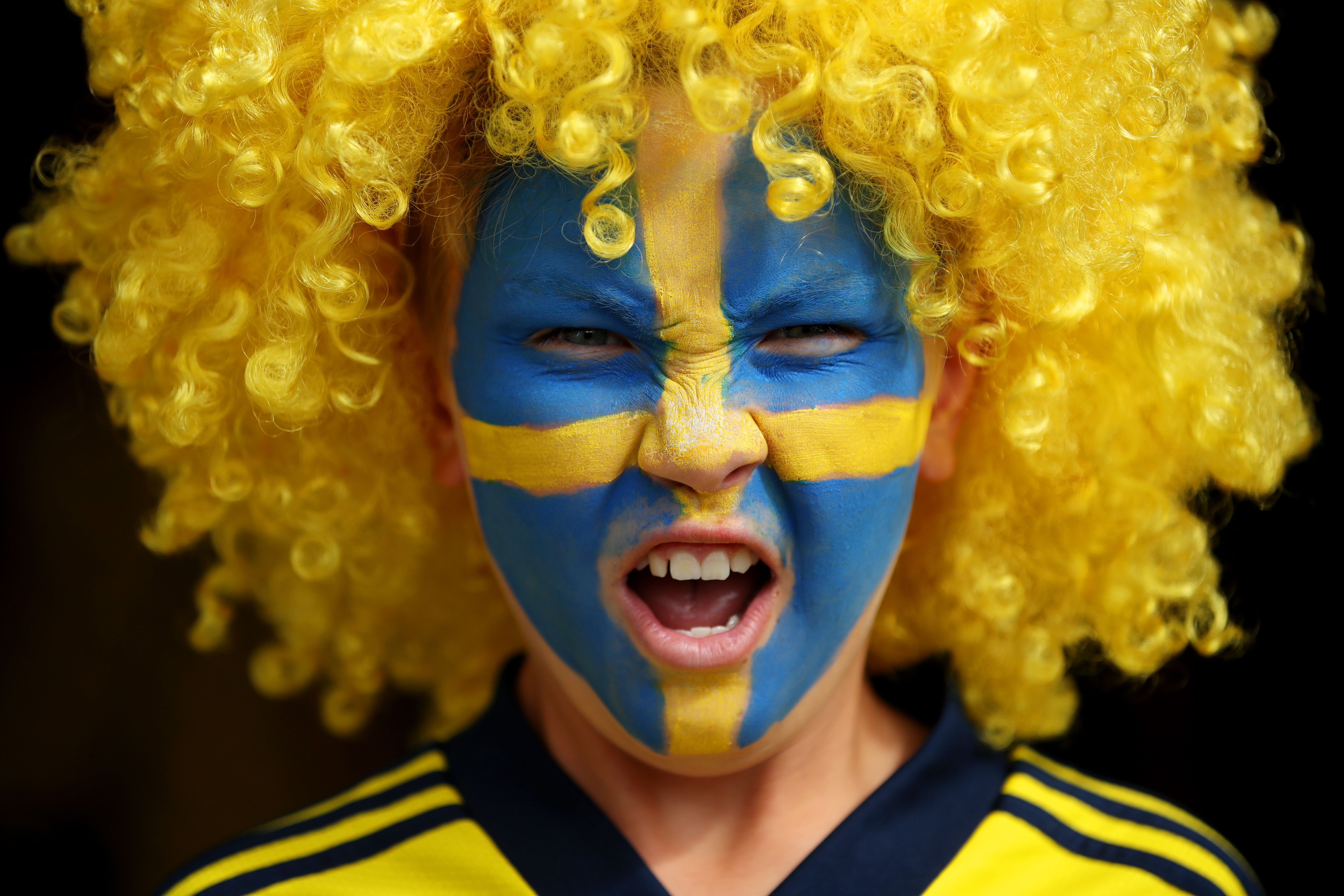 LEIGH, England — Sweden, England, Spain, Germany, Austria, France and the Netherlands have clinched quarterfinal spots at the Women's Euro 2022, with the group stage ending today.
8. 📺 Watchlist: Home Run Derby
The Midsummer Classic is back in L.A. for the first time since 1980, and tonight's Home Run Derby (8pm ET, ESPN/ESPN2/MLB) kicks off the two main events.
Matchups: No. 1 Kyle Schwarber vs. No. 8 Albert Pujols; No. 2 Pete Alonso vs. No. 7 Ronald Acuña Jr.; No. 3 Corey Seager vs. No. 6 Julio Rodríguez; No. 4 Juan Soto vs. No. 5 José Ramírez.
Odds: Two-time defending champion Alonso is the favorite, per FanDuel (+185), followed by Schwarber (+270), Soto (+650) and Acuña Jr. (+650). Pujols (+2400) is the longshot.
More to watch:
9. 🇺🇸 Team USA trivia
Allyson Felix has 11 Olympic medals (seven gold, three silver, one bronze), tied for sixth-most among American Olympians.
Question: Who are the five with more?
Hint: They're all swimmers.
Answer at the bottom.
10. 🎥 Top plays: Weekend edition
Diamondbacks prospect Leandro Cedeno mashed a 527-foot bomb on Saturday, which is longer than any MLB home run during the Statcast era (since 2015).
Talk tomorrow,
Kendall "Back, back, back, back" Baker
Trivia answer: Michael Phelps (28), Jenny Thompson (12), Ryan Lochte (12), Dara Torres (12), Natalie Coughlin (12)
Correction: Friday's trivia question incorrectly stated that the 1965 Bears are the only team to draft two future Hall of Famers in the same first round. The 1995 Buccaneers (Warren Sapp, Derrick Brooks) and 1996 Ravens (Jonathan Ogden, Ray Lewis) also did it. Our bad.
🙏 Thanks for reading. Follow us on Twitter: @kendallbaker and @jeffreytracy. Tell your friends to sign up.