👋 Hello! Don't forget to refer friends to Axios Sports using your unique link at the bottom of the newsletter. 3 referrals earns you a spot in "Overtime," our reader community.
🏈 TNF: Marcus Mariota and the Titans (-1.5) are road favorites as they travel to Jacksonville to take on Gardner Minshew and the Jaguars (8:20pm ET, NFLN).
🏀 WNBA: The Sun look to take a 2-0 lead over the Sparks (6:30pm ET, ESPN2), while league MVP Elena Delle Donne and the Mystics look to do the same against the Aces (8:30pm ET, ESPN2).
Today's word count: 1,407 words (5 minutes)
1 big thing: 🎮 High school esports goes mainstream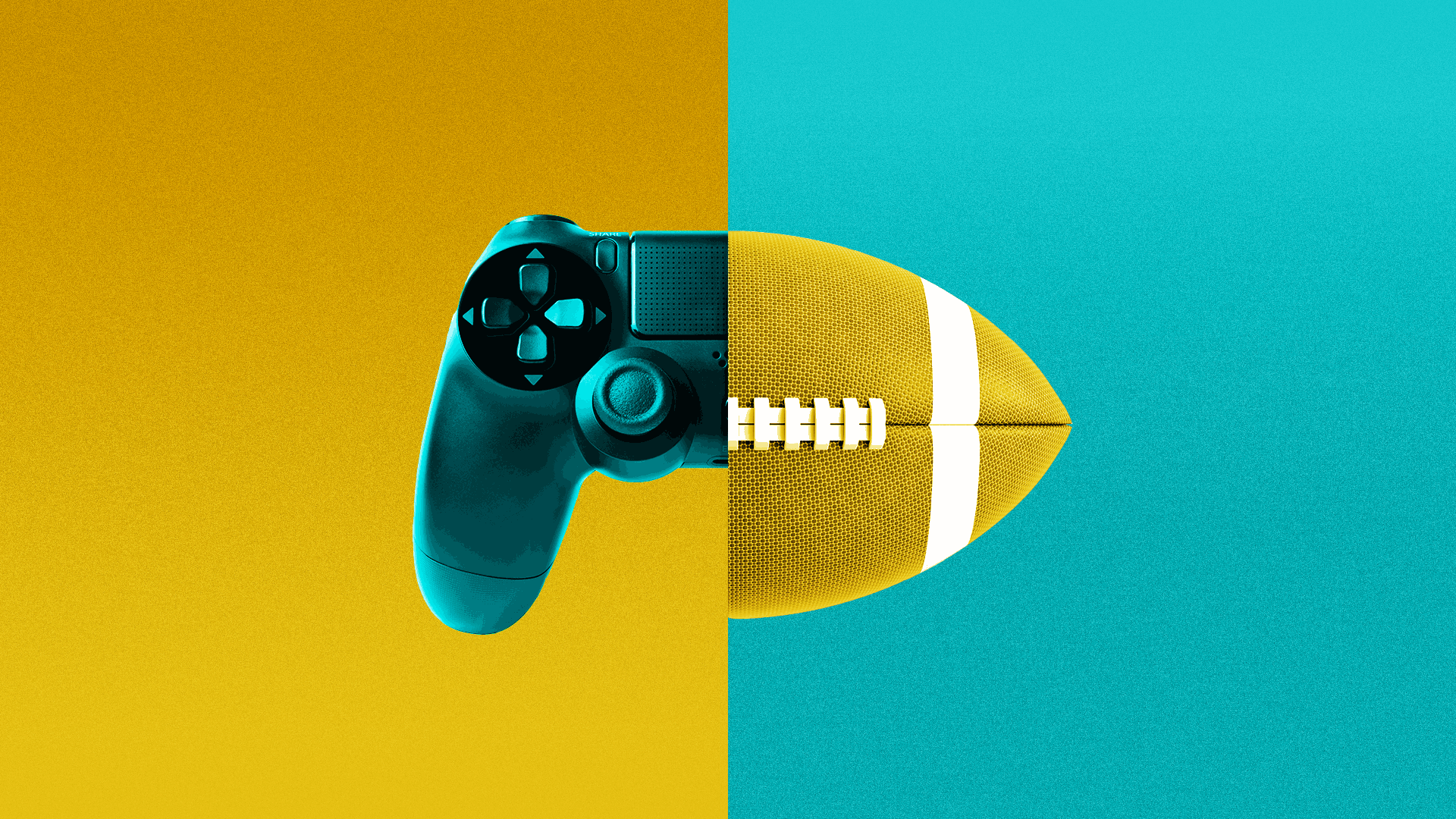 PlayVS, a software startup that allows high school students to compete on varsity esports teams through their schools, just closed a $50 million Series C, bringing its total funding to $96 million in just 13 months.
Where things stand: Through an exclusive partnership with the NFHS (the NCAA of high school sports), as well as deals with game publishers, PlayVS hosts and streams matches, compiles stats and standings and sets up leagues to allow neighboring schools to compete against each other.
PlayVS makes money by charging either the player, parent/guardian or school $64 per player to participate in a "season."
This spring, they offered competition in three games: "League of Legends," "Smite" and "Rocket League."
How it works: "On average, every school has one coach — typically a teacher who oversees the program. After that coach has been onboarded and activated, they go out and recruit students," PlayVS founder Delane Parnell tells Axios.
"The 'home' of esports on campus is typically either the computer lab, the library or an under-utilized classroom that's been retrofitted, though some schools have invested in building actual esports arenas," he added.
"Unlike traditional sports, there's no need to get on a bus and travel to another school to compete. Instead, teams go to PlayVS, we connect them to their opponent and they play."
Important note: Not every kid is playing the same game, so it's kind of like track and field in that sense, where hurdlers and shot-putters are on the same team despite competing in different events.
By the numbers: PlayVS launched in five states last fall and expanded to eight in the spring. The growth will continue this fall, with 15 states using PlayVS to compete in esports leagues, all culminating in state championships.
Those 15 states: Alabama, Alaska, Arizona, Arkansas, California, Colorado, Connecticut, Georgia, Hawaii, Kentucky, Massachusetts, Mississippi, Rhode Island, Virginia and Washington, D.C.
Over 13,000 schools (68% of the country) are on the wait list to build an esports program through PlayVS, according to the company. For comparison, ~14,000 U.S. high schools have a football program.
The big picture: Think about all of the organizations, products and services that exist around traditional high school sports. Things like recruiting platforms, state tournaments, equipment companies and coach management tools.
Almost none of that has been built for esports yet, putting PlayVS in a unique position to build an all-encompassing environment where they're both the platform and the infrastructure.
The bottom line: With esports still in its infancy, there's a huge opportunity to build the talent pipeline that every skill-based industry needs to survive — and companies like PlayVS are beginning to seize it.
2. ⚾️ Cubs-Cardinals rivalry takes center stage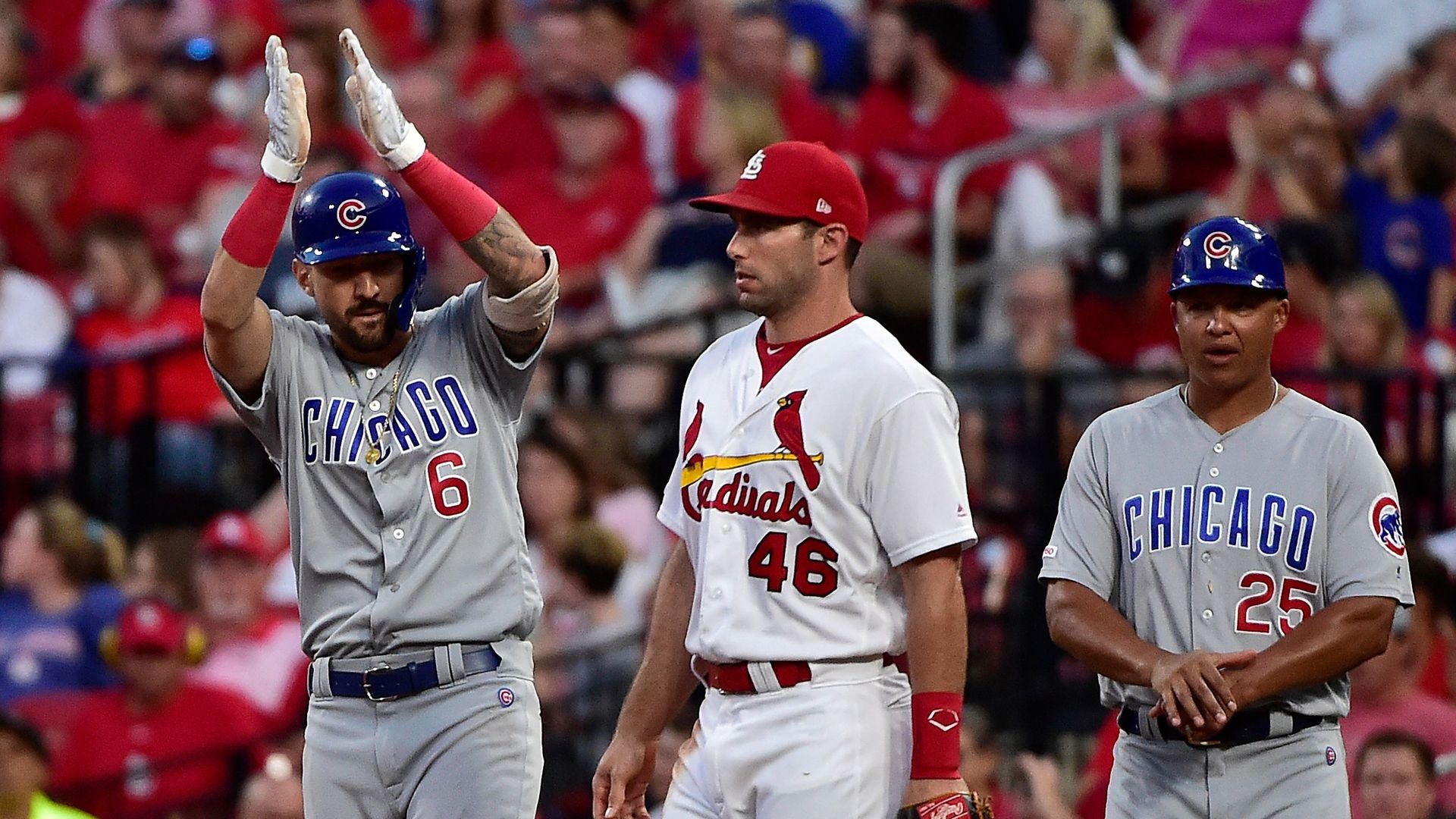 "Starting [tonight] at Wrigley Field, the Cardinals and the Cubs ... will play seven games over the next 11 days that will determine the [NL] Central, the NL Wild Card and maybe just the futures of both franchises," writes MLB.com's Will Leitch.
"The Cardinals haven't made the playoffs since 2015 and have a fanbase starving for October baseball.
"[T]he Cubs have taken a step back every year since winning the World Series in '16 and might be in danger of cleaning house in the offseason."
The bottom line: "There is so much on the line between the teams over the next week-plus that it's almost overwhelming."
Looking ahead: The Cubs will host 4 games in 4 days beginning tonight. Here are the expected pitching matchups (Cubs first, Cards second):
Game 1: Kyle Hendricks (11-9, 3.26 ERA) vs. Jack Flaherty (10-8, 3.05 ERA)
Game 2: Jose Quintana (13-8, 4.37 ERA) vs. Michael Wacha (6-7, 4.76 ERA)
Game 3: Cole Hamels (7-7, 3.92 ERA) vs. Dakota Hudson (16-7, 3.35 ERA)
Game 4: Yu Darvish (6-7, 4.02 ERA) vs. Miles Mikolas (9-14, 4.29 ERA)
3. 🏟 Checking in on the stadiums of the future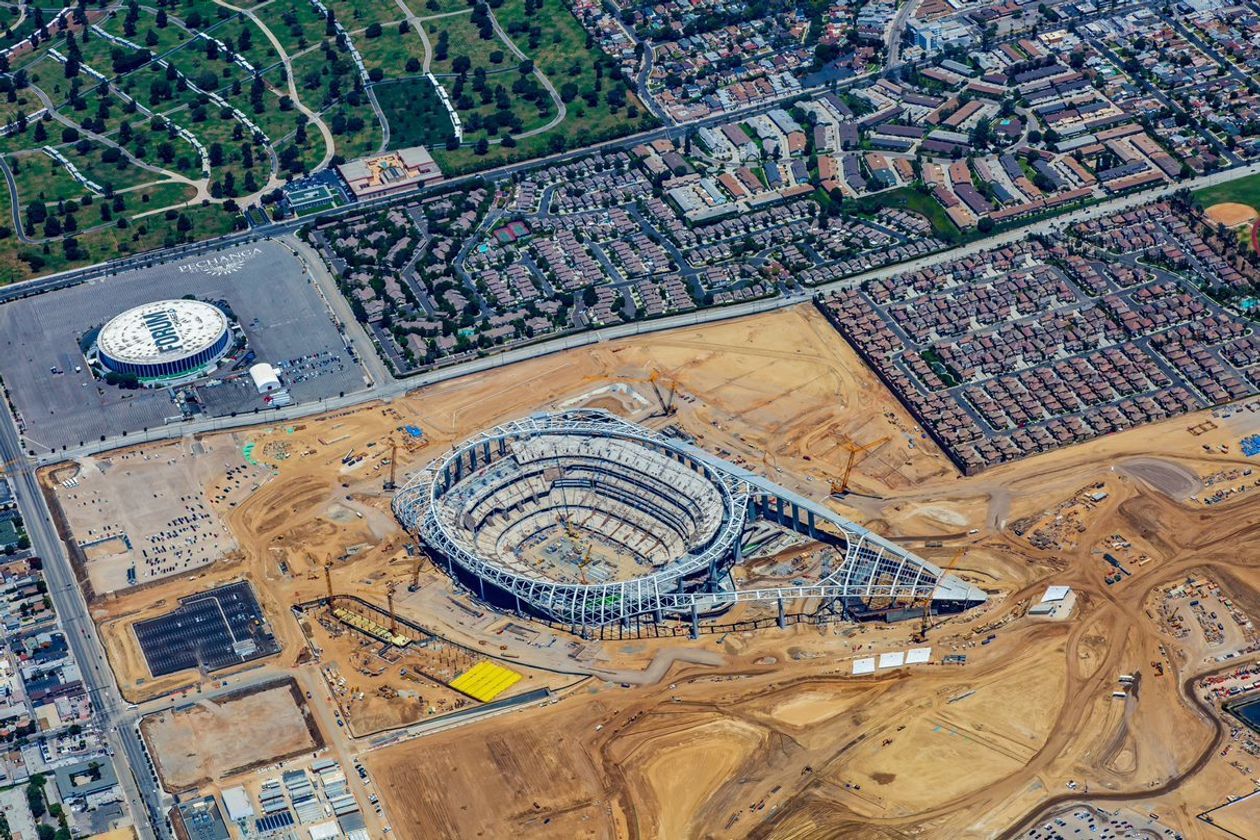 Courtesy: Los Angeles Stadium at Hollywood Park
INGLEWOOD, CALIF. — SoFi Stadium at Hollywood Park, the future home of the Rams and Chargers, will cost roughly $5 billion to build, per WSJ (subscription), making it the priciest NFL venue by a mile.
Naming rights: Private lender SoFi will reportedly pay more than $30 million annually over 20 years to put its name on the stadium — the most ever paid for stadium naming rights.
The big picture: Hollywood Park will also feature residences, hotels, retail spaces, public parks, a concert venue and office space. Add it all up and the complex could cost $10 billion, making it one of the largest privately financed projects in the country.
Looking ahead: In addition to housing the Rams and Chargers, SoFi Stadium is already set to host the Super Bowl in 2022, the college football championship in 2023 and the Olympics in 2028.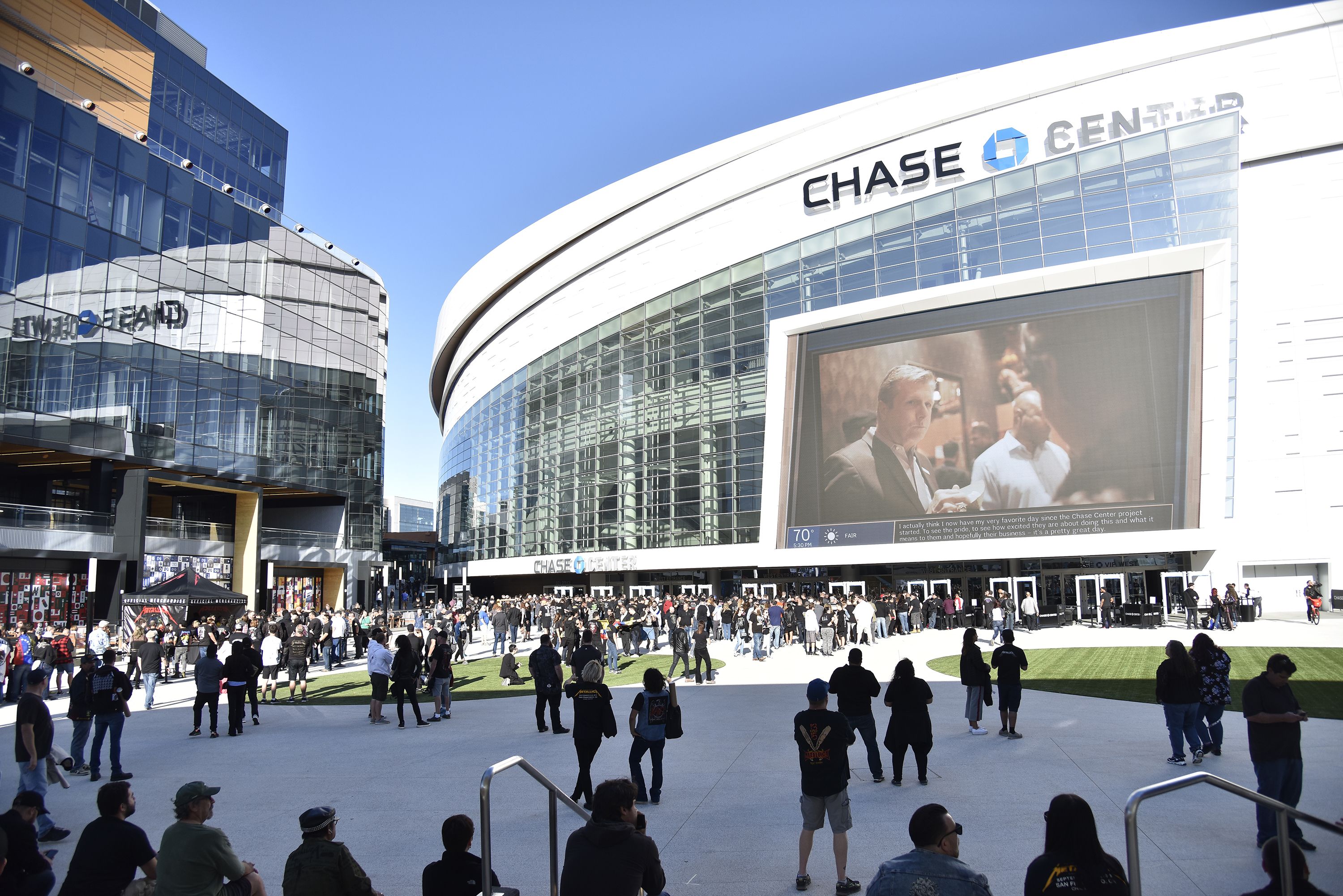 Photo: Tim Mosenfelder/Getty Images
SAN FRANCISCO — The Warriors won't play their first game in their new stadium until Oct. 5 (preseason game against the Lakers). But 2 weeks ago, the Chase Center opened its doors to the public for a Metallica concert.
A must read: The NBA's next big cash grab: Taking over your downtown (ESPN)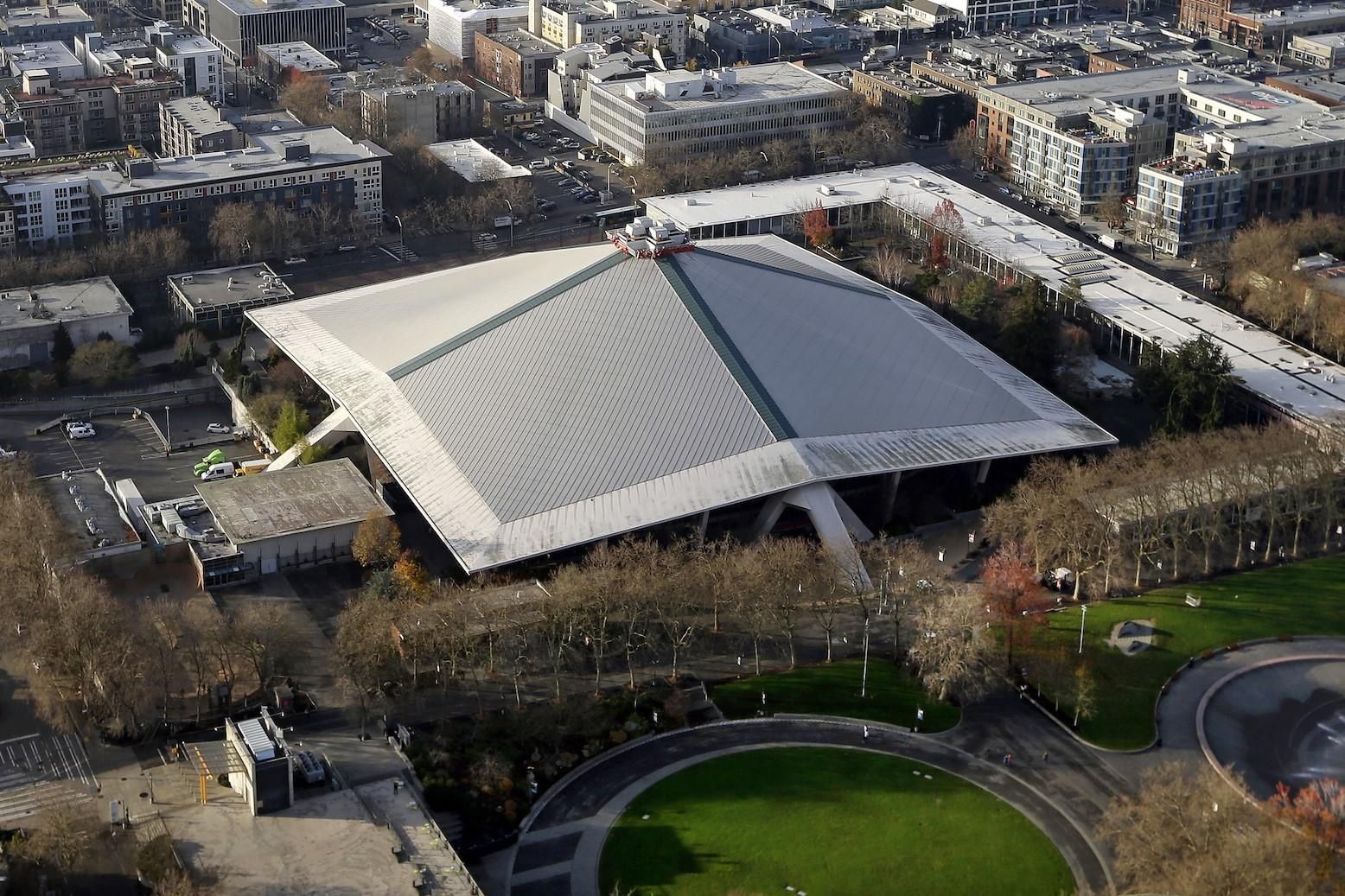 Photo: Elaine Thompson/Getty Images
SEATTLE — The $900+ million project to build a new arena for Seattle's future NHL team (debuting in 2021) underneath KeyArena's iconic pointed roof has been underway for months.
Preserving the 44-million-pound roof is being called an "engineering marvel," as builders have suspended it in place, cut its support columns in half and put up temporary beams while crews "dig deeper and around the columns to construct the new arena," per KOMO News.
4. 🏀 The NBA's All-Decade Teams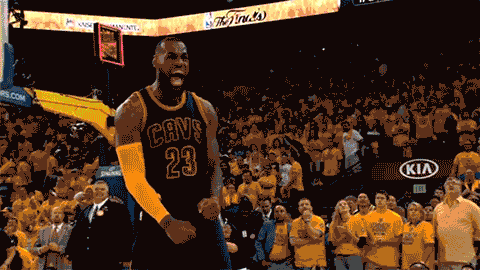 First team: Steph Curry, James Harden, Kawhi Leonard, Kevin Durant, LeBron James.
Second team: Russell Westbrook, Chris Paul, Anthony Davis, Tim Duncan, Draymond Green.
Third team: Kobe Bryant, Dwyane Wade, Giannis Antetokounmpo, Blake Griffin, Dirk Nowitzki.
5. ⚽️ Champions League: PSG shines on Day 2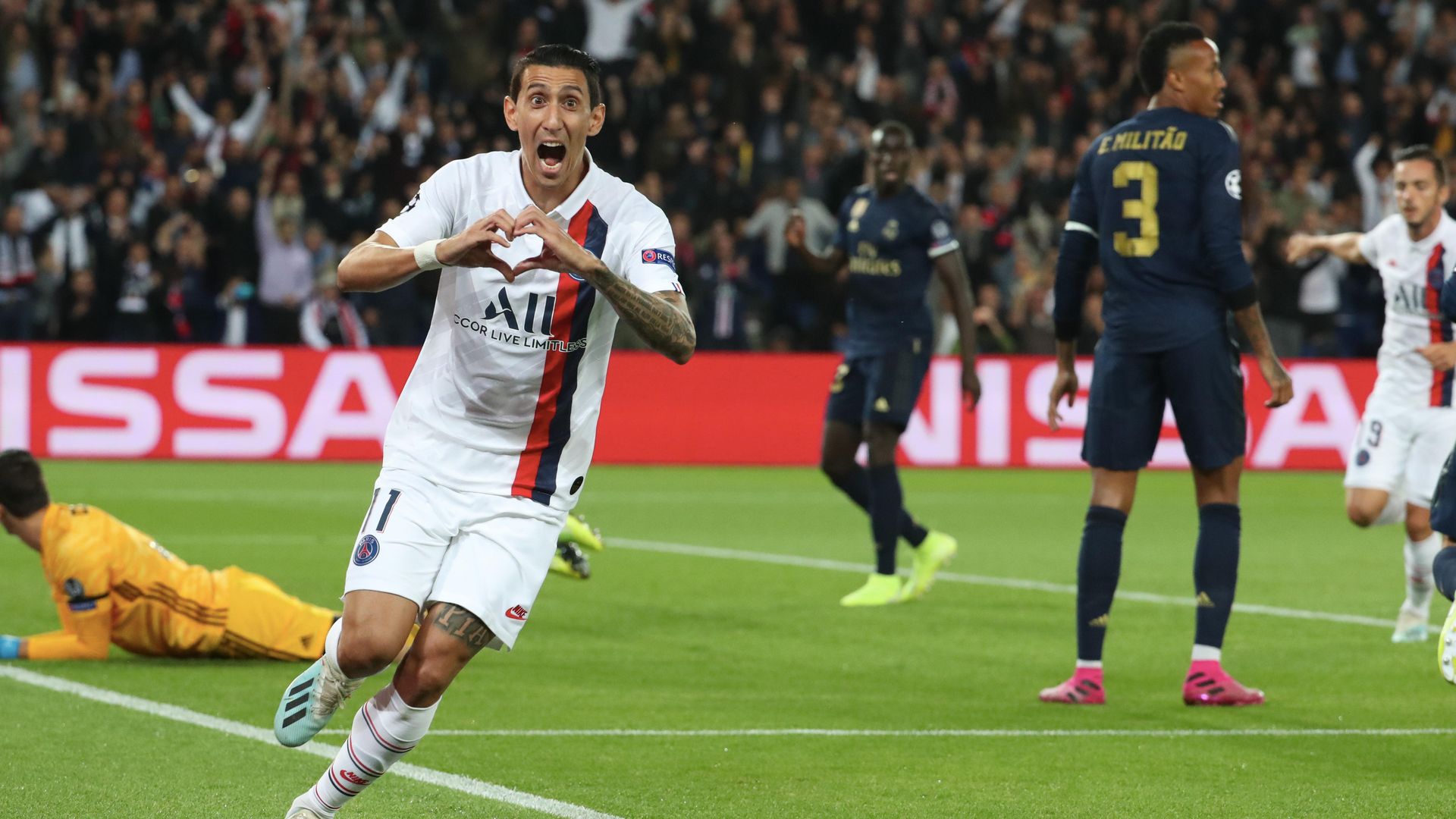 With Day 2 of the 2019-20 Champions League group stage in the books, every team has now played one game.
How it works: Each team plays the other group members twice, with the top 2 teams in each group advancing to the Round of 16 and the third-place finishers qualifying for the Europa League knockout stage.
Scoreboard (home team listed first):
PSG 3, Real Madrid 0
Atlético Madrid 2, Juventus 2
Dinamo Zagreb 4, Atalanta 0
Olympiacos 2, Tottenham 2
Club Brugge 0, Galatasaray 0
Bayern 3, Red Star Belgrade 0
Shakhtar Donetsk 0, Man City 3
Bayer 1, Lokomotiv Moscow 2
Group standings (listed from first to last place):
Group A: PSG (France), Club Brugge (Belgium), Galatasaray (Turkey), Real Madrid (Spain)
Group B: Bayern Munich (Germany), Tottenham (England), Olympiacos (Greece), Red Star Belgrade (Serbia)
Group C: Dinamo Zagreb (Croatia), Manchester City (England), Shakhtar Donetsk (Ukraine), Atalanta (Italy)
Group D: Lokomotiv Moscow (Russia), Atlético Madrid (Spain), Juventus (Italy), Bayer Leverkusen (Germany)
Group E: Red Bull Salzburg (Germany), Napoli (Italy), Liverpool (England), Genk (Belgium)
Group F: Slavia Prague (Czech Republic), Inter Milan (Italy), Barcelona (Spain), Borussia Dortmund (Germany)
Group G: RB Leipzig (Germany), Zenit (Russia), Lyon (France), Benfica (Portugal)
Group H: Ajax (Netherlands), Valencia (Spain), Chelsea (England), Lille (France)
6. Sept. 19, 2015: 🏉 "The Brighton Miracle"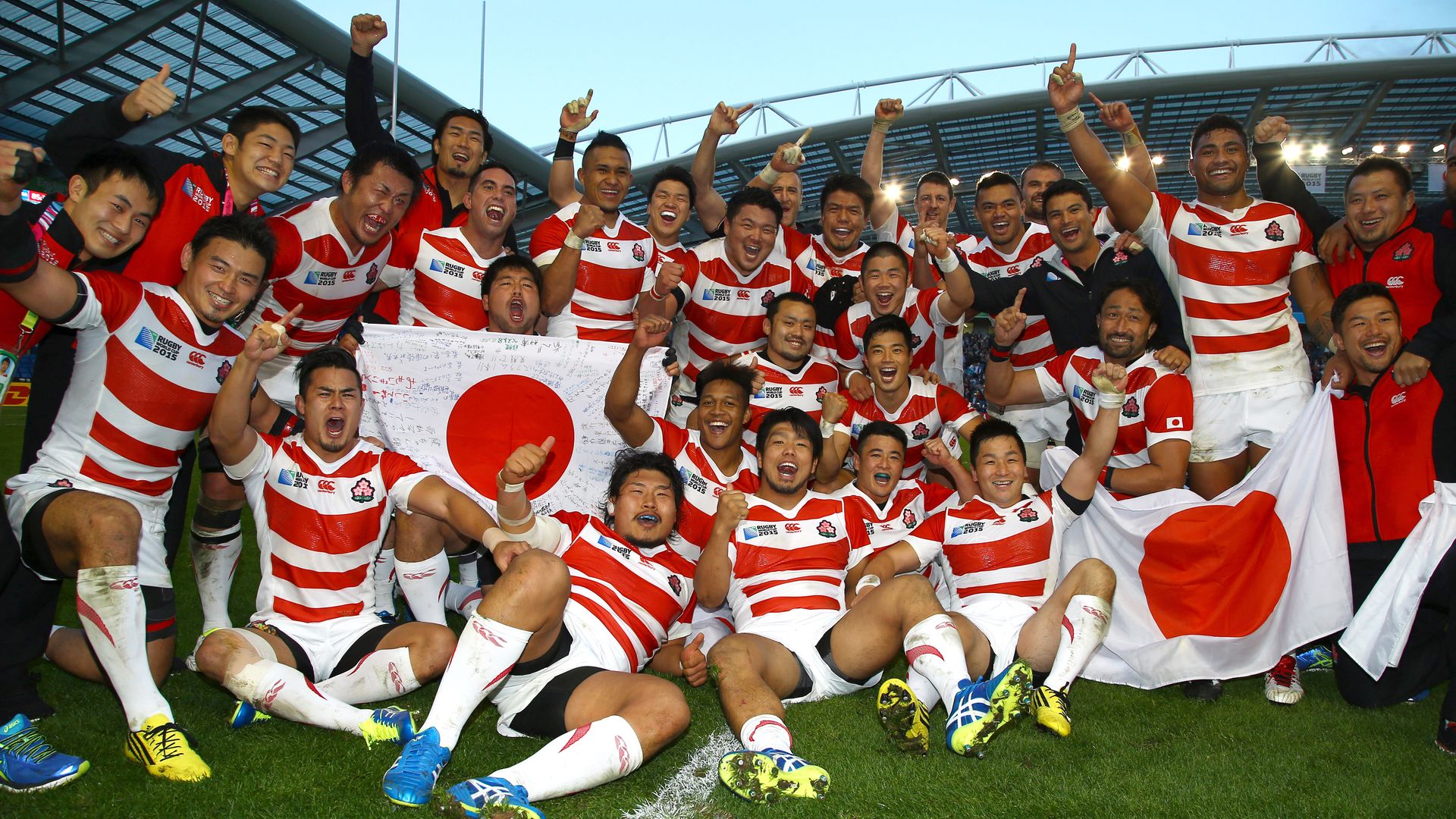 Four years ago today, Japan pulled off the biggest upset in Rugby World Cup history, beating 2-time champion South Africa 34-32 in Brighton, England.
Why it matters: The win changed Japanese rugby forever, and the next few weeks will see Japan become the first Asian nation to host the Rugby World Cup.
What they were saying: "The significance of this win cannot be understated. It's the equivalent of the 'Miracle on Ice,' but with an even less likely outcome ... Japan fans were crying in the stands." (SB Nation)
Bonus: ⚾️ MLB trivia
Last night, Houston's Gerrit Cole became the 18th MLB pitcher since 1900 to strike out 300 batters in a season (see every strikeout).
Question: Cole reached 300 strikeouts in just 198.1 innings, the second-fewest needed to reach the milestone. Who is the only pitcher to do it in fewer innings?
Hint: He did it in 2001, the same year his team won the World Series.
Answer at the bottom.
8. The Ocho: ♟ Chess weight loss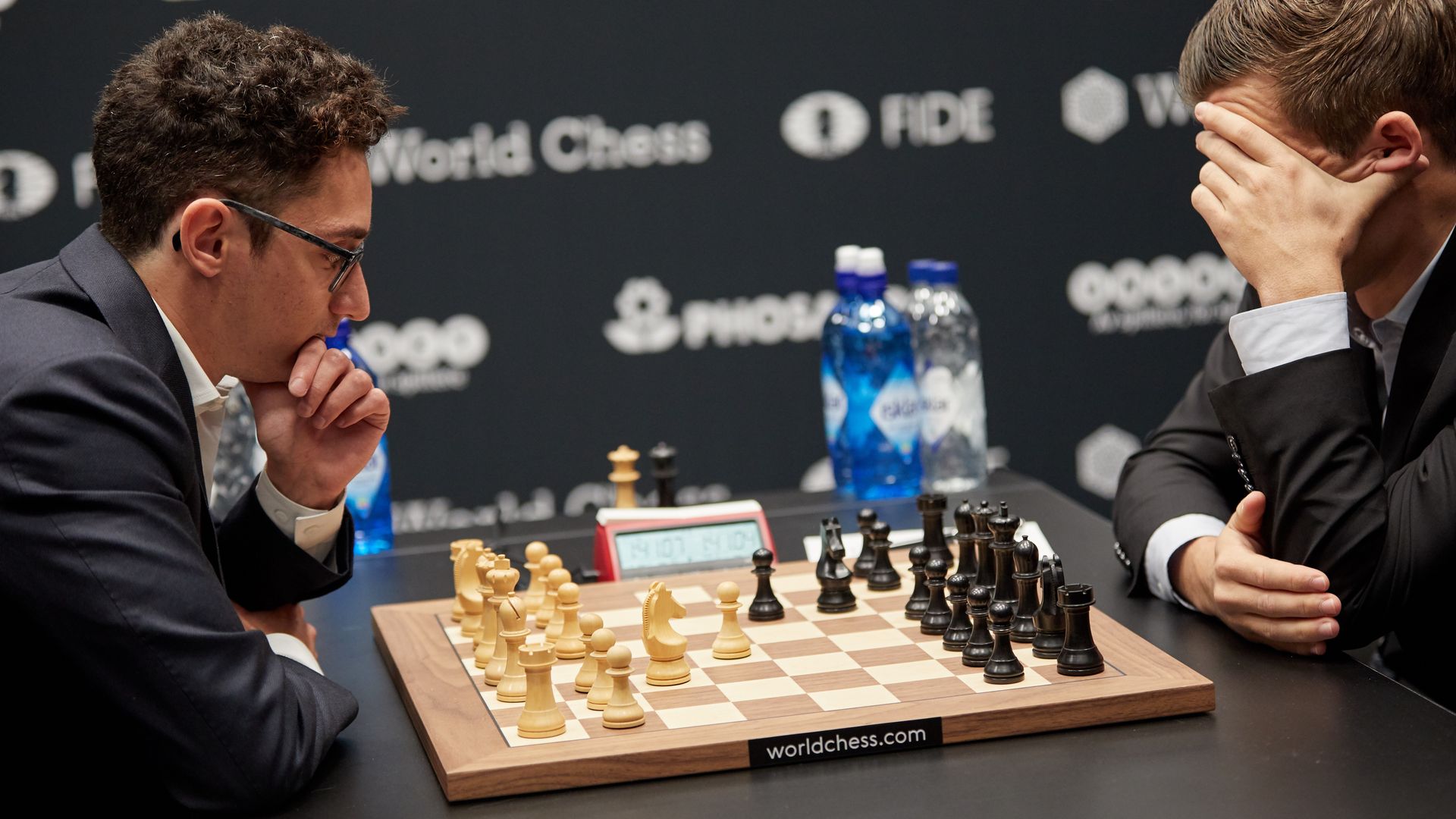 Did you know that chess grandmasters can lose 10-20 pounds during the course of a single tournament? ESPN's Aishwarya Kumar on the bizarre world of weight loss in chess...
"The 1984 World Chess Championship was called off after five months and 48 games because defending champion Anatoly Karpov had lost 22 pounds ... In 2004, winner Rustam Kasimdzhanov walked away from the six-game world championship having lost 17."
"In October 2018, Polar, a U.S.-based company that tracks heart rates, monitored chess players during a tournament and found that 21-year-old Russian grandmaster Mikhail Antipov had burned 560 calories in two hours of sitting and playing chess — or roughly what Roger Federer would burn in an hour of singles tennis."
See you tomorrow,
Kendall "Just canceled my gym membership and bought a chess set" Baker
Trivia answer: Diamondbacks pitcher Randy Johnson