🌞 Good morning! Before we begin...
Education Secretary Betsy DeVos came before a congressional subcommittee yesterday to defend a budget proposal that would eliminate all $17.6 million in federal funding for the Special Olympics.
This is heartbreaking and unacceptable — and that's not a political stance, it's a human one. If we can't support the athletes who need us the most, we've failed as sports fans and inhabitants of this planet.
1 big thing: ⚾️ Netflix but for baseball tickets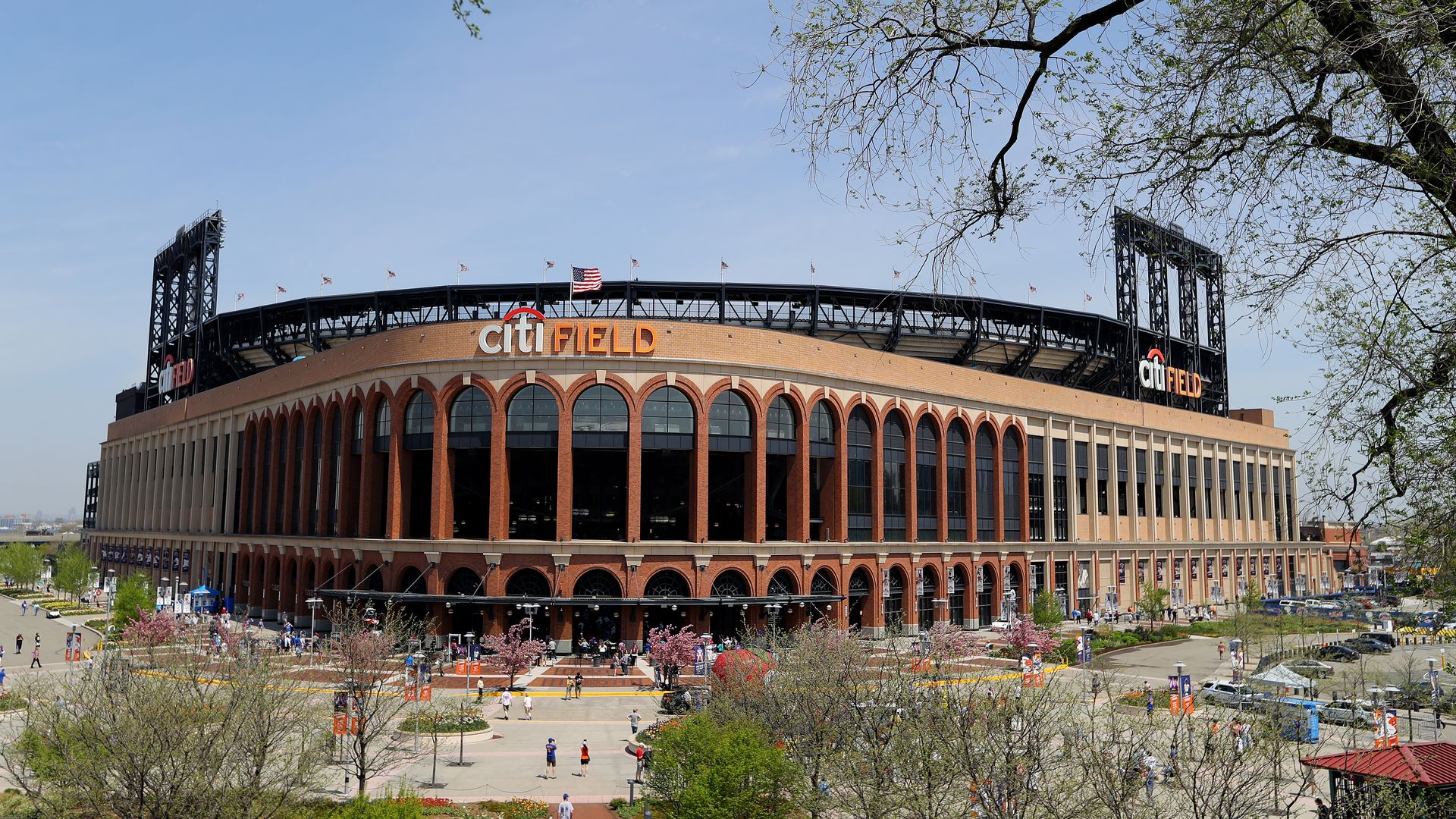 For just $39 a month, Mets fans can score standing-room-only tickets to nearly every regular-season home game this season. The Cardinals and Twins have launched similar programs in recent years.
Why it matters: Baseball is looking for a way to reach a younger and more unconventional audience, and targeting millennials and fringe sports fans with cheap tickets might just be the answer.
Is standing-room-only ideal? No, but if any stadium is prepared to keep those without seats entertained, it's a baseball stadium. And if any sport can still be enjoyed even if you're not paying close attention, it's baseball.
I've spent my fair share of evenings at the ballpark out of my seat — preferring instead to explore the venue and examine the food options. I'll sit down and intensely watch an inning here or there, but really, I'm there to hang out with friends and enjoy the (hopefully) good weather.
The big picture: Assuming I'm not the only one who treats baseball games this way, I think it's fair to suggest that these insanely cheap tickets could help turn a "post-work trip to the ballpark" into the new "post-work trip to the bar" for some people.
Co-workers: The Mets deal allows users to buy up to six subscriptions each, which makes it the perfect thing for, say, your company's sales team to enjoy together.
Friends: You and your best buds from college already meet at The Blarney Stone every Thursday night. Why not meet at the ballpark, instead, even if it's just for the summer?
Yes, but: In order for this ticket deal to reach its full potential, the stadium must be conveniently located, ideally downtown. That way, fans can make game-time decisions as they're leaving the office.
In the Mets' case, Citi Field sits in the middle of a parking lot all the way out in Queens, which means any young person working in Manhattan has to take a fairly long subway to get there. That could be a problem.
P.S. In related news, the Mets actually paid Jacob deGrom!!!
2. 🏀 How conferences earn money in March
Every year, the NCAA distributes hundreds of millions of dollars to Division I conferences based on which teams made the tournament and how far they advanced.
How it works: Conferences are paid out based on total number of "units," which is what the NCAA calls its tally of wins, automatic qualifiers and at-large bids.
Each distribution year is assigned a value for a single "unit," which is then applied to units earned by conferences over the previous six tournaments. (For instance, the $216 million paid out last year amounted to $273,500 per unit for tournament results from 2012–2017.)
Payments are made each April to conferences, who then decide how to split the earnings. Most share the money equally among members, but in some leagues, the schools that earned the units get bonuses.
The schools take that money and mostly re-invest it in athletics (scholarships, coaching salaries, facilities, etc).
By the numbers: Loyola Chicago's Final Four last year will be worth at least $8.5 million to the Missouri Valley Conference over the next six years. Some other recent windfalls:
George Mason, 2006: Earned five units worth $6.4 million for the Colonial Athletic Association (moved to Atlantic 10 Conference in 2012).
Butler, 2010-11: Earned 10 units over two years worth $15.1 million for the Horizon League (moved to Big East in 2013).
Wichita State, 2013: Earned five units worth $7.9 million for the Missouri Valley Conference (moved to American Athletic Conference in 2018).
The big picture: From 1997-2018, the Big Ten has been paid the most ($340.4 million), followed by the ACC ($316.3 million) and the Big 12 ($307.3 million).
Meanwhile, the Southwestern Athletic Conference (SWAC) has earned just $25 million, "nearly the minimum it can earn given that all leagues make money from their teams that qualify automatically," per AP.
The bottom line: College basketball's power conferences send multiple teams to the tournament annually, so money comes in fairly consistently.
But for smaller leagues that typically only get one automatic bid, getting a second at-large bid — or, better yet, seeing one of their schools go on a deep tourney run — is like winning the lottery.
3. 🏈 NFL makes pass interference reviewable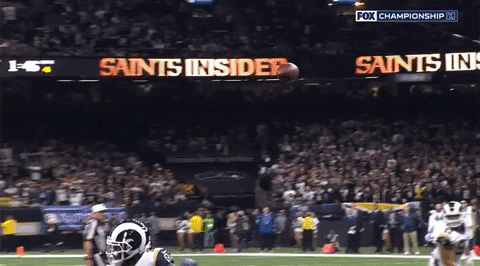 NFL owners voted 31-1 to approve a rule proposal that will allow coaches to ask for a video review of possible pass interference plays, whether they have been called on the field or not.
It's just a one-year trial, but Saints owner Gail Benson is already hailing it as a safeguard against what happened to her team in last year's NFC Championship Game.
Under these new rules, the blown call you see above would have been reviewed and corrected.
One caveat: Giving coaches the option of throwing their challenge flag on Hail Mary finishes could result in every losing coach throwing the red flag just for the hell of it.
Owners shut that drama-killing scenario down by making plays in the final two minutes of each half reviewable by the booth only.
More NFL meetings:
Important stats: Bill Belichick fielded 116 questions over 43 minutes yesterday. He said 1,790 words, an average of 15.4 per response. His most frequent phrases were "we'll see" (21 times) and "I don't know" (13 times), per The Athletic's Jeff Howe.
Actually important: Patriots owner Robert Kraft has waived his arraignment for charges of soliciting prostitution and requested a jury trial, a clear sign that his standoff with prosecutors is far from over.
4. 🏀 The MVP race remains too close to call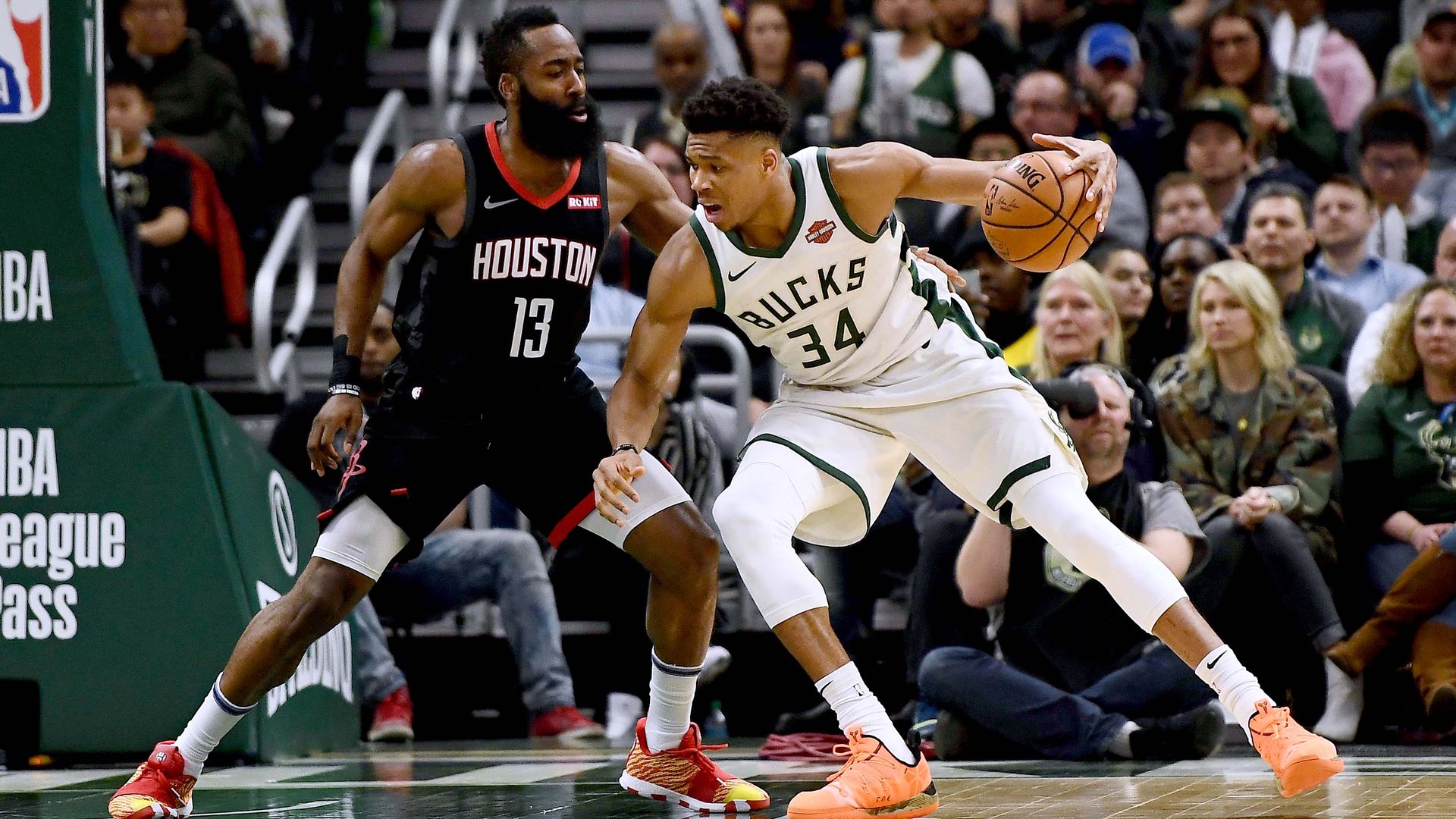 The Bucks hosted the Rockets last night, giving NBA fans the rare opportunity to watch the two MVP frontrunners — Giannis Antetokounmpo and James Harden — go head-to-head.
Milwaukee won 108-94, as Eric Bledsoe turned in one of his best performances of the season and stole the show.
Giannis (19-14-4) and Harden (23-10-7) played well, but neither one of them did anything to add clarity to one of the tightest MVP races in recent memory.
By the numbers: Let's compare their advanced stats.
Player A: 30.1 PER; 13.2 Win Shares; 8.8 VORP (value over replacement player)
Player B: 30.5 PER; 13.5 Win Shares; 7.2 VORP
Players revealed at the bottom of the newsletter.
5. 💰 The story of World Sports Exchange
For much of the 20th century, sports gambling was a static experience. You bet on a team hours before the game started, and then you waited to find out if you were right.
That all changed in the mid-1990s when three American options traders moved to Antigua to start World Sports Exchange.
How it worked: "Instead of offering point spreads, World Sports Exchange operated like a commodities market," writes the NY Times' Bruce Schoenfeld.
Before tipoff, options on the favored Lakers, for example, might cost $60 each, while options on the underdog Knicks might cost $40. At the game's conclusion, the losing team's options would be worthless, while the winning team's options would pay out $100.
"But here was the novelty: You didn't have to wait until the game was over to cash in," writes Schoenfeld. "If the Lakers scored the first eight points, the value of that $60 option might grow to, say, $72. You could sell it and pocket your $12 gain."
"You might then invest in the Knicks at a discount. Or you might wait for the price to fall and buy another option on the Lakers. … Once you'd started, it was hard to stop until the game ended. It was exhausting. It was also great fun."
The big picture: In 1998, the founders of World Sports Exchange were charged with violating the anti-mafia Wire Act, which outlawed taking bets across state lines (which is precisely what they were doing).
The company shut down in 2013, but the in-play betting industry it helped birth is alive and well — turning gamblers into traders each day.
6. 🏀 March 27, 1939: The first NCAA championship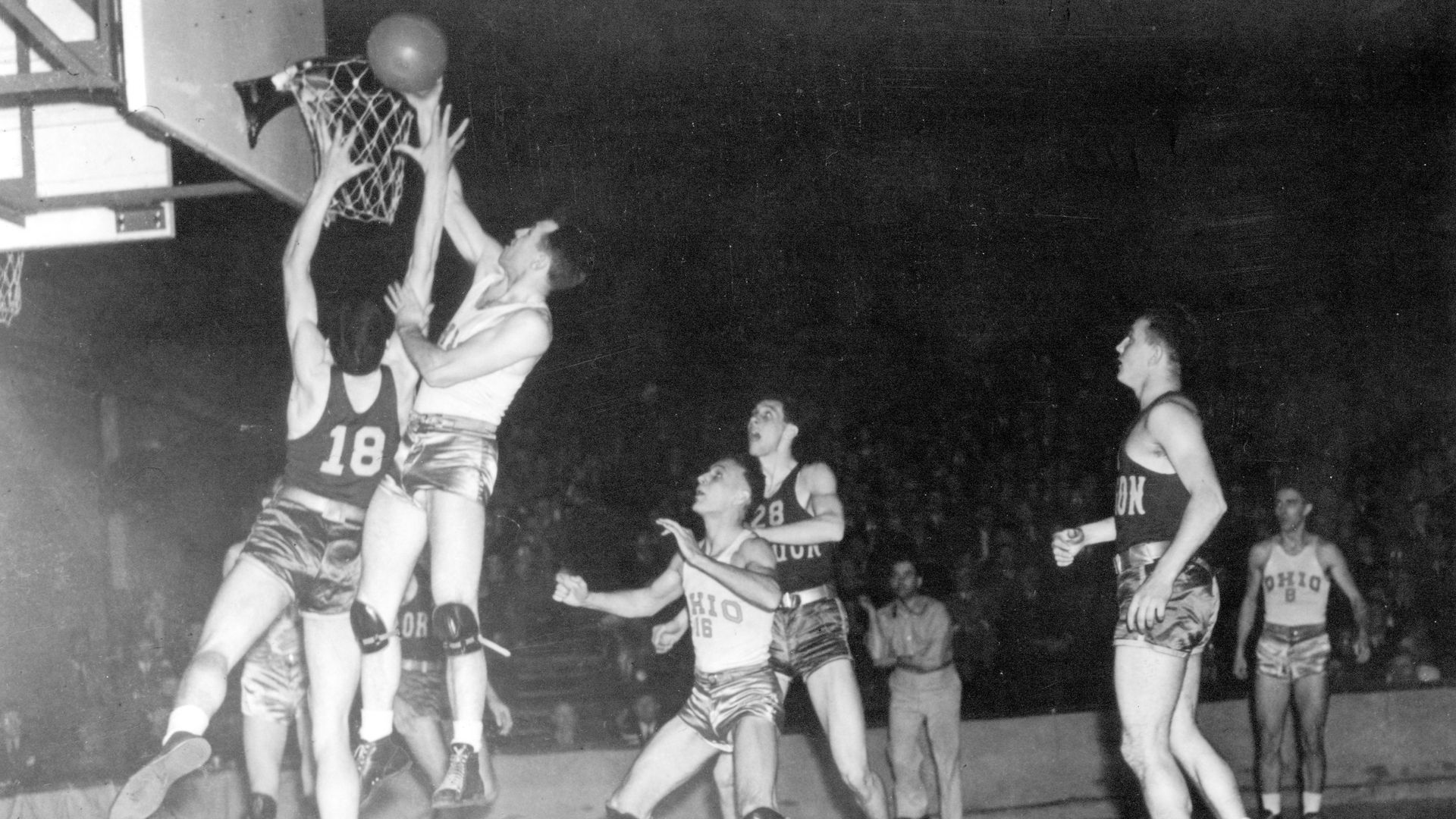 80 years ago today, the Oregon Webfoots beat the Ohio State Buckeyes 46-33 to win the inaugural NCAA Tournament championship. This remains Oregon's only national title.
The Webfoots, or "Duck Hoopmen," were known as the "team of destiny" heading into the 1938-39 season and went 29-5 en route to winning the title.
Some context: There were only eight teams in the field, so the NCAA Tournament wasn't the powerhouse we know it as today. The NIT, established the year before this final, was considered the premier tournament in the land.
P.S. Think students back then weren't just as crazy as they are now? Think again. AP reported that the Oregon faithful climbed "fire hydrants, parked cars and magazine stands" in celebration.
7. Send in trivia questions!
The well is drying up. Need your help.
Please send: (1) Question, (2) Answer, (3) Your name and city so we can credit you. We'll handle coming up with the hint.
Thanks!
8. The Ocho: The inaugural U.S. Skateboarding Team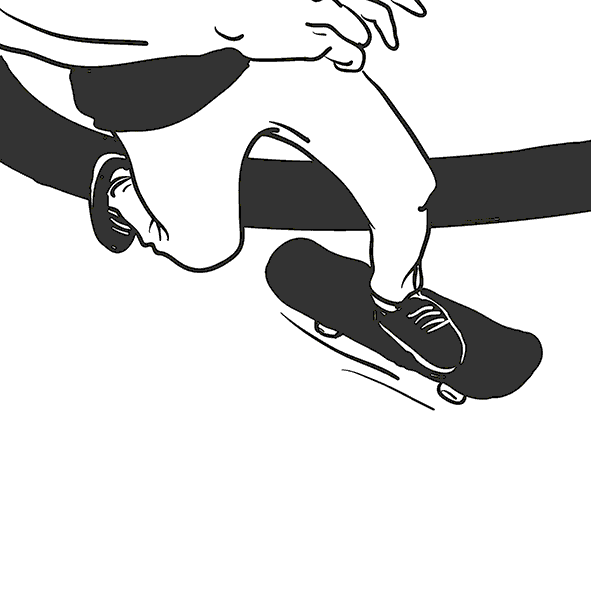 With skateboarding set to make its Olympic debut at the 2020 Tokyo Games, the U.S. recently announced its inaugural national team.
Men's street skaters: Nyjah Huston (the 11-year-old phenom is all grown up now), Louie Lopez, Jagger Eaton, Chris Joslin.
Men's park skaters: Tom Schaar (first skater to land a 1080), Alex Sorgente, Tristan Rennie, Zion Wright.
Women's street skaters: Brighton Zeuner (youngest gold medalist in X Games history at age 13), Jordyn Barratt, Bryce Wettstein, Nicole Hause.
Women's park skaters: Mariah Duran, Jenn Soto, Alexis Sablone, Lacey Baker.
What's next: The 16 skaters will receive support from USA Skateboarding while they attempt to qualify for the 2020 Olympics. A maximum of 12 Americans can qualify.
10. 🎰 Pick 3: Make your picks!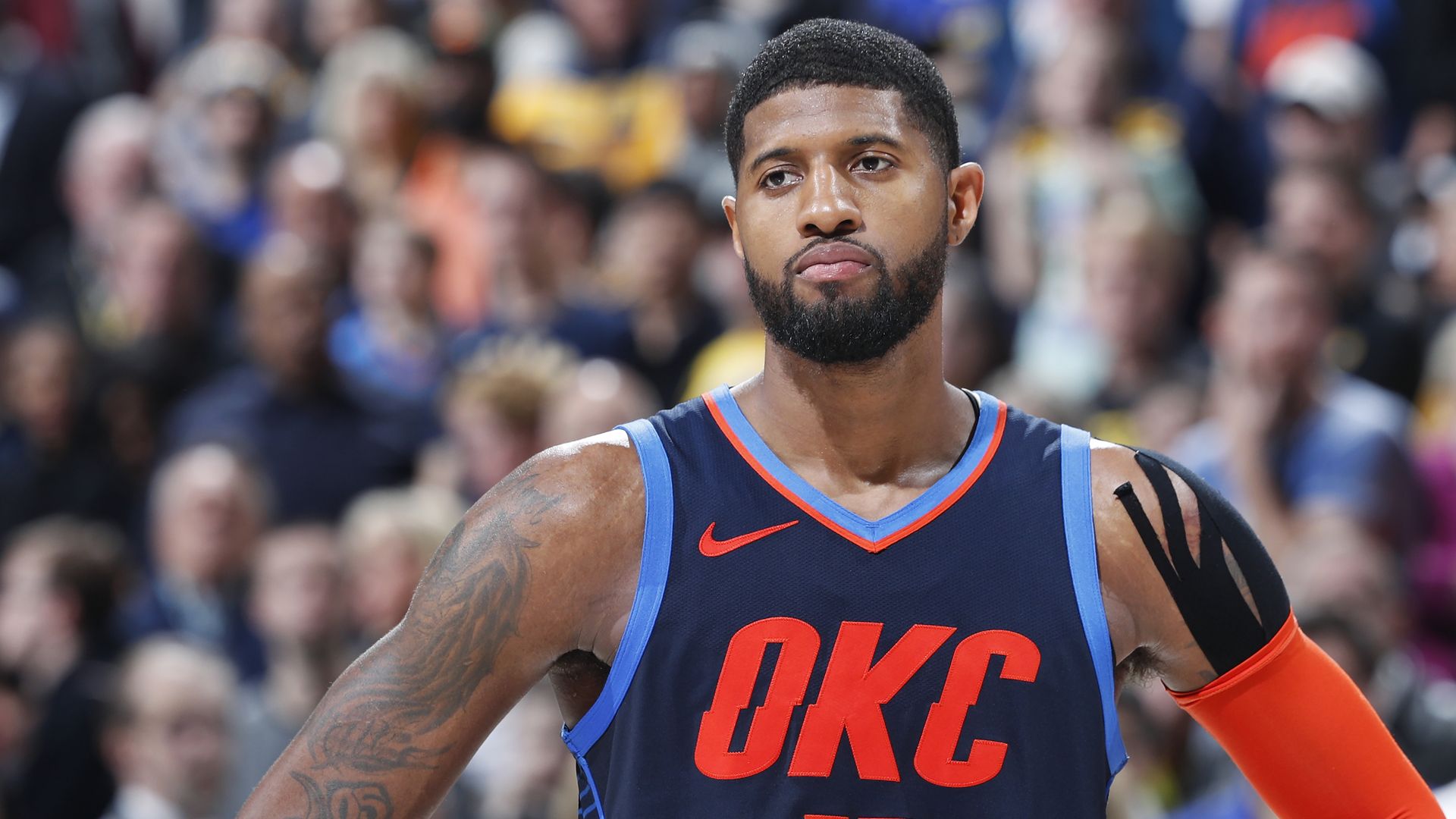 Pro-tip: Download The Action Network app to become a master at all this stuff.
1. Who will cover the spread between Lipscomb and NC State (-2.5) in the NIT quarterfinals?
Know this: Motivation is always the biggest question when betting the NIT, which is one reason why underdogs have thrived in the tournament. Since 2005, underdogs are 54-42-2 (56.3%) against the spread in the quarterfinals or later.
Watch: 9pm ET (ESPN2)
2. How many points will Paul George score against the Pacers? Over/Under 30.5?
Know this: George is averaging 28.2 points per game on the season and scored 36 points in his return to Indiana earlier this season.
Watch: 8pm ET (ESPN)
3. Who will cover the spread between the Rangers and Bruins (-1.5)?
Know this: Despite being the underdog, the Rangers lead the season series 2-0, having won 3-2 and 4-3 (shootout).
Watch: 7:30pm ET (NBCSN)
🎰 Play now: Make your picks (cutoff time: 7:30pm ET)
Thanks,
Kendall "Did a kickflip one time" Baker
Players revealed: Player A is Harden, Player B is Antetokounmpo.