Axios Sports
April 03, 2023
👋 Good morning! We got one championship game yesterday and get another today? Pretty good deal.
Today's word count: 1,350 words (5 minutes).
Let's sports...
1 big thing: 🏀 LSU shoots its way to first title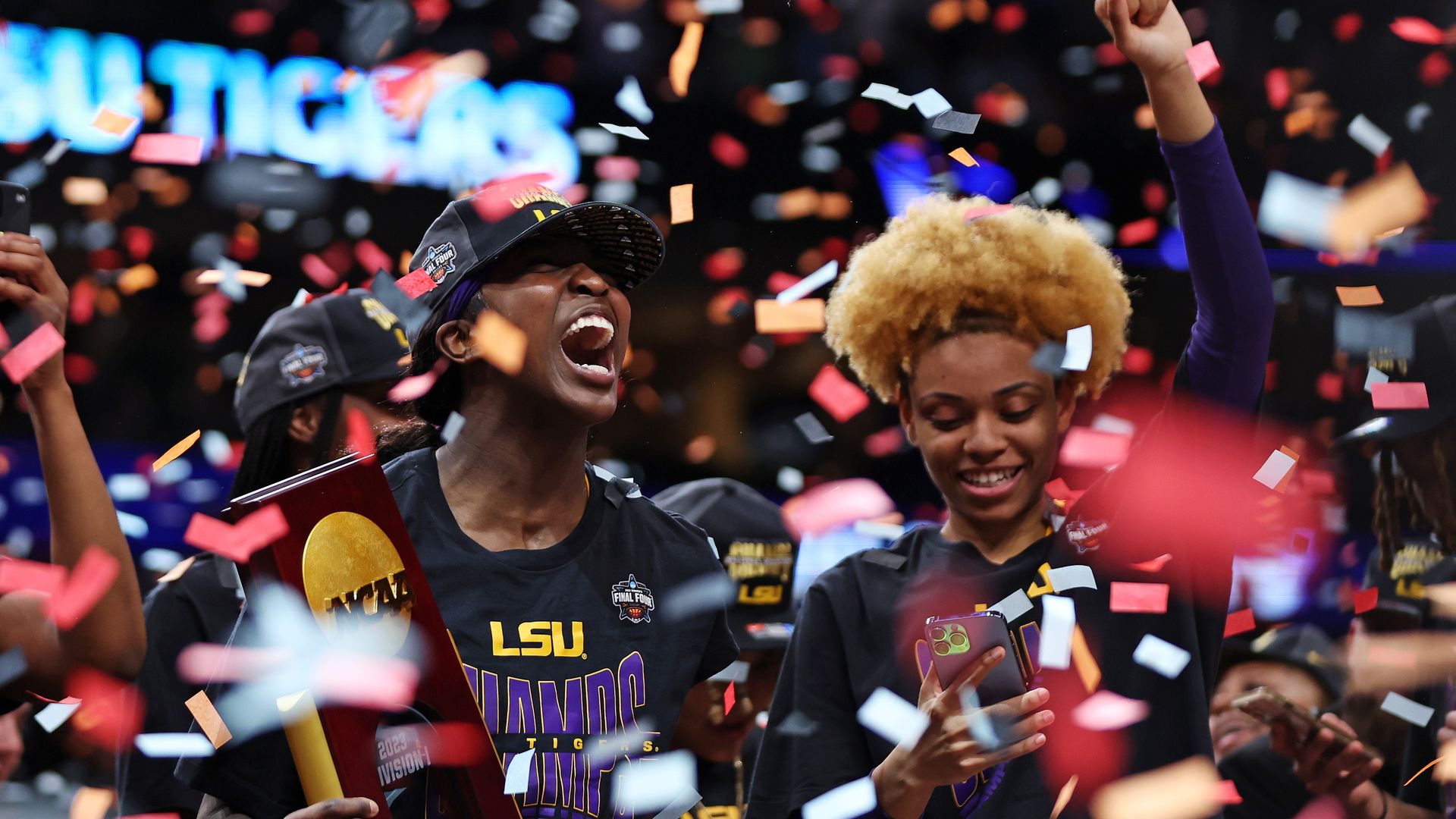 LSU delivered a performance for the ages in Dallas to win the school's first basketball national championship, Axios' Jeff Tracy writes.
Driving the news: The Tigers crushed Iowa, 102-85, on Sunday afternoon, setting the record for points scored in a title game.
The Tigers shot 54% from the field and a blistering 65% from deep (11-17), tying their season-high with 11 made threes.
Not bad for a team who'd gone 7-38 (18%) from behind the arc across its previous three games.
The stars: Angel Reese, named the Final Four's Most Outstanding Player, recorded her 34th double-double of the year (15 pts, 10 reb) — the most ever in a single season.
Jasmine Carson scored 22 points off the bench (7-8 FG, 5-6 3PT, 3-4 FT) after scoring just 11 total in the tournament's first five games.
Starters Alexis Morris (21 pts, 9 ast) and LaDazhia Williams (20 pts, 5 reb) gave the Tigers a trio of 20-point scorers to round things out.
The backdrop: Kim Mulkey won her fourth championship (three with Baylor), breaking a tie with Stanford's Tara VanDerveer for third-most behind UConn's Geno Auriemma (11) and Tennessee's Pat Summitt (8).
The Louisiana native led an epic turnaround, winning a title just two years after taking over a nine-win program — and one year after losing almost her entire team.
LSU had nine new players this season, with Reese, Carson and Williams all coming via the transfer portal.
Impressive in defeat: Player of the Year Caitlin Clark put on another show for the Hawkeyes, scoring 30 points and dishing out eight assists.
Clark's 191 points, 60 assists and 32 3-pointers are all records for a single women's NCAA tournament.
She was responsible for 63% of Iowa's offense in the tournament through either scoring or assists.
The big picture: Sunday's game lacked the drama of the two semifinals, but still put a stamp on a tournament that could be looked back on in the future as an inflection point for the sport.
The Iowa-South Carolina Final Four matchup drew an impressive 5.5 million viewers, an ESPN record for a women's semifinal.
The momentum entering next season — with Clark, Reese and other stars set to return — should be through the roof.
Looking ahead: The long-undervalued rights to the women's tournament are up for bid next year. Couldn't ask for better timing.
Go deeper: The refs wrecked the national title game, but LSU rose above it (Slate)
2. ⚾️ How the clock is changing pitch selection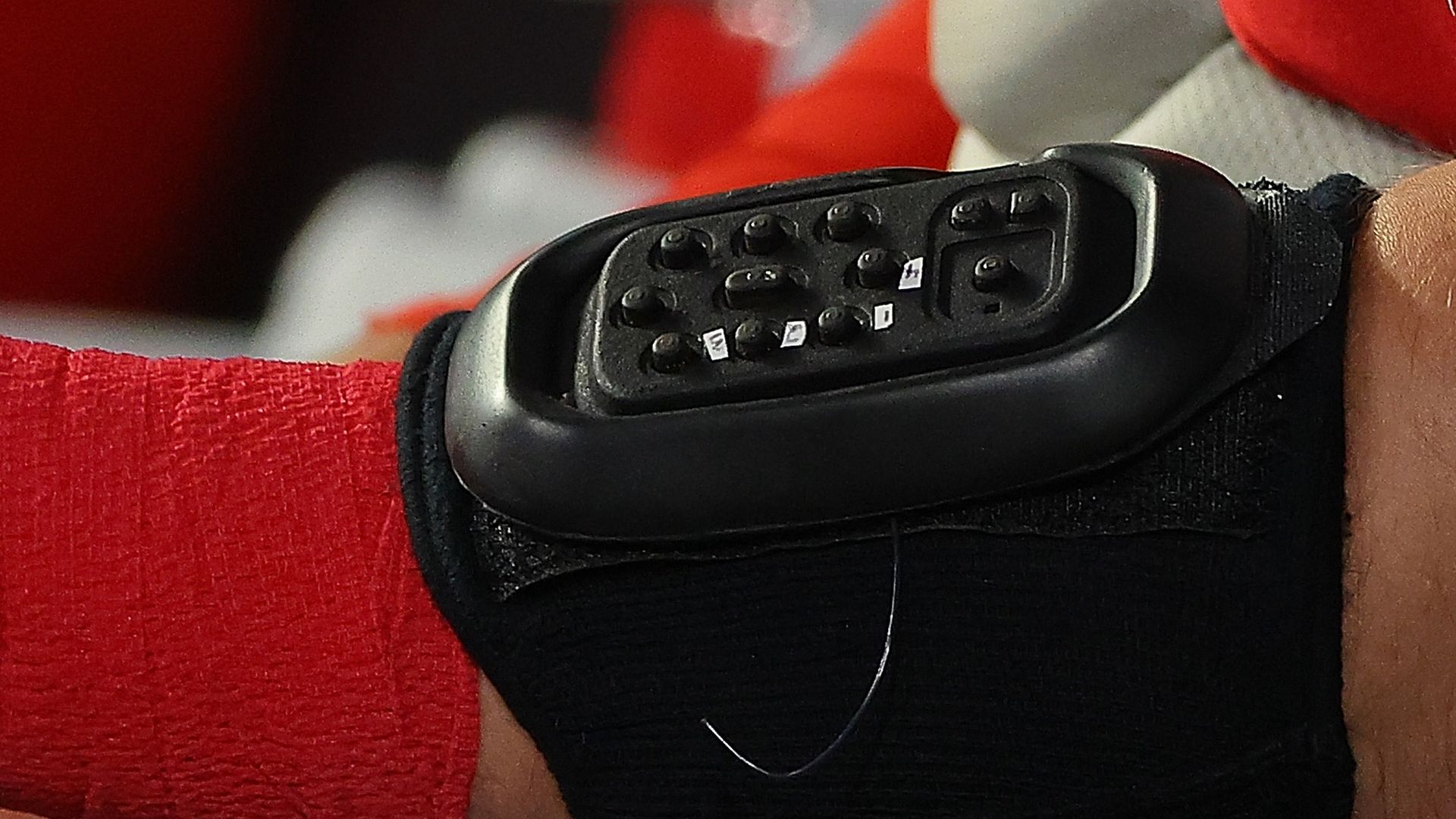 The pitch clock is doing more than just speeding up at-bats. In some cases, it's changing how pitches are selected, Jeff and I write.
State of play: PitchCom — the device introduced last season that allowed catchers to electronically call pitches in an effort to combat sign stealing — can now be used by pitchers, too.
How it works: The wristband-like device has buttons for different pitch types and locations. When pressed, the call is relayed to the receiver, an earpiece worn by up to five defensive teammates.
Last season, the catcher would make the call, and the pitcher would receive it before either shaking off that pitch or gearing up to throw it.
This season, the pitcher can make the call — a necessary change with the advent of the pitch clock, which gives pitchers less time to shake off signs.
The intrigue: After decades of catchers making suggestions, pitchers can now call their own games.
Look no further than Shohei Ohtani's first start: He wore the device and was so fast that he was issued a warning for pitching before the batter was set.
Ohtani wore the device under his sleeve near his armpit instead of on his wrist or forearm, memorizing the keypad to seamlessly call his own pitches.
The big picture: The pitch clock is working as intended, with games so far 28 minutes shorter than last season. But it's also creating games-within-the-game.
3. 🚨 Still thinking about that shot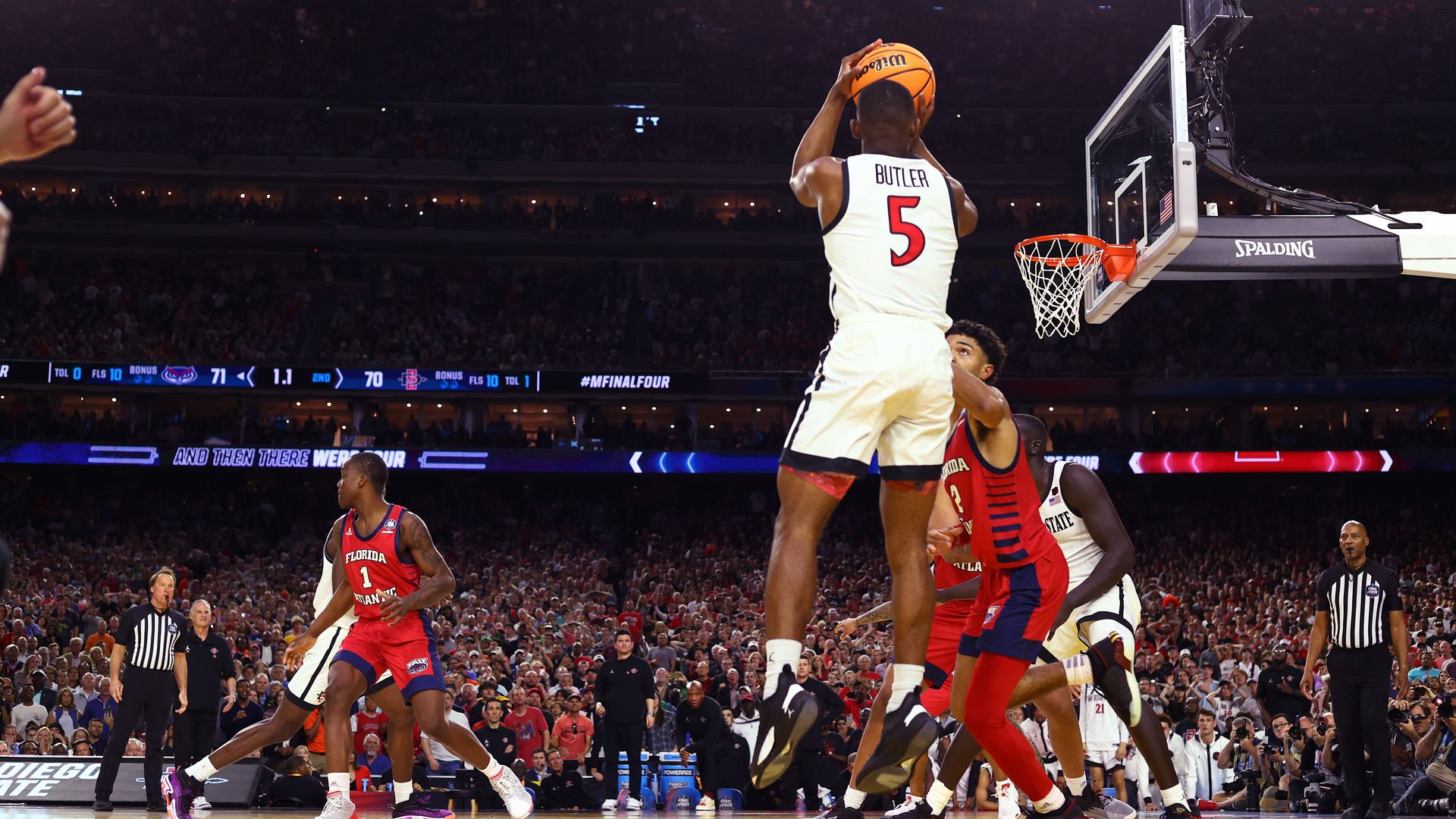 Lamont Butler's buzzer-beater on Saturday was just the fifth in Final Four history — and the first in which the team was trailing before the shot.
The others:
What he's saying: Butler's sister, Asasha Lache Hall, was shot and killed in January 2022. Speaking Sunday, Butler said he felt her presence during the biggest moment of his life.
I think about her every day. Ever since she passed. She was one of my biggest supporters, and I know she's up there happy right now, watching me play the game that I love.
And I think she was with me with that shot. She probably guided the ball in a little bit. I miss her, and I'm just happy I'm able to do this for her.
Go deeper: A buzzer-beater for teammates, family and a fallen sister (SI)
4. ⚡️ Lightning round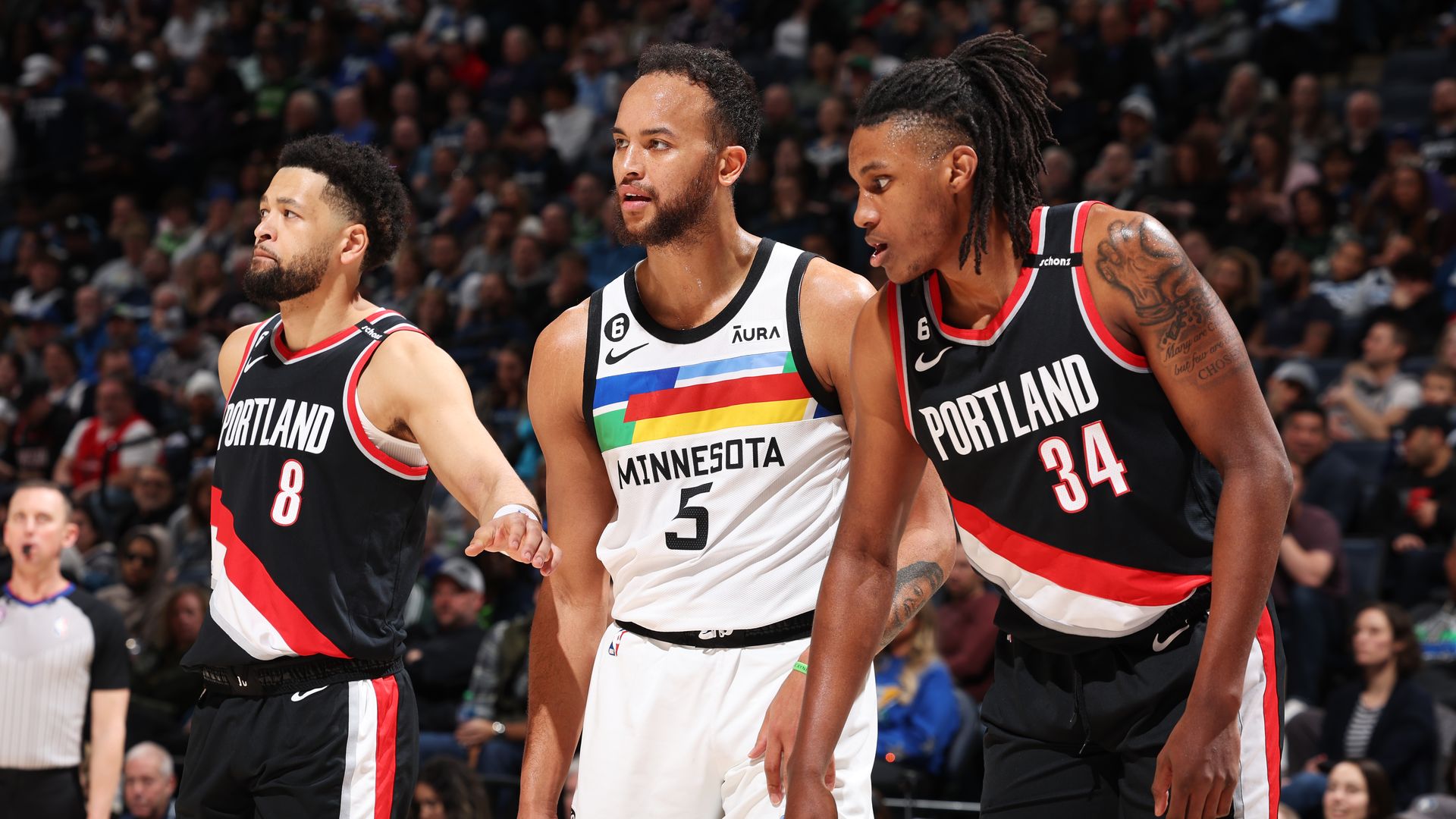 🏀 Massive upset: The Trail Blazers (missing four starters) pulled off the largest NBA upset in 30 years on Sunday by beating the Timberwolves as 19.5-point underdogs.
🏒 60 wins: The Bruins won their 60th game on Sunday, joining the 2018-19 Lightning, 1995-96 Red Wings and 1976-77 Canadiens as the only teams to do so.
🎾 Miami winners: Daniil Medvedev and Petra Kvitová won the Miami Open, picking up hard court titles ahead of tennis' clay court season.
⚾️ Absolute bomb: Maryland shortstop Matt Shaw, a likely first-round pick in June, hit a 507-foot grand slam this weekend. Yes, you read that correctly. 507 feet!!!
5. 🏀 Stat du jour: Kings of mediocrity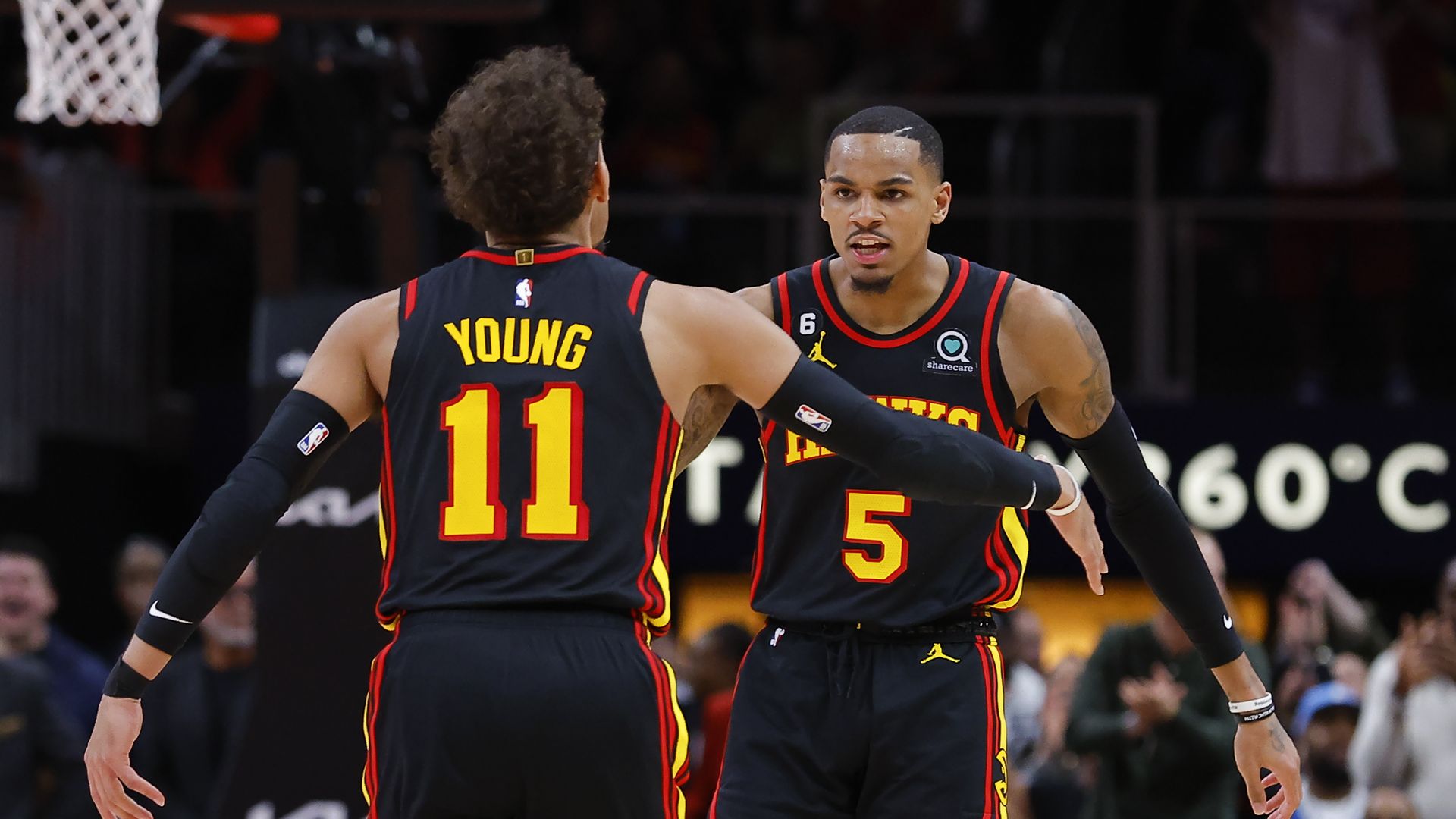 The 2022-23 Atlanta Hawks are, quite literally, the definition of average.
By the numbers: The Hawks are 39-39 and have scored 9,209 points while allowing 9,210.
They're 24-24 against the East and 15-15 against the West.
They've been within one game of .500 for 72 consecutive days.
6. 🇺🇸 Photos across America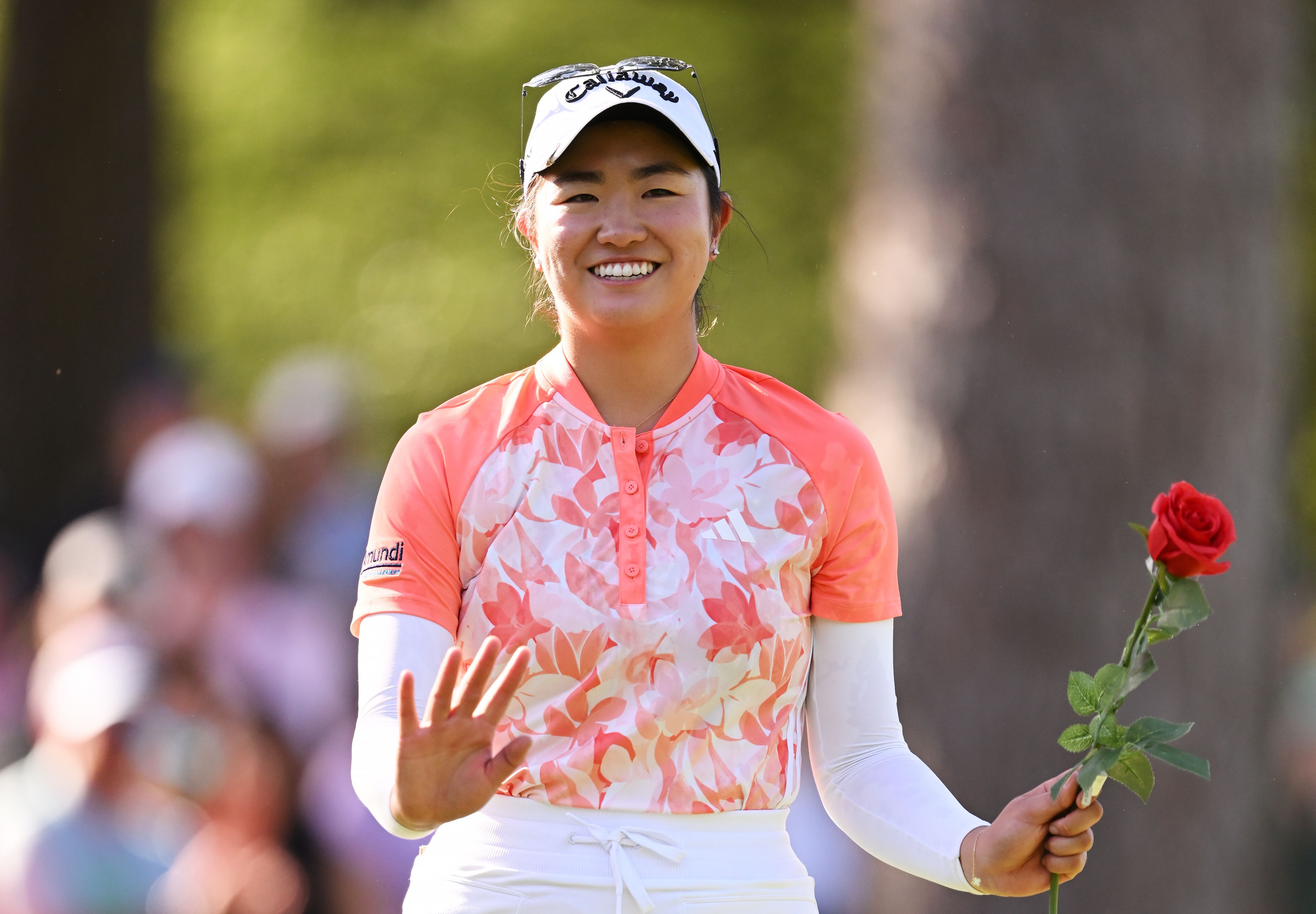 AUGUSTA, Ga. — Reigning NCAA champion Rose Zhang held on to win the Augusta National Women's Amateur, defeating fellow American Jenny Bae in a playoff.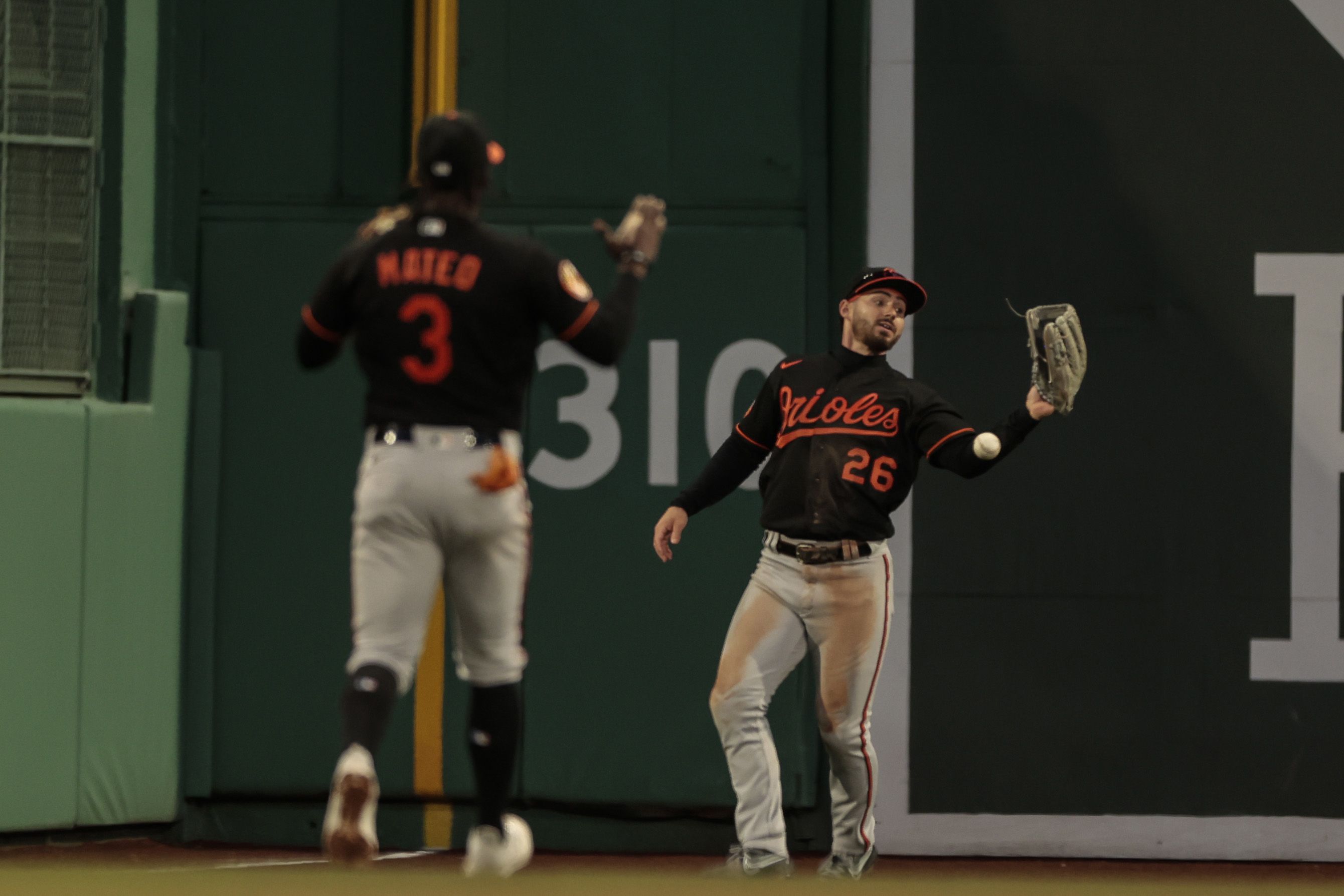 BOSTON — The Orioles suffered one of the worst losses imaginable on Saturday. After Ryan McKenna dropped a routine fly ball that would have been the final out, the very next batter, Adam Duvall, hit a walk-off, two-run blast to give the Red Sox a 9-8 win.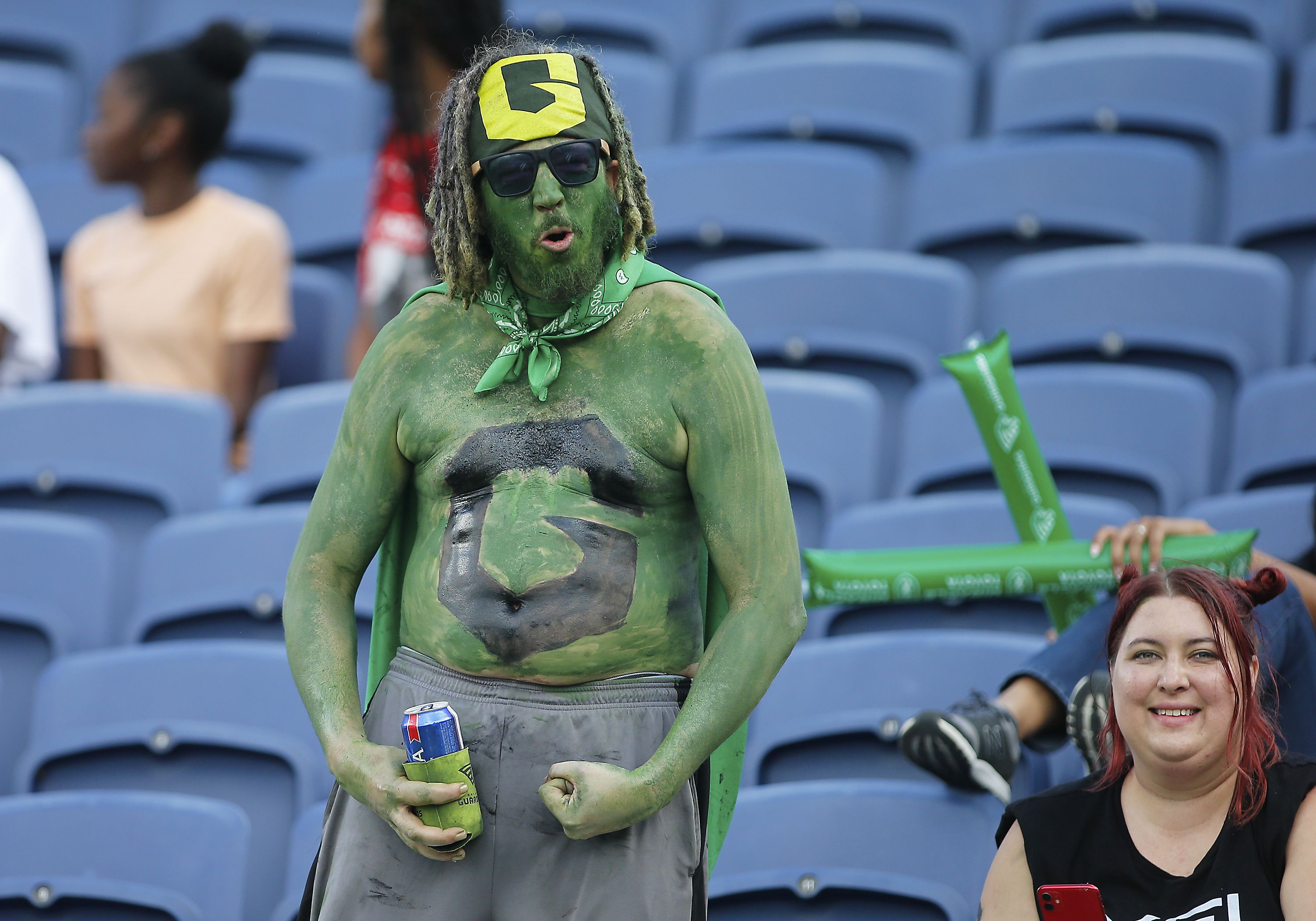 ORLANDO — The previously winless Orlando Guardians beat the previously undefeated D.C. Defenders, 37-36, on Saturday in an XFL instant classic that featured five second-half lead changes.
7. 🌎 Photos around the world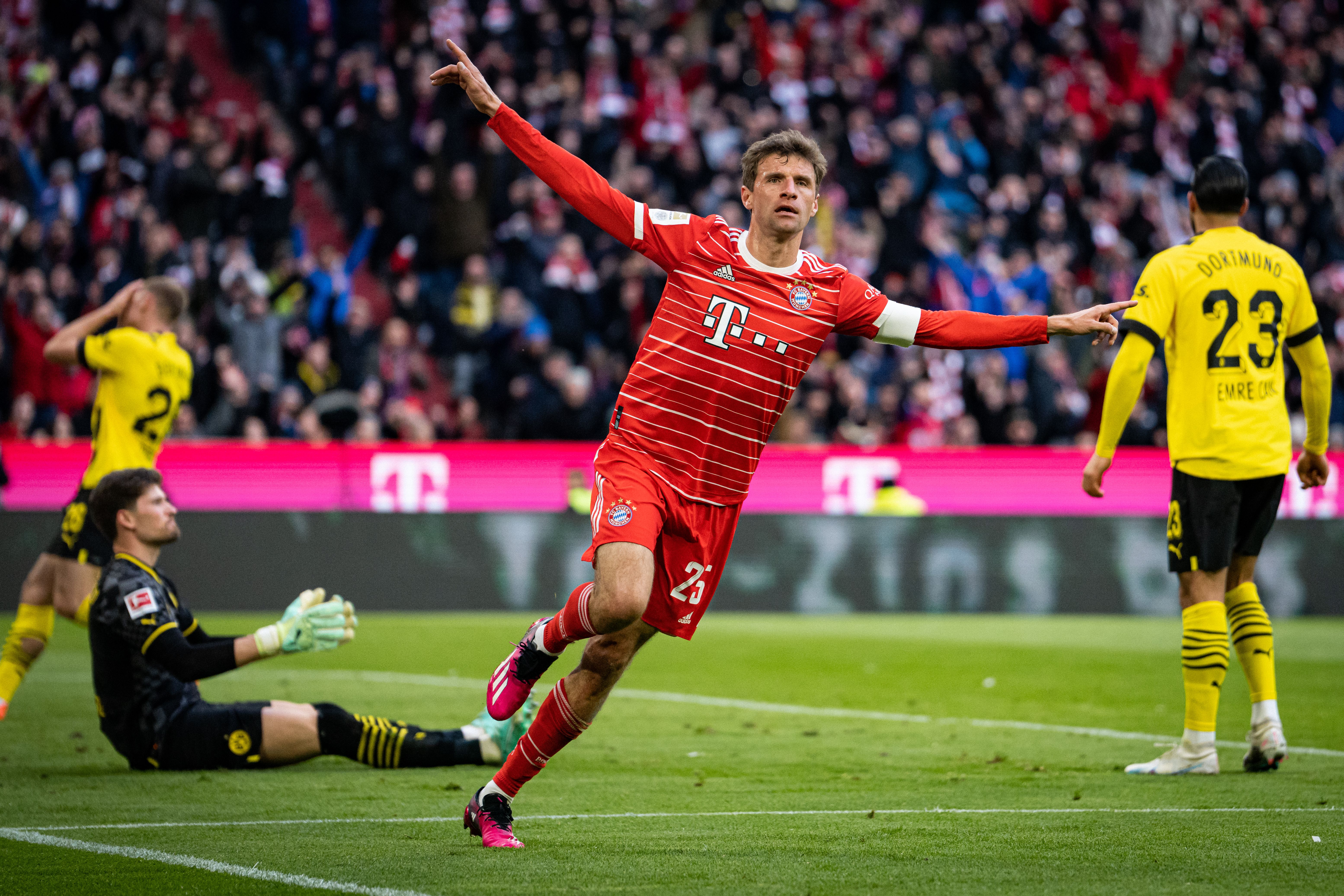 MUNICH — Bayern beat Dortmund, 4-2, in Saturday's Der Klassiker to leapfrog their Bundesliga rivals atop the table and give new manager Thomas Tuchel a victory in his first home game.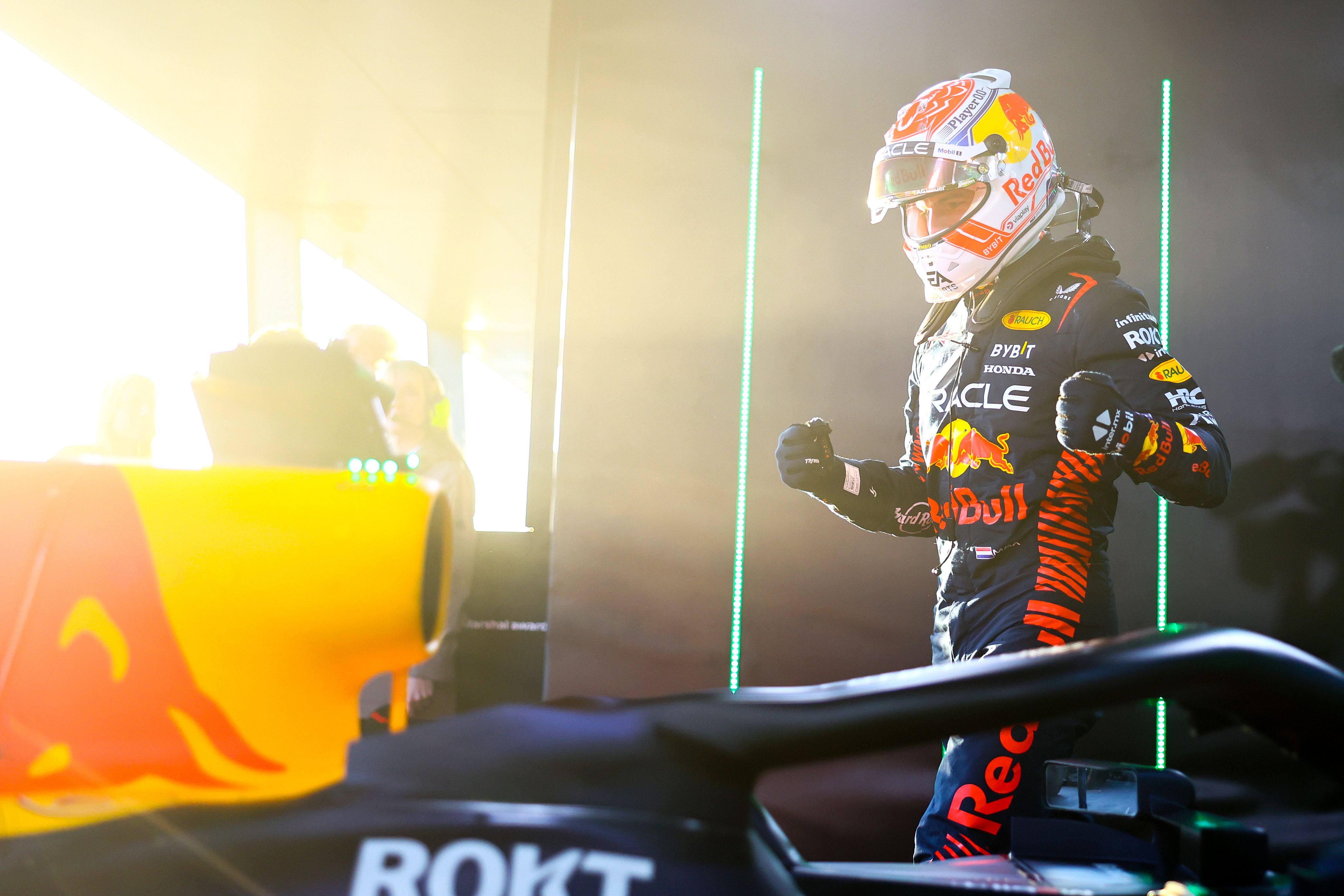 MELBOURNE — Max Verstappen (Red Bull) won Sunday's chaotic Australian Grand Prix, holding off Lewis Hamilton (Mercedes) and Fernando Alonso (Aston Martin) in a race that featured three red flags and was completed behind a safety car.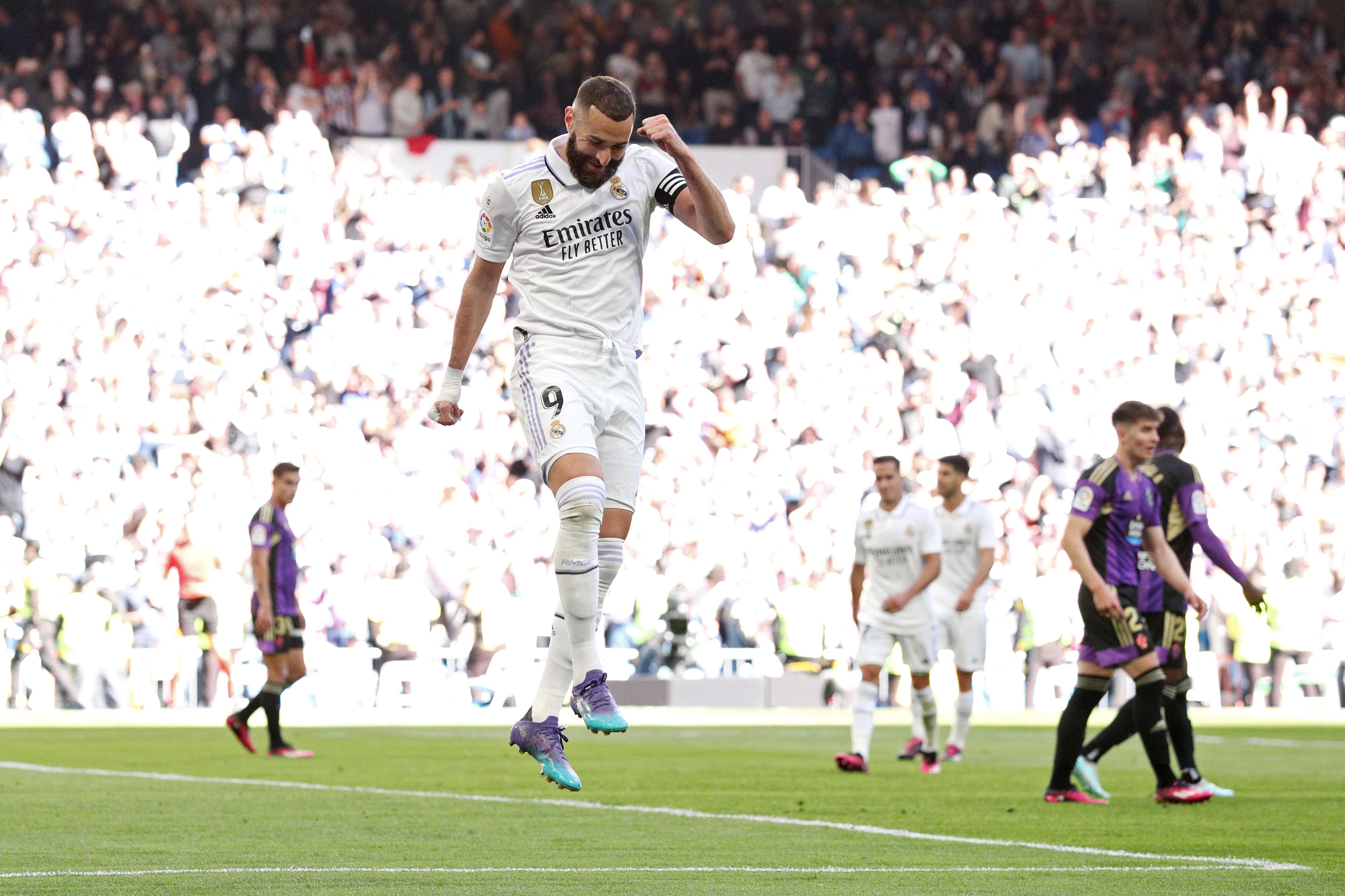 MADRID — Reigning Ballon d'Or winner Karim Benzema scored a hat trick in the span of just seven minutes during the first half of Real Madrid's 6-0 thrashing of Real Valladolid on Sunday.
8. 📺 Watchlist: The road ends here
UConn and San Diego State face off tonight in Houston (9:20pm ET, CBS) for the national championship.
State of play: The Aztecs have never played in a title game. The Huskies have played in four, winning all of them.
Odds: Spread: UConn -7.5 | O/U: 132.5 | Money: UConn -345, SDSU +270 (via FanDuel)
More to watch:
9. 🏀 College hoops trivia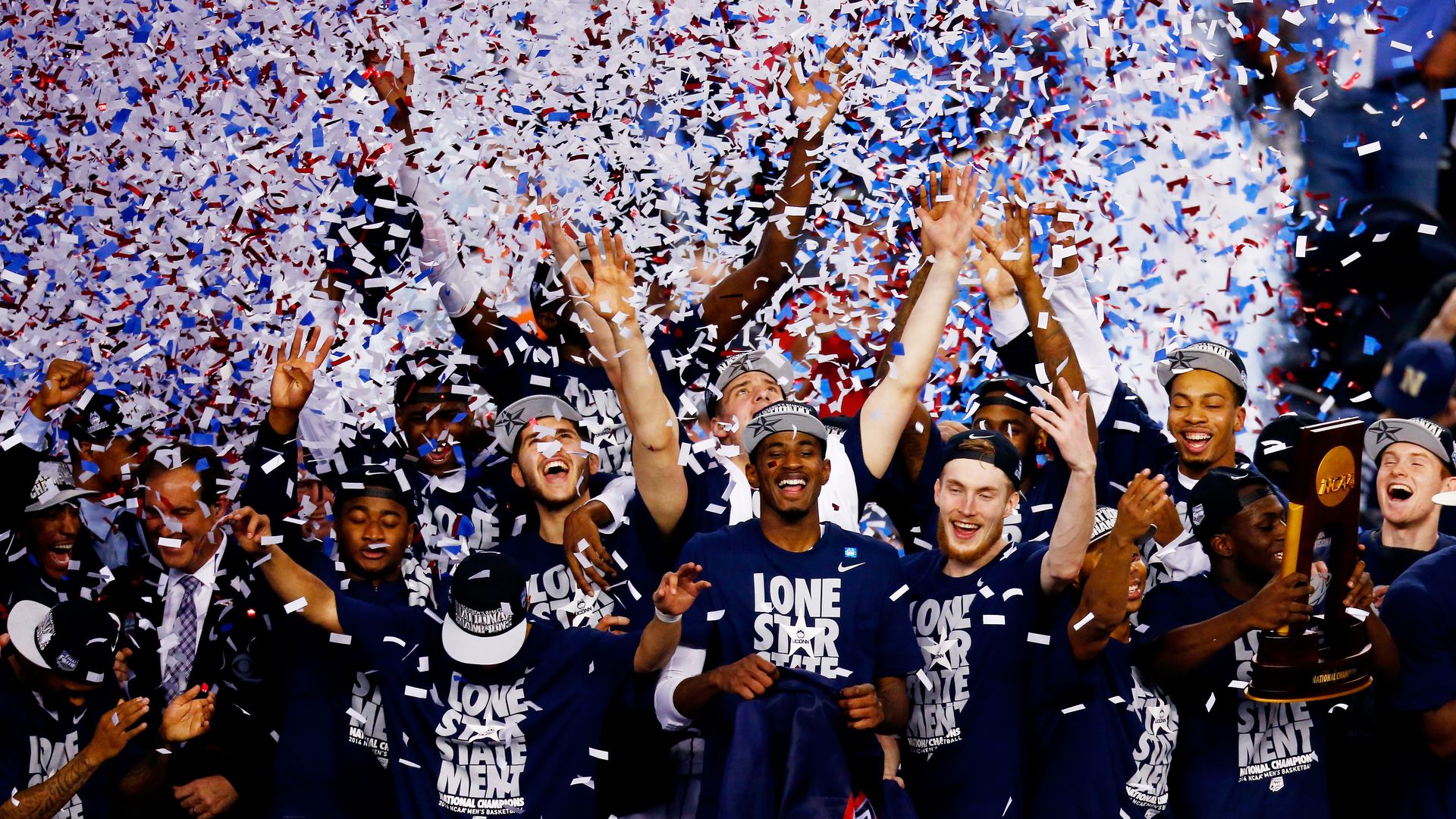 With a win tonight, UConn would tie Duke and Indiana for the fourth-most men's basketball championships, with five.
Question: Which three schools have more?
Hint: Only one has won in the past 10 years.
Answer at the bottom.
10. 🍿 Top plays: Weekend edition