June 22, 2022
👋 Good morning! Great to be back with you, friends.
🏈 Situational awareness: New details have leaked about the 2009 sexual assault allegation against Dan Snyder, per WashPost. This comes on the eve of today's public hearing, an event at which Snyder has declined to testify.
Today's word count: 1,461 words (6 minutes).
Let's sports...
1 big thing: 🏀 NBA mock draft, one day out
The 2022 NBA draft is tomorrow night in Brooklyn, and for the first time since selecting Dwight Howard No. 1 overall in 2004, the Magic are on the clock first, Axios' Jeff Tracy writes.
State of play: 58 players will be drafted, rather than the standard 60, as the Heat and Bulls lost second-round picks as a penalty for tampering.
Six teams have multiple first-round picks: Rockets (three), Spurs (three), Thunder (two), Hornets (two), Grizzlies (two), Nuggets (two).
Eight teams have no first-round picks: Clippers, Raptors, Celtics, Lakers*, Mavericks*, Suns*, Nets*, Jazz* (* no second-rounders, either).
Notes:
Big three: There's no consensus No. 1, but nearly every analyst agrees that Jabari Smith (Auburn), Chet Holmgren (Gonzaga) and Paolo Banchero (Duke) will be the first three names off the board.
Enigmas: Shaedon Sharpe (Kentucky) was 2022's top high school prospect before graduating early and redshirting. Patrick Baldwin Jr. (UW-Milwaukee) saw his once-sky high draft stock plummet after a rough freshman season playing for his dad.
Sleepers: Kennedy Chandler (Tennessee), Trevor Keels (Duke) and Mark Williams (Duke) are among the most underrated prospects, per an ESPN model that projects NBA success (subscription).
Graduates: Last year, Josh Giddey (Australia) became the first NBA Academy graduate to be drafted. This year could see three more in Canada's Bennedict Mathurin (Arizona), Australia's Dyson Daniels (G League Ignite) and South Korea's Hyunjung Lee (Davidson).
What to watch: Plenty of rumors are circulating. Among the buzziest: The Knicks trading up to No. 4 to land Purdue's Jaden Ivey, who sounds interested in the idea.
Go deeper:
2. ⚽️ Exclusive: NWSL + BreakingT
The NWSL and BreakingT, a rapid-production apparel company, have agreed to a licensed apparel deal.
Why it matters: This is BreakingT's first major pro league license and will enable the NWSL to celebrate and commercialize its most exciting teams, players and moments.
How it works: BreakingT tracks sports trends and fan sentiment in real-time, then capitalizes on viral moments by quickly producing merchandise that's sold online and in brick-and-mortar retail nationwide.
If Thorns wunderkind Olivia Moultrie scores a hat trick next month, there will almost certainly be a shirt to commemorate the moment.
If the league-leading San Diego Wave make a playoff run in their inaugural season, you better believe BreakingT will spin up shirts so fans can show their support.
What they're saying: "Investment in women's sports means more than just cash infusion at ownership and sponsorship levels — it also means improving the fan experience. And that includes merch," BreakingT president Jamie Mottram tells Axios.
The big picture: Fantasy sports have been baked into men's sports for decades; now they're coming to women's sports, too. Merchandise deals like this one are another way to improve, and monetize, fan engagement.
It also makes good business sense: Two of BreakingT's three best-selling shirts ever are the USWNT's "4 Stars Only" and the WNBA's "Bet On Women."
The same is true at the college level, where a "Jocelyn Alo: Home Run Queen" shirt recently became the best-seller of the NIL era.
3. 💪 Chasing the pull-ups world record
Attempting the world record for pull-ups in 24 hours (currently 7,715) is among the most daunting challenges on Earth. It's also among the most popular, Jeff writes.
Driving the news: Former NCAA wrestling champion Anthony Robles — born with one leg — was the latest to attempt the feat, falling short in a heroic effort last month.
With Guinness officials on hand, Robles began with a strategy of completing ~12 pull-ups in the first 15 seconds of every minute, followed by 45 seconds of rest. He also planned for multiple 30–45 minute breaks throughout the day.
Robles was on pace to break the record (2,721 in less than nine hours) when he felt a pop in his bicep — a torn tendon. He tried to continue, but simply couldn't.
What he's saying: "Not failure, but low aim, is the crime," Robles, 33, told the crowd of 50, channeling Bruce Lee. "In great attempts, it is glorious even to fail."
The backdrop: Former Navy SEAL David Goggins put the pull-ups record on the map when he broke it in 2013 (4,030). It's been broken 12 times since then, with Goggins' bestselling 2018 memoir serving as a catalyst.
Robles read the book, as did former Army Ranger and current record-holder Brandon Tucker, who broke it in 2019 with a different strategy (three pull-ups every 30 seconds, no breaks).
Fun fact: Guinness requires teams of two counters to switch out every four hours because even counting these pull-ups accurately is exhausting.
What's next: Robles, who has a baby on the way, plans to give it one more try when his arm heals.
4. ⚡️ Lightning round
🏒 NHL awards: Auston Matthews (league-best 60 goals) took home the Hart Trophy (MVP) and Ted Lindsey Award (most outstanding player, chosen by peers) at Tuesday's NHL Awards Show. See all winners.
🏈 Watson update: 20 of the 24 civil lawsuits accusing Deshaun Watson of inappropriate sexual misconduct have settled, according to the attorney for the plaintiffs. The NFL's punishment is expected soon.
⛳️ LIV latest: Brooks Koepka is the latest player to switch to LIV Golf ... LIV players will be allowed to compete at the 150th Open Championship at St. Andrews next month ... The PGA Tour plans to unveil a revamped schedule in response to the looming LIV threat.
🏀 Historic comeback: The Sky trailed the Aces 51-24 in the second quarter on Tuesday night before winning 104-95. Their 28-point comeback is the largest in WNBA history.
5. 💔 RIP, Caleb "Biggie" Swanigan
Caleb Swanigan, who escaped a brutal childhood to become a Purdue All-American and first-round NBA draft pick, died from natural causes on Monday. He was 25.
People are crying for Caleb "Biggie" Swanigan in West Lafayette today. People are crying at Purdue. People are crying on the south side of Indianapolis, which is where I live. A man is crying in the living room here. I'm alone.
We are emotional because Biggie was wonderful and because this isn't the natural order of life. We don't bury our children. No, Biggie wasn't my child, or yours. But he was ours, you know?
— Gregg Doyel,
Indianapolis Star
6. 🌎 The world in photos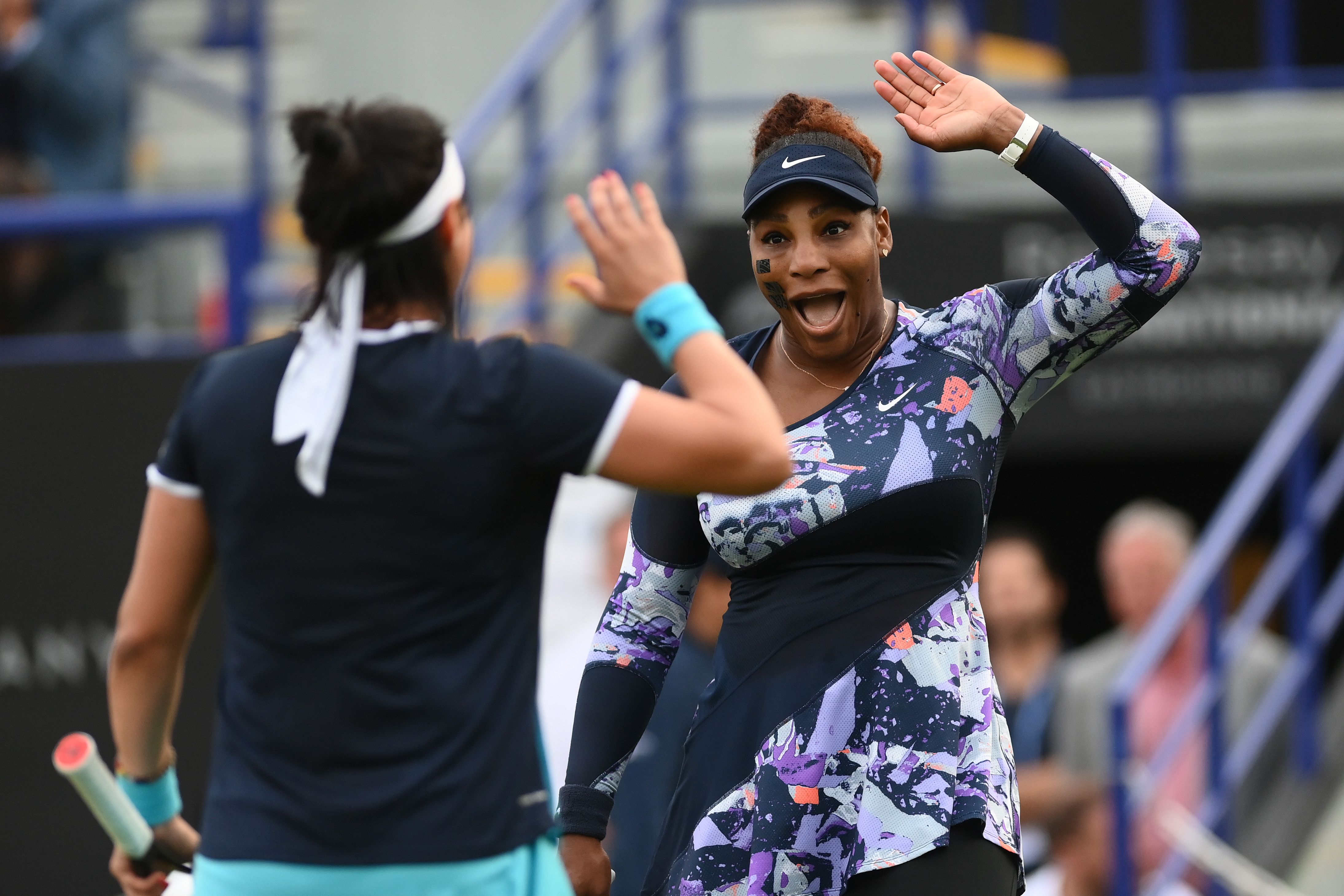 EASTBOURNE, England — Serena Williams ended a nearly yearlong absence from tennis on Tuesday, winning a doubles match alongside world No. 3 Ons Jabeur at the Eastbourne International.
What she's saying: Williams said she recently went "cold turkey" and stopped working out but always tries to stay semi-fit because "you never know when you're going to enter Wimbledon." Same.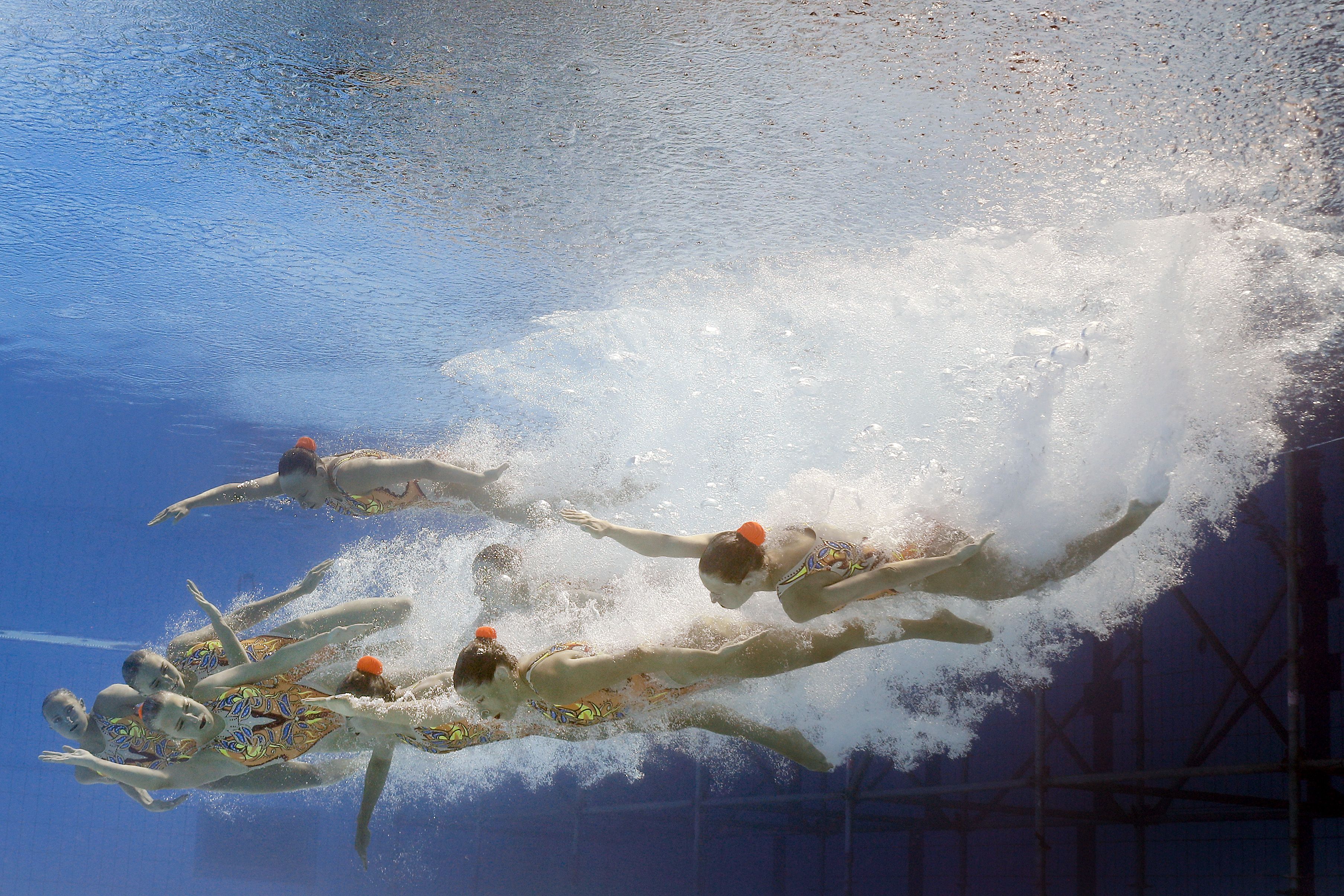 BUDAPEST, Hungary — Artistic photography at the Artistic Swimming World Championships.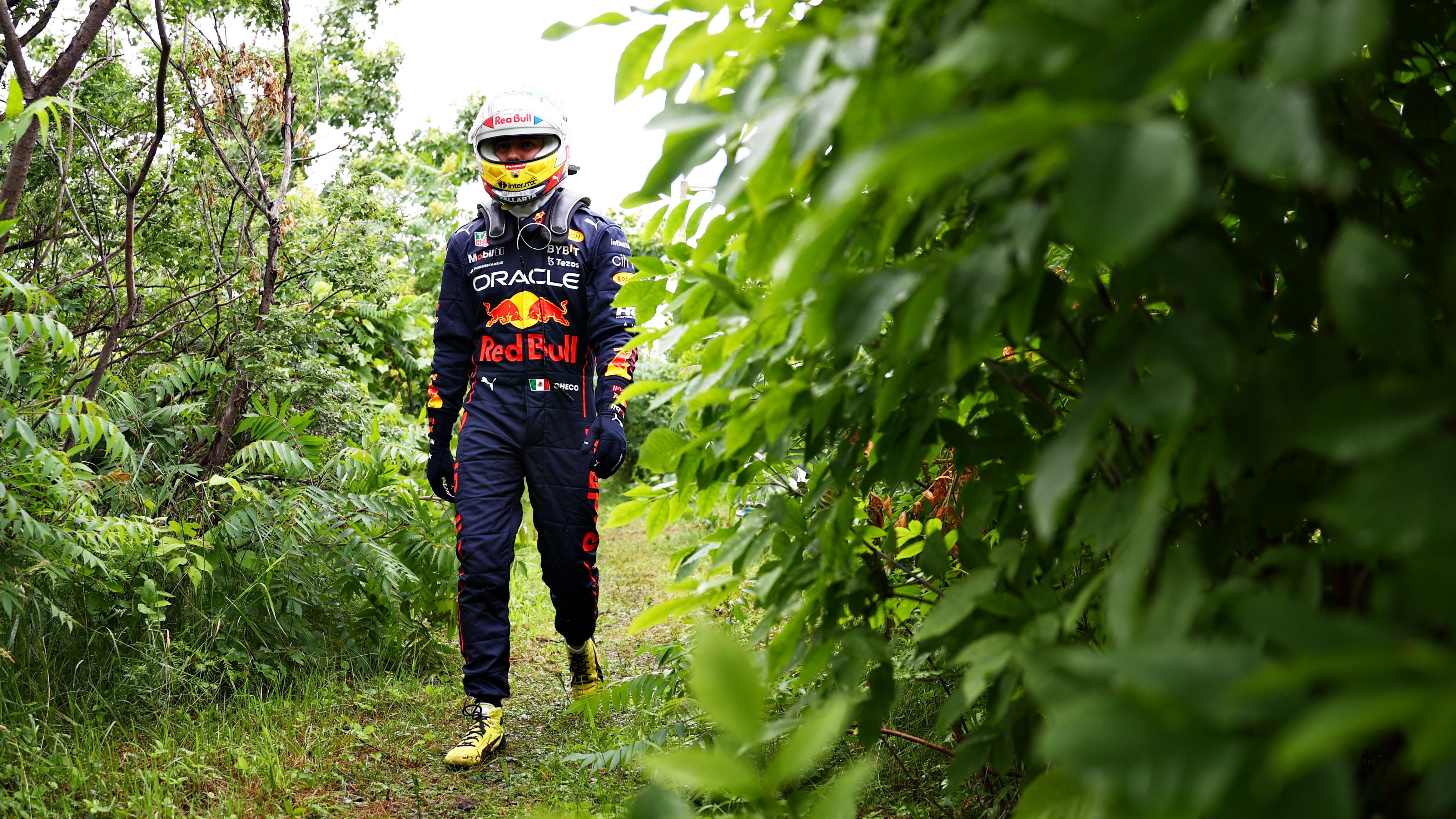 MONTREAL — Spotted in the wild: Formula 1 driver.
7. 📺 Watchlist: Game 4 in Tampa
The Lightning host the Avalanche tonight (8pm ET, ABC) with a chance to even the Stanley Cup Final at two games apiece.
State of play: Tampa is riding a franchise-record eight-game postseason home winning streak after handing Colorado its first road loss of these playoffs on Monday.
Of note: The decision to put every game on broadcast TV is paying off. Monday's Game 3 drew 4.1 million viewers on ABC, the largest Game 3 audience since 2002 (Red Wings-Hurricanes).
More to watch:
8. 🏁 The Ocho: Mine racing
Red Bull Erzbergrodeo is one of the toughest one-day races in the world, with 500 riders taking on a 25-mile course — held in the bowels of an ancient Austrian mine — with only four hours to finish.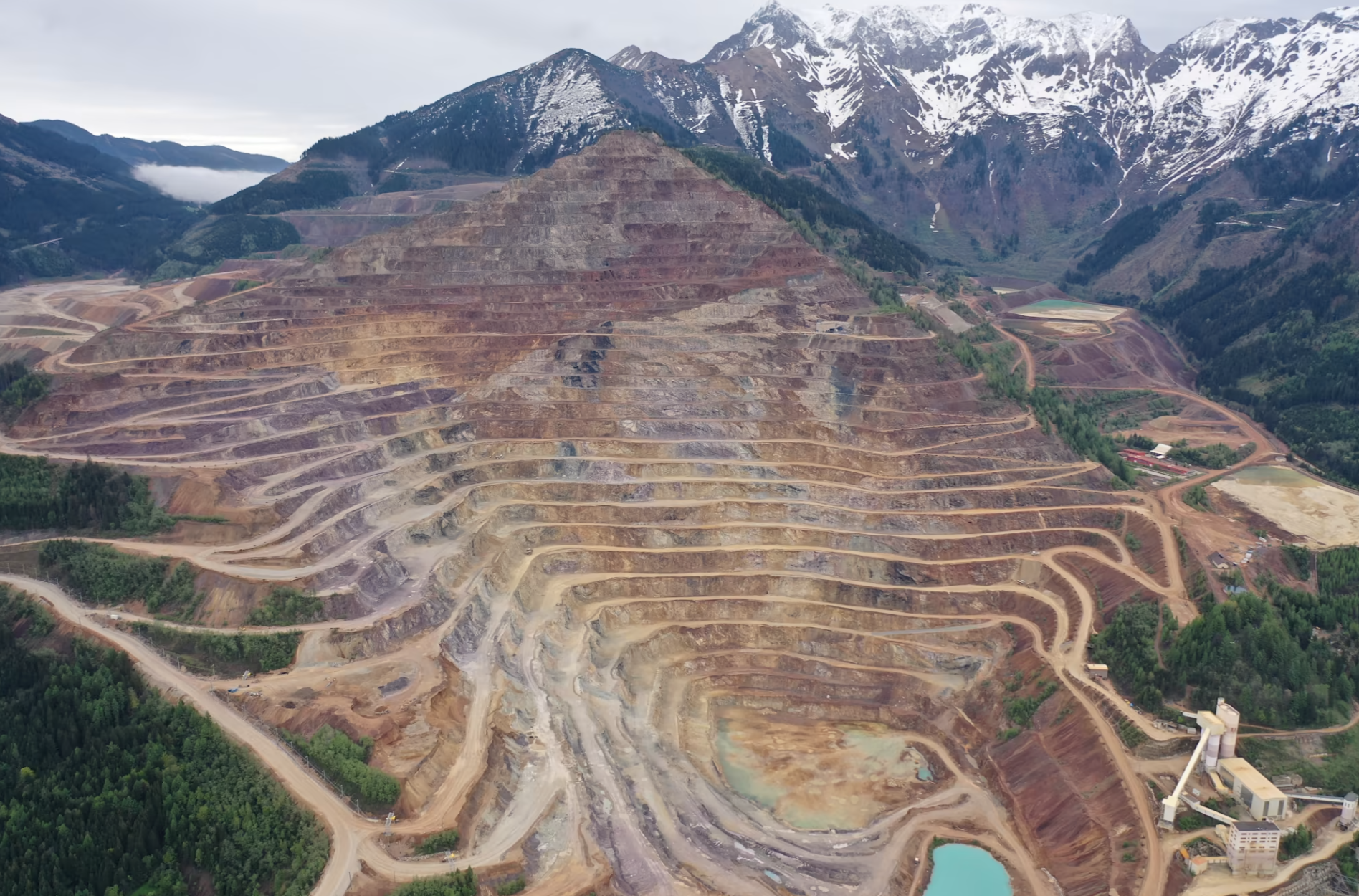 The big picture: The Erzberg mine, nicknamed "The Iron Giant," is among the largest in Europe and has hosted the event since 1995.
🎥 Watch: On board with the winner (YouTube)
9. 🏈 NFL trivia
Rob Gronkowski, who announced his retirement for the second time on Tuesday, ranks third all-time in NFL touchdowns by a tight end (93).
Question: Which two tight ends are ahead of him?
Hint: They share an initial.
Answer at the bottom.
10. 🏟 1 fun thing: Million-seat stadium
American artist Paul Pfeiffer has released a concept prototype for the world's first 1 million-seat stadium. Imagine the bathroom lines...
Of note: The world's largest stadium is currently India's Narendra Modi Stadium (132,000), and the largest stadium in the U.S. is Michigan Stadium, aka "The Big House" (114,000).
Talk tomorrow,
Kendall "Jović and Jokić" Baker
Trivia answer: Antonio Gates (116 TD) and Tony Gonzalez (111)
🙏 Thanks for reading. Follow us on Twitter: @kendallbaker and @jeffreytracy. Tell your friends to sign up.