🏈 Good morning! In 1958, LSU completed its undefeated, national championship season against Clemson in New Orleans. Tonight, the Tigers will go for title No. 4 ... against Clemson ... in New Orleans.
In today's edition: Almost entirely football. Plus, we have a reporter on the ground in Manhattan for the Squash Tournament of Champions, and we're giving away Axios Sports hats.
Word count: 1,666 words (6 minutes).
1 big thing: 🏈 Tigers vs. Tigers, strength vs. strength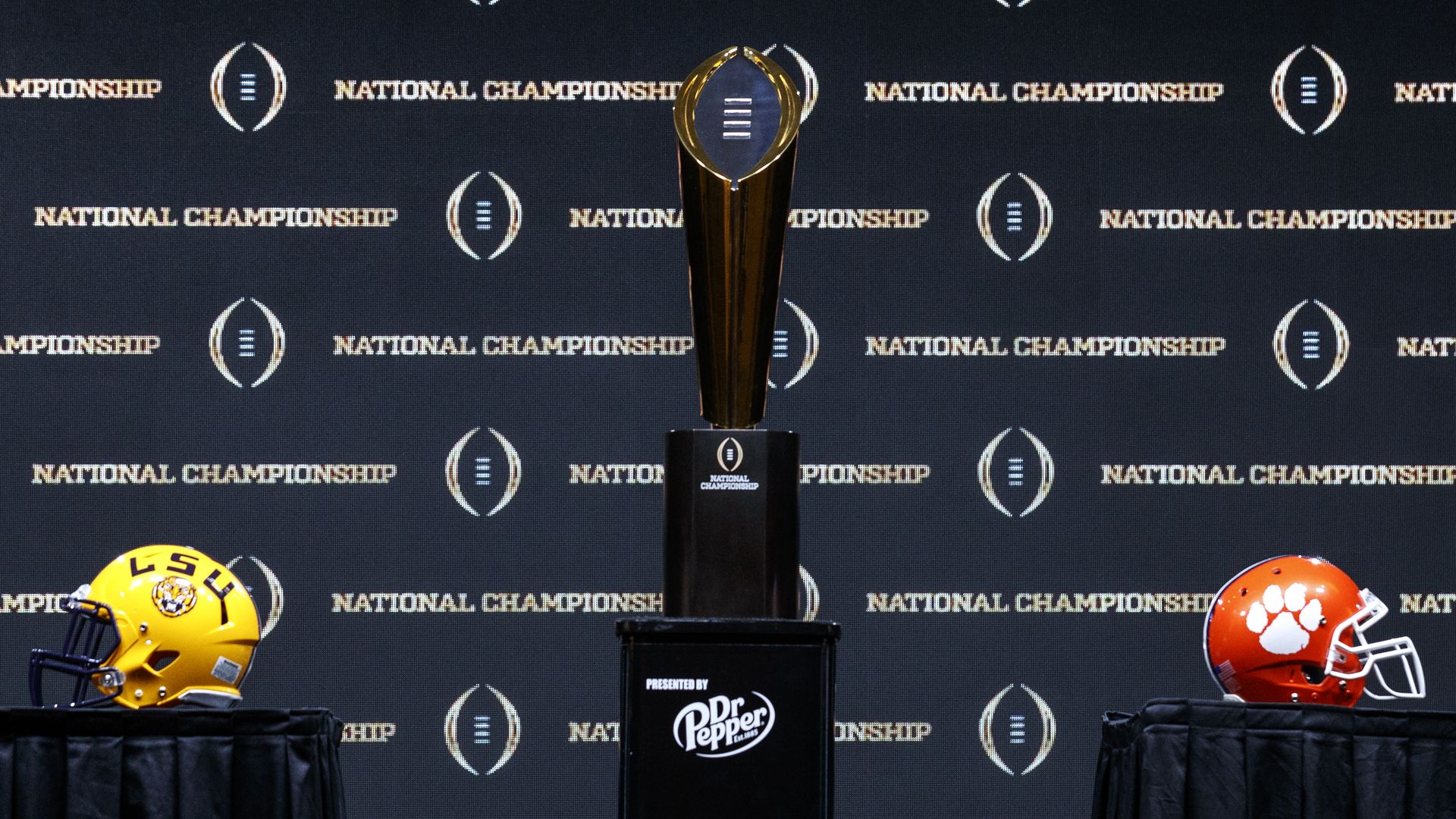 They're both from the South, they're both undefeated, they share the same mascot (Tigers) and stadium name (Death Valley), and their QBs are both projected No. 1 picks.
But only LSU has a Heisman Trophy winner leading one of the most dangerous offenses in college football history.
And only Clemson has the defensive firepower and championship game experience necessary to stop it.
What to watch: Tonight's national championship (8pm ET, ESPN) is truly a matchup of strength vs. strength.
LSU offense: Ranked first nationally in points scored (48.9 per game) and yards gained (564.1 per game).
Clemson defense: Ranked first nationally in points surrendered (10.6 per game) and yards allowed (244.7 per game).
By the numbers:
70%: Joe Burrow completed at least 70% of his passes in every game this season, while Clemson hasn't allowed an opposing QB to complete more than 70% of passes in a game since 2012 (108-game streak).
787 days: Trevor Lawrence hasn't lost a game since high school (Nov. 17, 2017). The coach that beat him that day, John Thompson, was Ed Orgeron's college coach at Northwestern State and later served as his defensive coordinator at Ole Miss, per The Athletic (subscription).
15 ways to watch: This year's ESPN MegaCast will feature 15 presentations (nine on TV, six on the ESPN app). They include Refcast, which lets viewers watch alongside former refs, and All-22, an above-field camera that ensures all 22 players can be seen at all times.
2. 🏈 Little Ol' Clemson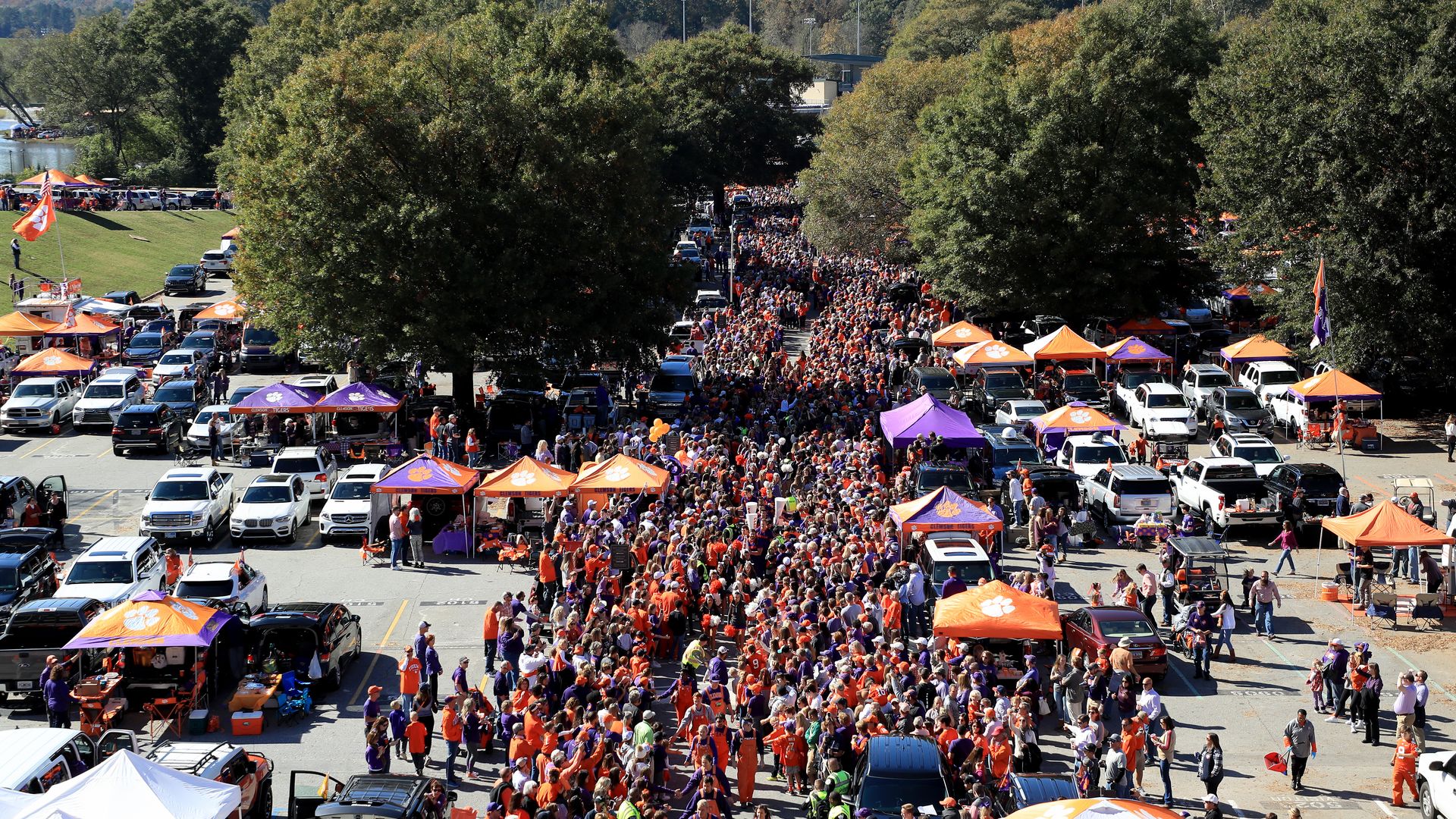 Sports are often called the front porch of a university, as winning programs help attract students, donors and sponsors. But at Clemson, "football is way beyond the front porch," athletic director Dan Radakovich told NYT.
The tiny town of Clemson, South Carolina has a population of just 14,000 and there are exactly five traffic lights on the main road in and out of town. "We have one of everything, two of a few things," head coach Dabo Swinney said last year. "We've got a Starbucks, you know? We've got a Walmart, a Publix."
And yet, Clemson also boasts an 81,500-seat football stadium that gets packed beyond capacity on Saturdays. "It's incredible. But then they all leave," said Swinney. "Monday through Friday, we kind of have our own world."
The big picture: Despite all their recent success, the Tigers have managed to remain "Little Ol' Clemson" — a routinely overlooked powerhouse due to the school's largely regional fan footprint and the recent lack of competition in the ACC.
Clemson games drew less than half the number of viewers this season (3.3 million per game) as LSU (7.3 million), and the program generated a fraction of the revenue.
But the word "little" is something the Tigers wear as a badge of pride, and is the reason why Clemson seniors — despite playing in their third national title in four years — will have chips on their shoulders tonight.
More Clemson:
3. 🏈 Bettors on the Bayou: Public loves LSU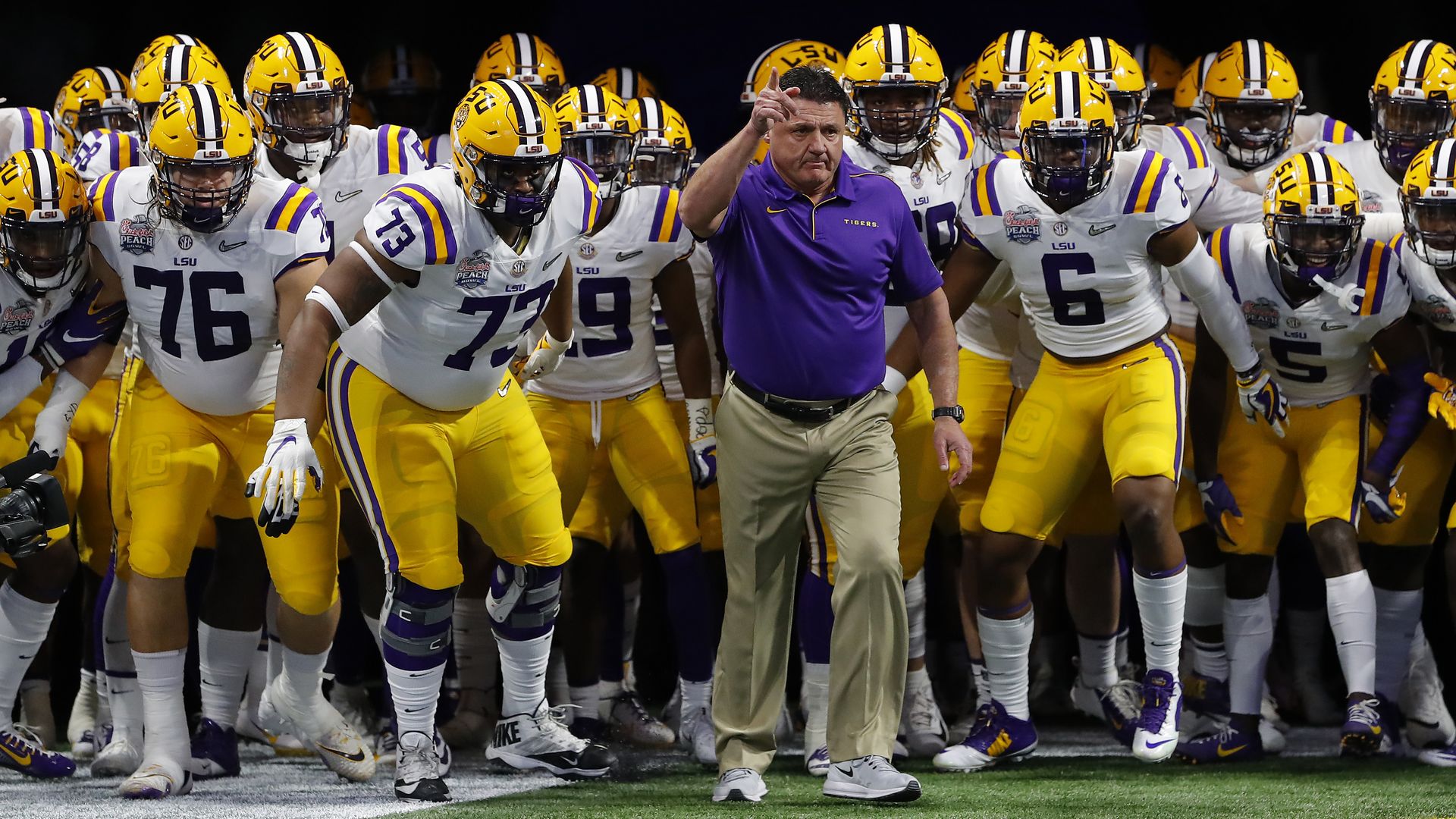 LSU opened as a 3.5-point favorite following the semifinals, but after nearly 90% of early bets came in on the Tigers, the line moved all the way to 6.5, then back down to 5.5 as of this morning.
Worth noting: Under the College Football Playoff system, underdogs are 5-0 against the spread in national title games.
2015: Ohio State was a 6.5-point underdog against Oregon and won by 22.
2016: Clemson was a 6.5-point underdog against Alabama and only lost by five.
2017: Clemson was once again a 6.5-point underdog against Alabama and won by four.
2018: Georgia was a 3.5-point underdog against Alabama and only lost by three.
2019: Clemson was a 5.5-point underdog against Alabama and won by 28.
More LSU:
4. 🏈 NFL playoffs: And then there were four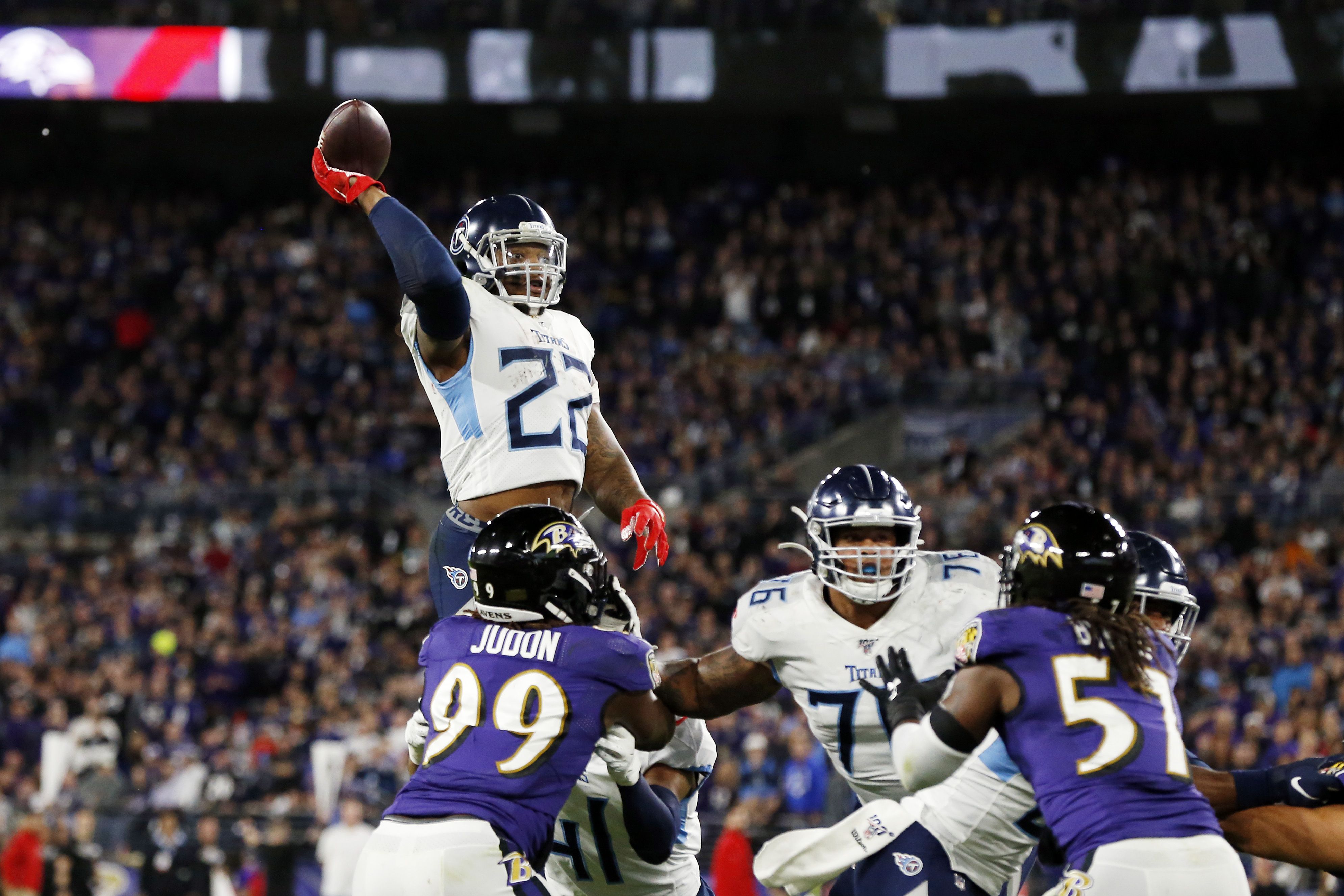 Photo: Todd Olszewski/Getty Images
TITANS 28, RAVENS 12 — Derrick Henry became the first player in NFL history with at least 18o rush yards in three straight games and added a TD pass, as the Titans shocked the top-seeded Ravens despite being out-gained by 230 yards (530-300).
Wild stat: Henry has more rushing yards after contact this postseason (233) than Ryan Tannehill has passing yards (160).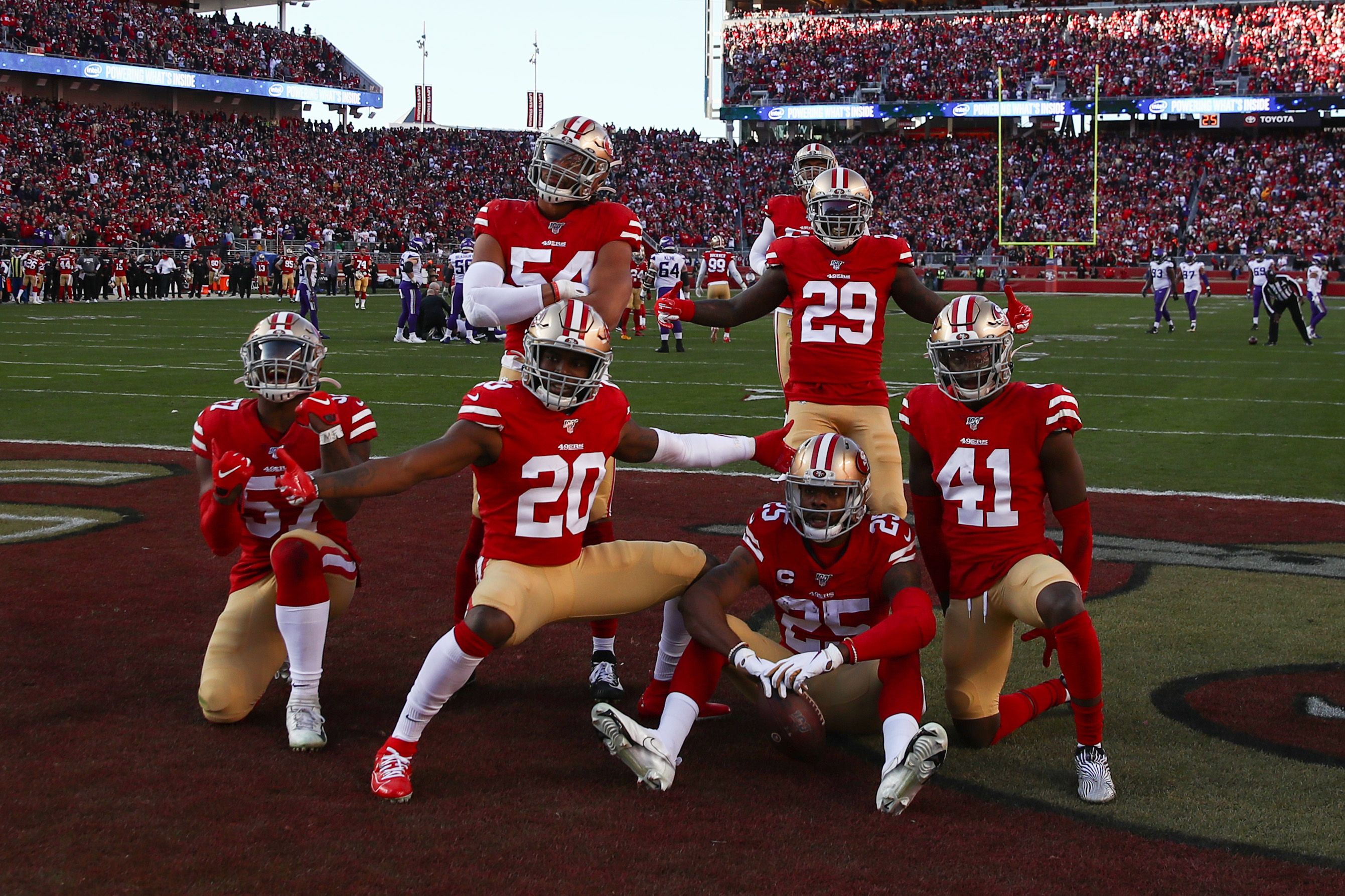 Photo: Ezra Shaw/Getty Images
49ERS 27, VIKINGS 10 — It was a dominant performance by Nick Bosa (two sacks), Richard Sherman (INT) and the San Francisco defense, as they held Minnesota to 147 yards, 21 rush yards and just seven first downs (third-fewest ever recorded in a playoff game).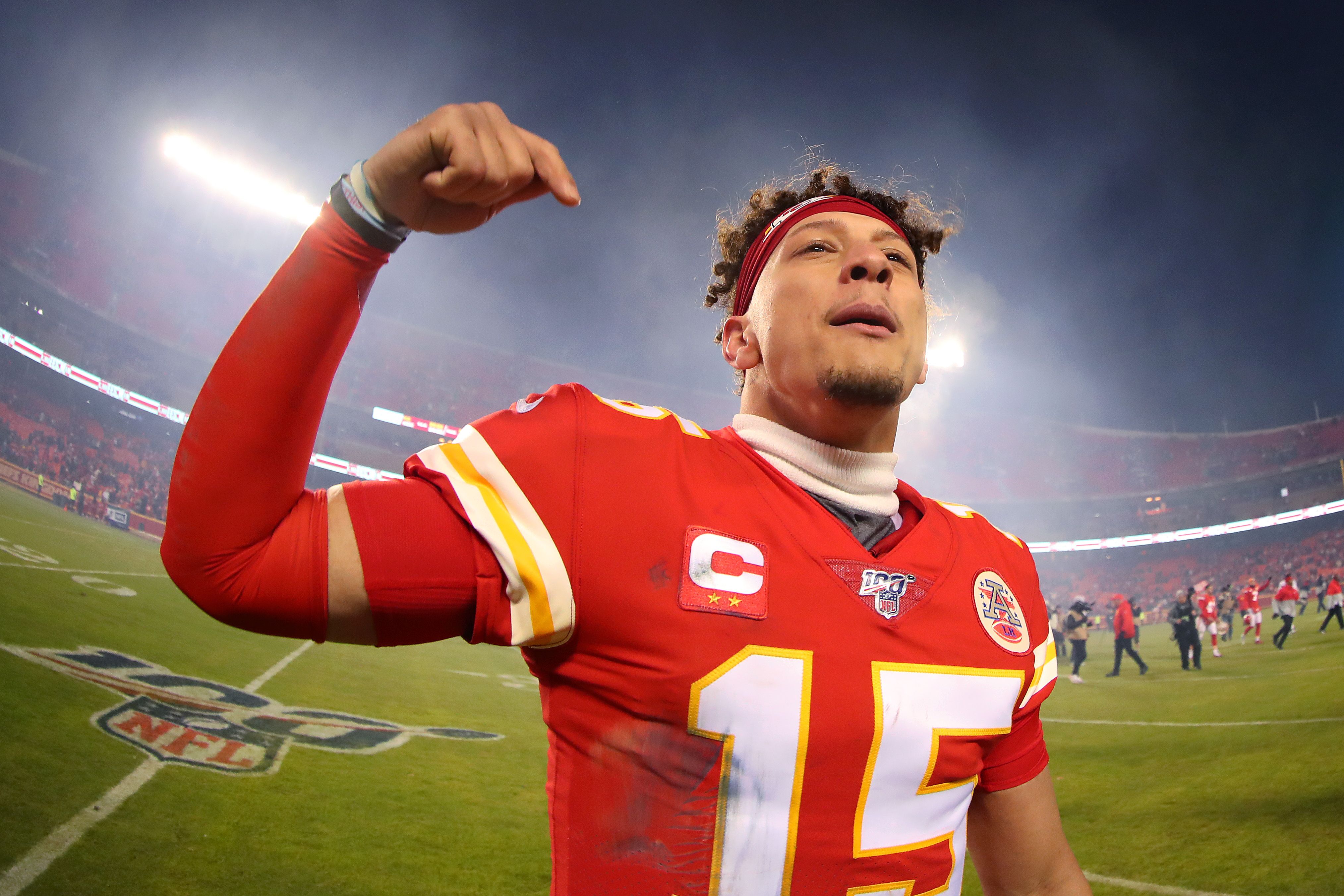 Photo: Tom Pennington/Getty Images
CHIEFS 51, TEXANS 31 — Kansas City faced an early 24-0 hole, bigger than any deficit the franchise had ever overcome. But Patrick Mahomes (5 TD) led an epic comeback, helping the Chiefs become the first team in NFL history to win a playoff game by 20 points after trailing by 20.
Dynamic duo: Travis Kelce and Damian Williams are the first pair of teammates with three TD in the same playoff game since Jerry Rice and Ricky Watters in Super Bowl XXIX.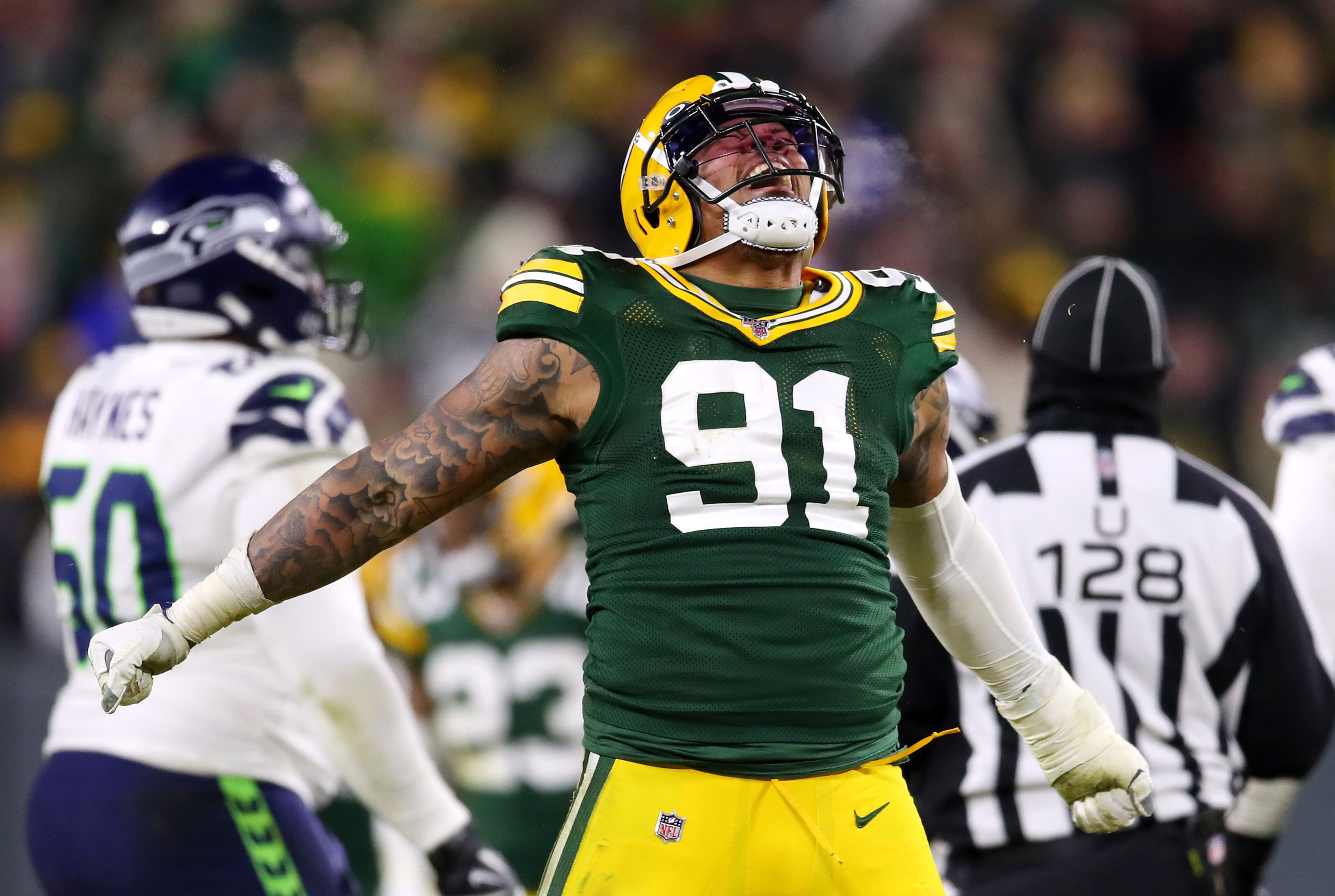 Photo: Gregory Shamus/Getty Images
PACKERS 28, SEAHAWKS 23 — Aaron Rodgers connected with Davante Adams eight times for 160 yards and two TD, and Preston Smith (above) and the Packers defense fended off a spirited Seahawks rally to send Green Bay to its third NFL title game in six years.
5. 🌍 Global dispatch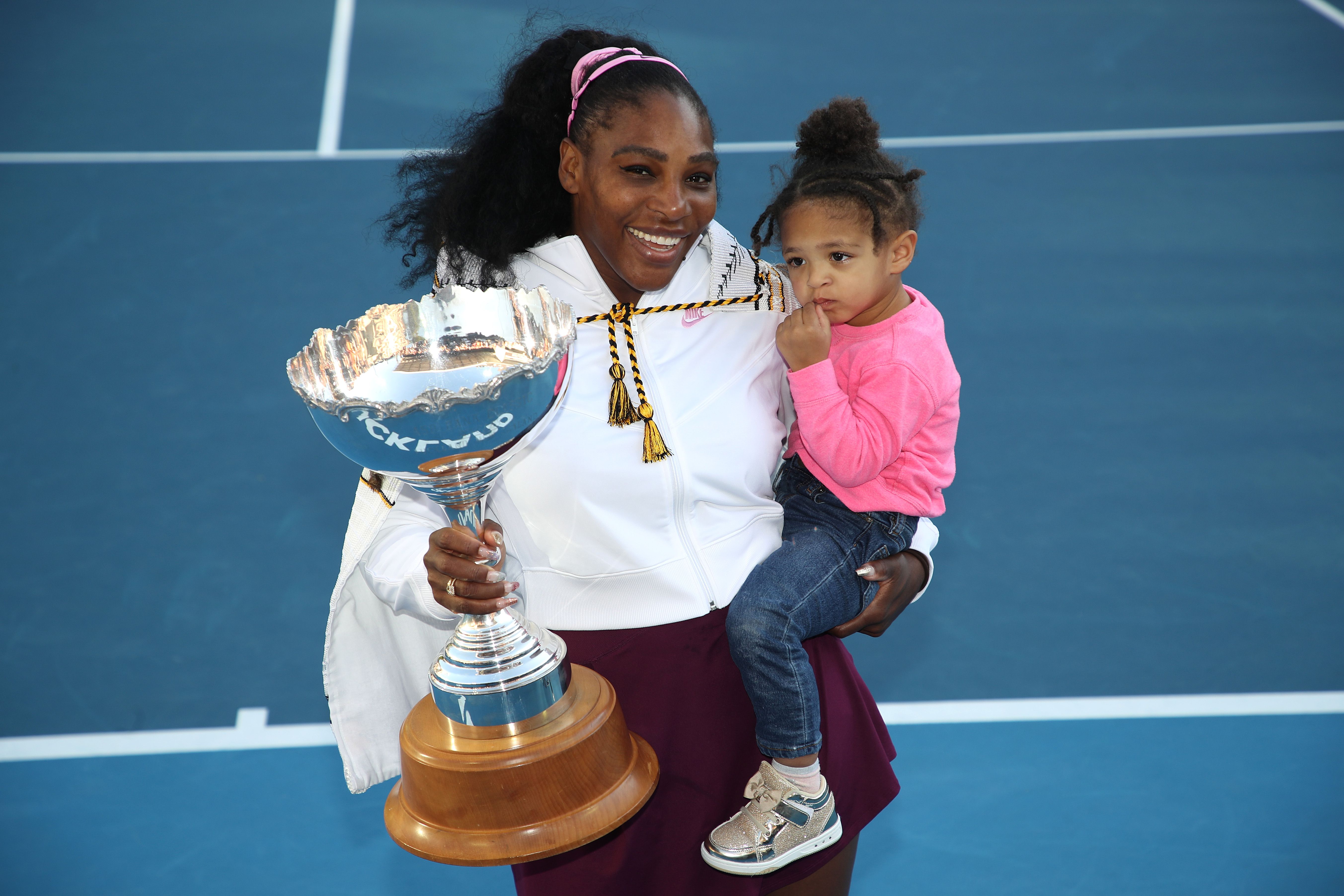 Photo: Phil Walter/Getty Images
🇳🇿 New Zealand: Serena Williams beat fellow American Jessica Pegula 6-3, 6-4 to win the singles final at the ASB Classic, her first title in over three years and first since becoming a mother.
🇮🇷 Iran: Kimia Alizadeh, the first and only Iranian woman to win an Olympic medal, announced on Instagram Saturday that she has permanently left her home country, condemning the Iranian government for its "corruption and lies."
🏴󠁧󠁢󠁥󠁮󠁧󠁿 England: Liverpool extended its unbeaten streak to 38 games with a 1-0 win over Tottenham. In the history of the Premier League, only Thierry Henry and 2003-04 Arsenal (49 games) and Frank Lampard and 2004-05 Chelsea (40) have gone on longer runs.
🇦🇺 Australia: As fires raged in the distance, Novak Djokovic led Serbia over Rafael Nadal and Spain in the inaugural ATP Cup final in Sydney, and world No. 2 Karolína Plíšková beat American Madison keys to win the Brisbane International.
🇶🇦 Qatar: "The wisdom of staging the 2022 World Cup in Qatar was thrust back into the spotlight over the past 10 days with separate decisions by the [USMNT] and a U.S. player on assignment with a Dutch club to cancel their plans to practice there." (WashPost)
6. 📊 By the numbers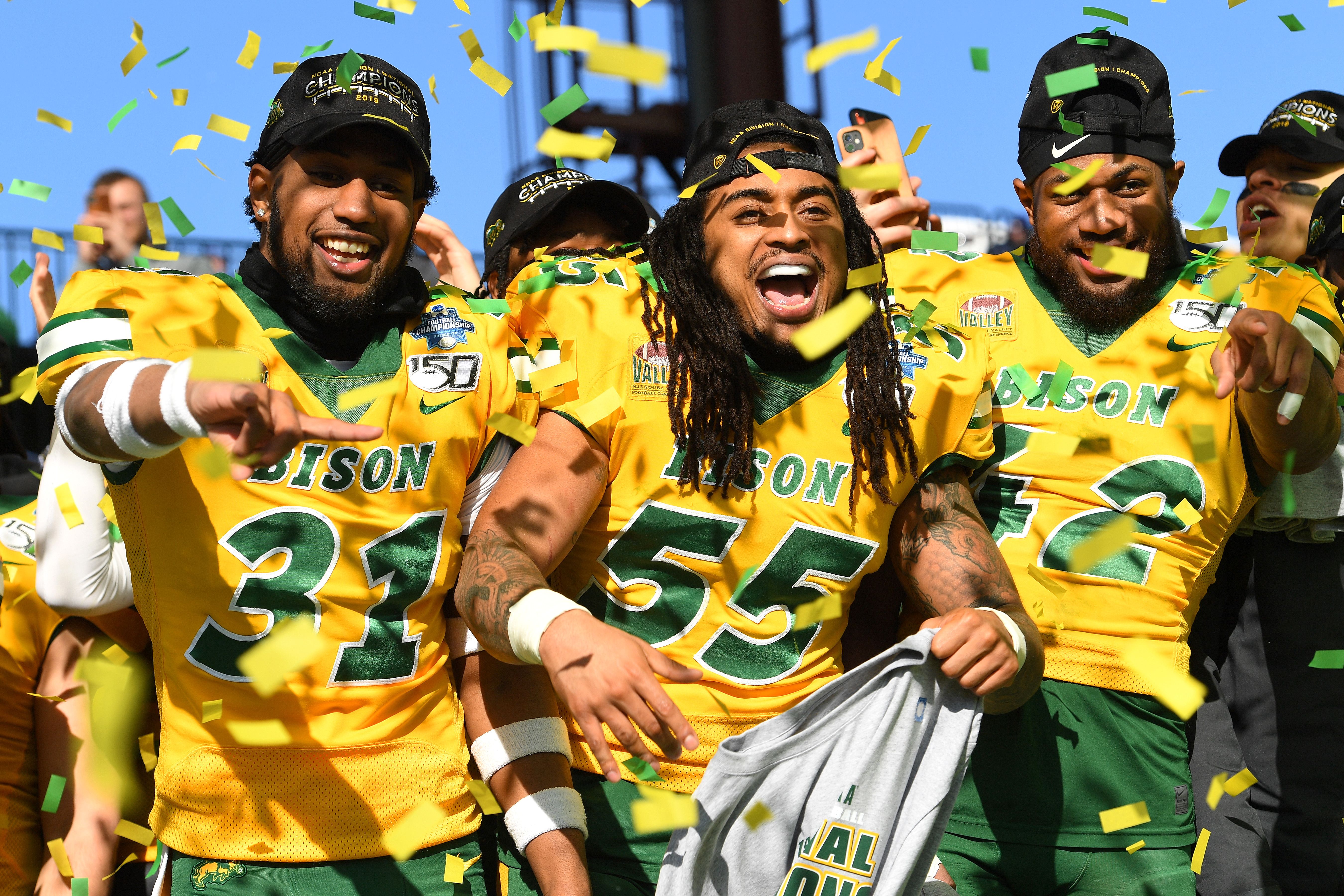 Photo: Jamie Schwaberow/NCAA Photos via Getty Images
🏆 126 years ago
North Dakota State beat James Madison 28-20 on Saturday for the program's eighth FCS national championship and 37th straight win, completing the first 16-win season in any division since Yale in 1894.
Wild stat: Over the past nine seasons, North Dakota State has as many national titles (8) as losses (8).
🏀 1-59
Clemson men's basketball got its first-ever win at UNC on Saturday (79-76 in OT). The Tigers had been 0-59 all-time in Chapel Hill, the longest road losing streak by one team vs. another in D-I history.
Elsewhere: Speaking of snapped streaks, No. 4 Baylor beat No. 3 Kansas, 67-55, for the Bears' first win in 18 tries at Allen Fieldhouse.
📺 $10–14 million
ESPN is preparing an offer that would make Tony Romo the highest-paid sportscaster in TV history, with a multi-year deal that would pay him between $10–14 million annually, Michael McCarthy of Front Office Sports reports.
For context: The largest base annual salary Romo ever received as an NFL QB was $8.5 million.
🏀 Less than 48 hours
The unranked Arizona State women's basketball team completed the Oregon sweep this weekend, taking down No. 2 Oregon (72-66) and No. 3 Oregon State (55-47) in the span of less than 48 hours.
7. Jan. 13, 1999: 🏀 MJ retires (again)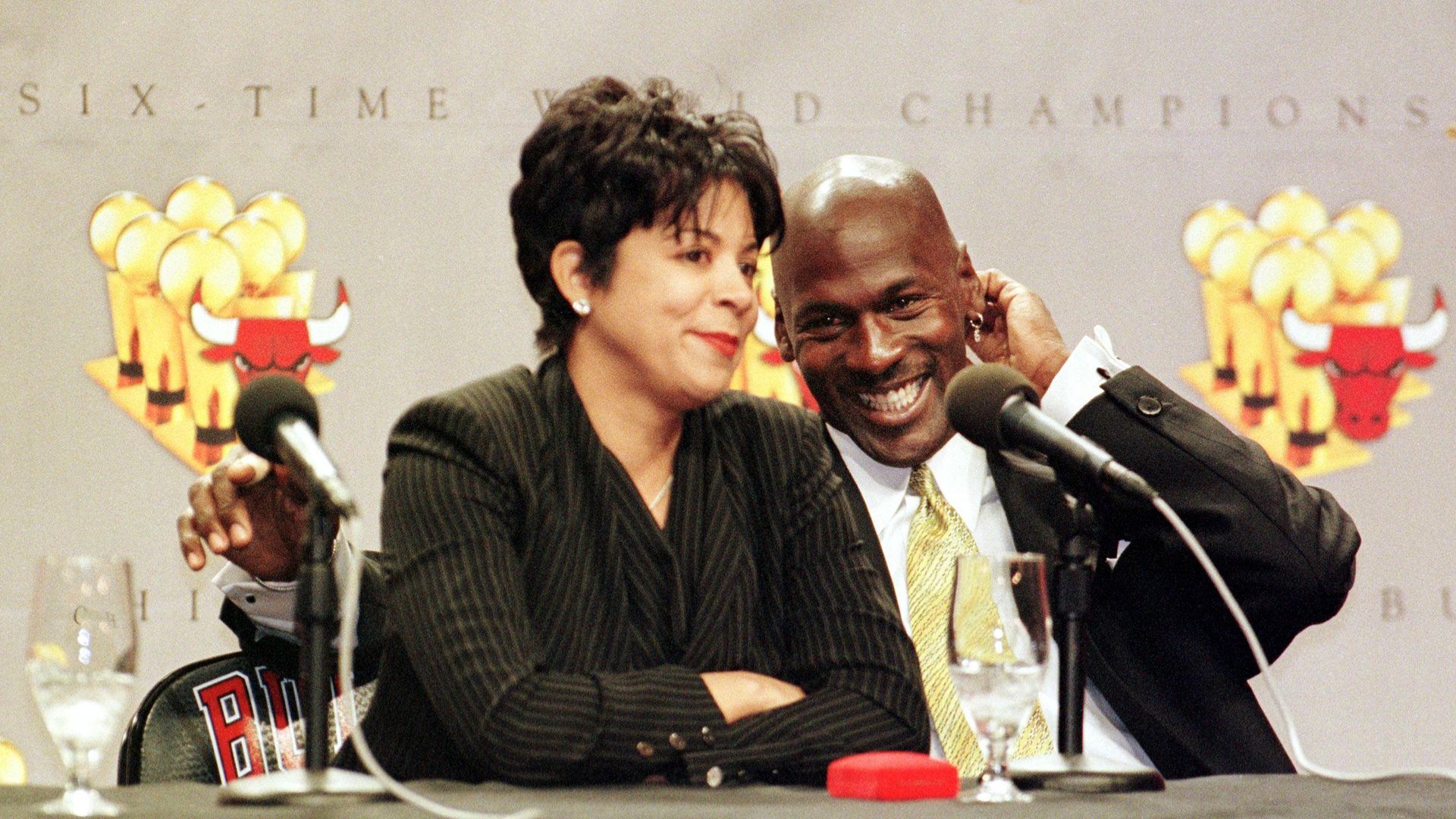 21 years ago today, Michael Jordan announced his retirement from the NBA, for the second time, in front of a crowd at Chicago's United Center ahead of the start of the lockout-shortened 1998-99 season.
What he said: "Physically, I feel great," said Jordan. "But I have to make a judgment in terms of the desire, and I can't honestly say that's going to be there every time I step into this building," adding that he was "99.9% certain" he had played his last NBA game.
Fast-forward: Less than two years later, that 0.1% won out, as Jordan returned once more, this time as a member of the Wizards. The 38-year-old averaged 22.9 ppg in his first season back, and on Dec. 29, became the oldest player to drop 50 in an NBA game.
🎬 Watch: "The Last Dance" 10-part documentary trailer (YouTube)
8. The Ocho: 🏆 Squash Week, Day 1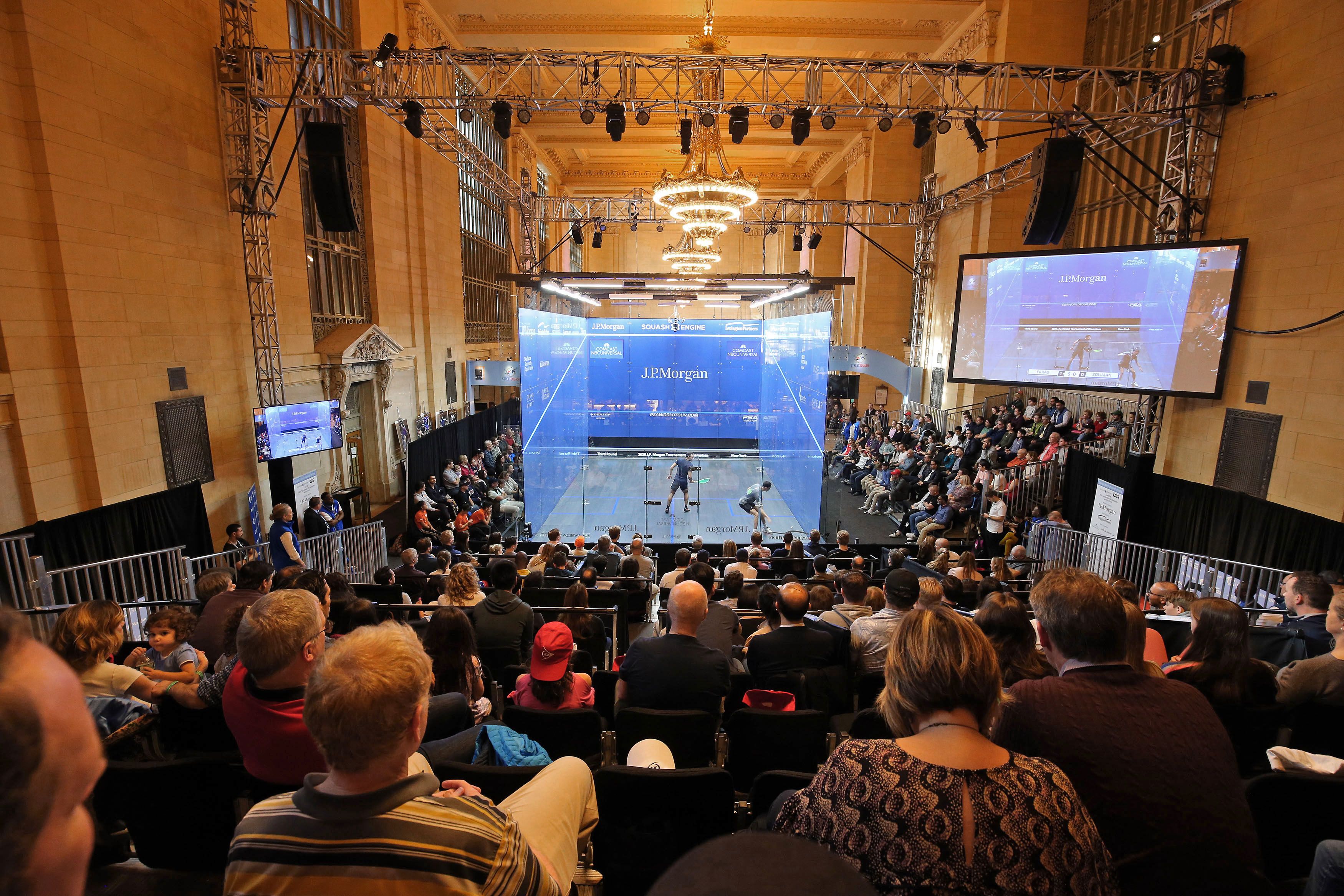 Courtesy: U.S. Squash
NEW YORK — The 2020 J.P. Morgan Tournament of Champions is underway in Manhattan, with the world's top squash players battling it out inside Grand Central Terminal.
The history: The TOC dates back to 1930 and was staged in 17 different cities before moving to Grand Central permanently in 1995.
The court: Pro squash tournaments are played on all-glass courts that can be assembled in just a few days, like this one that was built next to the Giza Pyramids.
The money: $339,000 will be split evenly between male and female competitors, a familiar payout structure for squash, which has been a leader in the fight for gender pay parity.
This week on Axios Sports, we'll be taking you behind-the-scenes of the TOC with expert analysis and on-the-ground reporting from Jordan Brail, a former squash captain at Cornell University.
Men's bracket: Last year's champion, Ali Farag (Egypt), has already qualified for the quarterfinals, and so has current World Junior Champion Mostafa Asal (Egypt), who knocked off former world No. 1 Gregory Gauliter to get there.
Women's bracket: All top seeds have cruised through the round of 16, and Americans Olivia Blatchford Clyne (born in Brooklyn) and Sabrina Sobhy (Harvard '19) both scored wins over higher-ranked opponents.
Coming up tomorrow: Squash, explained.
9. 🏈 NFL trivia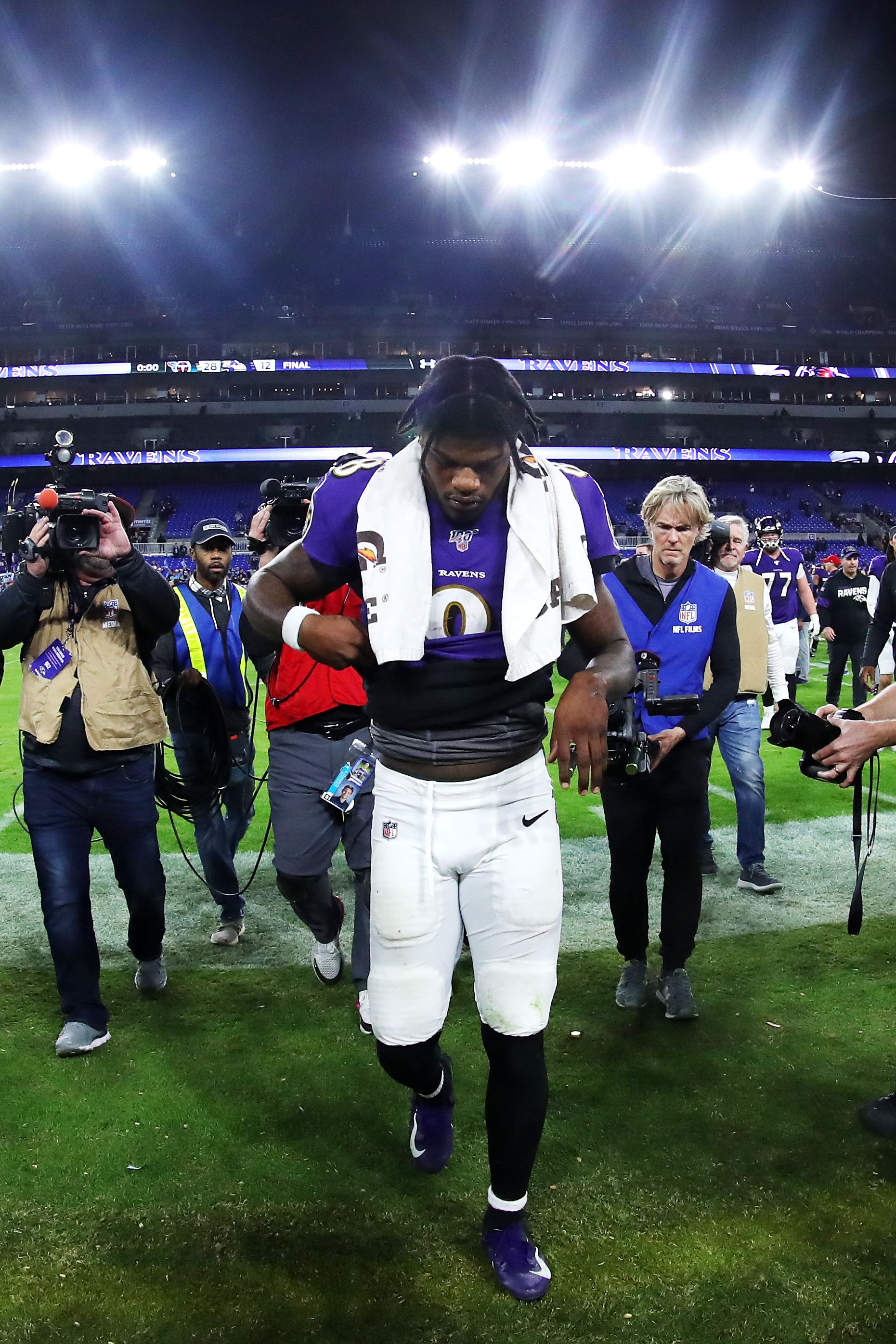 Photo: Maddie Meyer/Getty Images
Now that Lamar Jackson and the Ravens have been eliminated from the playoffs, the likely NFL MVP won't be adding a Super Bowl ring to his collection.
Question: Who was the last QB to win league MVP and the Super Bowl in the same season?
Hint: It happened in the 1990s.
Answer at the bottom.
10. 🚨 Hat giveaway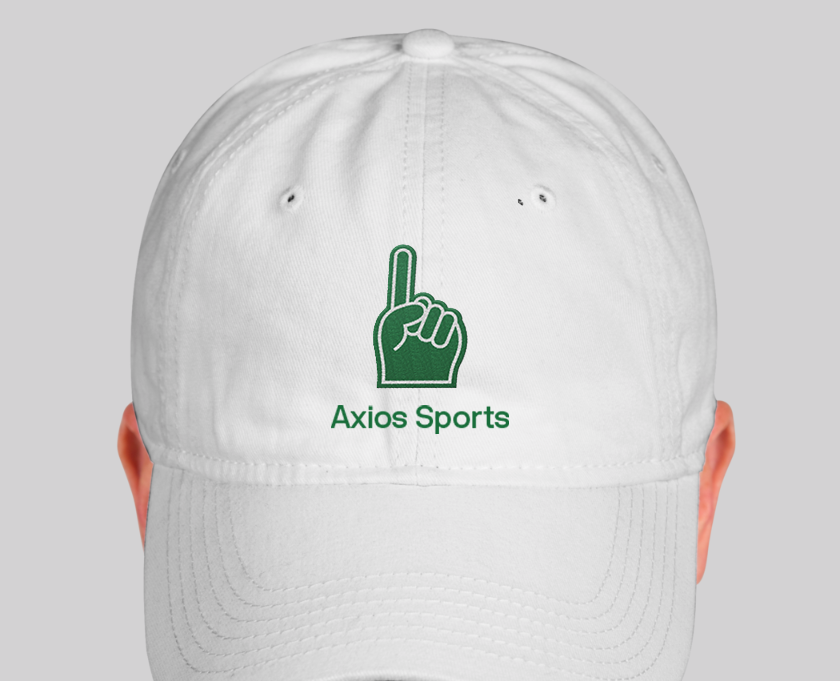 Credit: Axios
Each day this week, we'll be giving away three custom Axios Sports hats.
How to enter: Refer at least one friend to Axios Sports using your unique referral link (see bottom of the newsletter).
How to win: 1 referral = 1 raffle ticket, 2 referrals = 2 raffle tickets, etc. So whatever your "referral count" reads at the bottom of the newsletter is your current number of raffle tickets.
Talk tomorrow,
Kendall "Go Tigers!" Baker
Trivia answer: Kurt Warner (1999)