Happy Tuesday. I was at the national championship game last night, and wow — that was something. Gonna miss you, college football.
If you ever feel like replying, do it. I'll get right back to you. And if you know someone who should be subscribed, send them here. Okay, let's start with...
1 big thing: Saban ain't so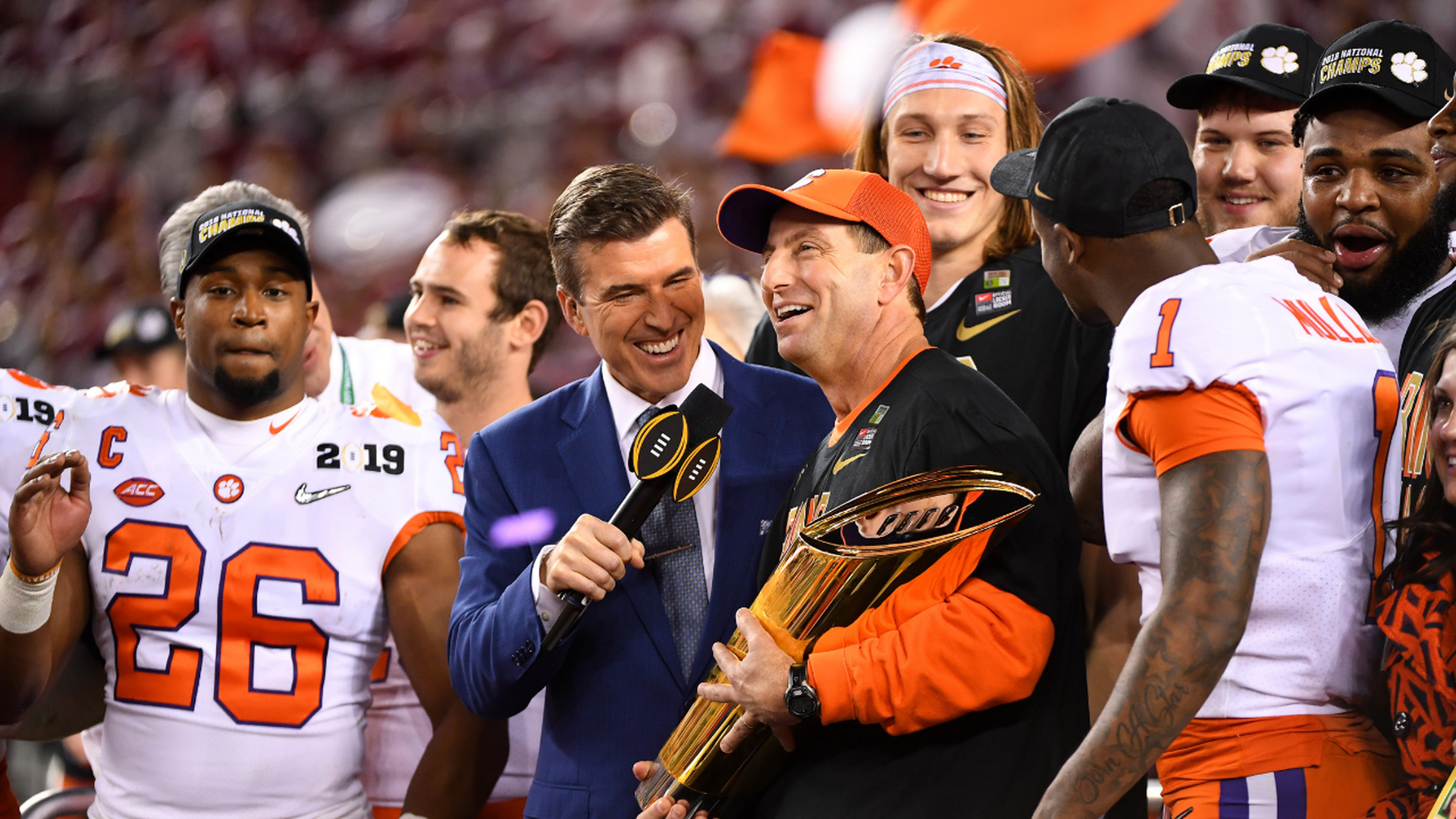 Clemson humbled Alabama with a 44-16 thrashing last night, Nick Saban's worst loss since 2006, as the Tigers grabbed their second title in three years and became the first FBS team since 1897 to go 15-0.
What happened: The game got off to a roaring start, as the two teams combined for three touchdowns in the first four and a half minutes. Barely three minutes into the second quarter, they had a combined 37 points — with Clemson leading 21-16.
Fun facts:
The curse of the top seed: Five College Football Playoffs have now come and gone, and the No. 1 seed has yet to win a championship (0-3 in title games).
Dec. 17, 2006: The last time Nick Saban lost a game by more than 14 points (Bills 21, his Dolphins 0).
Been a while: Clemson is the first FBS team to finish 15-0 since Penn… in 1897.
Last four seasons: Clemson (55-4 with 2 titles); Alabama (55-4 with 2 titles).
Go deeper:
2. The thrill of victory...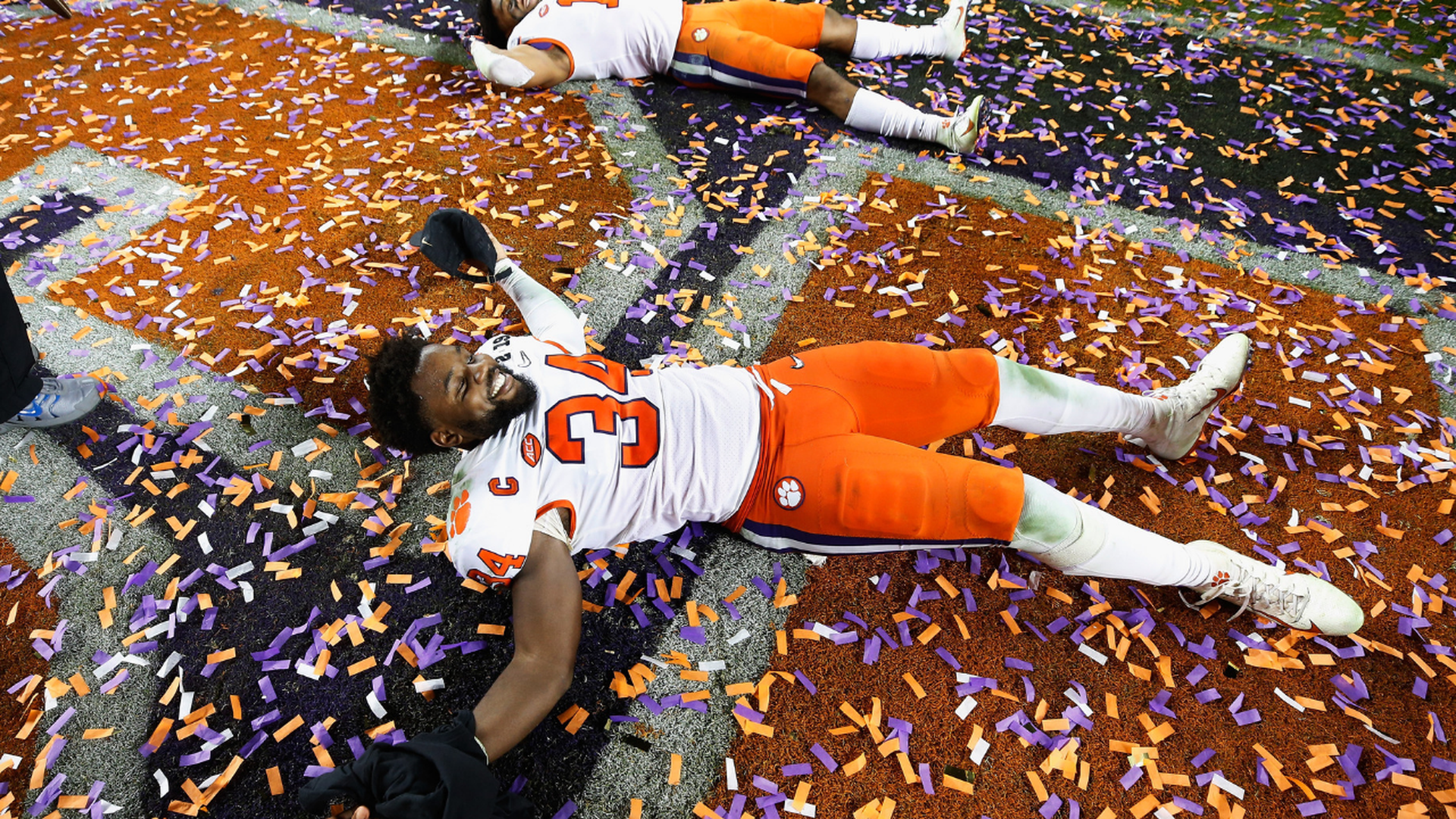 and the agony of defeat...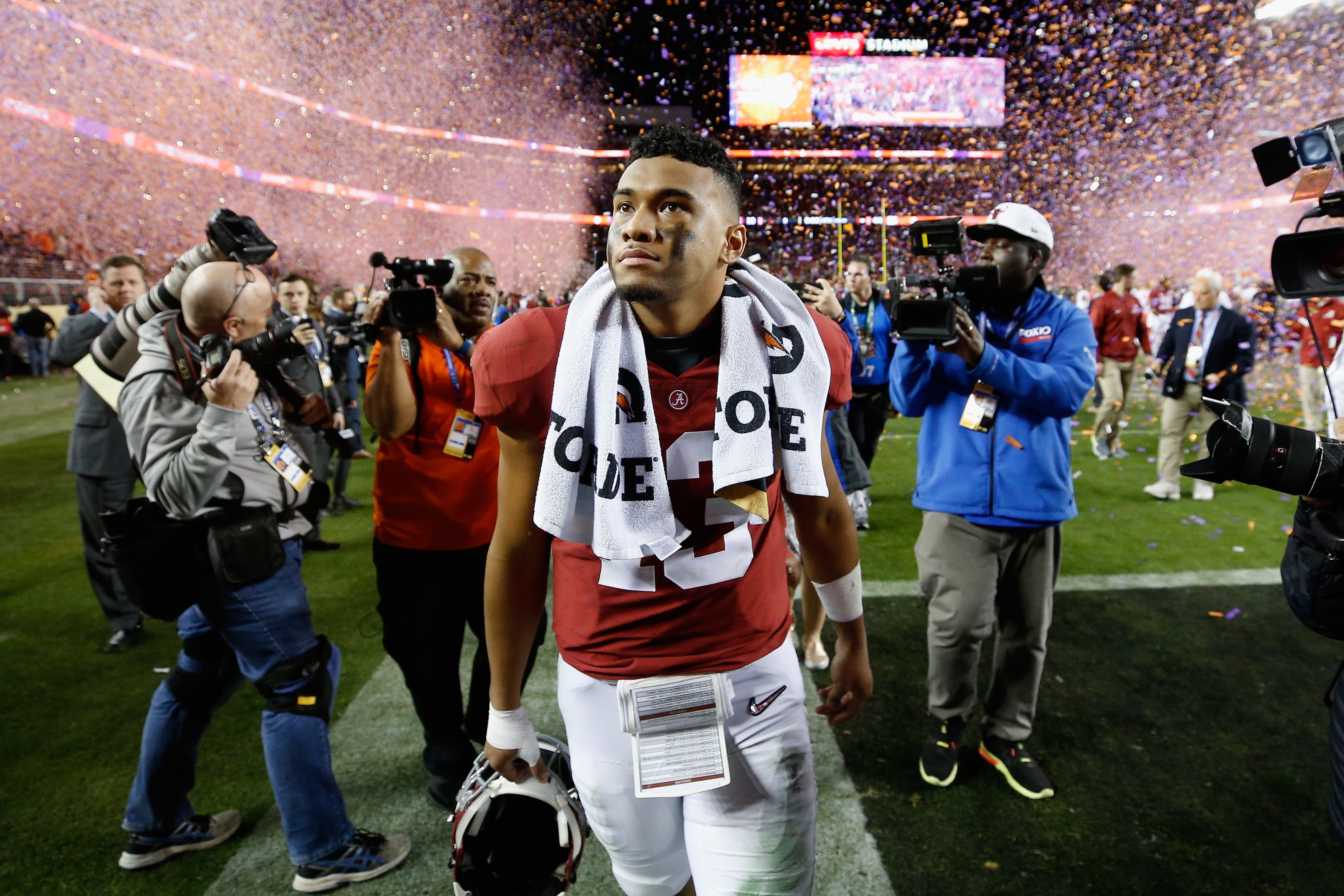 Photo: Sean M. Haffey/Getty Images
3 Numbers: NHL
13: The number of consecutive games in which San Jose Sharks star Erik Karlsson has recorded at least one point — a streak that has him firmly back in the Norris Trophy race (best defenseman).
4: Speaking of trophies, ESPN's Greg Wyshynski makes a case for Anaheim Ducks goaltender John Gibson winning both the Vezina Trophy (top goaltender) and the Hart Trophy (MVP). Since 1961, only four goalies have won the Hart — Jacques Plante, Dominik Hasek (twice), Jose Theodore and Carey Price.
69: How many points Tampa Bay Lightning winger Nikita Kucherov has scored this season, good for first in the NHL. See the rest of the list.
4. Enes vs. Hedo
The New York Knicks will play the Washington Wizards in London next Friday, but Turkish center Enes Kanter won't be making the trip, Axios' Michael Sykes writes.
What's happening: Kanter says he fears his life may be in danger because of his criticism of Turkish president Recep Tayyip Erdoğan (depicted above), who Kanter calls the "Hitler of our century."
"There's a chance I can get killed out there," Kanter told ESPN.
Former NBA player and current chief advisor to Erdoğan, Hedo Turkoglu, claimed on Monday that Kanter is unable to travel because of a visa issue and accused him of smearing the Turkish government.
Kanter disputed that via Twitter, posting his travel documents to prove there was no visa issue.
Background: Kanter has been a target of the Turkish government for years now as a critic of the current regime and a vocal supporter of Fethullah Gulen, a U.S.-based Turkish Cleric who was accused by Erdoğan of staging a failed military coup in 2016.
Turkish authorities previously sought a four year prison sentence for Kanter.
He was detained by Romanian police in 2017 at an airport when the Turkish government canceled his passport.
The Turkish government arrested his father — a move Kanter believes is being used to pressure him to return to the country.
The bottom line: Erdoğan was supposed to be a beacon for democracy in the Middle East when elected in 2014, but has broken from that path, Peter Goodman of the New York Times wrote in August. Since the attempted coup in 2016, he has jailed thousands.
5. College basketball: AP Poll
1. Duke (12-1): The Blue Devils will look to cruise through conference play until the 19th when they face Virginia. That game can't come soon enough.
2. Michigan (15-0): The Wolverines are winning and they're doing it handily — they've beaten five of their last six opponents by double digits.
3. Tennessee (12-1): Tennessee is cruising and, for the fifth straight week, is ranked at number 3 in the poll. P.S. I've said it before, and I'll say it again: Admiral Schofield is the best name in sports right now.
4. Virginia (13-0): Kyle Guy's record-breaking shooting (11 straight threes!) has the Cavaliers sitting pretty at number 4 after they rolled over No. 13 Florida State to open conference play.
5. Gonzaga (14-2): The Zags are riding high thanks to the returns of Killian Tillie and Geno Crandall, but per usual, will struggle to move up as they open conference play.
6. Michigan State, 7. Kansas, 8. Texas Tech, 9. Virginia Tech, 10. Nevada, 11. Auburn, 12. UNC, 13. Florida State, 14. Mississippi State, 15. NC State, 16. Ohio State, 17. Houston, 18. Kentucky, 19. Buffalo, 20. Iowa State, 21. Marquette, 22. Indiana, 23. Oklahoma, 24. San Jose State, 25. TCU
P.S. Speaking of Gonzaga, their women's team is ranked No. 14 (highest in program history), which makes them one of four schools with both their men's and women's teams ranked in the Top 15.
The other three: Tennessee (3 and 11), Mississippi State (14 and 7) and NC State (15 and 8).
6. Meet the Packers' new head coach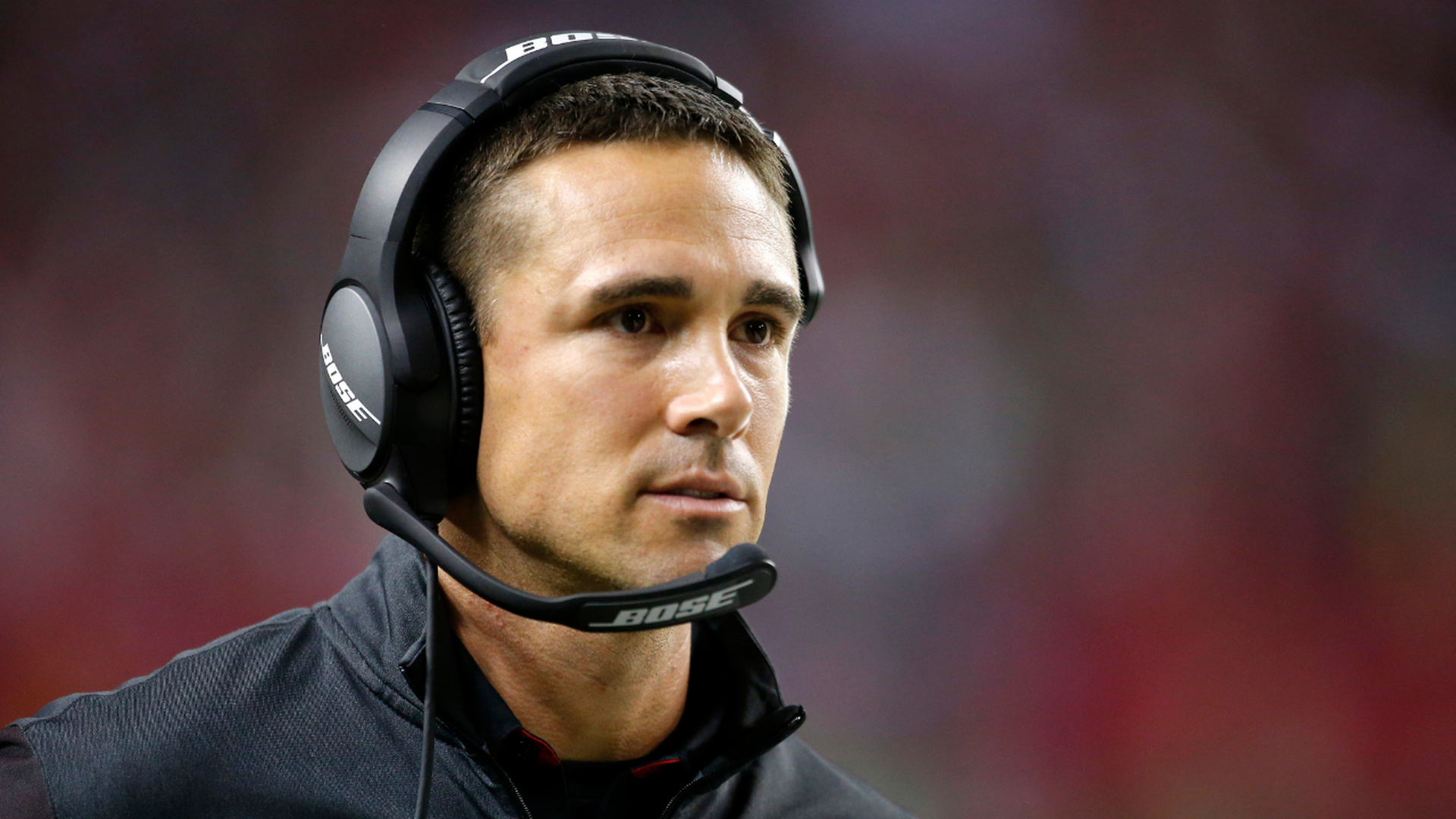 The Green Bay Packers are reportedly set to hire Titans offensive coordinator Matt LaFleur, a "bright young mind" who just turned 39 in November.
Judging by this past season, LaFleur seems like an odd choice. After all, it's not like the Titans' offense took the league by storm ... (they ranked 27th in points and 25th in yards).
But, but, but: LaFleur's track record with quarterbacks, in particular, is quite impressive. He was the QB coach during Robert Griffin III's breakout rookie season, the QB coach during Matt Ryan's 2016 MVP campaign, and the offensive coordinator for Sean McVay in 2017 — ya know, the year Jared Goff broke out.
This is good: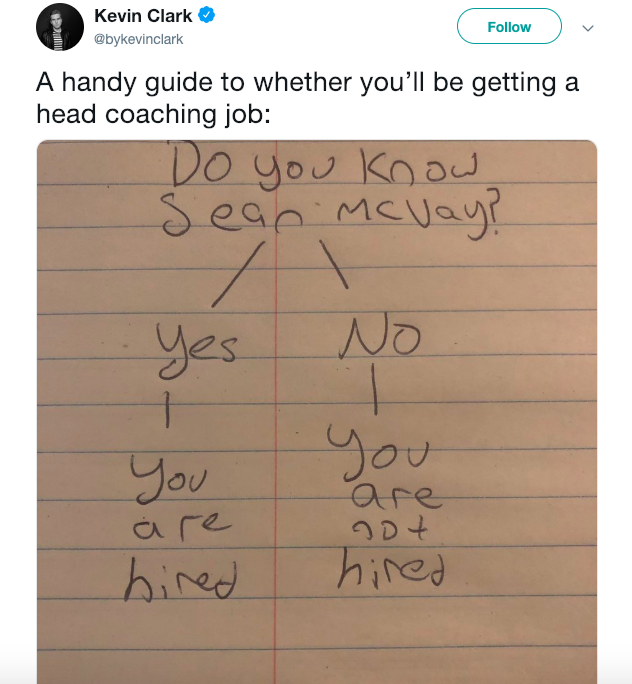 Screenshot: Kevin Clark/Twitter
7. 🏀 Trivia
Minnesota Timberwolves interim head coach Ryan Saunders is 32 years old, which makes him younger than 42 active NBA players, three of whom are on his team.
Question: Can you name the three Timberwolves players who are older than their new head coach?
Hint: They're all 33 years old.
Answer at the bottom.
8. The Ocho: JetPack Racing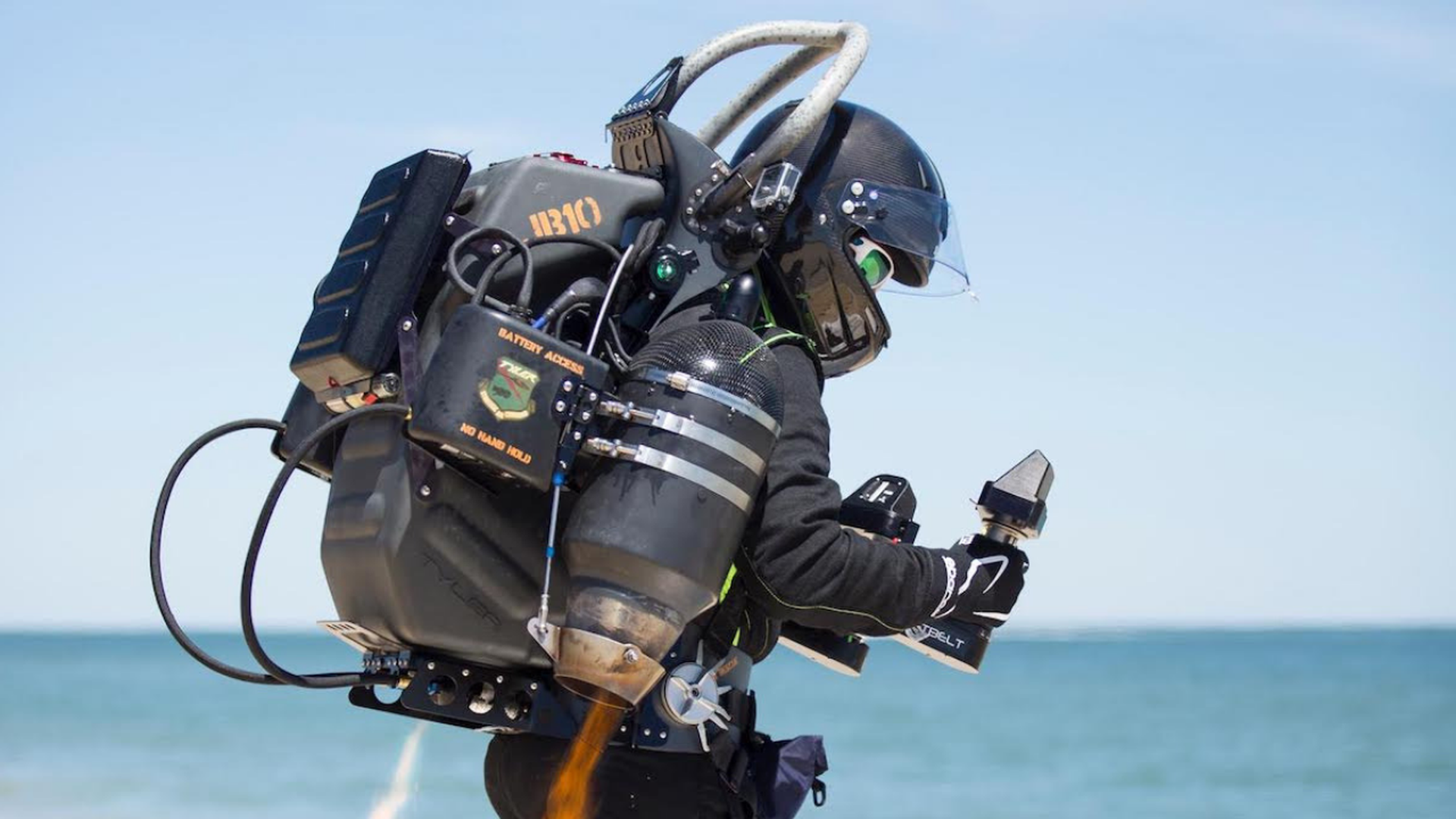 After spending the past year running tests to determine if its jetpacks were safe to fly in close proximity to one another, California-based JetPack Aviation has announced the launch of JetPack Racing League, SportsTechie reports.
9. On this date: 1/8/2000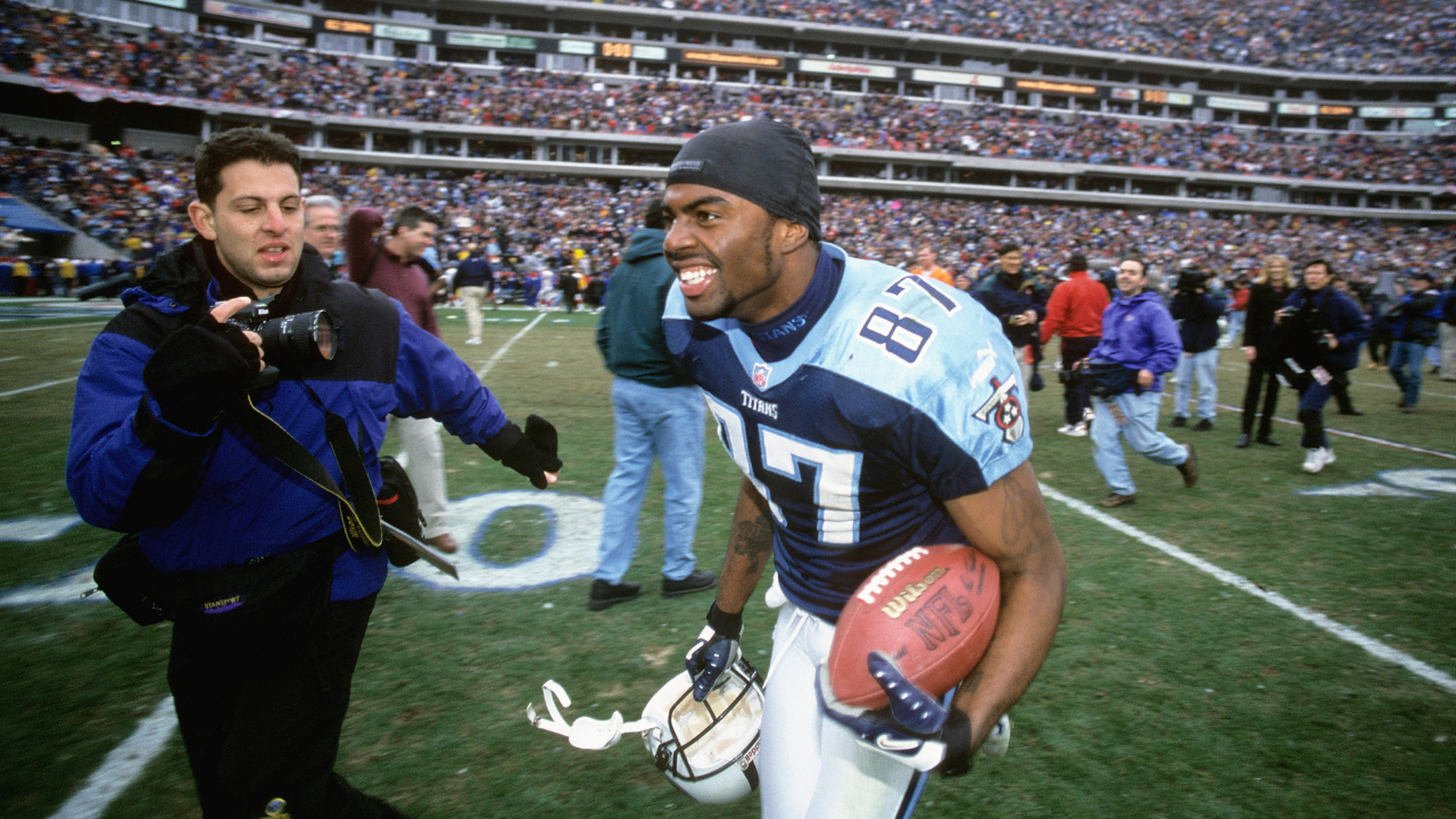 19 years ago today, the Tennessee Titans sealed a last-second comeback win against the Buffalo Bills with a miraculous play dubbed the "Music City Miracle." Please enjoy.
Three weeks later, the Titans advanced to Super Bowl XXXIV, where they — and more specifically, Dyson — came up "one yard short" against the St. Louis Rams.
Thanks,
Kendall "How many hours do we think Saban slept last night" Baker
Trivia answer: Taj Gibson, Luol Deng, Anthony Tolliver